Layers of graham cracker crumbs, roasted Campfire® Marshmallows, hazelnut spread, and fresh strawberries create the perfect s'mores trifle worthy of any summer celebration.
If you followed My Baking Addiction during my pregnancy, you may remember my infatuation with all things s'mores. I think I ate a basic s'more almost every single night from month 4 to month 9. Sometimes I'd get all fancy schmancy and roast my marshmallows on a fork over our stove; however, more often than not, I'd take the lazy route and pop them into the microwave for a few seconds.
Eventually Eric took over as the s'more chef and in no time, he perfected the "recipe" for a microwave s'more. And I must say he was pretty proud of his technique which included precise marshmallow positioning and exact timing. I'm telling ya – he had it down to a science and they were amazing.
Even though I had Elle 4 months ago, I still crave a good s'more every now and then. And this past Memorial Day's perfect weather set the stage for a weekend full of s'mores! Since it was a holiday weekend, I wanted to kick up my s'mores dessert to a whole new level. And by layering graham cracker crumbs with roasted Campfire® Marshmallows, hazelnut spread, and fresh strawberries – I think I accomplished just that. Just don't be fooled by gorgeous layering in pretty glasses, these s'mores trifles are every bit as ooey and gooey as a traditional s'more – because really, what's a s'more without the mess?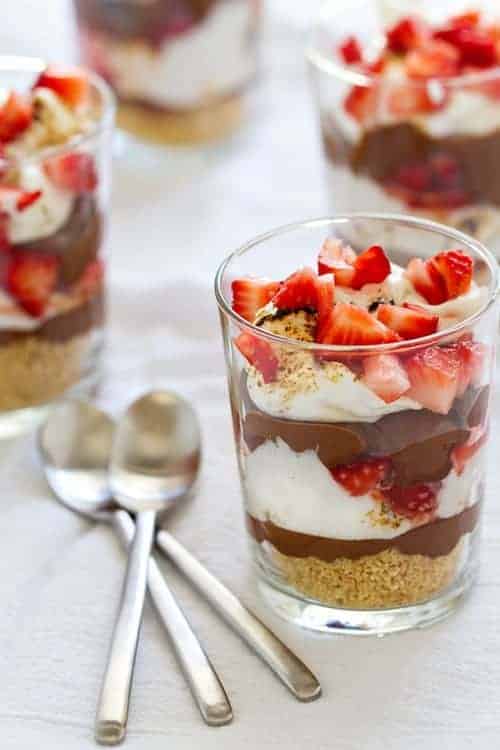 I'm completely obsessed with Campfire® Marshmallows – not only are they delicious, but they have that perfect ooey-gooey factor that's so important when making s'mores! As you may remember from my Key Lime Marshmallow Milkshake post, I'm partnering with Emily from Jelly Toast and Campfire® Marshmallows over the next year. You'll see more recipes from us, and hopefully even more exciting stuff as the year goes on. Be sure to check out Emily's post for Marshmallow No-Churn Ice Cream made with Campfire® Mallow Bursts.
We even created a Marshmallow Madness Pin Board where we'll Pinning all of our favorite marshmallow recipes from around the web.
For more information about Campfire® Marshmallows, you can find them on them on Facebook and Twitter.
S'mores Trifles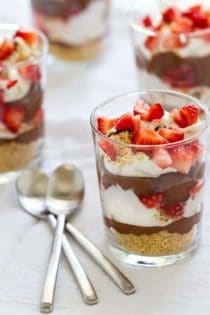 Ingredients:
2/3 cup graham cracker crumbs
2 tablespoons butter, melted
2/3 cup hazelnut spread, slightly warmed
16 roasted Campfire® Marshmallows
1 cup chopped fresh strawberries
Directions:
1. In a small bowl, combine graham cracker crumbs and melted butter; stir until crumbs are moistened. Evenly distribute graham cracker crumbs into the bottom of your serving dishes.
2. Spoon about 1 tablespoon of warmed hazelnut spread directly onto the graham cracker crumbs in each serving dish. Top the hazelnut spread with 2 roasted Campfire® Marshmallows and then a layer of strawberries. Repeat layers. Serve immediately.
Notes:
– The number of servings will depend on the size of your serving dishes.
All images and text ©
Follow Jamie on Instagram. We love to see what you're baking from MBA! Be sure to tag @jamiemba and use the hashtag #mbarecipes!
Disclosure: My Baking Addiction has teamed up with Campfire® Marshmallows to share recipes using their products. This is a sponsored post written as part of that program. All opinions about Campfire® Marshmallows are 100% my own.