No, you're definitely not having a moment of deja vu – well, kinda. If these look familiar to you, it's because I recently posted a recipe for Milky Way Brownie Bites that compelled my dad to call and ask me how I could possibly make such a thing without him being present.
Ya see, my pops has a real affinity for candy bars and brownies as a general rule, so combining the two is pretty much his version of dessert nirvana. I went home last weekend, and I knew there was no way I could show up empty handed and live to tell the tale. I whipped up Strawberry Cupcakes and a batch of brownie bites. Instead of using Milky Ways, I decided to use one of my dad's favorite candy bars – Snickers. In search of brownie points – har har!
When I got into town, my dad stopped by my brother's house for a little taste testing session, but left soon after. I should also mention this is the same day I found this 8 month old loaf of bread in my brother's pantry.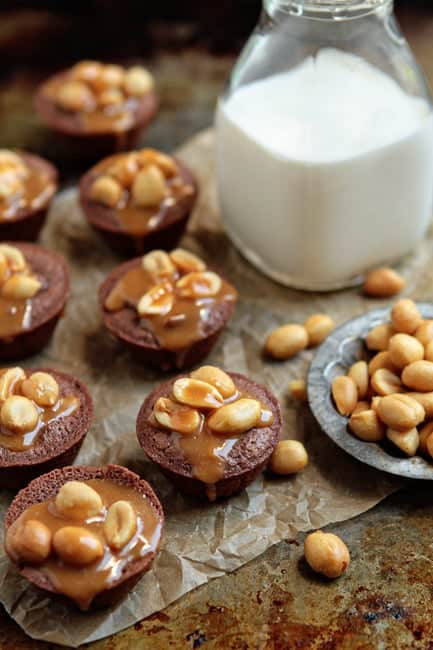 Gross brothers aside, somehow we got our wires crossed. Dad left, Jared went to work. Since they work at the same place, I sent the rest of the Snickers Brownie Bites with Jared, figuring Dad could chow down while he boasted about his brilliant daughter to all his coworkers.
I almost can't bear to tell this story.. Dad neglected to tell me he took the day off work! So off Jared went with his precious Snickers Brownie Bites, and by the time we all realized what was going on, those suckers were history. My poor dad missed out yet again on dessert bliss, with only a few bites to add insult to injury.
Guess I have to make them again, right? What candy bar should I use this time?
[pinit]

Snickers Brownie Bites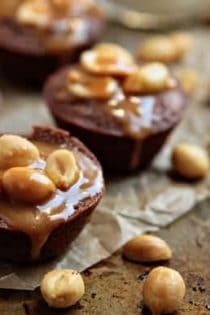 Ingredients:
For the Brownies
4 ounces unsweetened chocolate; coarsely chopped
3/4 cup unsalted butter, cut into cubes
1 1/4 cups sugar
3 large eggs
1 teaspoon pure vanilla extract
1/4 teaspoon salt
1 cup Gold Medal all-purpose flour
48 miniature Snickers; frozen for at least 1 hour
For the Topping
15 individually wrapped caramel candies (I used Kraft)
2 tablespoons heavy cream
1/2 cup salted peanuts
Directions:
1. Preheat oven to 350 degrees. Lightly spray the wells of a nonstick miniature muffin tin with nonstick cooking spray such as Pam with Flour, this really helps to ease out the brownie bites.
2. Microwave chocolate and butter in a large, microwave-safe bowl at medium (50% power) for 3-4 minutes or until butter is melted.
3. Stir until chocolate is melted. Whisk in sugar, eggs, vanilla and salt. Gradually add in flour; stir until just combined.
4. Using a small cookie scoop (about 2 teaspoons), scoop the brownie batter into the prepared miniature muffin tin wells. Place a miniature Snickers into the center of each well and press it lightly into the batter. Do not worry about covering the Snickers with batter. Bake brownies in preheated oven for 9-10 minutes, the edges will look set. Do not over bake.
5. Remove to cooling rack to cool completely. Carefully remove the brownie bites from the pan (see note below) and prepare the caramel sauce.
6. To make the caramel sauce, place the caramels and heavy cream in a microwave-safe bowl. Microwave on 50% power in 30-second increments until the caramels begin to melt; stir frequently. Continue warming and stirring the caramels until you have a smooth, creamy mixture. Place a few peanuts into the center of each brownie bite and drizzle the caramel sauce over the peanuts.
Notes:
- Brownie bites are best served they day they are made, but will keep in an airtight container at room temperature for up to 1 day.
- I easily coaxed the cooled brownie bites out of the pan using a toothpick.
Source: My Baking Addiction
All images and text ©
Follow Jamie on Instagram. We love to see what you're baking from MBA! Be sure to tag @jamiemba and use the hashtag #mbarecipes!