Delicious chocolate chip cookies are taken to the next level with the addition of Snickers Bites.
Last week I left the house by myself for the first time in over 8 weeks. No Eric, no Elle, no Mom. Just me. And it felt weird. Way weird.
I needed to run a few errands – the grocery store, dry cleaner and Target – and although I was only gone for about 2 hours, it felt like an eternity. And I'm pretty certain that I sent Eric no fewer than 10 texts to check on Elle.
While in Target, I found myself aimlessly walking around for about an hour because I hadn't basked in the glory of Target in months. Of course, I perused the baby section and picked up several adorable onesies – because the gazillion we already have just aren't quite enough.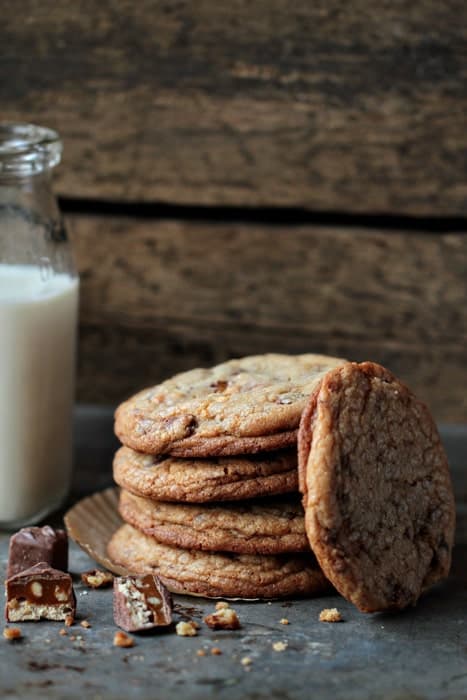 I then made my way over to the candy section, aka jelly bean heaven. Seriously, does every single fruity candy have a jelly bean flavor? Not that I'm complaining, because I'm all about Nerds Bumpy Jelly Beans and I'm hoarding several bags of SweeTarts Jelly Beans. WHY do candy companies think we only want jelly beans at Easter, I ask you?!
I also came across a bag of Snickers Bites. Since I'm a sucker for anything mini, I immediately tossed a bag into my cart alongside enough candy to rival the Easter Bunny's stash.
Eric and I both had chocolate chip cookies on the brain for days, so I decided to whip up of batch of giant chocolate cookies and mixed the Snickers Bites right into the dough. The result was a deliciously unique cookie full that nougat, caramel and peanutty flavor that we all love so much.
If you're a fan of the whole candy-baked-into-cookies idea, you'll definitely want to check out my Rolo Cookies and my Reese's Cup Cookies – they're both pretty amazing!
Snickers Cookies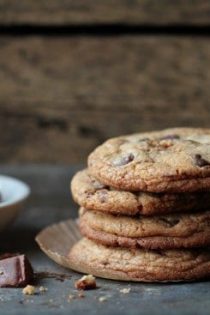 Ingredients:
2 sticks (1 cup) unsalted butter, cold and cubed
1 cup granulated sugar
1 cup light brown sugar
2 large eggs
1 1/2 teaspoons pure vanilla extract
2 3/4 cup all-purpose flour
1 teaspoon salt
1 teaspoon baking powder
1/4 teaspoon baking soda
1 cup quality semisweet chocolate chips or chunks
1 8-ounce bag Snickers Bites
Directions:
Preheat oven to 375°F. Line a baking sheet with parchment paper or a silicone baking mat.
In bowl of electric mixer fitted with the paddle attachment, cream together butter and sugars until well blended and fluffy, about 4-5 minutes. Add eggs, one at a time, mix in vanilla and beat until well incorporated.
In a large bowl, whisk together the flour, salt, baking powder, and baking soda. Gradually add dry ingredients to the wet ingredients and mix until just combined. Add in chocolate chips and Snickers Bites. Turn mixer speed to medium-high and mix dough for about 30 seconds. This will break apart the Snickers Bites and incorporate the pieces into the dough. If you are not working in a stand mixer, you will need to roughly chop the Snickers Bites before mixing them into the dough.
Use a medium cookie scoop to scoop two mounds of dough per cookie (3 tablespoons total) and roll dough into balls.
Place each dough ball onto the prepared baking sheet and bake in the preheated oven for 14-18 minutes or until very lightly browned, taking care not to overbake. I baked mine for 16 minutes, which seemed to be perfect in my oven.
Allow cookies to cool on pan for 5 minutes before removing them to a wire rack to cool completely.
Notes:
I chose to make large Snickers Cookies, if you make smaller cookies, you will need to reduce the baking time to 10-12 minutes.
Snickers Cookies are best served the day they are made; however, the cooled cookies can be stored in an airtight container at room temperature for a few days.
All images and text ©
Follow Jamie on Instagram. We love to see what you're baking from MBA! Be sure to tag @jamiemba and use the hashtag #mbarecipes!