With the holidays quickly approaching, you will definitely be seeing a lot of cookie recipes on my blog in the coming weeks. The first delicious cookie recipe I am posting is for Soft Ginger Cookies. I came across this recipe on allrecipes and was amazed with the number of reviews and although I dislike molasses, I had to give these a try!
I did modify the recipe slightly based on the ingredients that I had in my pantry…I did not have ground cloves and did not feel like spending the cash on a jar for 1/2 teaspoon. I actually substitute spices and other ingredients a lot, rarely does it detract from the flavor of the finished recipe and in my opinion it sometimes turns out much better!
These cookies baked up very nicely and although they are not traffic stopping simply by looks alone; the flavor and texture are quite amazing and definitely worth a 5 star rating. I hope this easy and delectable cookie makes it on your holiday cookie platter…I guarantee they will be gobbled up in no time! If you have any great cookie recipes you think I may love, please leave a comment or send me an email! Have a great day and thanks for stopping by!
Oh and if you follow me on Twitter, click here for a Twitter Only Giveaway for fun, holiday baking swag! Thanks so much to those of you that follow me…it's so awesome to interact with all of you!

Soft Ginger Cookies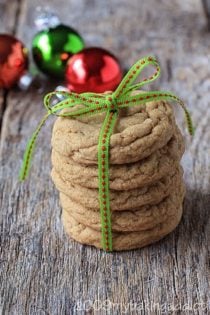 Ingredients:
2 1/4 cups all-purpose flour
2 teaspoons ground ginger
1 teaspoon baking soda
3/4 teaspoon ground cinnamon
1/2 teaspoon pumpkin pie spice
1/4 teaspoon salt
3/4 cup margarine, softened
1 cup white sugar
1 egg
1 tablespoon water
1/4 cup molasses
2 tablespoons white sugar
Directions:
1. Preheat oven to 350 degrees F (175 degrees C). Sift together the flour, ginger, baking soda, cinnamon and salt. Set aside.
2. In a large bowl, cream together the margarine and 1 cup sugar until light and fluffy. Beat in the egg, then stir in the water and molasses. Gradually stir the sifted ingredients into the molasses mixture. Shape dough into walnut sized balls, and roll them in the remaining 2 tablespoons of sugar. Place the cookies 2 inches apart onto an ungreased cookie sheet, and flatten slightly.
3. Bake for 8 to 10 minutes in the preheated oven. Allow cookies to cool on baking sheet for 5 minutes before removing to a wire rack to cool completely. Store in an airtight container.
Follow Jamie on Instagram. We love to see what you're baking from MBA! Be sure to tag @jamiemba and use the hashtag #mbarecipes!
[pinit]