Strawberry Cream Cake
I hosted a small Easter dinner on Sunday. Since my dad and brother rarely make it out to visit us, I let them pick the dessert menu. My dad of course chose chocolate; more specifically chocolate mousse, which I will post later this week. My brother, Jared being his typical laid back self said he would be content with anything I made.
I opted for an adapted version of Julia Child's Chocolate Mousse from David Lebovitz and a Strawberry Cream Cake from Ina Garten. I thought both of these recipes would be perfect and produce brilliant (this is my new word, thanks to Jamie Oliver) results–how can you go wrong with David and Ina?
The first recipe I will be posting is Ina's Strawberry Country Cake, I whipped this together Easter morning and the results were splendid. A moist, citrus infused cake topped with fresh whipped cream and strawberries… this simply screams spring and was the perfect end to a great Easter dinner.
The recipe is easy enough to follow; however, it does yield two 8 inch round cakes. Apparently the intention is to use one of the cakes immediately and freeze the other for later use. I didn't pay attention to this important tidbit until after baking the cakes. If I would have actually read the recipe, I would have simply cut it in half.
The result? Ina never fails me…this is a seriously delicious cake, it's simple, scrumptious and perfect for spring. A definite must make in my book!
A special thanks to my bro, Jared for helping me cut strawberries, style and shoot the cake before we scarfed it down! If I ever need an assistant, you'll be number one on my list!
Looking for more strawberry recipes? Check out these posts:
Meyer Lemon Strawberry Muffins from My Baking Addiction
Mini Angel Food Cakes from My Baking Addiction
Layered Strawberry Trifle from Recipe Girl
Strawberry Cream Pie from The Cooking Photographer
Individual Strawberry Shortcakes from Living Tastefully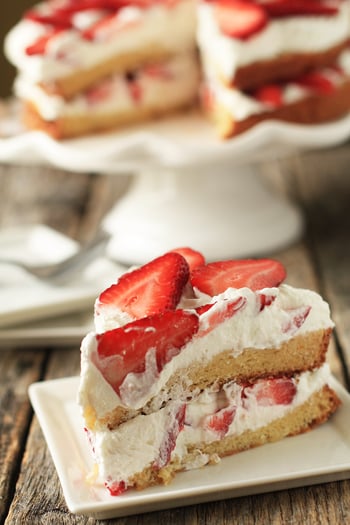 Strawberry Country Cake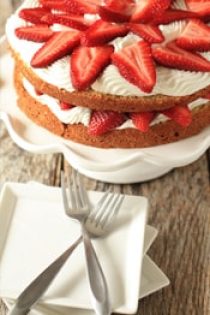 Ingredients:
For the Cakes
12 tablespoons (1 1/2 sticks) unsalted butter, at room temperature
2 cups sugar
4 extra-large eggs, at room temperature
3/4 cup sour cream, at room temperature
1/2 teaspoon grated lemon zest (I used zest of 1 lemon)
1/2 teaspoon grated orange zest (I used zest of 1 orange)
1/2 teaspoon pure vanilla extract
2 cups all-purpose flour
1/4 cup cornstarch
1/2 teaspoon kosher salt
1 teaspoon baking soda
For the Filling
1 cup (1/2 pint) heavy cream, chilled
3 tablespoons sugar
1/2 teaspoon pure vanilla extract
1 pint fresh strawberries, hulled and sliced
Directions:
1. Preheat the oven to 350 degrees F.
2. Butter the bottom of two 8-inch cake pans. Then line them with parchment paper and butter and flour the lined pans.
3. Cream the butter and sugar on high speed in the bowl of an electric mixer fitted with the paddle attachment until light and fluffy. On medium speed, add the eggs, 1 at a time, then the sour cream, zests, and vanilla, scraping down the bowl as needed. Mix well. Sift together the flour, cornstarch, salt, and baking soda. On low speed, slowly add the flour mixture to the butter mixture and combine just until smooth.
4. Pour the batter evenly into the pans, smooth the tops, and bake in the center of the oven for 40 to 45 minutes, until a toothpick comes out clean. Let cool in the pans for 30 minutes, then remove to wire racks and let cool to room temperature. If using 1 cake, wrap the second well and freeze.
5. To make the filling for one cake, whip the cream, sugar, and vanilla in a mixer fitted with the whisk attachment until firm. Slice one of the cakes in half with a long, sharp knife. Place the bottom slice of the cake on a serving platter, spread with 1/2 the whipped cream and scatter with sliced strawberries. Cover with the top slice of the cake and spread with the remaining cream. Decorate with strawberries.
adapted from Ina Garten
All images and text ©
Follow Jamie on Instagram. We love to see what you're baking from MBA! Be sure to tag @jamiemba and use the hashtag #mbarecipes!
[pinit]