Sugar Cookie Cheesecake is baked up with a sugar cookie crust and uses a secret ingredient in the cheesecake filling. This cheesecake is sweet and fun, and super unique to serve up for the holidays!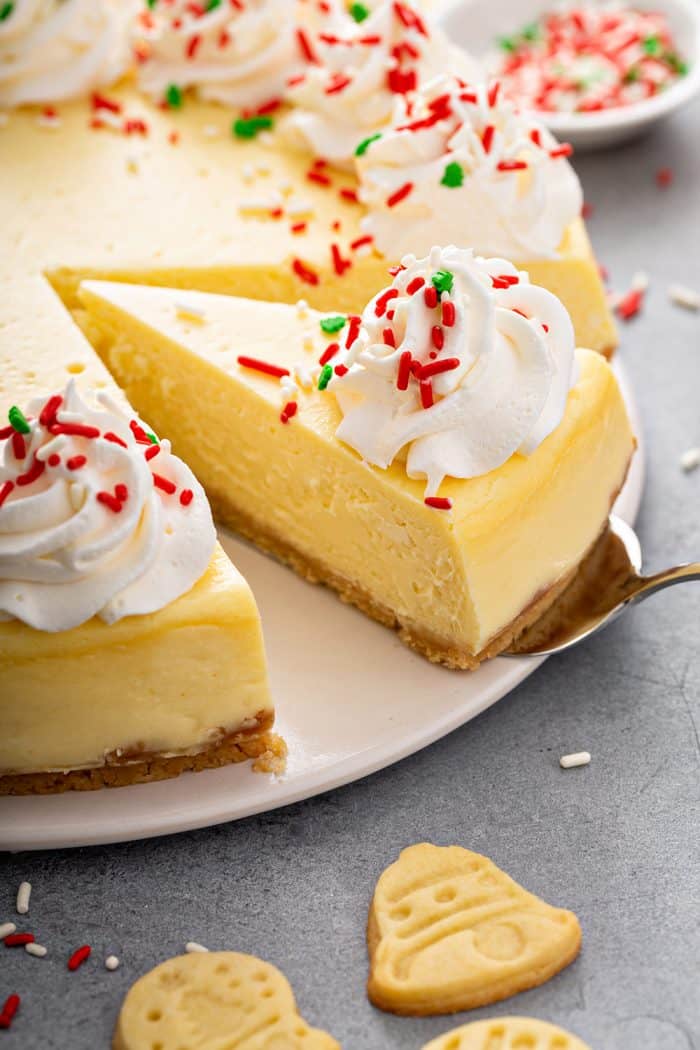 I'm pretty sure it's officially winter here in Ohio considering we got about 10 inches of snow yesterday and the temps are downright frigid.

However, that didn't stop Eric from snow-blowing for no less than 4 hours, or Elle from sledding down a ramp our neighbors made well into the evening hours.

As for me, I stayed inside, organized my kitchen cupboards and planned all the yummy festive desserts that I'll be sharing with you this month – starting with this Sugar Cookie Cheesecake.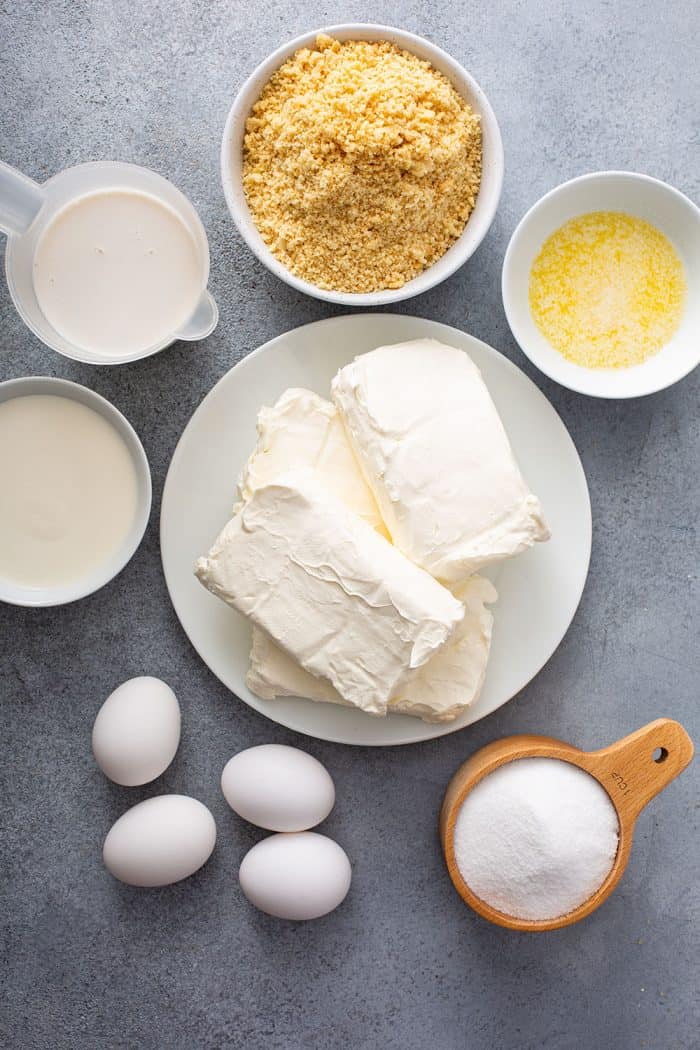 WHAT MAKES THIS A SUGAR COOKIE CHEESECAKE?
You know what the holiday season brings to mind for me almost every year? Endless sugar cookies.
From soft frosted sugar cookies to decorated sugar cookies, I just love 'em. They're entirely too poppable, too. That's why usually, when I whip them up for cookie exchanges, I bake only enough for the cookie exchange.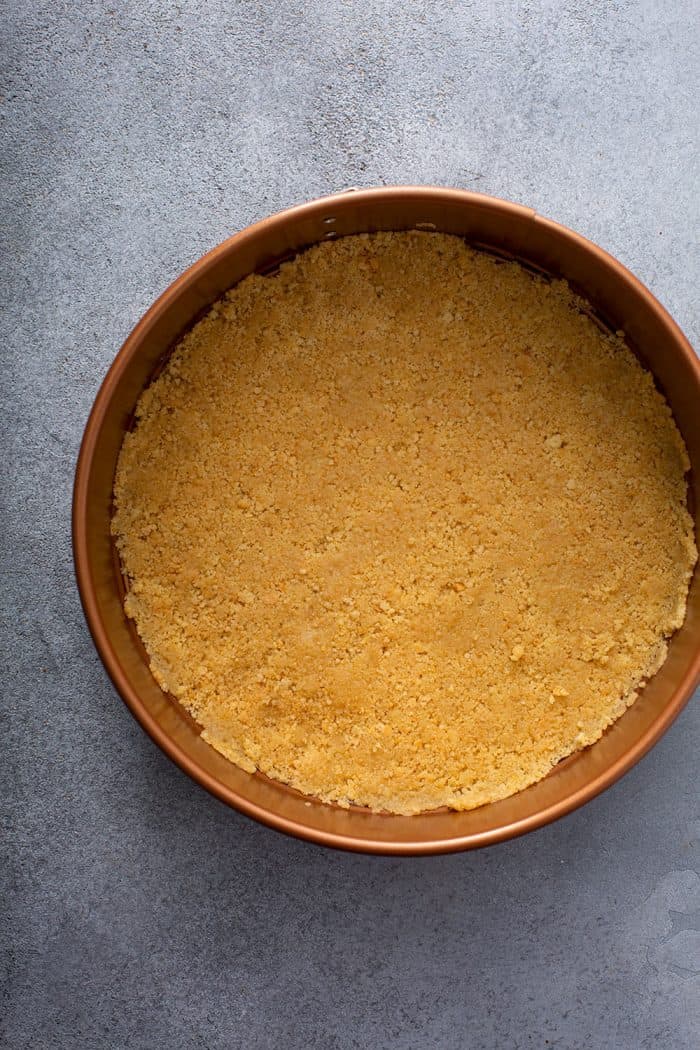 Otherwise we'd have a real problem around here.
A few years ago I discovered the magic that is sugar cookie-flavored coffee creamer. Oh boy, you guys. I was instantly smitten.
I've used flavored coffee creamer in my Hot Cocoa Cheesecake, so I knew that using my beloved sugar cookie creamer would make for an amazing cheesecake, too.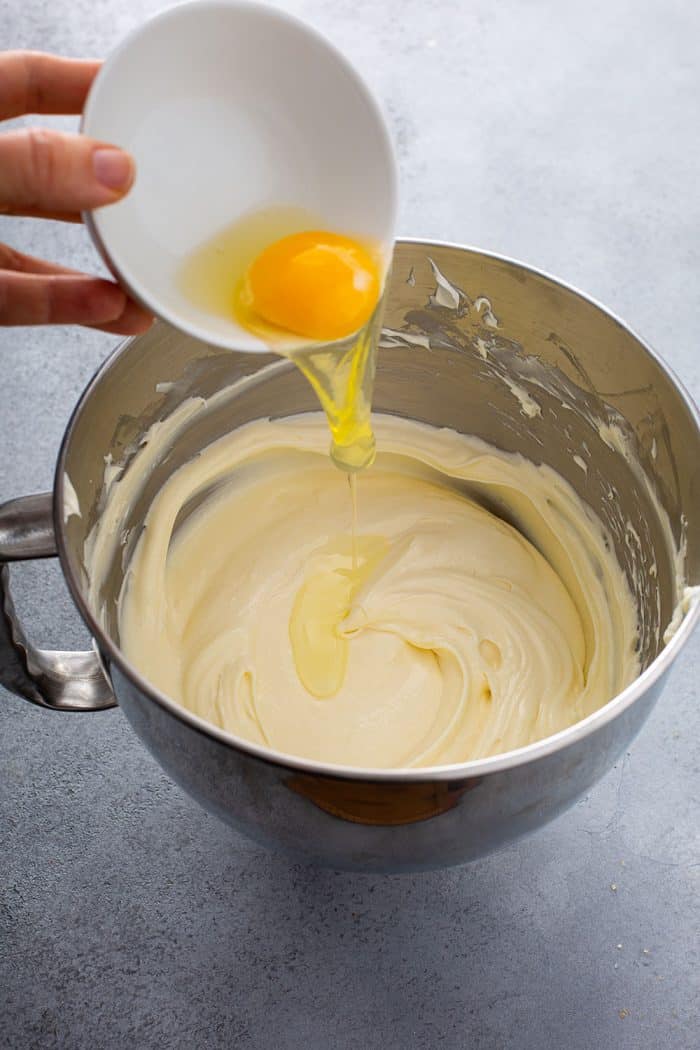 But coffee creamer in the filling isn't the only thing giving this cheesecake it's sugar cookie flavor. We're going to use sugar cookies in the crust, too!
I know a graham cracker crust is traditional, but you've got to go with crunchy sugar cookies as a cheesecake crust at least once in your life.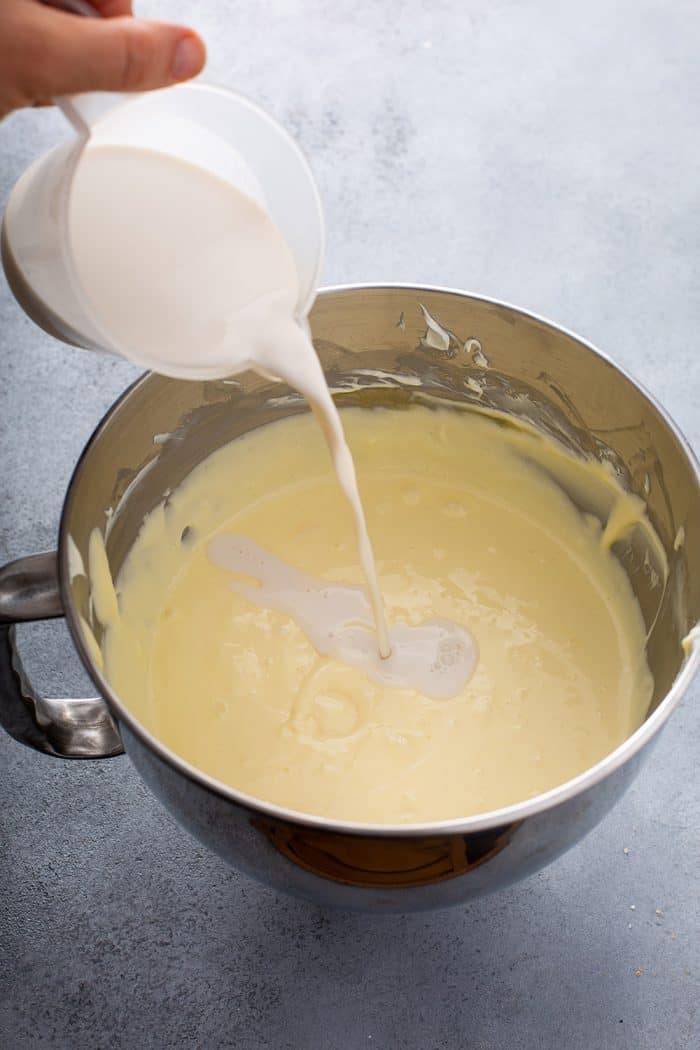 And for one last shot of sugar cookie flavor, I whipped up a mix of heavy cream and the sugar cookie creamer and used that in place of homemade whipped cream on the top of the cheesecake.
Top it all off with some colorful sprinkles and you've got a cheesecake that's fun, festive, and so delicious.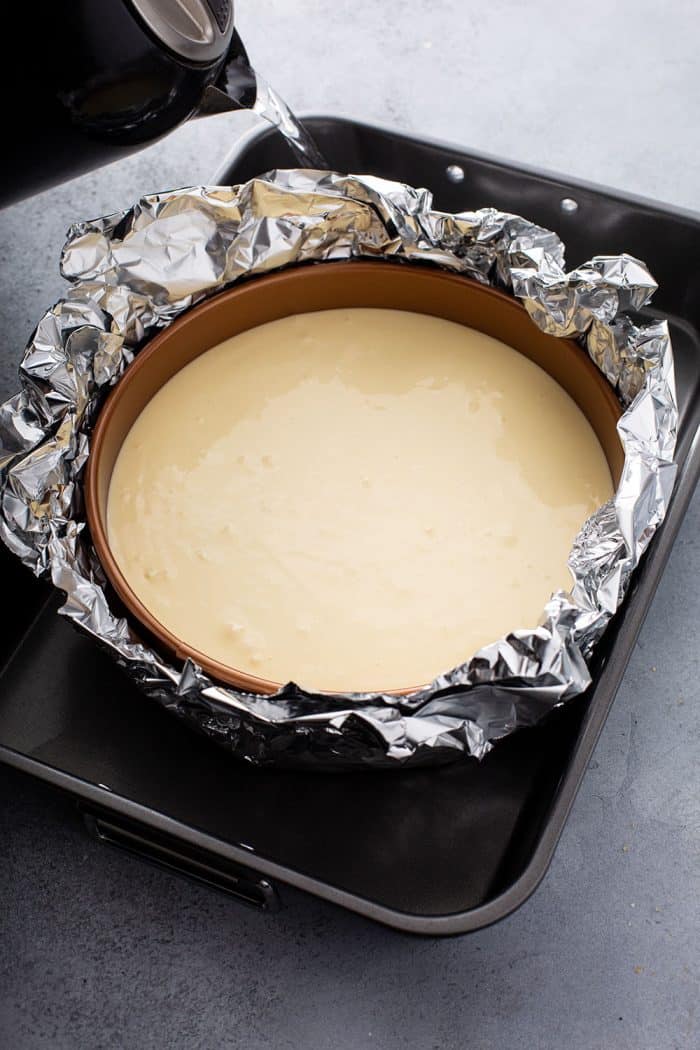 HOW TO MAKE THIS CHEESECAKE RECIPE
Start by mixing together sugar cookie crumbs and melted butter for the crust. Press this into the bottom of a springform pan and bake it for about 8 minutes.
Once the crust is ready, grab the ingredients for your Sugar Cookie Cheesecake filling:
32 ounces (4 8-oz blocks) cream cheese
1 cup granulated sugar
4 large eggs
1/2 cup sugar cookie-flavored coffee creamer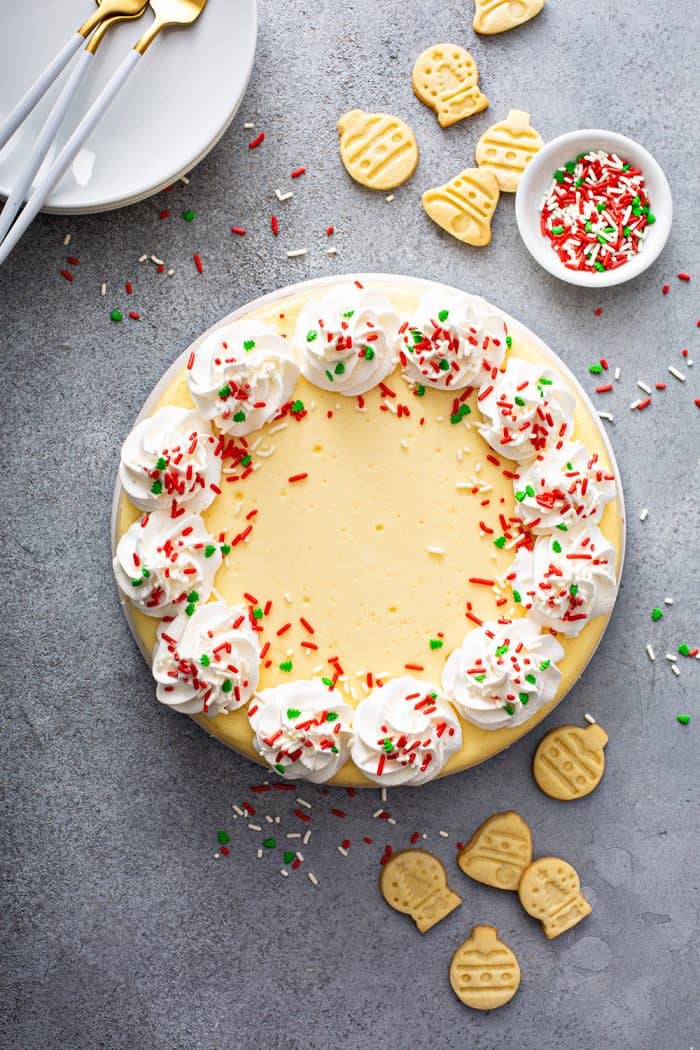 Making the filling will be very similar to making a Vanilla Cheesecake. We're just leaving out the vanilla extract and using the flavored coffee creamer in place of the heavy cream!
In the bowl of your stand mixer fitted with the paddle attachment, beat the cream cheese until smooth. Add the sugar and mix until combined.
Add eggs, one at a time, fully incorporating each before adding the next. Make sure to use room temperature eggs and scrape down the bowl between each egg.
Finally, add the coffee creamer and mix until smooth.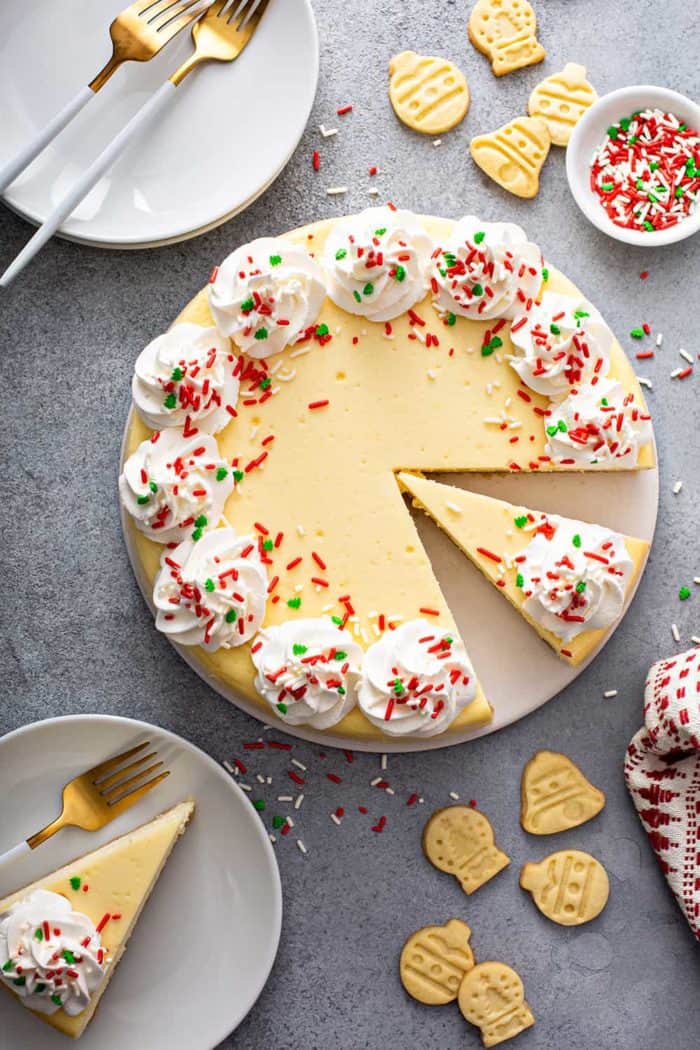 Pour the filling into the cooled crust and bake the cheesecake in a water bath for 55-60 minutes. When it's done, the edges will appear to be set, but the center will still have some jiggle to it.
At this point, turn off the oven, but leave the door cracked and allow the cheesecake to rest in the cooling oven for one hour.
Once one hour has passed, carefully remove the cheesecake from the water bath and place it on a cooling rack to cool completely before placing it into the refrigerator for at least 8 hours.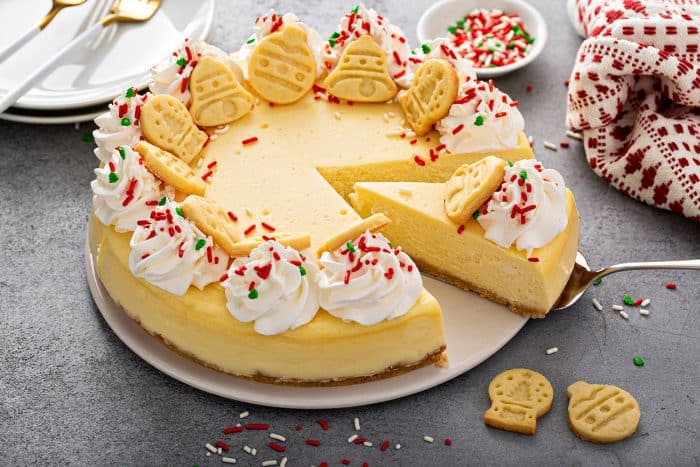 DO I HAVE TO BAKE THIS IN A WATER BATH?
I know, I know. Baking cheesecake in a water bath is intimidating.
But I promise it's not as hard as it looks! I wrote up a handy guide to teach you how to bake cheesecake in a water bath.
But if you still aren't sure about it, you can always skip the water bath. The top of your cheesecake might crack, but use some of the sugar cookie whipped cream to cover it up.
After all, I don't think anyone would be mad about extra whipped cream on top of their slice of Sugar Cookie Cheesecake!