Peanut Butter Parfaits made with Girl Scout Cookies? Yes, you read that correctly and yes, they are as rich and decadent as they sound. If you read My Baking Addiction on a regular basis, you may have caught on to the fact that I am certainly no girl scout. Well, unless you count that one brief moment that I was a Brownie back in second grade. Realizing very quickly that it was not my cup of tea, I made a fairly quick exit. However, I'm pretty certain my overly sentimental mother may still have my sash complete with a few patches.
February is typically a pretty boring month because I am not really into Valentine's Day, but I always look forward to the Girl Scout Cookie order forms. I'm a sucker for fund raisers and I try to support everyone, so I always end up ordering far more cookies than I should really have in my possession at one time.
I obviously have my favs…Do-Si-Dos, Thin Mints, and of course those delish Samoas and I always have to order Brian's favorite variety, Tagalongs. Once my cookie order was fulfilled, I obsessively lined all of the boxes up on the counter and knew I had to do something with all of these cookies… and quick. Eating them just wasn't an option because my jeans are already a little snug. Not lay on the bed to zip snug, but snug enough.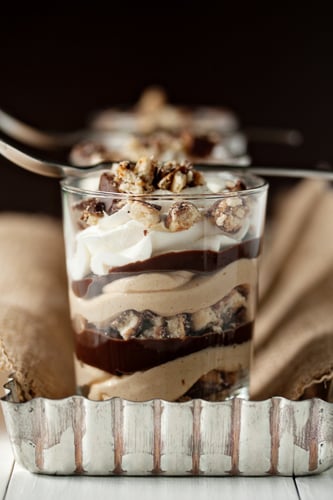 After evaluating my expansive stash of cookies, I opted to send some to work with Brian, tossed a few boxes in the freezer and made a feeble attempt to hide the rest…from myself. Knowing that Tagalongs are Brian's weakness, I created Mini Peanut Butter Trifles with his favorite chocolate covered peanut butter cookie. The key word in recipe is mini. Trust me, these are about as rich and decadent as a dessert gets and you really only need just a few bites to get your peanut butter fix. With layers of chopped Tag-a-longs, peanut butter cream cheese mousse, chocolate fudge sauce, and a dollop of whipped cream, you'll be in a sugar induced coma if you consume more than a mini serving.
While I'm pretty sure these Mini Peanut Butter Trifles will cure any immediate peanut butter cravings you may have, stay tuned to MBA for the rest of the week: We've just kicked off a week devoted to all things Peanut Butter Love.
Got a recipe to share? Use the Twitter hashtag #peanutbutterlove to tweet me the link, or leave a link on my Facebook page. We'll be putting together a Peanut Butter Love round up post this weekend linking to our favorite shared peanut butter recipes.

Tagalong Peanut Butter Parfaits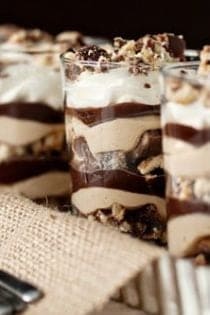 Ingredients:
For the peanut butter mousse
4 ounces cream cheese, softened
1/2 cup creamy peanut butter
1/2 cup plus one tablespoon confectioners' sugar
1/4 teaspoon pure vanilla extract
2 tablespoons heavy cream
For the trifle layers
10 Tagalong® Cookies, chopped
fudge sauce (store bought or homemade)
1/2 cup heavy cream plus 1 tablespoon confectioners' sugar, whipped
Directions:
For the peanut butter mousse:
In the bowl of a stand mixer fitted with the whisk attachment or in a large bowl using an electric mixer, beat cream cheese, peanut butter, confectioners' sugar, vanilla, and heavy cream until thoroughly combined and fluffy; about 3 minutes.
To assemble the Peanut Butter Trifles:
Place about 1 chopped Tagalong® into the bottom of each mini parfait glass. Pipe or spoon in a layer of peanut butter mousse. Add a layer of chocolate fudge sauce and repeat layers . Top with whipped cream and finish with chopped Tagalong® cookies.
Notes:
– These trifles are best served the day they are made.
All images and text ©
Follow Jamie on Instagram. We love to see what you're baking from MBA! Be sure to tag @jamiemba and use the hashtag #mbarecipes!