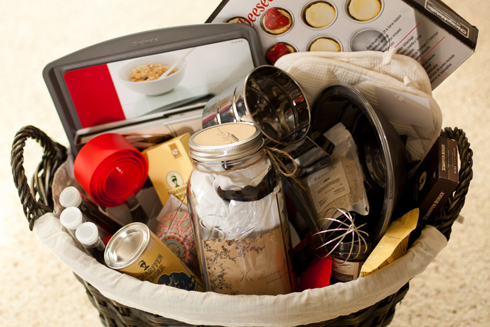 In late July, I was asked by New Life Hospice if I was willing to put together a baking themed basket for a charity fundraiser. With more than twenty-five years of hospice care in Lorain County, the mission at New Life Hospice is to provide the best possible care to patients and their families who are dealing with the realities of terminal illness. Their goal is to provide care that will enhance the dignity and improve the quality of life for those living out their last months, weeks, or days. As a non-profit organization, they continue to provide care for all, including the poor and underserved. My family has had ties with hospice for as long as I can remember, so I did not hesitate with my response.
My mom has been employed by different hospice programs since I was a young child. I was always in awe of her ability to work in such an emotionally exhausting field. She has taken breaks from this line of work on several occasions, but it seems she inevitably ends up back on this path. She has always had the uncanny ability to bring a bright outlook and compassion in times of sorrow and to bring acceptance in times of sadness. My guess is that in the grand scheme of things, this is her truly her calling and I am sure the many people that she has encountered in the years of working in hospice would agree with me.
Hospice aided our family with the passing of my grandmother 17 years ago, I was young, but the experience is still very clear in my mind. In May of 2009, my mom's boyfriend, Bob passed away and it was hospice that helped her and his family through his last weeks of life and for that I am extremely grateful to them.
When I first agreed to create a basket, I thought I would pick up some essential baking items from a few stores and that would be the extent of it. However, one night I had the idea of contacting a few of my favorite companies that I have worked with in the past. They are all amazingly generous and took time out of their schedules to communicate with me, share hospice stories and offer contributions to the hospice benefit. Together with their help, I was able to contribute a fantastic array of cooking/baking products to the fundraiser.
I want to personally thank the following people and companies for donating their products and time to benefit such a worthy cause. Each and every one of you helped to make this a successful event and I am extremely proud to have worked with all of you!
Rob from Beanilla for the splendid vanilla products; everyone was smitten with the glass tubes that Rob uses to package his wonderful vanilla beans.
Debbie and Andrea from The Hip Hostess for contributing a fabulous apron in their flirty Pink Licorice pattern. Everyone loved the fun fabric and modern look of the apron.
Colleen and the Scharffen Berger team for arranging an amazing mix of favorite baking chocolate. She even added the Scharffen Berger cookbook Essence of Chocolate which had all the chocolate lovers swooning.
Ken and his team at Zoku for sending us a Quick Pop Maker, Tool Kit and Storage Container. This product has been a staple in my kitchen all summer long and will certainly be on many wish lists this holiday season.
Ashley from Ice Milk Aprons for a gorgeous apron. Ashley's stunning packaging and vintage look brought a smile to many peoples' faces.
Claudia From Nordic Ware for the essential covered pans and bundt pan.
Cindy from Wilton for contributing the popular Giant Cupcake Pan and two pattern books. The giant cupcake pan is a great way to make a cake that will certainly be adored and remembered.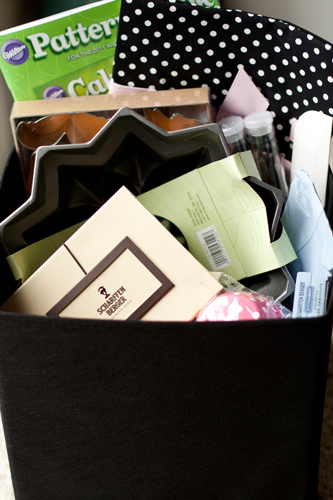 Thanks so much for stopping by, have great week!
If you enjoyed this recipe, you may like...