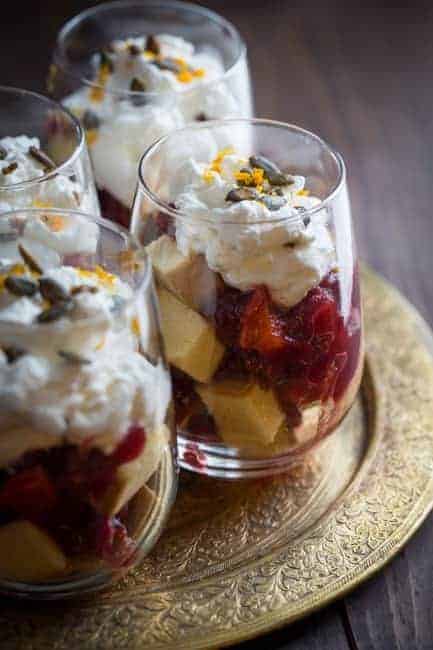 These Cranberry Orange Trifles combine all the flavors of a sweet, tart cranberry relish into an irresistible layered dessert topped with whipped cream and maple roasted pumpkin seeds.
I'm having a hard time believing that November is already here! All year, I wish for fall to hurry up and get here and now that it's here, I'm wishing for time to slow down. I guess I can't have it both ways, but I need some time to savor the season and prepare for our big family Thanksgiving celebration.
When it comes to Thanksgiving, I love putting twists on classic dishes. Don't get me wrong, there are some things that I just don't mess around with, like my family's favorite sausage stuffing. There are other dishes, however, that I would prefer a twist over the original.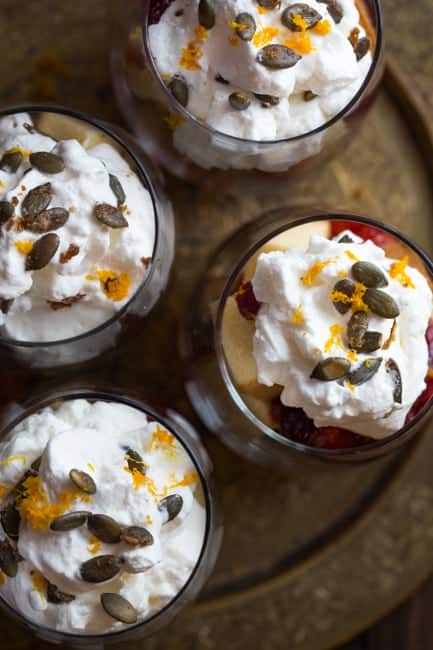 For instance, instead of traditional pumpkin pie (which I've never been a huge fan of) I've been making Mini Pumpkin Goat Cheese Cheesecakes. This year, though, I thought it would be fun to take the flavors of my favorite cranberry sauce, and turn them into an elegant and simple Thanksgiving dessert.
These Cranberry Orange Trifles are made from layers of sweet poundcake topped with a sweet, homemade cranberry orange compote. The sweetness from the cake mellows out the tart flavors of the compote to create a great combination of taste and texture. To add even more seasonal flavor, I decided to finish these Cranberry Orange Trifles off with a bit of sweetened whipped cream and a sprinkling of my Maple Roasted Pumpkin Seeds.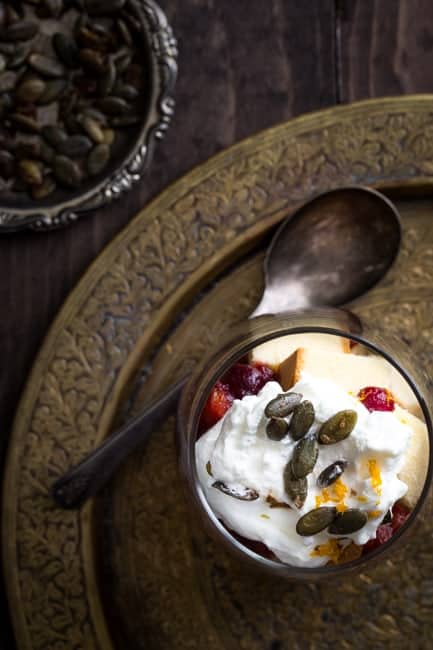 They're a wonderful crunchy finish for these gorgeous trifles. The best thing about this recipe is that it is beyond simple to make. I took some help from the store by using a store bought pound cake and the compote itself takes only minutes to come together. The compote can be made the day ahead of time and kept in the fridge, leaving you plenty of time on Thanksgiving day to whip up the rest of your feast.
Or if you're like me, it leaves you plenty of time to sip a cup of coffee and watch the Thanksgiving Day Parade. See? I'm all about the traditions.
Cranberry-Orange Trifles

Yield: 4 servings

Prep Time: 10 minutes

Cook Time: 15 minutes

Ingredients:

1 12oz bag fresh cranberries

1 cup high quality orange juice

3/4 cup light brown sugar

2 teaspoons orange zest (from 1 orange)

1 orange, peeled and cut into small pieces

1/2 frozen pound cake, thawed and cut into 1 inch cubes

sweetened whipped cream or whipped topping for serving

1/4 cup of maple roasted pumpkin seeds or chopped praline pecans

Directions:

1. In a medium sauce pan, add cranberries, orange juice, maple syrup, brown sugar, and orange zest. Bring mixture to a gentle boil over medium high heat. Reduce heat and simmer for 10-15 minutes or until mixture cranberries have burst and mixture is thickened, stirring frequently. Allow compote to cool for 5 minutes. Stir in orange pieces and allow compote to cool completely.

2. Assemble the trifles: Add a layer of pound cake cubes to the bottom of 4 glasses. Top with about 1/4 cup of compote mixture, and repeat with the pound cake and compote layers one more time. Top each trifle with whipped cream and sprinkle with Maple Roasted Pumpkin Seeds.

Notes:

You can use a fresh poundcake in place of the frozen. Trifles can be made a few hours in advance. Layer pound cake and compote into glasses, cover and refrigerate. Top with whipped cream and pumpkin seeds immediately before serving. This recipe can be easily doubled to feed a crowd.
About Emily
Emily is the cook, baker, photographer and rambler behind the blog, Jelly Toast. Aside from taking photos of everything she eats, her days are spent being a short order cook, story teller, tea party guest and giver-of-snuggles to her two kiddos. She has not yet mastered the clean-as-you-go cooking style, but has high hopes for the future.
If you enjoyed this recipe, you may like...