Homemade Bisquick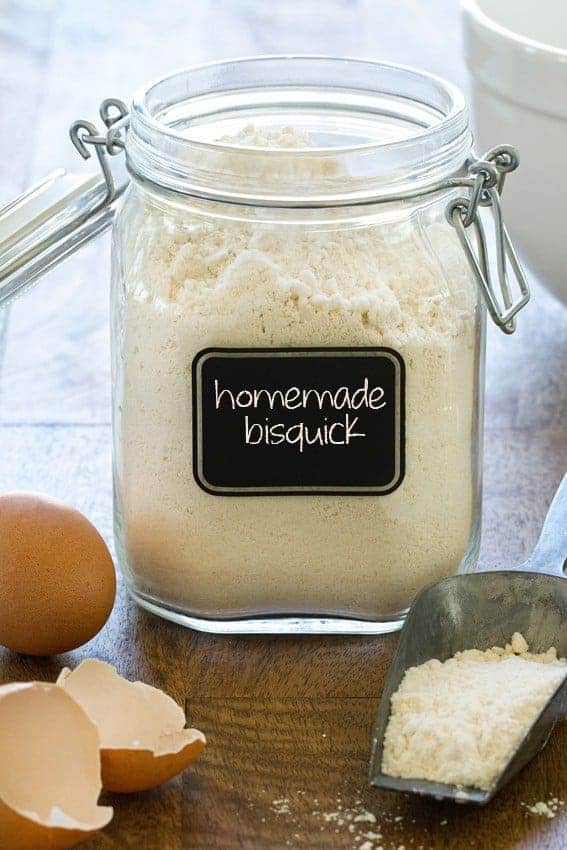 Homemade Bisquick comes together in less than 5 minutes and can be used in any recipe that calls for Bisquick or all-purpose baking mix. It's perfect for things like pancakes and diner-style muffins.
Most of the time I'm all about baking and cooking from scratch – until I'm not. Like those Sunday mornings when I don't set an alarm and the whole family sleeps in until 10:00. I know that sounds pretty blissful, but…
The problem is, I'm a creature of habit and sleeping in always throws me off my game in a big way. I love waking up early and sipping coffee at my desk in complete silence. It's when I make lists and online shop for things I don't need – like lipgloss and mason jar cocktail shakers. And when I don't get that time? I feel flustered and out of sorts.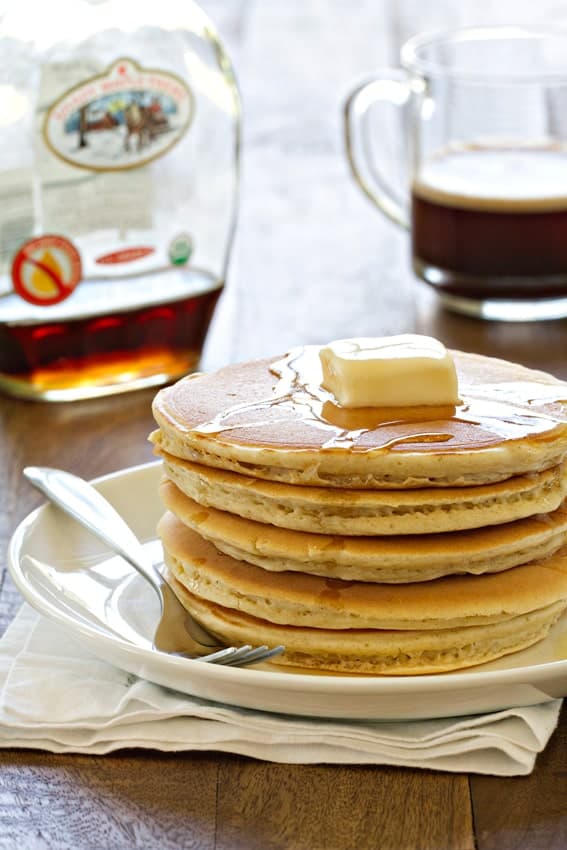 Eric and Elle love a late breakfast with all the fixins', like pancakes drenched in maple syrup, bacon and fresh berries. This kind of Sunday morning feast is their jam and ranks almost as high as their love for chocolate glazed donuts.
Don't get me wrong, I love a stack of Homemade Banana Pancakes or biscuits as much as the next guy, but sometimes, Mama needs a shortcut – especially when she wakes up 3 hours later than usual. And that shortcut is Homemade Bisquick.
Homemade Bisquick comes together in a food processor in less than 5 minutes and requires 4 ingredients that I'm betting you already have in your pantry. And it keeps within the refrigerator for up to 3 months!

Use Homemade Bisquick to whip up a stack of amazingly fluffy pancakes or in any recipe that calls for Bisquick or all-purpose baking mix.
From Potato Quiche and Banana Coffee Cake to those Cheddar Bay Biscuits that we all devour by the basketful – this homemade baking mix is going to become one of your favorite cooking shortcuts!
Just don't forget about keeping it in the fridge. Homemade Bisquick doesn't have the added chemical stabilizers to make it safe for keeping in the pantry. It'll go rancid quickly if left at room temperature – which won't hurt you, but it won't taste good either.

This post may contain affiliate links. We are a participant in the Amazon Services LLC Associates Program, an affiliate advertising program designed to provide a means for us to earn fees by linking to Amazon.com and affiliated sites.