Chocolate Glazed Donuts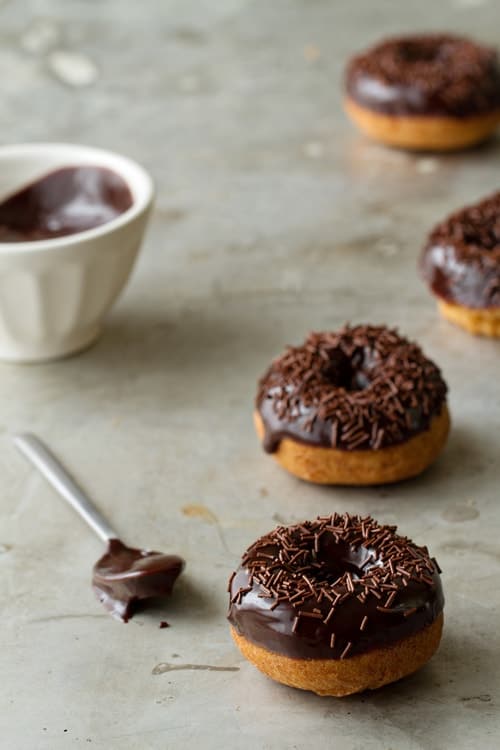 Fried mini doughnuts are dipped in a chocolate glaze and topped with chocolate sprinkles. They're perfect for a weekend breakfast or a fun dessert.
If you hang out on social media at all, you are probably very aware of the hashtag #tbt. If you're not aware of that hastag, allow me to enlighten you.
#Tbt stands for "Throwback" Thursday. This Twitter and Instagram "holiday" compels people to share photos from an earlier time in their lives. If you do a quick quick search for this hashtag you'll find photos of awesome 80's fashion, old school toys – hello, Lite-Brite and old school candy!
I loved me some Hubba Bubba Bubble Jugs and Push Pops. I totally searched for Hubba Bubba Jugs a few weeks ago to discover they discontinued those jugs of powdery gum years ago. Girl ain't gonna lie, if I found them online, they were most definitely going to be purchased.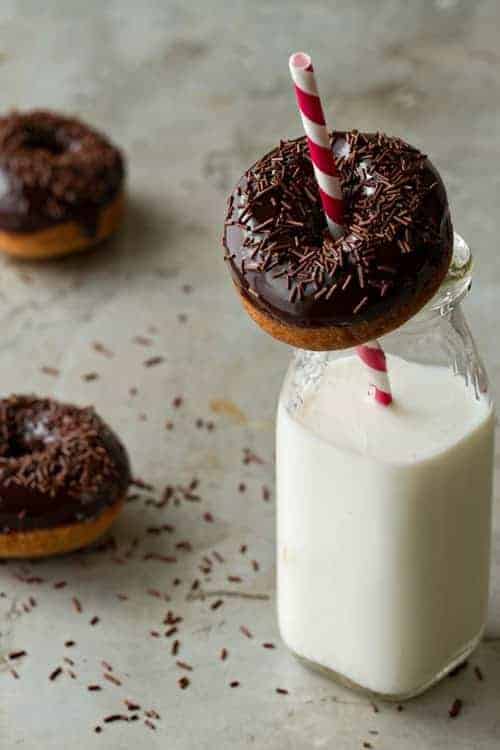 While I'm definitely not going to be sharing 80's photos of me with a sweet perm and ridiculously high bangs, I am all about sharing recipes that remind me of my childhood.
Earlier this month I posted a recipe for Honey Bun Cake which got me feeling all nostalgic about baking with my Nana. And I thought, why not share a couple #tbt recipes per month? I'll be digging through family cookbooks and Nana's recipe box to share some of our family faves with you, and I couldn't be more excited about it.
While discussing this topic with Eric, he immediately grabbed his grandma's cookbook and started flagging recipes that we needed to make and share. First on his list were his Grandma's donuts – which happened to be a Crisco Donut Recipe from 1916 that was passed down from his great-grandmother.
This recipe seemed like a great place to start, so we rolled up our sleeves, made the dough, cut out shapes and did some deep frying! And because in Eric's book a donut is not a donut unless it's dipped in chocolate, that's exactly what we did – and added some sprinkles of course!
Eric enjoyed these Chocolate Glazed Donuts every Christmas during his childhood, and they even graced the breakfast table after a special sleepover. We hope you enjoy them as much as we did!
If you happen to get a little inspired to create and share your own #tbtrecipe, be sure to tag me Instagram (@jamiemba) and Twitter (@bakingaddiction) – we'd love to see your creations!
Chocolate Glazed Donuts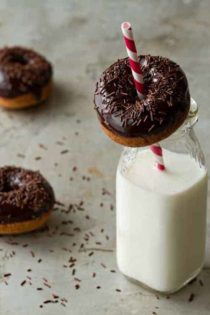 Ingredients:
3 teaspoons Crisco shortening
3/4 cup granulated sugar
3 large eggs, lightly beaten
1 teaspoon pure vanilla extract
3 cups all-purpose flour
3 teaspoons baking powder
3/4 teaspoon salt
1 teaspoon homemade pumpkin pie spice
6 tablespoons milk
For the Glaze
4 ounces semisweet or dark chocolate chips
1/2 cup (4 ounces) heavy whipping cream
2 tablespoons light corn syrup
2 teaspoons vanilla
Directions:
In a large bowl with an electric mixer, cream sugar and shortening together. Add in eggs and vanilla and mix on medium speed until combined.
In a medium bowl, sift together the flour, baking powder, salt and homemade pumpkin pie spice.
Add dry ingredients alternately with milk to the first mixture. Mixture should be very soft.
Form into a ball, place on a well floured board and roll to one-half inch thickness. Cut into donut shapes. I used a small biscuit cutter for the large circle and piping tip for the hole.
Heat plenty of canola oil in a large pot until the temperature reaches 375° F. Do not allow the oil to get much hotter than 375° F. It's a good idea to keep the thermometer in the pan to continually monitor the temperature.
Gently ease 2-3 mini donuts into the hot oil. Allow them to cook 2 minutes on each side; they will brown very quickly.
Remove donuts from the oil with a slotted spoon. Allow the excess oil to drip back into the pan.
Place donuts immediately on several layers of paper towels. Flip them over to drain the oil from the other side.
Repeat frying process with remaining donuts.
Allow doughnuts to cool. If desired, dip one side of donuts into chocolate glaze and top with chocolate sprinkles.
For the Chocolate Glaze
In a small saucepan over medium heat, warm the heavy cream until very hot, but not boiling.
Place chocolate chips in a heat safe bowl. Pour the hot cream over the chocolate and allow it to sit for about 5 minutes. Whisk the cream and chocolate until smooth and thoroughly combined. Whisk in the corn syrup, and vanilla.
Dip one side of donut into chocolate glaze.
If desired, top with chocolate sprinkles.
Notes:
My Baking Addiction slightly adapted from Crisco
All images and text ©
Follow Jamie on Instagram. We love to see what you're baking from MBA! Be sure to tag @jamiemba and use the hashtag #mbarecipes!
This post may contain affiliate links. We are a participant in the Amazon Services LLC Associates Program, an affiliate advertising program designed to provide a means for us to earn fees by linking to Amazon.com and affiliated sites.