Fried cake doughnuts are dipped in a chocolate glaze and topped with your favorite sprinkles. These chocolate glazed donuts are perfect for a weekend breakfast or a fun dessert.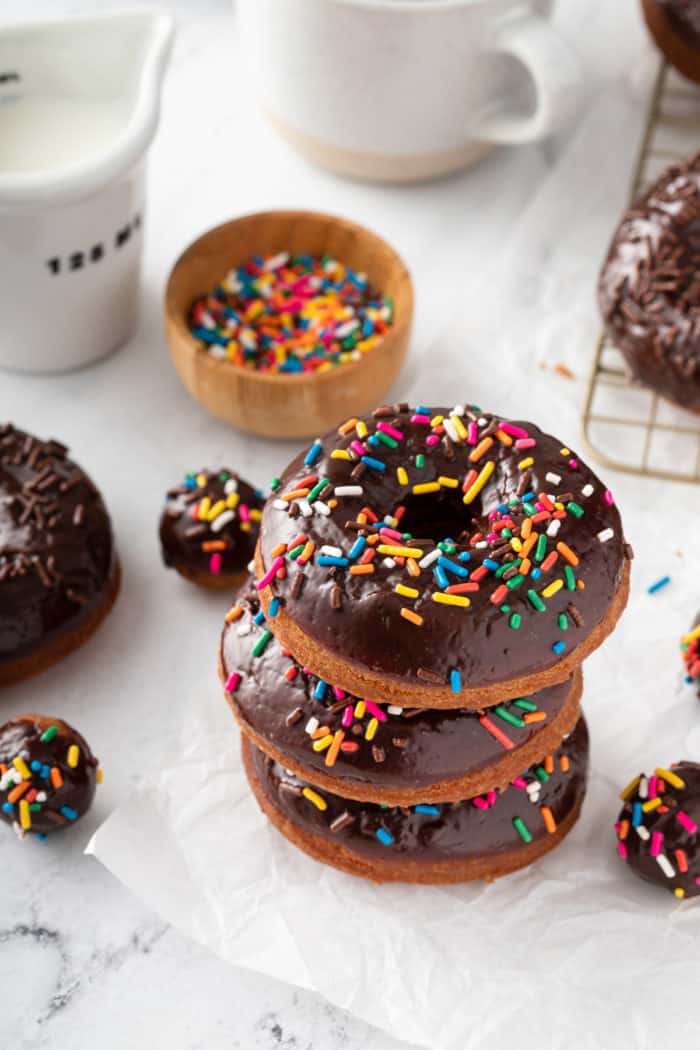 This post contains affiliate links.
I think we all have recipes that remind us of our childhoods.
For me, it's recipes like my Nana's pumpkin crunch cake, honey bun cake, or chocolate zucchini bread.
For Eric, it's his grandma's chocolate glazed donuts.
I don't make donuts all that often, but for some reason, fall seems like the perfect time to make them. Maybe it's because I automatically associate fall with apple cider donuts, or maybe it's just that they're such a comfort-food breakfast.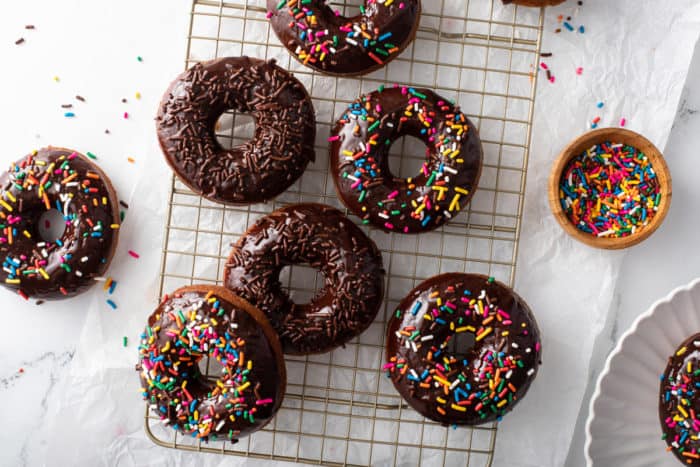 In Eric's book, a donut is not a donut unless it's dipped in chocolate. So these sweet little cake donuts are dipped in a chocolate glaze – and topped with some sprinkles, of course!
Eric enjoyed chocolate glazed donuts every Christmas during his childhood, and they even graced the breakfast table after a special sleepover.
I hope you use this recipe to make some special memories of your own!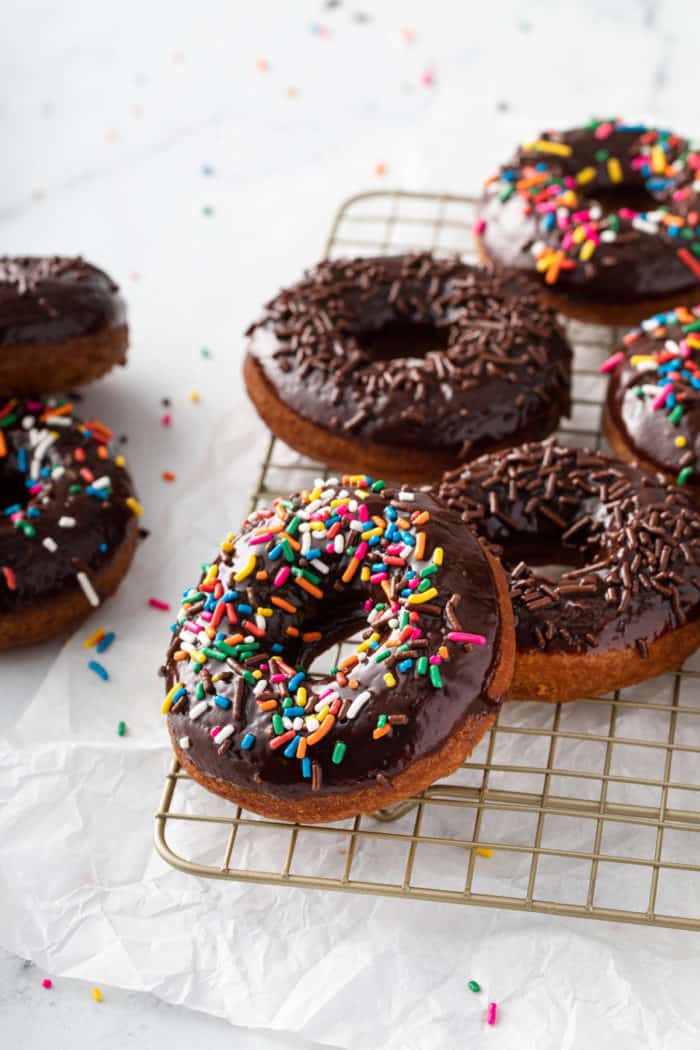 CHOCOLATE GLAZE FOR DONUTS
If you're like my husband, the most important part of this recipe isn't really the donut: it's the chocolate glaze.
Don't get me wrong: these cake donuts are great, and really do stand on their own.
But the chocolate glaze is where it's at with this particular recipe.
In this case, the glaze goes on a cake donut, but you could just as easily use this glaze on baked donuts or homemade doughnuts if you prefer a yeasted version!
The glaze is similar to a chocolate ganache, but with a couple of extra ingredients to give it that pretty sheen that makes bakery glazed donuts so enticing.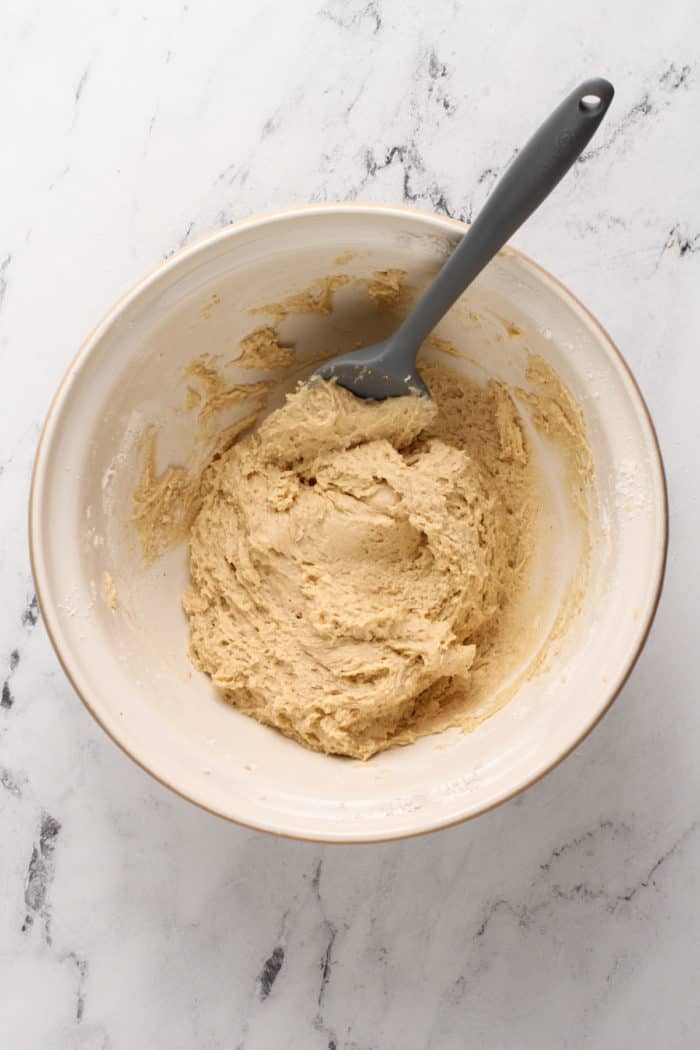 HOW TO MAKE CHOCOLATE GLAZED DONUTS
If you've never fried donuts before, you might be panicking right now. Don't worry, I'll walk you through how to make these chocolate glazed donuts.
Tools for frying donuts
Frying donuts isn't that hard; you just need to have a few pieces of equipment set up and ready to go:
Donut cutter or a set of circle cutters: For cutting the donuts and donut holes. If you don't have a donut cutter, use a 3-inch circle cutter for the donuts and a 1-inch cutter to cut the holes.
Large Dutch oven or other heavy-bottomed pot: Using a heavy pot will allow for more even heating of the oil.
Fry thermometer: Using a frying thermometer will help you to keep an eye on the temperature of your oil and adjust as needed throughout the frying process.
Spider and/or set of wooden chopsticks: A spider (also known as a skimmer or strainer) is helpful for flipping the donuts and removing them from the oil. I also like to use wooden chopsticks for turning the donuts; the chopsticks can also be used to take the donuts out of the oil by putting the chopsticks through the holes in the donut.
Sheet tray with wire rack: Line the sheet tray with paper towels to remove any excess oil from the fried donuts. The donuts can then be moved to the wire rack to cool. It's also helpful to have a sheet tray that fits under the rack when you glaze the donuts – any extra chocolate glaze can drip onto the tray without getting your counters dirty!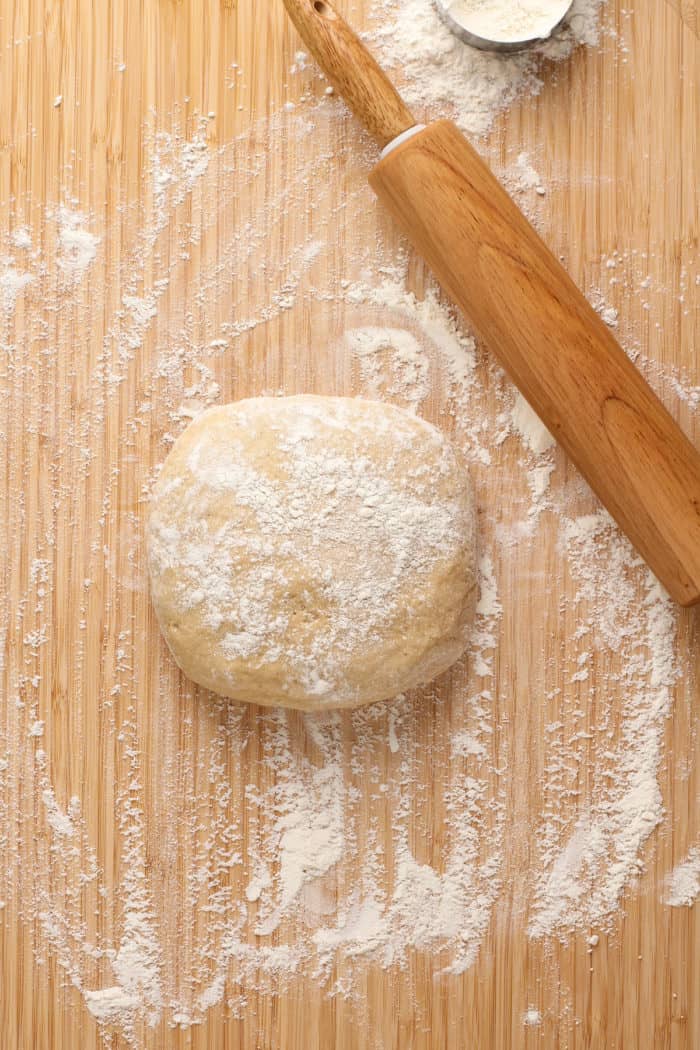 Making this recipe
Making the base for chocolate glazed donuts starts in the same way you would make a cake.
Cream together butter and sugar, then add eggs and vanilla.
Whisk together the dry ingredients – flour, baking powder, baking soda, salt, and cinnamon – in one bowl, and the sour cream and milk together in another.
Add half of the dry ingredients to the butter mixture, followed by all of the milk mixture, then the rest of the dry ingredients. You'll end up with a soft but workable dough.
Knead the dough 2-3 times on a floured surface, just to bring the dough together into a ball. Roll it out to ⅓-inch thickness, then use your donut cutter to cut out the donuts.
After re-rolling the scraps as necessary, you should end up with about 12 donuts and 12 donut holes.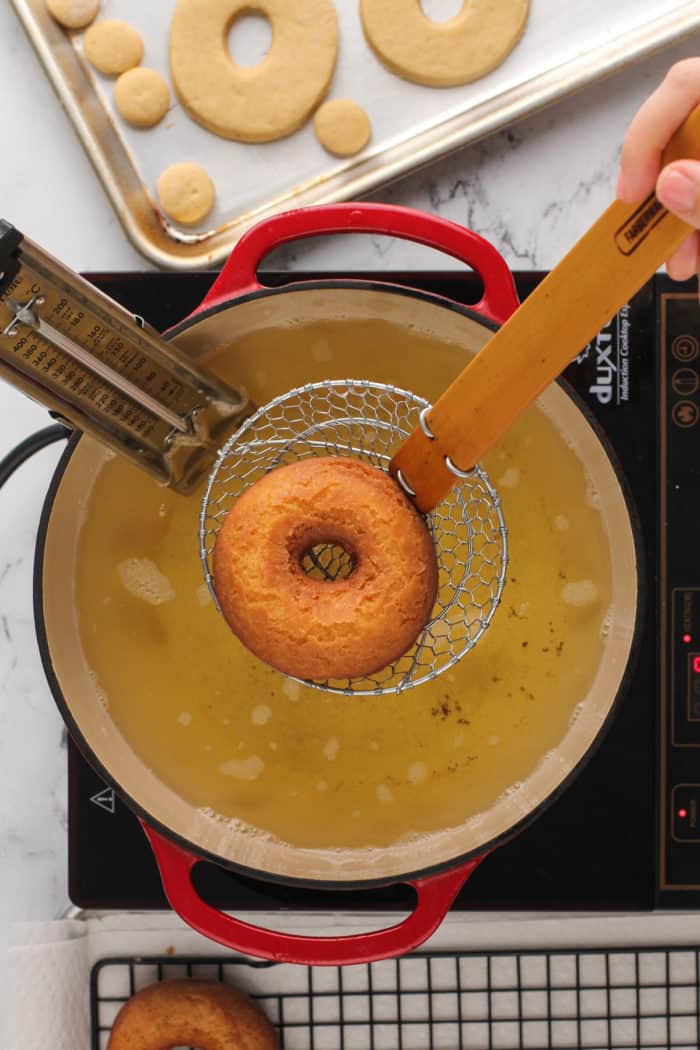 Fry the donuts in 375° F oil for about 2 minutes on the first side, then 1 minute on the second side. When you remove the donuts from the oil, let any excess oil drip back into the pot before placing them on a wire cooling rack set upside-down on a layer of paper towels.
When cooking the donut holes, let them cook for about 1 minute per side.
Let the donuts cool, then prep the glaze.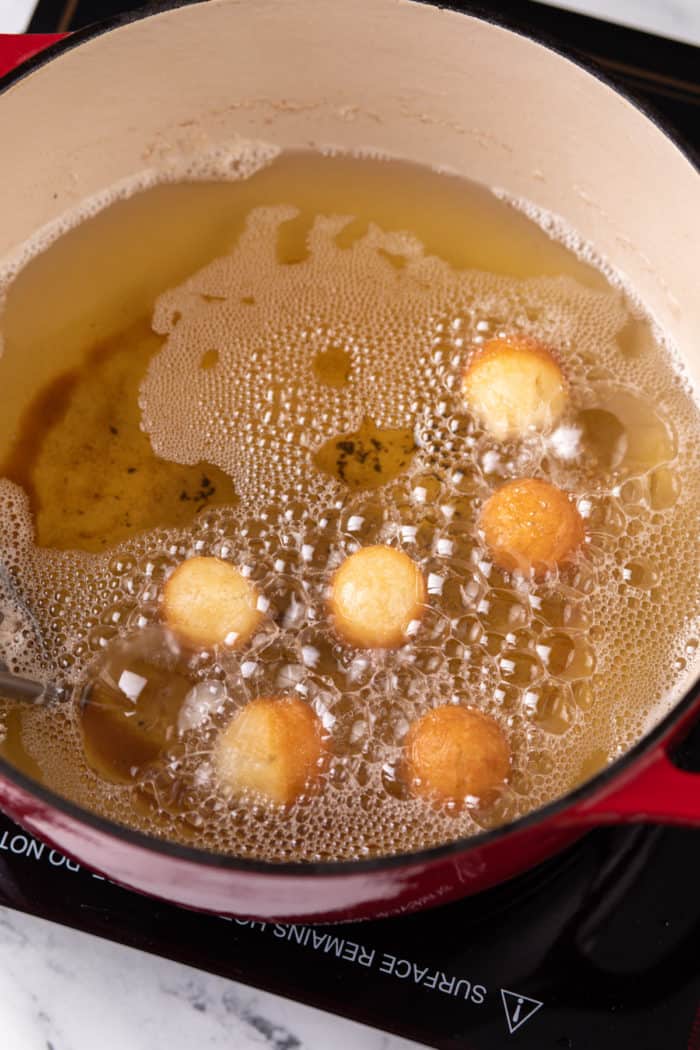 Making the glaze
To make the chocolate glaze, warm the heavy cream in a small saucepan until it is very hot but NOT boiling.
Put the chocolate chips in a heat-safe bowl, then pour the hot cream over the chocolate. Let it sit for 5 minutes.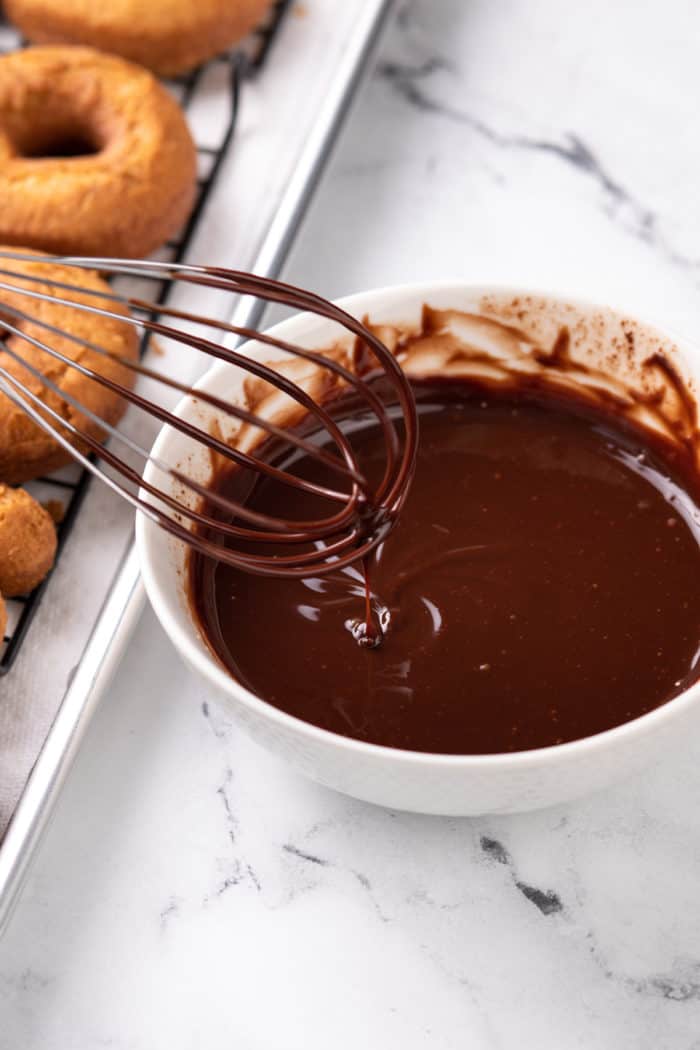 After 5 minutes, whisk until the chocolate is smooth and well combined with the cream, then whisk in the corn syrup and the vanilla.
Dip the tops of the donuts in the glaze. Before the glaze sets, top with your favorite sprinkles. I love to go for a mix of rainbow sprinkles and chocolate sprinkles, but you could use any seasonal colors you like for some holiday flair!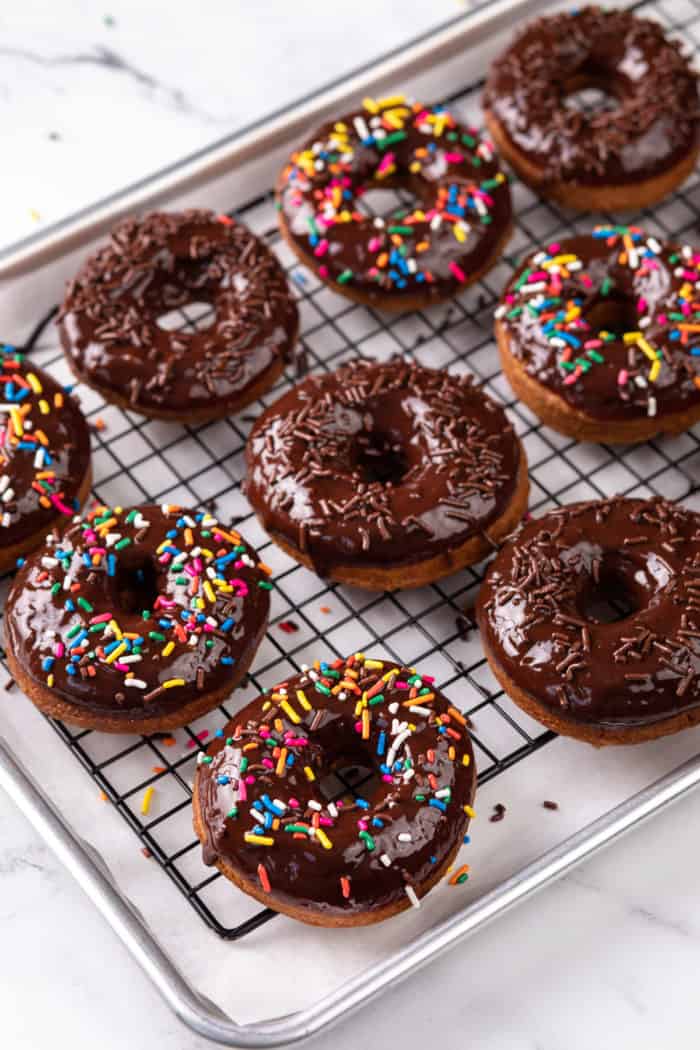 STORAGE TIPS
Like most homemade donuts, I tend to like chocolate glazed donuts best the same day they are made.
If you have leftovers, I recommend storing them in a bakery-style cardboard box or a paper bag. This will help draw out any excess oil and keep them fresher for longer.
You can always put a leftover chocolate glazed donut in the microwave for 15-30 seconds to warm it through. No one would be mad about a warmed-up donut with melty chocolate on top!