I made these doughnuts on Sunday morning and was so pumped about them, I had BIG plans to have them posted by Monday. As you can tell, I failed at my plan. I came down with a bit of a cold, and those of you that know me personally, can attest to the fact that I am a dramatic, whiny, baby when I am sick. I don't like being sick, I don't like nursing sick people/kids/dogs and cannot be within 5 feet of a sick person without becoming symptomatic. My drama hypochondria has become somewhat of a joke within my immediate circle and I am chronically teased about freakish ways.
Enough about me, let's move on to the doughnuts. I saw these on The Pioneer Woman's site a couple of weeks ago and knew they would be the perfect Sunday morning treat for Brian and his kids. I am always intimidated by yeast, for some reason it scares me! I am also a bit apprehensive about frying anything… truly I hate the lingering smell and since I am a major klutz, I fear splash burns. Yikes, I think I may be divulging too much information about myself in this post… yes, I am a tad bizarre, but that's part of my appeal!
I sucked it up and made the doughnut dough on Saturday evening, it was pretty easy and I was feeling quite accomplished. The next morning I pulled them out of the fridge and let them rise. I decided to make the rising process as easy as possible and since my kitchen is crazy drafty, I decided to use the dough rise option on my oven. This worked like a charm and I had beautiful, light, delicate, fluffy doughnut dough in about an hour. I pulled out my dutch oven, canola oil, and thermometer and got my fry on! This went off without any issues, well except for Bri catching a paper towel on fire! Oh, if you are looking to get your men involved in the kitchen, fry something. They'll be all over it!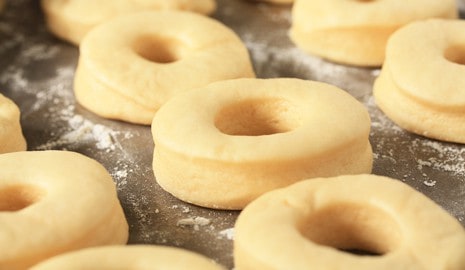 Once the doughnuts were fried and drained, I dipped some of them in the Pioneer Woman's glaze, some in this chocolate glaze that I saw on Honey & Jam and some in a mixture of cinnamon sugar. These doughnuts came out super delicious, I was very pleased with their, taste, texture and visual appeal. Although they are certainly not in the easy category, they are not difficult…don't be intimidated, they are well worth the labor. Check out Ree's post on The Pioneer Woman Cooks for a great step by step tutorial full of Ree's fabulous photos, instructions and wit. Thanks so much for stopping by…have a fabulous weekend!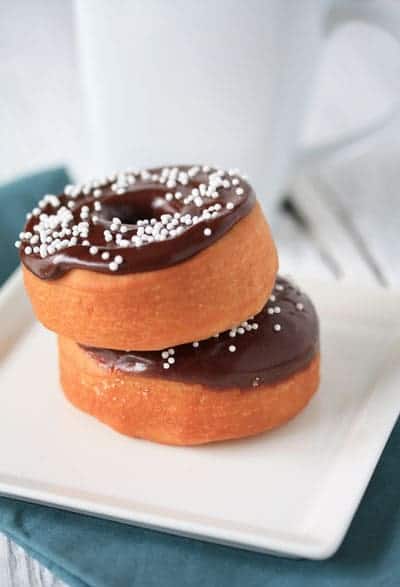 Homemade Doughnuts
Ingredients:
For the Doughnuts
1 1/8 cup Whole Milk, Warm
1/4 cups Sugar
2 1/4 teaspoons (one Package) Instant Or Active Dry Yeast
2 whole Large Eggs, Beaten
1 1/4 stick Unsalted Butter, melted
4 cups All-purpose Flour
1/4 teaspoon Salt
Canola Oil
For the Glaze
3 cups Powdered Sugar
1/2 teaspoons Salt
1/2 teaspoons Vanilla
1/2 cups Cold Water Or Milk
Directions:
To Make the Dough
1. Make sure milk is nice and warm, but not overly hot.
2. Add sugar to milk. Stir to dissolve.
3. Add yeast into a small bowl.
4. Pour milk/sugar mixture over yeast. Stir gently, then let sit for 10 minutes.
5. Melt butter in separate bowl until butter is almost melted. Stir to finish melting so butter won't be overly hot.
6. Add beaten eggs to melted butter, stirring constantly to make sure the butter's not too hot for the eggs.
7. Add the egg/butter mixture to the bowl of an electric mixer fitted with the dough hook.
8. With the mixer on 3 or medium-low speed, pour in the yeast mixture.
9. Allow the dough hook to stir this mixture for a couple of minutes, making sure it's thoroughly combined.
10. With the mixer still going, add helpings of the flour mixture in 1/4 to 1/2 cup increments until all the flour is gone.
11. Stop the mixer, scrape the bowl, then turn the mixer on the same speed for five whole minutes.
12. After five minutes, stop the mixer and scrape the bottom of the bowl.
13. Turn on the mixer for 30 seconds.
14. Turn off the mixer and allow the dough to sit in the bowl undisturbed for 10 minutes.
15. After 10 minutes, transfer dough to a lightly oiled bowl. Toss the dough to coat, then cover the bowl with plastic wrap and place straight in the fridge.
16. Refrigerate dough for at least 8 hours, or overnight.
To Make the Doughnuts
1. Remove bowl from fridge and turn out dough onto a lightly floured surface.
2. Roll out to 1/4 to 1/3-inch thickness.
3. Using a 3-inch cutter, cut as many rounds as you can, then roll out remaining dough and cut as much as you can, etc.
4. Cut holes out of each round using a 1 1/2-inch cutter.
5. Place both doughnuts and holes on a floured baking sheet.
6. Cover with large tea towel and place in a warm place in your kitchen; my kitchen is very drafty, so I have to briefly warm the griddle, then turn it off and set the sheets on top to keep warm.
7. Allow doughnuts to rise undisturbed for at least 1 hour; 1 hour 15 minutes if necessary. Doughuts should be visibly puffier and appear to be airy.
To Fry the Dougnuts
1. Heat plenty of canola oil in a large pot until the temperature reaches 375 to 380°F —do not let it get hotter than 380°F! 375°F is ideal; keep the thermometer in the pan to continually monitor.
2. One to two at a time, gently grab doughnuts and ease them into the hot oil. Allow them to cook 1 minute on each side; they will brown very quickly.
3. Remove doughnuts from the oil with a slotted spoon, allowing all oil to drip off.
4. Place doughnut immediately on several layers of paper towels. Count to five, then flip it over onto a clean part of the paper towels. Count to five, then flip it over again; the purpose, obviously, is to drain as much grease as possible before it soaks into the doughnut.
5. Repeat with remaining doughnuts and holes. The holes will cook more quickly than the doughnuts; about 30 seconds per side.
6. Allow doughnuts to slightly cool.
To Glaze
1. Mix all glaze ingredients in a bowl until completely smooth.
2. One by one, dip doughnuts into the glaze until halfway submerged. (Note: completely submerge doughnut holes, then remove with slotted spoon.)
3. Remove from glaze, then turn right side up on a cooling rack over a cookie sheet (to catch dripping glaze.)
4. Serve warm if possible, or room temperature.
Notes:
- These are not so tasty the next day, so I would recommend cutting the recipe in half if you do not have many people to feed.
- A good thermometer is key to making a perfectly cooked doughnut.
Follow Jamie on Instagram. We love to see what you're baking from MBA! Be sure to tag @jamiemba and use the hashtag #mbarecipes!
[pinit]