Homemade Cherry Pie Filling
Homemade Cherry Pie Filling comes together in just a few minutes. Try a spoonful with your morning yogurt or spooned over a stack of fresh, crispy waffles for a delicious treat!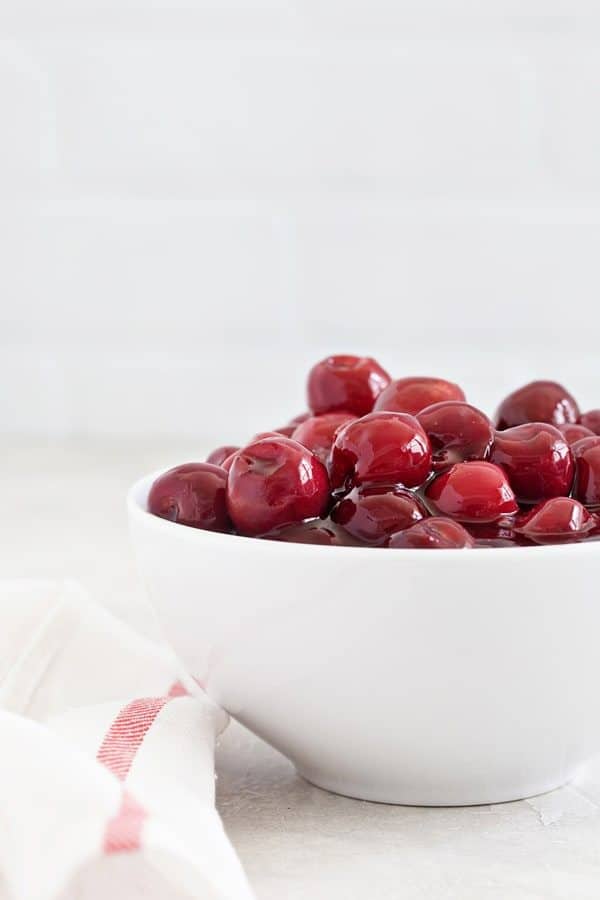 It's that time of year when I started counting down the days until fall. Don't get me wrong, I love the fact that the weather is warm enough for Elle to play outside for hours on end and swim until her tiny fingers turn into wrinkly little raisins, but Mama is hot and already craving pumpkin crunch cake and pumpkin roll.
It's been downright swampy here in Ohio, but earlier this week, we got a little break from the heat and humidity and were graced with a 70° breezy day. It was blissful.
And I'm pretty sure it's what fueled my craving for pumpkin desserts and my purchase of 2 new blanket scarves. I mean, can a Midwest girl really ever have too many blanket scarves?
However, two days later, I was back in sticky, humid, mosquito-y HELL.
What's even more annoying is that my husband absolutely LIVES for this type of weather. So while I'm wiping the sweat from my forehead and changing my clothes for the third time, he's turning up the thermostat and flinging open the windows – which I shut as soon as he turns his back.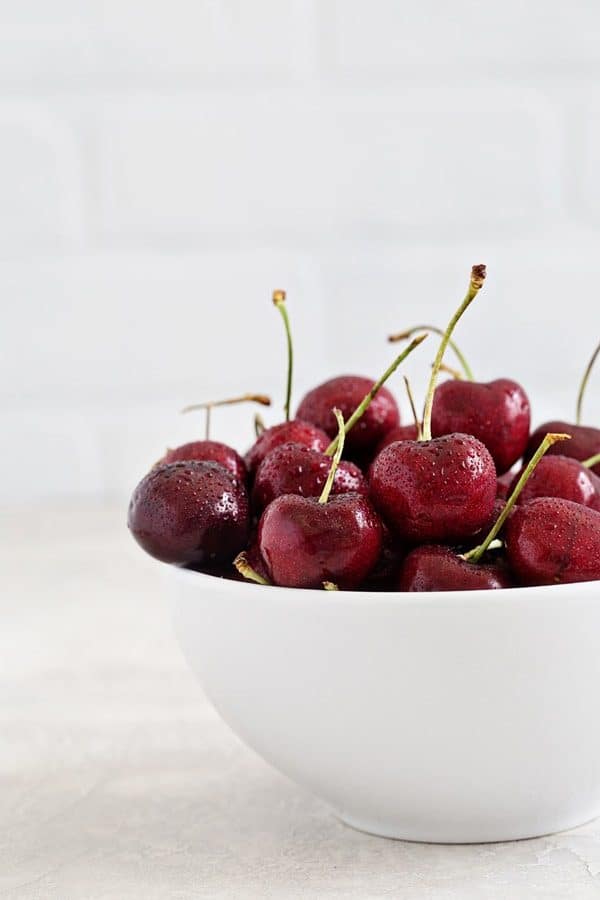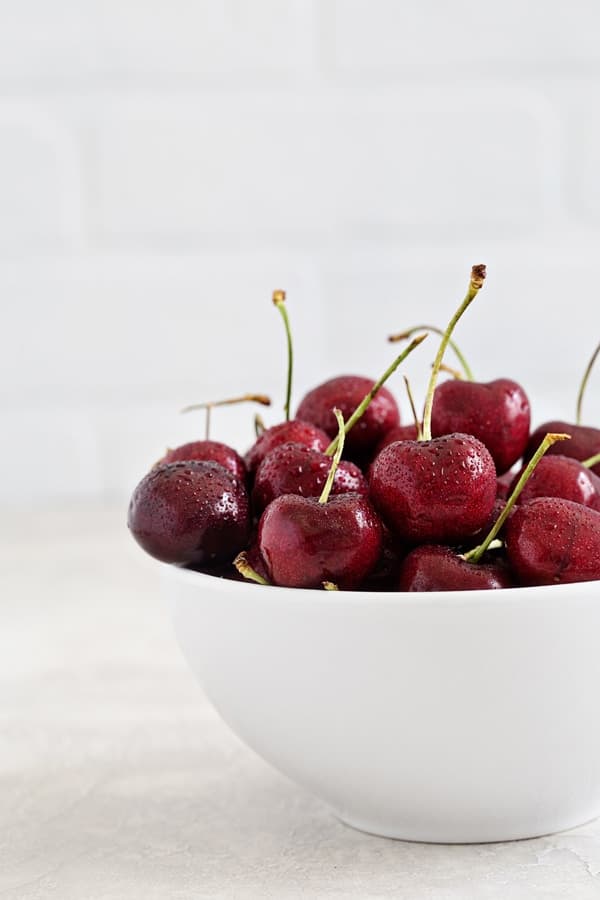 There's nothing like a trip down the produce aisle of our local market to kick my pumpkin cravings to the curb. Instead of cans of pumpkin, I loaded my cart with fresh summer produce like watermelon, peaches, blueberries, lemons and fresh, sweet cherries.
I've been on a pretty serious cherry kick lately and so has Elle. Which, can be evidenced by no less than 5 stained summer tanks and tiny red finger smudges on our light switch plates. What I can I say, the girl can get down with some cherries.
I'm one of those people that actually enjoys pitting cherries and a cherry pitter is one of the only unitaskers that I can actually get behind. Well, they say you can pit olives with the tool too, but I am not much of an olive person unless they're stuffed with some type of cheese.
I kind of think a pitter is necessary if you love to bake with cherries. If you've ever tried to pit a cherry with a straw, you feel me. Just be sure to wear an apron and not your favorite Madewell T because splattered cherry juice is no joke.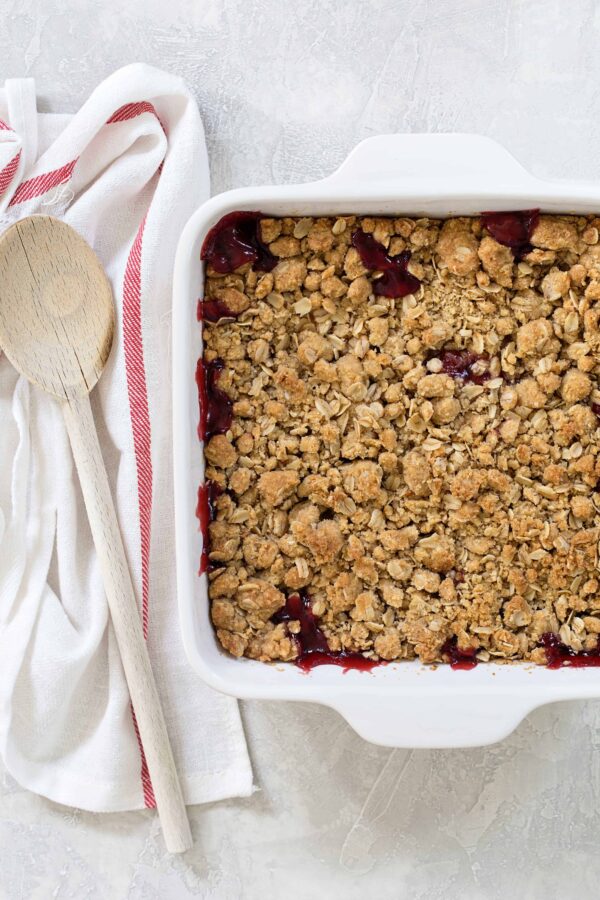 Last week Elle and I pitted no less than 5 pounds of cherries. Some were for eating, some were for freezing, and the rest were for a batch of homemade cherry pie filling.
I've been making my own cherry pie filling for years. In fact, I shared this recipe back in 2011, but the post was in serious need of new photos and text.
This cherry pie filling is super simple and only requires a handful of ingredients. And if you're not into pitting cherries, you can totally use frozen, pitted cherries from the market with great results.
Obviously this homemade cherry pie filling is great for pies and cherry crisp, but it's also amazing for topping cheesecake, yogurt parfaits, waffles, pancakes, ice cream – well, you get the idea. The stuff is delicious and I'm pretty certain you're going to be making it all summer long.
I'd love to hear about your favorite cherry recipes AND your pumpkin cravings, so tell me about them below in the comment section.
Homemade Cherry Pie Filling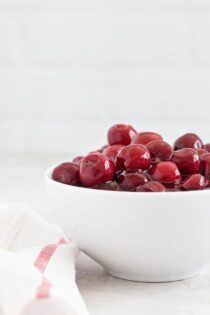 Ingredients:
5 to 6 cups fresh pitted cherries, about 2 1/2 to 3 pounds
1/2 cup water
2 tablespoons freshly squeezed lemon juice
2/3 cup granulated sugar
4 tablespoons cornstarch
1/4 teaspoon almond extract, optional
Directions:
In a saucepan over medium heat, combine cherries, water, lemon juice, sugar and cornstarch.
Bring to a boil; reduce heat to low and cook, stirring frequently, for about 10 minutes.
If using, stir in almond extract. Cool slightly before using as a topping.
Notes:
If using sour cherries, you will need to adjust the amount of sugar. I'd recommend starting about ¾ cup and working your way up if more sweetness is needed.
Refrigerate leftover fresh cherry pie filling in a sealed container for up to 3 days.
This recipe freezes beautifully.
Recipe slightly adapted from about.com
All images and text ©
Follow Jamie on Instagram. We love to see what you're baking from MBA! Be sure to tag @jamiemba and use the hashtag #mbarecipes!
This recipe originally appeared on My Baking Addiction in May of 2011. The photos and text have been updated.
Post contain affiliate link.
This post may contain affiliate links. We are a participant in the Amazon Services LLC Associates Program, an affiliate advertising program designed to provide a means for us to earn fees by linking to Amazon.com and affiliated sites.