Cherry cheesecake cupcakes are a fun and portable take on a classic dessert. These cute cupcakes are as fitting for a potluck as they are for a dinner party!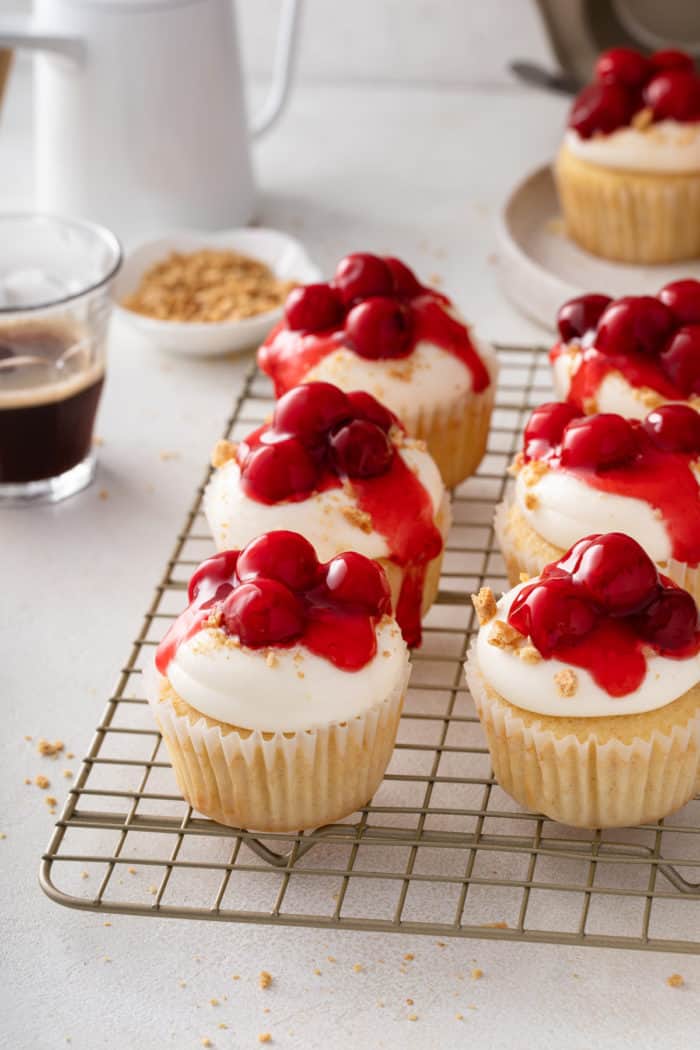 This post contains affiliate links.
I like to keep a few impressive but easy recipes in my back pocket.
You never know when you're going to want to make a nice dessert for dinner guests, take something to a potluck that will wow your friends, or drop off something special to the neighbors.
That's when I turn to recipes like black magic cake, layered pistachio pudding dessert, brownie trifle, funfetti cupcakes, and these cherry cheesecake cupcakes.
We love a crowd-pleasing dessert that doesn't take hours of work to make!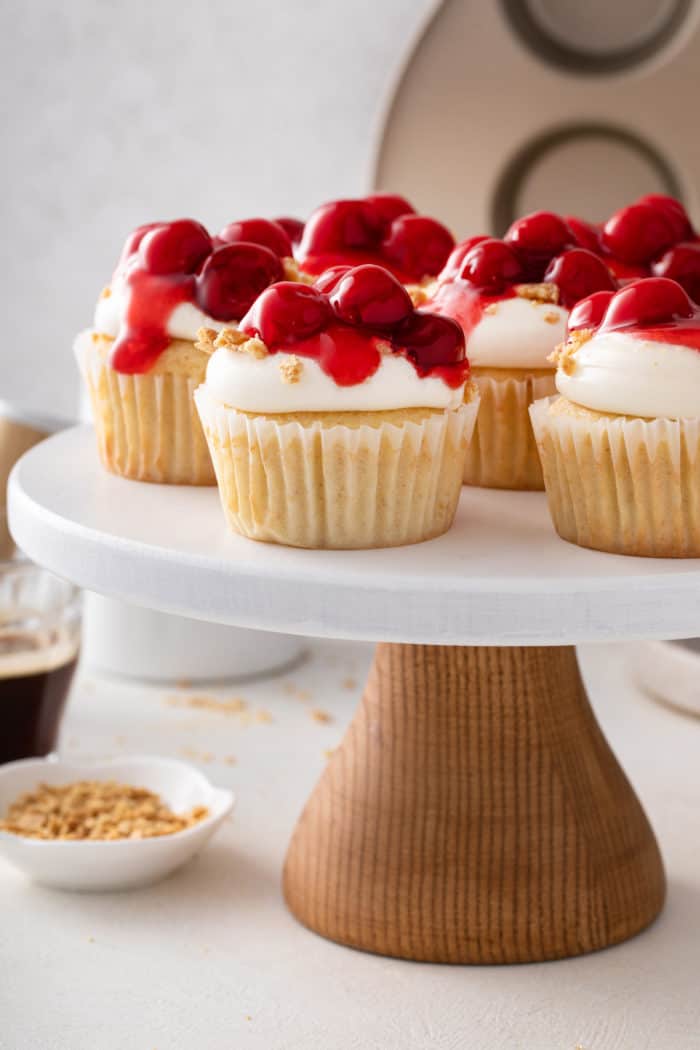 MY CHERRY CHEESECAKE CUPCAKES
It doesn't take long to figure out that my cheesecake recipes are some of my very favorite recipes to make.
But as much as I love making traditional cheesecakes, I think it's maybe even more fun to come up with fun twists on my favorite dessert.
I especially love coming up with more portable variations, like my cheesecake bars or mini cheesecakes. I've even turned cheesecake into cookies with my cherry cheesecake cookies.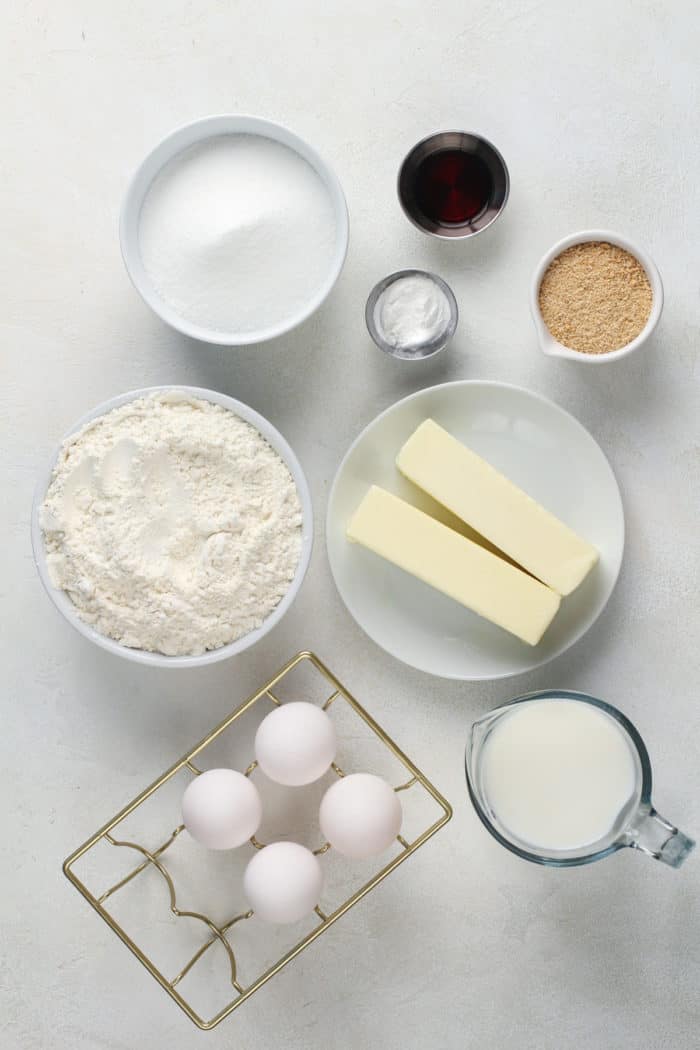 This time, I took the flavors of cherry cheesecake – graham cracker crust, tangy cream cheese filling, and cherry pie topping – and turned them into cupcakes.
I started with a sturdy yellow cake recipe and stirred in some finely crushed graham crackers. Then I topped the cupcakes with my favorite cream cheese frosting, more graham cracker crumbs and cherry pie filling.
You can even core the cupcakes and add in a little more cream frosting or more cherry pie filling for a fun little surprise inside each cupcake.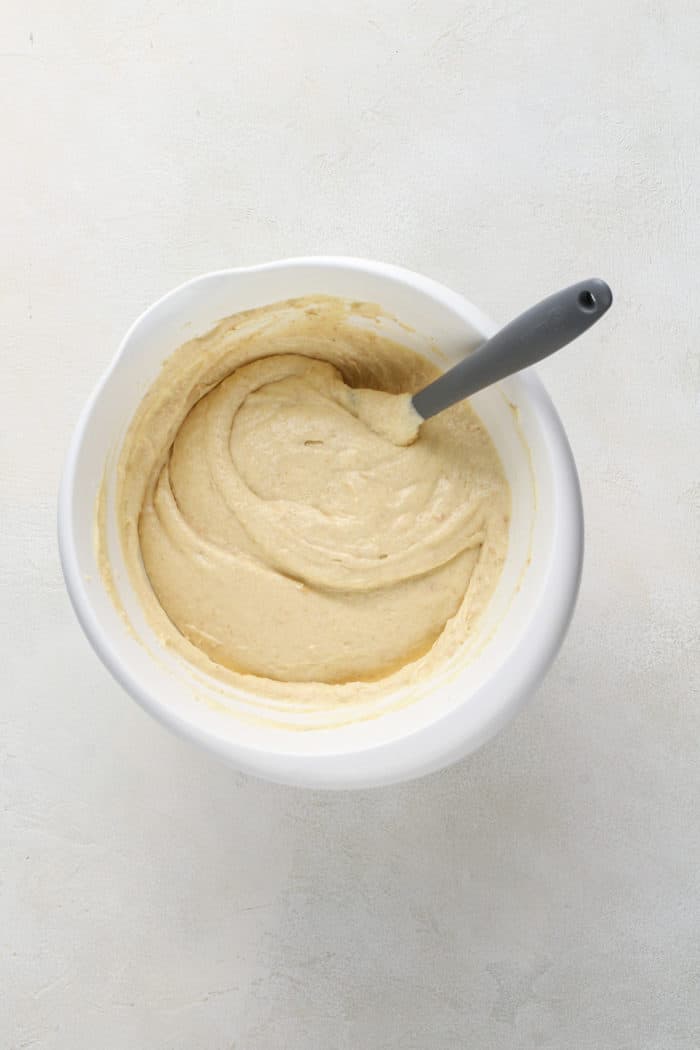 HOW TO MAKE CHERRY CHEESECAKE CUPCAKES
These sweet little cupcakes look like they're complicated to make. After all, they look so pretty with the pie filling on top!
But you'll find that they're way easier to make than you would have expected.
Cupcake components
There are three main components to these cupcakes:
Graham cracker cupcake base
Cream cheese frosting
Cherry pie filling topping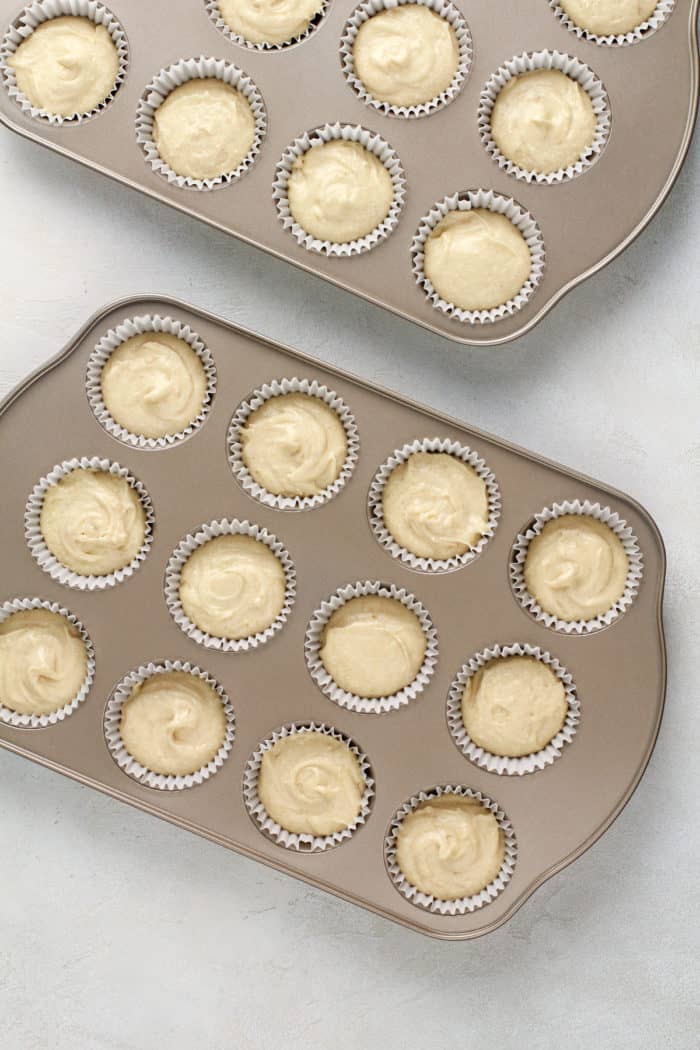 For the cupcake base, I chose a lovely yellow cake. It uses cake flour, which makes it nice and light, and folded in finely ground graham cracker crumbs.
Even though we'll put just ⅓ cup of graham cracker crumbs in the cake batter, you'll be surprised at how much graham cracker flavor comes through in the final cupcakes!
For the frosting, I used my favorite cream cheese frosting recipe. It's perfectly tangy and creamy and a frosting you'll want to make again and again.
For the topping, I like to use my homemade cherry pie filling, but you can easily use your favorite store-bought cherry pie filling instead!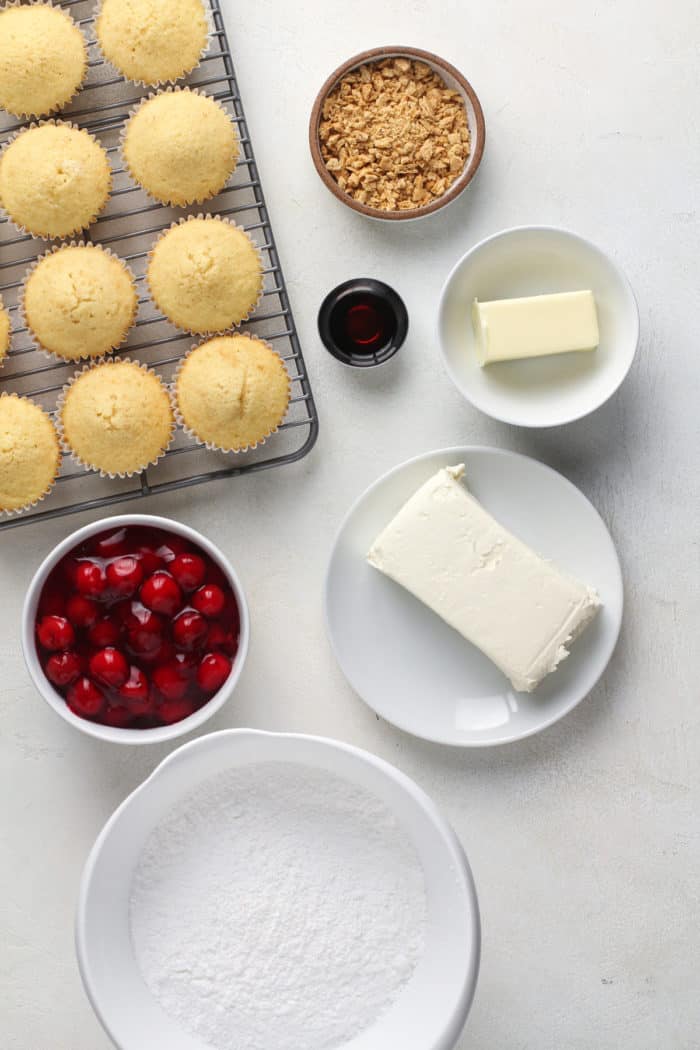 Helpful tools
There are a few tools you will find are helpful as you make these cherry cheesecake cupcakes: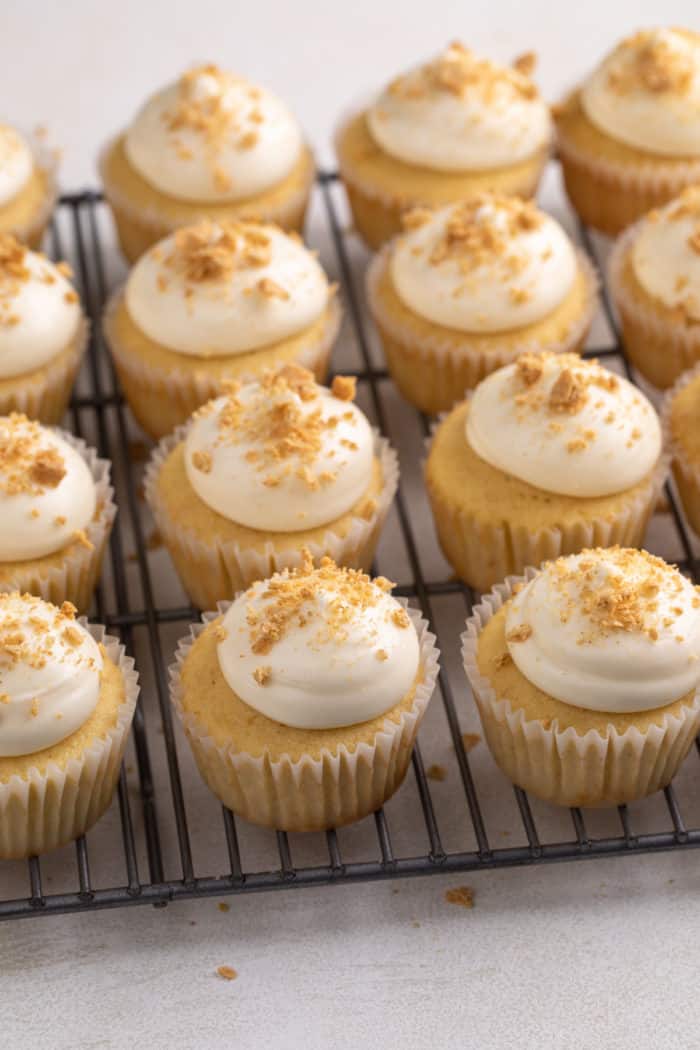 Making this recipe
Before you get started, make sure you have two standard 12-cup muffin/cupcake tins, as this recipe makes 24 cupcakes.
Use a mixer to cream the butter and sugar together for about 5 minutes, until super light and fluffy. Don't try to rush this; this step is important for super light cupcakes!
Sift together the cake flour and baking powder. Set this aside.
Add the eggs to the butter mixture one at a time, making sure to scrape down the sides of the bowl as needed.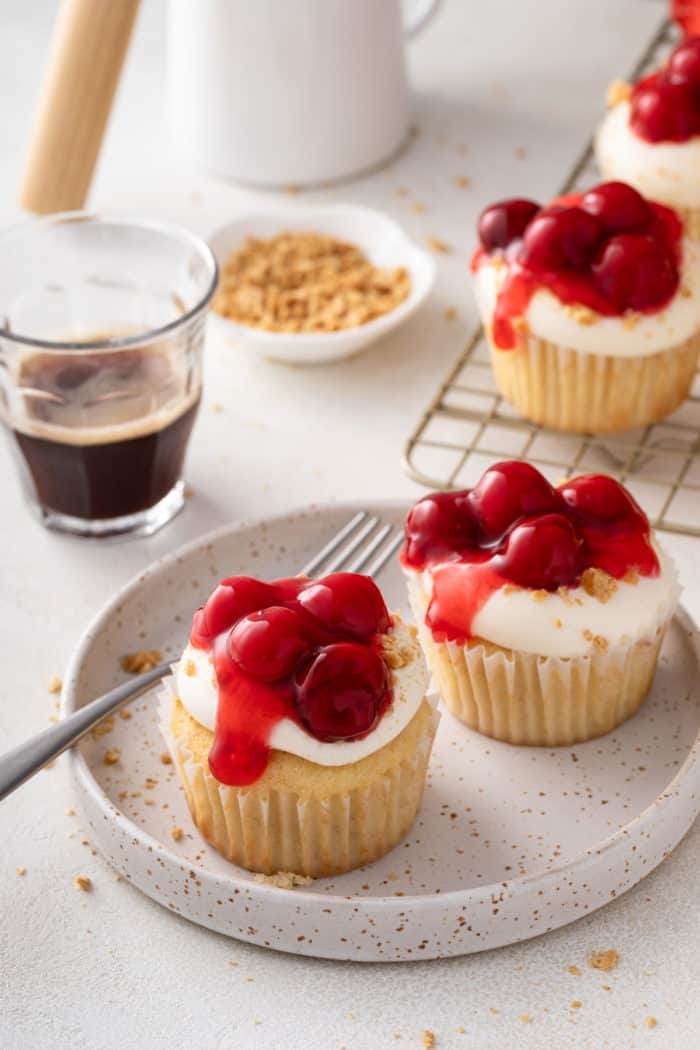 Add half of the flour, followed by all of the milk and the vanilla extract, then the rest of the flour mixture. Finally, fold in the graham cracker crumbs.
Use your large cookie scoop to divide the batter between the lined muffin cups before baking for 18-22 minutes.
Make sure you let the cupcakes cool completely before decorating.
To decorate, top each cupcake with some of the cream cheese frosting. Sprinkle on some more graham cracker crumbs and then top with a spoonful of cherry pie filling.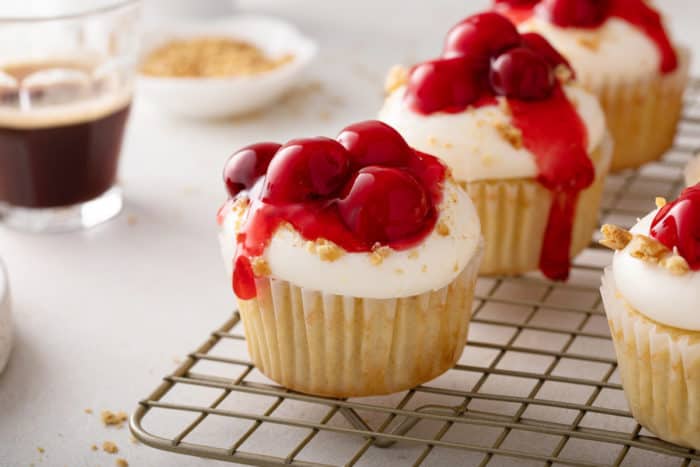 STORAGE AND FREEZING TIPS
Store cupcakes covered in the refrigerator for up to 3 days.
I recommend waiting to top them with the graham cracker crumbs and cherry pie filling until right before serving. Let the cupcakes come to room temperature and add the toppings.
Freezing cherry cheesecake cupcakes
Since this recipe makes 24 cupcakes, you may want to freeze half of them for later.
I recommend freezing the cupcakes before you frost them. Place the cupcakes in a zip-top freezer bag, seal tightly, and freeze for up to 1 month.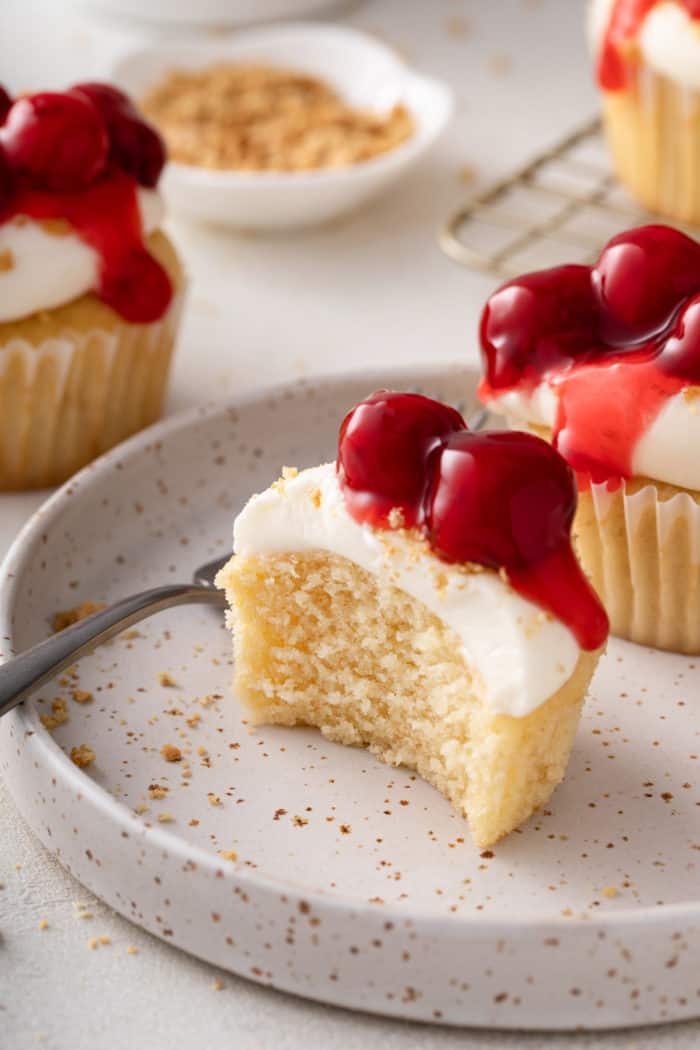 You can also freeze the frosting. Place it in an airtight container and freeze alongside the cupcakes for up to a month.
When you're ready to assemble, let the frosting thaw in the refrigerator overnight. Let the cupcakes thaw at room temperature.
Let the frosting come to room temperature after thawing. Whip it with an electric mixer for about 30 seconds before piping into the cupcakes and topping with the graham cracker crumbs and cherry pie filling.