This cream cheese frosting recipe is about to be your new best friend. Use this tangy-sweet frosting to top anything from carrot cake and banana cupcakes to red velvet cake – or simply dig in with some graham crackers and a spoon!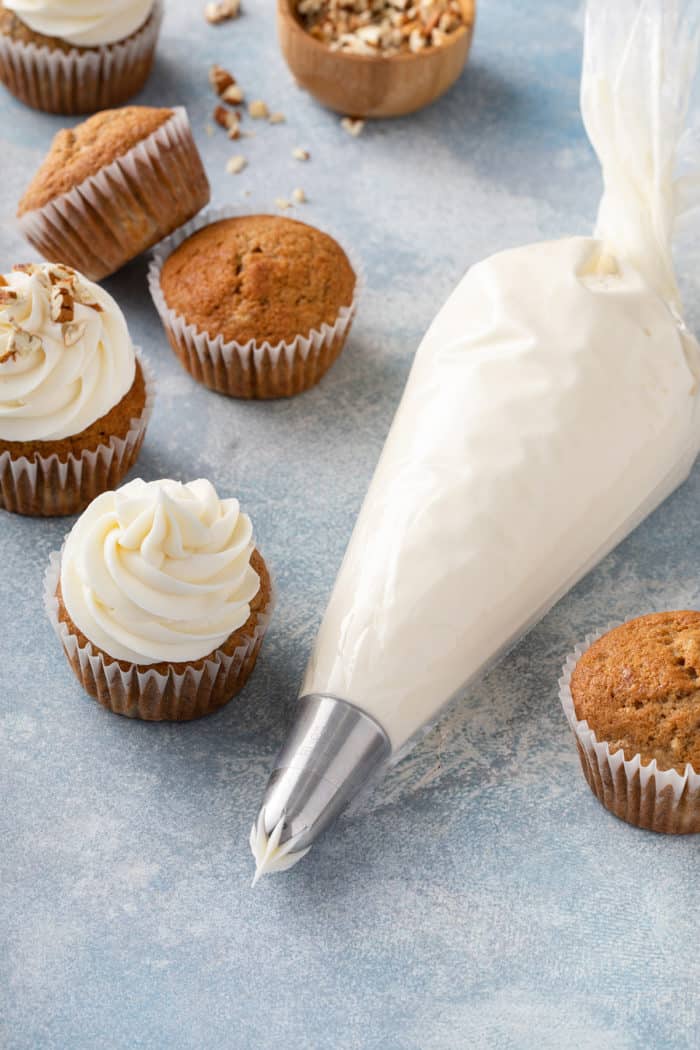 I really enjoy making cakes for the people in my life.
Whether it's birthday cakes for Elle, a cake to celebrate any holiday from Easter to Father's Day, or a "just because" cake, I always keep a few recipes in mind that I can quickly throw together.
Some of my favorite cakes are made completely from scratch, and some of them rely on a boxed mix. But even the recipes that use a cake mix can be easily made even more special with a homemade frosting.
Whether it's a homemade vanilla buttercream, chocolate frosting, or a tangy cream cheese frosting, it's an easy way to add something special to any cake.
Luckily, making homemade cream cheese frosting is so much easier than you might think! Today I'm sharing my classic cream cheese frosting recipe and a few tips and tricks to make sure it's a success for you.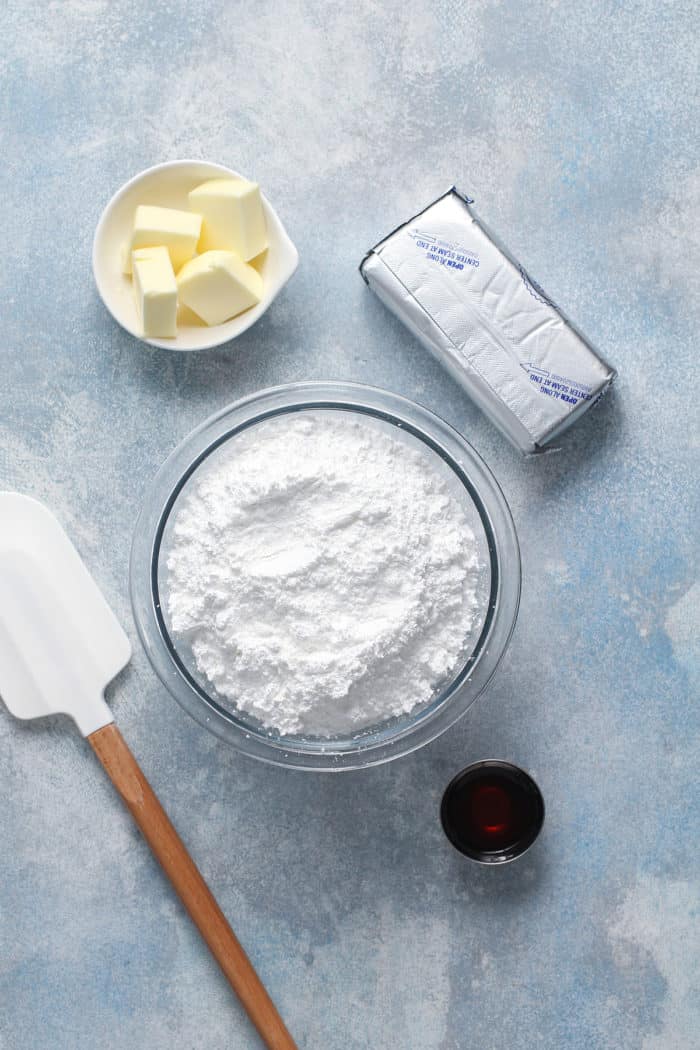 WHAT IS CREAM CHEESE FROSTING
If you're familiar with homemade buttercream frosting, cream cheese frosting won't be too unfamiliar for you.
While buttercream frosting uses butter as the base, along with powdered sugar and a bit of milk, cream cheese frosting uses a combination of cream cheese and butter. It also uses powdered sugar and other flavoring ingredients as needed.
The result is a very soft frosting that is the perfect balance of tangy and sweet.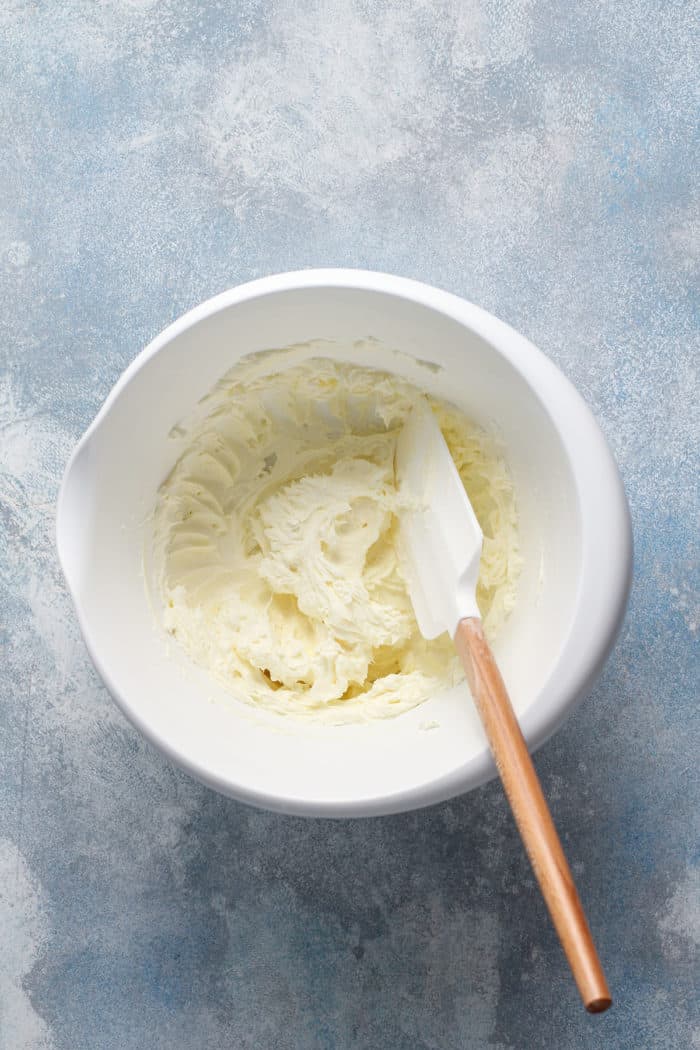 HOW TO USE THIS TANGY FROSTING
The tangy flavor of this cream cheese frosting recipe makes it perfect for pairing with so many different types of cakes and cupcakes.
Cream cheese frosting is traditionally paired with fruit or vegetable-based cakes, such as carrot cake, pumpkin bundt cake, banana cupcakes, and zucchini cake.
It is also traditionally used to frost red velvet cake.
But don't feel like you have to stop there! Try pairing this frosting with the best chocolate cake or even homemade funfetti cupcakes.
You can even spread it over cinnamon rolls. The possibilities are endless!
One thing to keep in mind about cream cheese frosting is that, unlike buttercream frosting which "crusts up" (forms a thin crust on the outside) and holds its shape well, this frosting remains soft. So I don't recommend using it to pipe onto decorated cookies.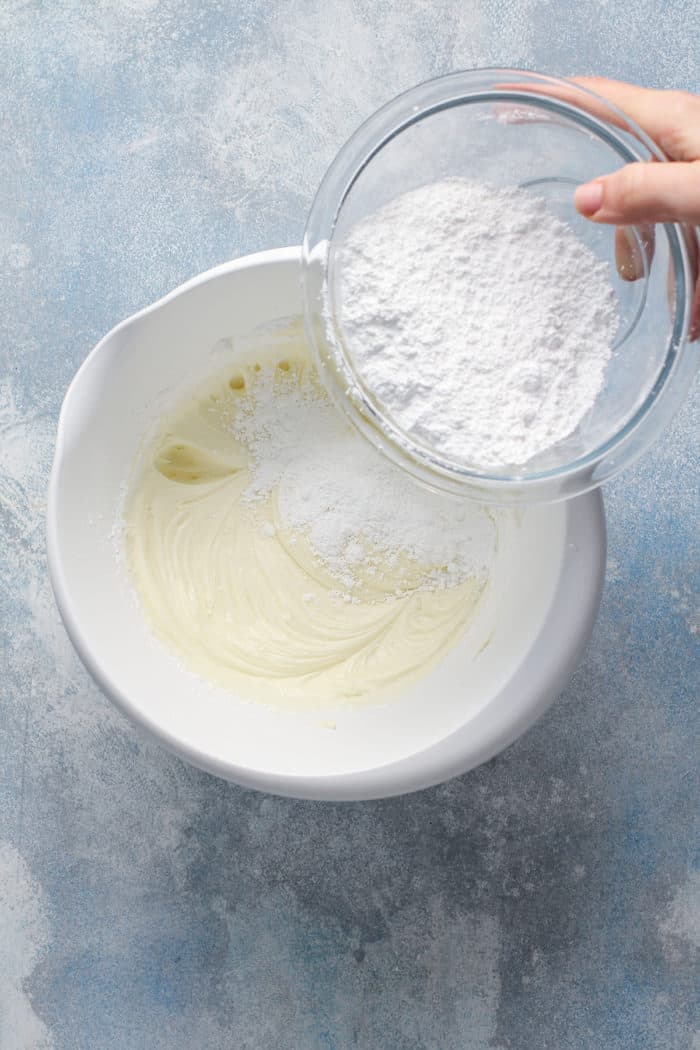 HOW TO MAKE THIS CREAM CHEESE FROSTING RECIPE
Let's walk through how to make my easy cream cheese frosting recipe, and then we'll talk through some common questions that come up.
Ingredients you'll need
This is such a simple recipe. You only need 4 ingredients to make this classic frosting:
8 ounces cream cheese, softened to room temperature
4 tablespoons unsalted butter, softened to room temperature
1 pound confectioners' sugar (about 3 ¾ cups), sifted
2 teaspoons vanilla extract
If you want to venture into making other flavors, such as chocolate cream cheese frosting or maple cream cheese frosting, you will need additional ingredients. But I always like to start with the classics!
For a very white frosting, you can use clear vanilla extract. If you aren't worried about keeping the frosting as white as possible, go ahead and use your favorite pure vanilla extract or even vanilla bean paste.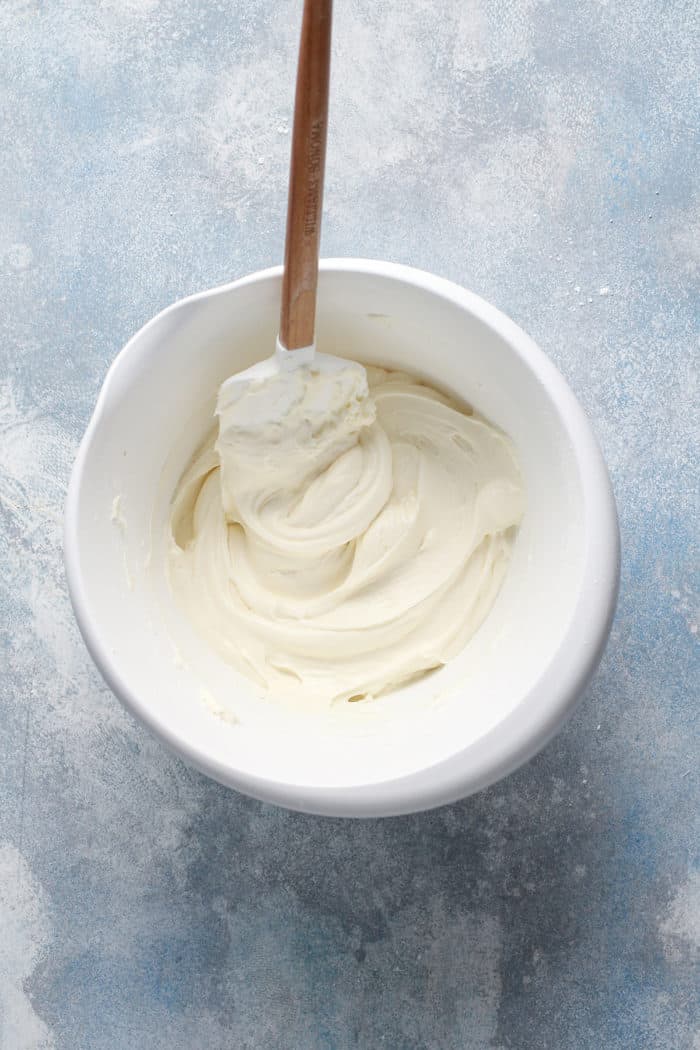 Tools you'll need
In addition to measuring cups and bowls, I recommend using:
Sifter
Stand mixer with the paddle attachment or an electric hand mixer
Unfortunately, frosting is not one of those recipes that you can make by hand, without a mixer. You just can't get it light and airy enough without a mixer.
While I like to use my stand mixer to make big batches of frosting like this recipe, you can easily use a hand mixer and a big mixing bowl instead.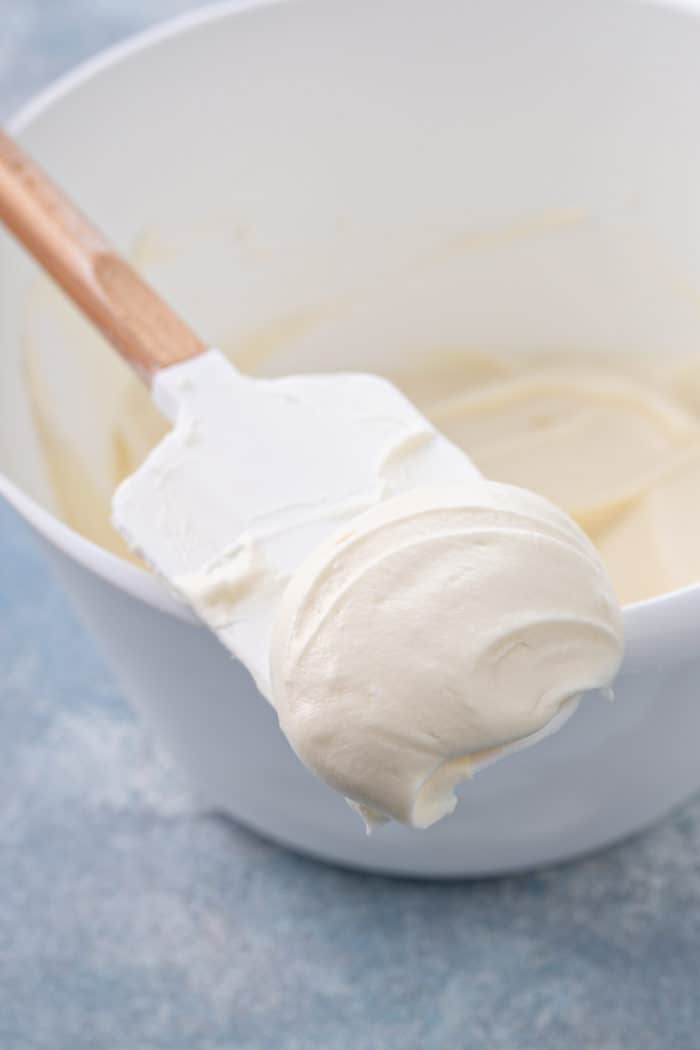 Making this recipe
Start by making sure both your cream cheese and butter are at room temperature. We'll talk about why that's important in a minute.
Use your mixer to cream together the cream cheese and butter for 5 minutes, scraping down the sides of the bowl with a rubber spatula as needed. Don't skimp on this step – take the full time to make sure the two ingredients are really well combined!
Turn the mixer to low and gradually add all of the sifted powdered sugar and mix until smooth. Add the vanilla extract and then increase the speed to medium and mix for another 5 minutes.
Again, don't try to cut down on the mixing time here! You want the frosting to be nice and smooth, creamy and airy.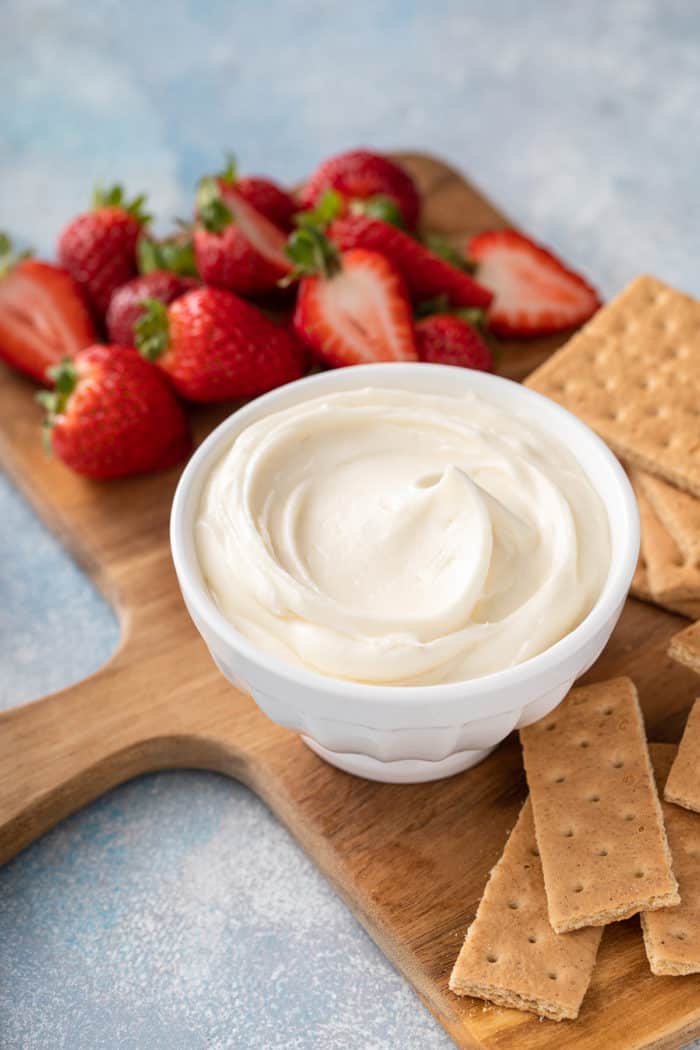 HOW TO MEASURE POWDERED SUGAR FOR FROSTING
Powdered sugar, also known as confectioners' sugar, is a bit trickier to measure than granulated sugar.
Granulated sugar does not compact, so you can scoop it up with a measuring cup and get pretty consistent results every time.
Powdered sugar, however, is very fine and compacts very easily. This means that you can get different amounts of sugar in your measuring cup depending on how you measure it.
If this sounds like a familiar problem, it's because it's the same thing we experience when measuring flour. I use the same method for measuring powdered sugar as I do for how to measure flour.
The most reliable way to measure powdered sugar is by weight. If you don't know the weight needed in your recipe, spoon the powdered sugar into your measuring cup and then level it off with a knife.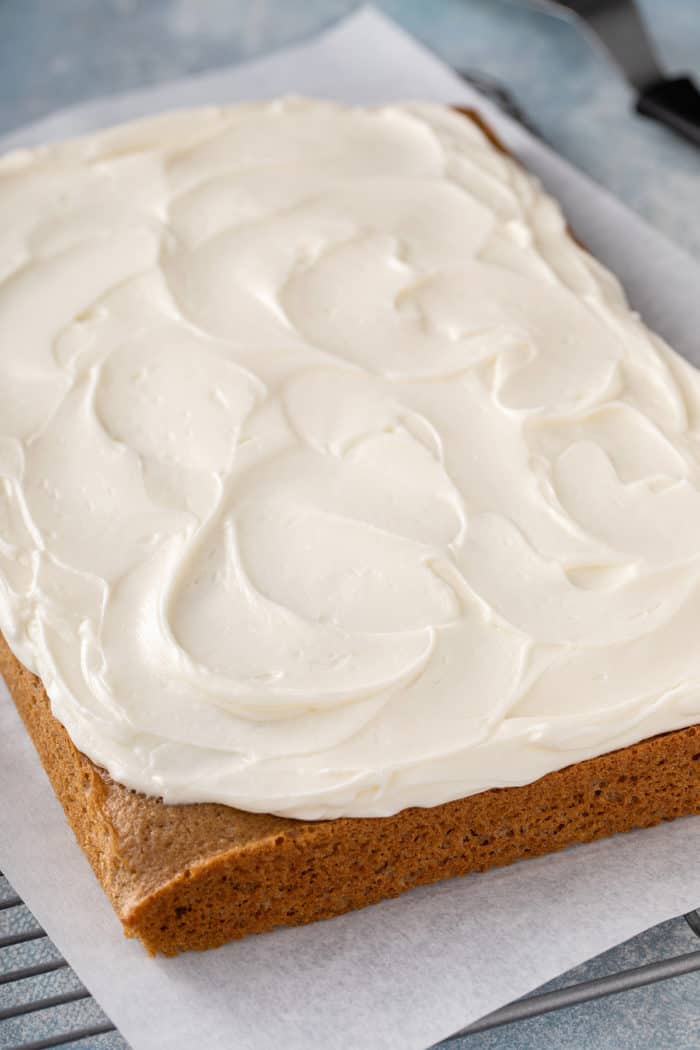 WHY IS MY CREAM CHEESE FROSTING LUMPY?
If you're wondering why your cream cheese frosting turned out lumpy, you're not alone. This is one of the biggest problems people encounter when trying out a cream cheese frosting recipe for the first time!
There are usually two reasons why your frosting isn't perfectly smooth.
Cold cream cheese
If your cream cheese is cold when you try to mix it with the butter, the two won't combine well and will form small lumps.
I always make sure both the butter and cream cheese are at room temperature before I start making my frosting.
If you need some tips, I have some tricks for how to soften cream cheese and how to bring butter to room temperature.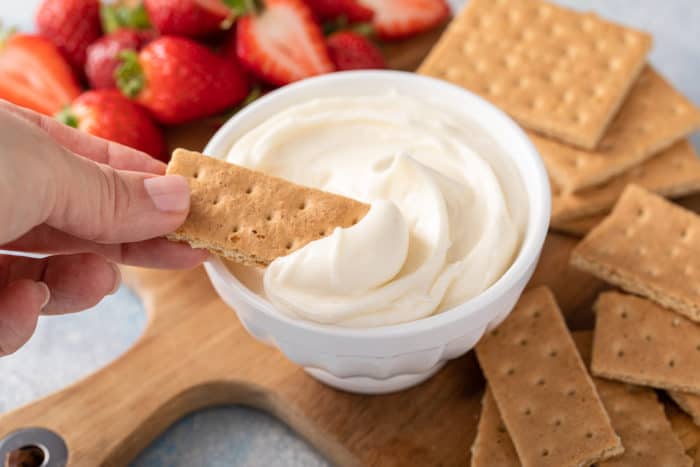 Lumpy powdered sugar
If you have lumps in your powdered sugar, you will end up with lumps in your frosting!
To keep this from happening, make sure you sift your powdered sugar before adding it to the frosting.
Ever wondered if you should sift your powdered sugar before or after measuring? Well, it depends on how the recipe is written!
In this recipe, for example, I have written that you will need:
"1 pound confectioners' sugar (about 3 ¾ cups), sifted"
When "sifted" comes at the end, it means that you should sift the powdered sugar after measuring.
If sifted comes before the words "confectioners' sugar" or "powdered sugar," you would need to sift it before measuring. For example:
"3 ¾ cups sifted confectioners' sugar"
In this case, you would sift the powdered sugar, then measure out the amount you need. Because sifting aerates the sugar, the volume will increase after sifting it.
If you're weighing your powdered sugar, it won't matter if you sift it before or after you weight it because the weight will be the same – only the volume will change from it being sifted.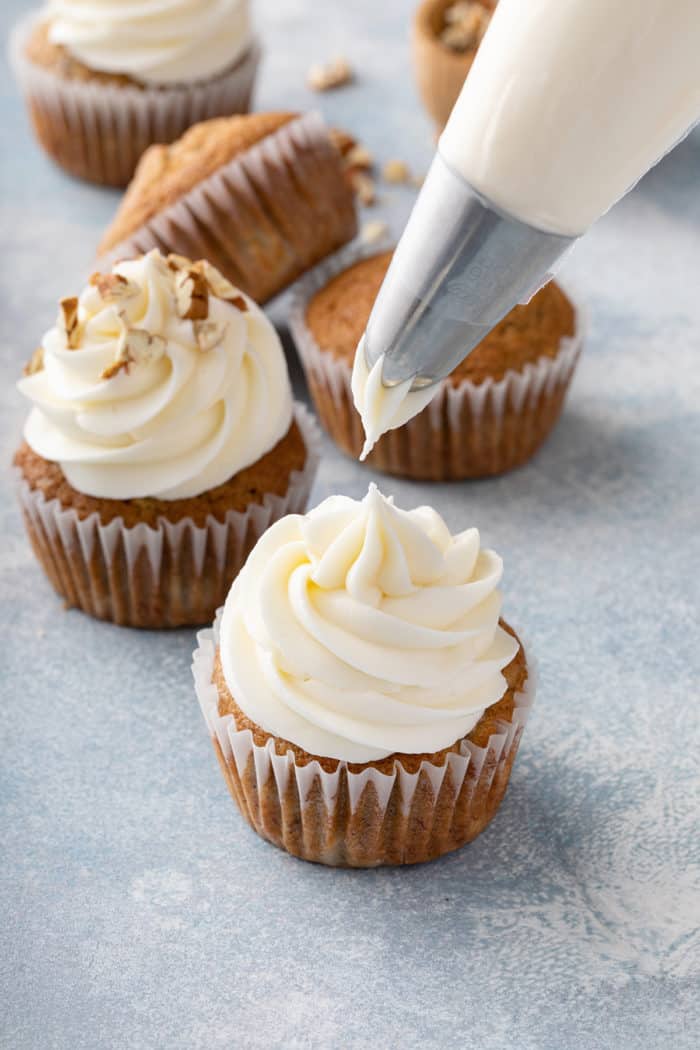 STORAGE AND FREEZING TIPS
Unlike buttercream frosting or chocolate frosting which can both sit out at room temperature for long periods of time, cream cheese frosting needs to be refrigerated.
There's a LOT of dairy in this frosting, so you want to keep it chilled when not eating it.
If you are making your frosting ahead of time, make sure to store it in an airtight container in the refrigerator. Let it come to room temperature, then whip it with your electric mixer before frosting your cake or cupcakes.
Store cakes or cupcakes topped with cream cheese frosting in the refrigerator. Let them sit at room temperature for 15-30 minutes before slicing and serving to help take some of the chill off of them.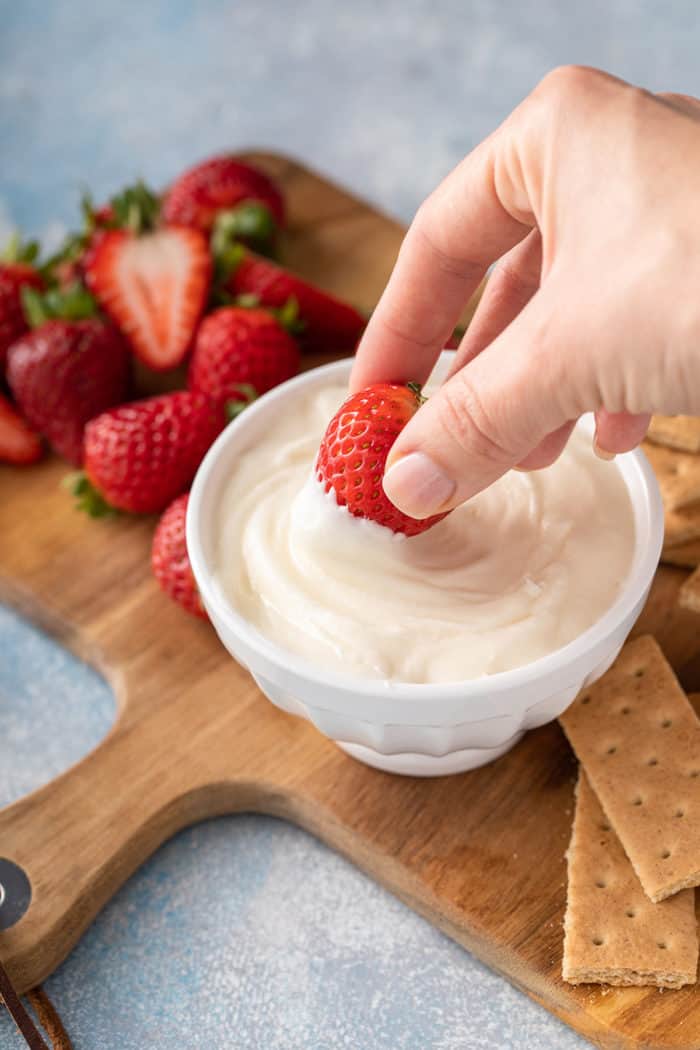 Can you freeze cream cheese frosting?
You can absolutely freeze cream cheese frosting! You can make it ahead of time and freeze it until you are ready to use it, or freeze any leftover frosting.
To freeze, place your frosting in an airtight container. I like to place a layer of plastic wrap on top of the frosting in addition to the lid, just as an extra layer of protection.
Freeze the frosting for up to 3 months.
To thaw, place the container of frosting in the refrigerator for 24 hours. This will allow it to slowly thaw, which is important for maintaining that beautiful smooth consistency.
Before frosting your cake or cupcakes, let the fully thawed frosting come to room temperature. Whip it with your electric mixer for a few minutes to make sure it is nice and smooth, then frost your cake as desired.
Once you try out this cream cheese frosting recipe, it is sure to become one of your go-to frostings!