Zucchini Cake is a picture-perfect bundt cake! This moist and flavorful cake is packed with pineapple, zucchini, coconut and topped with tangy cream cheese frosting for a cake that will be an absolute hit.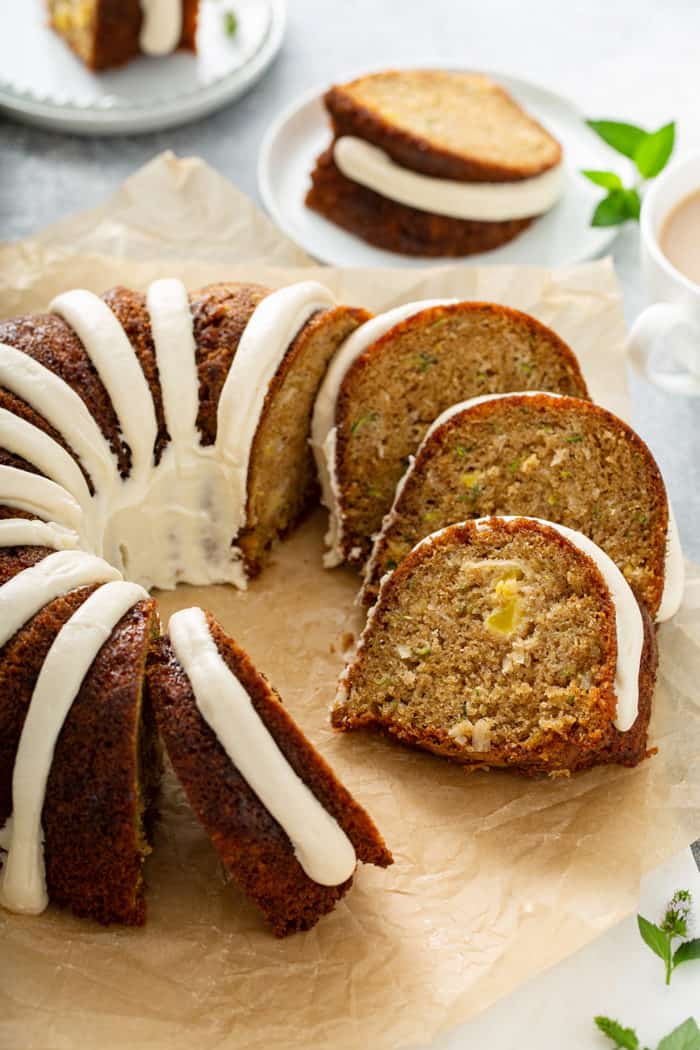 It seems like every season I make a dessert recipe that moves straight to the top of my favorites list. And let me tell you – this Zucchini Cake might just rank as my #1 summer recipe of 2021.

I honestly can't tell you how many times I've whipped this cake together this summer. I honestly think I pretty much have the entire recipe memorized and that's saying something considering how many recipes I test each month.

It's simple to make, flavorful and perfectly moist! It's great for breakfast with cup of tea or for dessert. The cream cheese frosting takes it over the top in best way possible. I could seriously eat the frosting with a spoon!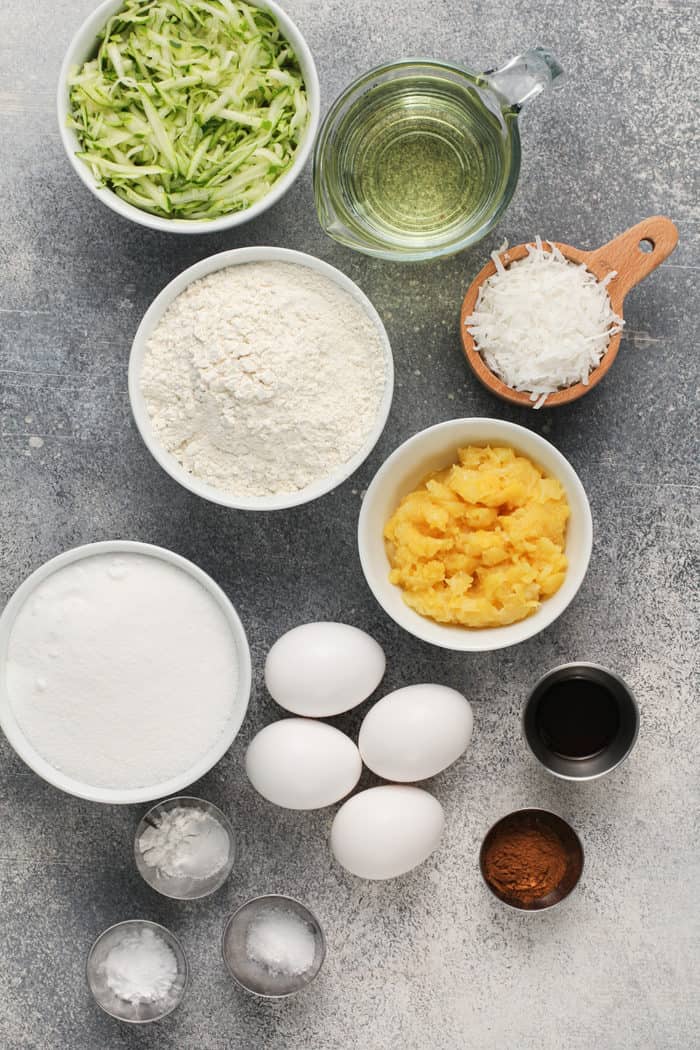 MY ZUCCHINI BUNDT CAKE WITH CREAM CHEESE FROSTING
I'm on a zucchini recipe kick and I can't be stopped.
Earlier this week I shared with you my Zucchini Banana Bread recipe and I have one more zucchini recipe to share before I'm ready to transition to apple recipes and pumpkin recipes. I promise we'll go all in on fall soon!
Have you ever had one of those cakes from Nothing Bundt Cakes? People go crazy for their cakes, so this Zucchini Cake was my way of making a Nothing Bundt Cakes-style cake at home. Even though they don't have a Zucchini option – I think they totally should.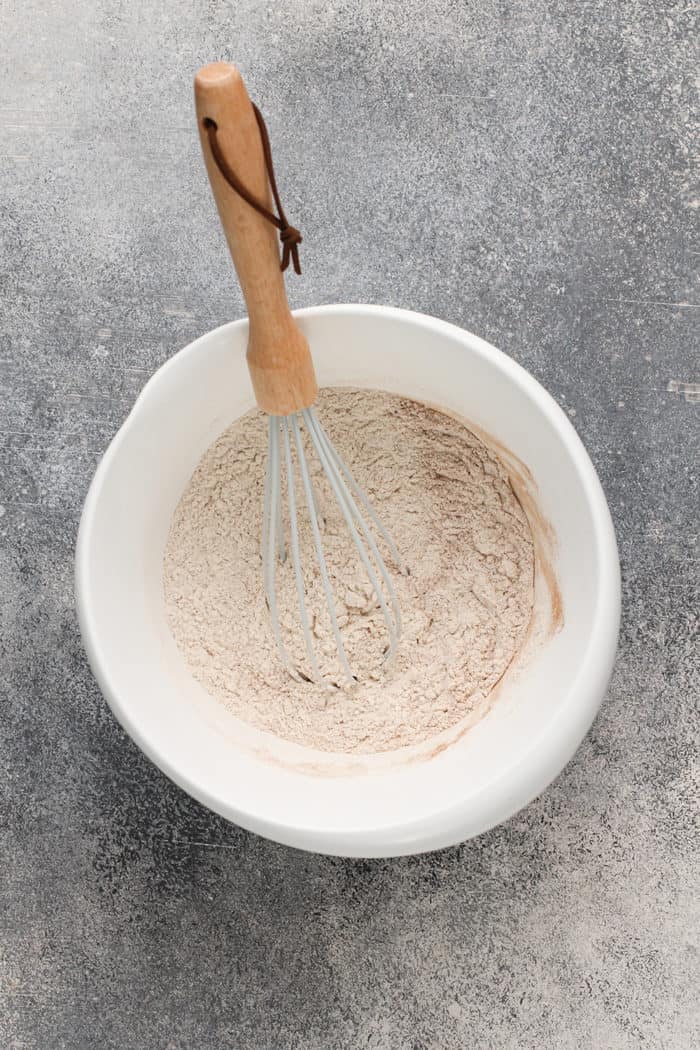 I started with a super moist cake that is packed with zucchini, pineapple, and coconut.
If you've made my Pineapple Cake or J. Alexander's Carrot Cake, you know that crushed pineapple is amazing in a cake like this. It adds sweetness and flavor and helps keep the cake moist.
Then I topped the cake with a tangy cream cheese frosting that pairs perfectly with the sweet cake. I used a piping bag to frost the cake in lines like they do at Nothing Bundt Cakes. It's a super simple way to frost a bundt cake that still looks really nice.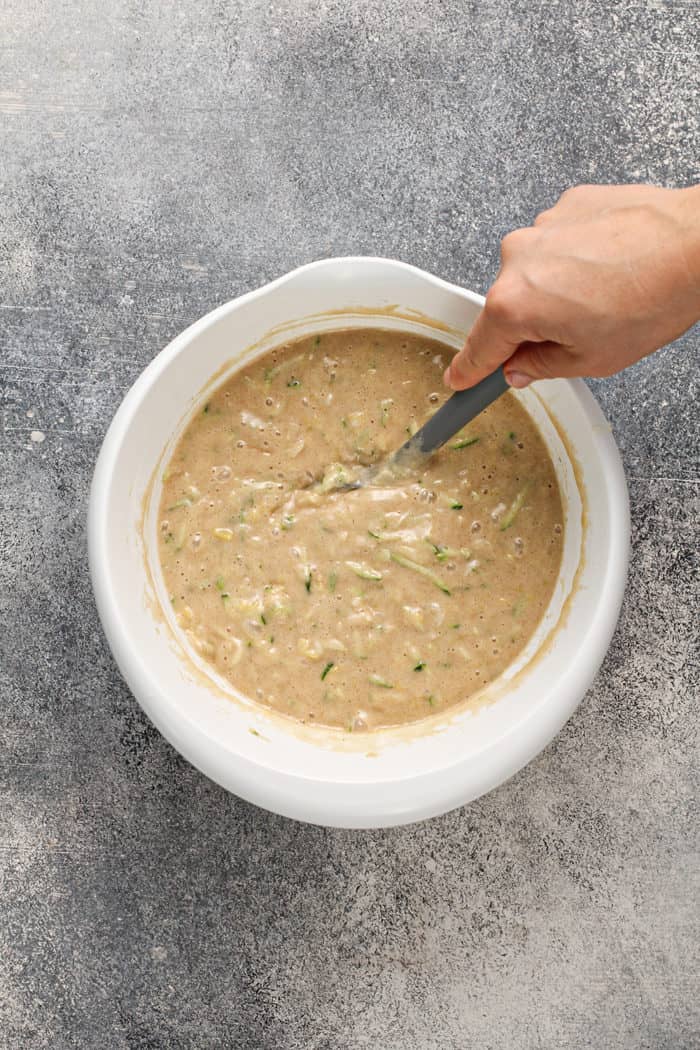 WHY ADD ZUCCHINI TO CAKE RECIPES?
Adding zucchini to cake and quick bread recipes is something we do without really thinking about it. But what does it actually do for the recipe?
When you bake with zucchini, it acts a lot like bananas or applesauce does. It adds tons of texture and keeps the cake or bread moist.
And even though I still wouldn't call this Zucchini Cake or Lemon Zucchini Bread healthy, adding grated zucchini does add a bit of a nutritional boost to your recipes, too.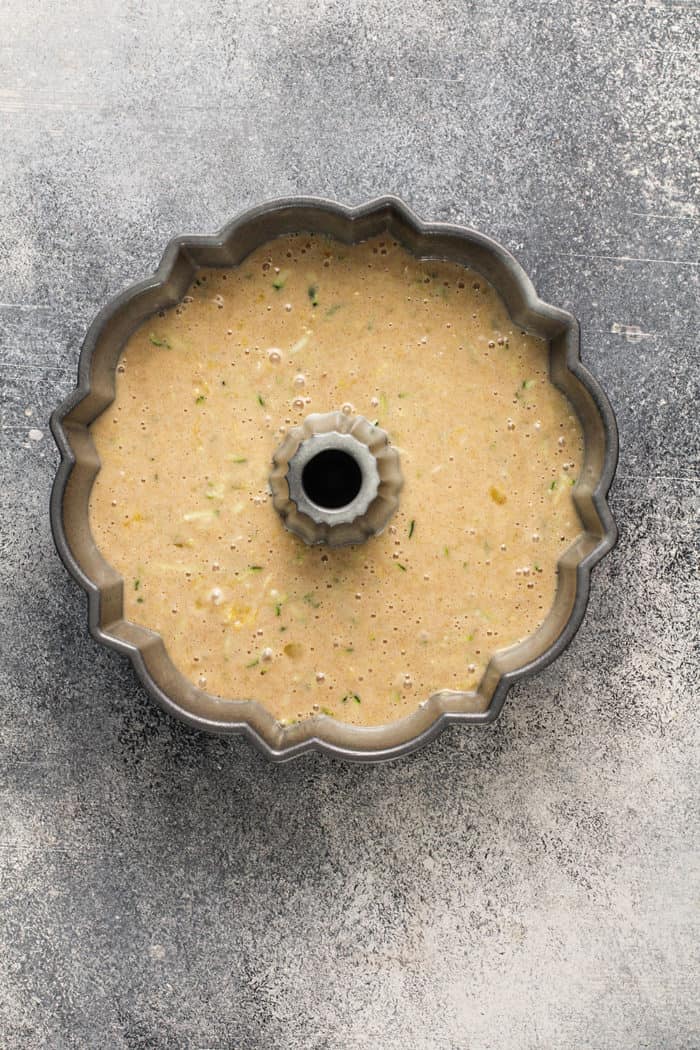 HOW TO MAKE THIS ZUCCHINI CAKE
Start by whisking together the dry ingredients: flour, cinnamon, salt, baking powder, and baking soda. Set this aside.
In a separate bowl, beat together the eggs, vanilla, and sugar with an electric mixer for about 3 minutes. Add in the vegetable oil and beat for one more minute.
Gradually add the dry ingredients to the wet ingredients and mix on low speed until just combined.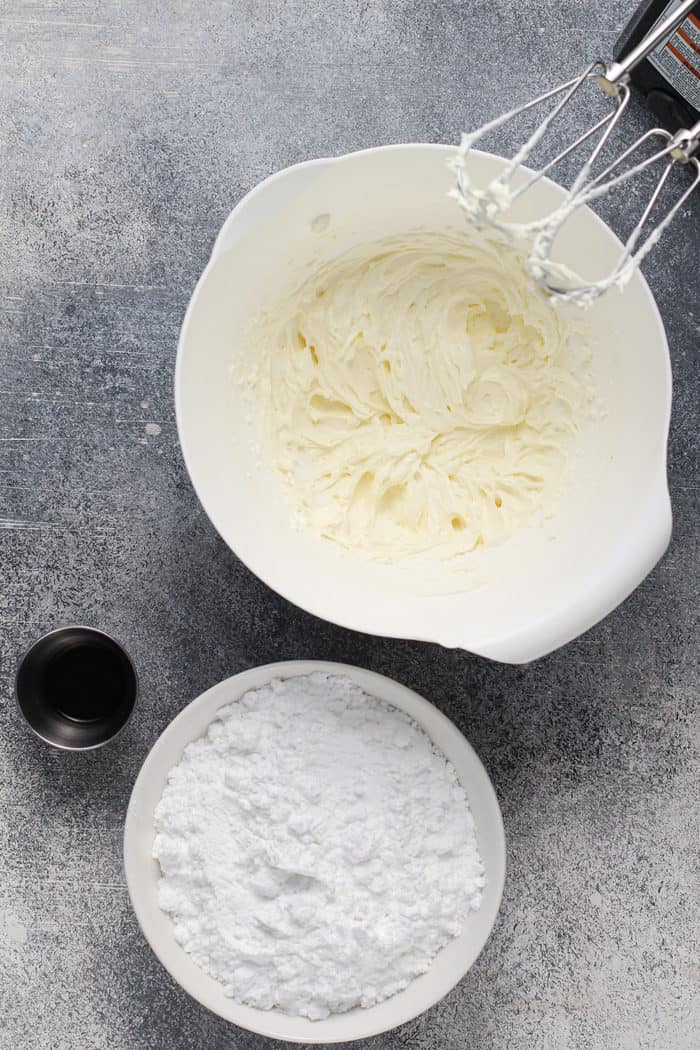 Use a rubber spatula to fold in the crushed pineapple, grated zucchini and shredded coconut until thoroughly incorporated.
Add the batter to a greased 12-cup bundt pan and bake for 65-70 minutes. Let the cake cool for 30-40 minutes before removing it from the pan. Make sure to let the cake cool completely before you frost it.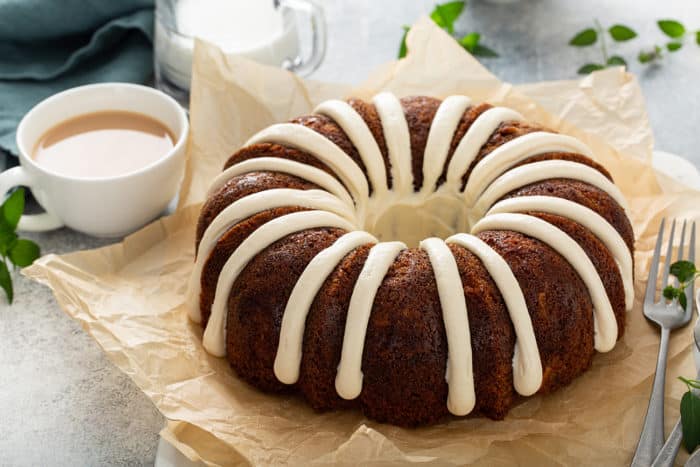 The cream cheese frosting is super simple to throw together. All you need is:
Cream cheese
Butter
Powdered sugar
Vanilla
To frost the cake in the same style that I did, put the frosting in a piping bag and pipe it in thick lines across the cake.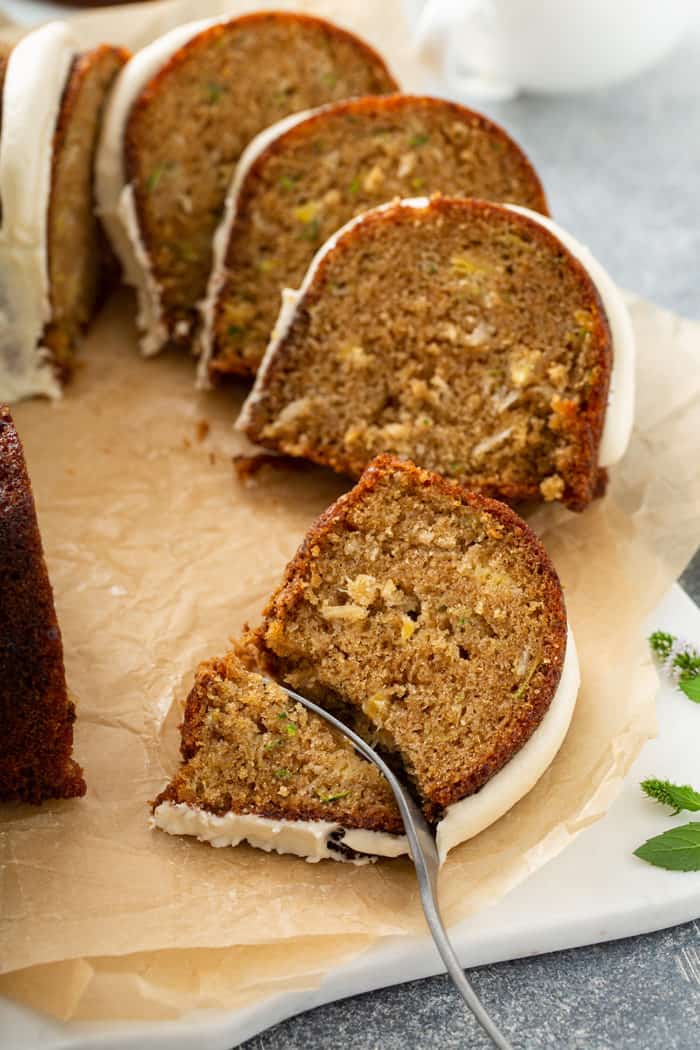 HOW TO STORE AND FREEZE THIS CAKE
Because this Zucchini Cake is topped with cream cheese frosting, I recommend storing it in the refrigerator.
If you choose to make the cake without the frosting, you could store it at room temperature but keeping it in the refrigerator will help it stay fresh longer.
If you'd like to freeze this cake, I would recommend freezing it before frosting it. After thawing, add the frosting and serve.
If you have leftover cake you'd like to freeze, cut it into slices and wrap the slices individually in plastic wrap and store them in a zip-top freezer bag. Then you can take out as many slices as you like for a snack or bite of dessert when a craving hits!