Lemon Zucchini Bread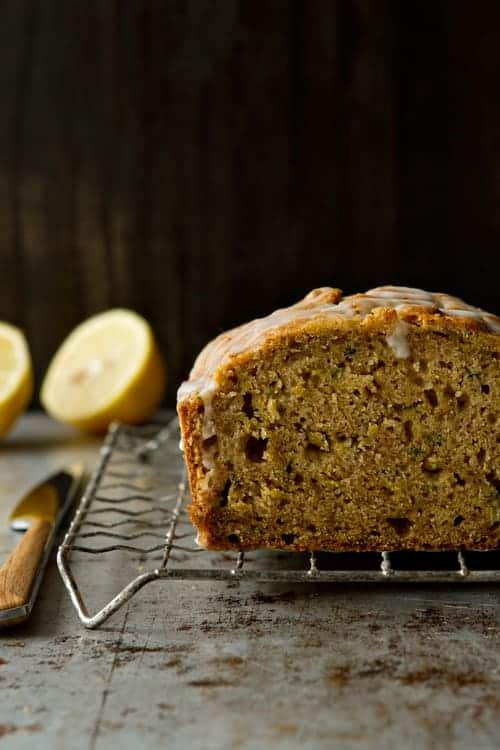 Classic zucchini bread is made a little more delicious with a pop of citrus flavor.
If you guys follow the national news at all, you may have seen that Northwest Ohio's water supply was pretty much the equivalent of green slime. Basically, there was some nasty algae bloom that made our water toxic. The water literally looked like a green smoothie – and with that went my days of green juice drinking forevermore.
This "bloom" (sounds kinda pretty doesn't it? yeah, not so much) meant we couldn't use the water for anything. And let me just tell ya, you have no idea how reliant you are on water until you can't turn on your faucet.
The news listed a bunch of gross side effects from consuming or bathing in the water, which of course made me itch and twitch like someone poured a bucket of fire ants all over my body. I'm a germaphobe at the best of times. Tell me my water can do all sorts of nasty thing to me? Oh boy.
We attempted to tough it out using bottled water for everything, and we lasted exactly 8 hours and 32 minutes (6 of those hours we were asleep). I totally admit it – we're pansies. If we stayed any longer, I'm fairly certain Eric would've found me rocking in the corner with a 5 gallon jug of water and a dozen cookies. My coping skills at their finest.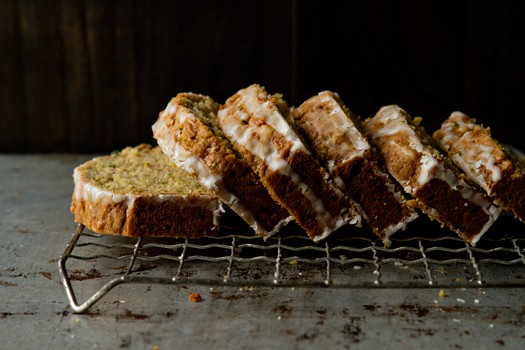 I just couldn't do it. Plus, I was super concerned with Elle and the pile of bottles that needed to be washed and sanitized.
The city was pretty much in a state of chaos. In an effort to secure water, lines were wrapped around stores before they even opened. It was reported that Costco sold out of water 7 minutes after they opened their doors.
Due to the aforementioned pansy-ness, we hopped in the car and headed east – far away from the algae grossness. We stayed at my brother's house for a few days until the water was deemed okay for consumption. We're still a little leery of the whole situation, so we're using bottled water for everything that has to do with the baby.
Before we left for home, my mom handed us a bunch of zucchini fresh from her garden. And while I'm not the biggest fan of zucchini on it's own, I adore it when it's in baked goods – because butter and sugar makes everything better. Right?
This quick bread isn't your typical zucchini bread – it's loaded with lemon zest and topped with a sweet and tangy lemon glaze. It's perfect for breakfast or a mid-afternoon snack with a cup of coffee.
Baking it up was exactly the sort of therapy this germaphobe needed to get back into her groove. Nothing like shredding and stirring, wafting baking scents and glazes to get you back on an even keel. If you've got a need to tamp down some anxiety, this is the bread for you. Comfort in every slice – and no water in sight!
Lemon Zucchini Bread
Ingredients:
3/4 cup granulated sugar
2 tablespoons lemon zest (about 2 medium lemons)
1 large egg
1/2 cup vegetable oil
1 teaspoon pure vanilla extract
1 1/2 cups shredded zucchini (packed and undrained)
1 1/2 cups all-purpose flour
1/2 teaspoon salt
1/2 teaspoon baking soda
1/4 teaspoon baking powder
1 teaspoon ground cinnamon
For the Glaze
½ cup confectioners' sugar
1 tablespoon fresh lemon juice
¼ teaspoon pure vanilla extract
Directions:
Preheat oven to 325 degrees F. Spray an an 8×4 inch loaf pan with nonstick cooking spray.
In a large bowl, combine the sugar and lemon zest, mixing with your fingertips until fragrant. Add the egg, vegetable oil and vanilla and whisk to combine. Stir in zucchini. In a separate bowl, whisk together the flour, salt, baking soda, and baking powder and cinnamon. Stir the flour mixture into the zucchini mixture until just combined. Pour the batter into the prepared pan.
Bake 50-55 minutes in the preheated oven, or until a toothpick inserted in the center of the bread comes out clean. Remove pan to wire rack and cool in pan for about 10 minutes before turning out onto the wire rack to cool completely.
Once bread is cooled, prepare the glaze. In a medium bowl, whisk together the confectioners' sugar, lemon juice and vanilla. Drizzle the glaze over the bread.
Notes:
Bread will store in an airtight container within the refrigerator for up to 3 days.
Adapted from allrecipes
All images and text ©
Follow Jamie on Instagram. We love to see what you're baking from MBA! Be sure to tag @jamiemba and use the hashtag #mbarecipes!
Looking for More Zucchini Inspiration?
Morning Glory Muffins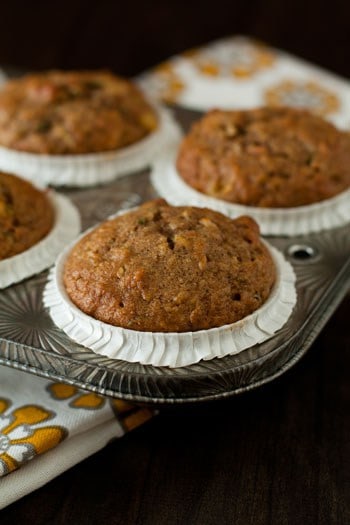 Zucchini Cookies with Lemon Glaze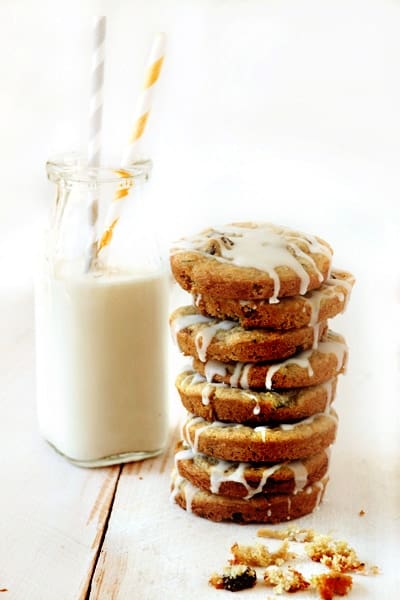 This post may contain affiliate links. We are a participant in the Amazon Services LLC Associates Program, an affiliate advertising program designed to provide a means for us to earn fees by linking to Amazon.com and affiliated sites.