Chocolate Zucchini Muffins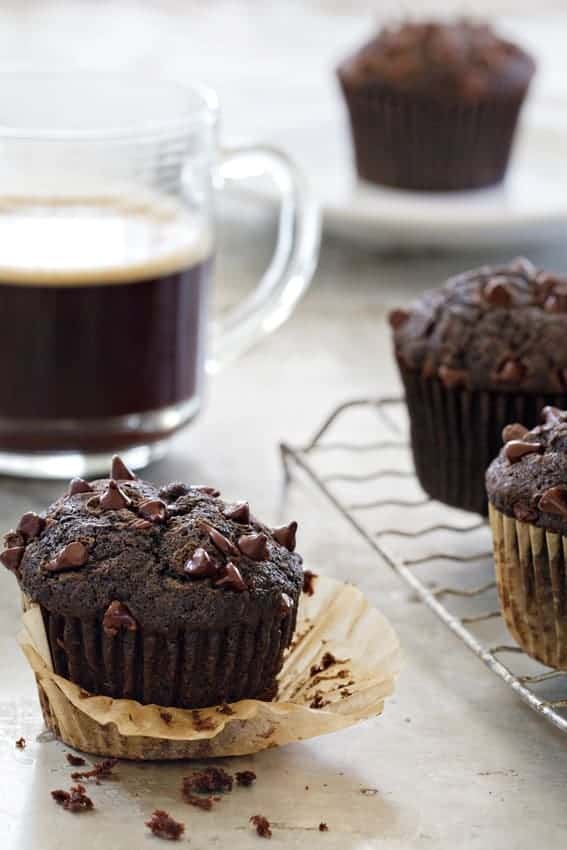 Chocolate Zucchini Muffins are rich, delicious and loaded with flavor. Have 'em for breakfast all week long. Every morning is better with chocolate!
Earlier this week I posted a recipe for a scrumptious Lemon Zucchini Cake and I told you that I was baking zucchini into allthethings. I wasn't kidding.
I'm just trying to hold onto summer for a few more weeks and use up a bunch of zucchini that my mom plopped on my kitchen counter without any ceremony or circumstance (gee thanks, Mom).
Don't you worry, I promise to bombard you with more pumpkin spice than you can dream of in coming months. If you've been around for awhile, you know that pumpkin pie spice is my jam, but it's just a little too soon for all that business.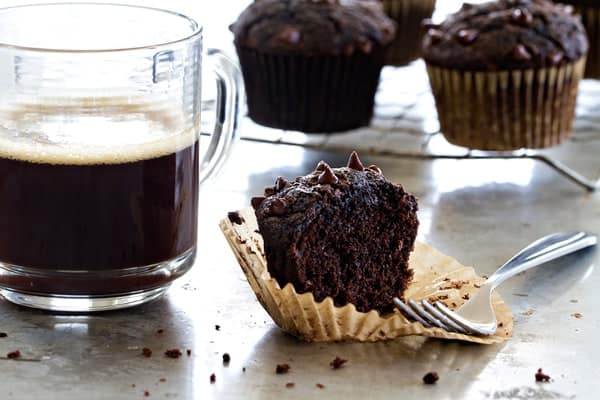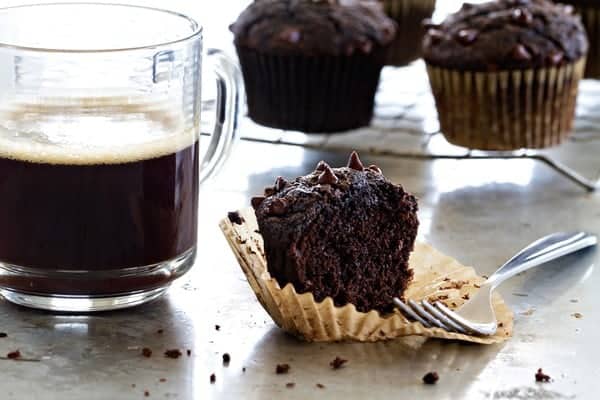 Another thing that falls into the category of too soon are Christmas decorations – in any capacity. This morning while indulging in a mani/pedi, I noticed a shelf in the salon that was decorated with Christmas decor – complete with a countdown calendar that read 114 days. 114 days! Who does this?!
Step away from those Christmas countdown calendars, folks. Target doesn't even have Halloween costumes yet!
Just kidding… you do you. And if that means celebrating Christmas in August when it's 90 degrees outside, have at it. I just want no part of it. Hello, I'm still shredding up a million home-grown zucchinis and doing my very best to trick Eric and Elle into eating it.
DOUBLE CHOCOLATE ZUCCHINI MUFFINS
Let's talk about these Chocolate Zucchini Muffins. They're honestly one of the best muffins that I've ever made. And that's a tall order, given I run a baking website.
Chocolate Zucchini Muffins could easily be called "Double Chocolate Zucchini Muffins" because the chocolate batter is packed with chocolate chips.
They're full of chocolate flavor from using cocoa powder and two types of chocolate chips, and the texture is simply amazing thanks to the zucchini.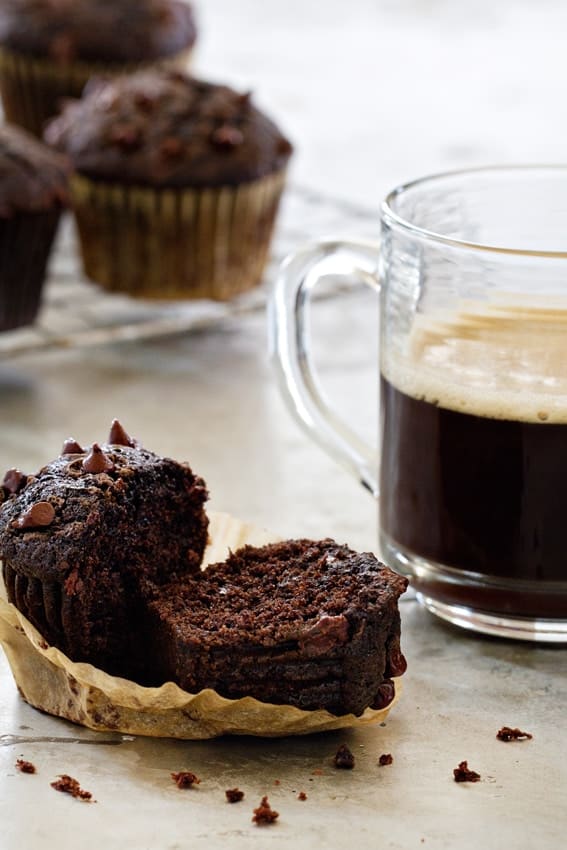 They're absolutely perfect for sneaking some veggies into a chocolate lover.
These Chocolate Zucchini Muffins will last about 3 days at room temperature in an airtight container. You can also freeze them for easy breakfasts later.
When you're ready to eat one, just pop it in the microwave straight from the freezer for about 30 seconds to 1 minute for a warm muffin breakfast on the go.
BAKING WITH ZUCCHINI
Zucchini is perfect for adding to baked goods because the delicate flavor allows it to blend in perfectly with sweet cake or bread batters. It also keeps baked goods moist without having to add a lot of extra oil or fat to the recipe.
Everyone has come across a giant zucchini or two this time of year. You know what I'm talking about – zucchini that got left a bit too long on the vine and are a little too fibrous to enjoy on their own.
Those big zucchini are perfect for baking!
Whenever I bake with zucchini, I always grate it super fine because it practically disappears into the batter. My dad, who is not fond of the green squash, noshed down a couple of these Chocolate Zucchini Muffins in a matter minutes, and proclaimed them freaking delicious. And I have to say, I totally agree with him.
Did you know that in England and most of Europe, zucchini is actually called courgette? My friend Amber's husband is British, and every once in a while he pops up with random facts like this. Say it with me, now – "CORE-JETTE". Almost like Corvette.
Can you tell I'm getting a little loopy from a never-ending supply of zucchini that has to be dealt with? I think I'll sit down with a few of these muffins and more coffee. Because this entire situation needs some additional caffeine. But no Christmas decorations, thankyouverymuch.
Looking for more zucchini recipes? Be sure to check out these delicious Zucchini Cookies and this Spiced Zucchini Cake.
I've even got you covered with a whole list of 10 Zucchini Desserts so you too can use up your abundance of late-summer zucchini
This post may contain affiliate links. We are a participant in the Amazon Services LLC Associates Program, an affiliate advertising program designed to provide a means for us to earn fees by linking to Amazon.com and affiliated sites.