Homemade Strawberry Lemonade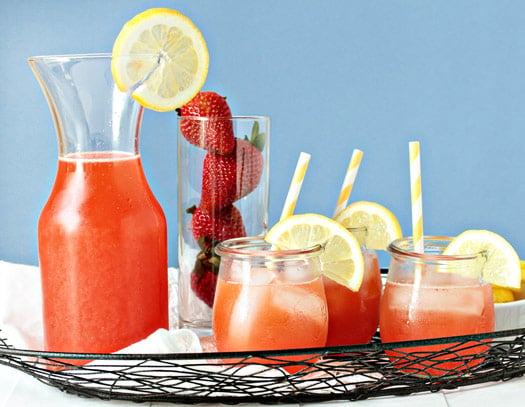 Holidays always mess with me. I've been a day behind with my mental calendar and about two days behind with work, but it's all good because it's summer, one day away from the weekend and I'm sharing a recipe for Homemade Strawberry Lemonade with a little boozy kick.
Since it's incredibly hot outside, I've been looking for ways to chill out and create some refreshing adult beverages for our friends. I've been quite successful if I do say so myself.
If you know me at all, you know that I don't drink much and that I'm pretty much the definition of, for lack of a better word – a lightweight. But I'm also addicted to those cute miniature bottles of liqueur that are readily available at my favorite market. It's sort of a collection habit that I have. I'm always finding ways to mix them into ganache and buttercream.
A couple of weeks ago, I got a little carried away at Costco and came home with an ample supply of lemons and strawberries that started to turn on me the minute I set them onto the counter.
Luckily Brian had made plans for his work buddies to stop by for an evening of fishing, so I decided to whip up of batch Strawberry Lemonade to help them deal with 90 degree heat. And as a little bonus I added in some vodka which paired perfectly with the sweet and sour flavor of the Strawberry Lemonade.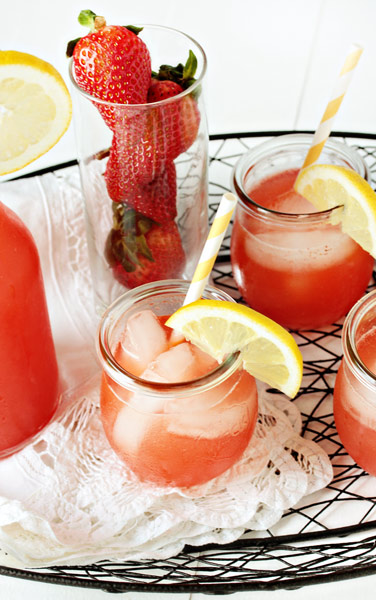 If you aren't much of drinker, no worries, this Homemade Strawberry Lemonade is perfectly refreshing and delicious sans the vodka. And you can totally get creative and experiment with different fruit. I've made this recipe using raspberries and imagine that it would be pretty awesome with blueberries as well! So have fun and stay cool!
Looking for more adult beverage creations?
Frozen Cherry Mojitos from My Baking Addiction
Ginger Ale for Summer Evenings from Food for My Family
Frozen Coconut Limeade from She Wears Many Hats
Sparkling Acres Cocktail from Bluebonnets and Brownies
Hard Cherry Lemonade Sorbet from My Kitchen Addiction
Homemade Strawberry Lemonade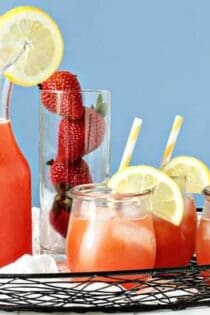 Ingredients:
1 cup sugar
1 cup of water
1 pint fresh strawberries
1 cup fresh lemon juice (this equaled close to 8 of my lemons)
4-6 cups cold water (this will vary depending on your taste)
1 cup vodka, optional
Directions:
Make a simple syrup by combining the sugar with 1 cup of water in a saucepan. Place over medium heat and heat until the sugar in completely dissolved; swirl the pan occasionally. Let cool.
Once the simple syrup has cooled, puree strawberries in a blender with ½ cup water.
In a large pitcher, combine strawberry puree, simple syrup and lemon juice. If using the vodka, add it to the pitcher and stir to combine.
Add 4-6 cups of cold water. The amount of water you use will depend on your taste, so add as little or as much as you want to achieve your perfect sweet/tart balance.
Serve over ice. If desired, garnish with fresh strawberries and lemon slices.
All images and text ©
Follow Jamie on Instagram. We love to see what you're baking from MBA! Be sure to tag @jamiemba and use the hashtag #mbarecipes!
This post may contain affiliate links. We are a participant in the Amazon Services LLC Associates Program, an affiliate advertising program designed to provide a means for us to earn fees by linking to Amazon.com and affiliated sites.