I've stated here on MBA that I don't consume much alcohol, but I'm totally willing to make an exception for these Chambord Cupcakes. Ya see, I'm kind of a control freak and drinking sort of makes me feel a bit out of control. That and I'm also pretty much sloshed after a half of a beer which then leads to me talking all loud and stumbling around like a baby giraffe. Not. A. Pretty. Sight.
Although I don't drink much, I have developed a bit of an obsession with the mini bottles of liqueur that I find at my local market. They're all cute and tiny and at less than $3.00 a bottle, they're cheap enough to stockpile until I find a way to work them into a decadent dessert.
On our last trip, Brian repeatedly joked with the cashier that I had a drinking problem as eight mini bottles of liqueur rolled along the conveyor belt. I'm fairly certain the cashier thought I was a complete lush or maybe she just was not in the mood for Brian's sense of humor that afternoon. Either way I stashed my little brown bag of booze in my purse and inspected its contents on the way home. With five varieties to choose from, I knew I wanted to create something with Chambord first.
After a bit of brainstorming, I decided on a basic chocolate cupcake topped with a luscious Chambord infused ganache frosting. Since Chambord is essentially a black raspberry infused liqueur, I knew I could make the flavor of the Chambord really pop by finishing the cupcakes with a plump, red raspberry. The results were a rich, indulgent dessert with subtle nuances of Chambord that shined through the deep chocolate goodness. These Chambord Cupcakes are perfect for those of you that don't typically fancy over the top sugar loaded treats. The moist cake coupled with the dark chocolate ganache frosting will put any chocolate lover into a state of pure chocolate bliss.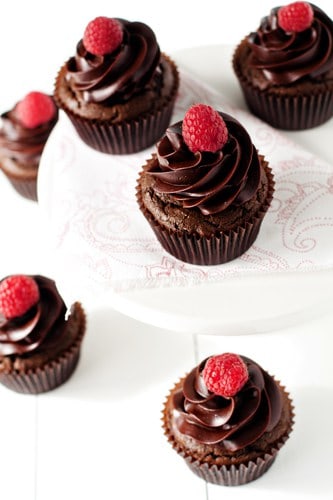 Chocolate Cupcakes with Chambord Frosting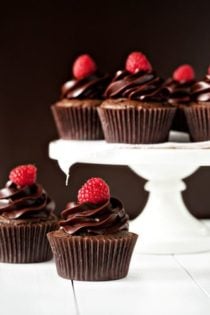 Ingredients:
For the cupcakes
1 3/4 cups all-purpose flour
2 cups sugar
3/4 cups good cocoa powder
2 teaspoons baking soda
1 teaspoon baking powder
1 teaspoon kosher salt
1 cup buttermilk, shaken
1/2 cup vegetable oil
2 large eggs, at room temperature
2 teaspoons pure vanilla extract
1 cup freshly brewed hot coffee
For the frosting
18 ounces good quality semi sweet or bittersweet chocolate; chopped
1 ½ cups heavy cream
4 tablespoons Chambord
Directions:
For the cupcakes
1. Preheat the oven to 350 degrees F. Line standard muffin tins with paper liners; set aside.
2. Sift the flour, sugar, cocoa, baking soda, baking powder, and salt into the bowl of an electric mixer fitted with a paddle attachment and mix on low speed until combined. In another bowl, combine the buttermilk, oil, eggs, and vanilla. With the mixer on low speed, slowly add the wet ingredients to the dry. With mixer still on low, add the coffee and stir just to combine, scraping the bottom of the bowl with a rubber spatula.
3. Using a large scoop, distribute the batter between 24 muffin wells, filling each well 2/3 full. Bake for 18 to 22 minutes, or until a cake tester comes out clean. Cool in the pans for 10 minutes, then remove to a cooling rack and cool completely.
For the frosting
1. Place chocolate in a large heat safe bowl. Set aside.
2. In a medium saucepan, heat heavy cream over medium heat until it just begins to boil. DO NOT walk away from the stove. The cream could boil over and you will be with a big mess to clean up.
3. Immediately pour hot cream over chocolate and let it sit for five minutes.
4. Begin stirring the cream with a wooden spoon or whisk starting in the center of the bowl and working your way outward. As you stir, you will see the cream and chocolate come together. Allow your ganache to cool for 15 minutes and stir in Chambord.
5. Allow ganache to cool completely and set up before piping (about two hours). You can also place the bowl into the refrigerator for about an hour, just be careful to keep checking on it so it doesn't get too firm.
6. Pipe ganache onto cupcakes and garnish with fresh raspberry.
Notes:
- Cupcake recipe adapted from Ina Garten.
All images and text ©
Follow Jamie on Instagram. We love to see what you're baking from MBA! Be sure to tag @jamiemba and use the hashtag #mbarecipes!