Ambrosia Salad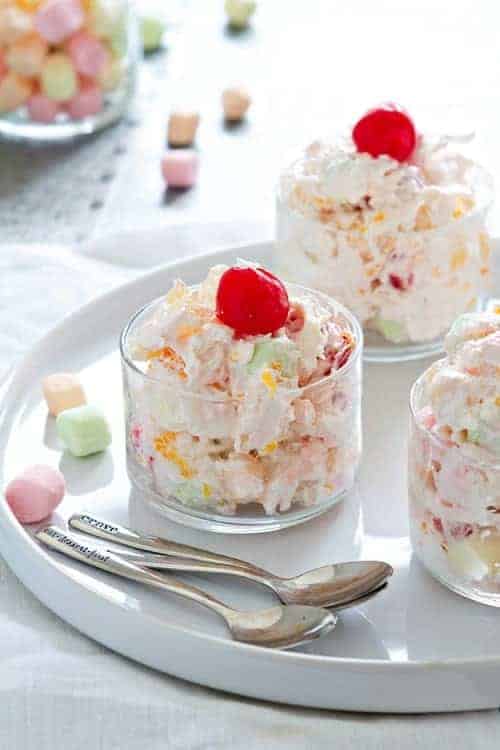 Ambrosia is a creamy fruit salad loaded with pineapple, mandarin oranges, coconut and miniature fruit-flavored marshmallows.
Happy Thursday! If you caught my post last Thursday, you know that I shared a recipe for Eric's grandma's Chocolate Glazed Donuts.
In that post, I discussed that I would periodically be featuring retro recipes from our childhoods for #tbt – "Throwback" Thursday."
If you're not sure about #tbt, it's basically a weekly Twitter and Instagram "holiday" that compels people to share photos from an earlier time in their lives.
We've been going through cookbooks, recipe clippings and handwritten recipes, trying to gather a selection of our favorites to share with you.
Today's #tbtrecipe is Ambrosia Salad.
I fondly remember my Nana making Ambrosia Salad for pretty much every church function.
The only problem was that we couldn't find her recipe. Total bummer – I know.
My aunt came across an Ambrosia Salad recipe in Nana's church cookbook, but we knew it was not the one she used because it contained cottage cheese.
And Nana's most definitely did not contain cottage cheese, we knew that she used frozen whipped topping.
Naturally I decided to start tossing ingredients into a bowl until the Ambrosia Salad tasted similar to Nana's.
And with a little tweaking, I most definitely succeeded!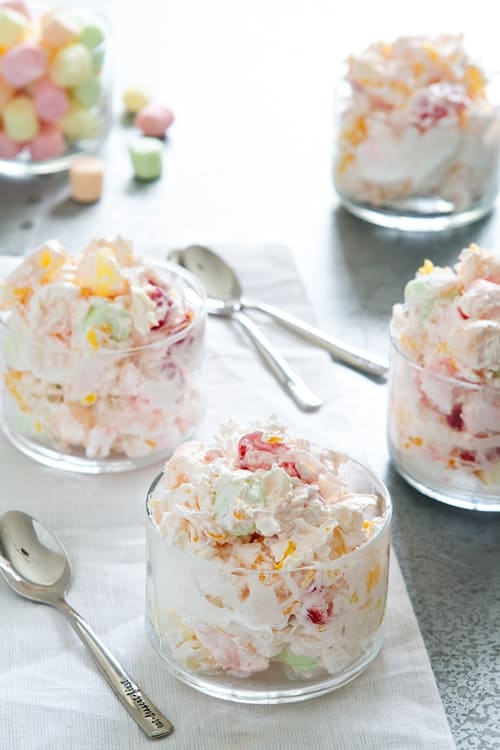 Ambrosia is a spin on a traditional fruit salad that typically includes pineapple, mandarin oranges, coconut, nuts and miniature marshmallows.
Instead of using regular mini marshmallows, I decided to use my absolute favorite marshmallows ever – Campfire® Mini Fruit-Flavored Marshmallows.
They're soft, fluffy and oh so fruity, so I thought they'd be the perfect compliment to this Ambrosia recipe.
As you may remember from my Pumpkin Spice Marshmallow Treats, I'm partnering with Emily from Jelly Toast and Campfire® Marshmallows.
You'll see more recipes from us, and hopefully even more exciting stuff as the year goes on.
Be sure to check out Emily's post for Fruity Marshmallow Popcorn Bars! Marshmallows + popcorn, how could that possibly be a bad thing?
We even created a Marshmallow Madness Pin Board where we'll pinning loads of delicious marshmallow recipes from our favorite food sites.
For more information about Campfire® Marshmallows, find them on them on Facebook and Twitter.
Disclosure: My Baking Addiction has teamed up with Campfire® marshmallows to share recipes using their products. This is a sponsored post written as part of that program. All opinions about Campfire® marshmallows are 100% my own.

This post may contain affiliate links. We are a participant in the Amazon Services LLC Associates Program, an affiliate advertising program designed to provide a means for us to earn fees by linking to Amazon.com and affiliated sites.