Pumpkin Trifles layer pumpkin bread with pumpkin pudding and top everything off with an adorable seasonal marshmallow. Cute enough for kids, delicious enough for adults!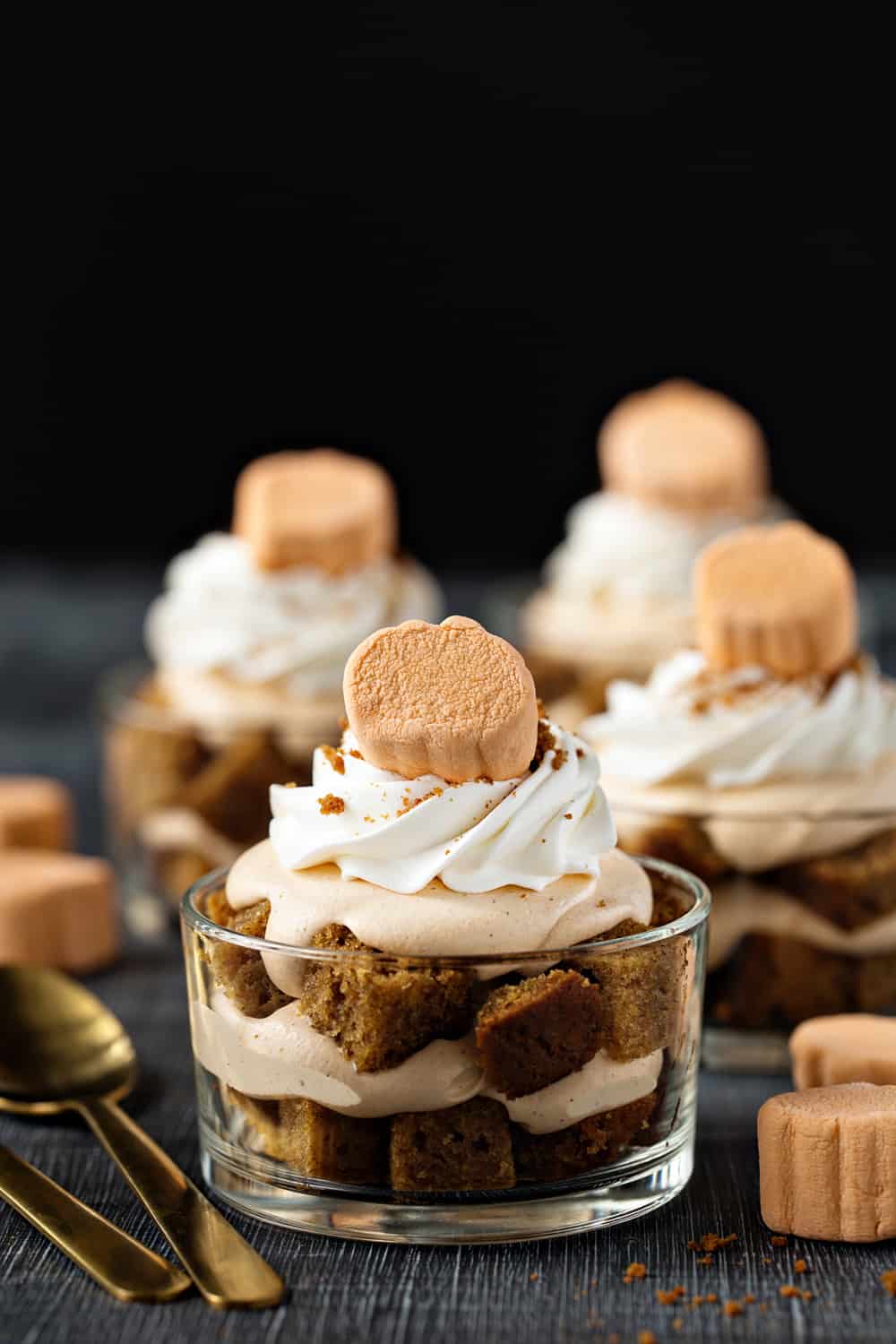 As I've mentioned for years, I'm not super into Halloween, in fact, we didn't have one piece of Halloween decor in our holiday tub except for one really ratty looking black cat on a stick with a cape and a bell.
Ridiculous, right? I'm talking about the cat, not our lack of creepy decor.
I honestly don't even know where the thing came from, but Elle peeped it immediately and proudly stuck it into our flower bed near the porch.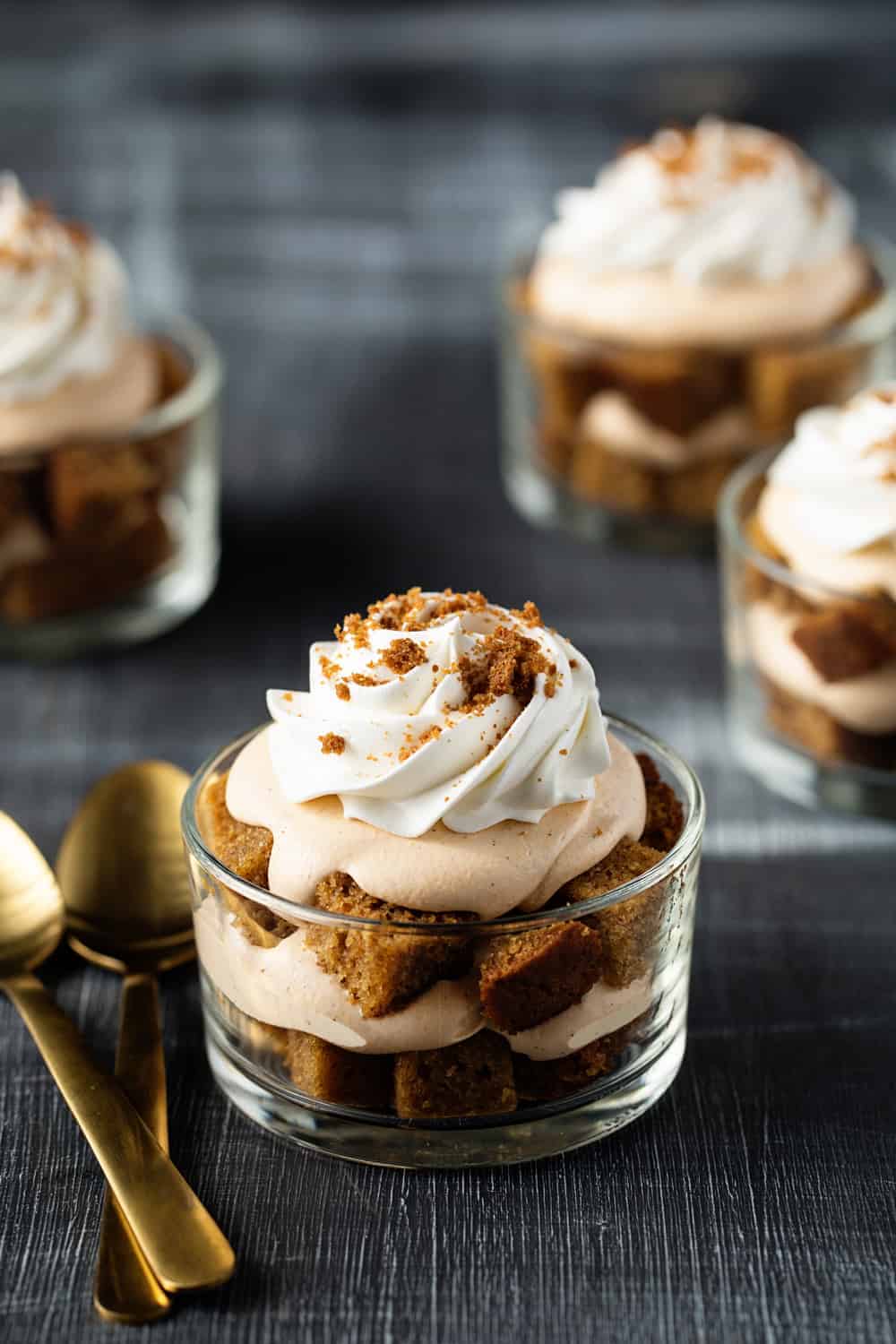 I thought the caped cat coupled with a flickering lightbulb and a couple of borrowed ghosts would get us through the Halloween season. Nope. I was wrong.
One day before trick-or-treat in our neighborhood, the fam decided they wanted to dec out the garage with spooky decor.
I was outnumbered 2 to 1, so off to Target we went for some last minute creepy decorations that were going to be 50% off in about 24 hours.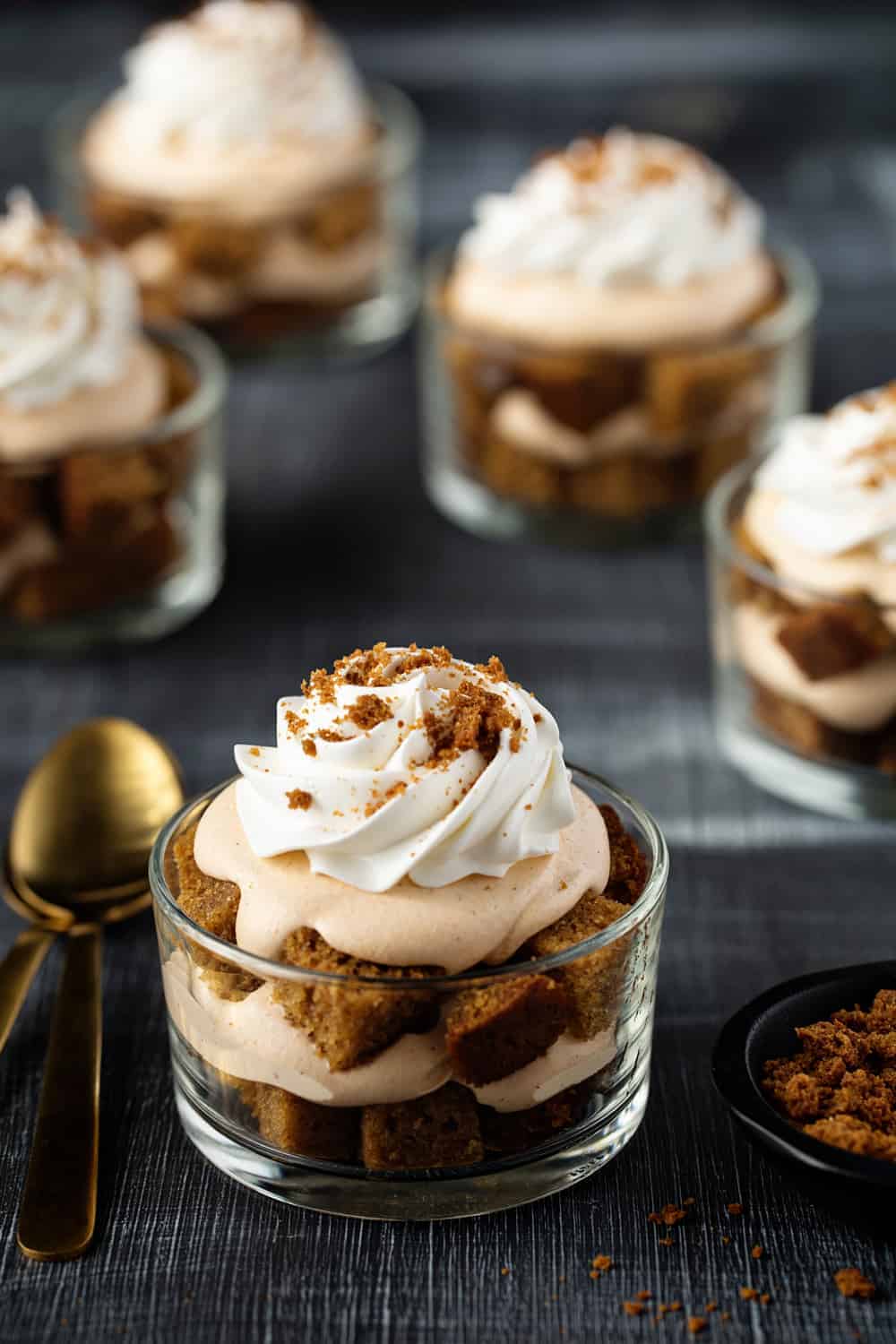 Four spider webs, a couple of black light bulbs, 2 overpriced flickering pumpkins and a furry spider later, we were on our way.
By the way, that spider is legit going to haunt me in my sleep for no less than one week.
At the end of the day, Elle deemed it her best Halloween ever and I promptly packed away said spider.
Although we had quite the garage display, I kept the food simple with take-out, bakery-bought cupcakes and these super easy Pumpkin Trifles.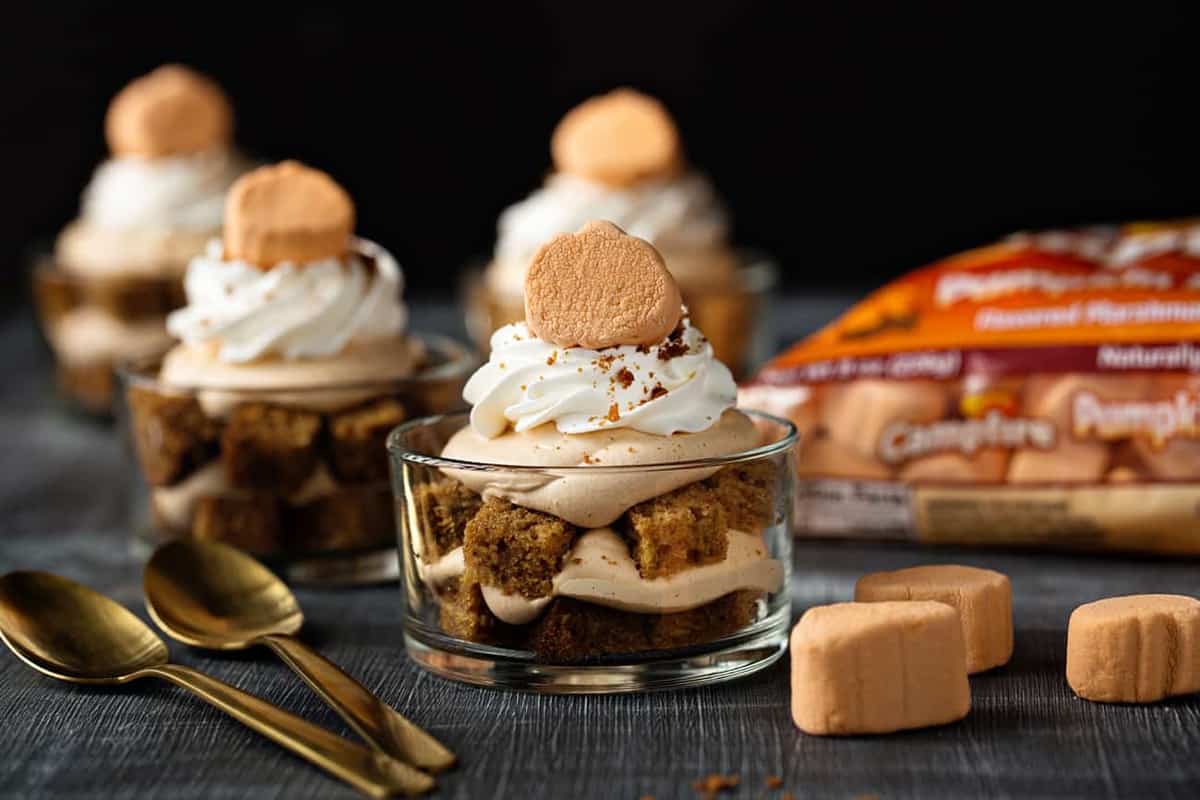 PUMPKIN BREAD TRIFLE
If you've been following My Baking Addiction for a while, you know that my Pumpkin Bread is one of my favorite fall recipes. Since the recipe makes two loaves, I like to eat one and freeze the second for later.
Having a loaf of pumpkin bread in the freezer is really handy when you decide on a whim that you'd like to make pumpkin bread trifles for your kiddo for Halloween.
You could make Pumpkin Trifles any time, of course, but I wanted to make a fun treat that was as cute for kids as it was delicious for the adults, so I topped these yummy pumpkin bread trifles with my favorite Campfire® Ghoster Roasters.
Look at those little ghosts. Even their name is cute, right?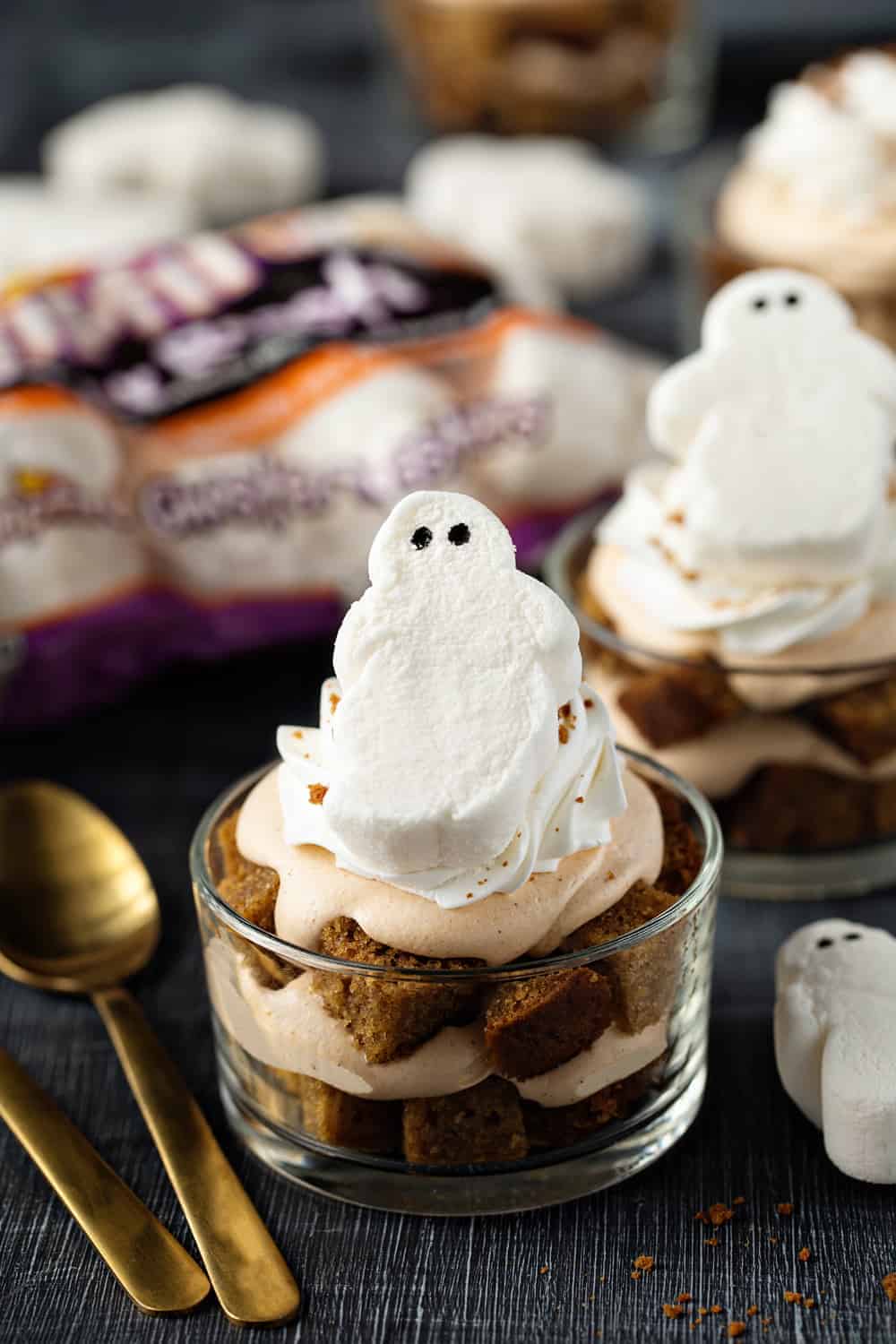 But if you want to make these after Halloween, you can sub Campfire® Pumpkin Spice Marshmallows for the Ghoster Roasters. Hello, adorable, little squishy pumpkins!
In case you're new here, I've been working with Campfire® Marshmallows for the past few years to meet all of my marshmallow recipe cravings, just like with these Pumpkin Trifles.
We've created tons of delicious dishes and desserts in the past few years and have even more coming your way as we head into the holiday season.
We even created a Marshmallow Madness Pinterest board where we've pinned loads of delicious ooey-gooey marshmallow recipes, just like Pumpkin Trifles and some of my other fall favorites including Brown Butter Rice Krispie Treats and Marshmallow Pumpkin Pie.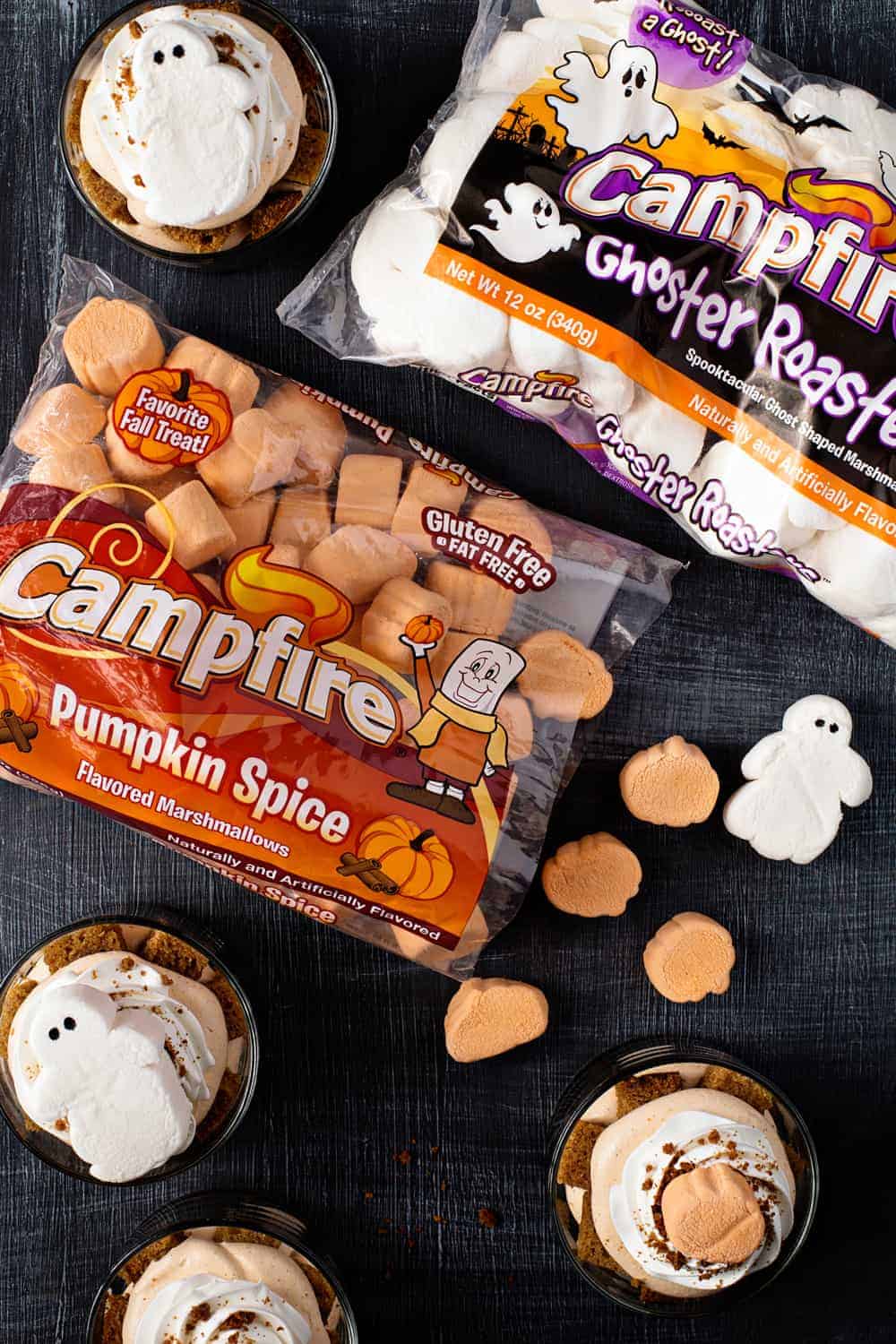 PUMPKIN TRIFLE RECIPE
Pumpkin Trifles are super easy to make. If you have a loaf of pumpkin bread in the freezer, pull that baby out and use it as the base for this Pumpkin Trifle recipe.
If you don't have any pumpkin bread in the freezer, you can always run out and pick up a loaf at your favorite bakery. You can even tell your friends you made it all from scratch – I won't give away your secret.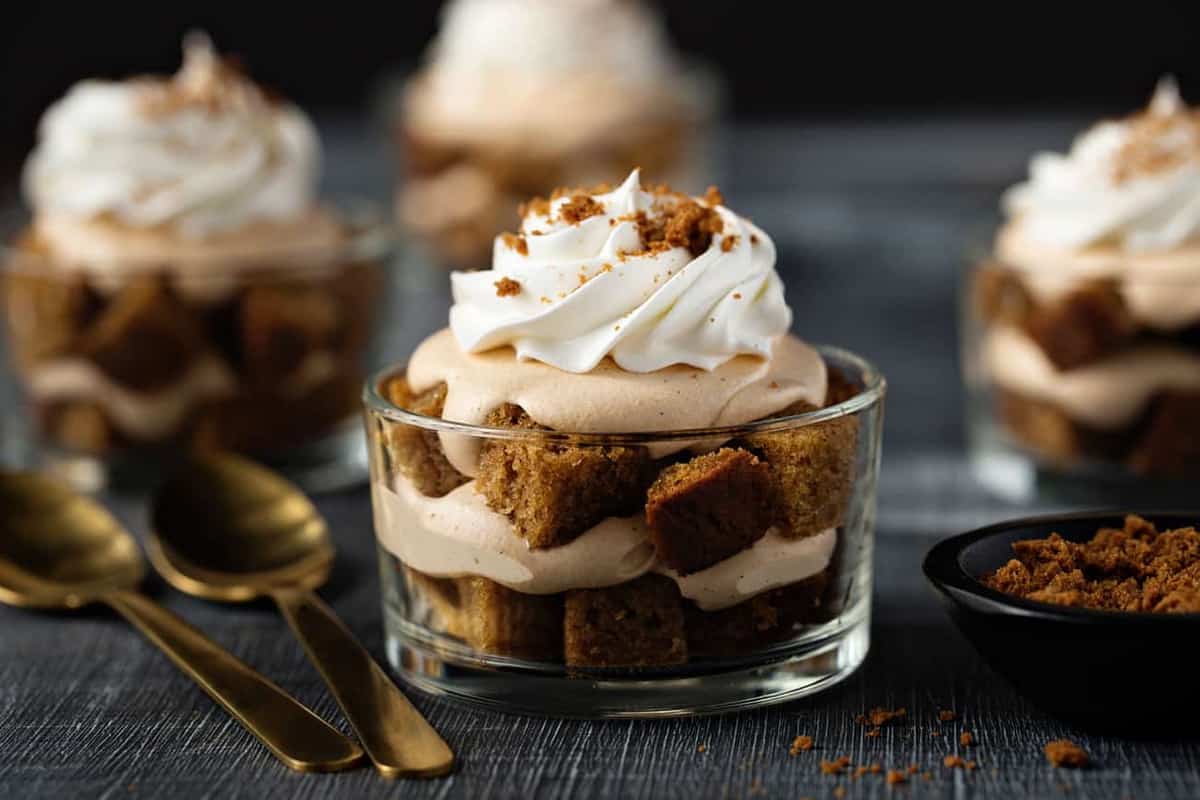 To make the Pumpkin Trifles, just layer pumpkin bread with pumpkin pudding combined with sweetened condensed milk and whipped topping.
I like to layer mini Pumpkin Trifles in individual dishes, but you can also make a large pumpkin trifle in a trifle dish. It would definitely make an impressive centerpiece for a buffet.
Pop some of the adorable Ghoster Roasters or Pumpkin Spice Marshmallows on top to give these Pumpkin Trifles a seasonal flair. This is one dessert that is as adorable and kid-friendly as it is delicious for the adults, I promise.
Looking for more delicious pumpkin recipes? Be sure to check out these Mini Pumpkin Pies, this Pumpkin Roll and these Pumpkin Whoopie Pies.