Pumpkin Cheesecake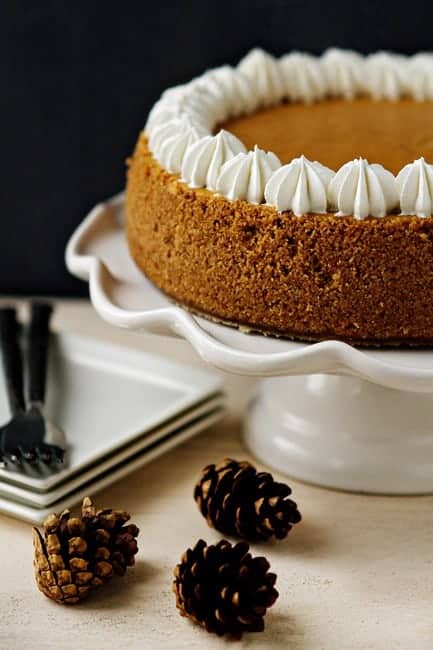 Okay guys – I may be in need of an intervention. I'm out of control with pumpkin right now. In fact, I was just browsing through the recipes in my drafted posts, and every. single. one. has pumpkin in it. What I'm trying to say is that if you loathe this particular holiday ingredient, ya may want to just stay away from MBA for the next week or so. Sorry.
So insane pumpkin obsession aside, you guys know that I also have a thing for cheesecake. So it was only natural to combine two of my absolute favorite things to create one incredible Thanksgiving dessert.
The first time I tested this recipe, I used gingersnap cookies for the crust. However, I didn't actually taste the gingersnap cookies that I purchased before whirling them up in my blender. Well, they tasted quite unfortunate. Sort of like a how I imagine dirt would taste if you sprinkled some spices on it. Sick!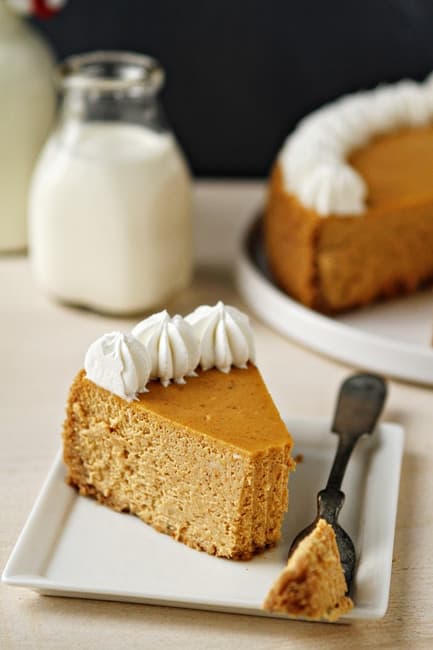 Moral of the story? Stay far away from Kroger brand gingersnap cookies – unless of course, spicy dirt sounds appealing.
After trashing the first crust, I went the more traditional route and used graham cracker crumbs, but I added a little somethin' somethin' to the mix – homemade pumpkin pie spice. And honestly, the flavor was just perfect!
Whether your looking for the perfect dessert for Thanksgiving dinner, or you're just freakishly obsessed with pumpkin, this fantastic Pumpkin Cheesecake is sure to please. Simple dollops of whipped cream finish this baby off so that you can look impressive – even if you're hiding in the kitchen necking the Reddi-Whip dispenser like it's your J-O-B. It can't just be me. Right?
If cheesecakes scare you a bit, no worries. Check out my video tutorial on How to Make the Perfect Cheesecake! It's old school – enjoy!

Snickers Cheesecake How-To from My Baking Addiction on Vimeo.
[pinit]
Pumpkin Cheesecake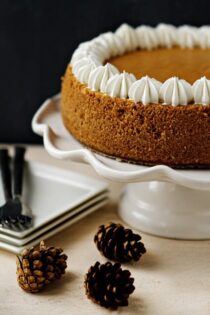 Ingredients:
For the Crust
2 cups graham cracker crumbs
6 tablespoons unsalted butter, melted
1/4 cup granulated sugar
1 teaspoon homemade pumpkin pie spice
For the Cheesecake
4 8-ounce packages cream cheese, softened
1 cup granulated sugar
1/4 cup packed light brown sugar
3 large eggs
1 can (15 oz.) pure pumpkin puree
1/3 cup heavy cream
2 teaspoons pure vanilla extract
1 tablespoon homemade pumpkin pie spice
Directions:
1. Preheat oven to 350°F. Line the bottom of a 9-inch springform pan with foil and spray lightly with nonstick cooking spray.
2. In a medium bowl, combine graham cracker crumbs, butter, granulated sugar and pumpkin pie spice. Press onto bottom and 1 inch up side of prepared pan. Bake for 7 to 8 minutes. Cool on wire rack for about 10 minutes.
3. Begin to boil a large pot of water for the water bath.
4. In the bowl of a stand mixer fitted with the paddle attachment, or in a large bowl with an electric mixer, combine cream cheese, granulated sugar and brown sugar until fluffy; about 3 minutes. Add in eggs, pumpkin and heavy cream, mix until fully incorporated; scraping down the sides of the bowl as needed. Finally, add in vanilla and pumpkin pie spice and mix until well combined.
5. Pour batter into prepared crust. Place pan into a larger pan and pour boiling water into the larger pan until halfway up the side of the cheesecake pan. (See video above for more tips)
6. Bake 60 minutes, the edges will appear to be set, but the center will still have some jiggle to it. At this point, close the oven door, turn the heat off, and let rest in the cooling oven for one hour. After one hour has passed, carefully remove the cheesecake from the water bath and place on a cooling rack to cool completely. Once the cake is completely cooled, place it into the refrigerator for at least 6 hours.
Notes:
- If you don't want to mess with the whole waterbath situation, no worries. You can bake the cheesecake without it. If you end up with a crack, just cover it with whipped cream!
- A tightly covered cheesecake can be stored in the refrigerator for up to five days. The cheesecake can be stored for approximately 2 months in the freezer. To defrost, allow cake to defrost in the refrigerator overnight.
MyBakingAddiction.com
All images and text ©
Follow Jamie on Instagram. We love to see what you're baking from MBA! Be sure to tag @jamiemba and use the hashtag #mbarecipes!
This post may contain affiliate links. We are a participant in the Amazon Services LLC Associates Program, an affiliate advertising program designed to provide a means for us to earn fees by linking to Amazon.com and affiliated sites.