This classic Pumpkin Cheesecake is hard to beat! With a spiced graham cracker crust and a creamy pumpkin filling, all you need is a dollop of whipped cream to finish off this perfect Thanksgiving dessert.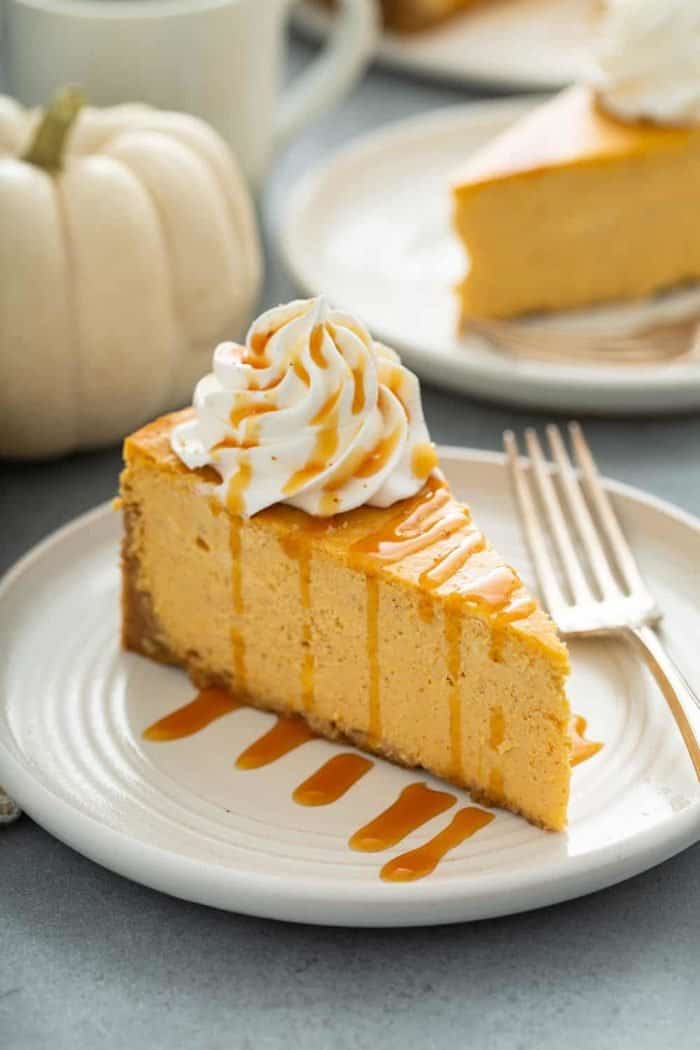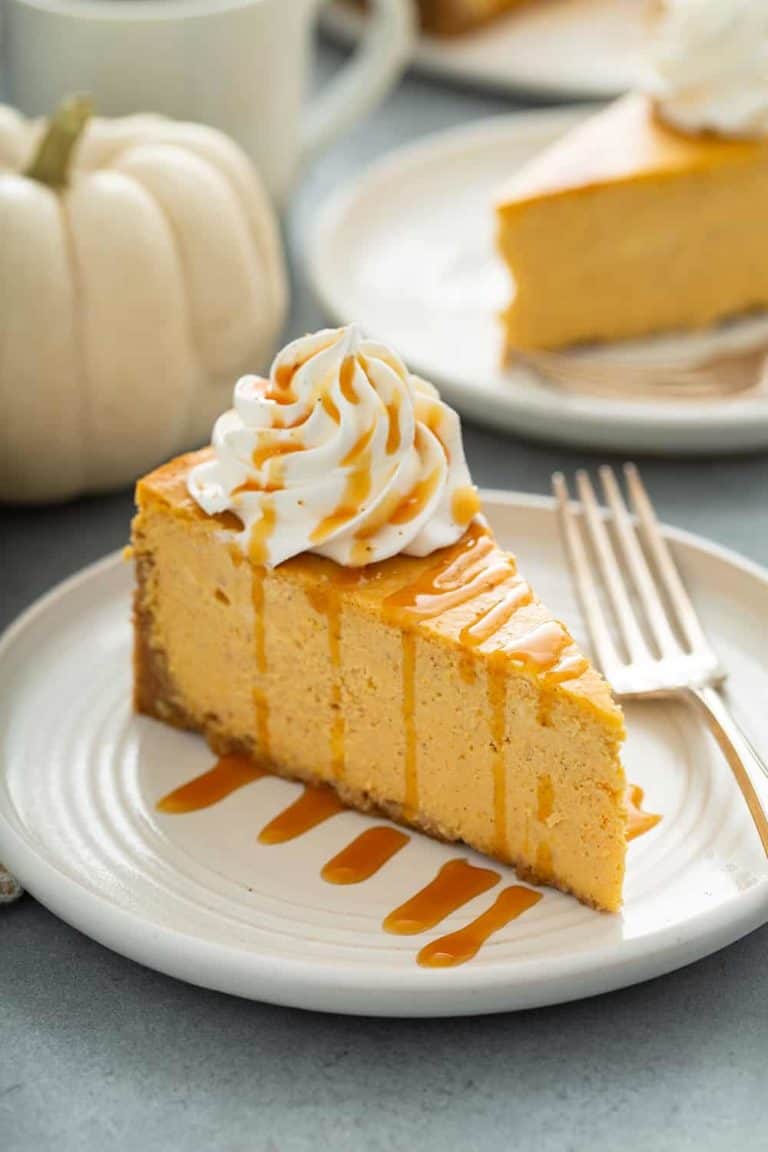 I'm pretty certain that our Thanksgiving is going to look different than it has in recent years. And if I'm being honest, I was pretty upset about it at first because holiday traditions are so important to our little family.
But the more I thought about it, the more at ease I have become because I've decided that things don't really have to change that much.
I'm still going to cooking our usual Thanksgiving dinner with an overflowing pumpkin dessert sections including pumpkin roll, pumpkin crunch cake and this pumpkin cheesecake only this year, it might served to-go style.
Just because we all won't be sitting around the same table this year doesn't mean we don't have so much to be thankful for.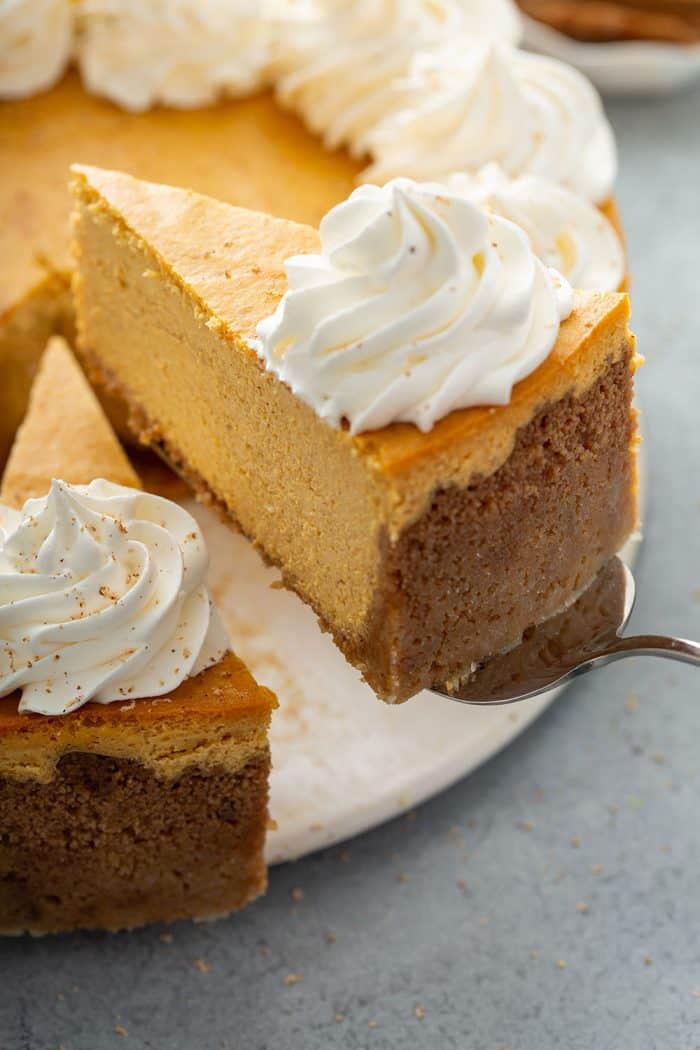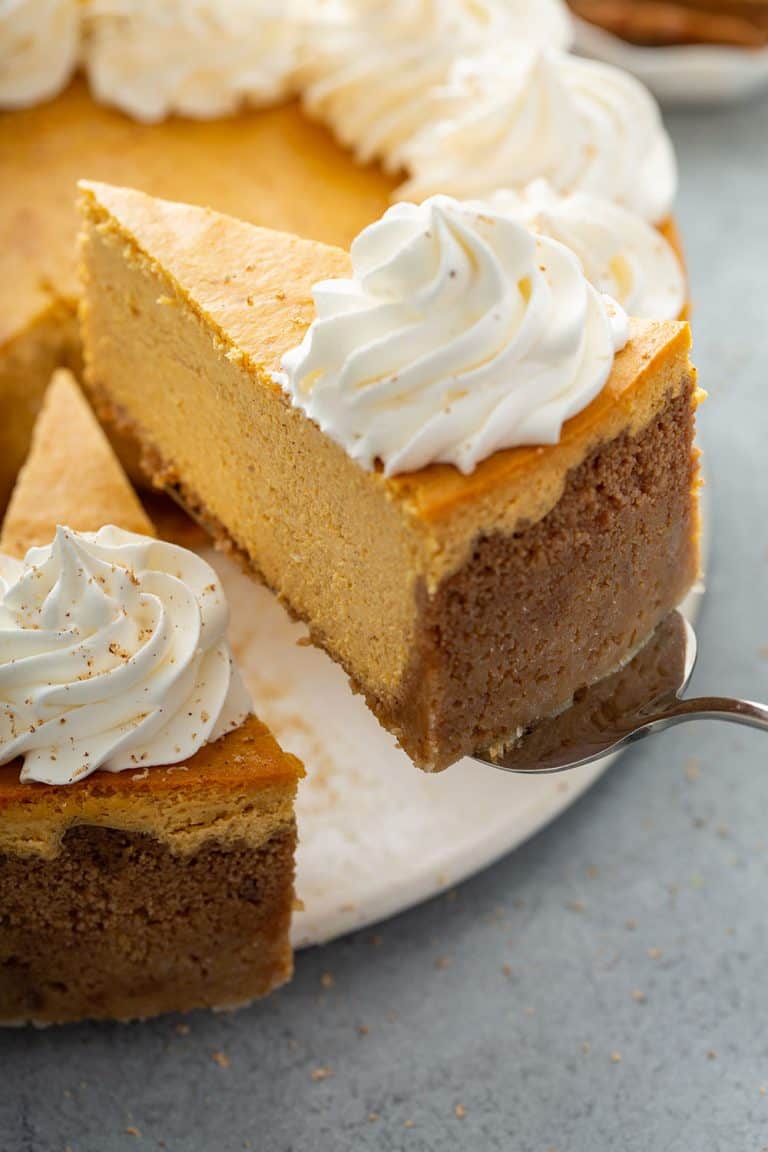 PUMPKIN CHEESECAKE INGREDIENTS
I know that cheesecake recipes seem intimidating to a lot of people. I mean, making a super creamy, delicious cheesecake must take a lot of ingredients…right?
You might be surprised to learn that the ingredient list is not as long as you'd think!
If you take a peek at the recipe for a classic vanilla cheesecake, you'll see that the filling only requires 5 ingredients. This Pumpkin Cheesecake requires a couple extra ingredients, but I promise that it's nothing too crazy.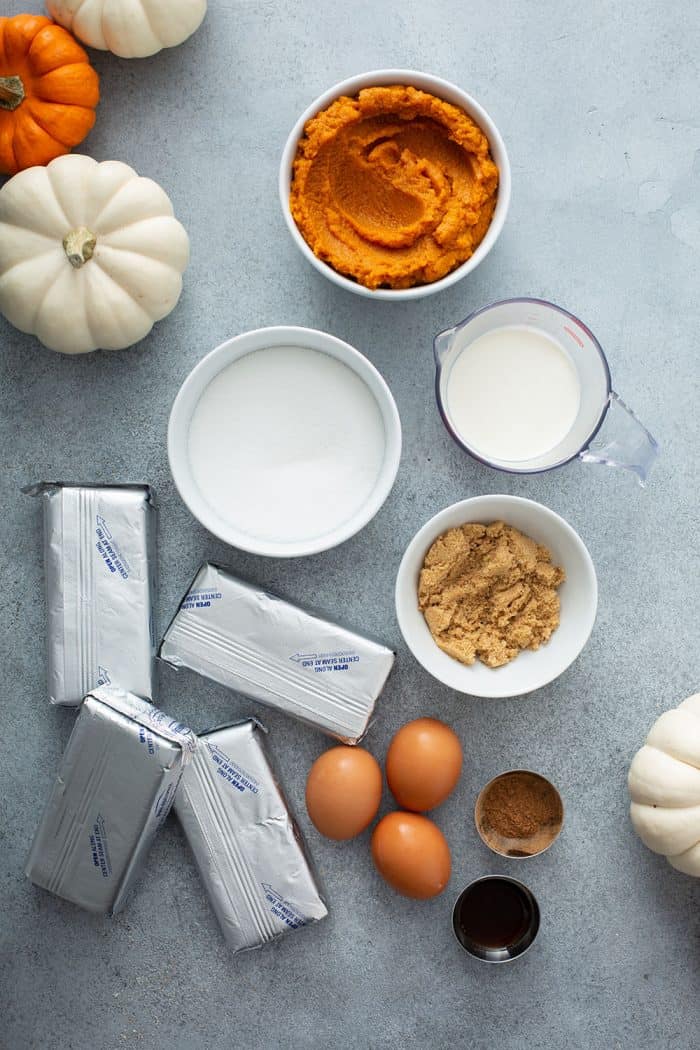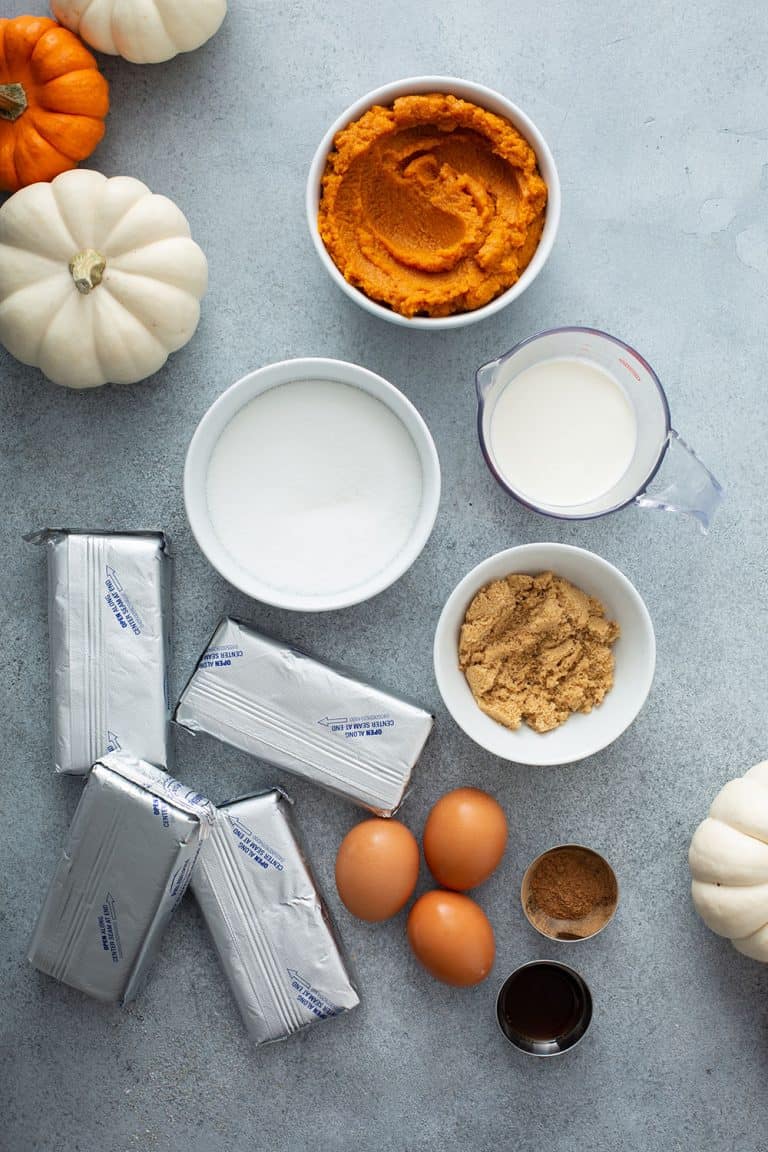 To make Pumpkin Cheesecake filling, you will need:
Sugar: Granulated and light brown sugar
Eggs
Pumpkin puree
Heavy cream
Vanilla
The main changes from a vanilla cheesecake filling are the addition of pumpkin (obviously), brown sugar and the pumpkin pie spice. I like to use just a little bit of brown sugar in my filling to add a little extra depth with that bit of molasses flavor.
The brown sugar and the pumpkin pie spice both play off the pumpkin puree to make this cheesecake as rich and flavorful as it is creamy and dreamy. Truly a cheesecake version of your favorite pumpkin pie!
If your brown sugar has hardened in the pantry, don't panic. I have some tips on how to soften brown sugar. You can also save yourself a trip to the store by making a simple brown sugar substitute.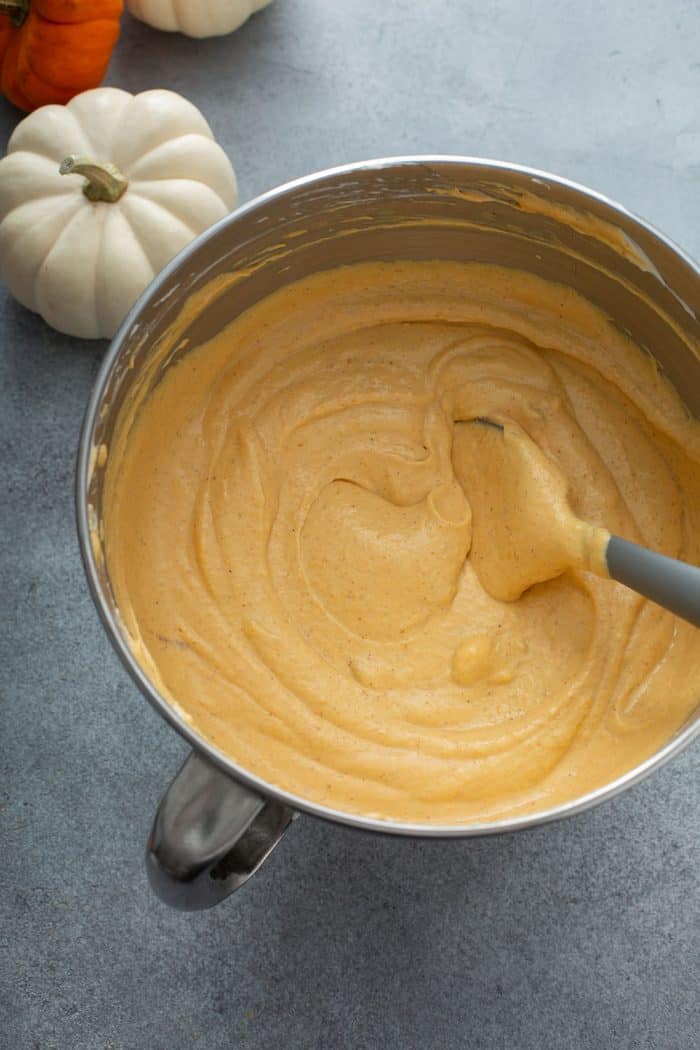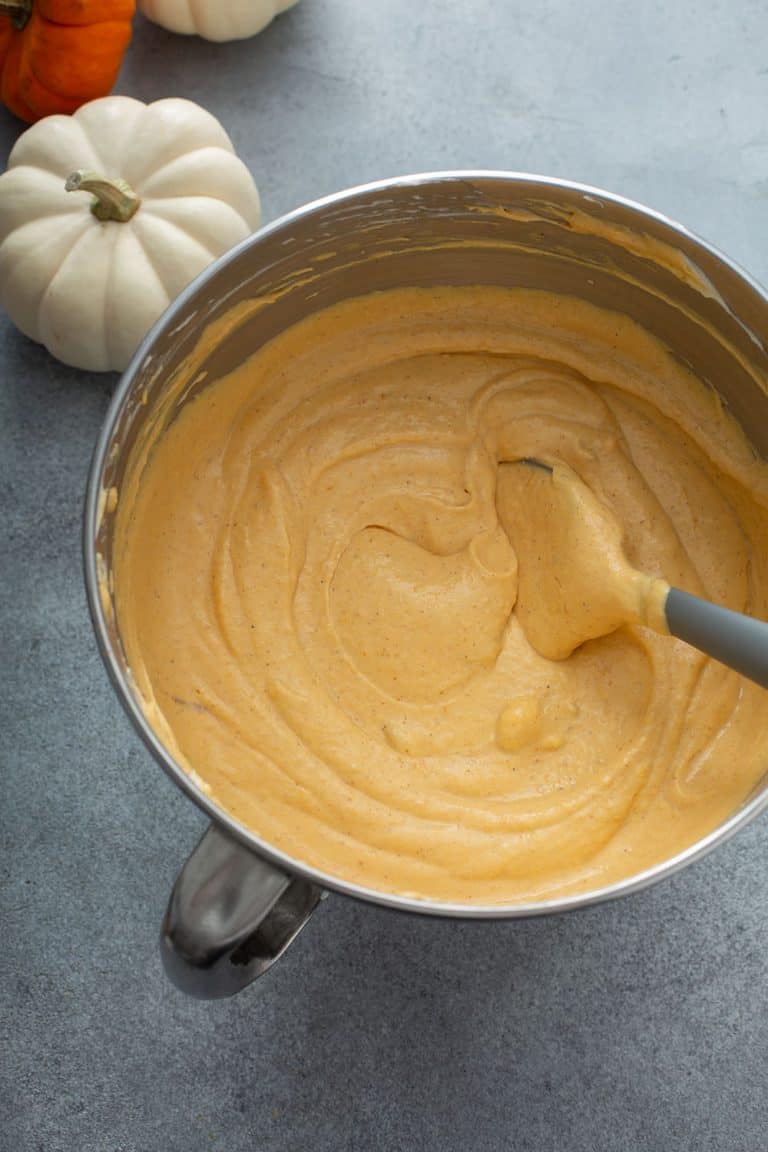 HOW TO MAKE PUMPKIN CHEESECAKE
If we're going to make Pumpkin Cheesecake, we've gotta start with a crust!
Sure, you could buy a premade graham cracker crust in a pinch, but if you make it yourself, you can add in my secret ingredient.
That's right, I like to use my favorite graham cracker crust recipe and add a bit of pumpkin pie spice to it.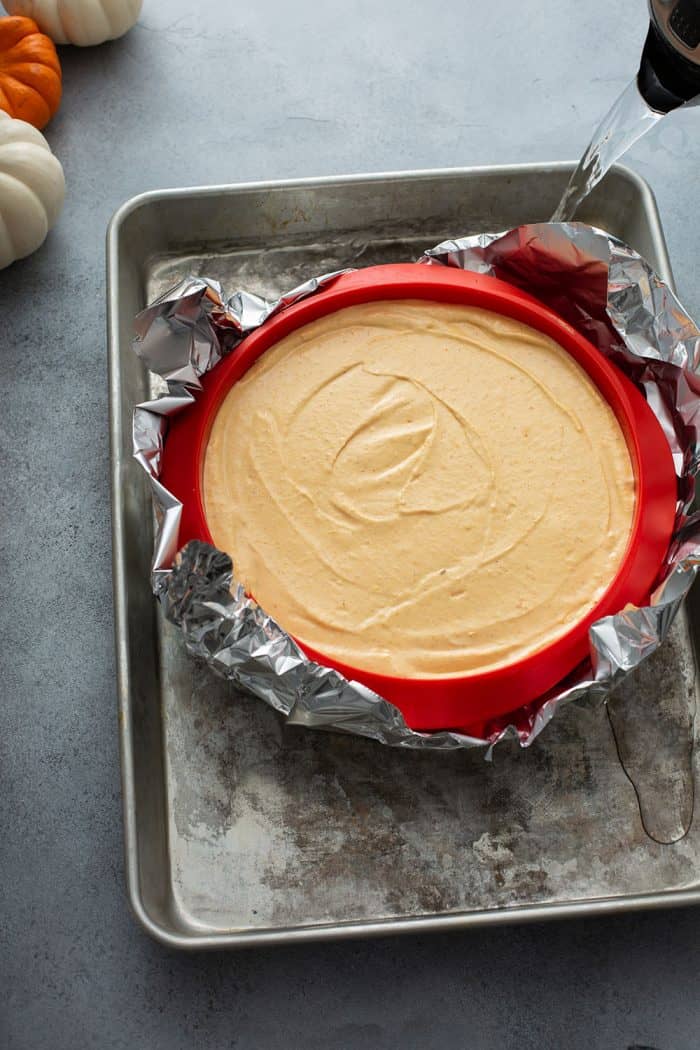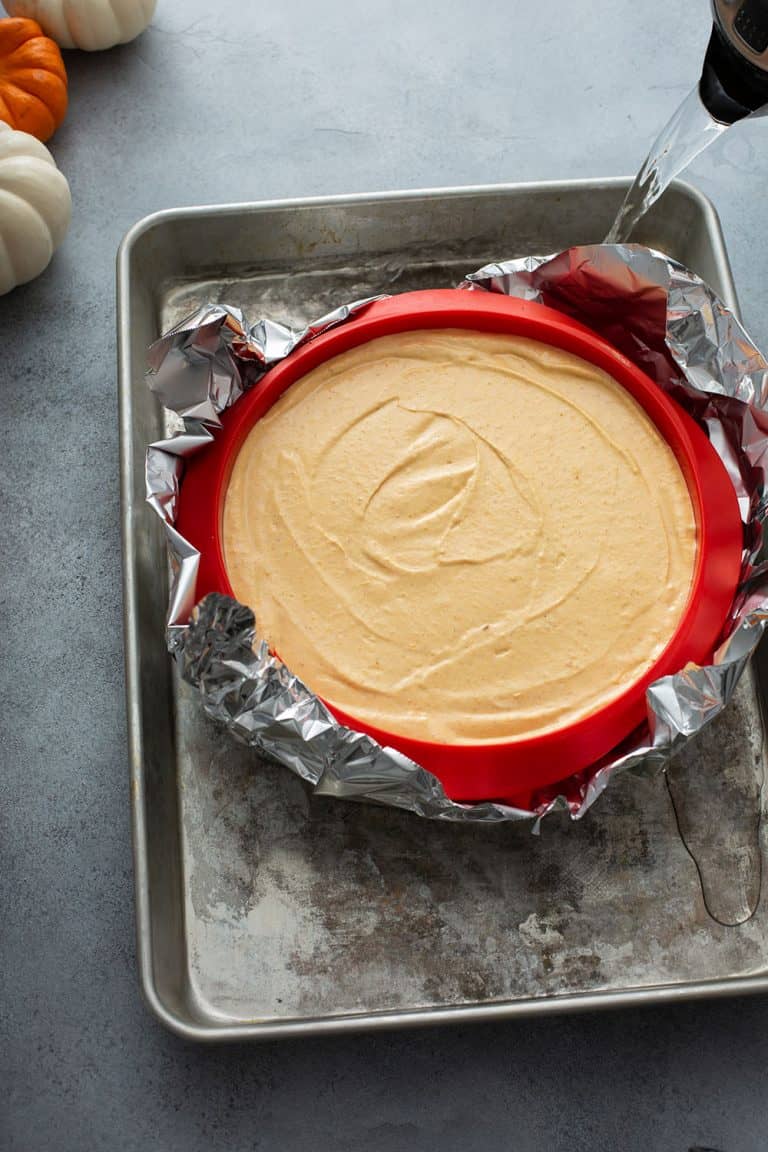 I know that some people like to use a gingersnap crust for their pumpkin desserts. I've used a gingersnap crust when making Pumpkin Praline Cheesecake, but for this particular recipe, I like to go a little more classic.
In my opinion, the pumpkin pie spice makes the flavor of the crust just perfect!
Once the crust is ready, beat together the cream cheese with the sugars until light and fluffy. This will take about 3 minutes – don't rush it!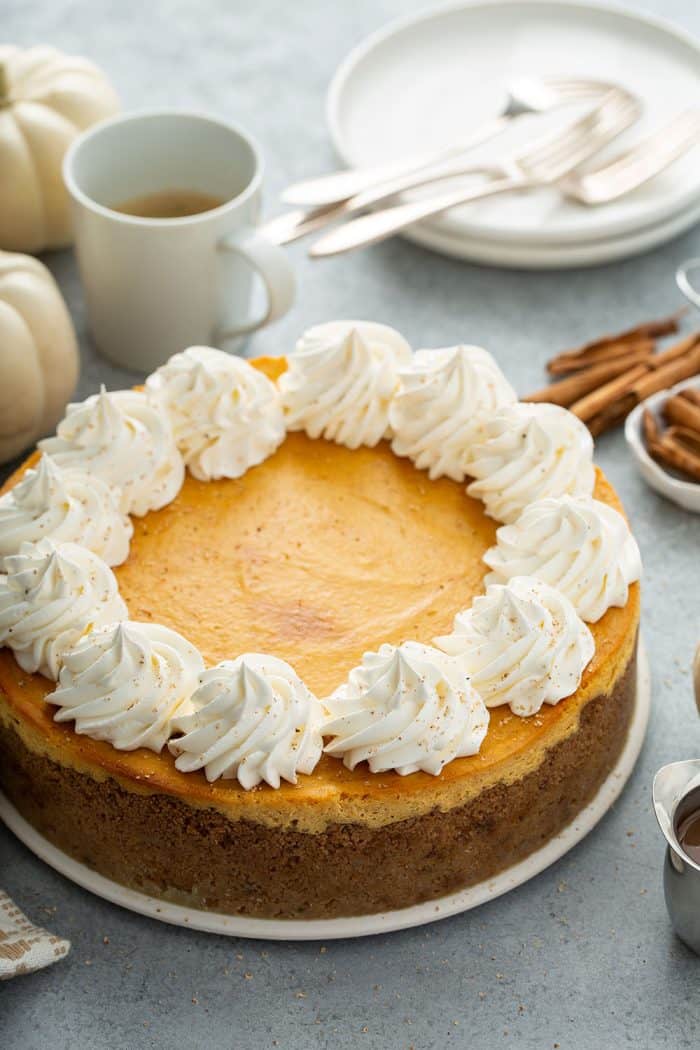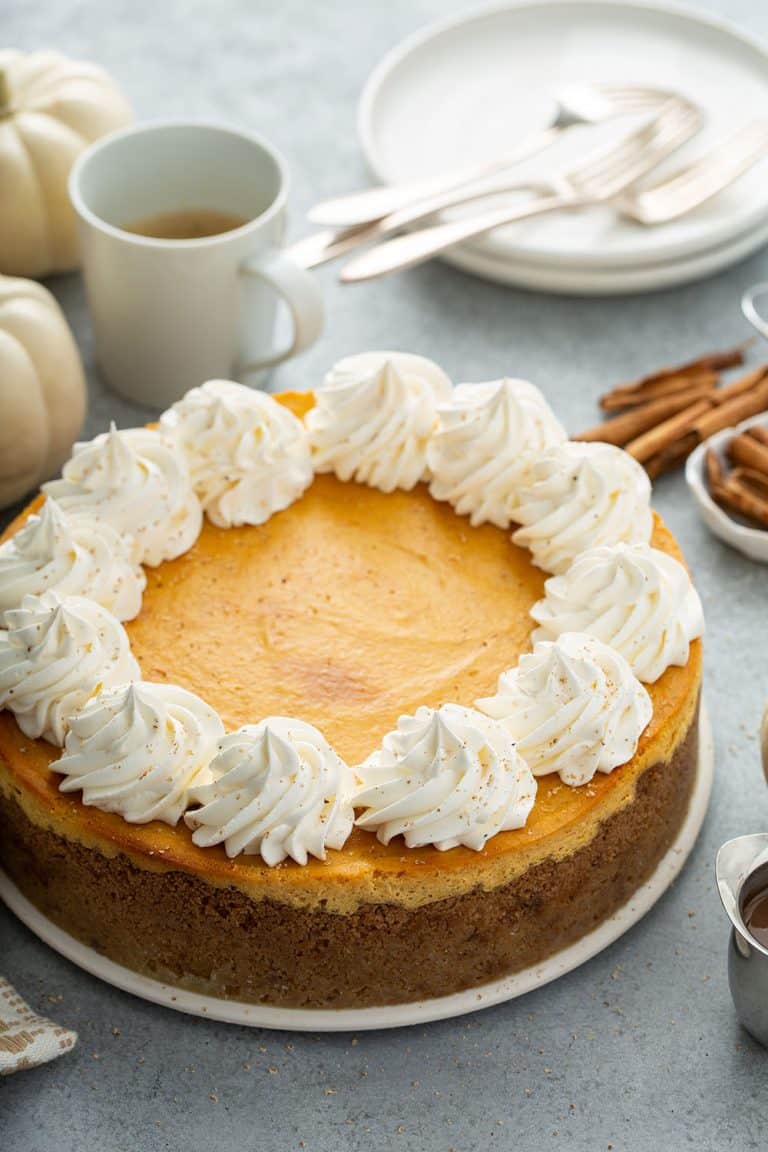 Then add in the eggs, pumpkin, and heavy cream, followed by the vanilla and pumpkin pie spice.
Pour the filling into your prepared crust and bake the cheesecake in a water bath for about an hour.
Once the cheesecake is done baking, crack the oven door, turn the oven off, and let the cheesecake hang out in the cooling oven for 1 hour before placing it on a cooling rack to cool completely.
After a rest in the refrigerator to completely set, your cheesecake is ready to serve for Thanksgiving dessert!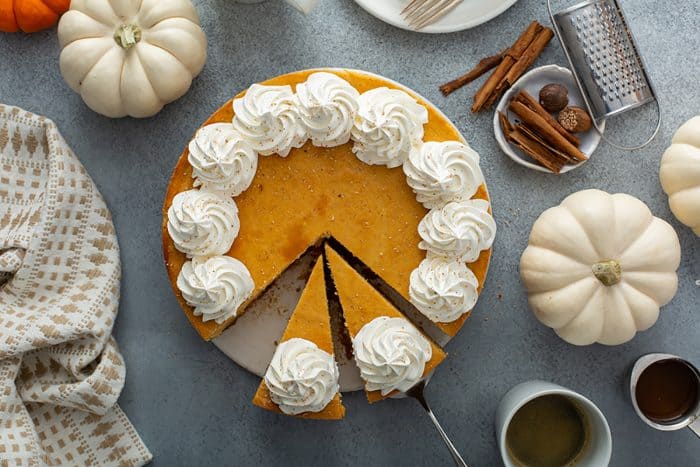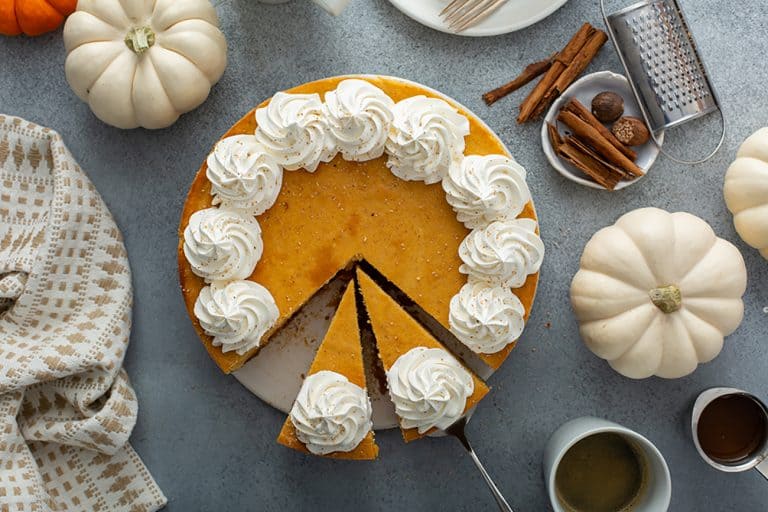 Do I have to use a water bath?
I know what you're wondering. Do you have to use a water bath when baking this cheesecake??
Look, I know water baths freak people out. You should give it a try, though! I put together a helpful post on how to bake cheesecake in a water bath. It'll walk you through it step by step.
But if you are still really not hot on using a water bath…that's ok. Just know that your cheesecake might crack on top.
But then again, that's nothing a little whipped cream can't fix, right?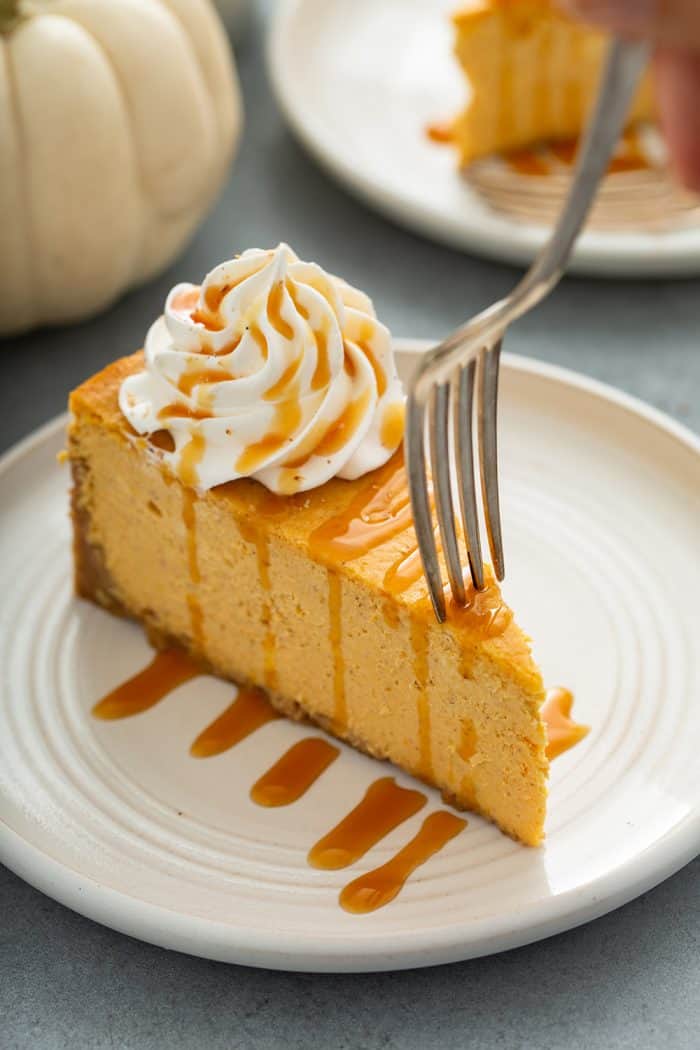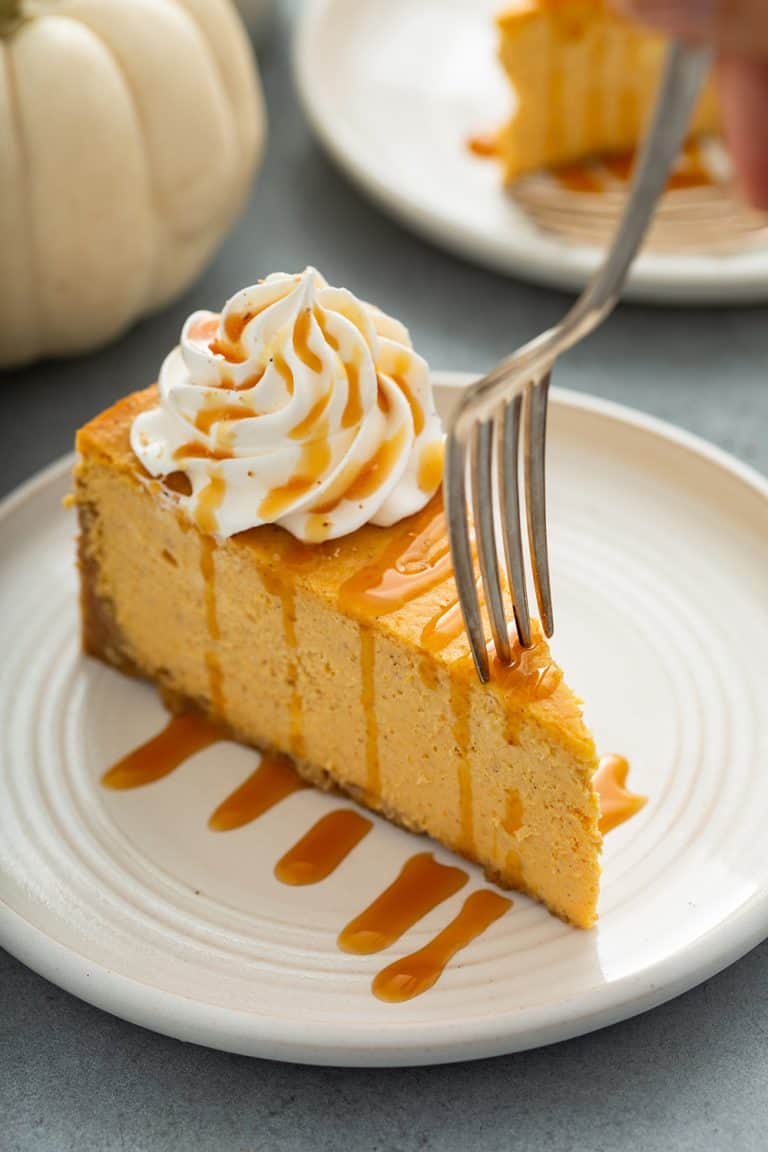 CAN PUMPKIN CHEESECAKE BE FROZEN?
Cheesecake actually freezes quite well. If you want to make your Pumpkin Cheesecake more than a day or so ahead of time, I'd recommend freezing it.
If you're freezing the cheesecake whole, place the cooled cheesecake on a cardboard round and cover it tightly with plastic wrap.
Alternatively, you can freeze individual slices of cheesecake – slice and wrap each piece with plastic wrap.
Next, wrap the cheesecake or individual slices with foil.
Because I am extra cautious, I will often place the double-wrapped cheesecake in a freezer-safe zip-top bag, although that's not strictly necessary.
Freeze the Pumpkin Cheesecake for up to 1 month for best flavor. When you're ready to eat it, thaw at room temperature for a couple of hours or in the refrigerator overnight.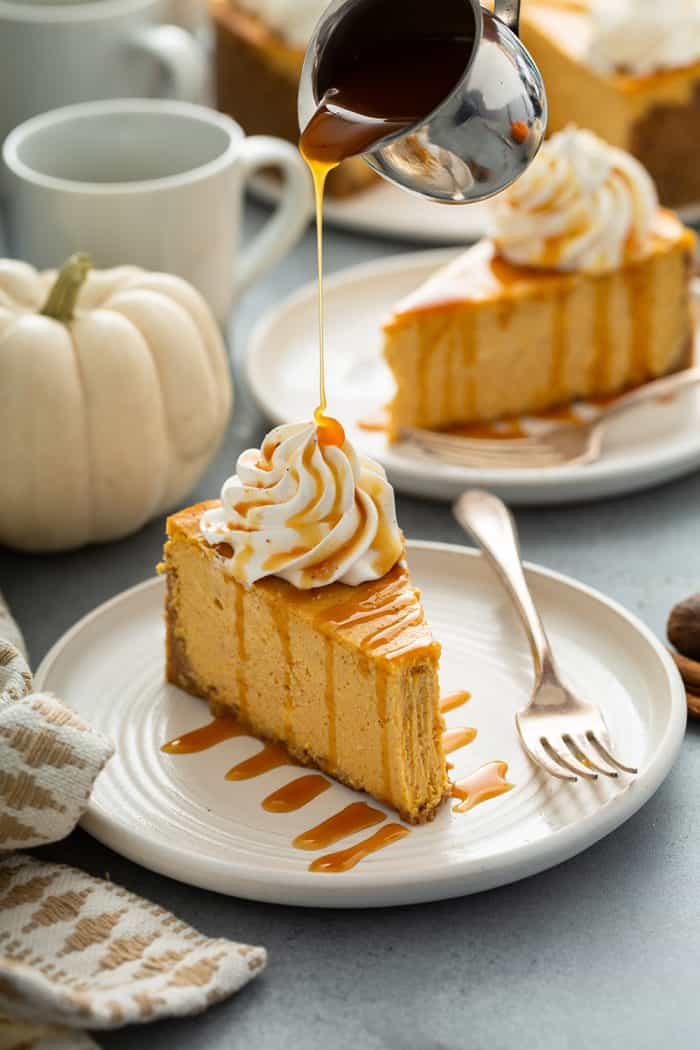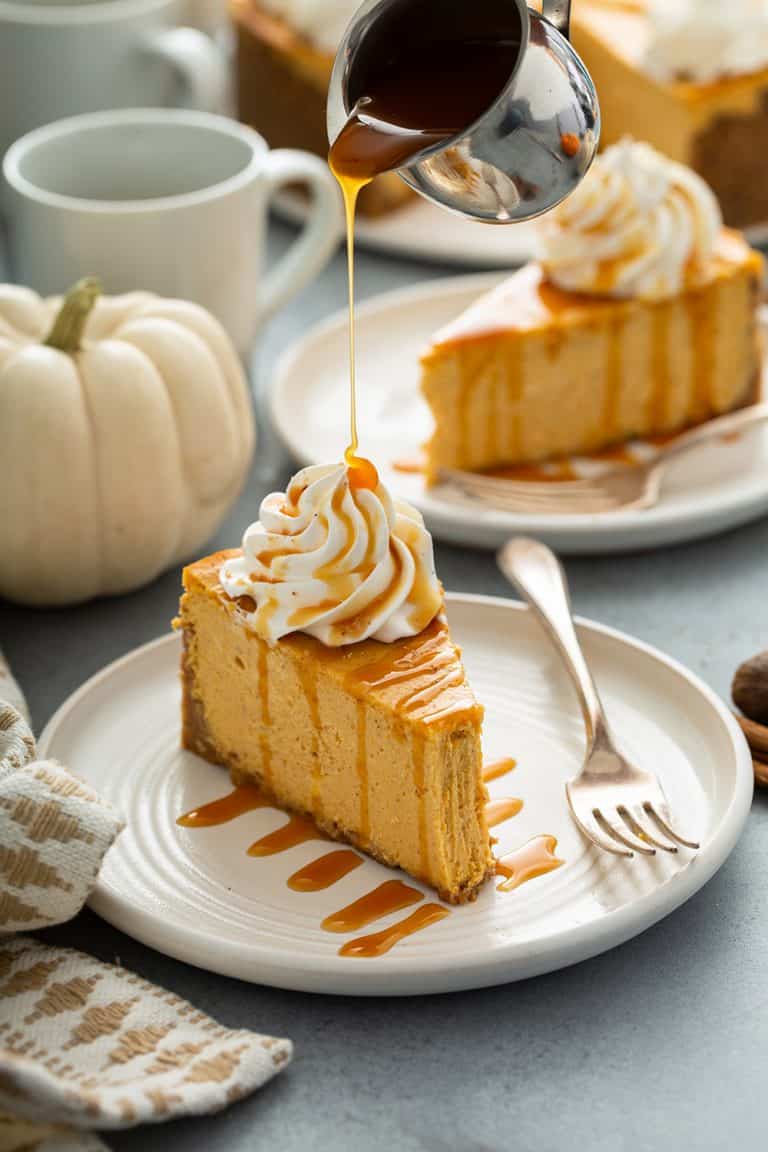 SERVING SUGGESTIONS
I am happy sneaking bites of this cheesecake straight from the refrigerator, but I suppose most people would want to fancy it up for Thanksgiving.
A drizzle of salted caramel sauce is always appropriate, as is a dollop of homemade whipped cream. Maybe even a scoop of vanilla ice cream!
Whether you're looking for the perfect dessert for Thanksgiving dinner, or you're just freakishly obsessed with pumpkin, this fantastic Pumpkin Cheesecake is sure to please.
FAQS
Are there other crust options for this cheesecake?
I like to add a bit of pumpkin pie spice to my classic graham cracker crust for this recipe, but there are plenty of other crust options you can use.
For a more heavily spiced crust, you can use the gingersnap crust from my marshmallow pumpkin pie. Or you could swap the gingersnaps for Biscoff cookies!
You could also use the sugar cookie crust from my sugar cookie cheesecake, or even the chocolate crust from my chocolate cheesecake. The options are endless!
What's the best way to prepare my springform pan?
If you're using a water bath, I wrap a piece of foil around the bottom outside of the pan to help prevent leaks. Then lightly spray the inside of the pan with nonstick spray.
If you want to take an extra step to prevent leaks, nestle the pan into a roasting bag when you set it into the roasting pan for the water bath.
I also have one more work-around – if you have a regular 10-inch cake pan, place the springform pan into the 10-inch pan and place the whole thing into your roasting pan. This will still allow the water bath to do its job, but will avoid any possible leaks!
I accidentally bought pumpkin pie filling instead of pumpkin puree. Will that work in this recipe??
Unfortunately, no. Canned pumpkin pie filling has extra ingredients, such as eggs and sugar, added it it that will mess up the ratio of the other ingredients in this recipe. You definitely need to make sure you use pumpkin puree instead of pie filling in this cheesecake.
Can I make this pumpkin cheesecake with fresh pumpkin puree instead of canned?
Of course! Keep in mind that homemade pumpkin puree is lighter in color than the canned stuff. Canned pumpkin usually includes a mix of squashes that are in the pumpkin family, so the color is a deeper orange.
The pumpkin cheesecake will still be delicious, it just might not have as vibrant of an orange color if using fresh pumpkin puree.
I don't have pumpkin pie spice. What can I use instead?
If you don't have any pumpkin pie spice or the ingredients to make it on hand, you can substitute an equal amount of ground cinnamon instead.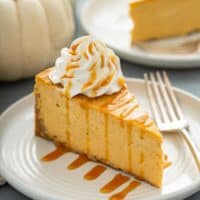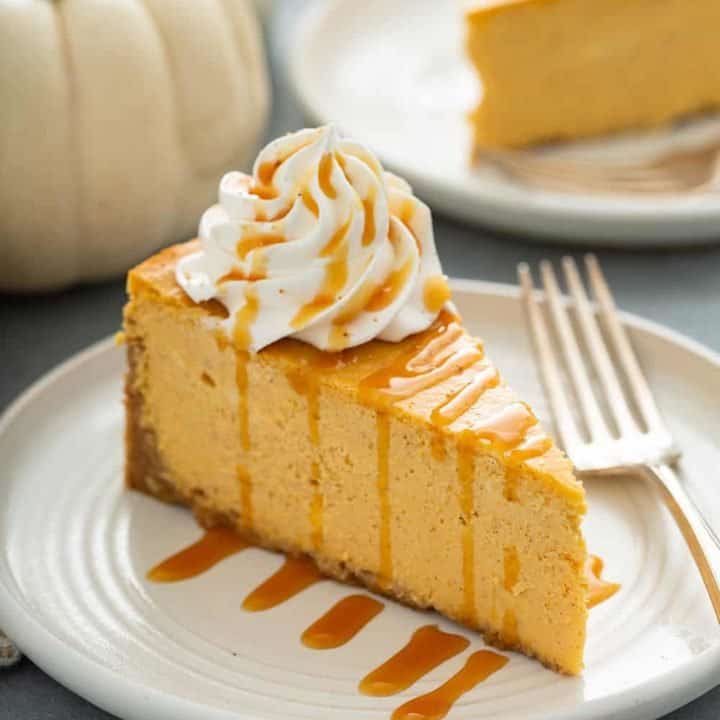 Pumpkin Cheesecake
This classic Pumpkin Cheesecake is hard to beat! With a spiced graham cracker crust and a creamy pumpkin filling, all you need is a dollop of whipped cream to finish off this perfect Thanksgiving dessert.

Print
Pin
Ingredients
For the Crust
2

cups

graham cracker crumbs

6

tablespoons

unsalted butter

melted

¼

cup

granulated sugar

1

teaspoon

pumpkin pie spice
For the Cheesecake
32

ounces

cream cheese

softened

1

cup

granulated sugar

¼

cup

packed light brown sugar

3

large eggs

1

can

pure pumpkin puree

15 ounces

⅓

cup

heavy cream

2

teaspoons

pure vanilla extract

1

tablespoon

pumpkin pie spice
Instructions
Preheat oven to 350°F. Wrap the outside of the bottom of a 9-inch springform pan with foil. Spray the inside lightly with nonstick cooking spray.

In a medium bowl, combine graham cracker crumbs, butter, granulated sugar and pumpkin pie spice. Press onto bottom and 1 inch up side of prepared pan. Bake for 7 to 8 minutes. Cool on wire rack for about 10 minutes.

Begin to boil a large pot of water for the water bath.

In the bowl of a stand mixer fitted with the paddle attachment, or in a large bowl with an electric mixer, combine cream cheese, granulated sugar and brown sugar until fluffy; about 3 minutes. Add in eggs, pumpkin and heavy cream, mix until fully incorporated; scraping down the sides of the bowl as needed. Finally, add in vanilla and pumpkin pie spice and mix until well combined.

Pour batter into prepared crust. Place pan into a larger pan, such as a roasting pan, and pour boiling water into the larger pan until halfway up the side of the cheesecake pan.

Bake 60 minutes, the edges will appear to be set, but the center will still have some jiggle to it. At this point, crack the oven door, turn the heat off, and let rest in the cooling oven for one hour. After one hour has passed, carefully remove the cheesecake from the water bath and place on a cooling rack to cool completely. Once the cake is completely cooled, place it into the refrigerator for at least 6 hours.
Notes
-If you don't want to mess with the whole water bath situation, no worries. You can bake the cheesecake without it. If you end up with a crack, just cover it with whipped cream!
-A tightly covered cheesecake can be stored in the refrigerator for up to five days. The cheesecake can be stored for approximately 1-2 months in the freezer. To defrost, allow cake to defrost in the refrigerator overnight.
Nutrition
Serving:
1
slice
|
Calories:
515
kcal
|
Carbohydrates:
41
g
|
Protein:
7
g
|
Fat:
37
g
|
Saturated Fat:
21
g
|
Polyunsaturated Fat:
2
g
|
Monounsaturated Fat:
10
g
|
Trans Fat:
0.2
g
|
Cholesterol:
140
mg
|
Sodium:
350
mg
|
Potassium:
160
mg
|
Fiber:
1
g
|
Sugar:
32
g
|
Vitamin A:
1349
IU
|
Vitamin C:
0.2
mg
|
Calcium:
105
mg
|
Iron:
1
mg
The default measuring system on My Baking Addiction is US Customary. Unit conversions are provided as a courtesy; please be aware that there may be some discrepancies.
Card may contain affiliate links. As an Amazon Associate and member of other affiliate programs, I earn from qualifying purchases.