Cherry Cheesecake Crumb Bars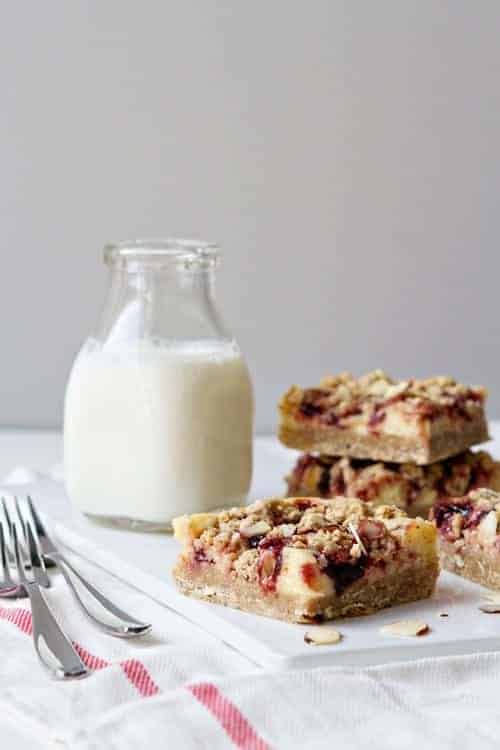 Cherry Cheesecake Crumb Bars make a terrific brunch or dessert treat. The crumb topping takes things over the top, in the best, buttery-crunchy-spicy kinda way.
This is a sponsored post on behalf of ACH brands. Thank you for continuing to support the brands that make My Baking Addiction possible.
Here we are – it's 2015, and I'm pretty sure many of you are back to the gym, back to eating celery, keeping track of everything from sleep to steps on your new fitness dongle-thingies. And listen, I'm all for that.
It's just.. I'm also all for cherries. And cheesecake. And crumb topping. Especially at breakfast. I promise I'm not trying to ruin your new fitness routine, but I truly think everything in moderation.
If you've been working out all week long, a slice of these Cherry Cheesecake Crumb Bars at Sunday brunch is exactly the sort of treat you've earned. And if you haven't been working out all week long? Go for a family walk afterwards. I'm a problem solver. You're welcome.
Eric and I are in the throws of packing up ALL THE THINGS for our big move next month. Let me tell you – add a toddler that's almost walking into that mix? For. The. Birds. We're exhausted, the baby is all discombobulated 'cus there are boxes everywhere, and we may have accidentally packed a toy she recently decided was her favorite thing in all the universe ever. Oops.
I decided we needed a leisurely morning. Just one leisurely Sunday morning to get ourselves back on even keel. And the best way to do that? Bake these gorgeous bars, full of cherry preserves, tangy cheesecake, crunchy almonds, and a crumbly-in-the-best-kind-of-way topping on Saturday night.
What a treat to wake up to, I tell you! You guys know I love me some cherry cheesecake – and getting to enjoy it for brunch? Win.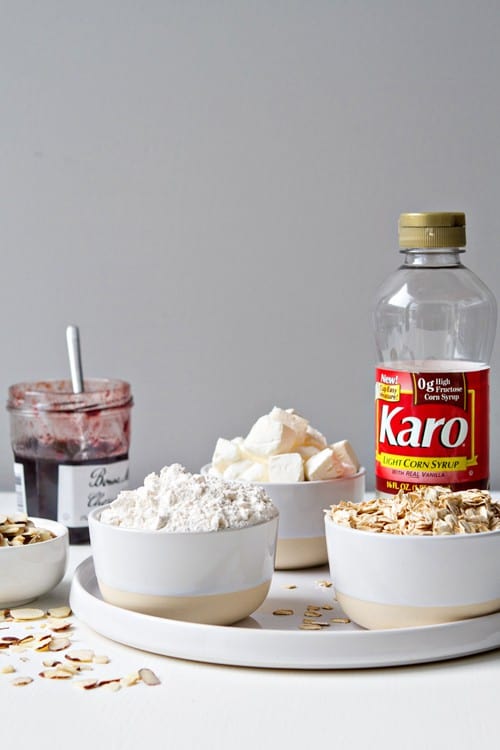 Before we get too far into the recipe, I want to make sure you know there's corn syrup featured here. And then I wanted to clear up a common misconception. Lately, I've noticed a lot of my friends mentioning they avoid desserts with corn syrup in them, like pecan pie, because it's "bad for you, like high fructose corn syrup".
Now, I'm not going to come down on the high fructose corn syrup argument either way (though I will admit we try to avoid it), because I don't want to start World War 3 in the MBA comments. What I do want to say is that corn syrup is not the same thing. Corn syrup is made from corn starch, and is 100% glucose.
Where people are unsure about HFCS is that pesky "F" part – fructose. It gets processed differently, and some of the glucose is chemically changed into fructose. Some people argue the body processes fructose very differently than glucose, and that may be true. I'm not a scientist or a doctor, so I have no idea. What I do know is that corn syrup and HFCS are two very different products. So before you break out the haterade because I used it in my crumb bars, just know that I have done some research, and I feel comfortable using corn syrup in my baking.
So long as it's Karo syrup, that is. They're pretty much the only brand of corn syrup that doesn't also contain HFCS. What I'm saying is, read the label!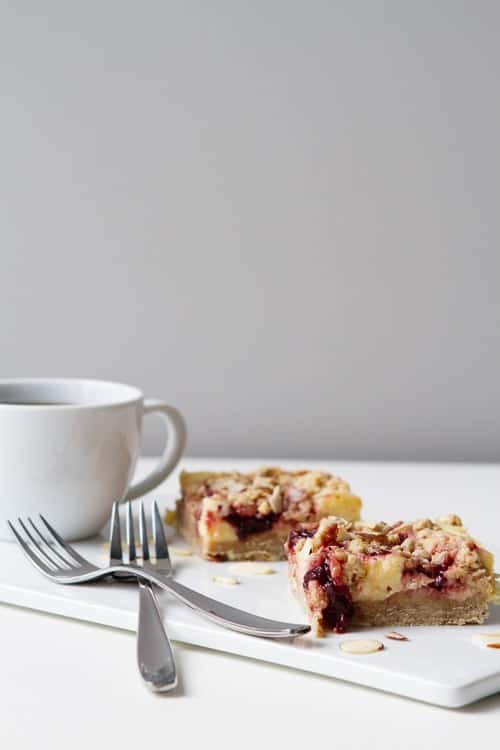 Now, back to these gorgeous bars. Technically, I think maybe they're supposed to be dessert. But show me a crumb topping, and I instantly think brunch. You know the sort of brunch-y thing I'm talking about – everything from strudels to muffins have crumb toppings, and they're acceptable, so these Cherry Cheesecake Crumb Bars should be too.
One other reason I think they're acceptable for brunch – this recipe makes just an 8×8 pan – 9 squares if you go large. That's enough for family brunch and snack the next day, and then they're gone.
You know I love layered desserts, and these babies are no different – except maybe I haven't put them in wee little single serving cups. Instead, they're sliced up into squares. We start with a buttery crust made with oats, which adds a fantastic depth of flavor. Then there's the cheesecake layer, with a touch of almond extract to make it special.
I used Bon Maman cherry preserves, which are some of my favorite, and then the whole thing gets topped off with more of the crust mixture, which is great. The oats really give it some texture and crunch. You're going to love it!
Cherry Cheesecake Crumb Bars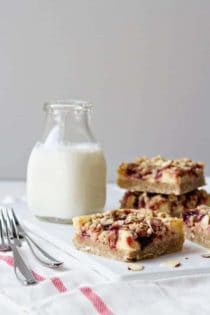 Ingredients:
For the Crust
2 cups quick oats (not instant)
1-1/4 cups all-purpose flour
1/2 cup sliced almonds
1 teaspoon Spice Islands® Ground Cinnamon
1/2 cup Karo® Light Corn Syrup
1/4 cup brown sugar
1/2 cup unsalted butter, softened
For the Filling
1 package (8 ounces) cream cheese, softened
1/2 cup sugar
1 large egg, room temperature
1/2 teaspoon pure almond extract
1 teaspoon pure vanilla extract
2/3 cup cherry preserves
Directions:
1. Preheat oven to 350°F. Line an 8 x 8-inch baking pan with parchment paper and spray with nonstick cooking spray.
2. In a large bowl with an electric mixer, mix oats, flour, almonds, cinnamon, corn syrup, brown sugar and butter until crumbly. Press about 3/4 of the mixture into the bottom of the prepared baking pan. Reserve remaining crumb mixture for topping.
3. In a large bowl with an electric mixer, combine cream cheese, sugar, egg and extracts until smooth. Pour over crust. Microwave cherry preserves in microwave-safe container on high for 5-10 seconds. Drop spoonfuls of preserves over cream cheese mixture. Use a knife to swirl it through cream cheese. Top with reserved crumb mixture.
4. Bake 25-30 minutes or until center is set. Cool on wire rack and cut into bars.
All images and text ©
Follow Jamie on Instagram. We love to see what you're baking from MBA! Be sure to tag @jamiemba and use the hashtag #mbarecipes!
Disclosure: This is a sponsored post on behalf of ACH brands all thoughts and opinions are 100% my own. Thank you for continuing to support the brands that make My Baking Addiction possible.
This post may contain affiliate links. We are a participant in the Amazon Services LLC Associates Program, an affiliate advertising program designed to provide a means for us to earn fees by linking to Amazon.com and affiliated sites.