Delectable Oreo Cheesecake Bars using Triple Double Oreos. Oh yes, I went there.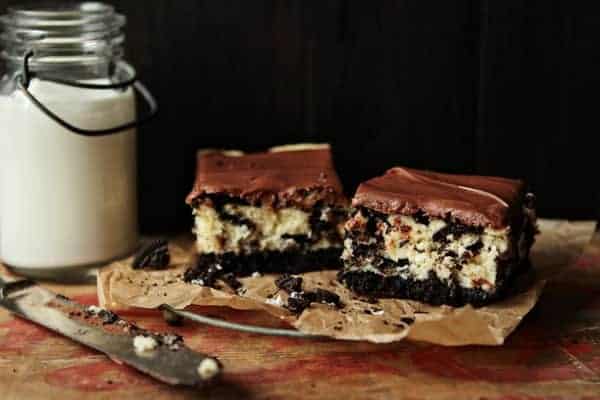 You guys know that I am mildly obsessed with cheesecake – there's no doubt that it's pretty much my absolute fave.
From Lemon Cheesecake and Snicker's Cheesecake to Oreo Cheesecake – I'm fairly convinced I have a cheesecake for just about any occasion.
Last weekend, Eric and I were meandering around the grocery store with my brother, Jared, when we stumbled upon Triple Double Oreos.
Say what?
Apparently I've been living under a a very large rock, because I'd never seen them before. Of course we were incredibly intrigued and immediately tossed them into our cart.
Now I'm not much of a store bought cookie consumer, but these bad boys looked totally dunkable, which is always something that I can get behind.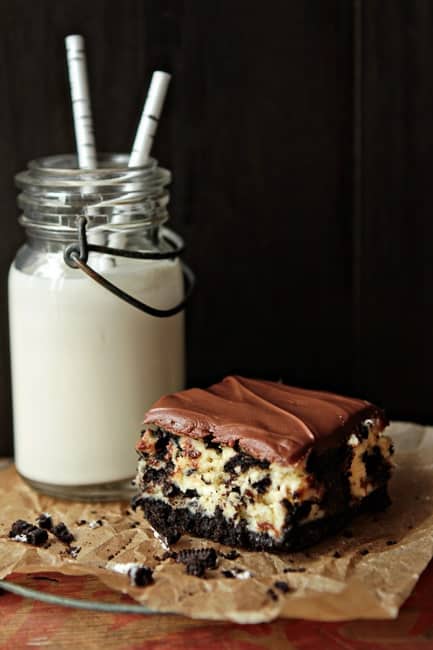 By the way, let's take a moment to discuss the contents of a bachelor brother's grocery cart. Jared divulged to us that he goes grocery shopping once every three months or so because he works long hours and primarily eats at work.
Let me just give ya a little insight into his cart: Mountain Dew, about 4 varieties of juice, 4 boxes of cereal, frozen pizzas, sausage, egg & cheese croissants, ice cream and milk.
And the fact that he can eat all this crap and not gain an ounce makes me all kinds of jealous.
Back to the Triple Double Oreos. These things are no joke – they make the Double Stuf Oreos seem pretty mundane.
Two layers of filling and three cookies layers – they sound pretty epic, right?
Well, personally I could do without the middle cookie layer, if I'm eating them straight from the bag, but I think it comes in handy for where I went next.
Since I was kind of enamored with them, I thought I'd bake them into cheesecake bars.
A thick Oreo cookie crust combines with creamy cheesecake filling, studded with chunks of Triple Double Oreos to create a deliciously rich dessert.
I think we can all agree this should probably be a once-a-year treat, but whoa baby are they worth it!
Oreo Cheesecake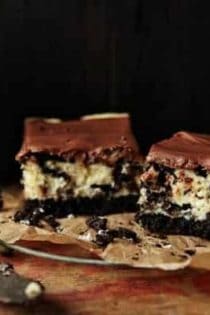 Ingredients:
For the Crust
24 Oreo cookies (regular variety)
2 tablespoons unsalted butter, melted
For the Cheesecake Filling
12 ounces cream cheese, at room temperature
1 cup granulated sugar
3 eggs, at room temperature
1/3 cup sour cream
1 1/2 teaspoons pure vanilla extract
15 Triple Double Oreo cookies, coarsely chopped (you can you regular as well)
Directions:
1. Preheat oven to 325°F;. Line an 8×8-inch square baking pan with foil, allowing it to hang over two sides of the pan to create "handles".
2. Prepare the Crust: In the bowl of a food processor, pulse 24 Oreos until they are turned into fine crumbs. Drizzle the melted butter over top and continue to pulse until the butter is evenly distributed and all of the crumbs are moist. Add the cookies crumbs into the prepared baking pan and press into an even layer (I usually use the bottom of a measuring cup for this process). Bake in preheated oven for 10 minutes (leave the oven on).
3. While the crust is baking, prepare the cheesecake filling. In the bowl of a stand mixer fitted with the paddle attachment, or in a large bowl with an electric mixer, beat the cream cheese on medium speed until smooth, about 2 minutes. Gradually add the sugar and beat until incorporated.
4. Slowly add the eggs, beating well after each addition, and mix until completely combined. Scrape down the sides of the bowl and add the sour cream and vanilla, beating until fully incorporated.
5. Gently fold in the chopped Triple Double Oreos. Pour the batter over the prepared crust, smoothing it into an even layer with a rubber spatula. Bake until the edges are set but the middle still jiggles slightly, about 40 to 50 minutes.
6. Place the pan on a cooling rack and let cool to room temperature, about 2 hours, then cover the pan with plastic wrap and place in the refrigerator for at least 3 hours (or up to 24 hours) before serving.
7. To serve, lift the cheesecake out of the pan using the foil handles. Slice into bars and serve.
Notes:
– If you're feeling fancy, top the cheesecake with a layer of ganache or your favorite chocolate frosting.
– Store covered Oreo Cheesecake in refrigerator for up to 4 days.
Follow Jamie on Instagram. We love to see what you're baking from MBA! Be sure to tag @jamiemba and use the hashtag #mbarecipes!