Graham Cracker Crust is everyone's favorite classic cheesecake base. This sweet, buttery crust is easy to make and the perfect complement to so many fillings!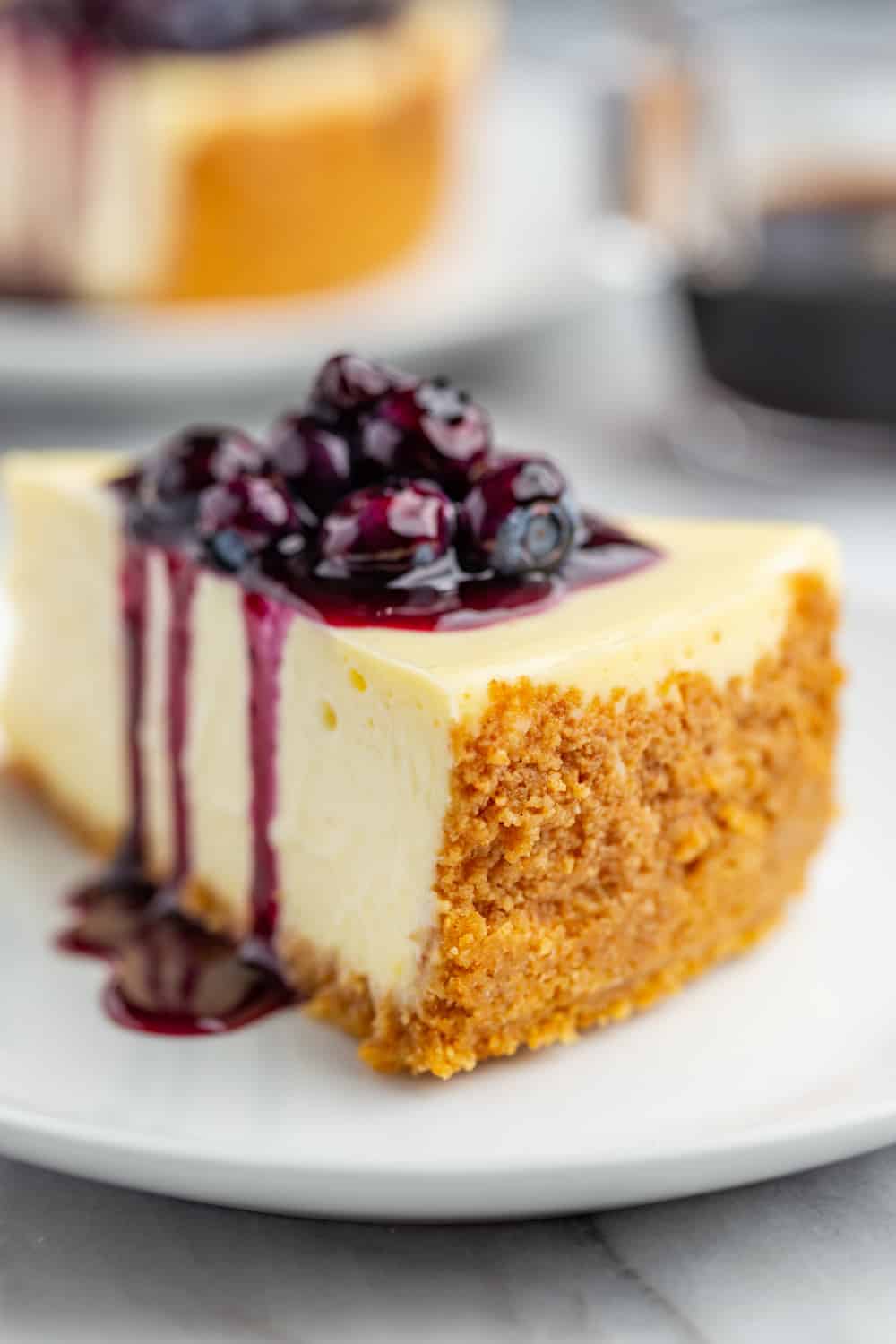 If you've been around My Baking Addiction for a while, you know that my love for cheesecake runs deep. It's one of my absolute favorite desserts to make and share with others.
I sort of consider myself a cheesecake pro at this point in my life, but I know a lot of you don't feel the same way, and many of you are even a little intimidated by the process.
For whatever reason, people tend to freak a little when they read the words water bath or bain marie, which is basically just a fancy term for water bath.
But guys, it's really just adding hot water to a pan in order to surround your cheesecake with warmth. That way it bakes in uniform heat.
It also adds moisture to the oven and helps prevent cracks. But we'll get into that a little more in a different post on how to bake cheesecake in a water bath.
Over the next week or so, I'm going to be sharing several recipes and how-tos (including how to soften cream cheese quickly, because last minute cheesecake is sometimes a must) to help you create the perfect cheesecake time and time again, starting with this basic recipe for graham cracker crust.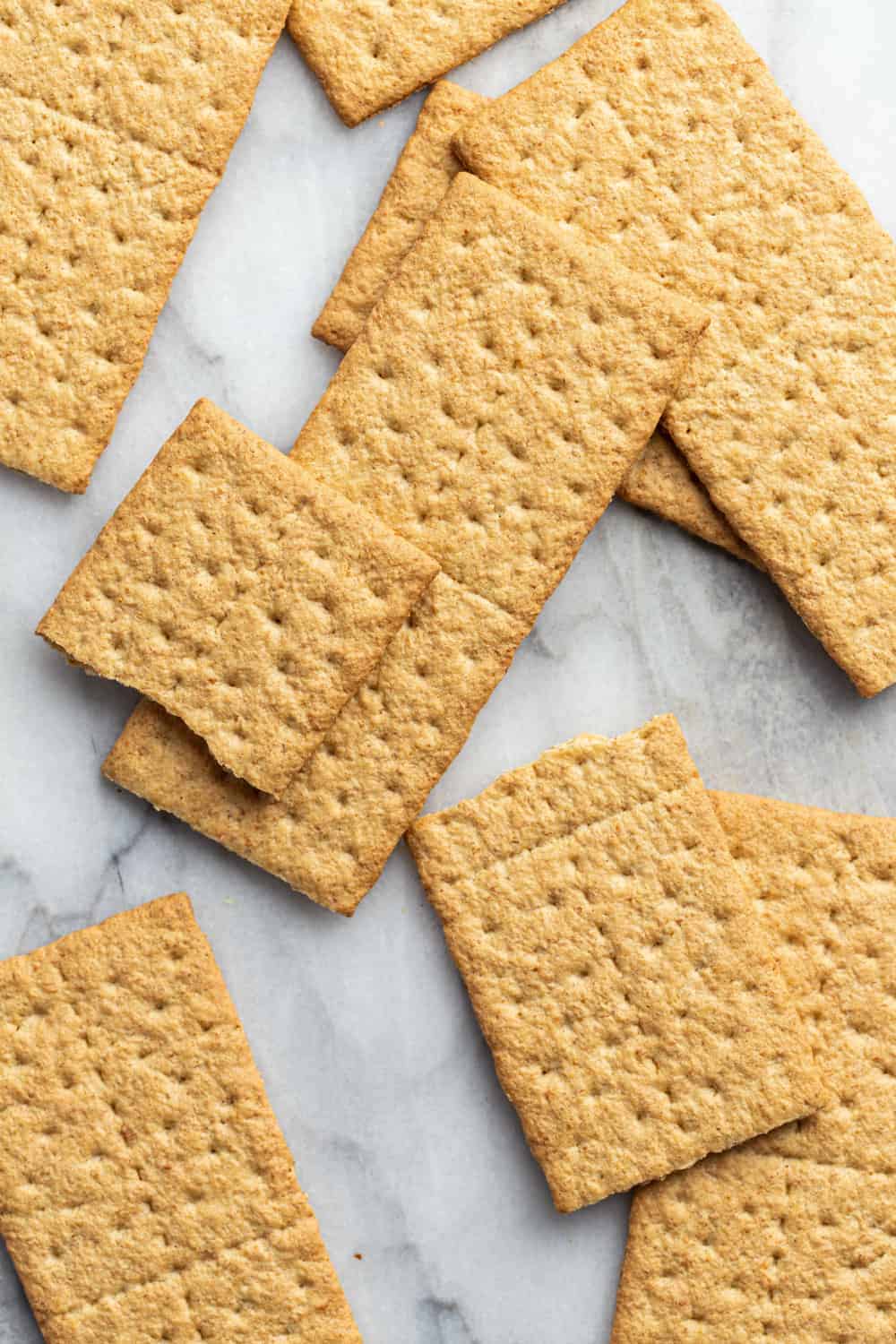 MY FAVORITE GRAHAM CRACKER CRUST FOR CHEESECAKE
I've made a lot of different cheesecake recipes over the years, with a lot of different crusts.
I've done Hot Cocoa Cheesecake with an Oreo cookie crust. There's been Samoa Cheesecake with a coconut shortbread crust. I've even made Low Carb Cheesecake with a walnut crust.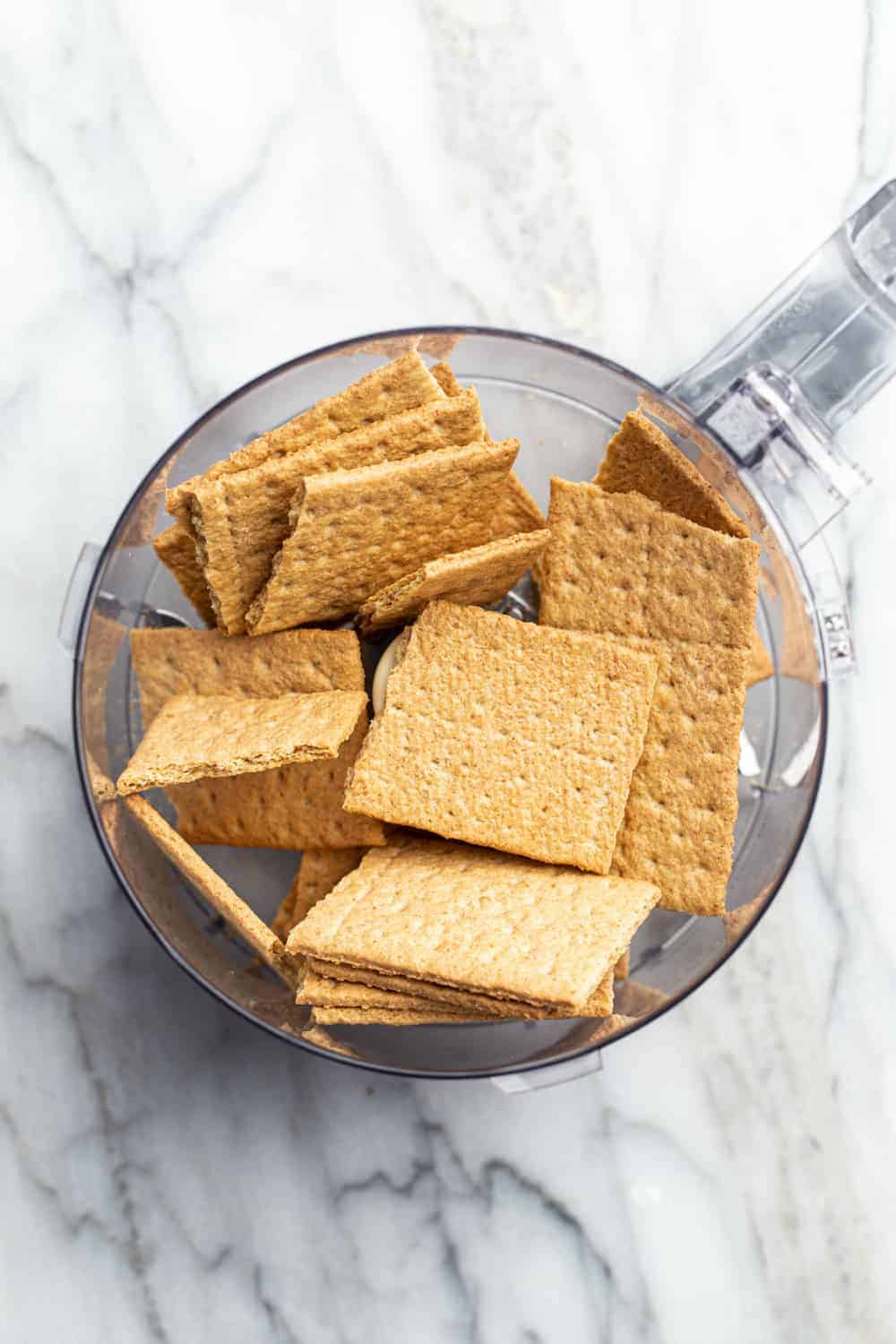 But my favorite cheesecake crust of all? It's the classic graham cracker crust.
I mean, classics become classics for a reason, right? They're hard to beat.
My favorite graham cracker crust recipes uses crushed graham cracker crumbs, melted butter and granulated sugar. That's it.
It's buttery, just sweet enough, and gets an almost nutty flavor when it is blind-baked. (That's baking the crust without its filling.)
It's great for pairing with almost any cheesecake filling you can think of.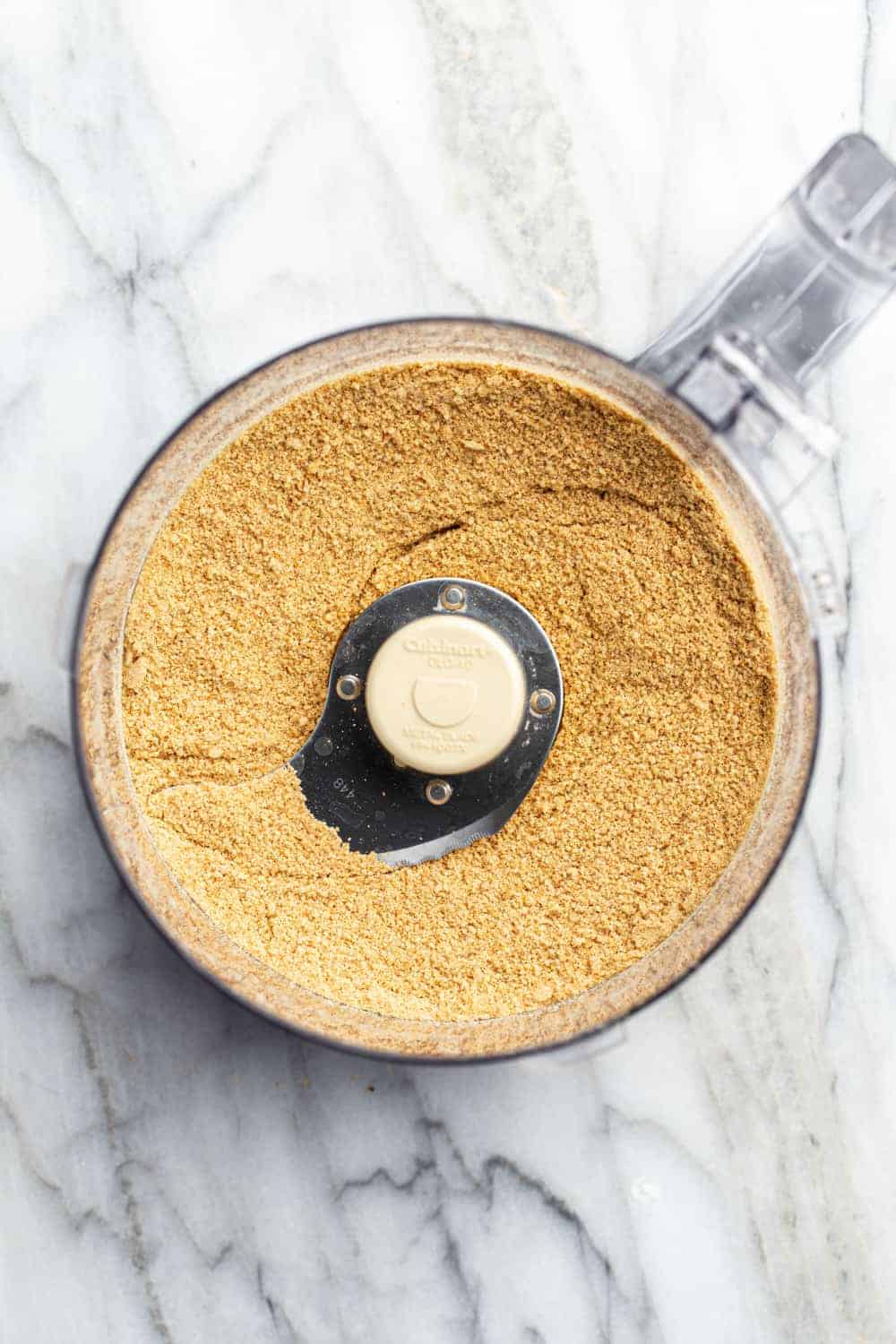 HOW TO MAKE GRAHAM CRACKER CRUST
How do you turn 3 simple ingredients into a great pie or cheesecake base?
Start with your graham cracker crumbs. You can buy pre-made graham cracker crumbs now, or you can crush up a couple of sleeves of graham crackers yourself. Either will work!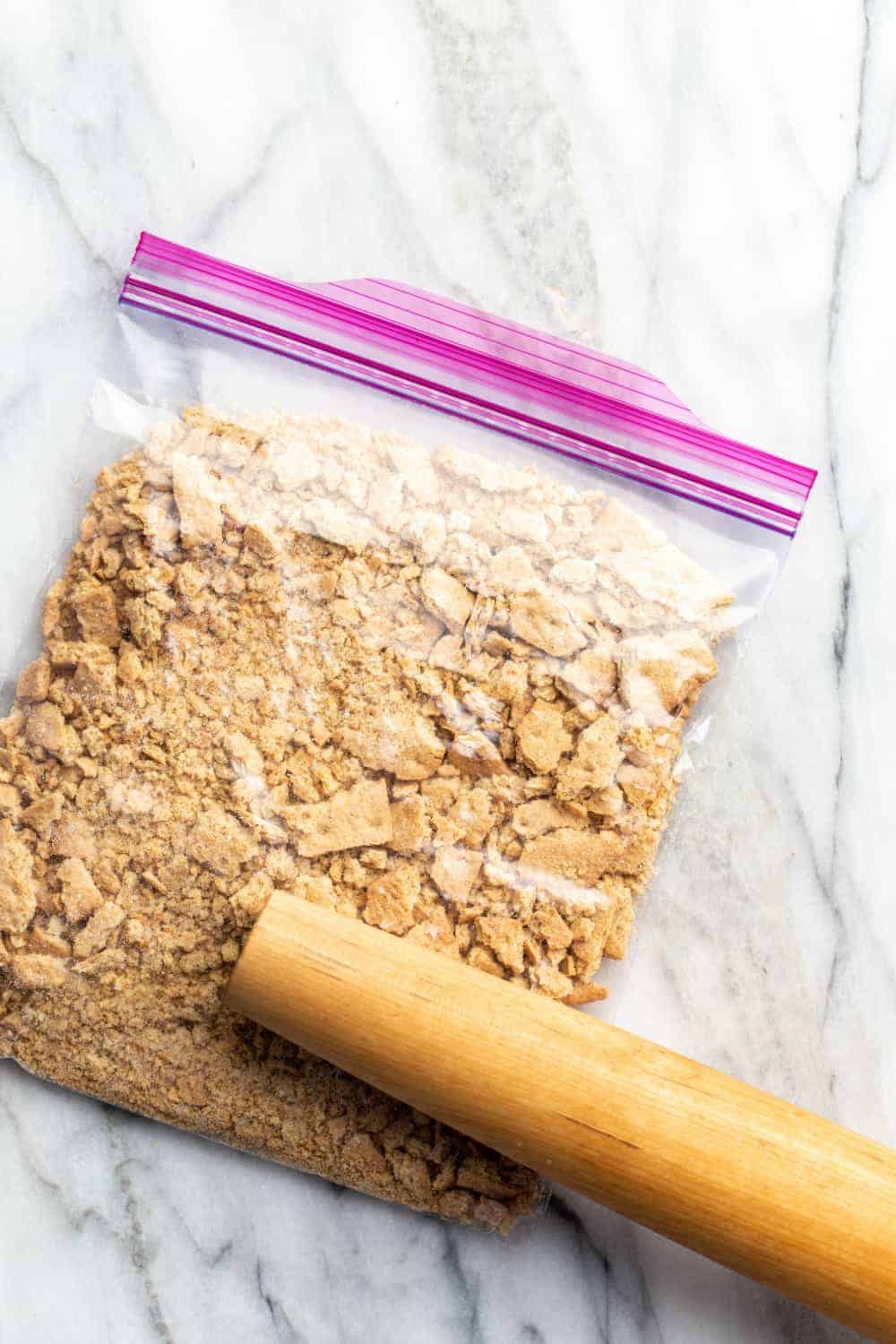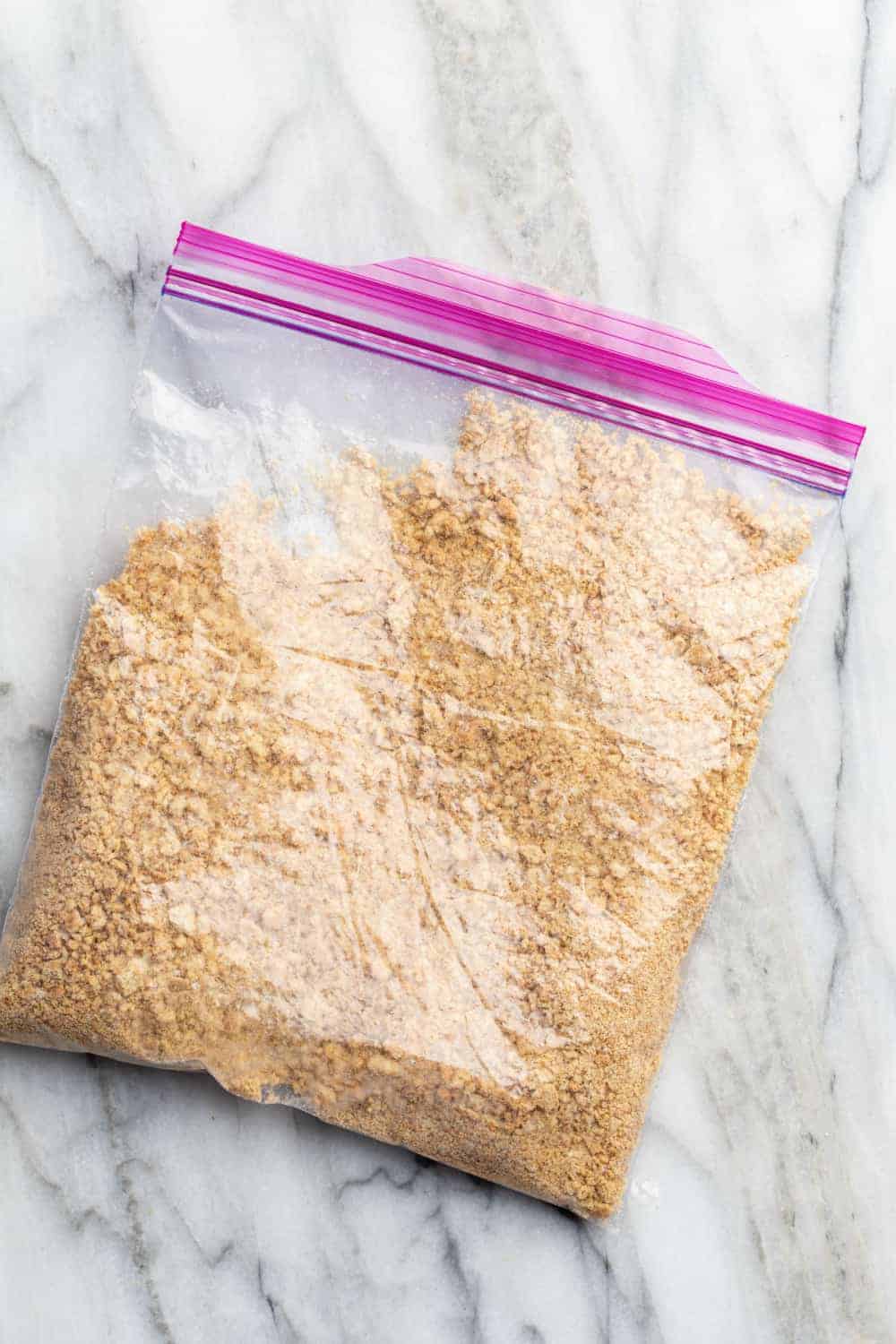 Then add the sugar and melted butter and give everything a stir. You want to make sure the sugar and especially the butter are evenly distributed throughout the crumbs.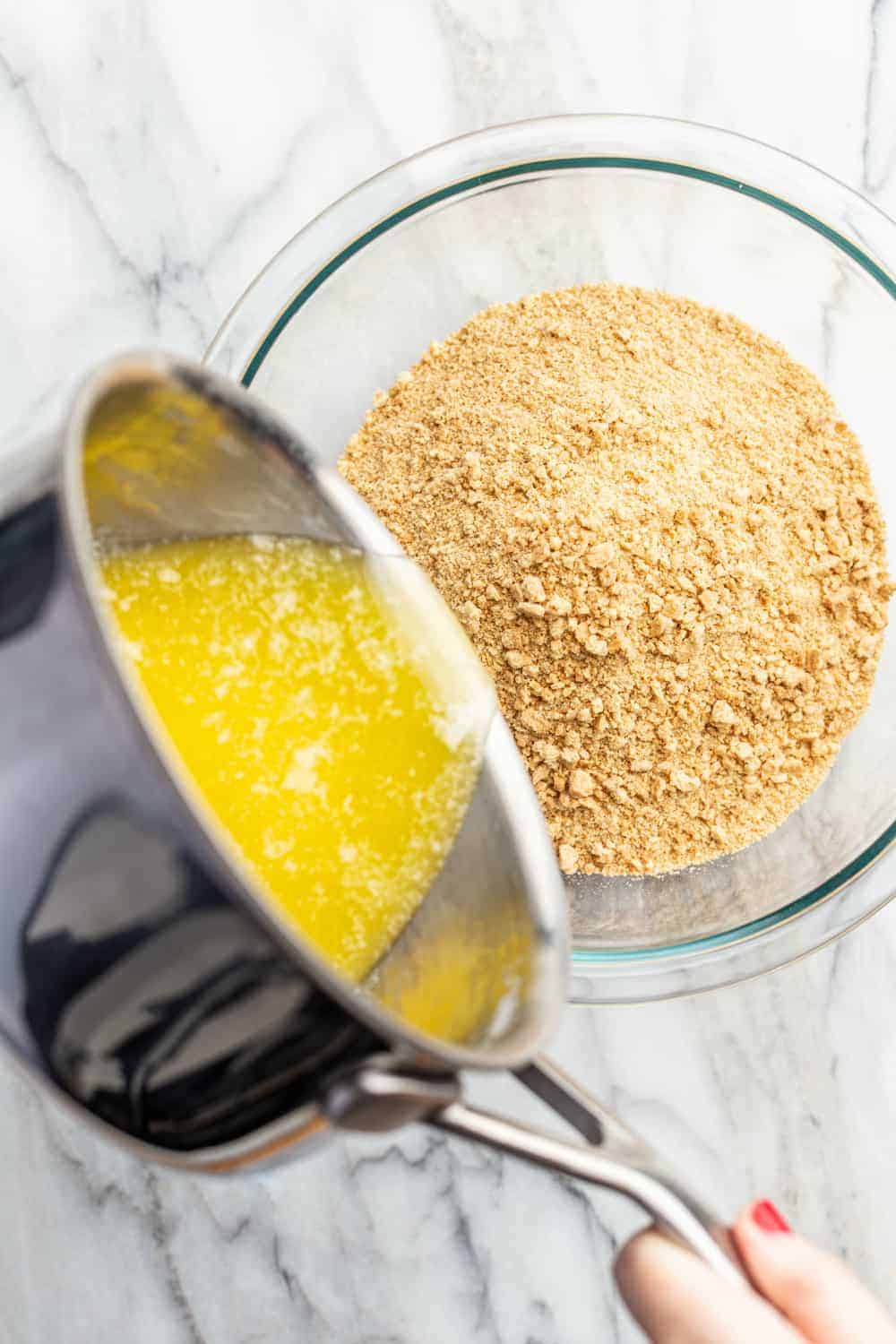 Then press the crumbs into a 9-inch baking pan lightly coated with non-stick cooking spray. If you are using this crust for a cheesecake, you'll want to use a springform pan wrapped in foil to prevent leaks when using a water bath.
You can use this recipe for a regular pie as well; in that case, simply use a regular pie plate or baking dish called for in the recipe instead of the springform pan.
Bake the crust for 10 minutes before continuing with your recipe!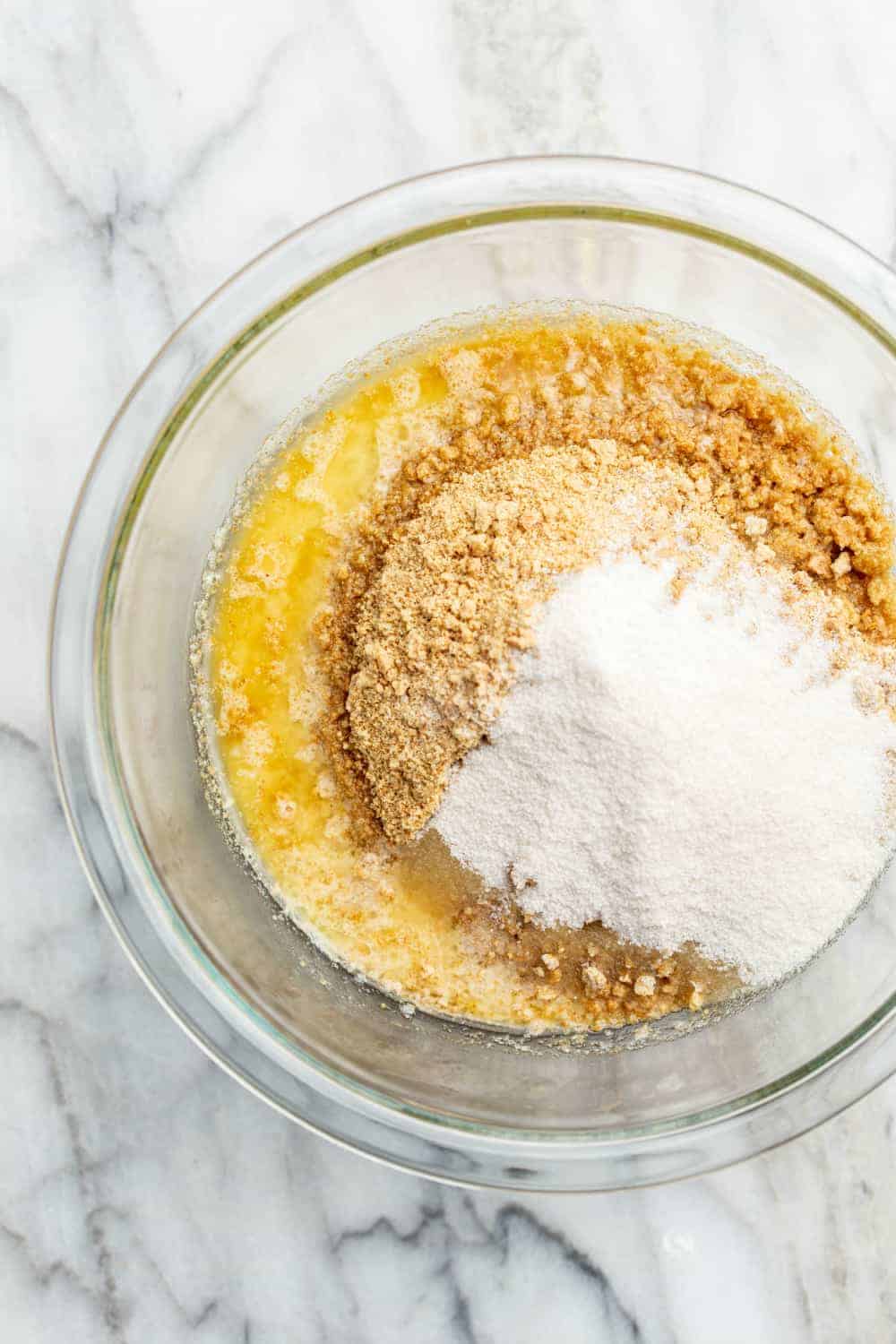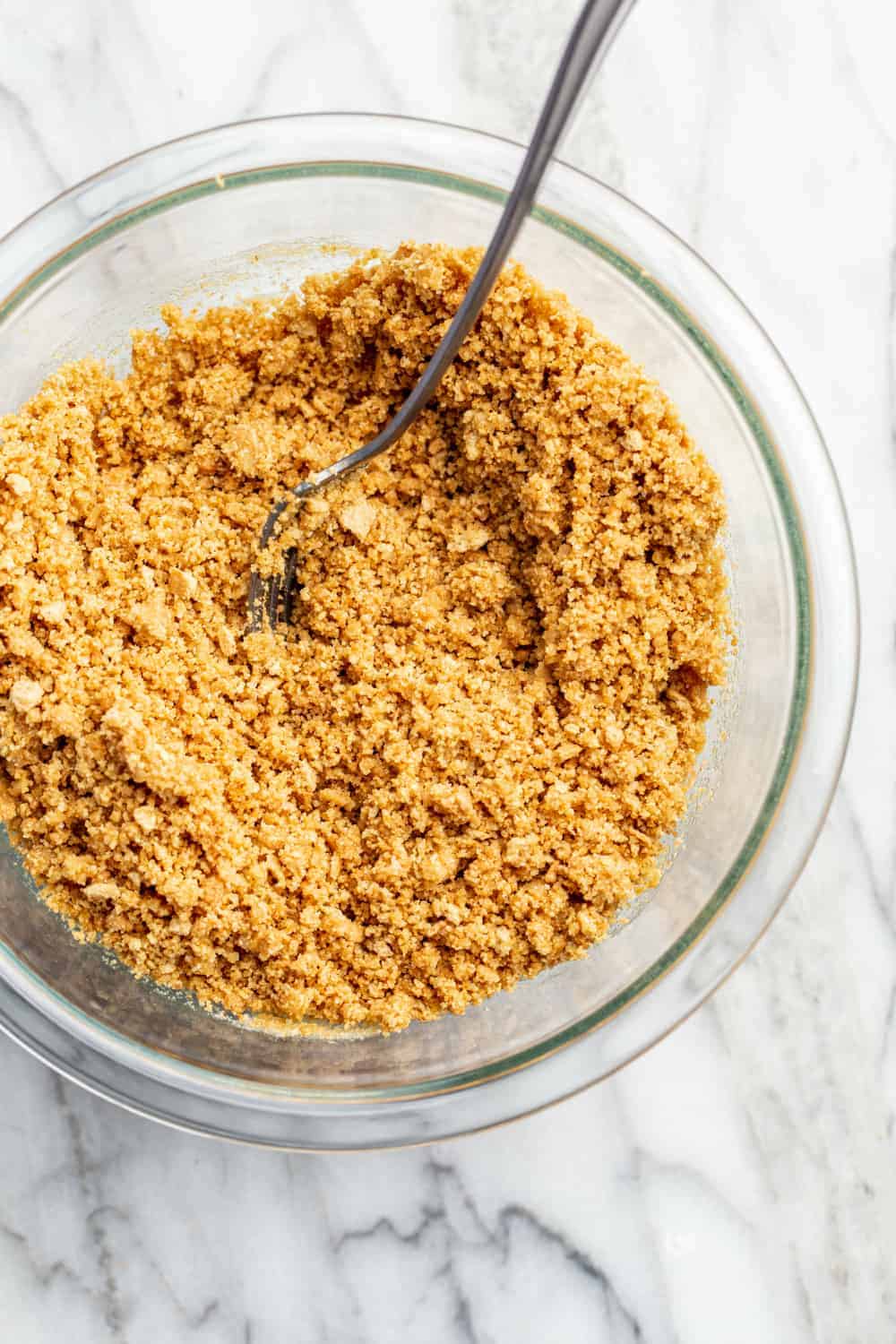 SOME EASY GRAHAM CRACKER CRUST VARIATIONS
Ok, so the basic recipe is the gold standard for a reason. Paired with a classic vanilla cheesecake and maybe some homemade blueberry sauce – it's just perfection.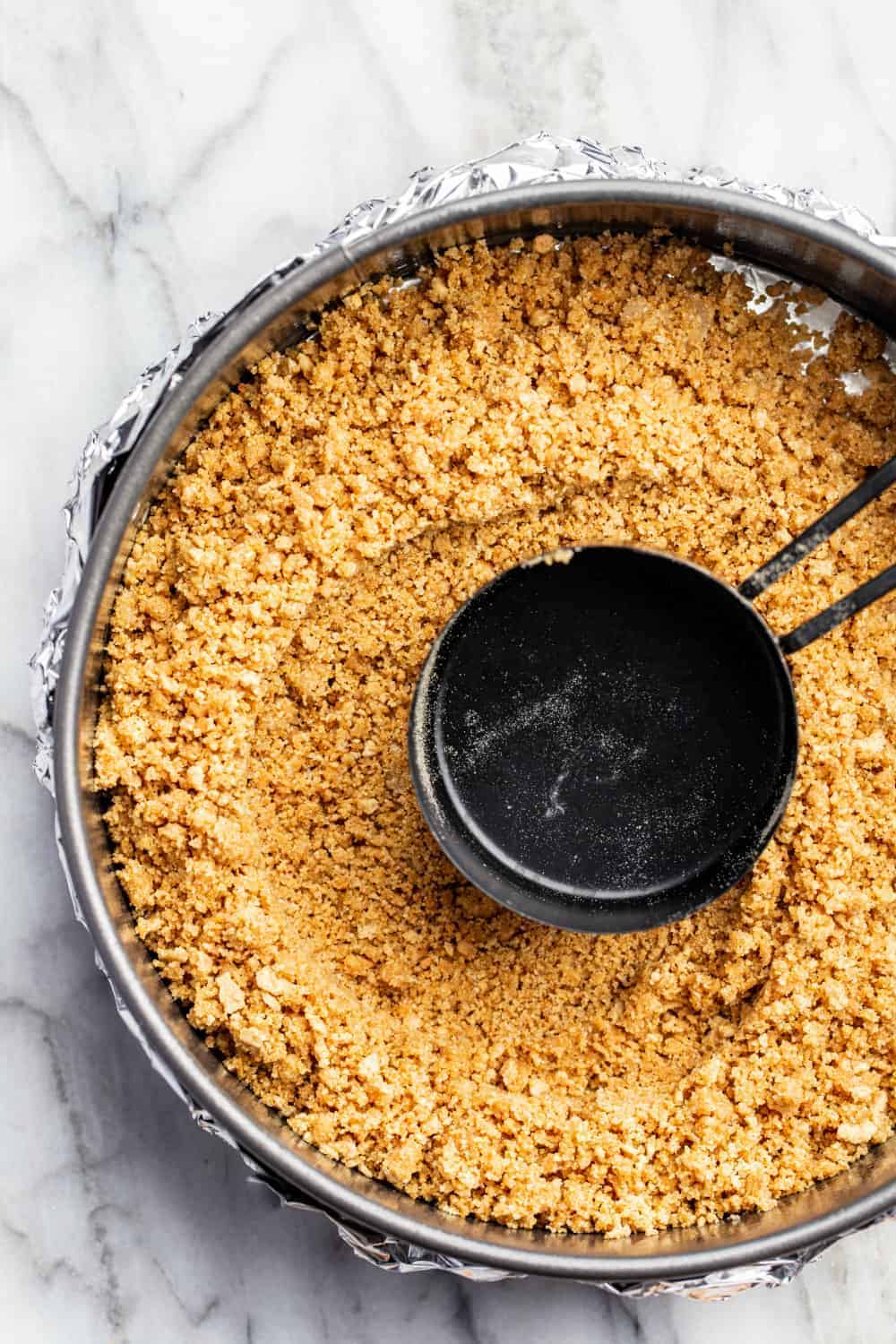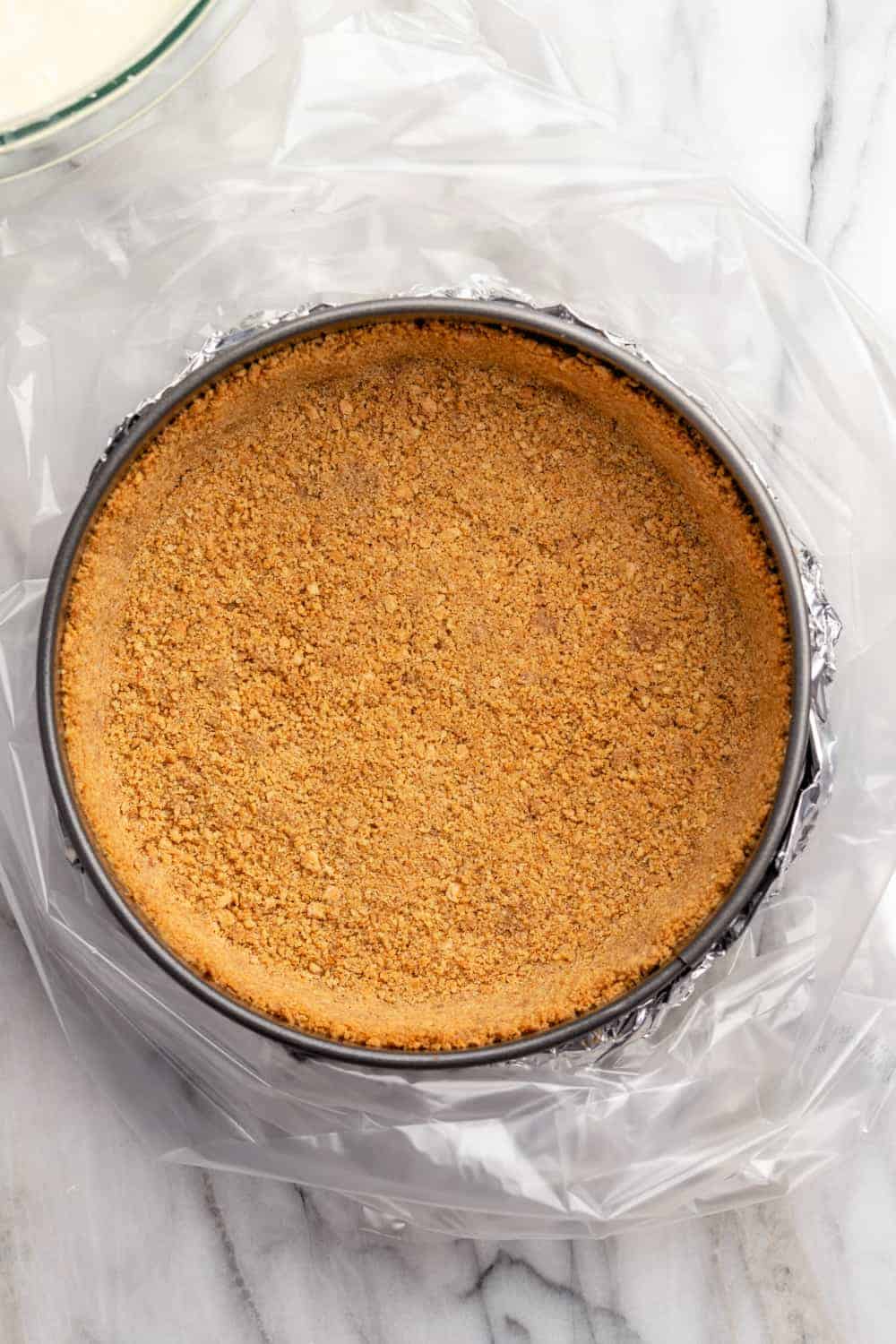 But even I will admit that there are plenty of times when you might want to change things up a little.
Try adding in a little pumpkin pie spice or chai spice blend. This flavor addition would go well with a pumpkin cheesecake or sweet potato cheesecake.
Mixing the graham crackers with nuts, such as an almond meal or hazelnut meal like in my lemon cheesecake, would give your cheesecake an extra nutty flavor and texture.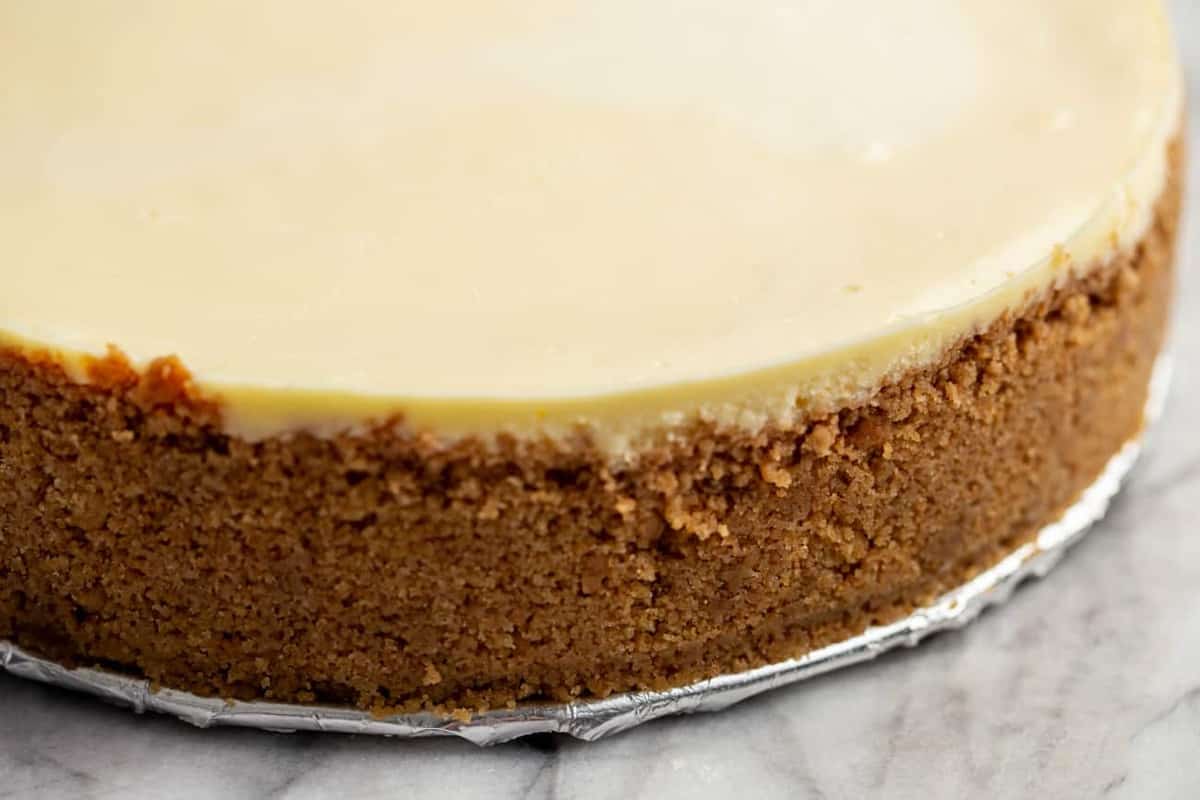 Or get creative based on what pairs well with your filling! For example, add citrus zest or shredded coconut to a coconut cheesecake or key lime cheesecake.
Whether you stick with the original or choose to spice up the flavor, having this classic graham cracker crust recipe under your belt will come in handy any time you want to make a homemade cheesecake.