Tart Lemon Cheesecake sits atop an almond-graham cracker crust to add a delightful nuttiness to the traditional graham cracker crust. Finish the cheesecake with lemon curd for double the tart pucker!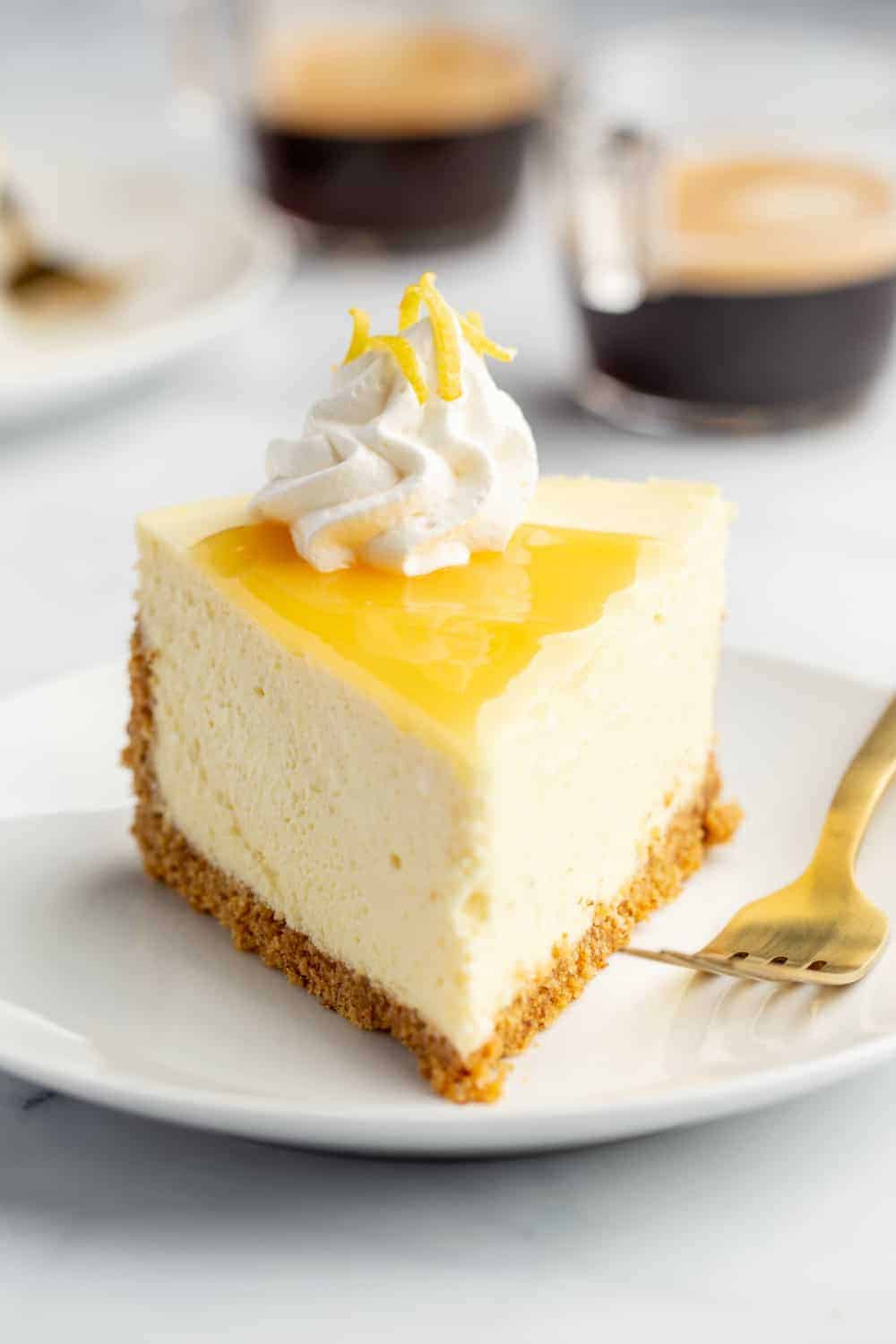 Every single time we go to Boca Grande, Florida on vacation I end up developing an obsession for a specific food from the island.
Sometimes it's coconut shrimp, other times it's toasted coconut ice cream, or a delicious ranch dressing from one of the local marinas. This past time? Cheesecake.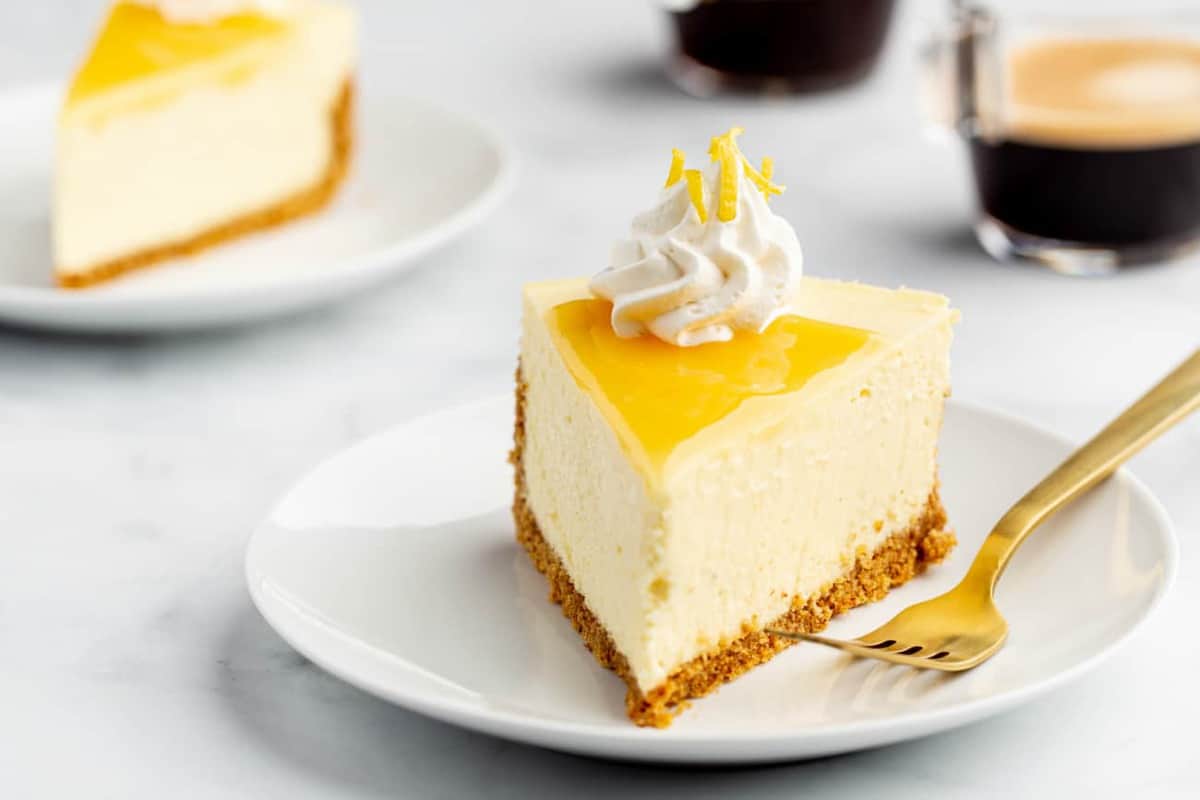 You guys know that my obsession with cheesecake is real, and not limited to the location of Florida. Just take a look back into the cheesecake recipe archives here on My Baking Addiction if you don't believe me.
During our 2-week stay on the island, I ordered a lime cheesecake with raspberry puree more times than I care to admit.
The lime cheesecake was delicious. Smooth, tart, and super creamy, but the crust was absolutely incredible.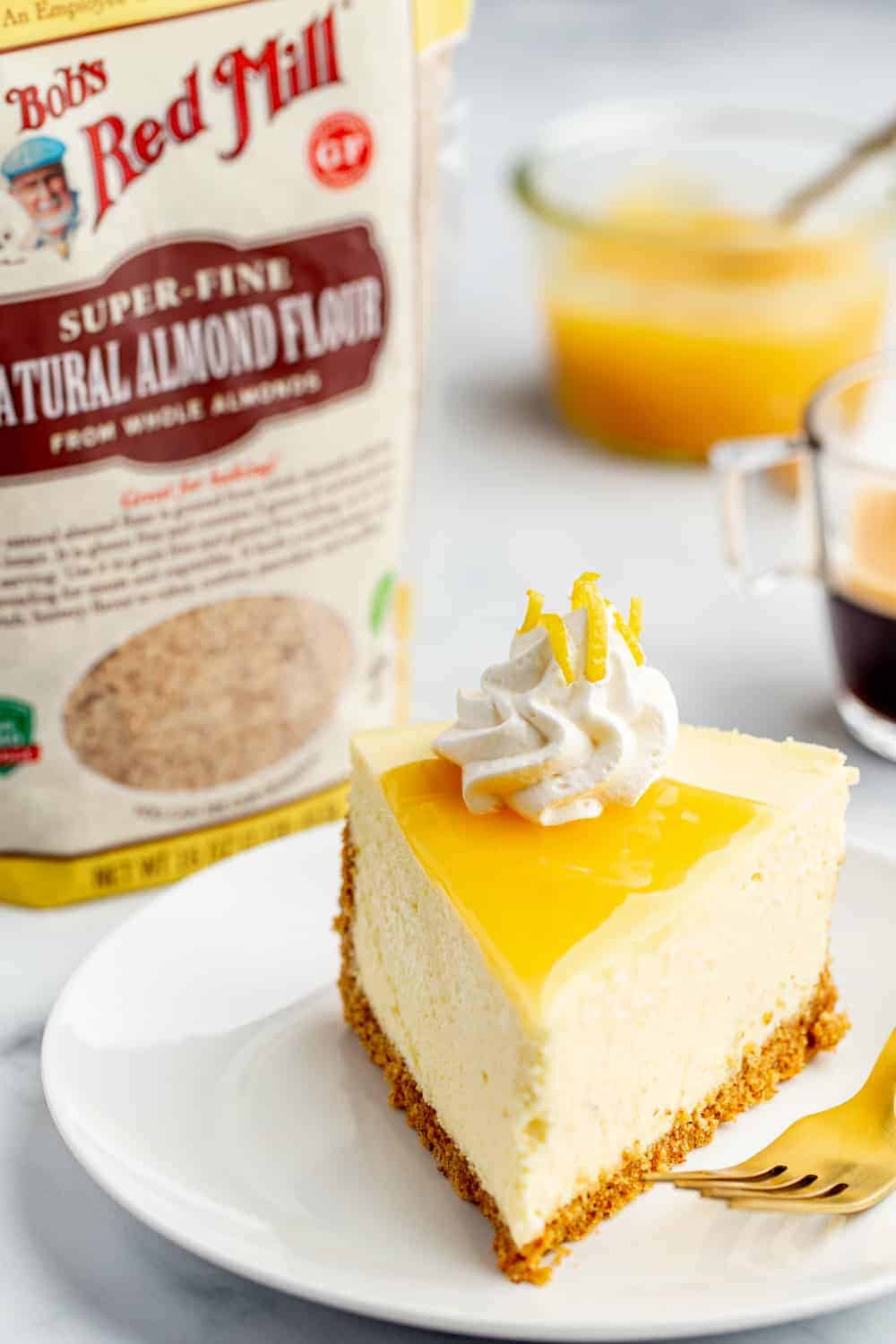 The second time I ordered the house-made cheesecake, I inquired about the crust and server informed me it was the butter and ground almonds that make it so darn good.
So here we are a month or so later and I'm taking that butter and almond tip and delivering you guys an amazing lemon cheesecake recipe with an incredible crust.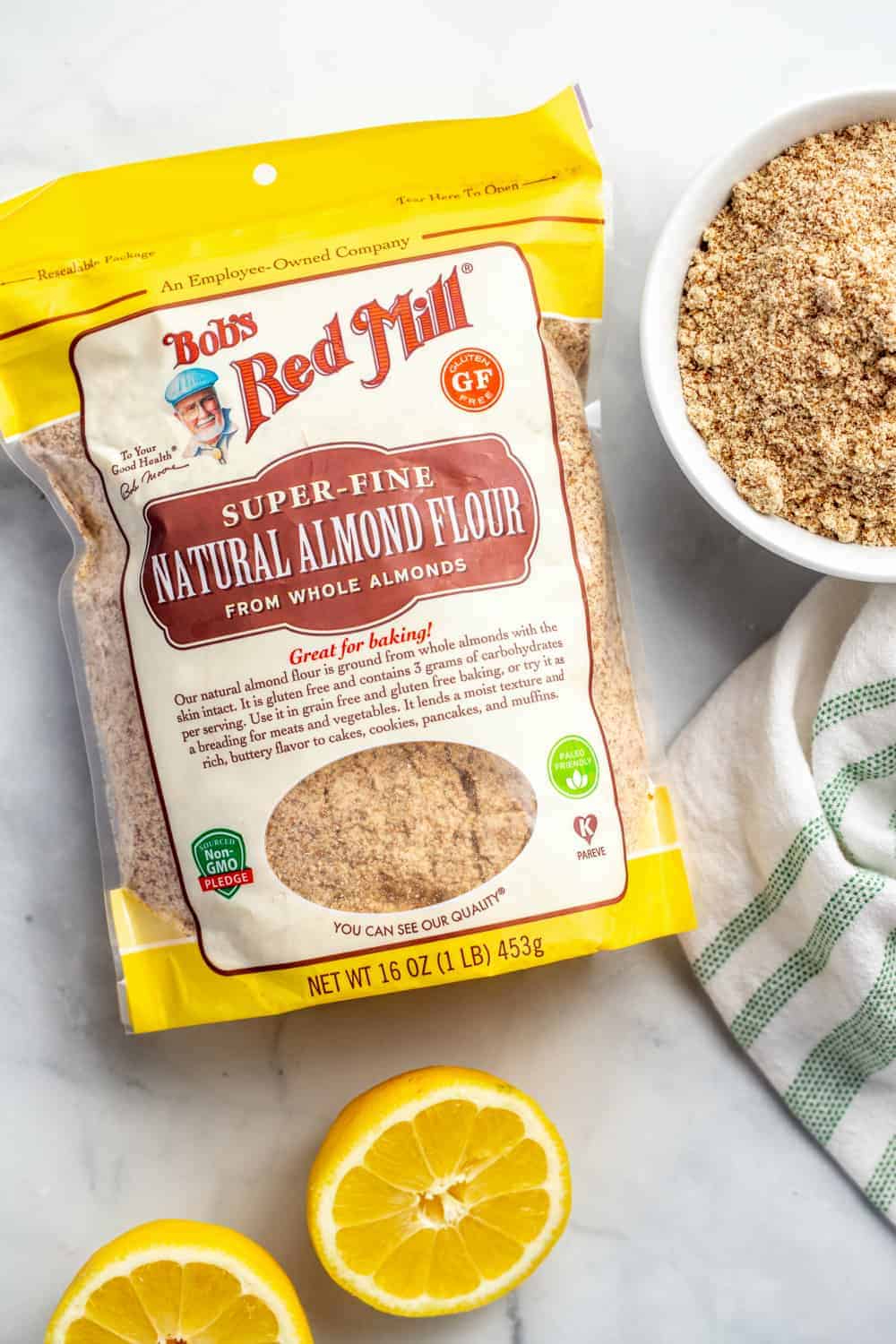 LEMON AND ALMONDS: A MATCH MADE IN HEAVEN
You know what flavor pairing doesn't get nearly enough love? Lemon and almonds.
Not buying it? Hear me out.
I know that we combine lemon with coconut and berries all the time. And I am all for that! My recipes for Strawberry Lemonade, Coconut Lemon Squares and Lemon Berry Mascarpone Tart should be proof of that.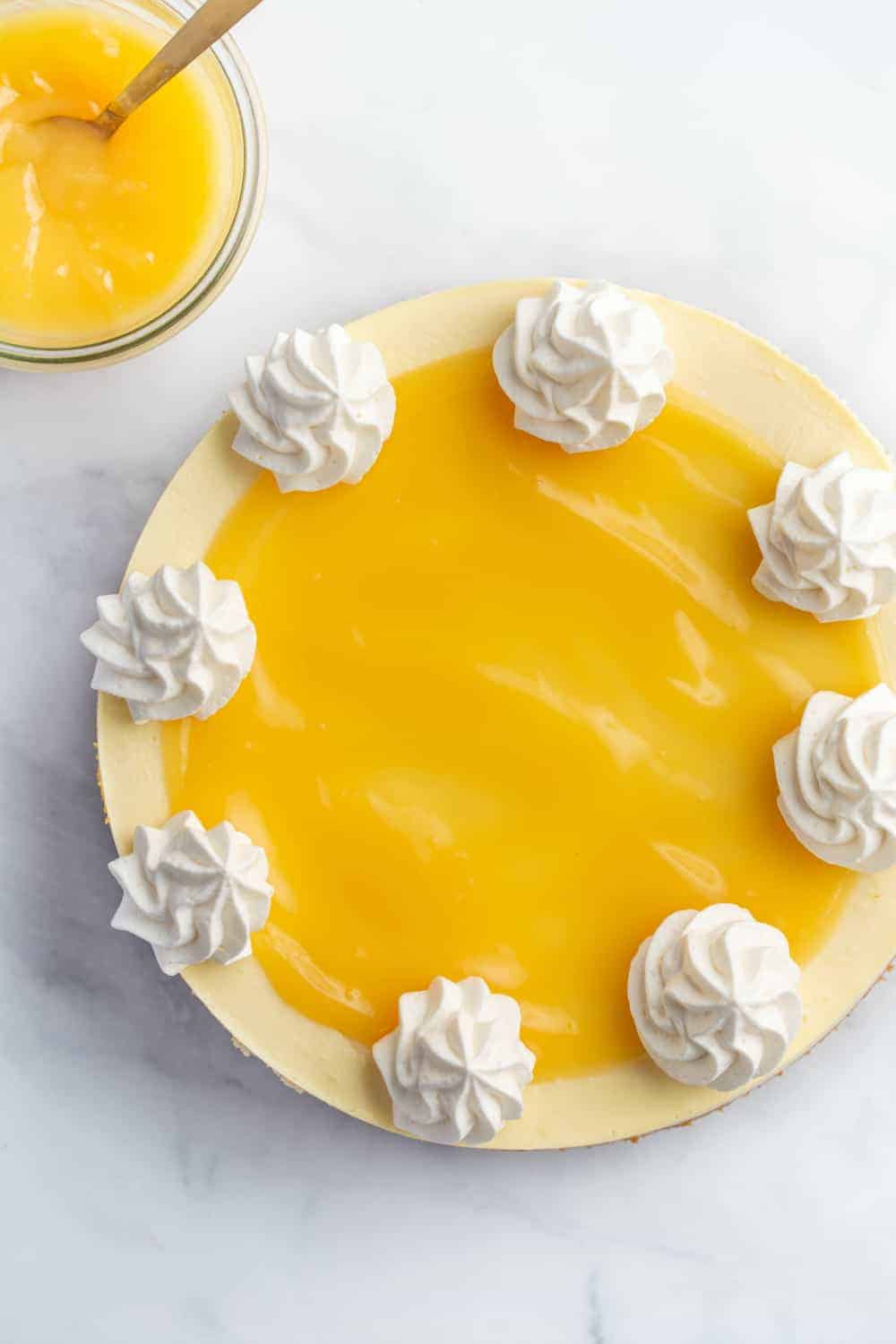 But lemon also pairs surprisingly well with almonds. There's a reason Italians put them together in lemon almond cake – there's just something about the tartness of the lemons that matches perfectly with the nutty, almost buttery flavor of almonds.
So when I decided to revisit Lemon Cheesecake this summer and considered how to make it even better, my mind turned to adding almonds to the graham cracker crust.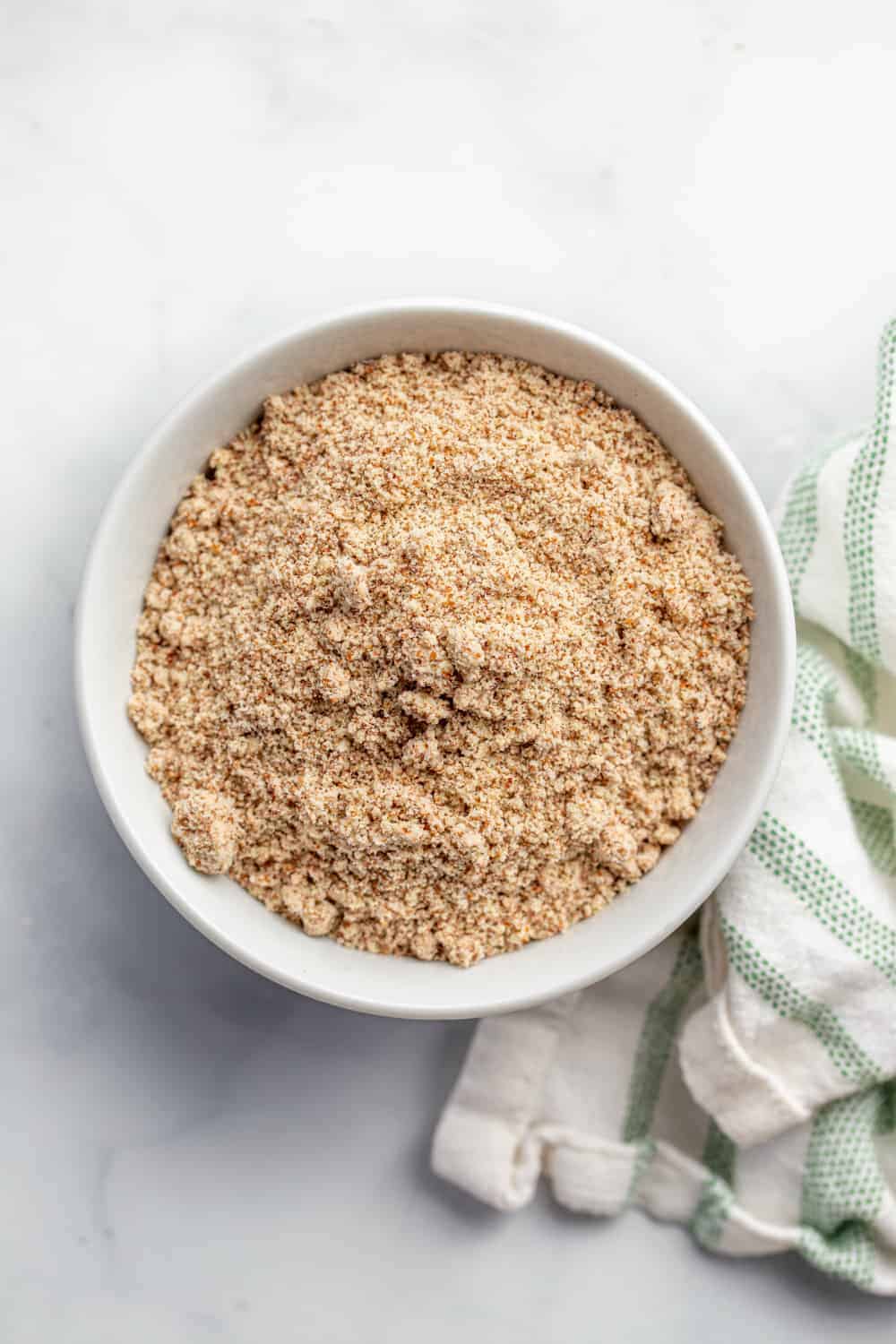 Because you know I had no desire to grind my own almonds for this situation, I grabbed a bag of my very favorite almond flour from Bob's Red Mill.
Bob's Red Mill always makes top-notch products and I really like using their Super-Fine Natural Almond Flour in my baked goods. The texture is fine enough that it can be added to my regular graham cracker crust super easily.
It's also certified gluten-free, so I know I can safely use it in recipes like Gluten-Free Blueberry Scones for my gluten-free loved ones.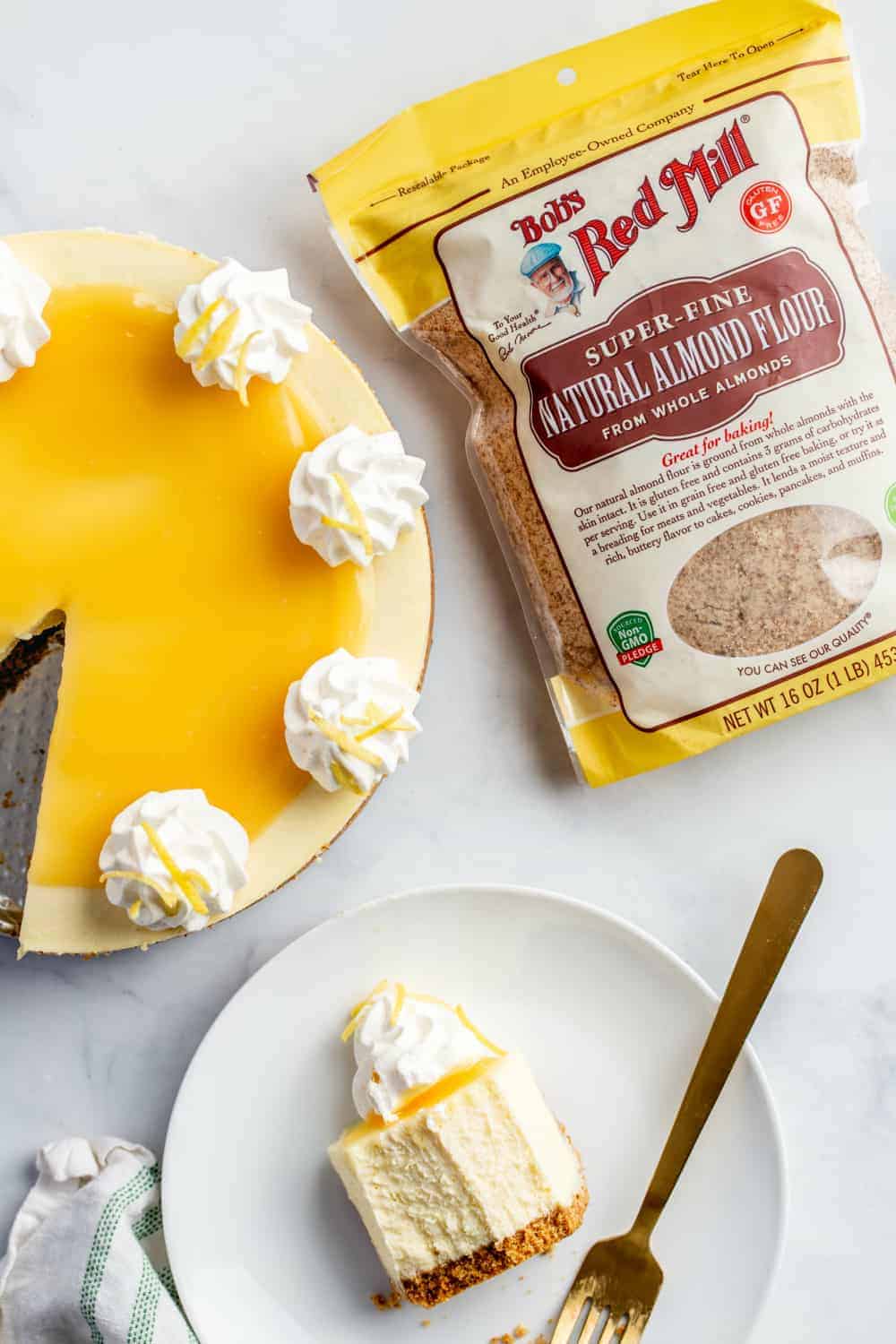 Whether I'm baking for friends with special diets or my sweet Elle, I always appreciate the peace of mind that comes from using the best ingredients. They always make my desserts that much better!
You could use this almond-graham cracker crust recipe with just about any cheesecake recipe you like – it would be really amazing with a cherry cheesecake – but I thought using it as a base for a tart Lemon Cheesecake is perfect for summer.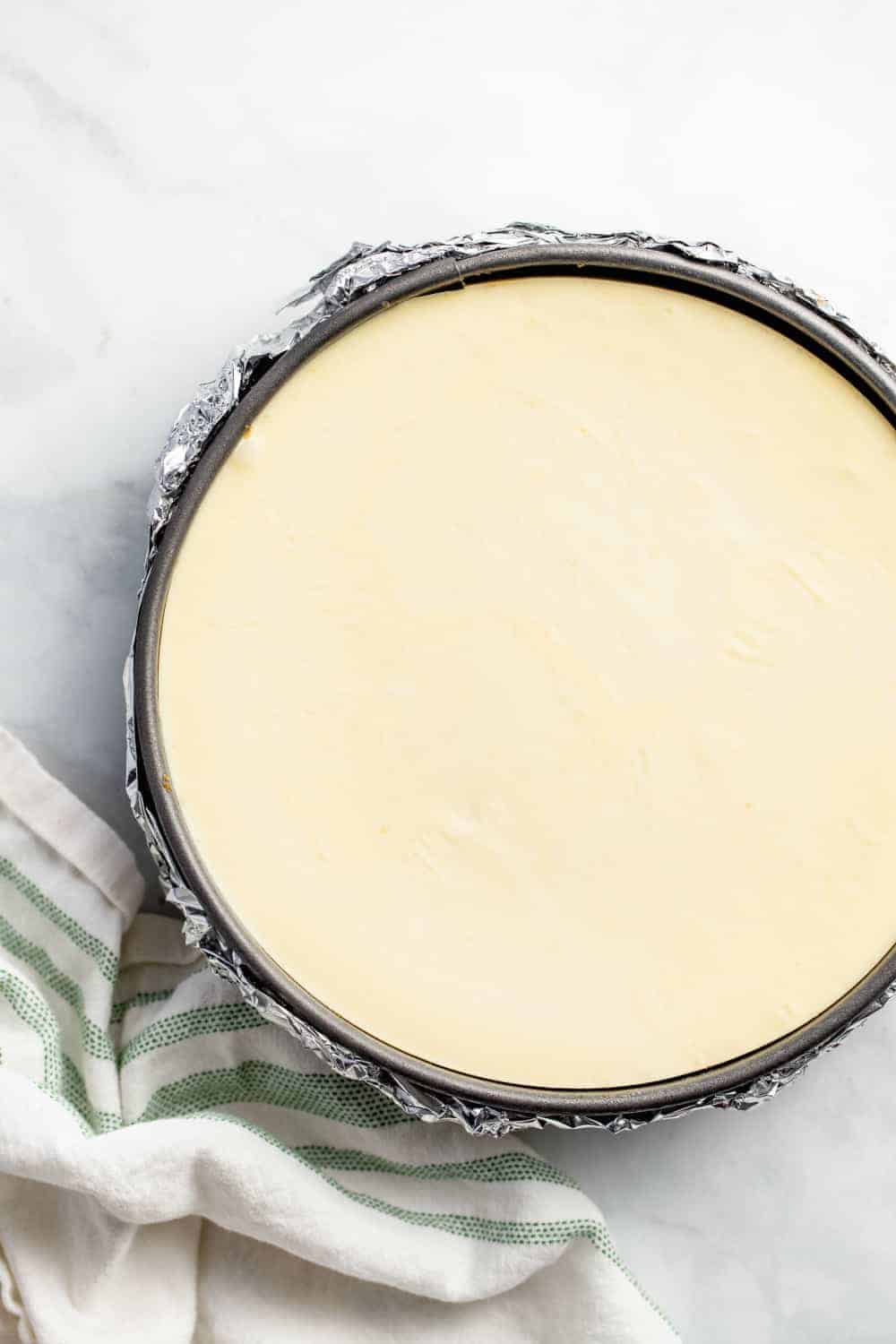 HOMEMADE LEMON CHEESECAKE WITH TWICE THE TARTNESS
How much lemon can I fit into my homemade Lemon Cheesecake recipe? Let me count the ways.
There's a full 1/4 cup of freshly squeezed lemon juice and zest from two lemons in this Lemon Cheesecake batter. I wanted to get pucker from the lemon juice and the sweet, citrusy aroma from the zest.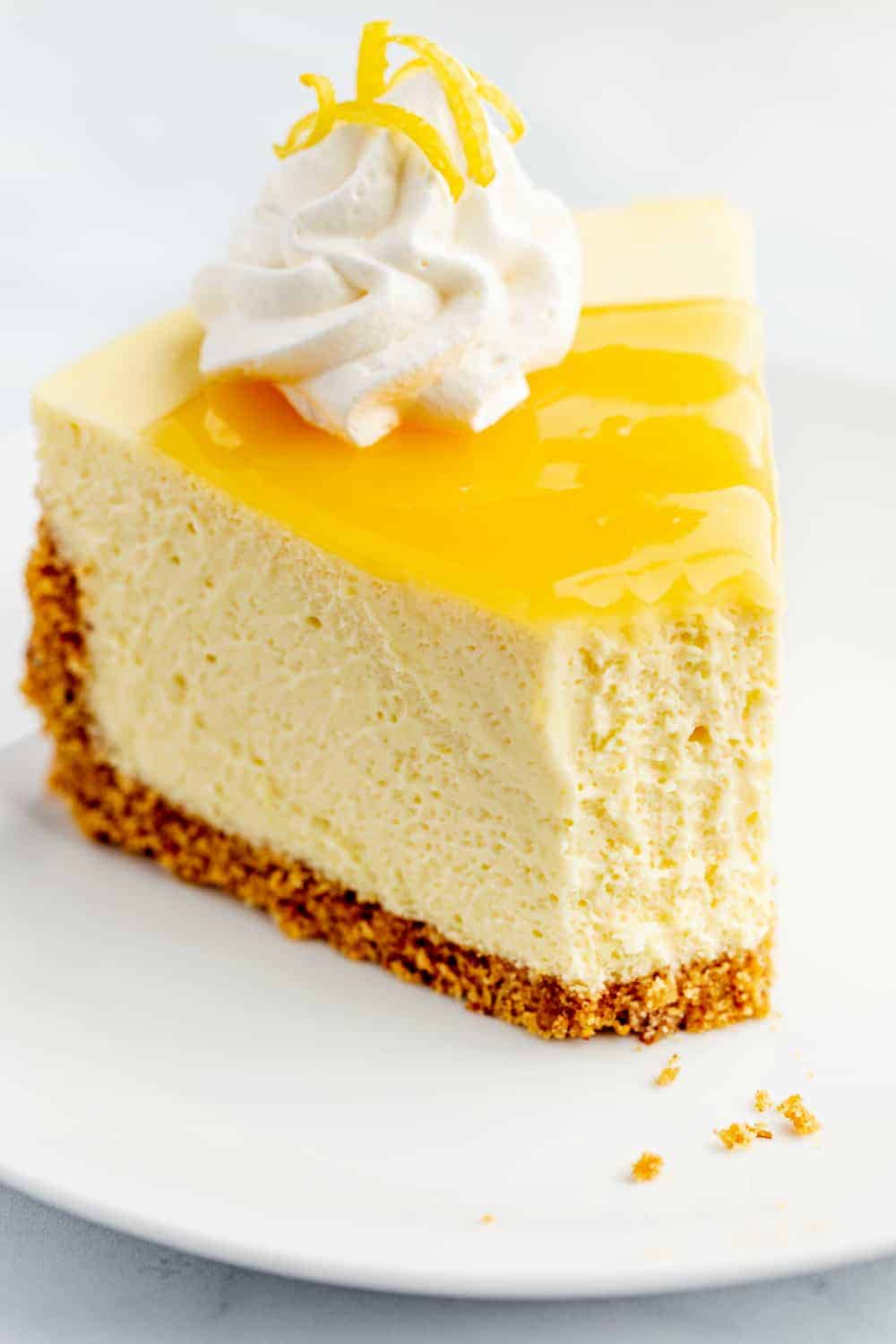 And because I just can't get enough lemon tartness in my life, I topped the finished cheesecake with lemon curd. You could definitely use store-bought curd, but it only takes a few minutes to make homemade microwave lemon curd.
A dollop of whipped cream and some fresh lemon zest are all you need to finish dressing up your Lemon Cheesecake.
This cheesecake is lemony and bright, nutty and oh so sweet. It's the perfect dessert for any summer gathering!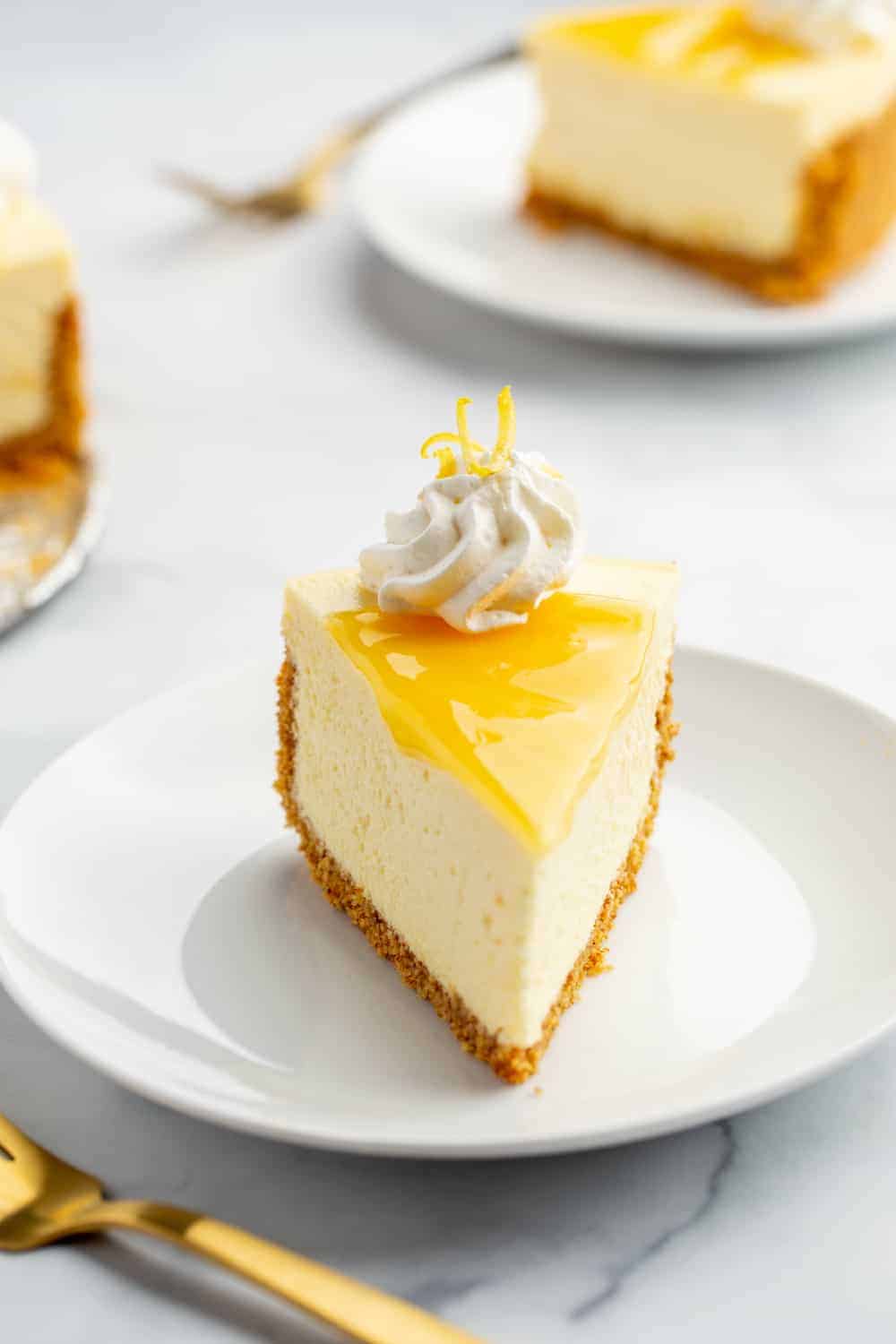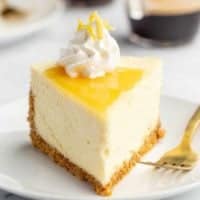 Lemon Cheesecake
Tart Lemon Cheesecake sits atop an almond-graham cracker crust to add a delightful nuttiness to the traditional graham cracker crust. Finish the cheesecake with lemon curd for double the pucker!
Print
Pin
Servings: 10
Ingredients
For the Crust
1 ½ cups graham cracker crumbs
½ cup Bob's Red Mill® Super-Fine Natural Almond Flour
3 tablespoons sugar
6 tablespoons butter melted
For the Cheesecake
1 cup granulated sugar
Zest of 2 lemons
32 ounces cream cheese room temperature (4 [8-ounce] packages)
4 large eggs room temperature
2 teaspoons pure vanilla extract
¼ cup freshly squeezed lemon juice
⅓ cup heavy cream
For the Topping
1 cup lemon curd
whipped cream optional
lemon slices optional
Instructions
Preheat oven to 350°F. Separate a 9-inch springform pan into two pieces. Line the bottom of the pan with foil, fasten on the side piece, and spray the inside of the pan with nonstick cooking spray. Tightly wrap the outside bottom and sides of the springform pan with two layers of heavy duty foil. This step prevents leaks when using a water bath. I also take the extra step of placing the foil wrapped spring form pan inside an oven bag while baking, but this is optional.

Combine the crust ingredients in a medium bowl and stir until the ingredients are evenly distributed.

Spoon the crumbs into the prepared pan and press into the bottom of the pan and up the sides to form a crust layer. Bake crust in preheated oven for 10 minutes. Remove pan to a cooling rack.

Bring a kettle of water to boil for the water bath.

In a medium bowl, use your fingertips to combine the sugar and lemon zest until the sugar is fragrant.

In the bowl of a stand mixer fitted with the paddle attachment, or in a large bowl with an electric mixer, beat cream cheese and lemon-sugar for about 2 minutes. Scrape down the sides of the bowl and mix for an additional 30 seconds. Add in eggs, one at a time, scraping down the sides of the bowl after adding the second and fourth egg. After adding the final egg and scraping the sides of the bowl, mix again for 30 seconds. The mixture should be smooth and creamy. Add in the vanilla, lemon juice, and heavy cream and mix for an additional 30 seconds.

Pour the cheesecake filling over the crust.

Place pan into a larger pan (I use a roasting pan) and pour boiling water into the larger pan until halfway up the sides of the cheesecake pan. Gently lay a piece of foil over the pan – do not tighten the foil as we'll want to allow the air to still circulate.

Bake 55-65 minutes, the edges will appear to be set, but the center will still have some jiggle to it. At this point, turn off the oven, and leave the oven door cracked. Allow the cheesecake to rest in the cooling oven for one hour.

After one hour has passed, carefully remove the cheesecake from the water bath and place on a cooling rack to cool completely. Once the cake is completely cooled, place it into the refrigerator for at least 8 hours.

Just before serving, top the cheesecake with lemon curd, whipped cream and lemon slices.
Nutrition
Serving: 1slice | Calories: 720kcal | Carbohydrates: 55g | Protein: 12g | Fat: 52g | Saturated Fat: 27g | Polyunsaturated Fat: 2g | Monounsaturated Fat: 12g | Trans Fat: 0.3g | Cholesterol: 184mg | Sodium: 517mg | Potassium: 184mg | Fiber: 2g | Sugar: 44g | Vitamin A: 1640IU | Vitamin C: 2mg | Calcium: 141mg | Iron: 1mg
The default measuring system on My Baking Addiction is US Customary. Unit conversions are provided as a courtesy; please be aware that there may be some discrepancies.
Card may contain affiliate links. As an Amazon Associate and member of other affiliate programs, I earn from qualifying purchases.