My Nana's famous recipe for Cherry Cheesecake – it's incredibly delicious and the staple dessert at every single family function.
Ever since I was small child, I remember being in the kitchen cooking and baking with my family. From shredding cheese for dinner on a box grater with my mom – which, but the way, resulted in a still-visible scar – to being perched on a stool rolling pumpkin rolls for holiday gift giving.
In fact, those face-to-face moments spent with my loved ones are some of my most cherished childhood memories. And that connection is something that I try to share with Elle and Eric everyday.
Although Elle is only 8 months old, we try to always involve her in the baking and cooking process. Whether she is in her carrier on my back or sitting in her high chair gnawing away on a carrot while we prep dinner, she's involved and taking in the process and the connection every step of the way.
One of my favorite memories as a child was making my Nana's famous cherry cheesecake recipe. I loved pressing the crust layer into the bottom of her baking pan. She always put me in charge of spreading on the cream cheese and cherry layers – watching me like a hawk, so I wouldn't lick the wooden spoon. When the cherry cheesecake was complete, we'd always steal little bites from the corners and cover the missing spots with extra whipped cream – it was our little secret!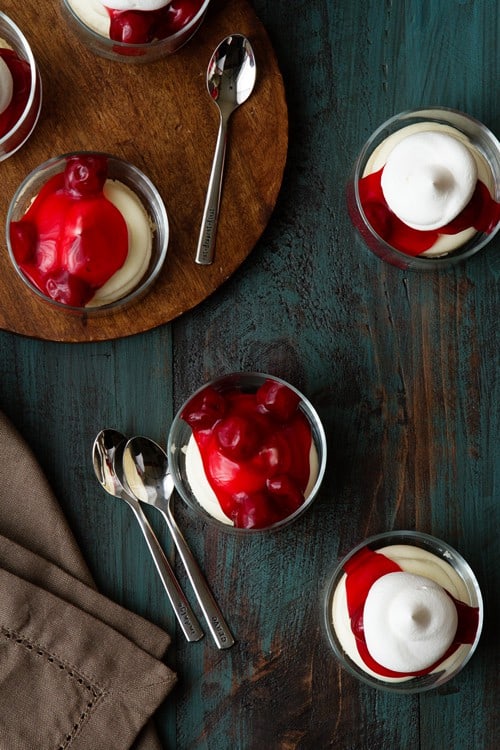 I started sharing retro recipes here on My Baking Addiction as a way to connect with my childhood and more importantly publish the recipes in one place for my family. I can't wait for Elle and I to be able to create these recipes in our kitchen together and create a whole new set of face-to-face moments that we'll cherish forever.
One of the things I'm most looking forward to is encouraging her little mind to be creative with these tried-and-true recipes. I can't imagine what she'll come up with, but innovation is innovation, whether it comes from a 30-something with a hankering for cheesecake and enough sense to know she needs it in single-serving containers, for from a little girl who understands that the world of food is at her beck and call – with Mama by her side to make it happen.
This cherry cheesecake recipe is not only simple to make, it's also incredibly delicious and the staple dessert at every single family function – from cookouts to Christmas, we love getting into the kitchen and recreating a recipe that was part of our lives for so many years.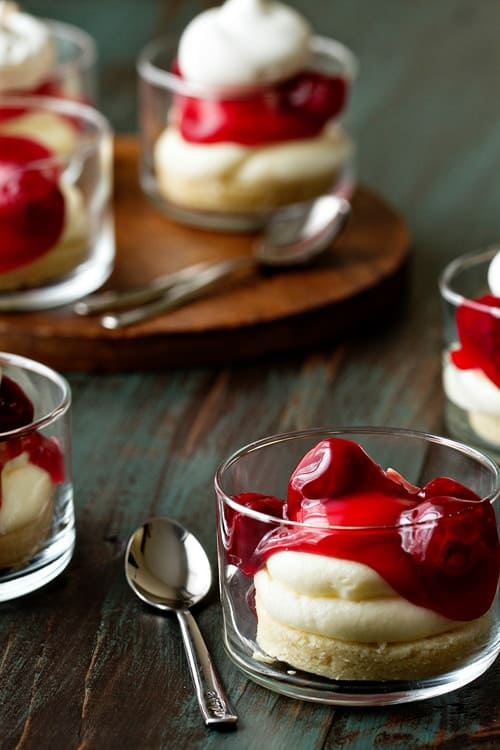 It's a way to connect with our past, but also new memories. I decided to serve Nana's Cherry Cheesecake in a fun new way by cutting the crust and layering the rest of the components into individual glass dishes. This is simply my attempt at a little modern twist, but trust me, it's just as delicious scooped directly out of the pan.