Homemade Raspberry Sauce is so quick and easy to make and can be used in so many different ways! Whether you're spooning it on top of cheesecake or over your morning stack of pancakes, you'll love this flavorful and versatile sauce.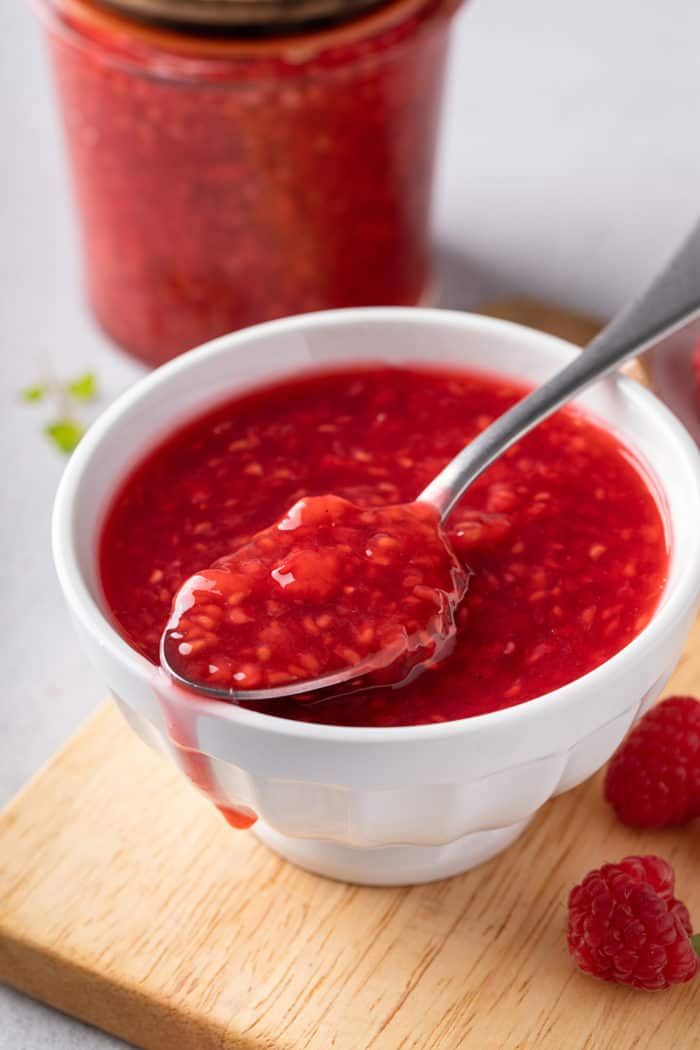 My kiddo goes through a lot of phases with veggies and fruits. One day, she's absolutely in love with kiwis and clementines and the next day she's completely over them.
However, her love for fresh berries is typically a constant – especially if we're talking about strawberries and raspberries.
Her love of fresh berries often causes this mama to overbuy at Costco which means we're often left with packages of berries on the verge of going bad.
Instead of tossing those barely-good berries or throwing them into a smoothie, let's make some raspberry sauce instead. It's simple, delicious and so good on so many things!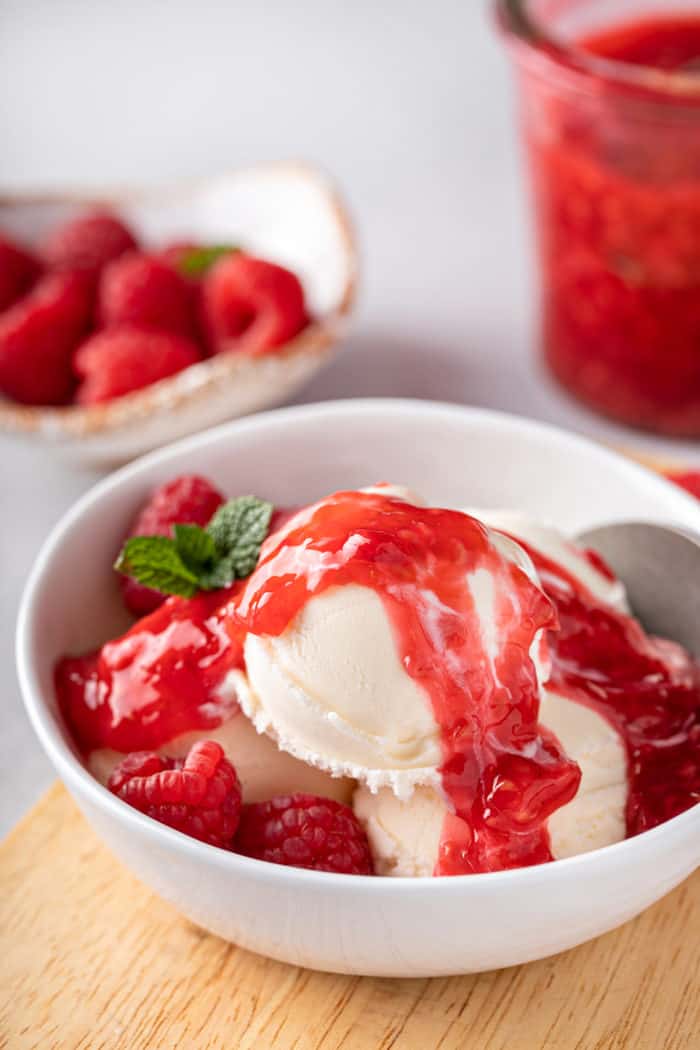 WHAT IS RASPBERRY SAUCE?
Raspberry Sauce is one of the most versatile sauces you can make at home. This tart and sweet fruit sauce is made with fresh or frozen raspberries and can be used in so many different ways.
Similar to Blueberry Sauce, I can't even say that this is only a dessert sauce because there are so many ways to use it across different meals! But we'll get to that in a second.
Don't be intimidated by the idea of making your own sauces at home. I know you can buy them at the store, but it's so much easier to make everything from Raspberry Sauce to Hot Fudge Sauce to Salted Caramel Sauce at home than you think.
(Don't believe me about that last one? Just follow my instructions for how to make caramel sauce and you'll quickly trust me!)
HOW TO MAKE RASPBERRY SAUCE
You'll only need a handful of ingredients and about 10 minutes to make this Raspberry Sauce recipe:
Fresh or frozen raspberries
Water
Granulated sugar
Lemon juice
Cornstarch
Vanilla extract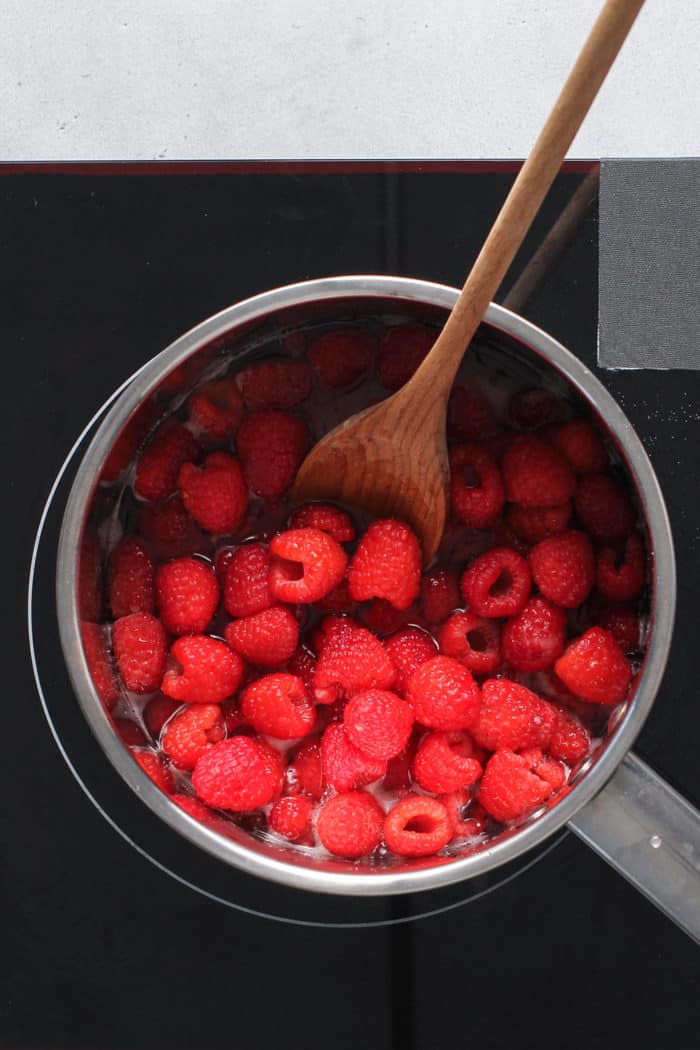 You can use either fresh or frozen raspberries in this recipe, which means that it's easy to make any time of year. I love using frozen raspberries when fresh raspberries aren't in season and are way too expensive to bother with.
If you're using frozen raspberries, don't worry about thawing them first. You can use them straight out of the freezer for this sauce.
In a medium saucepan over medium heat, combine the raspberries, 1/2 cup of water, the sugar and the lemon juice. Stir this mixture frequently while you bring it to a low boil.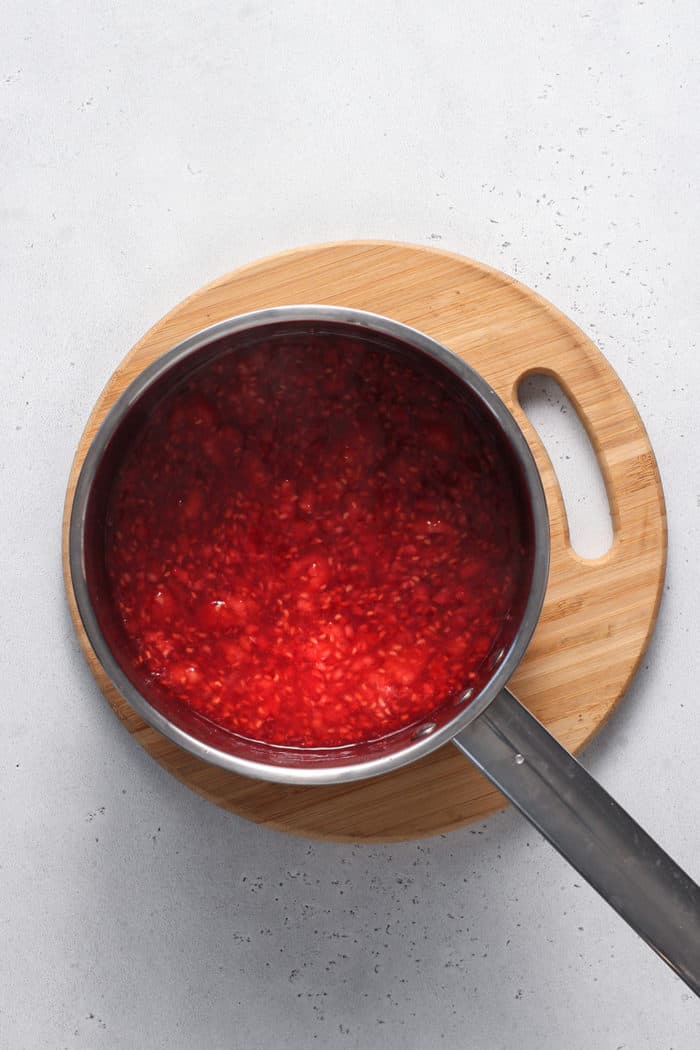 While the raspberries come to a boil, grab a small bowl, and whisk the cornstarch with 2 tablespoons of cold water. This slurry is what will thicken our sauce.
Slowly stir the cornstarch slurry into the raspberry mixture, taking care not to crush the berries. Simmer until the homemade raspberry sauce is thick enough to coat the back of a metal spoon, about 5 minutes.
Remove the sauce from heat and gently stir in the vanilla.
Serve the sauce warm or pour it into an airtight container and chill it in the refrigerator before serving.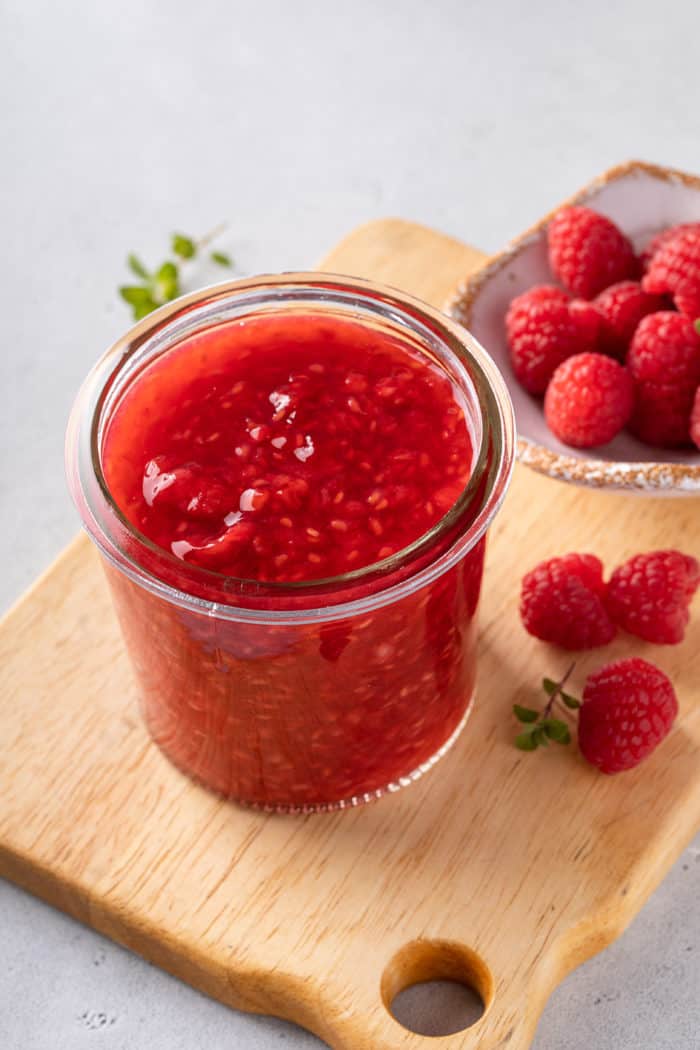 WHAT TO DO WITH YOUR RASPBERRY SAUCE
So wait, exactly what can you do with this tasty sauce? Well, just about anything your imagination can come up with!
Honestly, this is just the tip of the iceberg! I bet you can find so many other ways to use this Raspberry Sauce in your kitchen.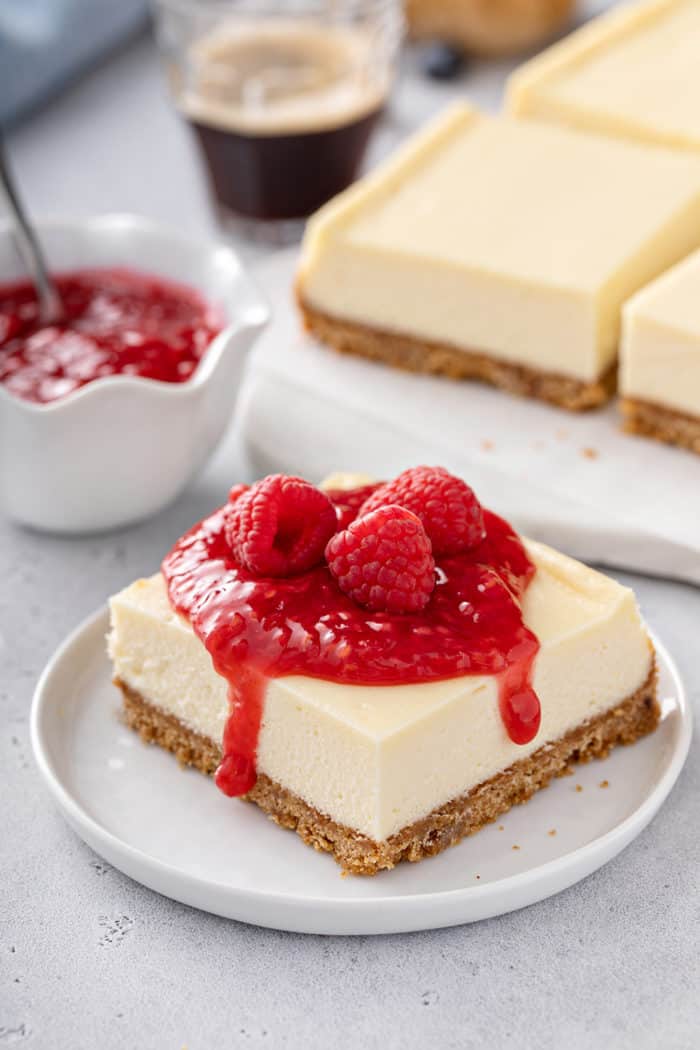 CAN YOU MAKE THIS SAUCE AHEAD OF TIME?
You know how much I love a make-ahead recipe. This is one recipe that you can definitely make ahead of time!
Make this sauce as much as a few days ahead of when you plan to serve it. Place it in an airtight container and keep it in the refrigerator until you're ready to serve.
If you plan to serve it chilled, simply grab it from the fridge and dig in! If you want to serve it warm, either warm it in the microwave for about 30 seconds at a time, stirring between each interval, or pour it into a saucepan and warm it over a low burner, stirring frequently.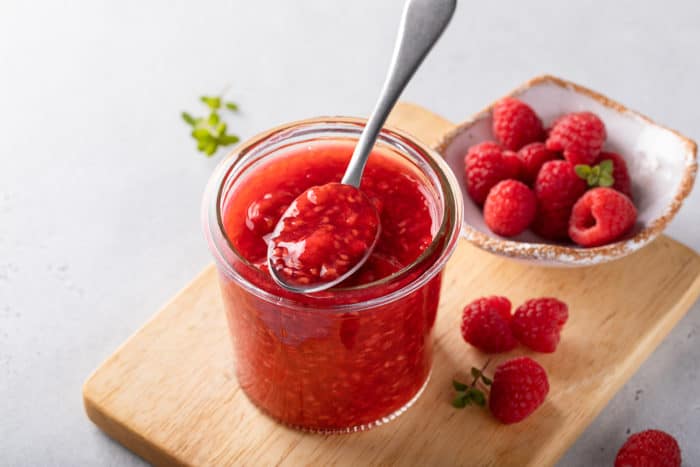 HOW TO MAKE A SEEDLESS SAUCE
This is not a smooth raspberry sauce, as it leaves in all of the seeds and pieces of raspberries.
If you need a smooth, seedless sauce, make the sauce according to the recipe directions. After it has cooled slightly, puree it in a food processor or high-speed blender, then run it through a fine mesh sieve to remove any remaining seeds.
If you find that you need a thinner sauce, simply whisk in water a tablespoon at a time until it reaches your desired consistency.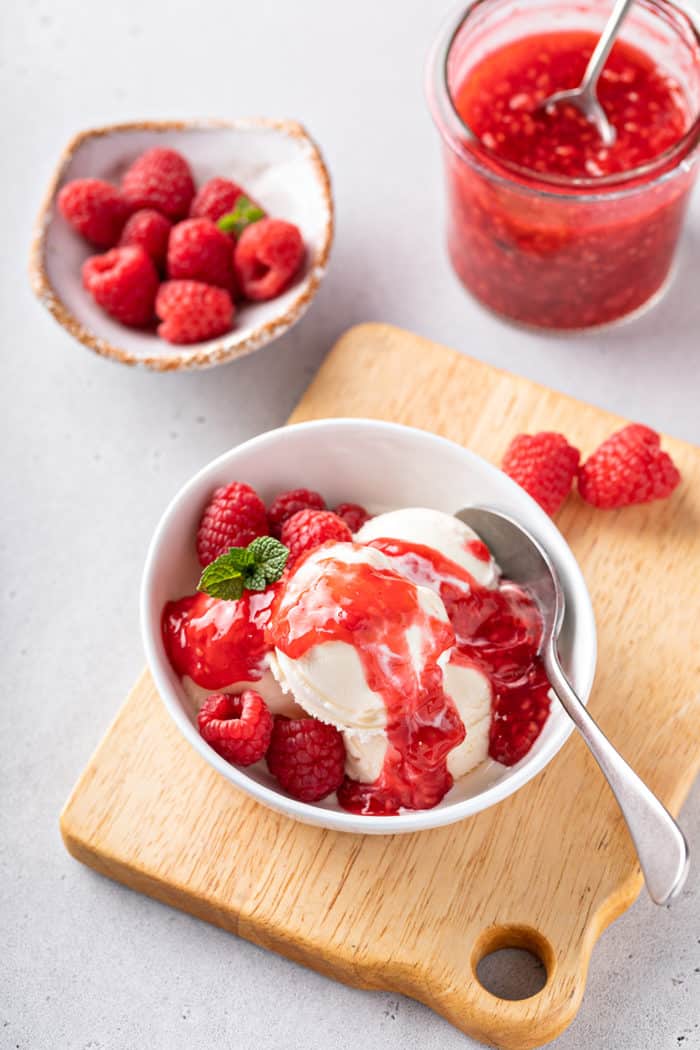 STORAGE AND FREEZING TIPS
Raspberry Sauce will keep in the fridge, in an airtight container, for up to a week. Make it at the beginning of the week and enjoy it on your desserts and breakfasts all week long.
It also freezes very well. Simply pour it into a freezer-safe container and freeze for up to 3 months. If you want to divide it into smaller portions, freeze it in several smaller containers.
To thaw, place the container in the refrigerator overnight and enjoy it on your stack of pancakes the next day!