Cream Cheese Pound Cake is one delicious way to treat yourself to dessert. This classic pound cake is one to make all year round.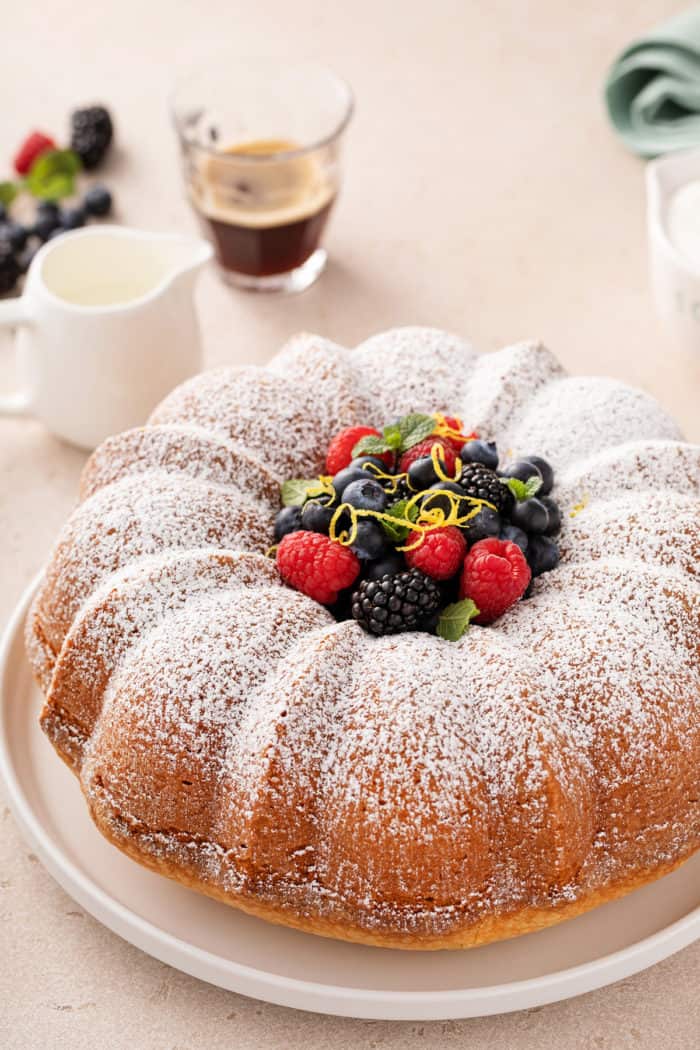 Pound cake. For some reason, every single time I think of pound cake I think of little old grandmas and Sara Lee. Why?
I have no idea, it's just a thing. I also didn't use to make a lot of pound cake.
Not that I have anything against it, it just always seemed kinda mundane to me next to the best chocolate cake, chocolate bundt cake, or pumpkin crunch cake. If your thoughts on pound cake are at all similar to what mine were, allow me to change your mind.
This cream cheese pound cake will open up a brand new world of pound cake consideration and will literally have you secretly escaping to the kitchen to nibble on it.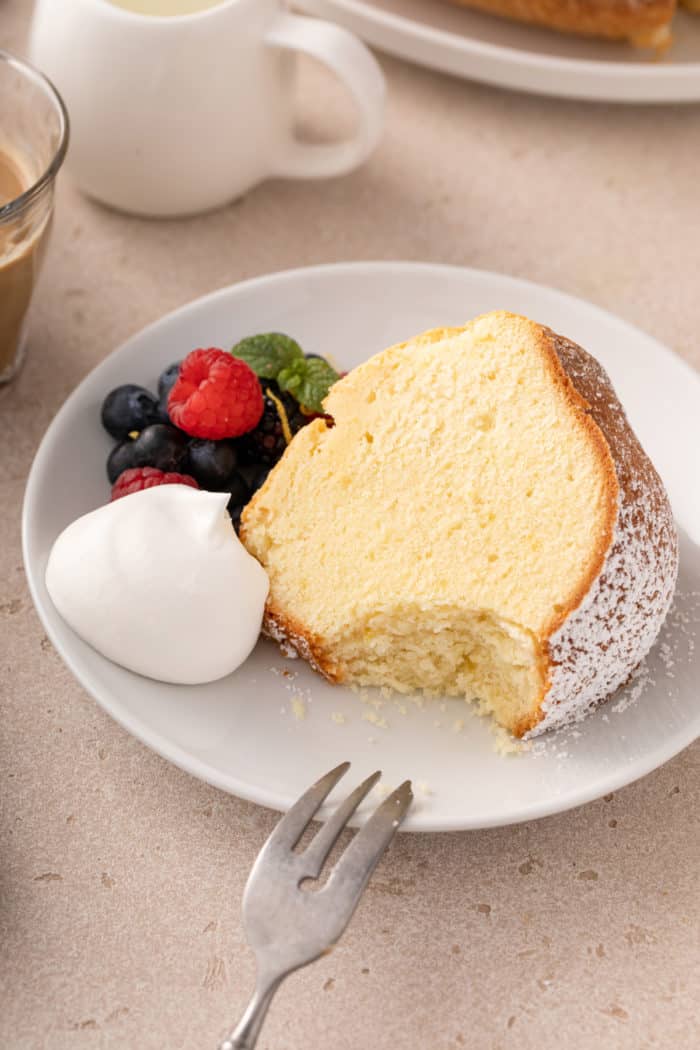 WHAT IS POUND CAKE?
If you aren't that familiar with pound cake, you might be wondering where it gets its name.
Traditionally, pound cake is made with 1 pound each of 4 ingredients:
Because there isn't any baking powder or baking soda in it, pound cake is very dense with a tight crumb. The eggs are what do the work of leavening the cake.
Different variations on pound cakes have emerged over the years to add to the original 4-ingredient classic pound cake recipe. Strawberry pound cake is one example.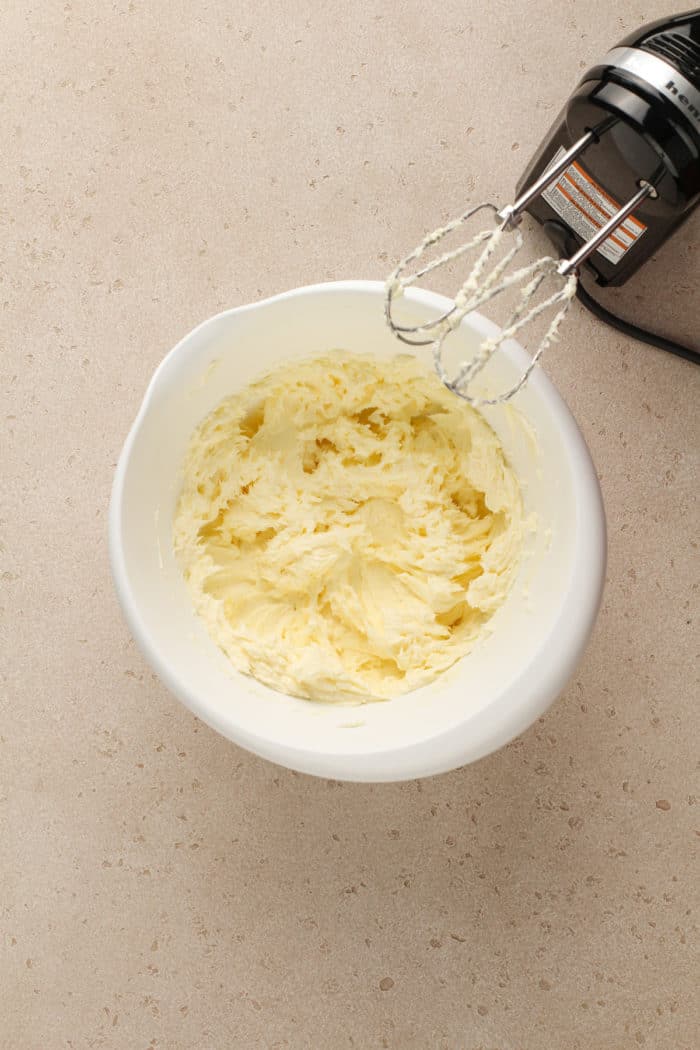 Heck, I even have a 7UP Pound Cake recipe that uses lemon-lime soda!
And even though it's not quite a pound cake, whipping cream cake is a very similar style of cake that is impossible to pass up.
This cream cheese pound cake is one of my favorite variations.
A magical crust develops on the top of this cake that's so incredible, I seriously wanted to slice the top off (well, actually the bottom once you flip it) and keep it all to myself.
Yes, it is that good.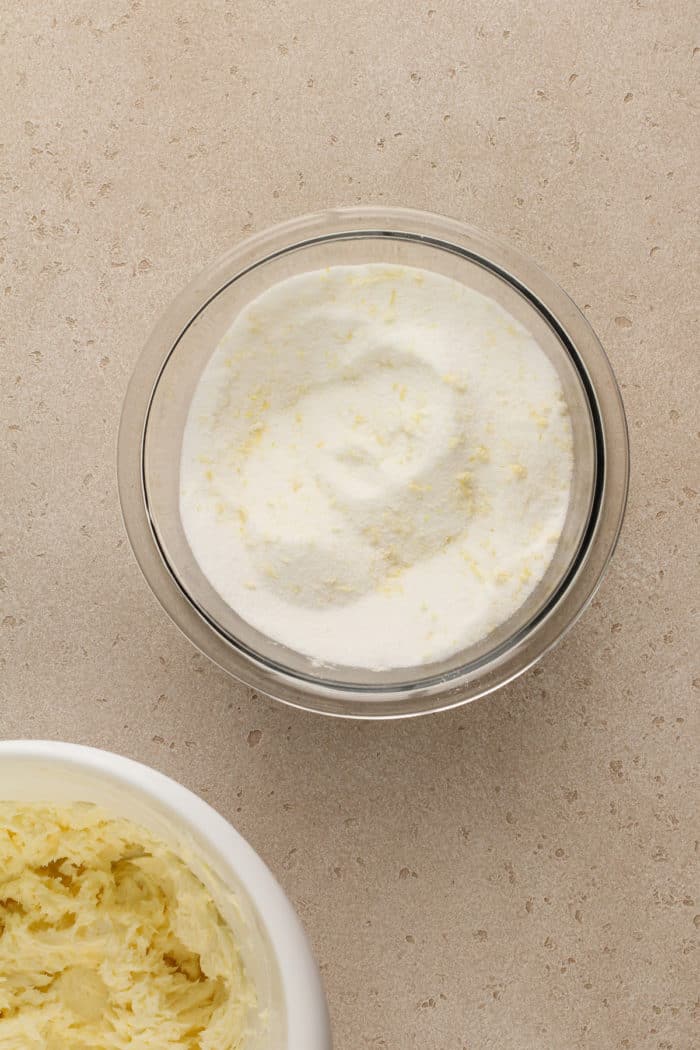 HOW TO MAKE CREAM CHEESE POUND CAKE
One of the best things about cream cheese pound cake is that it's not a fussy cake.
Ingredients you'll need
Even though this recipe expands on the original 4 ingredients, it's still got a short list of ingredients. You'll need:
1 (8 ounce) package cream cheese, room temperature
1 1/2 cups unsalted butter, room temperature
zest of 4 lemons
3 cups sugar
6 large eggs
3 cups all-purpose flour
1 tablespoon pure vanilla extract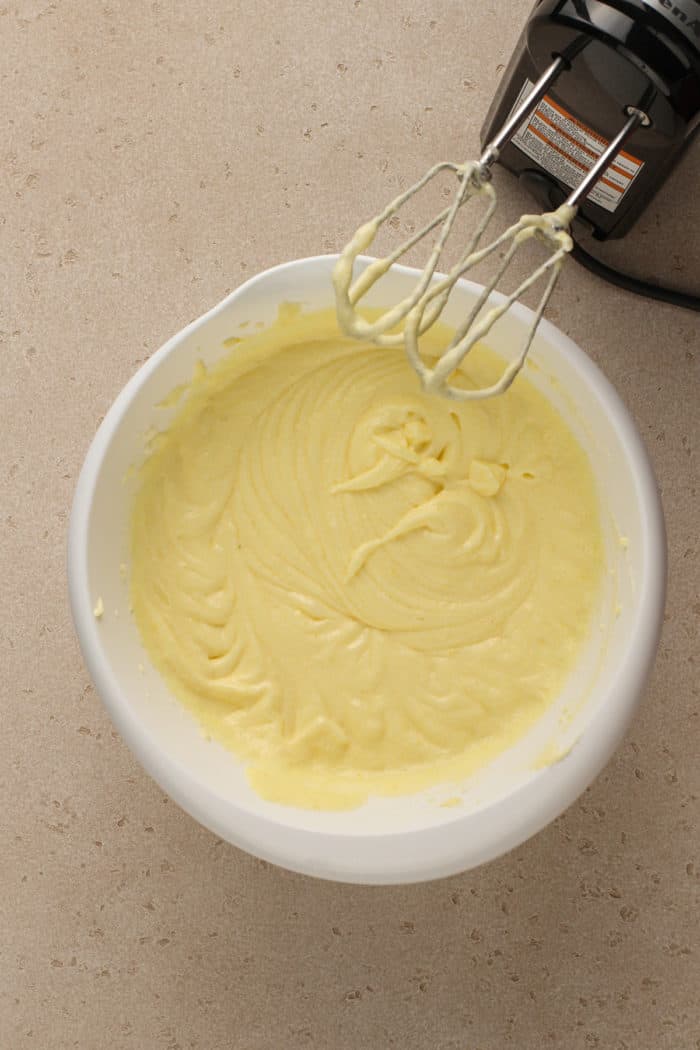 My version of this cake is strongly lemony – as you can see, the recipe calls for the zest of four lemons. But feel free to try lime zest or even orange zest. They'd both be fantastic in this cake.
You can also leave the zest out entirely, but I love the flavor it adds!
You definitely want to make sure your cream cheese and butter are at room temperature. If you forget to set them out ahead of time, check out my tips for how to soften cream cheese and how to bring butter and eggs to room temperature.
I also recommend making sure you know how to measure flour correctly so that this cake turns out amazing every time.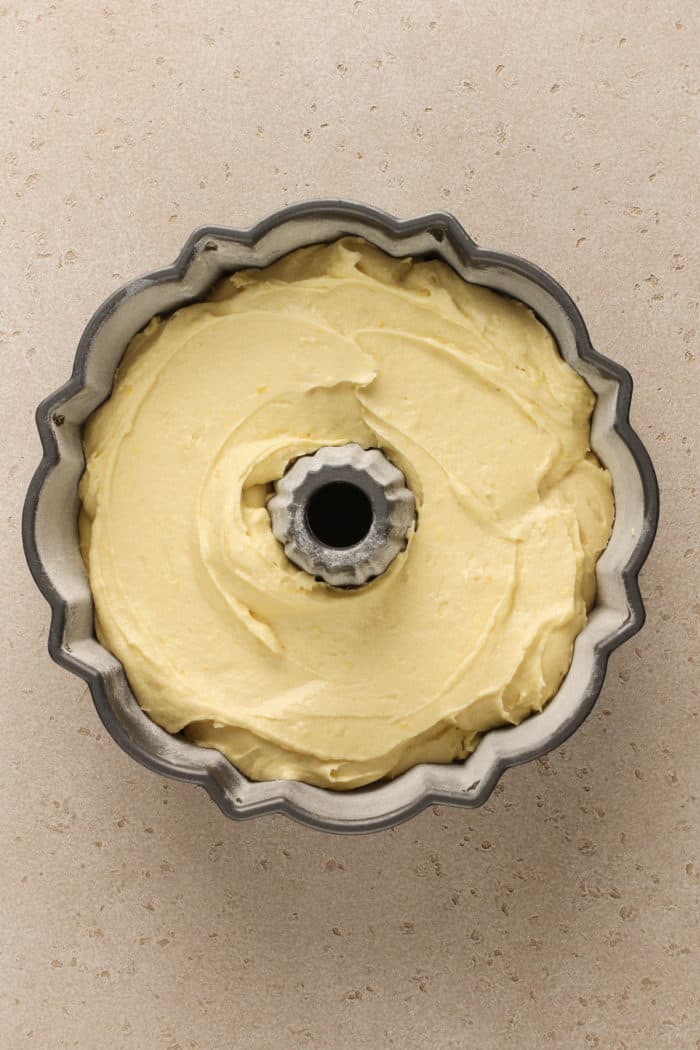 Making my cream cheese pound cake
To start, grease and flour a bundt pan. Don't skip flouring it – this will help the cake to release from the pan later.
In the bowl of a stand mixer fitted with the paddle attachment, cream the room-temperature butter and softened cream cheese until smooth.
In a medium bowl, combine the sugar and lemon zest and mix them together with your fingertips until the sugar is moistened and fragrant. I use this trick all of the time – it really helps infuse the oils from the citrus zest throughout the final cake.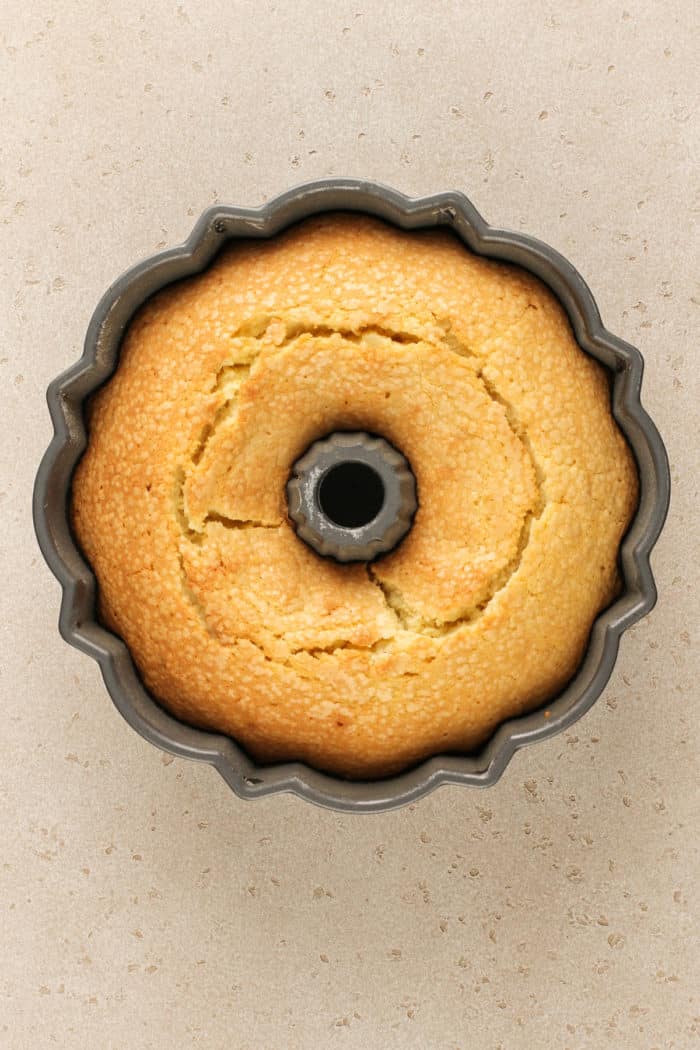 Add the sugar mixture gradually to the butter and cream cheese and beat on medium speed until light and fluffy, about 3 minutes.
Don't be tempted to cheat and mix it for less time. You definitely want to mix the butter and sugar thoroughly; it'll help the final cake to not be quite as dense.
Finally, add eggs two at a time, beating well with each addition. Add the flour all at once and mix it in, followed by the vanilla, and mix thoroughly.
Pour the batter into the prepared pan. Bake for 1 hour and 20 minutes, but start checking for doneness at 1 hour. The cake is done when a toothpick or thin skewer inserted into the center of the cake comes out clean.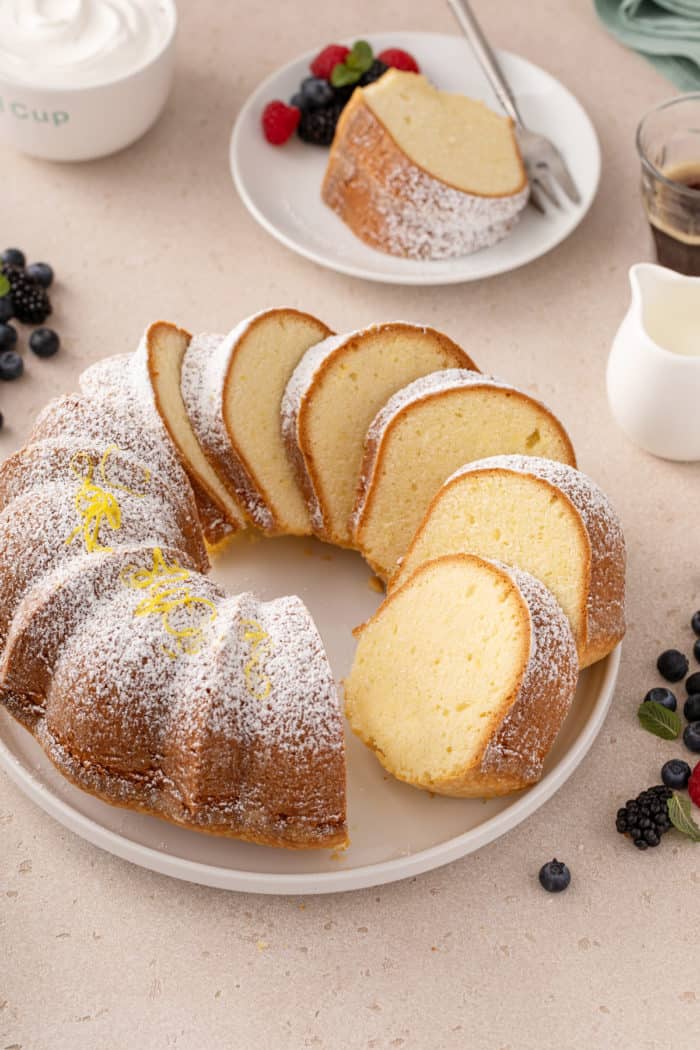 SERVING SUGGESTIONS
Cream cheese pound cake is tangy, sweet, and yet simple. That means there are lots of ways you can serve it!
Pound cake is one of those things that's perfect for toting along to outdoor parties. It doesn't need refrigeration on its own, it pairs exceptionally well with fruit or fruit sauces, such as raspberry sauce or strawberry sauce, and it travels easily.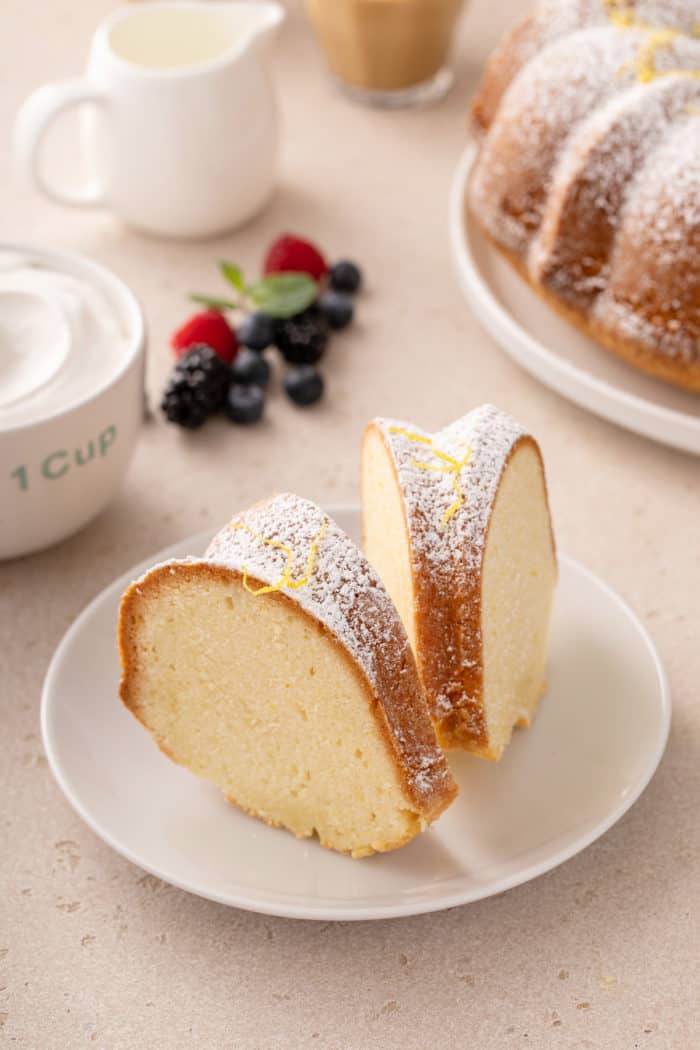 It's really perfect for summer barbecues and even better if you toss it on the grill for a few minutes and serve with fresh summer fruit like raspberries or grilled pineapple.
If you've never tried grilled pound cake, you've really got to try it with this recipe. You know how garlic bread gets ten times more awesome when you throw it on the grill? Pound cake does the same darn thing.
But it's just as good with a dusting of powdered sugar or a dollop of homemade whipped cream as it is with Grand Marnier-soaked strawberries. Any way you serve it, I'm betting it will be hit!