Cream Cheese Pound Cake
Cream Cheese Pound Cake is one delicious way to treat yourself to dessert. Whip it up all summer long!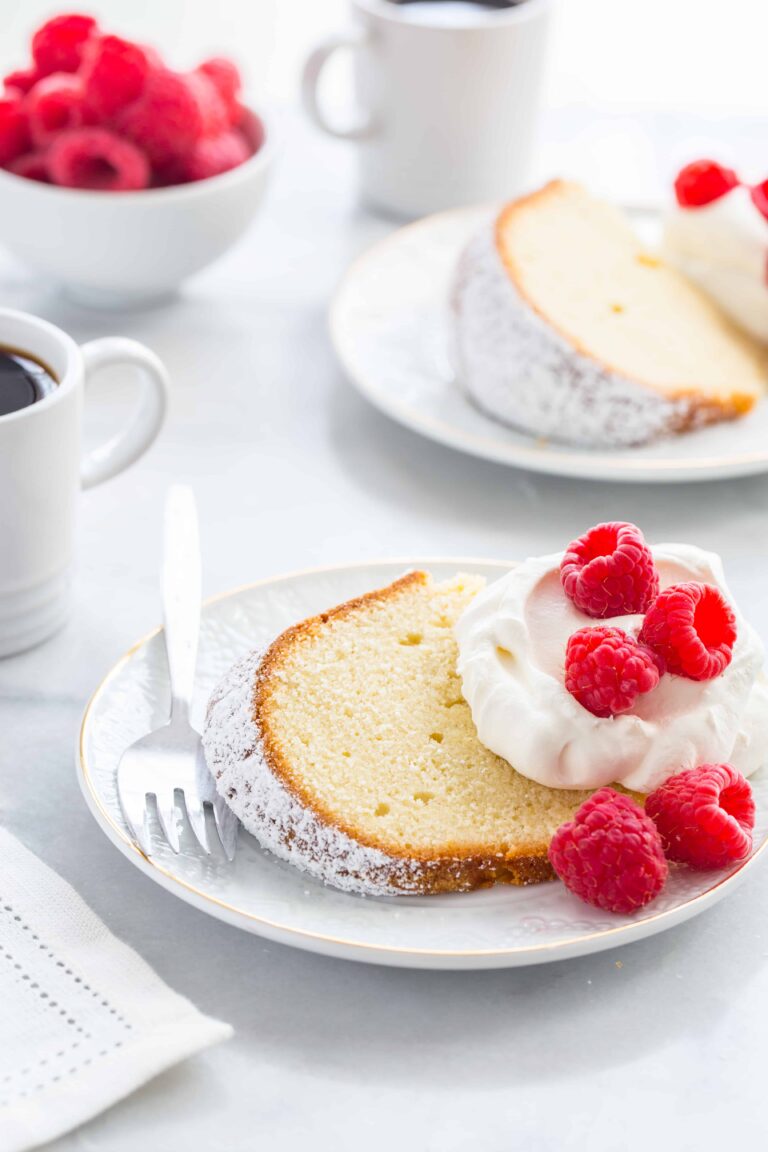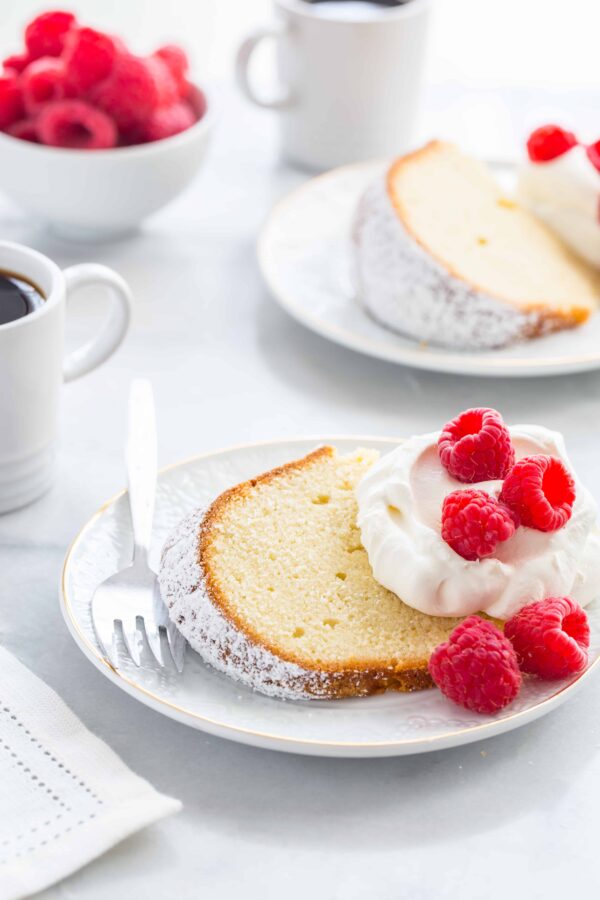 Pound cake. For some reason, every single time I think of pound cake I think of little old grandmas and Sarah Lee. Why?
I have no idea, it's just a thing. I also don't make a lot of pound cake.
Not that I have anything against it, it just seems kinda mundane to me next to the best chocolate cake and No Bake S'mores Cheesecake. If your thoughts on pound cake are at all similar to what mine were, allow me to change your mind.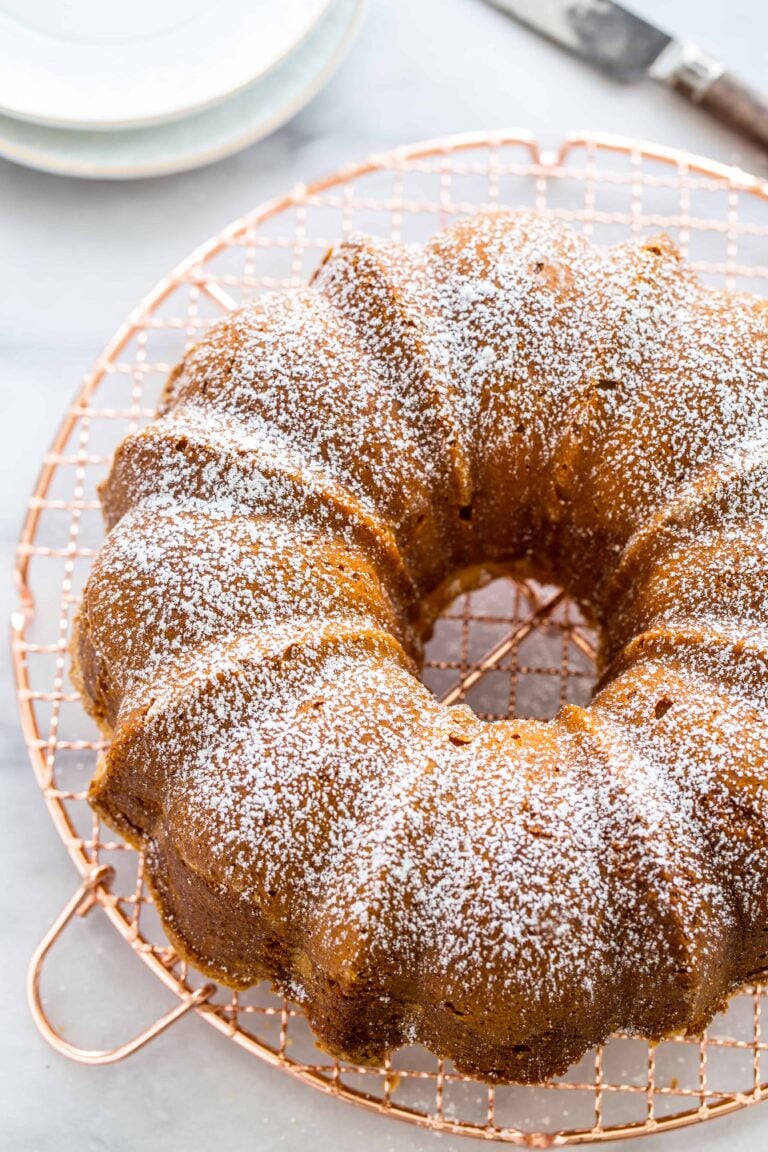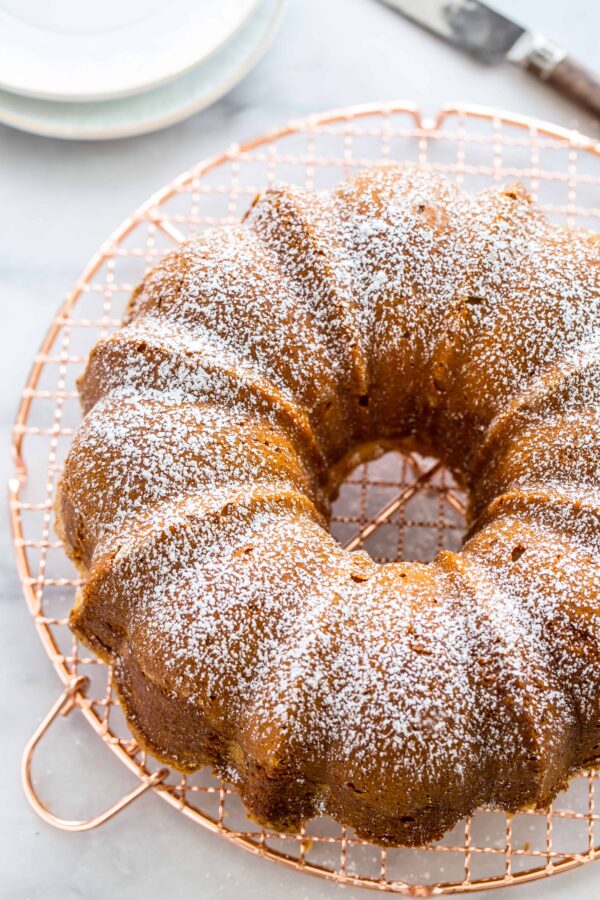 This Cream Cheese Pound Cake will open up a brand new world of pound cake consideration and will literally have you secretly escaping to the kitchen to nibble on it.
A magical crust develops on the top of this cake that's so incredible, I seriously wanted to the slice the top off (well, actually the bottom once you flip it) and keep it all to myself.
Yes, it is that good.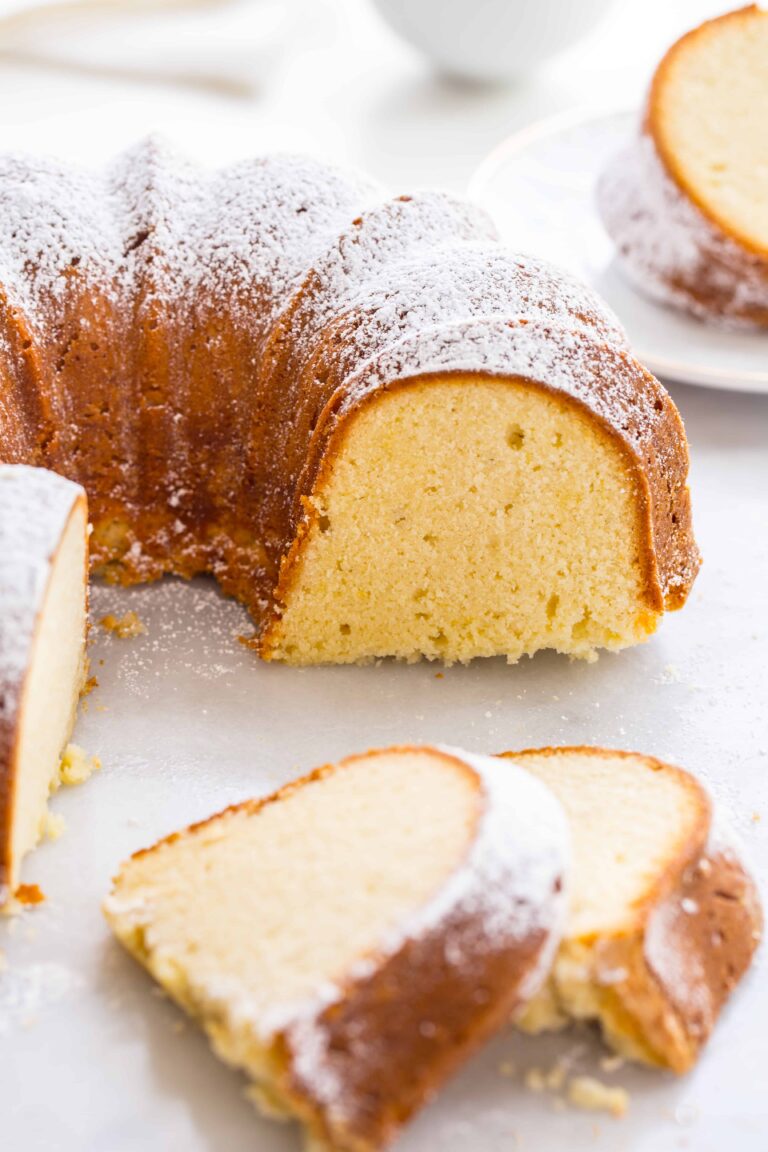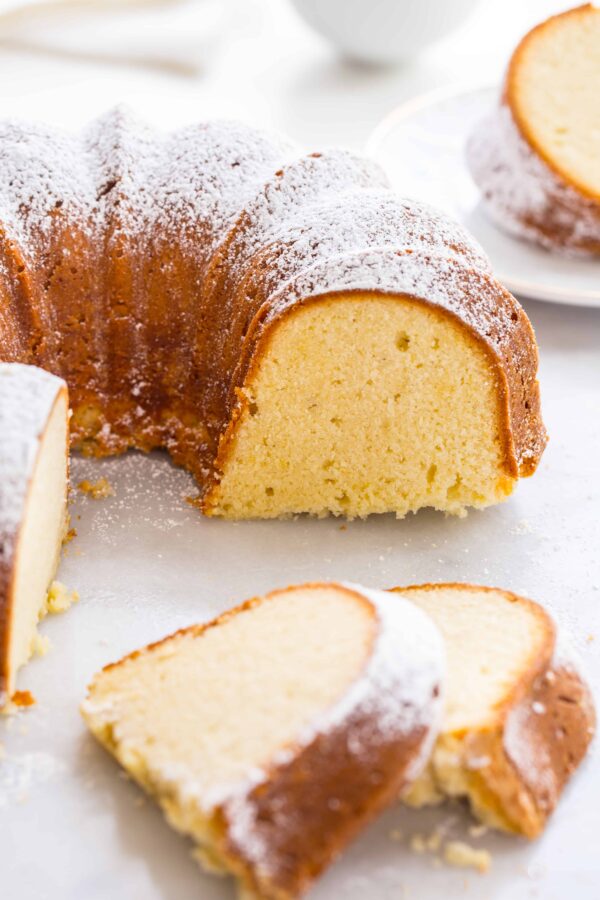 Pound cake is one of those things that's perfect for toting along to outdoor parties. It doesn't need refrigeration on its own, it pairs exceptionally well with fruit or fruit sauces, and it travels easily.
It's just not one of those desserts that needs you to be finicky with it. Which is kind of awesome.
This cream cheese pound cake is definitely dense – like you didn't know that. So, one cake can feed a pretty large group of people. (Winner winner chicken dinner in my book!)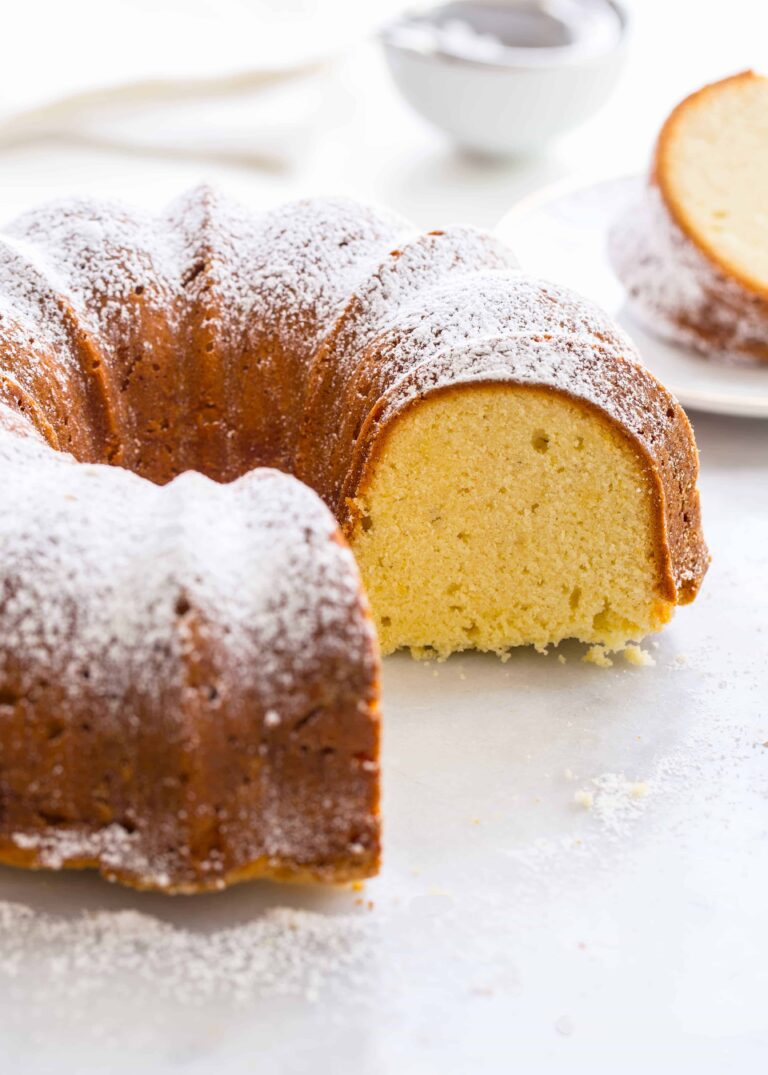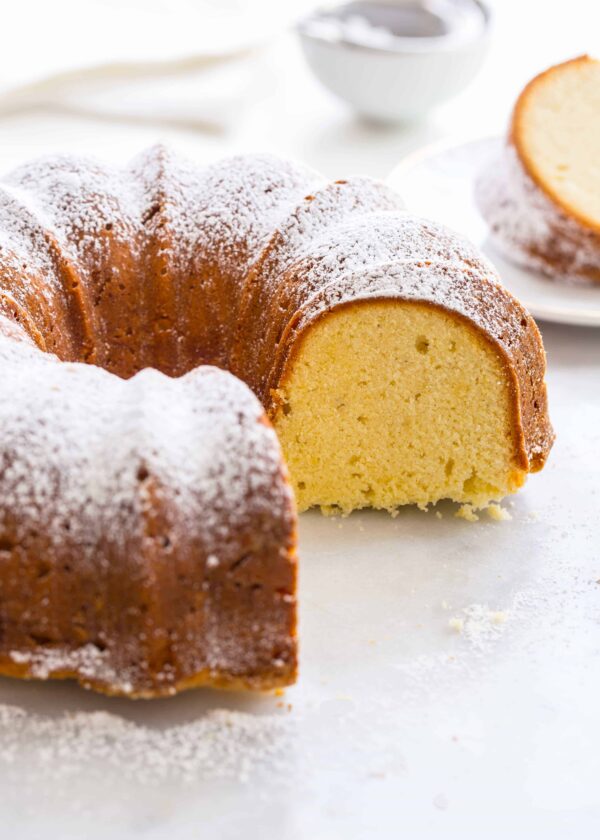 It's really perfect for summer barbecues and even better if you toss it on the grill for a few minutes and serve with fresh summer fruit like raspberries or grilled pineapple.
If you've never tried grilled pound cake, you've really got to try it with this recipe. You know how garlic bread gets ten times more awesome when you throw it on the grill? Pound cake does the same darn thing.
All said and done, I opted to plate it up with fresh whipped cream and raspberries, but it's also incredible with Grand Marnier soaked strawberries. Any way you serve it, I'm betting it will be hit!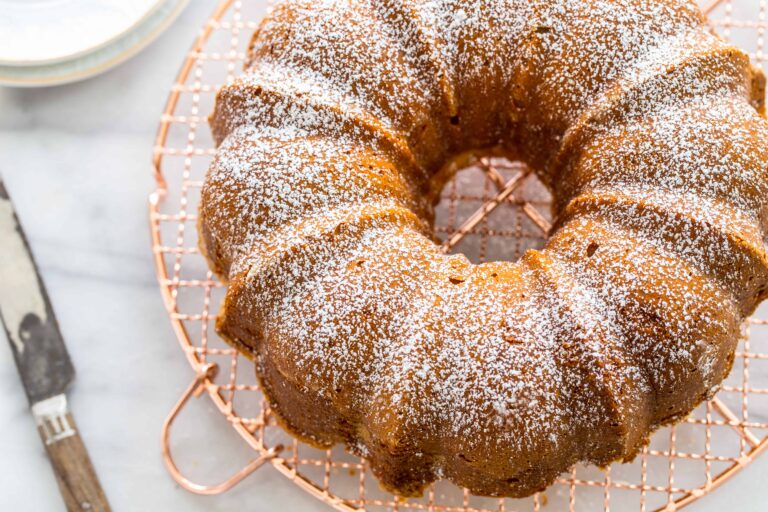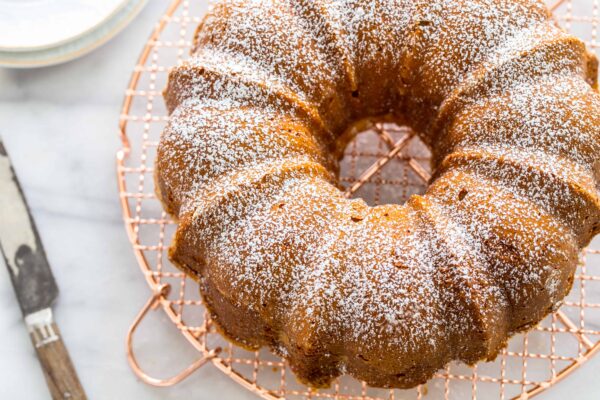 My version of this cake is strongly lemon – the recipe calls for the zest of four lemons. But feel free to try lime zest or even orange zest. They'd both be fantastic in this cake, and pair well with the simple topping of whipped cream too.
For more delicious summer recipes, be sure to try these Raspberry Lemonade Cupcakes and this Homemade Hot Fudge Sauce.
This post for Cream Cheese Pound Cake was originally posted in June of 2011. Photos and text have been updated.
Cream Cheese Pound Cake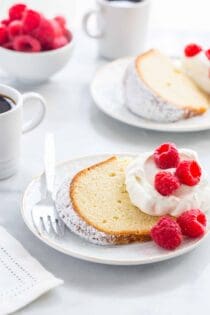 Ingredients:
1 (8 ounce) package cream cheese, room temperature
1 1/2 cups unsalted butter, room temperature
zest of 4 lemons
3 cups sugar
6 large eggs
3 cups all-purpose flour
1 tablespoon pure vanilla extract
Directions:
Preheat oven to 325°F. Grease and flour a 10 inch bundt pan.
In the bowl of a stand mixer, fitted with the paddle attachment, or with a hand mixer in a large bowl, cream the butter and cream cheese until smooth.
In a medium bowl, combine the sugar and lemon zest and mix together with your fingertips until the sugar is moistened and fragrant. Add the sugar mixture gradually to the butter and beat on medium speed until light fluffy, about 3 minutes.
Add eggs two at a time, beating well with each addition. Add the flour all at once and mix in. Add vanilla and mix thoroughly.
Pour into prepared pan. Bake at 325°F for 1 hour and 20 minutes. Check for doneness at 1 hour. A toothpick inserted into center of cake will come out clean.
Notes:
Store cake at room temperature in an airtight container for up to 3 days.
Recipe adapted from allrecipes.
All images and text ©
Follow Jamie on Instagram. We love to see what you're baking from MBA! Be sure to tag @jamiemba and use the hashtag #mbarecipes!

This post may contain affiliate links. We are a participant in the Amazon Services LLC Associates Program, an affiliate advertising program designed to provide a means for us to earn fees by linking to Amazon.com and affiliated sites.