Strawberry Sauce is ridiculously simple to make and is exactly what you need to top your waffles, french toast, ice cream, yogurt, and more!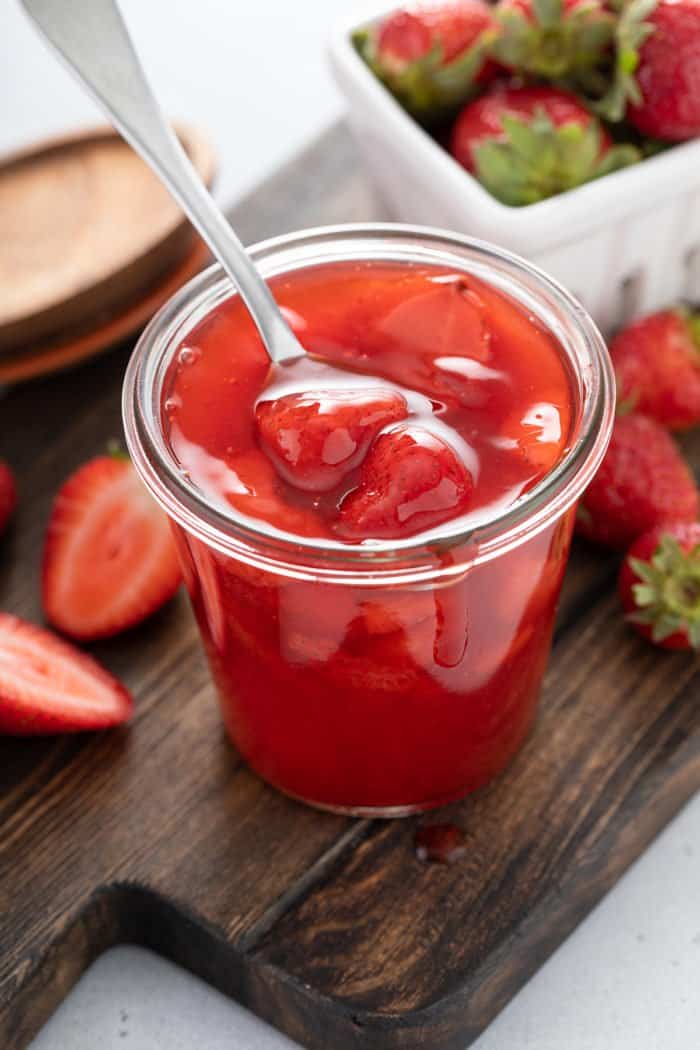 I think you all know by now that as easy as it is to run to the store to buy certain things, it's sometimes just as easy to make them at home.
Like pumpkin pie spice or taco seasoning – I can pick them up at the store, but they're so easy to make at home and the homemade versions actually taste better.
This strawberry sauce is one of those recipes. Yeah, you can buy that red squeeze bottle of strawberry sauce at the grocery store, but it's always overly sweet and doesn't really taste like strawberries.
This stuff, though? It takes less than 10 minutes to make and is bursting with flavor.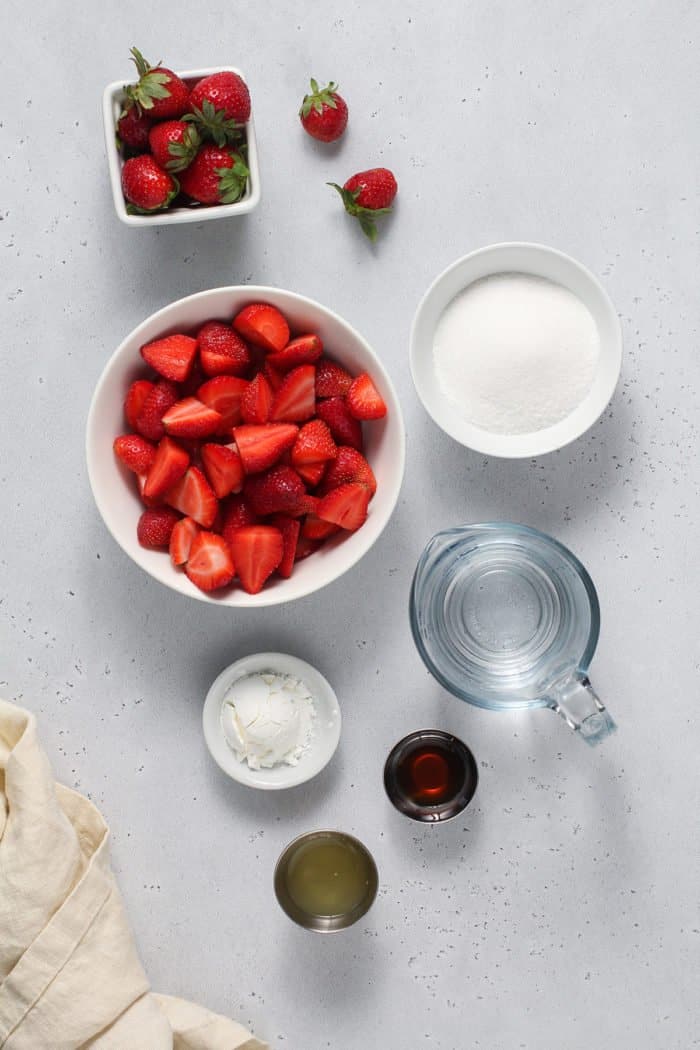 HOW TO MAKE STRAWBERRY SAUCE
Just like when we learned how to make caramel sauce, you'll find that this homemade strawberry sauce is surprisingly easy to make. You'll wonder why you ever bothered buying strawberry sauce at the grocery store!
Ingredients you'll need
The ingredients list for this recipe is super simple. You'll need:
16 ounces fresh strawberries, tops removed, or frozen strawberries
½ cup water
½ cup granulated sugar
2 tablespoons lemon juice
2 tablespoons cornstarch mixed with 2 tablespoons cold water
½ teaspoon vanilla extract
One of the best things about this recipe is that you can use fresh or frozen strawberries. If it's the height of summer and you have a ton of fresh, perfectly sweet strawberries – use those!
But in the middle of winter, you can still make this sauce and have it taste amazing by using frozen berries.
You can also use whole or sliced strawberries. If you use whole strawberries, you can choose to leave them in big pieces in the final sauce or use a fork or potato masher to break them down as they cook.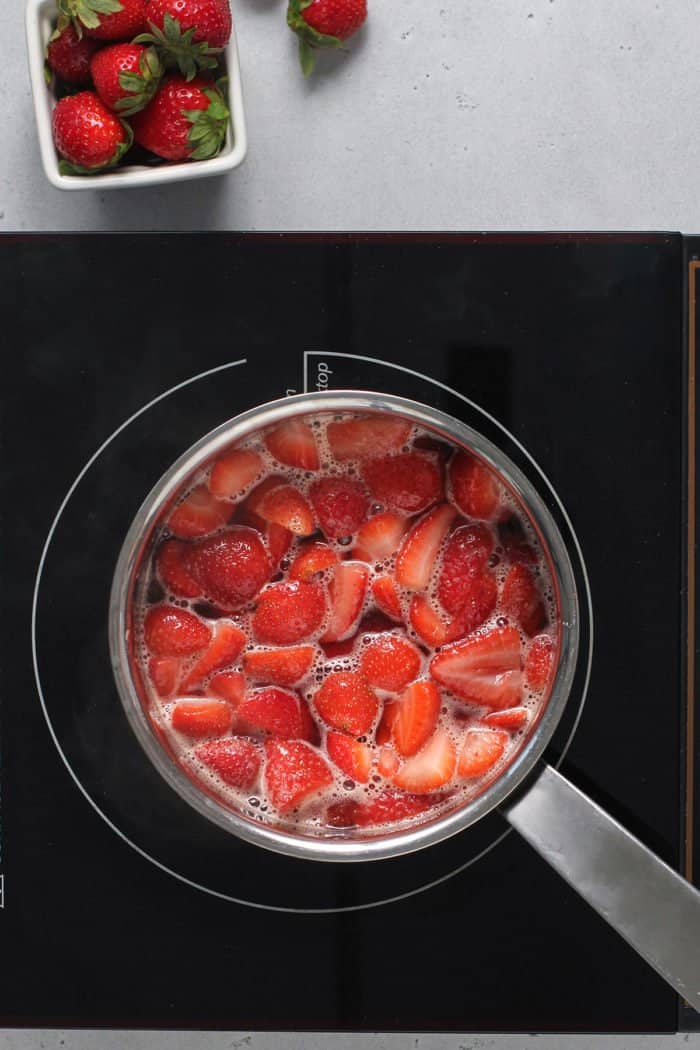 Making this recipe
If you've made my blueberry sauce or raspberry sauce, you'll be familiar with the method for making this recipe, too.
Grab a medium saucepan and add all of the strawberries, ½ cup of water, the sugar and the lemon juice. Bring this to a low boil, stirring frequently.
While that mixture comes to a boil, whisk together the cornstarch with 2 tablespoons of cold water to make a slurry. This is what will thicken our sauce.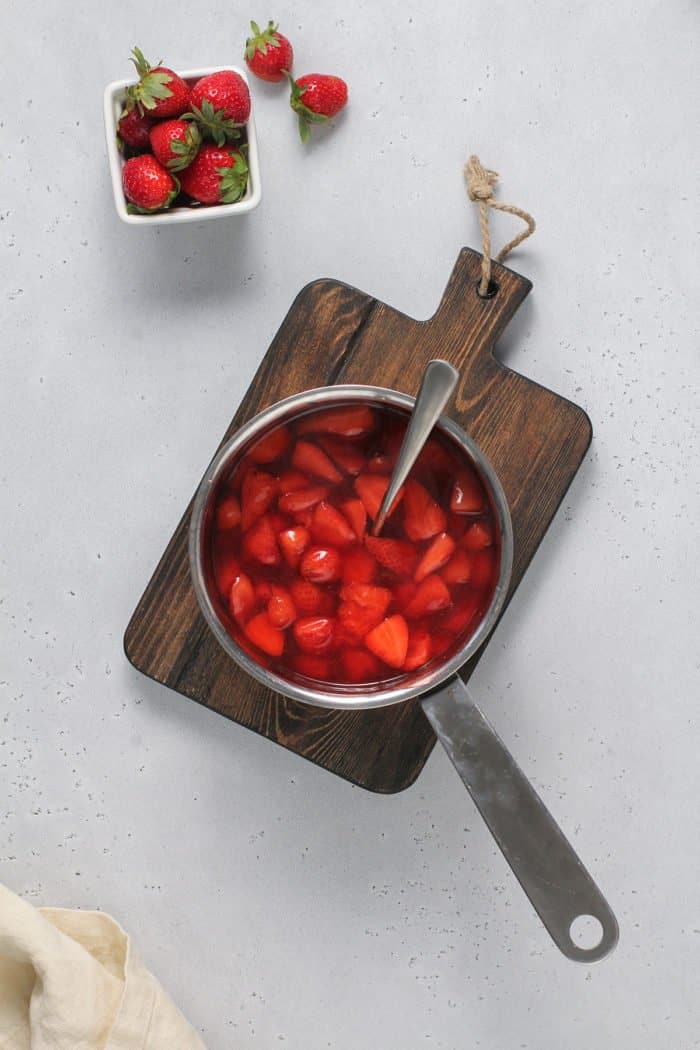 Once the strawberries come to a boil, slowly add the cornstarch slurry. Simmer the sauce until it is thick enough to coat the back of a spoon; this will take about 5 minutes.
Go ahead and remove the pan from the heat and add the vanilla extract. Be sure to stir it in gently if you don't want to break up the berries too much.
At this point, you can serve the strawberry sauce warm or chill it in the fridge before serving it.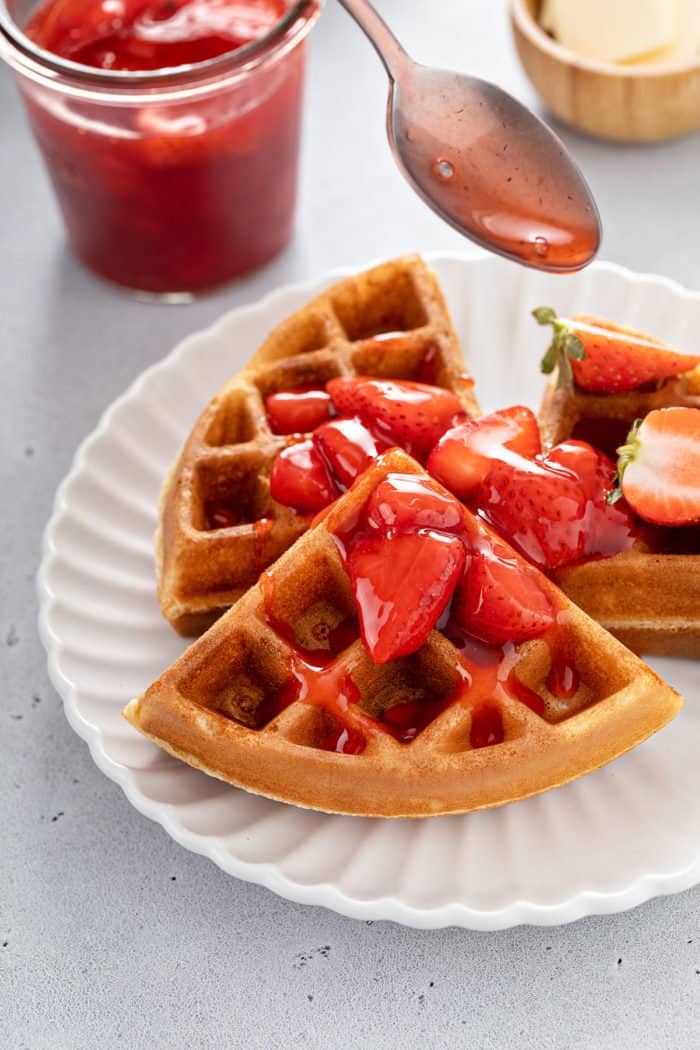 WHAT TO PUT THIS STRAWBERRY SAUCE ON
So exactly what can you put this homemade sauce on? The better question is what can't you put it on!
It's incredible on top of a stack of Bisquick pancakes or Bisquick waffles or swirled into the batter for sheet pan pancakes.
Spoon it on top of a slice of overnight french toast casserole instead of or in addition to maple syrup.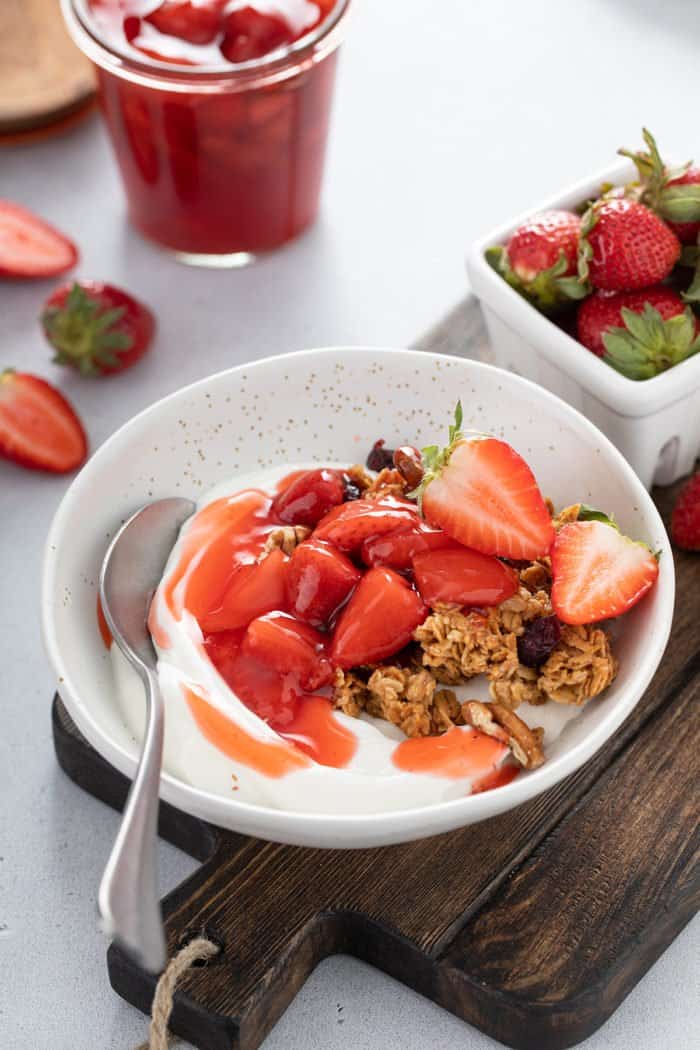 Pair it with homemade hot fudge sauce and turn a scoop of vanilla ice cream into an incredible ice cream sundae.
Use it to top slices of vanilla cheesecake or cheesecake bars.
Or grab your favorite vanilla yogurt and some maple pecan granola and top it with this sauce for a breakfast that will fuel your day.
See? The options are really endless!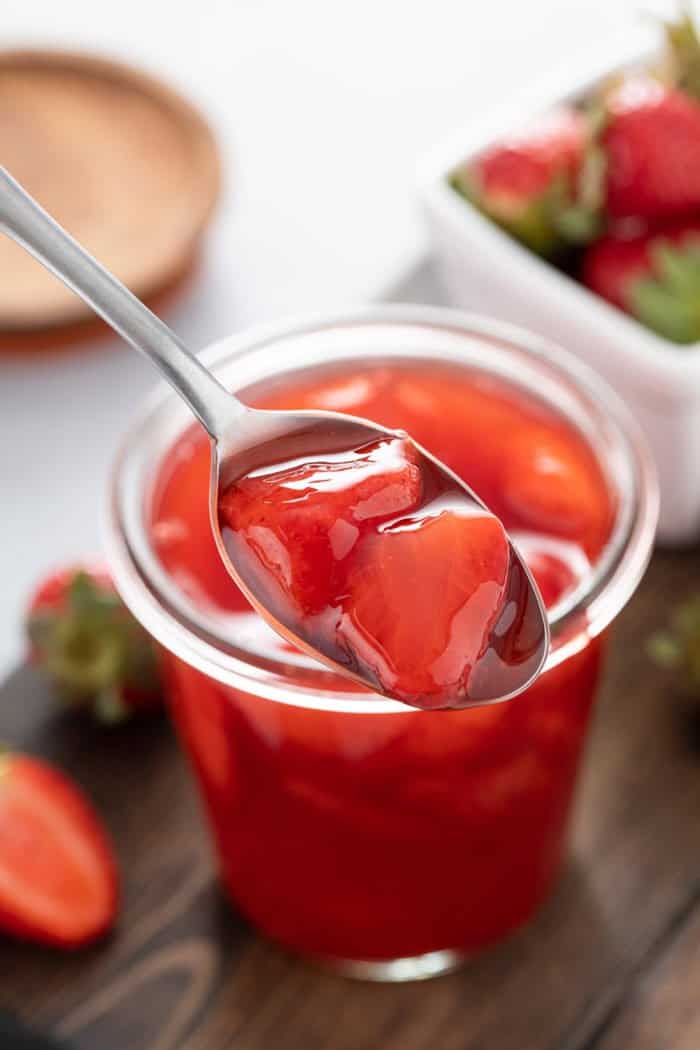 STORAGE
Since you can serve this sauce warm or cold, it's a great recipe to make ahead of time and store in the refrigerator until you need it.
Pour the finished sauce into an airtight container and keep it in the fridge for up to 5 days.
Freezing your homemade strawberry sauce
If you want to make the sauce even further in advance or you find yourself with tons of fresh strawberries and want to make several batches of strawberry sauce to enjoy later, you can always freeze it!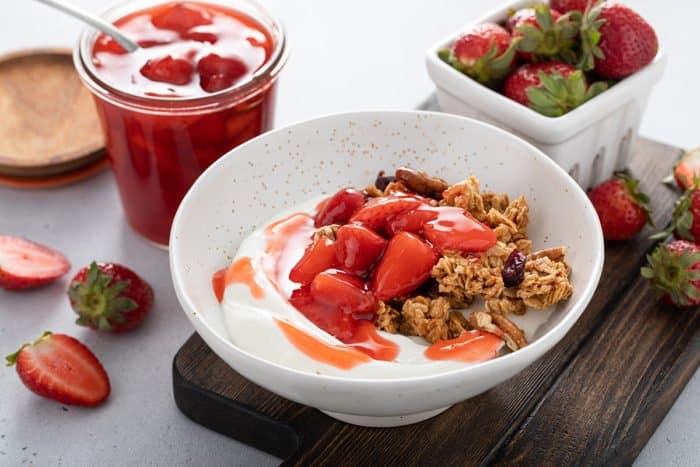 Once the sauce has cooled, place it in an airtight, freezer-safe container or in zip-top freezer bags and freeze for up to 3 months. Let the sauce thaw in the refrigerator overnight before using.
If you choose to freeze the sauce, you may want to portion it into smaller containers so you can pull out only what you need at a time. I like to freeze it in 1-cup portions – the perfect amount for a weekend pancake breakfast!
No matter what you choose to spoon this strawberry sauce on, I know it will become a new favorite in your house!