Is there anything better than a stack of warm, fluffy pancakes on a weekend morning? Make that dream morning easier with a batch of Bisquick Pancakes made with your own homemade Bisquick mix!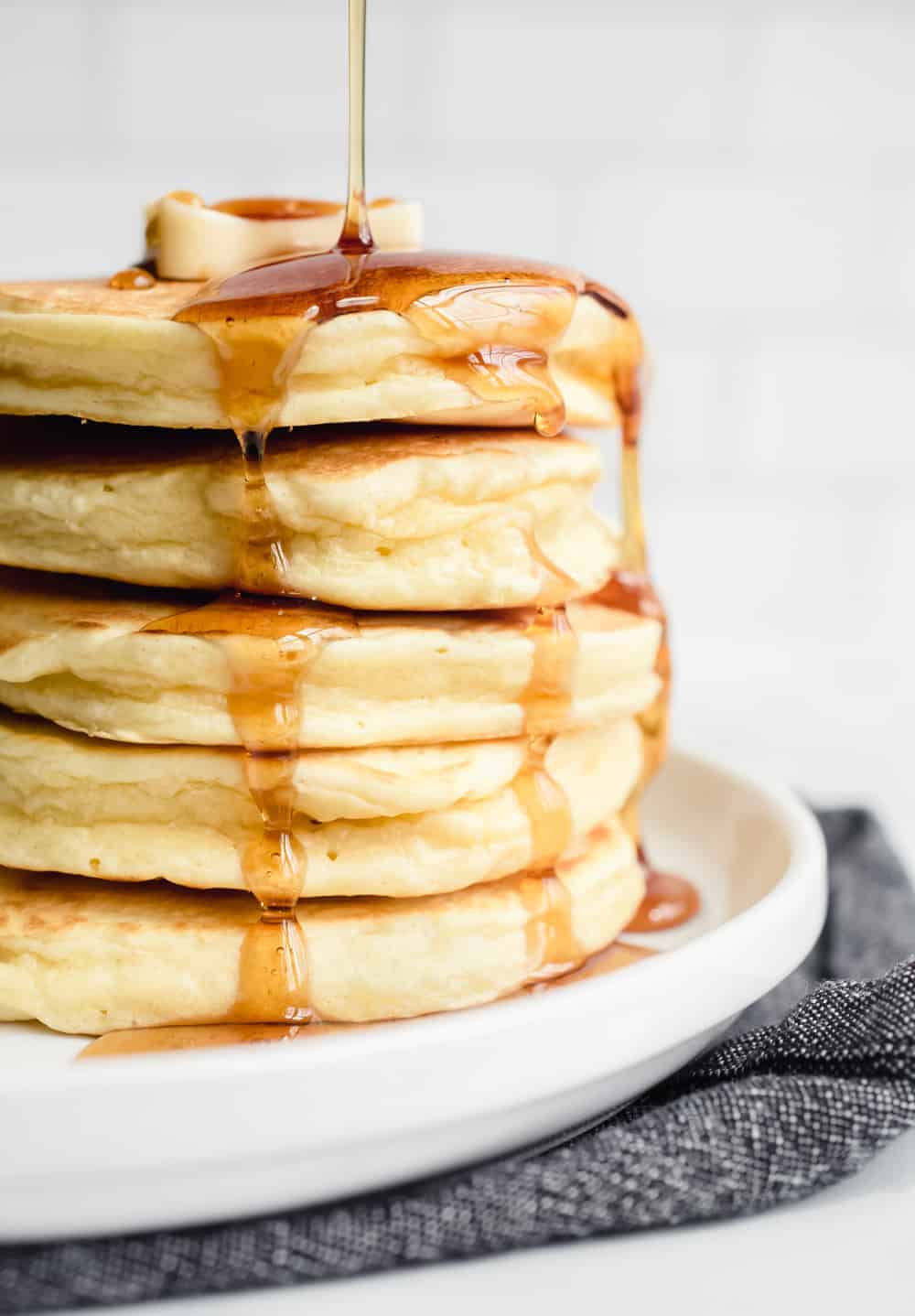 In recent months, I've received so many questions about Bisquick Pancakes and other Bisquick recipes using my recipe for Homemade Bisquick.
The great thing about Homemade Bisquick is that you can pretty much substitute it for store-bought, boxed Bisquick in just about any recipe from biscuits and waffles to pancakes! So if you can't find the boxed stuff, I've got you covered!
I wanted to show you that Homemade Bisquick makes a delicious stack of perfectly fluffy pancakes using the Ultimate Pancake recipe right off the back of the Bisquick box.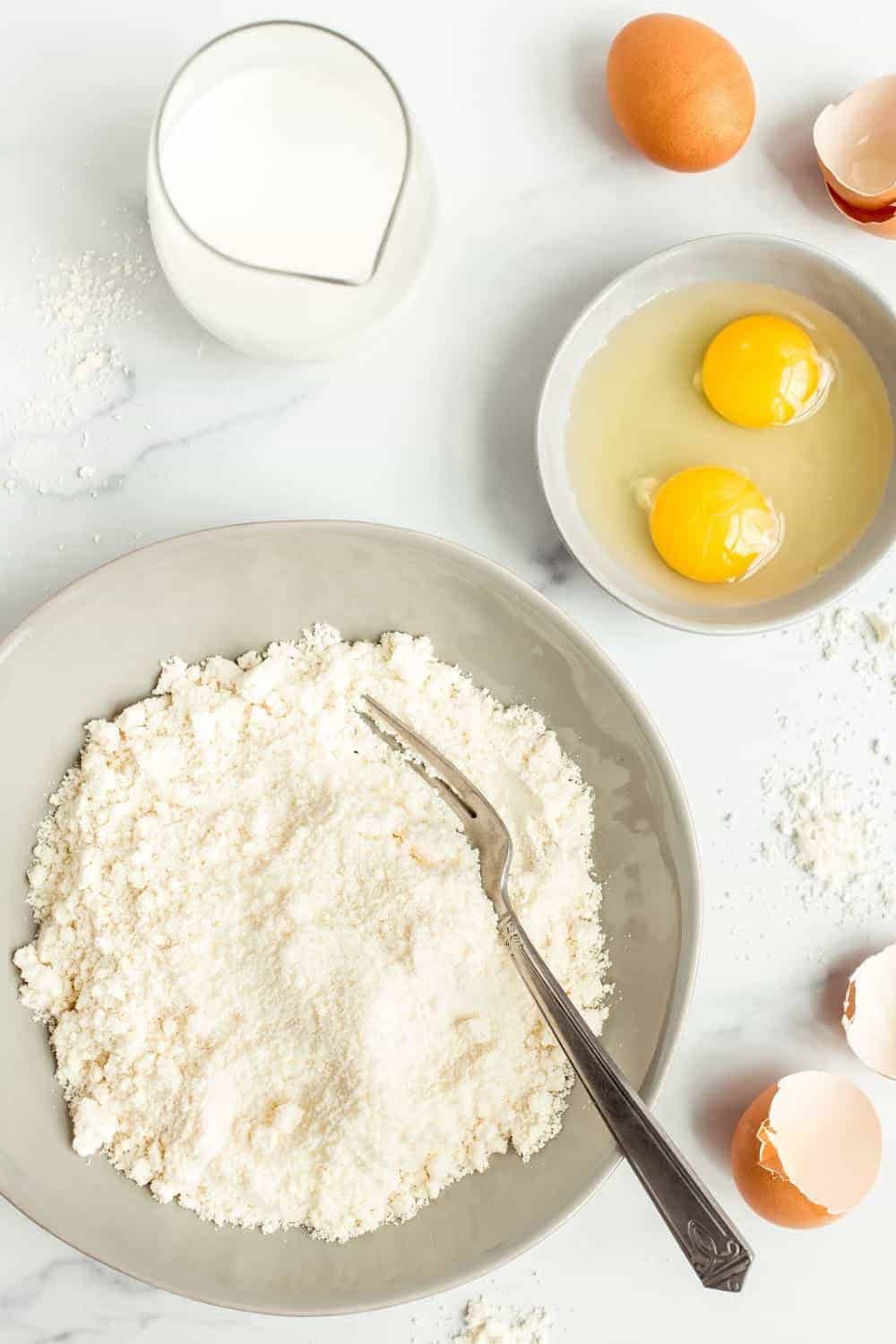 QUICK AND EASY WEEKEND PANCAKES
My family loves a big stack of fluffy pancakes on a Saturday or Sunday morning. And there really is something about seeing their smiles when they're enjoying a big breakfast with all the fixings that fills my heart.
But as much as I love made-from-scratch Pumpkin Pancakes, Peanut Butter Cup Pancakes, or Mascarpone Pancakes, I'm not always awake enough to handle pulling out all of the ingredients and measuring cups for those recipes.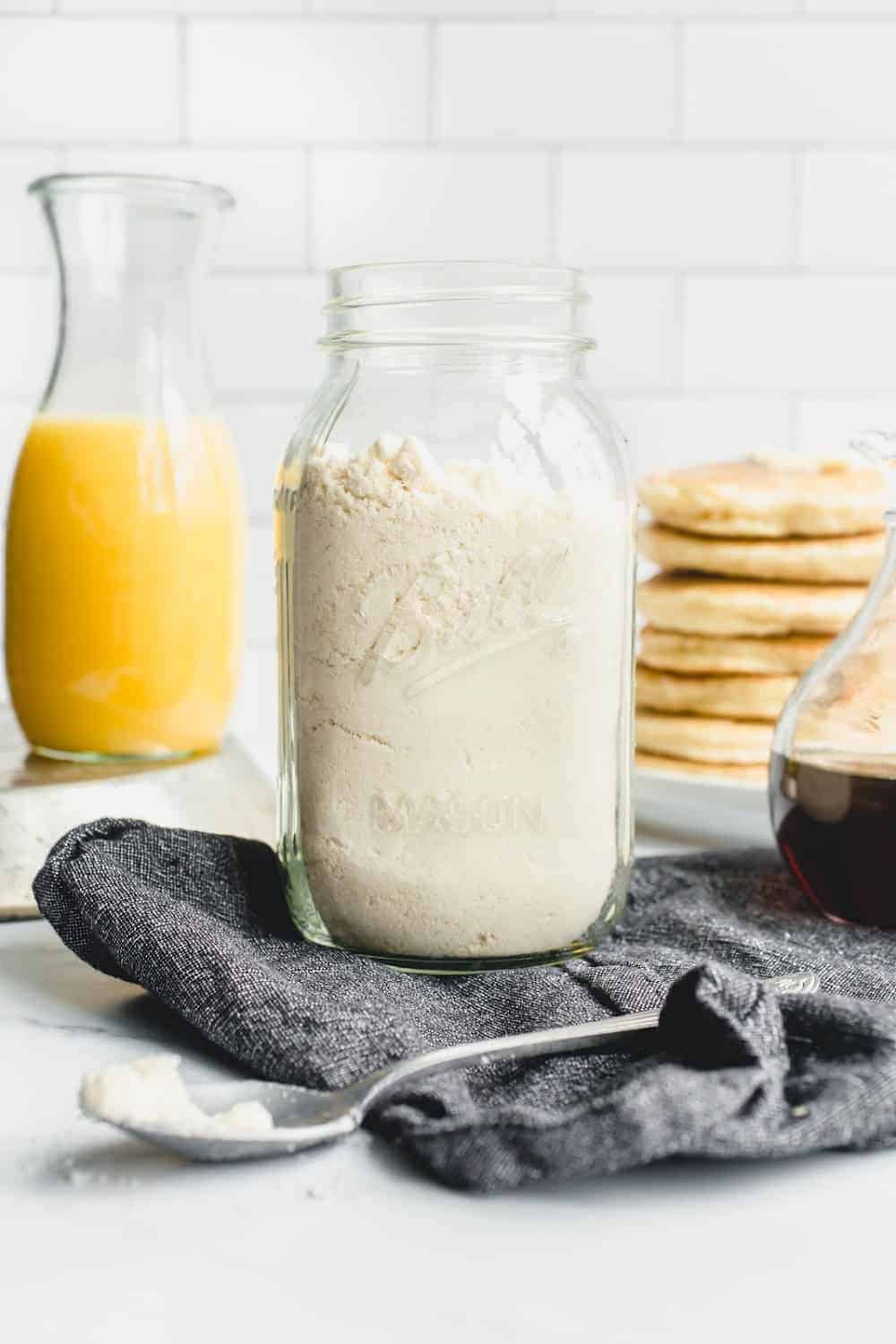 On mornings where even a second cup of coffee can't get my brain up and running, I reach for my Homemade Bisquick and whip up a batch of Bisquick Pancakes instead.
The pancakes are fluffy and delicious and make my family perfectly happy. While I usually make the "ultimate" version that uses a few more ingredients, occasionally I resort to the original recipe that uses only Bisquick mix, milk, and eggs.
Sometimes I even have just enough brain power leftover to make some Homemade Blueberry Sauce to spoon over the pancakes.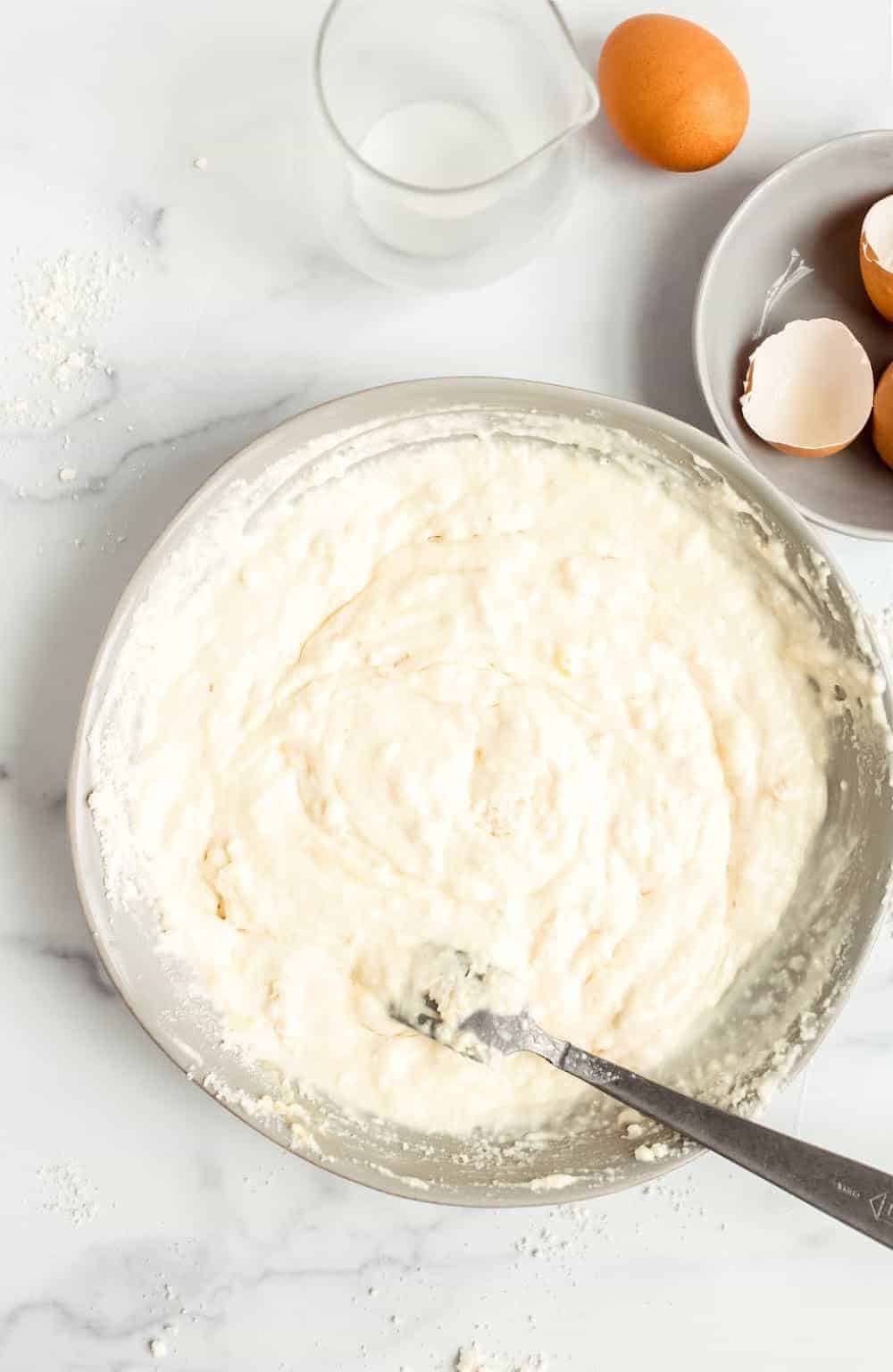 HOW TO MAKE BISQUICK PANCAKES BETTER
I don't think there's anything wrong with the original Bisquick pancake recipe with just Bisquick mix, milk, and eggs. It is super easy to make – especially if you have little hands helping you in the kitchen.
But you can make Bisquick pancakes even better with a few extra ingredients.
In addition to the milk and eggs, you'll want to grab:
Sugar
Baking powder
Vegetable oil
Vanilla extract or vanilla bean paste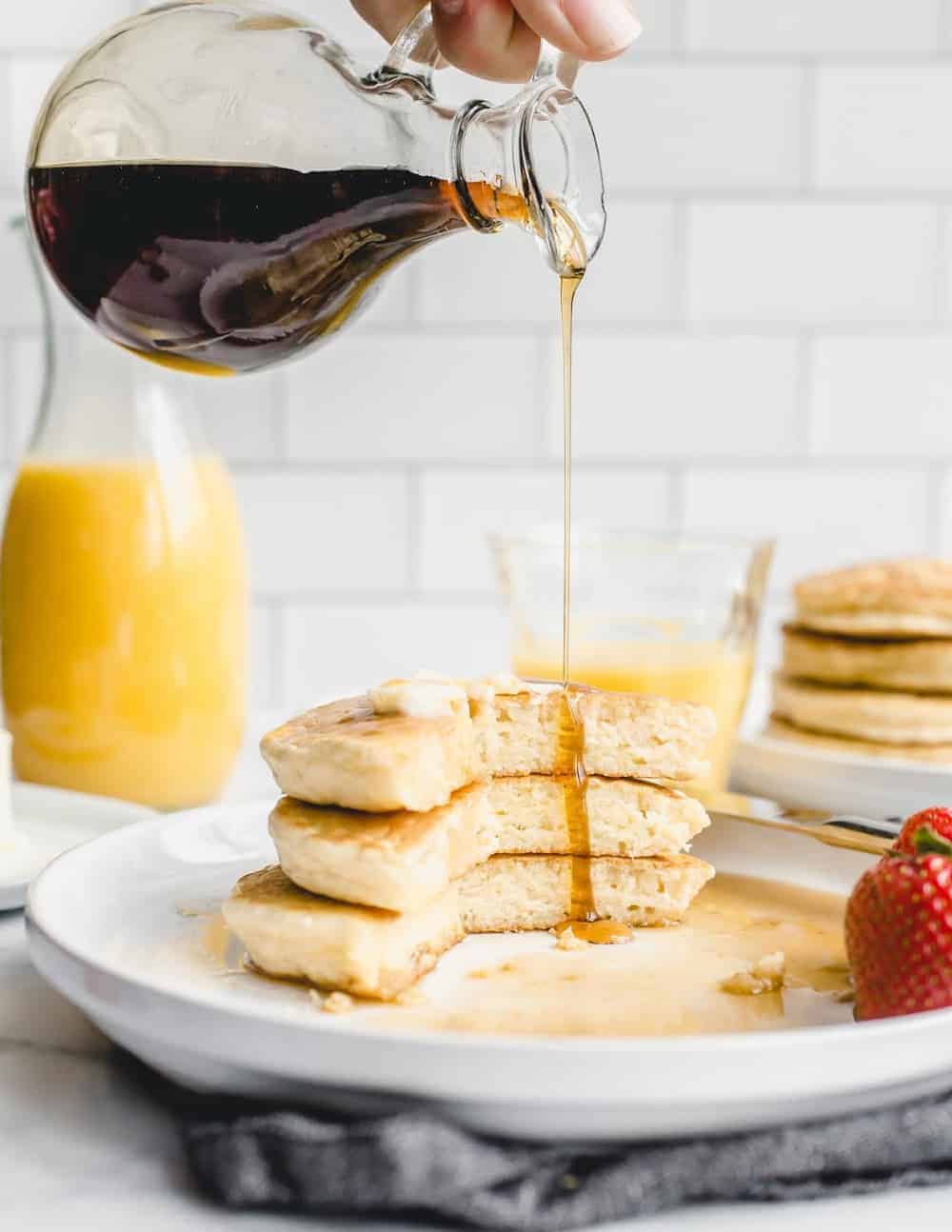 To make the pancakes, simply stir together all of the ingredients until combined, then cook them as you would any pancakes on your greased griddle or pan.
I like to grab my ¼ cup measuring cup to spoon out the pancake batter onto the pan. It's just the right amount of batter for nice-sized pancakes that aren't too big to flip easily.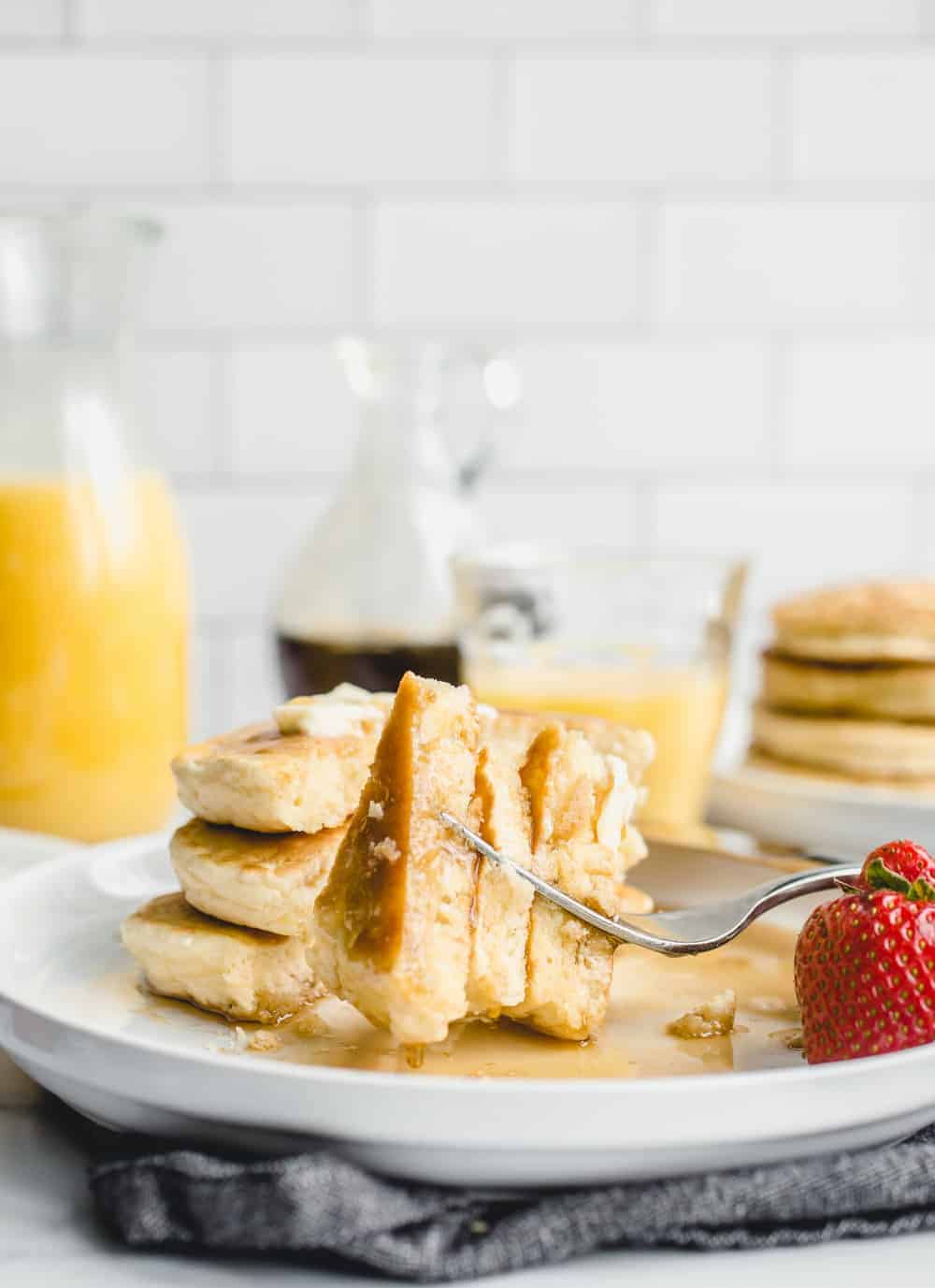 WHAT TO SERVE WITH BISQUICK PANCAKES
Because Bisquick Pancakes are a classic vanilla pancake, there are lots of great ways you can add even more flavor to your fluffy stack of goodness.
Elle loves when I add chocolate chips to these pancakes, but you could add blueberries, sliced bananas, or even chopped peaches.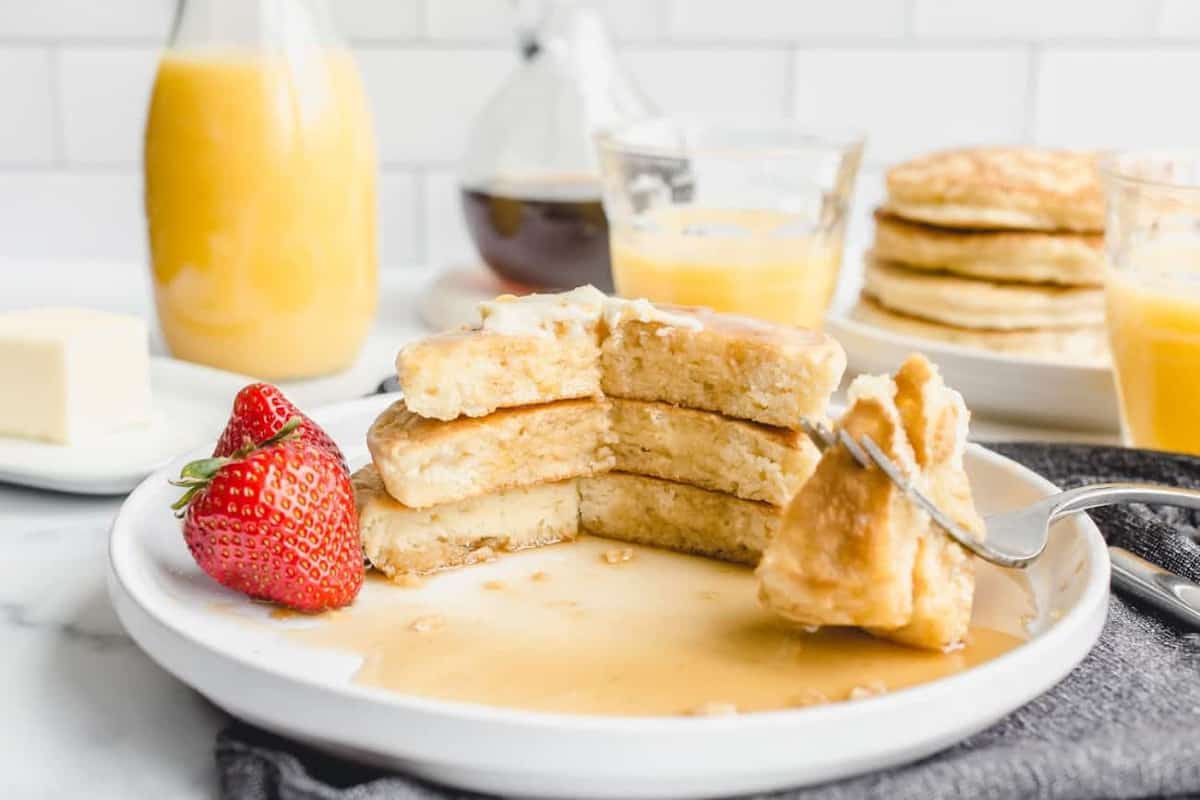 Simply sprinkle your add-ins on top of the pancake batter once you add it to the griddle.
Want to make these for a birthday breakfast? Stir in some colorful sprinkles for a cute funfetti moment!
I already mentioned topping your pancakes with homemade blueberry sauce, but you could try topping them with Microwave Lemon Curd or even Homemade Cherry Pie Filling!
And don't forget whipped cream and hot fudge sauce for a really decadent treat.