Pumpkin pancakes are loaded with sweet pumpkin, warm spices, and toasted pecans. They're the perfect warm and cozy start to any chilly morning.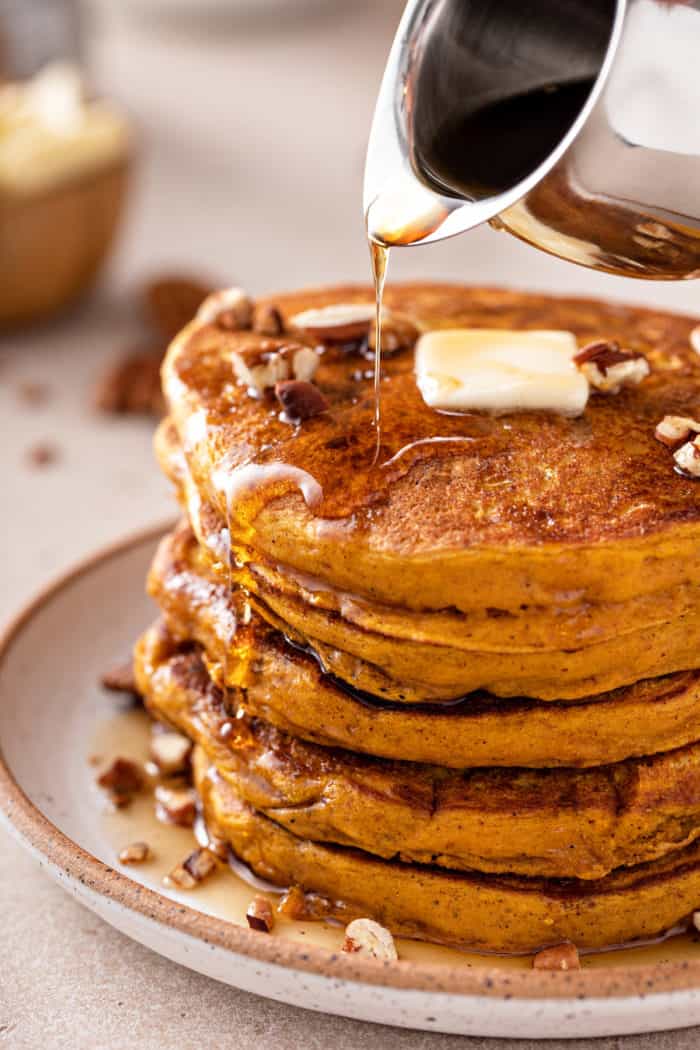 As if fall wasn't already busy enough, we are adding to the madness with a bathroom remodel and some other work around the house.
So my week is spent trying to calm a dog who is anxious about the construction work and trying to figure out if the shipping company really lost our new bathtub on top of all of the normal stuff.
I'm really looking forward to a peaceful weekend morning, ok?
I think this weekend is due for a batch of pumpkin pancakes, a cup of coffee with homemade vanilla coffee syrup, and maybe a trip to the apple orchard.
Sounds like a pretty perfect weekend to me.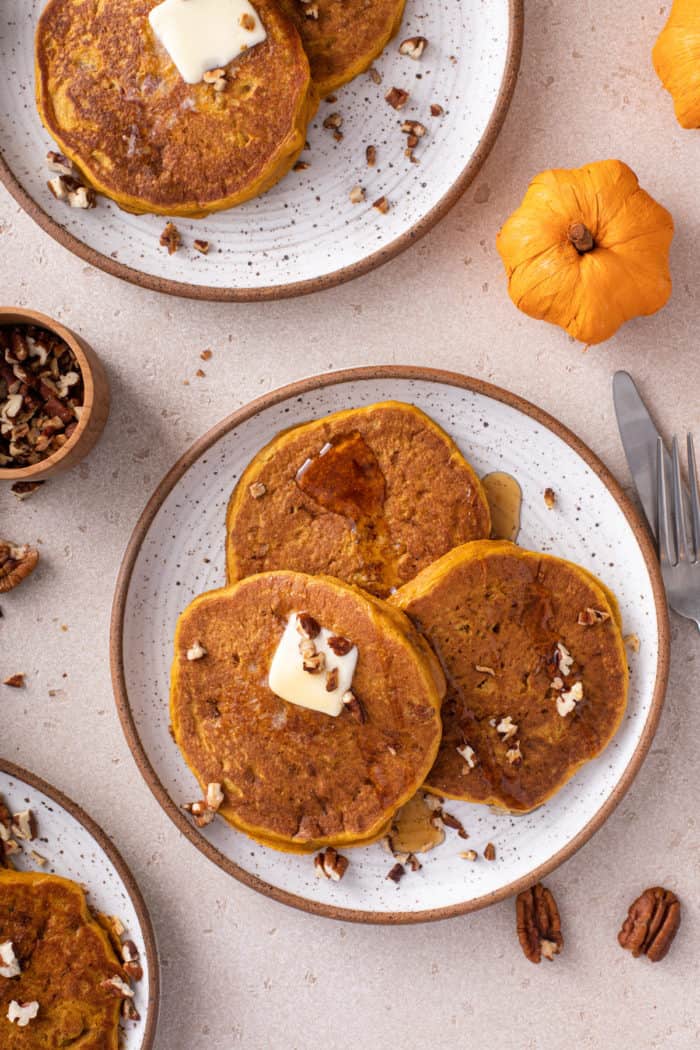 HOW TO MAKE PUMPKIN PANCAKES
Is there anything better than a stack of fresh pancakes on a weekend morning?
As much as I love making simple Bisquick pancakes throughout the year, during the fall I start to crave a big ol' stack of pumpkin pancakes.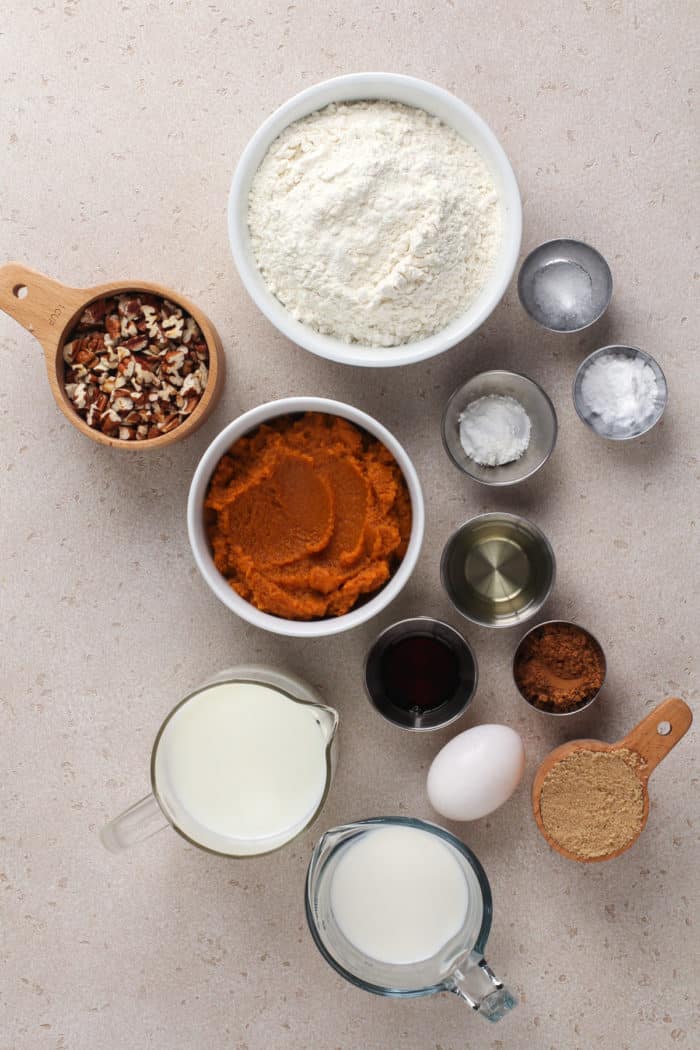 Key ingredients
There are a few ingredients that really bring home the fall flavor in these delicious pancakes:
Pumpkin puree: This recipe uses 1 ⅓ cups of pumpkin puree. That's a lot of pumpkin! Make sure to buy pure pumpkin puree, not pumpkin pie filling.
Pumpkin pie spice: I like to use my homemade pumpkin pie spice – it already contains all of the spices you'd want in these pancakes, so you only have to measure out one thing.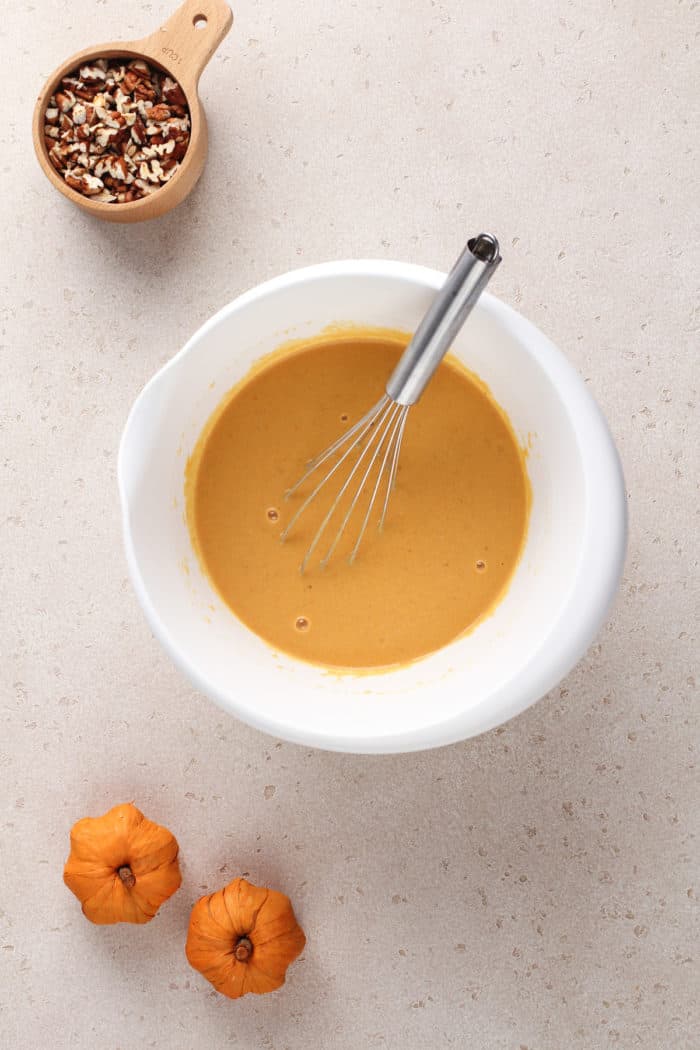 Brown sugar: I love the richness that brown sugar brings to pumpkin recipes. If your brown sugar has hardened, be sure to check out how to soften brown sugar for helpful tips.
Buttermilk: The pumpkin in this recipe could make these pancakes dense, so buttermilk helps to lighten them back up. If you don't have buttermilk on hand, feel free to use my buttermilk substitute.
Toasted pecans: These are technically optional, but I love the texture and flavor that toasted pecans add to these pumpkin pancakes! If you've made my pumpkin crunch cake, you already know how well pumpkin and pecans go together.
Making this recipe
If I'm going to be making breakfast before I've had a full cup of coffee, you know that it needs to be easy. Luckily, pancakes are!
In one bowl, whisk together the buttermilk, whole milk, pumpkin, egg, oil, and vanilla.
In another bowl, whisk together the flour, brown sugar, baking powder, baking soda, pumpkin pie spice, and salt.
Add the dry ingredients to the wet ingredients and stir until just combined, then fold in the pecans. If the mixture is still a bit lumpy, that's actually ok! Just let it rest while you heat your pan.
Heat a lightly oiled griddle or nonstick skillet over medium-high heat. Once the pan is hot, scoop the batter onto the griddle. I like to use about ⅓ cup of batter for each pancake.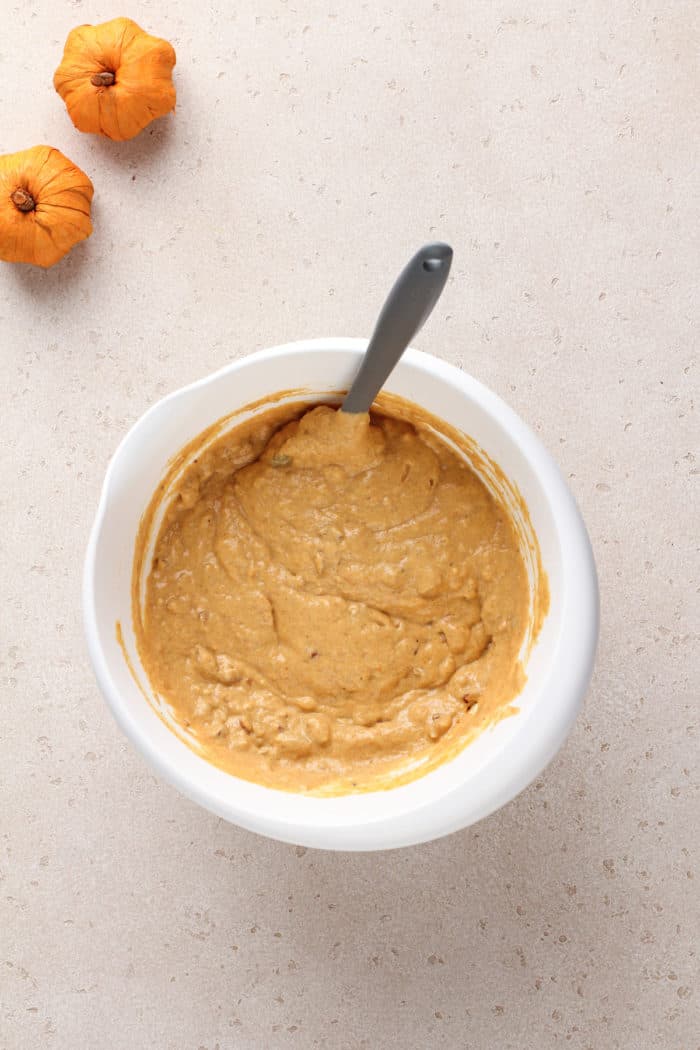 How do you know when pancakes are done?
Luckily, you don't really have to guess at when these pumpkin pancakes are done. They'll tell you!
You'll know it's time to flip your pancakes when bubbles have formed on the top and they are starting to burst. The bottom of the pancakes should be nice and golden.
Flip the pancakes and cook for about 2 more minutes, or until the bottoms are golden again.
It's important to make sure your heat is not too high, or else the bottoms of the pancakes will burn before they are cooked through. When in doubt, keep the heat on the lower side; they might take longer to cook, but you won't end up with raw pancakes!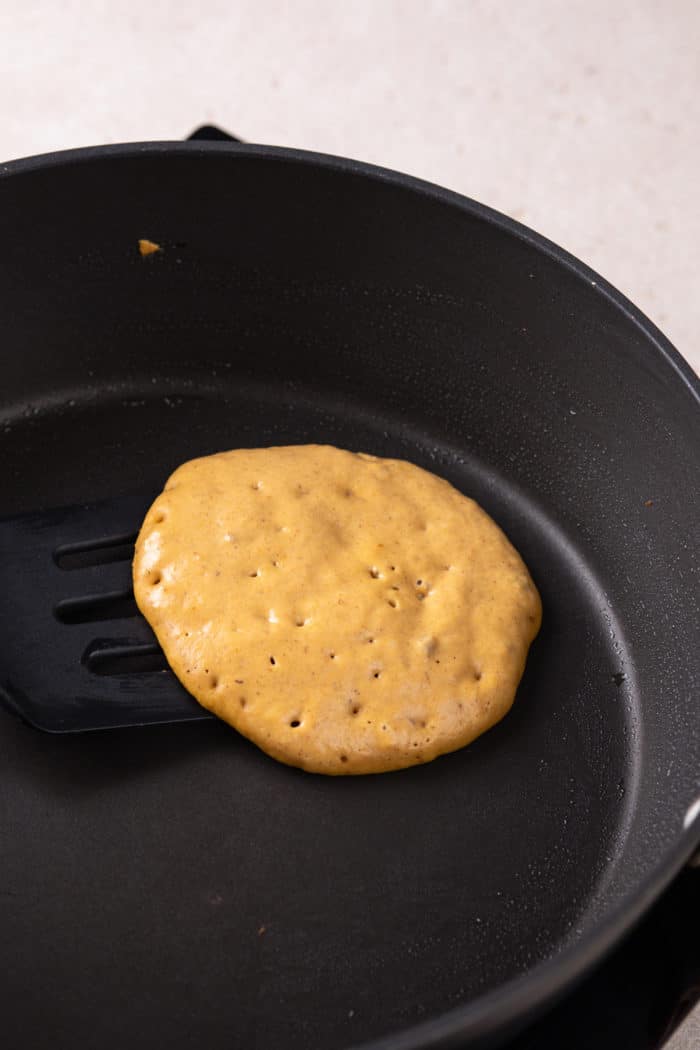 HOW TO SERVE THESE PUMPKIN PANCAKES
I love to keep things classic and serve my pumpkin pancakes with a bit of butter and a drizzle of maple syrup.
If you want to go fancy and make breakfast extra special, you could serve them with a flavored butter – such as whipped maple butter – or a dollop of homemade whipped cream.
If you don't want to stand at the stove flipping pancakes, you can follow my method for making sheet pan pancakes and bake them in the oven instead!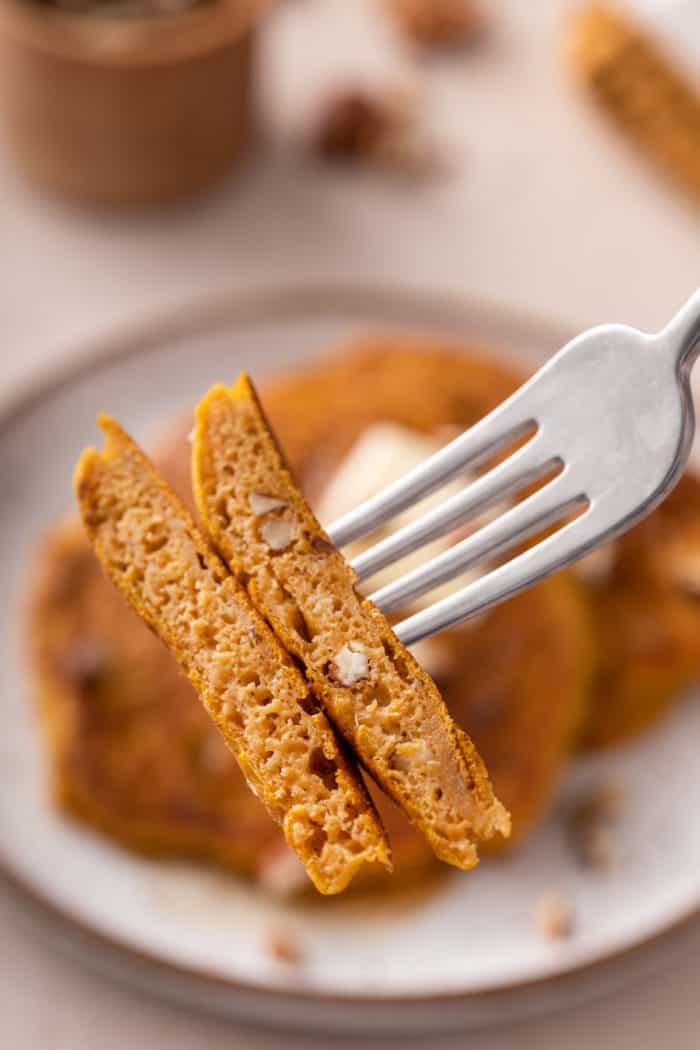 STORAGE AND REHEATING TIPS
Store leftover pumpkin pancakes in a zip-top bag in the refrigerator for up to 3 days.
They also freeze well. And if you're like me and love pumpkin no matter the season, then you'll want to keep a bag of these in the freezer at all times!
To reheat, simply pop a pumpkin pancake in the toaster oven for a few minutes, or the microwave for one to two. Don't forget the maple syrup, please!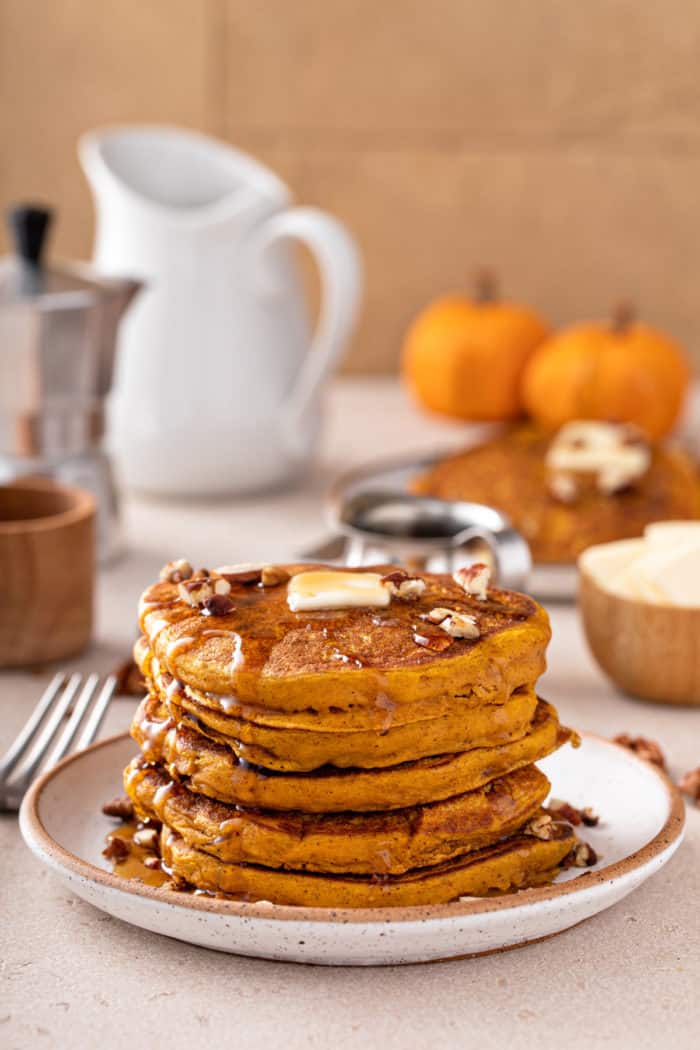 MORE PUMPKIN BREAKFAST RECIPES
Obsessed with all things pumpkin right now? Want to enjoy pumpkin breakfasts all autumn long? If you love pumpkin pancakes, you will definitely want to check out these other breakfast recipes: