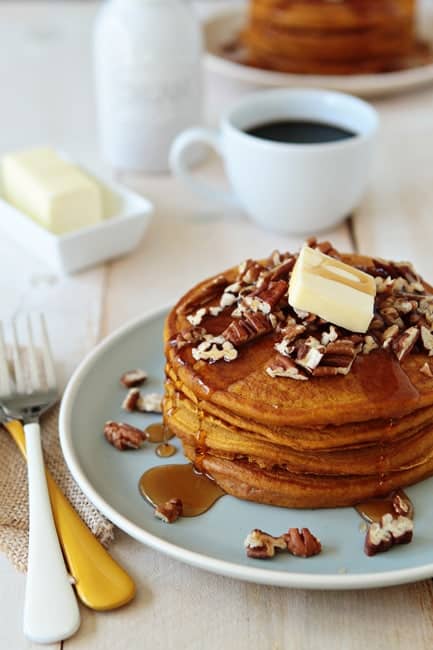 Eric and I were supposed to go out for Sunday brunch yesterday, but after a less than awesome night's sleep, we opted for a homemade brunch – complete with pumpkin pancakes and bacon.
I haven't made pancakes in ages, but the chilly, fall morning air called for something a little heartier than our typical scrambled eggs and toast. And let's face it; I'm down with anything that includes pumpkin pie spice!
Eric and I are both textural eaters (he's way pickier than I am though – just sayin'), so we decided to add toasted Fisher's Pecans to the batter for a delicious crunch. And as you can tell from the photos, we slathered our pancakes in maple syrup, butter and even more toasted pecans.
The result? The perfect Sunday morning brunch – full of Fall flavors and that stick to your ribs feeling that kept us full until dinner.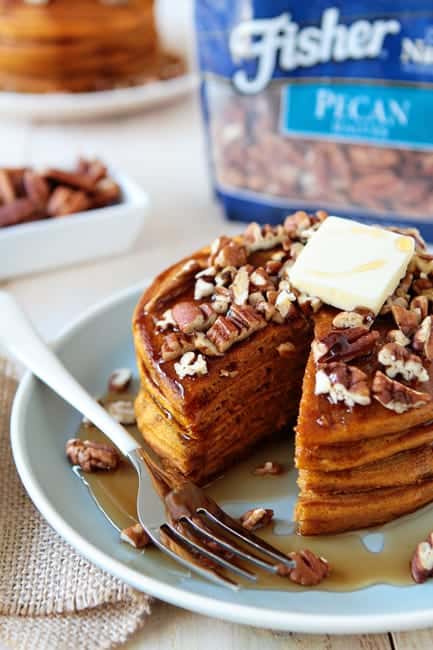 Pumpkin Pancakes
Yield: 4-5 servings
Prep Time: 15 minutes
Ingredients:
1 1/2

cups

 low fat buttermilk
1/2 cup whole milk
1 1/3 cups pumpkin puree
1 large egg
2 tablespoons vegetable oil
1 1/2 teaspoons pure vanilla extract
2 cups all-purpose flour
1/3 cup packed light brown sugar
2 teaspoons baking powder
1 1/2 teaspoons baking soda
2 1/2 teaspoons pumpkin pie spice
1/2 teaspoon salt
1 cup finely chopped toasted Fisher's Pecans (see how to toast nuts)
Directions:
In a medium bowl, whisk together buttermilk, whole milk, pumpkin, egg, oil and vanilla.
In a large bowl, combine the flour, brown sugar, baking powder, baking soda, pumpkin pie spice and salt. Stir

dry

ingredients

into the pumpkin mixture until just combined. Fold in toasted pecans.
Heat a lightly oiled griddle or nonstick frying pan over medium high heat. Pour or scoop the batter onto the griddle, using approximately 1/3 cup for each pancake. Cook until

surface

of pancakes have some bubbles and a few have burst, about 1 to 2 minutes. Using a thin spatula, carefully flip each pancake and cook until browned on the underside, about 2 minutes more. Transfer cooked pancakes to a baking sheet and keep warm in oven. Continue with more oil and remaining batter. If desired, top with additional toasted pecans, butter and high quality maple syrup.
Disclosure: My Baking Addiction has teamed up with Fisher Nuts to develop recipes using their products. This is a sponsored post written as part of that program. All opinions about Fisher Nuts are my own.
23 Responses to "Pumpkin Pancakes"