Pumpkin Pancakes are loaded with delicious fall flavor. They're the perfect warm and cozy start to any chilly morning.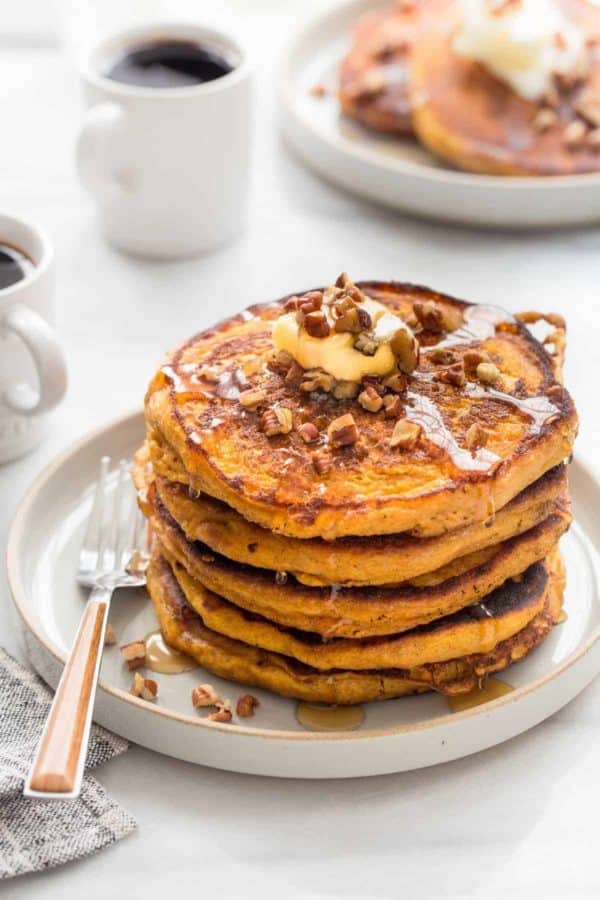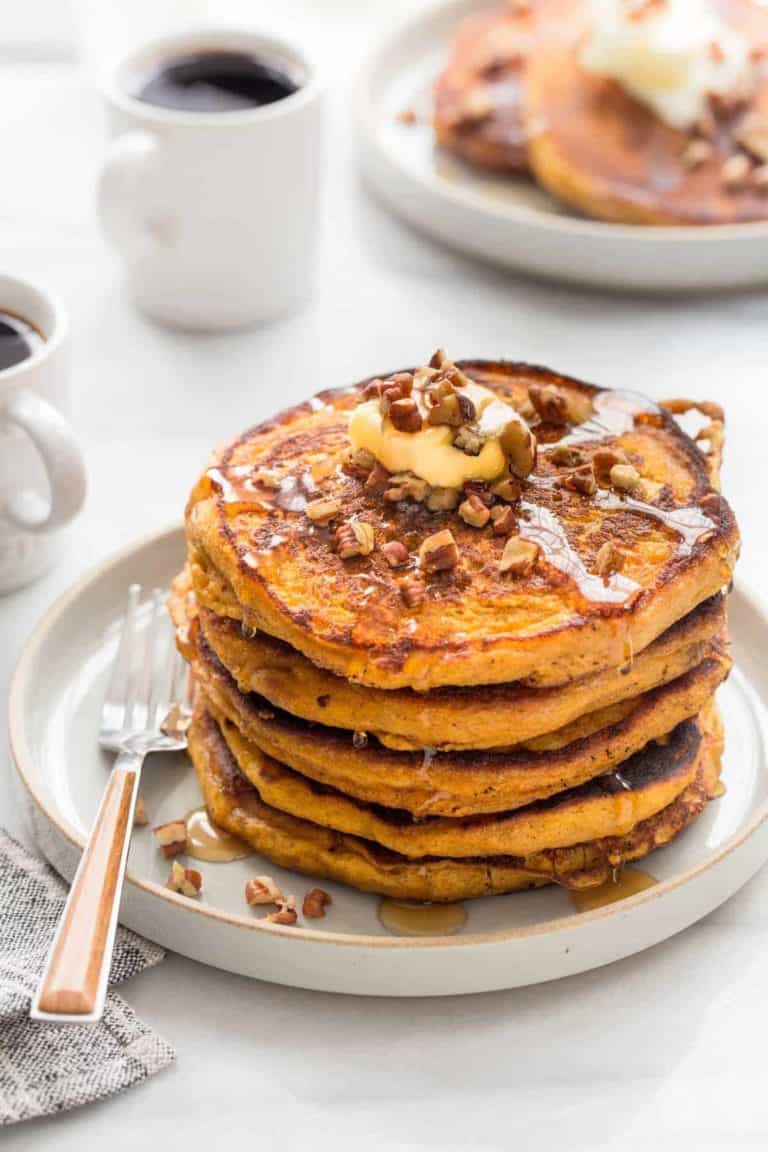 Last week I received an email from a gal named Sarah (hey, Sarah, hey!) about my Pumpkin Crunch Cake. She wrote to tell me how much she enjoyed the recipe and that she'd be making it along with a pumpkin roll for Thanksgiving dinner.
By the way, if you haven't tried those recipes, you need to!
Sarah then asked why I don't share more of my daily life on social media. She said she'd love to see behind the scenes stuff on Snapchat or Instagram Stories for a sneak peek into my life as a full time blogger and toddler mom.
Well, I didn't really have an answer, so I had to think about it.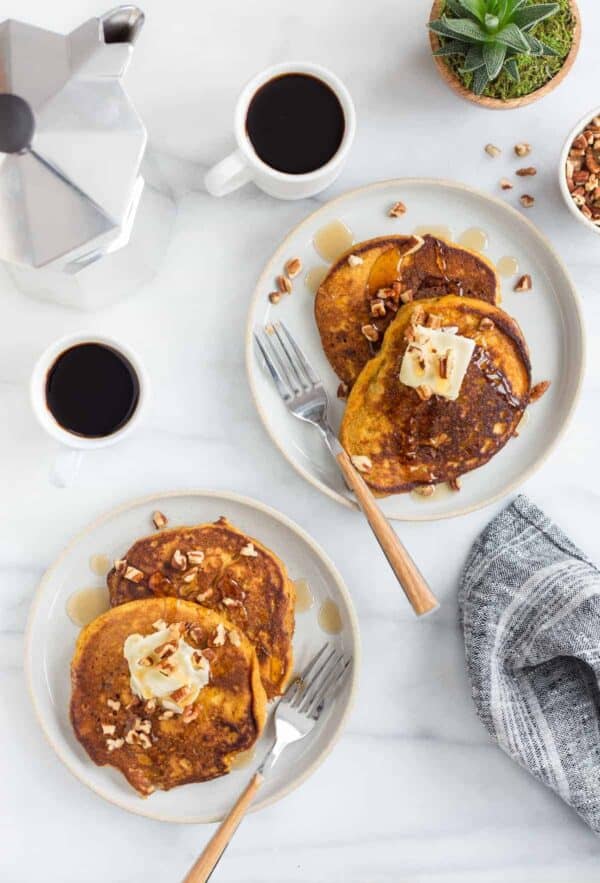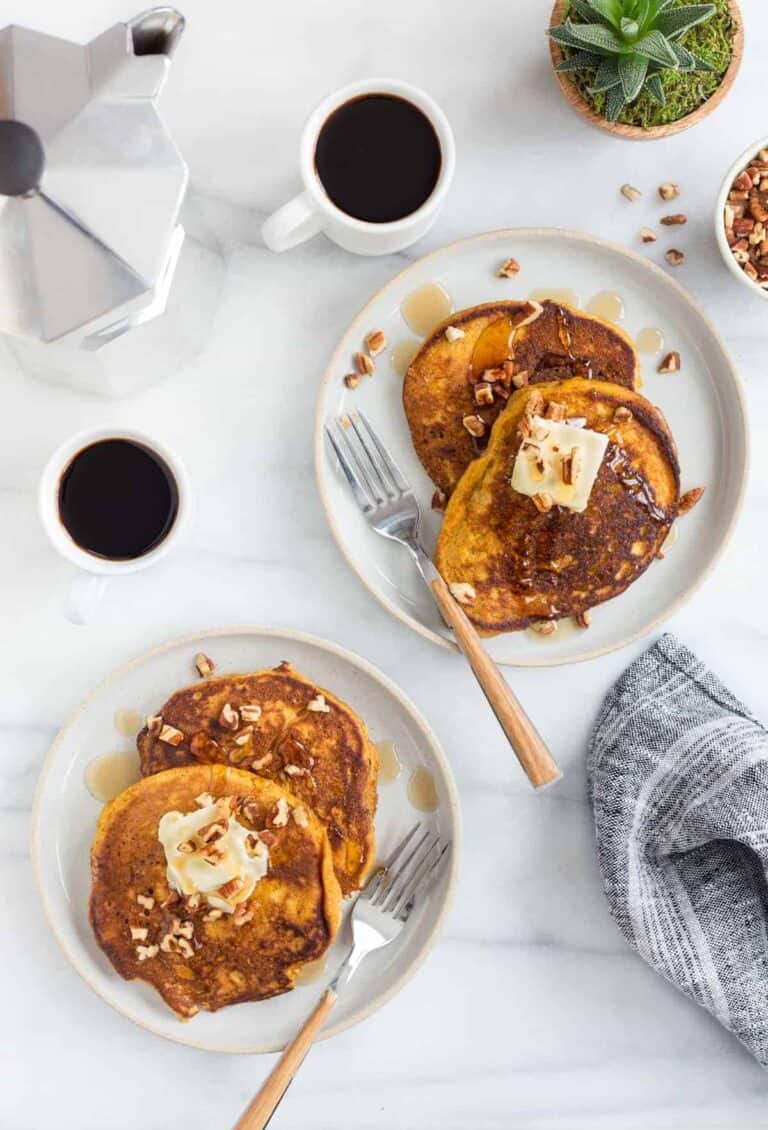 Okay, wait… I did have an answer for the Snapchat question. I don't use Snapchat because I kinda hate it. However, I do love me some Instagram Stories.
Then I started to think about why I love certain bloggers' stories so much. And I think it's because things are more unfiltered there.
Obviously I'm not talking about the photo filters that will make you look ahhh-mazing after 3 hours of sleep coupled with zero coffee. Can this mom get a real life "pretty" filter, please?
I'm talking about the way some of my fave bloggers present themselves on Instagram Stories. Ya know, messy buns, boxed mac and cheese for lunch and less than perfectly lit, over-styled photos. Just kind of real life, and I love real life.
But guys, I struggle with real life sometimes.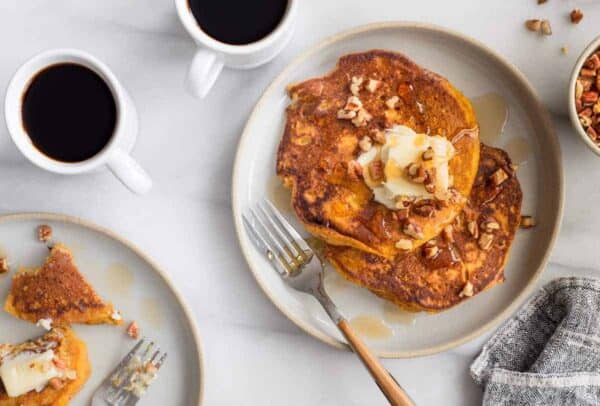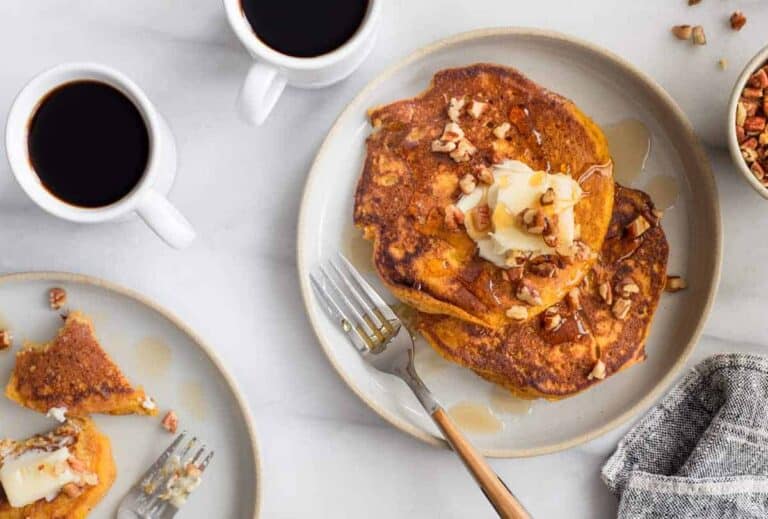 Anyone that knows me in real life knows that I am a perfectionist in every sense of the word. And to be honest, I can be pretty hard on myself if I don't think things are good enough. It's something I'm working on, and probably always will be.
I guess I shy away from Instagram stories and other behind the scenes stuff because it sort of terrifies me to put myself out there for people to see.
And let's be real, it would probably take someone like me 45 minutes to record 4 clips for a total of 30 seconds of footage because I'd keep filming them over and over.
Plus you guys might be able to tell I'm on day 3 hair and the dry shampoo just isn't cutting it anymore and that I live in my favorite hoodie. Or that I don't have pretty white marble counters and white brick in my kitchen and I just fake it in photos.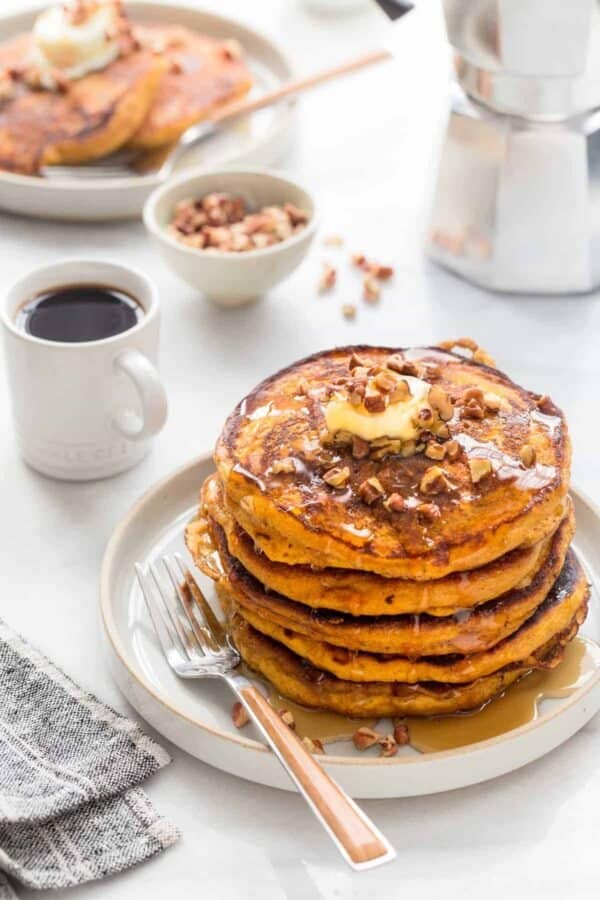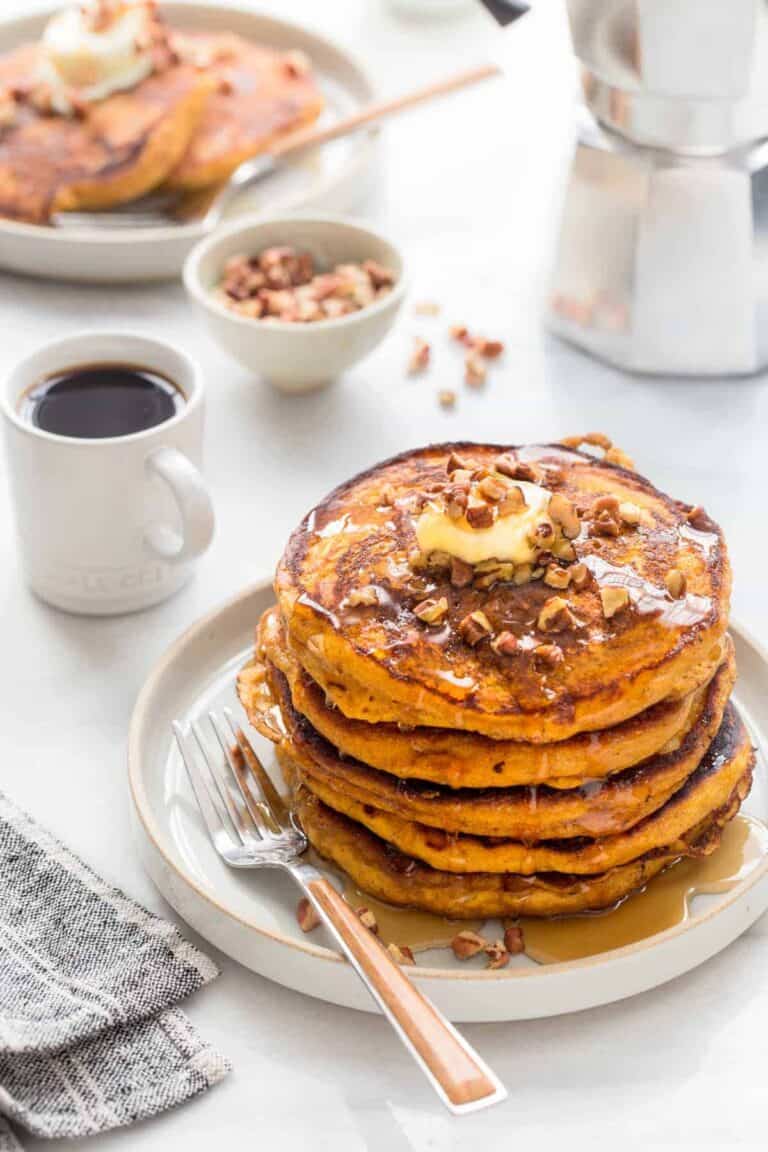 For the record, I have cream cabinets and granite that I loathe.
So, this is me, putting myself out there a little bit more. I'm not saying I'm jumping on the InstaStories bandwagon this very second.
But it's possible I'll try to share more. More of me, more of Elle and Eric.. all of it. Speaking of, you guys – husband with a torn ACL? It's just no fun for anyone. Send pro tips if you have them.
These pumpkin pancakes are a side effect of baking with pumpkin pretty much non-stop since the calendar flipped to September, and a need to not make anything complicated for dinner.. Or brinner, as my friend Amber calls it.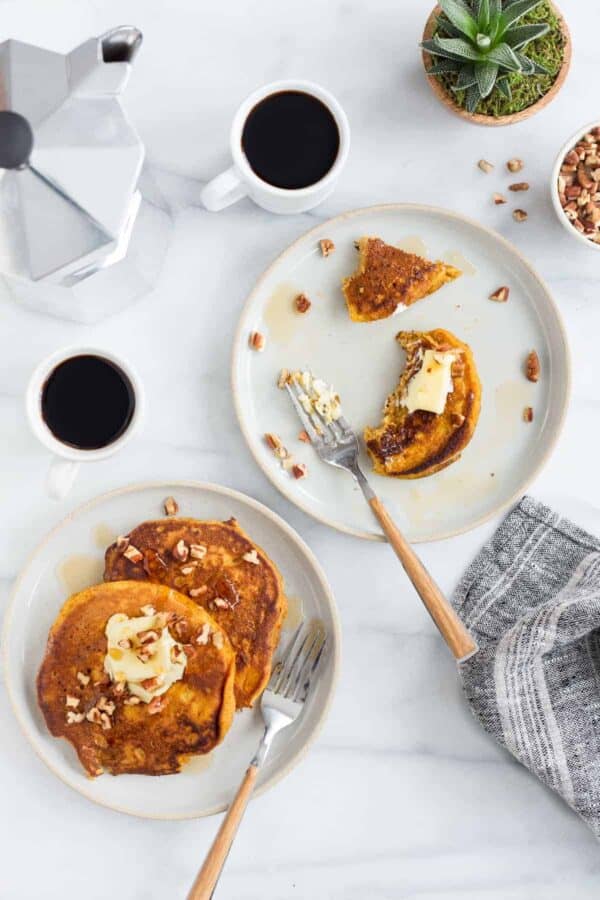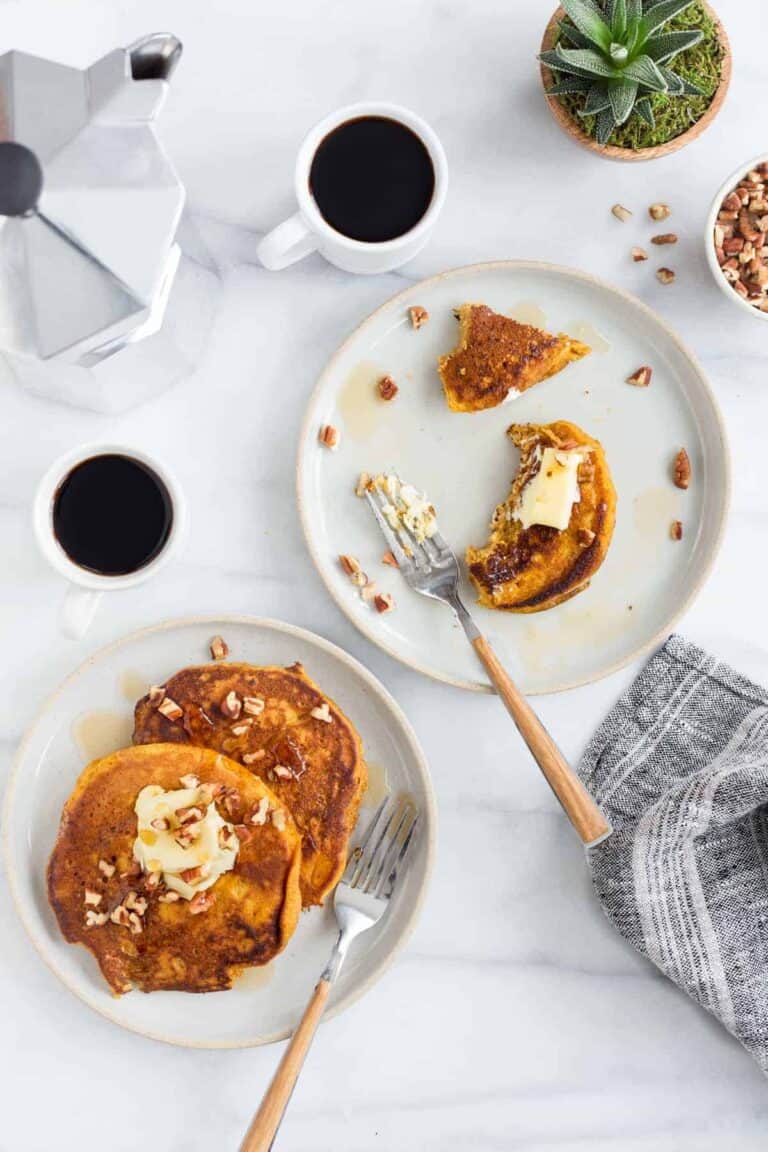 They're a great way for you to feel fall-ish without a whole lot of effort, which, let's face it, is me most days. I wasn't kidding about Day 3 hair, y'all.
These pancakes would be great for breakfast on Thanksgiving morning – not complicated, but enough fuel to get you through to turkey time. But they're also just really great every day of the year.
They freeze well. And if you're like me and love pumpkin no matter the season, then these pumpkin pancakes are just as perfect in April as they are in November.
To reheat, simply pop them in the toaster oven for a few minutes, or the microwave for one to two. Don't forget the maple syrup, please!
So, what do you think? More than just recipes on my Insta Stories? Tell me.
For more delicious pumpkin recipes like these pumpkin pancakes, be sure to check out this pumpkin bread, this marshmallow pumpkin pie and these pumpkin cheesecake muffins. Can ya tell I have a serious thing for pumpkin? If pumpkin isn't your thing, these Easy Homemade Pancakes are always a great idea.