Homemade Vanilla Coffee Syrup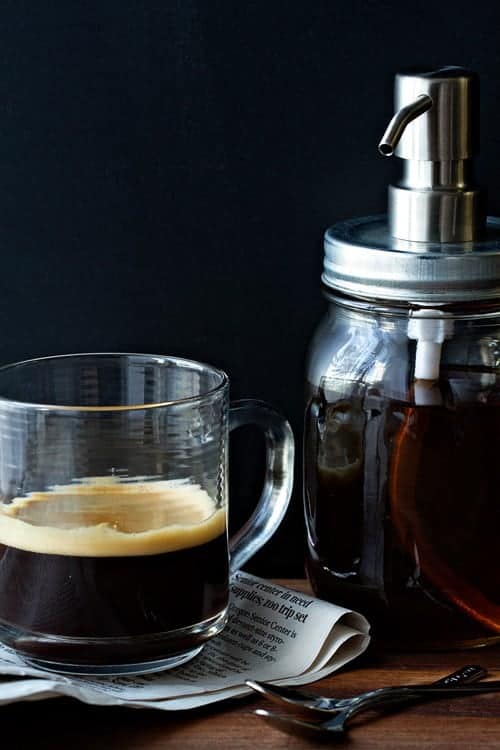 Homemade Vanilla Coffee Syrup: With only a few ingredients, you can make delicious homemade vanilla syrup to flavor your coffee, tea, sodas, and cocktails.

If you caught my post last week, you know that I've developed quite the obsession with my Nespresso machine.
I haven't gone through the Starbucks drive-thru in weeks and that friends, is saying something. And if I'm being honest, I don't miss forking over five bucks a visit for a latte. I mean – really, it's just steamed milk and espresso. I work from home now, and if I'm keeping it real, that translates to yoga pants, t-shirts and Birkenstocks until at least 11 am everyday, so making coffee in my own kitchen is totally the way to go.
Speaking of working from home. How is it that I quit my job, yet I feel a gazillion times busier?
From baking, photographing, social media and writing posts – this blogging full time stuff is serious business. And don't get me started on email, I'm fairly certain I have over 100 unread messages this week. I'm thinking about setting up a permanent away message, so people don't find it odd when I reply to their questions in 2016. I'm trying – I promise.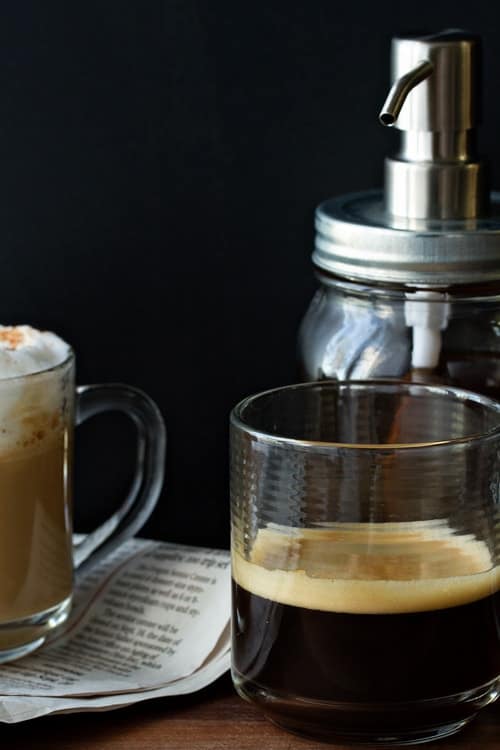 This weekend brought our very first taste of Fall weather and it was glorious. I wrote a few blog posts, made doughnuts and sipped a couple of lattes which caused me to deplete my bottled vanilla syrup supply. And since ordering from Amazon Prime on the weekends is a real bummer because the whole 2 day shipping really mean 3-4 days, I decided to just make my own. It was delicious, so I just had to share it with you!
It really couldn't be easier – just boil water, sugar and a vanilla bean for about 5 minutes then add in a little vanilla extract. If you're feeling a little fancy, you can funnel it into a cute bottle and just store it in the fridge.
Homemade Vanilla Coffee Syrup may just be my new favorite thing for Autumn. It's warm and toasty, and the perfect complement to coffee, espresso, or heck, even sparkling water. What are you waiting for?
This post may contain affiliate links. We are a participant in the Amazon Services LLC Associates Program, an affiliate advertising program designed to provide a means for us to earn fees by linking to Amazon.com and affiliated sites.