Eclair Cake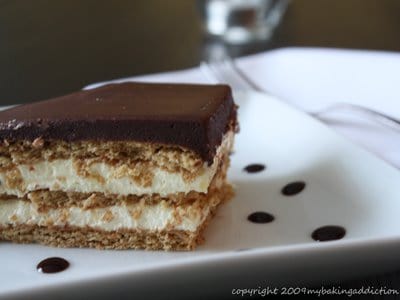 I am not a huge doughnut fan unless the doughnut happens to be an Eclair. There is something about deep fried dough with oozing vanilla pastry cream and chocolate frosting that makes my smile. I first sampled a cake version of my ever so beloved eclairs at a work related pot luck lunch. I was shocked to learn how truly simple this cake was to assemble, not to mention the handful of ingredients that led up to one tasty, crowd pleasing cake. I have probably made this five times since it first crossed my lips last spring, but I have yet to blog about it for whatever reason. However, when I made this on Tuesday evening, I was sure to snap some pics of it before diving in! I think I really enjoy this recipe because it is so simplistic, yet it produces something that is quite delicious! This recipe is perfect for someone just starting out in the kitchen, someone looking for a quick and easy weekday dessert or someone simply looking for something sweet and scrumptious!
Eclair Cake
Ingredients
2 (3.5 ounce) packages instant vanilla pudding mix
1 (8 ounce) container frozen whipped topping, thawed
3 cups milk
1 (16 ounce) package graham cracker squares
1 (16 ounce) package prepared chocolate frosting
Directions
1. In a medium bowl, thoroughly blend the pudding mix, whipped topping, and milk.
2. Arrange a single layer of graham cracker squares in the bottom of a 13×9 inch baking pan. Evenly spread half of the pudding mixture over the crackers. Top with another layer of crackers and the remaining pudding mixture. Top with a final layer of graham crackers.
3. Melt frosting in microwave for 30 seconds and Spread the frosting over the whole cake up to the edges of the pan.
4. Cover, and chill at least 4 hours before serving.
Variations:
-Substitute chocolate grahams with chocolate pudding and vanilla frosting.
-Use cinnamon grahams with cheesecake pudding and chocolate frosting.
-Try chocolate grahams with coffee flavored chocolate pudding and dark chocolate frosting.
The variations are endless…Have fun!
This post may contain affiliate links. We are a participant in the Amazon Services LLC Associates Program, an affiliate advertising program designed to provide a means for us to earn fees by linking to Amazon.com and affiliated sites.