Fundamentals: Buttercream Frosting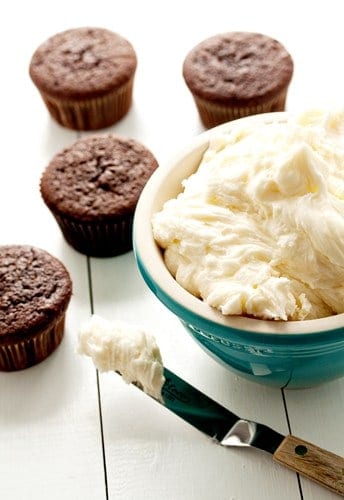 One of the most common questions that I get from my readers is about buttercream frosting, so I figured this would be the perfect topic for my second Fundamentals post.
Although I have made several types of buttercream frosting recipes, the recipe I am going post is by far my favorite due to its flavor, simplicity, and smooth texture. Essentially, this buttercream recipe can be infused with many different flavors to accompany your dessert.
There are many variations of recipes for buttercream; however, I prefer using unsalted butter for the fat component because I find it to be less greasy than buttercream made with shortening. However, to each their own, if you're a shortening fan, see the notes in the printable recipe box for this adaptation.
This frosting is extremely easy to pipe on and holds a shape very well. It will flow easily through a variety of piping tips. My favorite being the 1M from Wilton and the large round and large French tips from Bake It Pretty. With this basic buttercream recipe under your belt, you'll be well on your way to creating cake and cupcake masterpieces.
Fundamental Information
Basic Buttercream– This buttercream is, fast, simple and what you see on most grocery store cakes. It's essentially fat (butter, margarine, shortening), confectioners' sugar, and vanilla extract whipped together.
Swiss Meringue Buttercream– This type of buttercream in made by cooking egg whites and sugar together in a bowl placed on a pot of boiling water. The mixture is continuously whisked while it reaches 140° F. The egg white and sugar mixture is then removed from the heat and whipped at high speed until it forms stiff peaks and has cooled.
Italian Buttercream– This buttercream is made by adding simple syrup, which is made by heating sugar and water (soft-ball stage) to the egg-whites and allowing the syrup to cook the egg whites and whipped to form stiff peaks.
Fundamental Gear
-big bowl
-electric mixer; if using a stand mixer I recommend the paddle attachment
-rubber spatula
Uses for Homemade Buttercream
-Frosting for cakes or cupcakes
-cupcake filling
-Sandwiched cookie filling
-Anything that has frosting on the top
Fundamental Additions
-citrus zest (lemon, lime, orange, grapefruit)
-various extracts
-beautify your buttercream by adding a touch of gel dyes ( I prefer AmeriColor)
-Add in cocoa powder or melted chocolate
-garnish your buttercream with various sprinkles; just make sure you do this immediately after you frost your baked goods. Once the top layer of the buttercream crusts, nothing will stick

Buttercream Frosting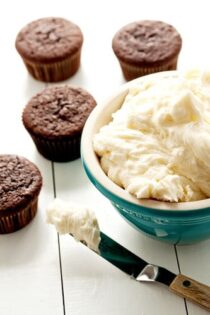 Ingredients:
4 sticks unsalted butter, softened
pinch of fine grain sea salt
1 tablespoon clear vanilla extract
2 pounds confectioners' sugar, sifted
4-6 tablespoons heavy cream or milk
Directions:
In a large mixing bowl, cream butter until fluffy add in salt. Slowly add in confectioners' sugar, and continue creaming until well blended.
Add salt, vanilla, and 3 tablespoons of heavy cream or milk. Blend on low speed until moistened.
Add an additional 1 to 3 tablespoons of heavy cream or milk until you reach the desired consistency.
Beat at high speed until frosting is smooth and fluffy.
Notes:
This recipe will make enough frosting to generously frost 24 cupcakes or one 9 inch layer cake.
You can easily adjust the consistency of this recipe by simply adding in more heavy cream or milk.
If you are a fan of shortening in your buttercream. simply omit one stick of butter and replace with 1/2 cup shortening.
Clear vanilla extract is used in this recipe to keep the frosting nice and white. If you don't mind a slight color change, feel free to use pure vanilla extract, but decrease the amount to 2 teaspoons.
Covered and refrigerated frosting can be stored for up to three days. Simply bring it to room temperature and beat with an electric mixer until smooth. You may need to add a couple of teaspoons of heavy cream or milk to revive the consistency.
If you choose to dye your frosting, go easy with the dye. Remember, you can always add more color, but you can't remove it.
All images and text ©
Follow Jamie on Instagram. We love to see what you're baking from MBA! Be sure to tag @jamiemba and use the hashtag #mbarecipes!
This post may contain affiliate links. We are a participant in the Amazon Services LLC Associates Program, an affiliate advertising program designed to provide a means for us to earn fees by linking to Amazon.com and affiliated sites.