These Halloween Rice Krispie Treats are a simple way to celebrate Halloween! Load them up with festive sprinkles or add in some of your favorite candies.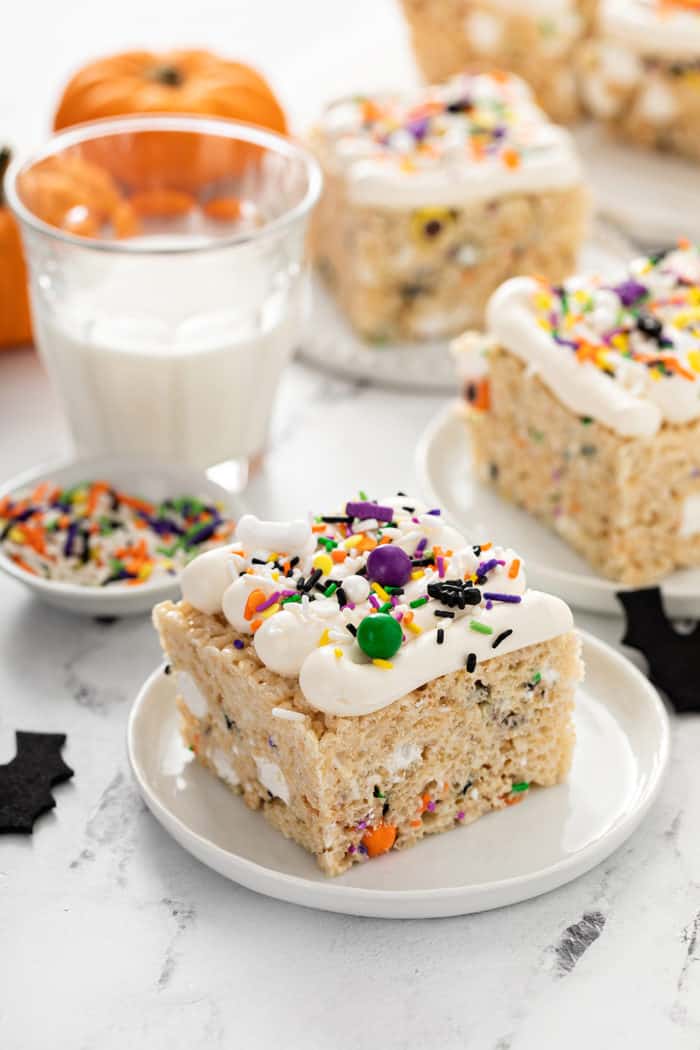 I'm all about simple but festive treats – especially if they're easy enough for my kiddo to help with.
Krispie treats are some of our favorite snacks around here, and not just because they're so easy to make.
Everyone loves them, and you can change them up to match the holidays or whatever mood you're feeling, just like my Halloween popcorn balls.
These easy Halloween treats have pockets of fluffy marshmallow and fluffy frosting, making them even better.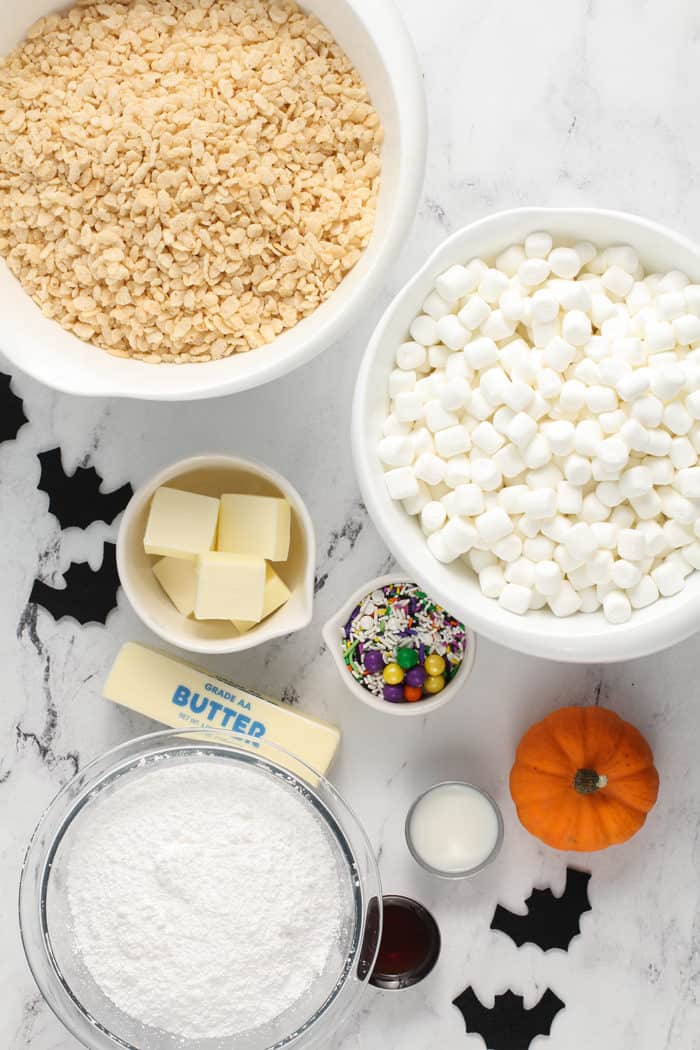 HOW TO MAKE HALLOWEEN RICE KRISPIE TREATS
Just like my other Halloween treat recipes, such as halloween popcorn balls, krispie treats are a great option for making with the kids.
You'll need crisped rice cereal, butter, and marshmallows. I like to use mini marshmallows because they melt more evenly, and they're already the perfect size for mixing extra puffy bites of marshmallow.
To make these Halloween-ready, I added plenty of festive sprinkles.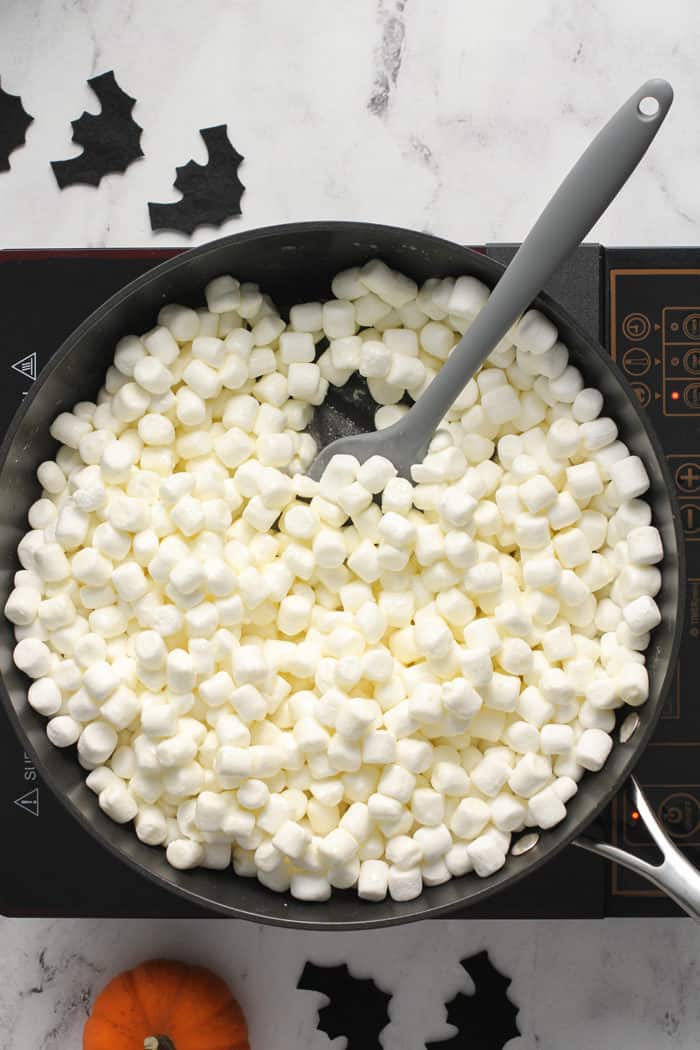 For thick, bakery-sized treats, use a square 9×9 pan. If you prefer thinner rice krispie treats, you can use a 9×13-inch pan.
Make sure to grease the pan well and use a buttered spatula to press the mixture into the pan. You don't want it sticking to everything!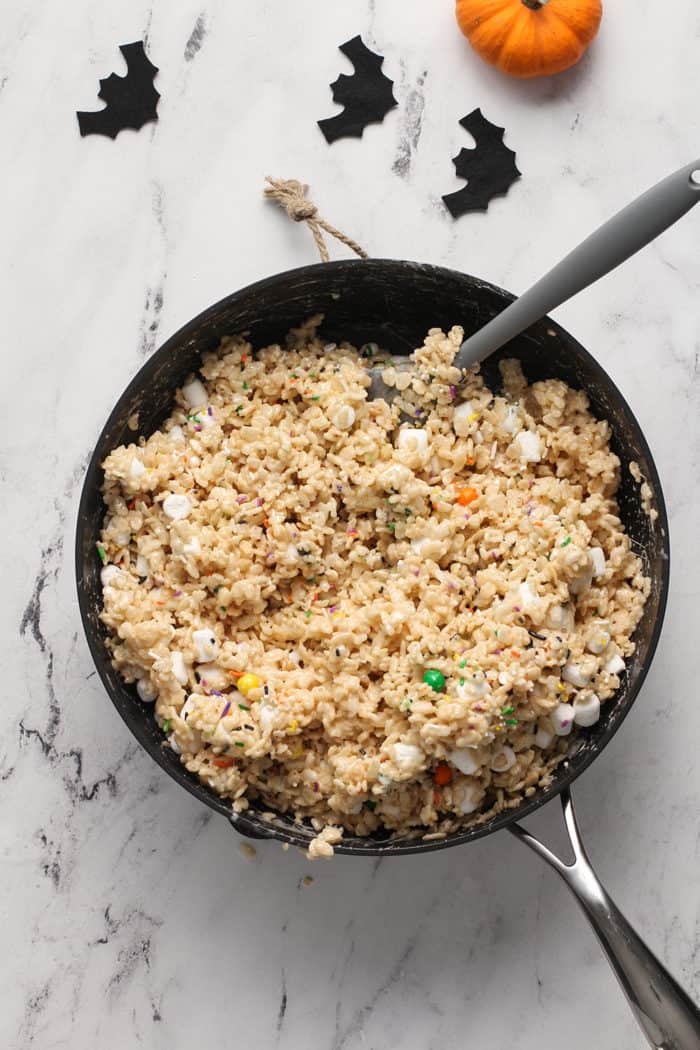 Top them off with a quick buttercream frosting and more sprinkles.
If you haven't had frosted cereal treats before, you're in for a treat. Spread on a full layer like in my frosted maple pecan marshmallow treats, or you can keep it simple like berry cereal treats with a drizzle of melted white chocolate.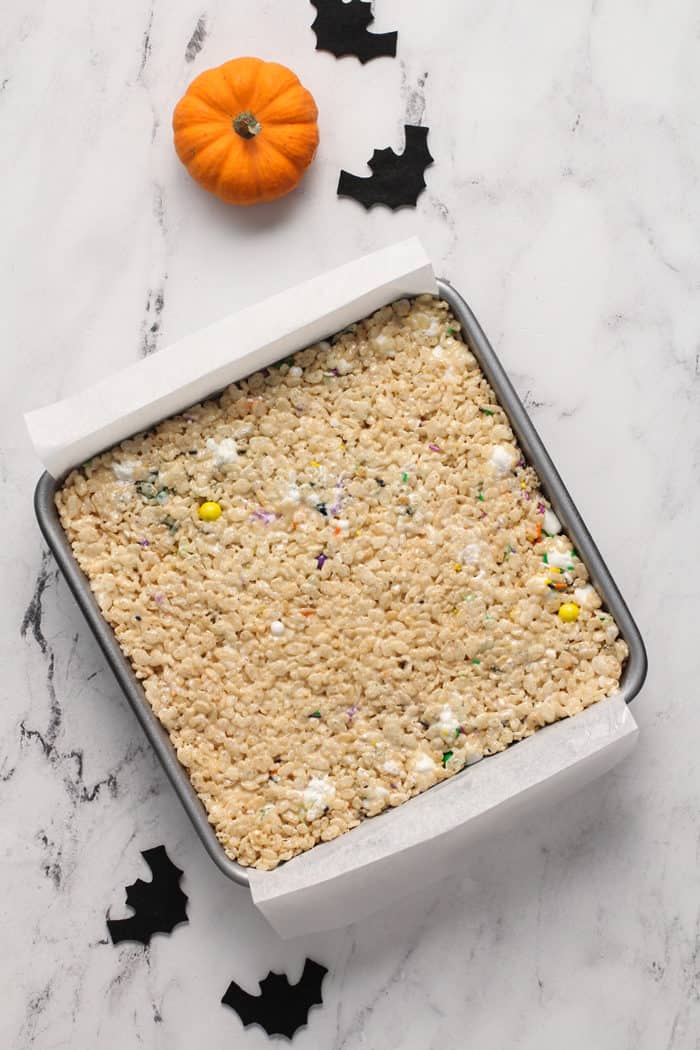 OTHER RICE KRISPIE TREATS VARIATIONS
Want to change up these Halloween snacks a bit? Use sprinkles to add spooky flair to pumpkin spice marshmallow treats or brown butter rice krispie treats.
You can also use flavored marshmallows. There's so many fun options out now, from strawberry to chocolate to birthday cake which would be awesome in these birthday marshmallow cereal treats!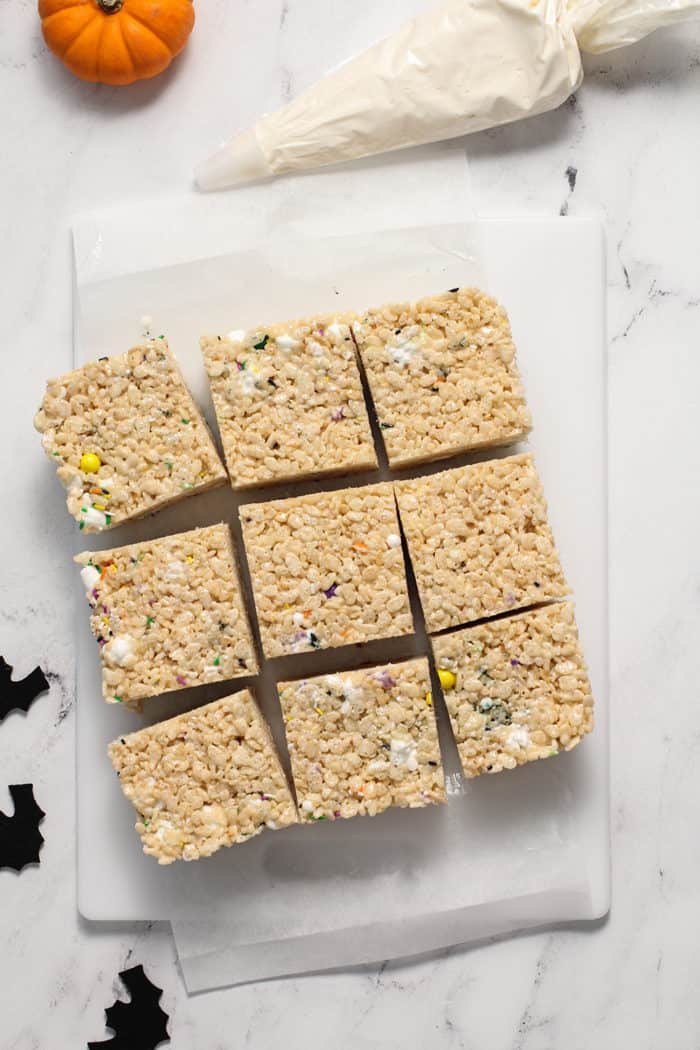 STORING RICE KRISPIE TREATS
Krispie treats are best the same day they are made, but you can keep them in an airtight container for about 3 days.
Air and humidity can make the treats too soft or soggy, so if you use a zip-top bag, be sure to remove any extra air.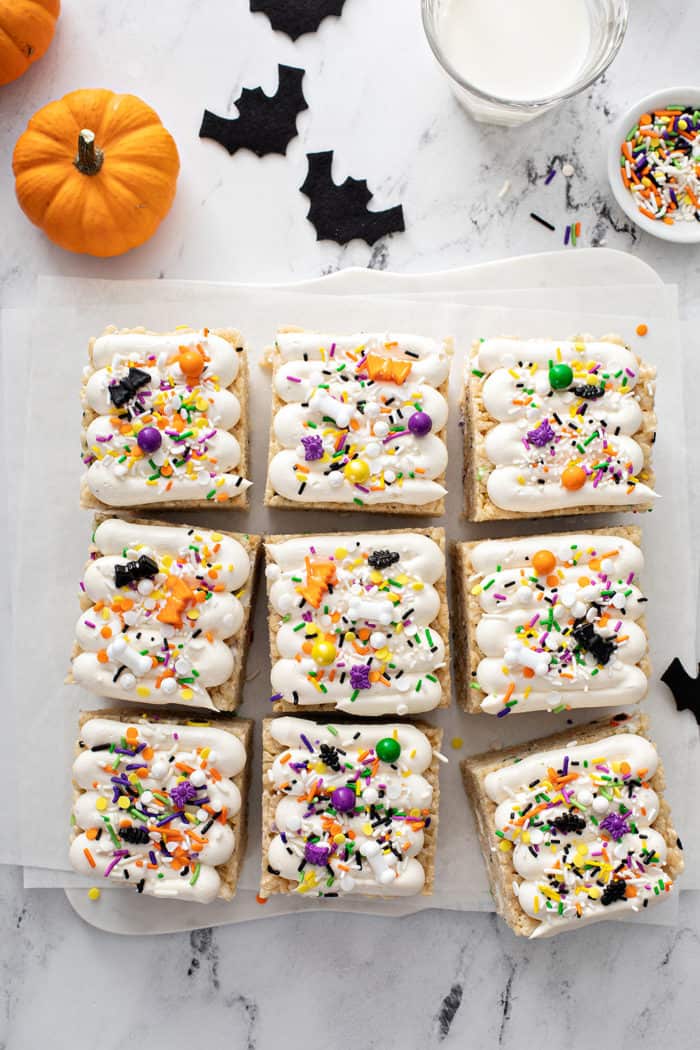 If your treats are too hard, you can pop them into the microwave for a few seconds to soften. Just a few — you don't want the buttercream to melt!
You can freeze krispie treats too, even with the frosting.
Wrap each treat in foil or waxed paper, then place in a freezer-safe container. Storing for up to 3 months.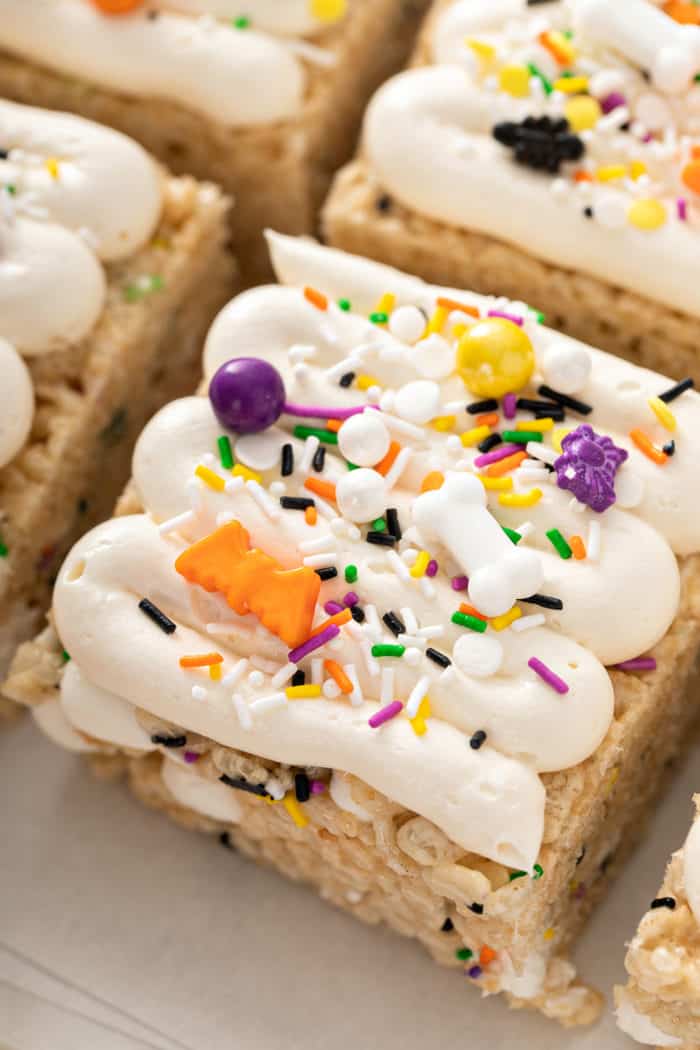 When you're ready to enjoy a treat, remove the number of servings you need and let them thaw at room temperature for at least an hour.
Looking for other Halloween treats for kids (or special grown-ups)? Halloween monster decorated sugar cookies and Halloween dirt cake are a super fun way to celebrate.