Halloween Popcorn Balls combine mini candy corn and seasonal sprinkles with the traditional popcorn to make a fun treat that is perfect for spooky season!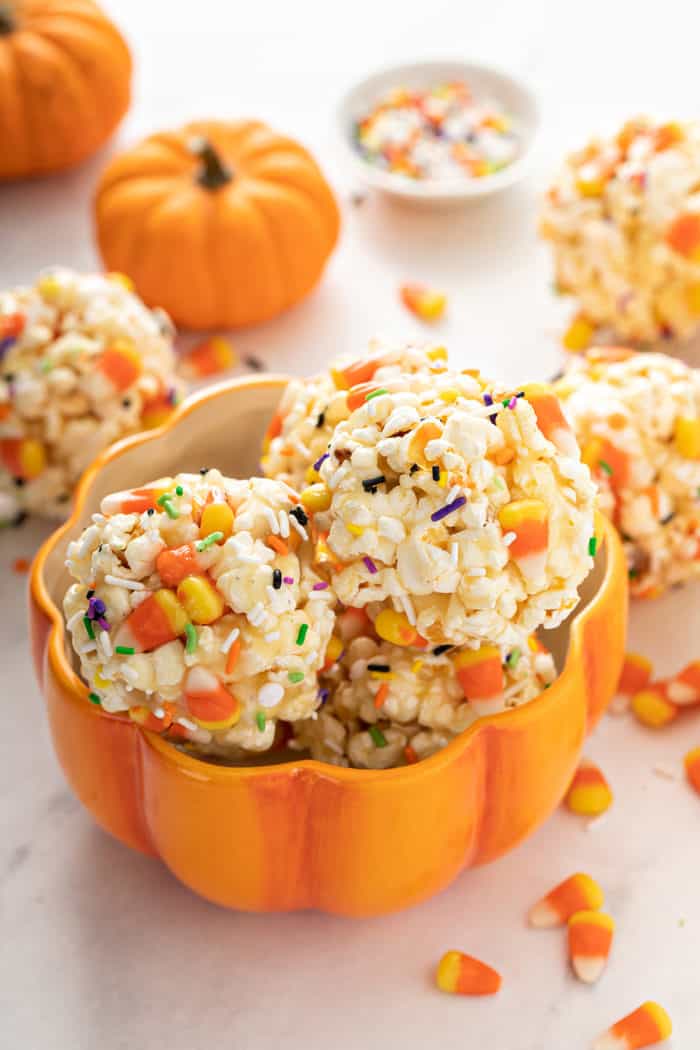 If you're looking for a fun and simple Halloween inspired treat, look no further than these festive Halloween Popcorn Balls.
I have fond memories of enjoying popcorn balls with my family at Christmastime, so I thought, why not extend that joy to Halloween?
Although the popcorn balls I loved at Christmastime were not homemade, they were always something that I looked forward to every Christmas Eve as a kid!
There was just something about that sweet, salty and sticky combo that I just adored, so now I want to pass along this sweet treat and fond memories to my girl, but we're making them homemade!
These Halloween Popcorn Balls are pretty simple to make, but they do involve boiling sugar, so you'll only want little kiddos getting involved with the steps after the mixture has cooled enough to handle. But let me tell ya, rolling and decorating these adorable popcorn balls will be fun for the whole family!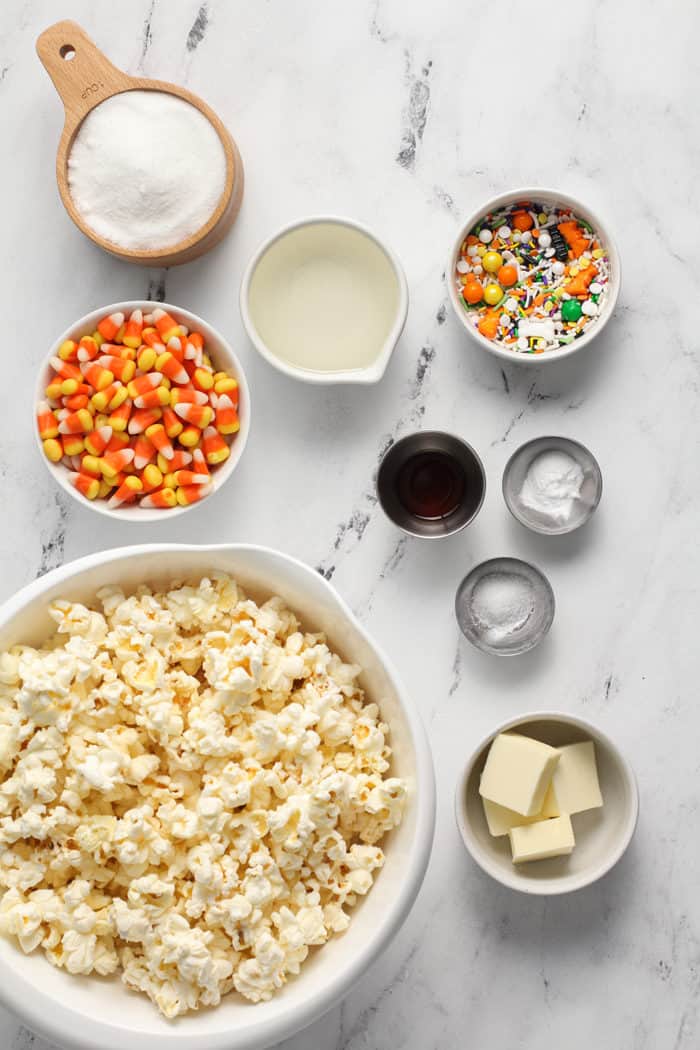 WHAT ARE POPCORN BALLS?
I was surprised to find out that not everyone has popcorn balls as part of their holiday traditions!
If you've never had one, you're in for a treat.
Popcorn balls are made by combining popcorn with either marshmallow cream or caramel. They're both sweet and a little bit salty, and a little bit sticky, like marshmallow cereal treats.
Best of all, they're really easy to make!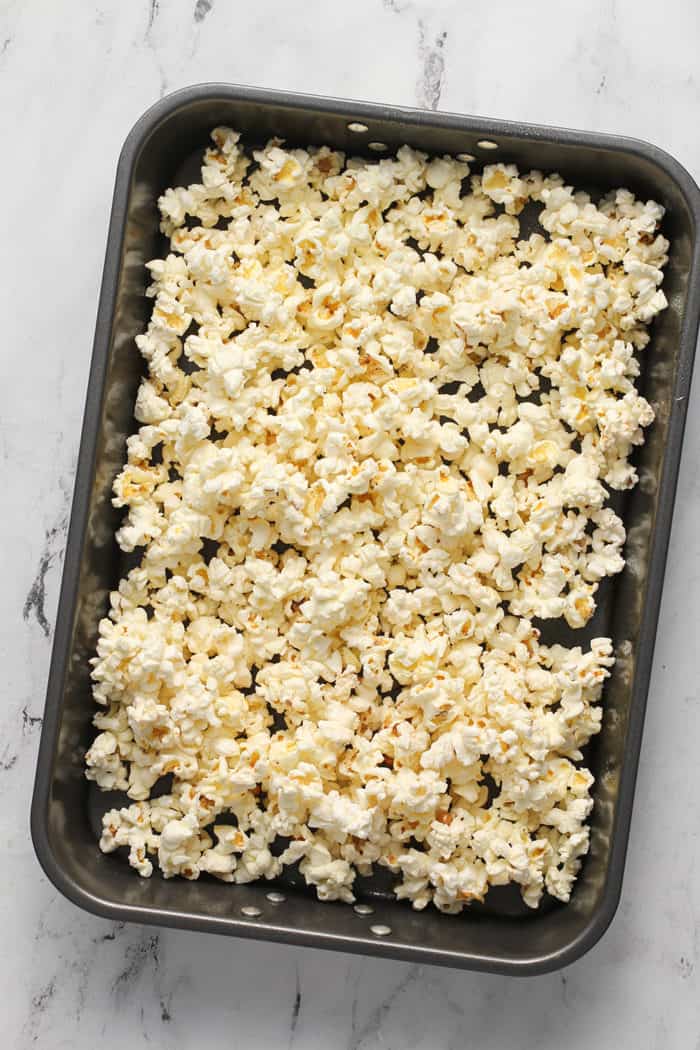 HOW TO MAKE HALLOWEEN POPCORN BALLS
To make popcorn balls, you first need a big batch of popped popcorn.
You can use packaged plain popcorn if you like, but I use freshly popped corn made in my air popper. Pop it directly into a large lightly greased pan.
The coating is very similar to caramel popcorn balls, but uses white granulated sugar instead of brown sugar.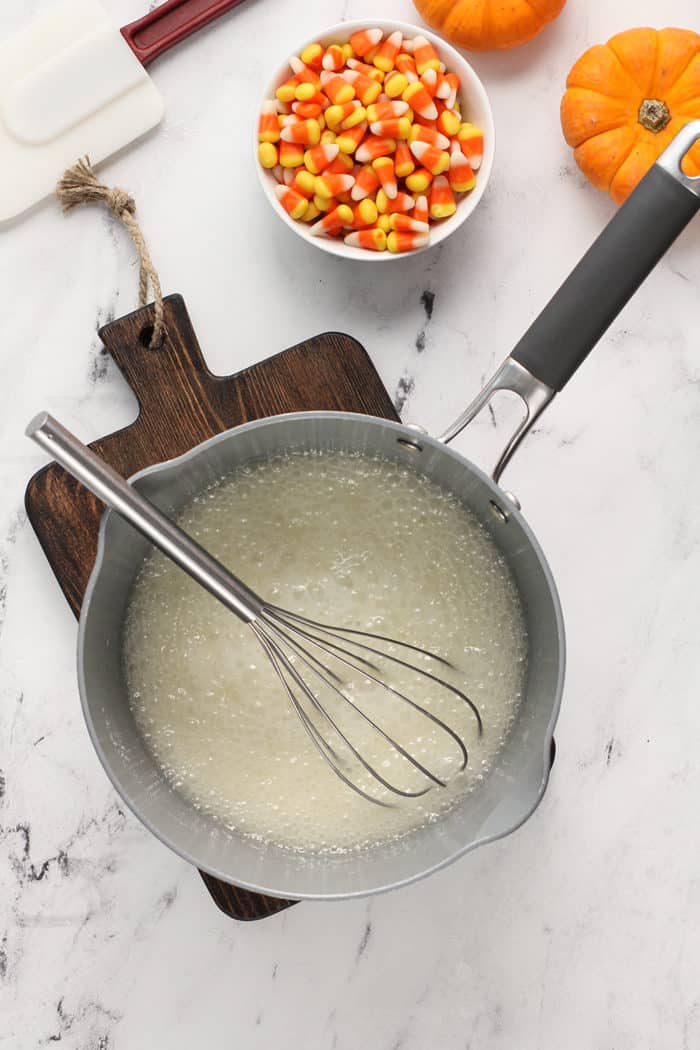 To make the coating, you'll need:
Granulated sugar
Corn syrup
Butter
Salt
Vanilla
Baking soda
You can use either light or dark corn syrup, and salted or unsalted butter. Whichever you prefer or have on hand!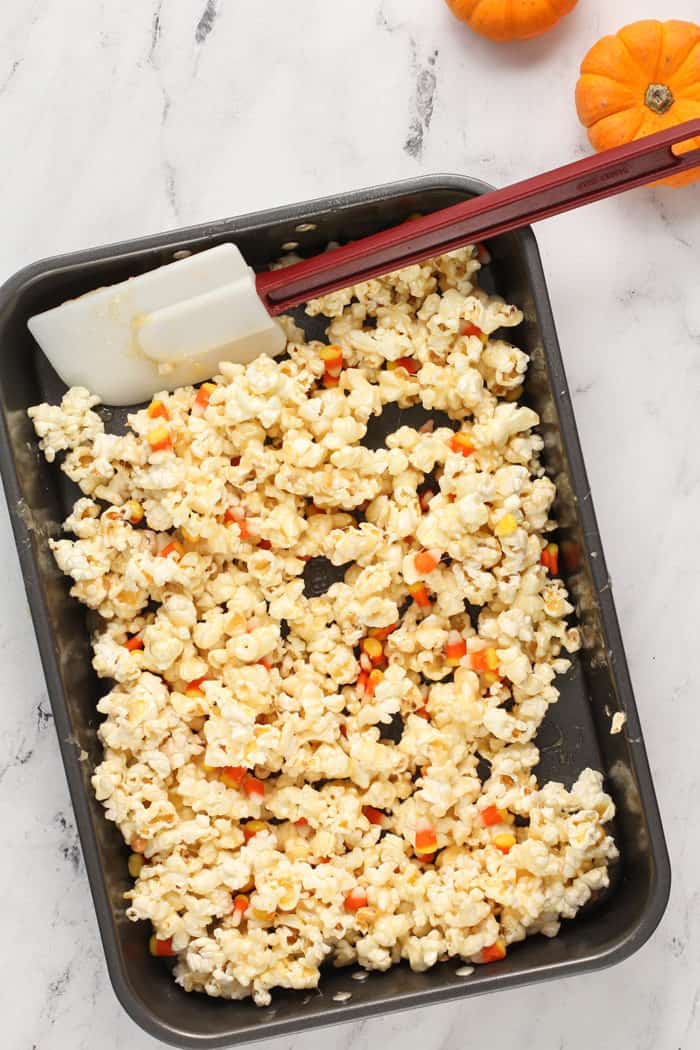 Melt the sugar, corn syrup, butter, and salt together and bring to a boil. Be sure to stir it often to blend the ingredients and keep it evenly heated.
After boiling for 2 minutes, remove it from heat and carefully add the vanilla and baking soda. It will bubble a little and then the mixture will get really foamy and thicker as you mix.
Pour it over your popcorn and stir really well with a rubber spatula to coat the popcorn completely.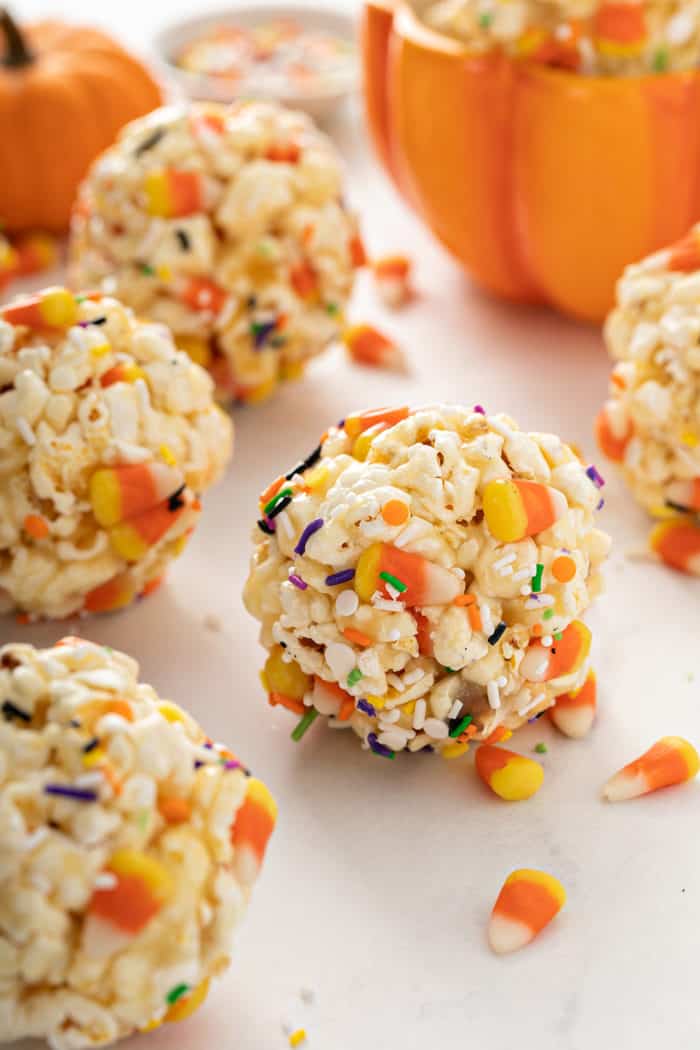 Let it cool a little, then add your mix-ins and stir again. You don't want to add the candy too soon, or it will melt!
Once it is cool enough to handle, coat your hands with nonstick spray, then form the popcorn mixture into 12 balls, compacting in your hands to make the ball shape.
Press in additional mix-ins on the outside and let cool completely before enjoying!
HOW TO DECORATE HALLOWEEN POPCORN BALLS
These popcorn balls are made perfect for Halloween with the addition of mini candy corn. I love candy corn bark, so it just felt right here!
Mini candy corn is just the right size for using in recipes. You can find it with the other seasonal baking ingredients in your store's Halloween section.
The flavor of the candy corn works perfectly with the popcorn. You can add as much as you like, or combine with other mix-ins, like Halloween sprinkles, Reese's Pieces, or M&Ms.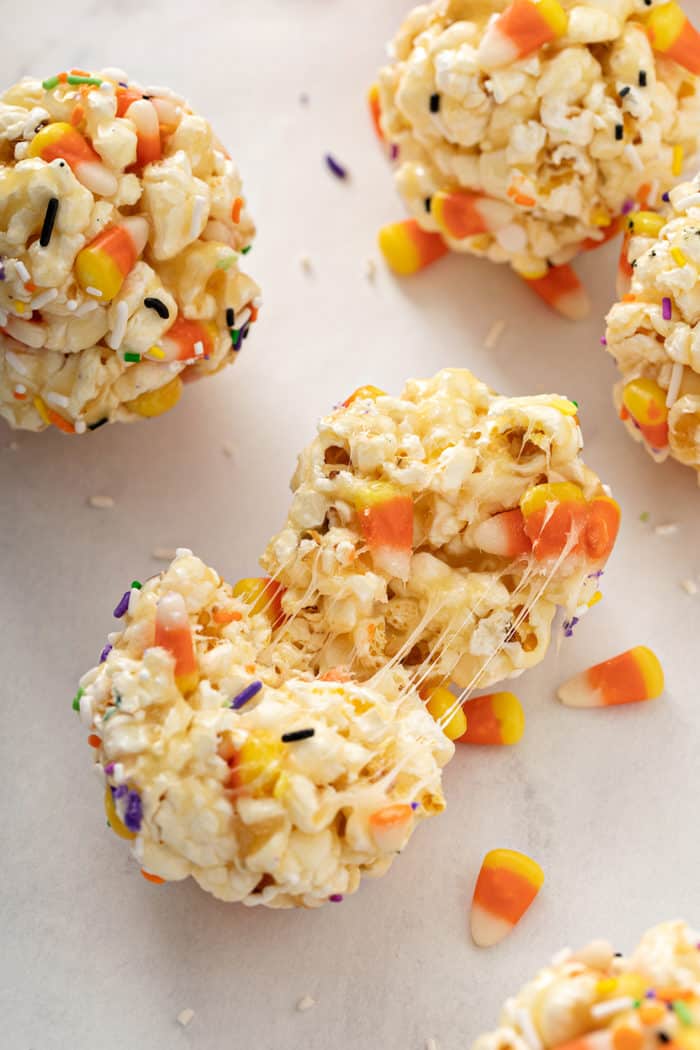 STORAGE TIPS
Popcorn balls keep really well, making them perfect for giving to friends and family for Halloween!
Once the popcorn balls have cooled completely, wrap each one in plastic wrap or tuck into a cellophane treat bag. They will last for about a week well-wrapped.
You can also freeze popcorn balls! Once wrapped, store them in an airtight freezer-safe container, and they'll keep for up to 4 weeks.
Thaw at room temperature, unwrap, and enjoy.
Halloween popcorn balls are such a fun family treat alongside my Halloween monster cookies. Give them a try!