Caramel Pecan Clusters come together with just a handful of ingredients. They're sweet, salty and totally perfect for gift giving.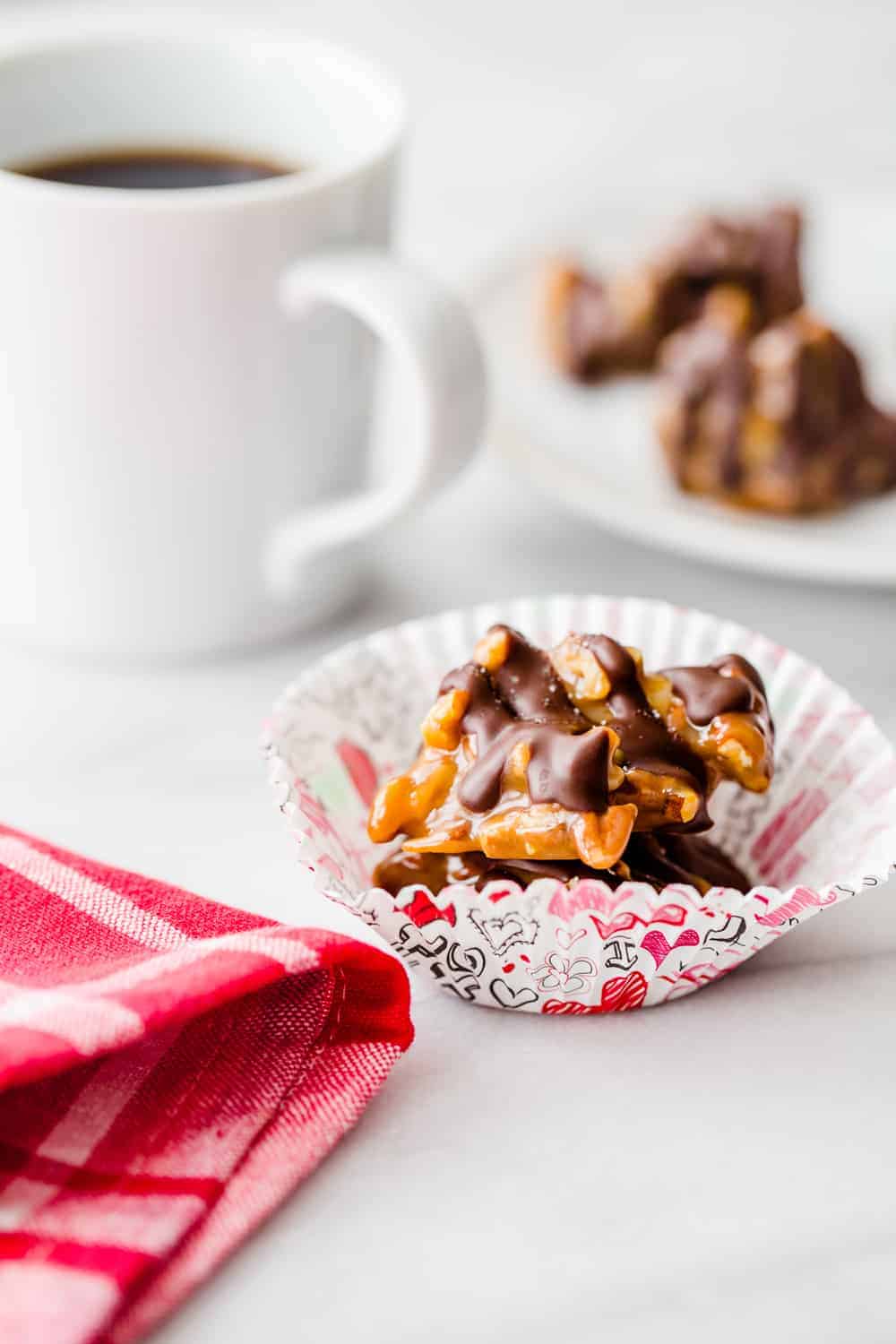 Having a 4-year-old and a candy loving husband means that Mama's candy stash is never really Mama's candy stash –
it's more of a family stash.
And I'm totally fine with that… until someone eats my very last sour gummy from Disney.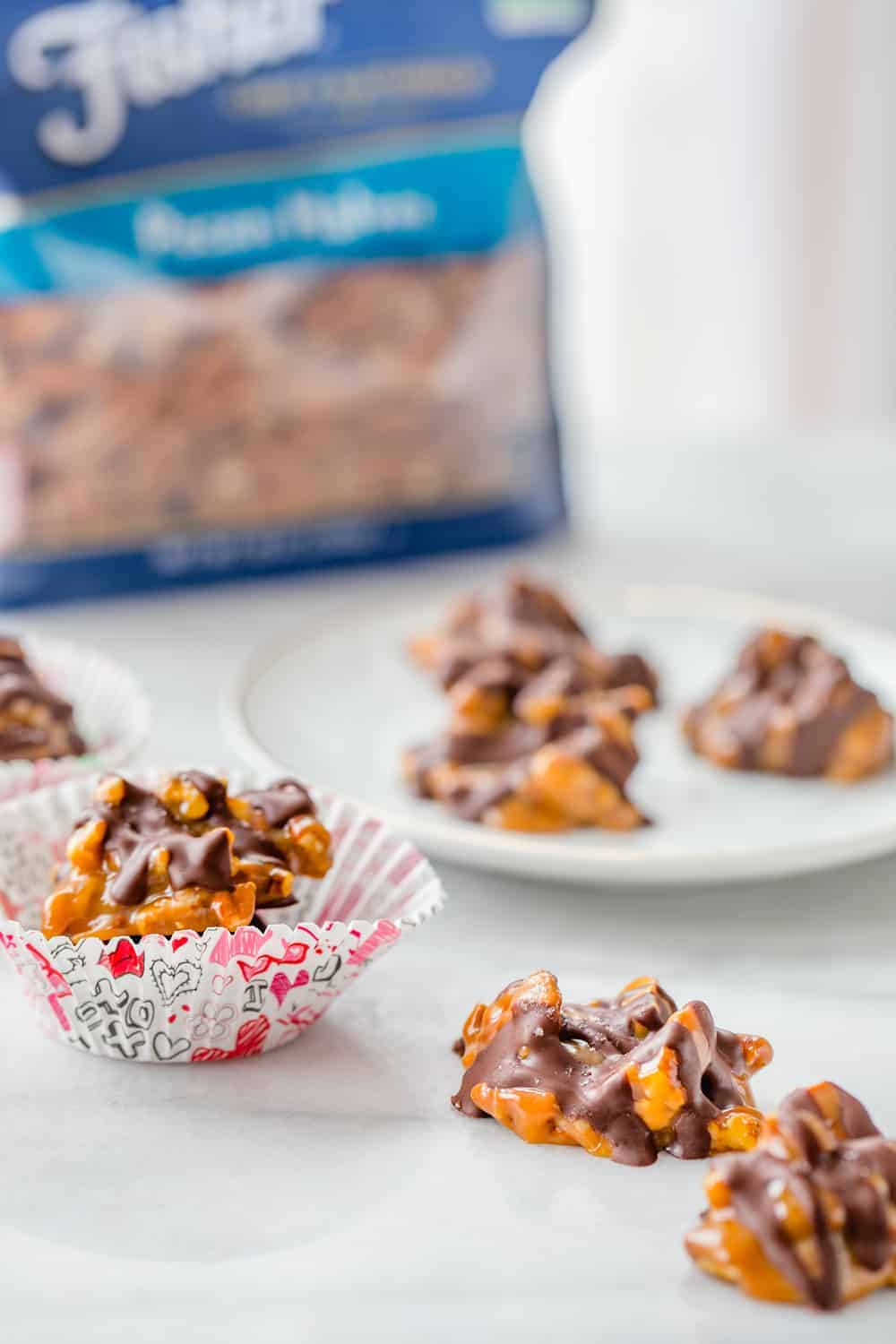 Then Mama contemplates placing all the candy into a decoy bag of kale chips. Because let's be honest here, no one in my family is crunching on kale chips.
They're just not the same as regular chips, no matter how hard you try to convince me.
Two types of candies remain untouched by Elle and Eric. Black licorice and caramel.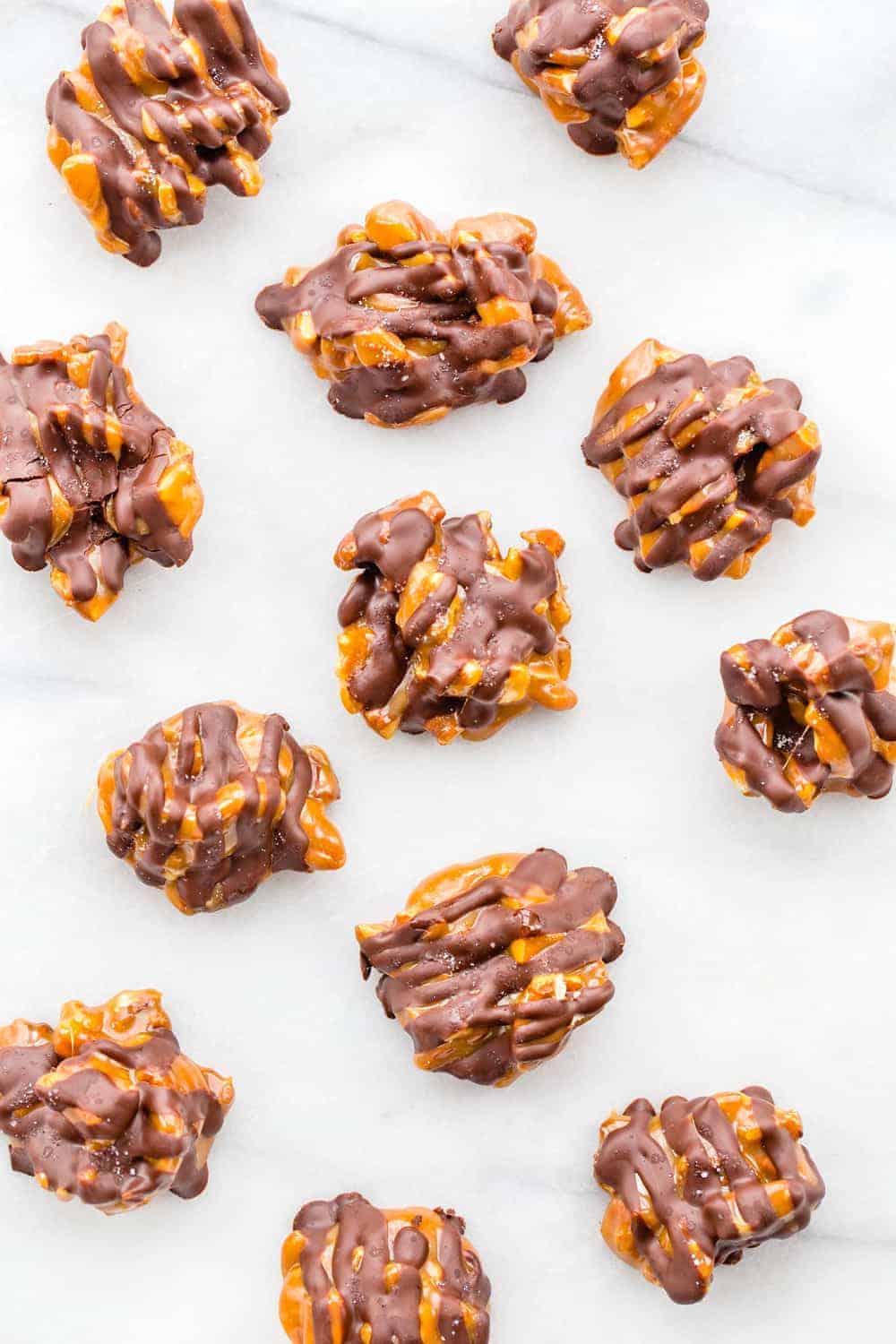 Okay, so I totally get the black licorice thing because it's definitely not for everyone. But I LOVE it.
So much so, that I was the kid at the grocery store checkout begging her mom for boxes of Good & Plenty and eating all the black jelly beans from everyone's Easter baskets.
But caramel? Come on now, caramel is EVERYTHING.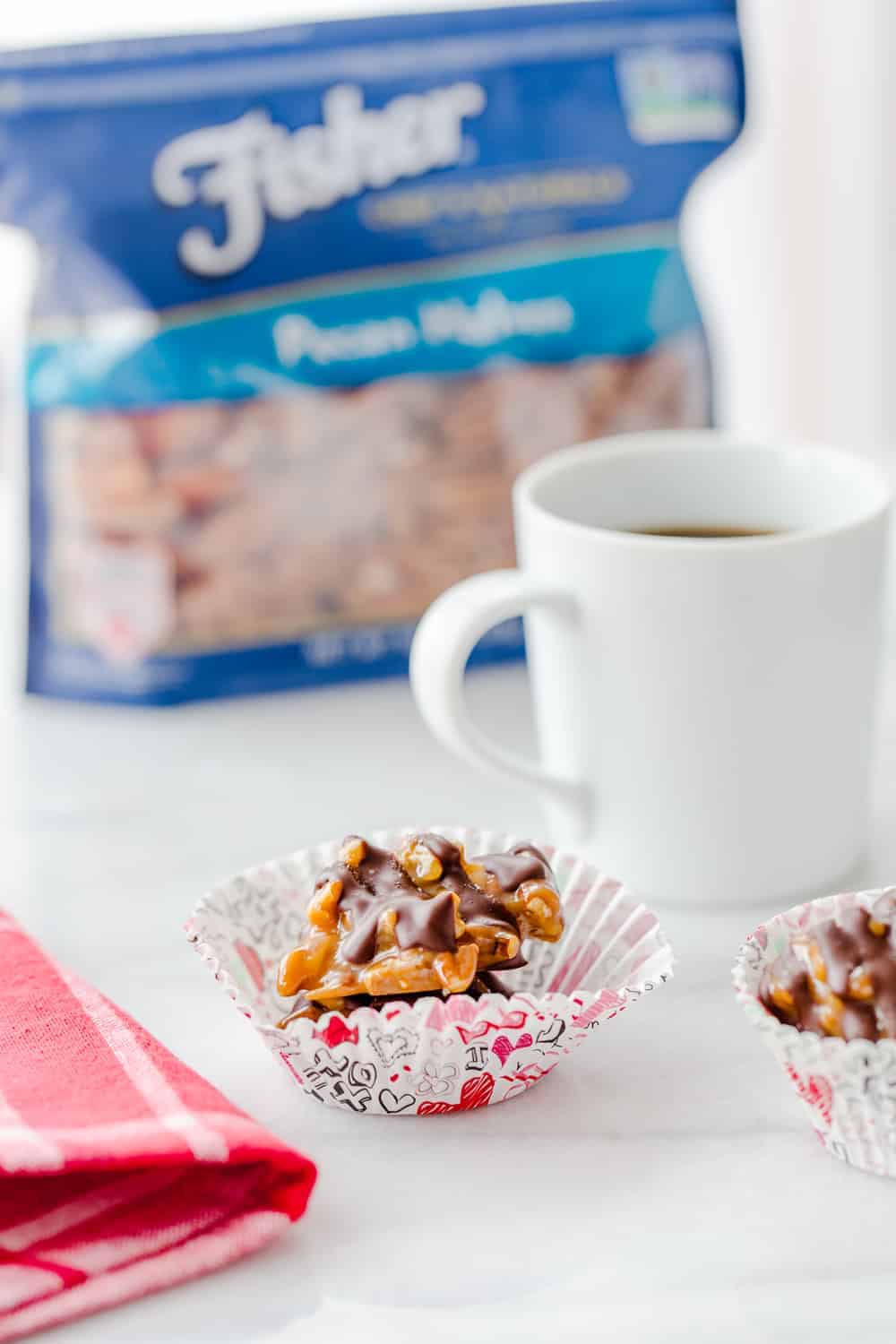 So, clearly there is something deeply wrong with both Elle and Eric because they both loathe that sweet, buttery flavor as much as I loathe tomatoes.
How do you say the word caramel? I totally pronounce the word as car-ml, with two syllables. I just can't with the three syllable pronunciation.
Whether it be in a froo-froo coffee drink, or a cheapo box of chocolates from the drugstore, one thing is for certain – I'm always going with caramel if it's an option.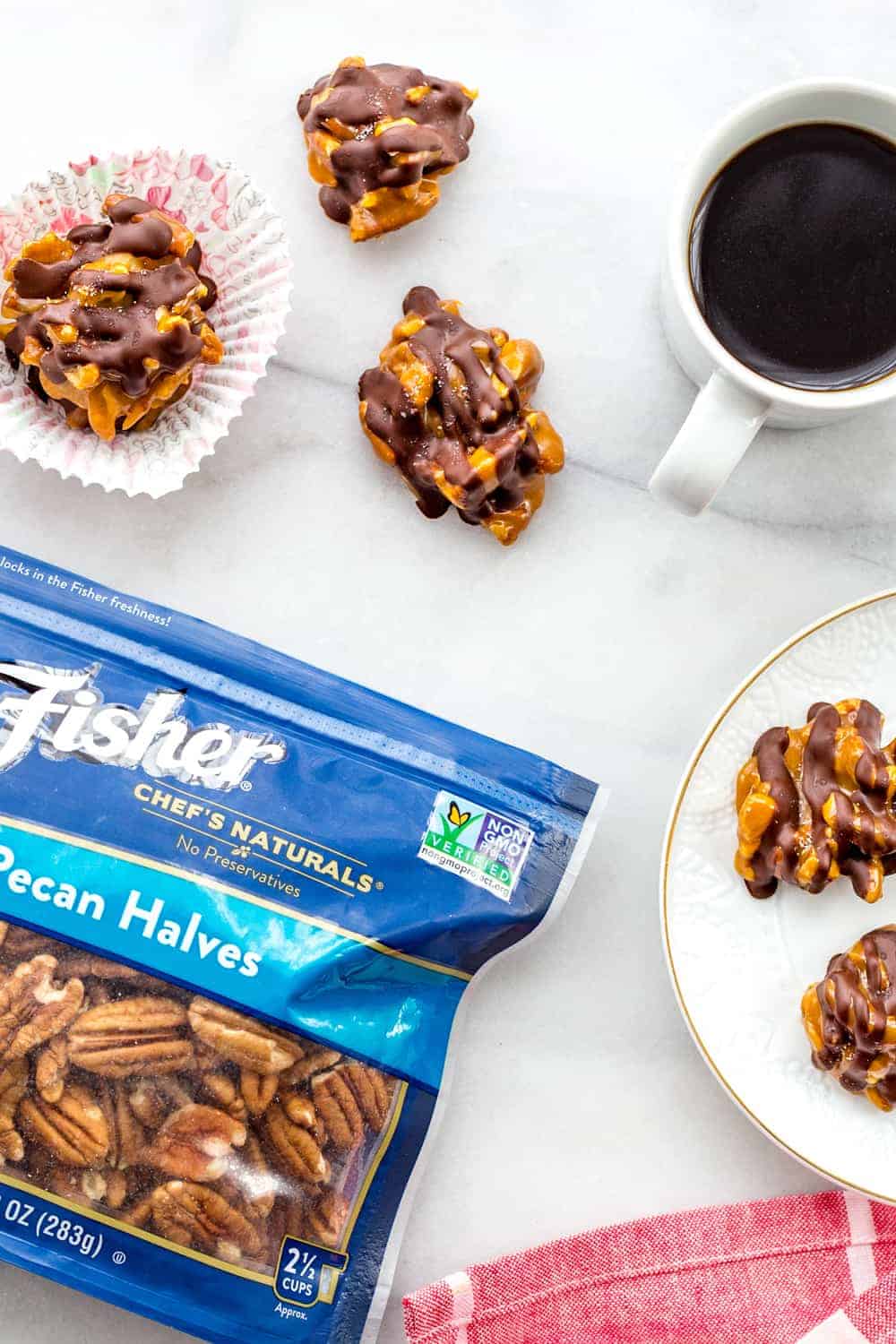 I could pretty much drink my salted caramel sauce. But I won't, because I feel like I would end up in an ultra-sticky situation.
But I 100% eat it straight from a spoon. No shame in my game, friends.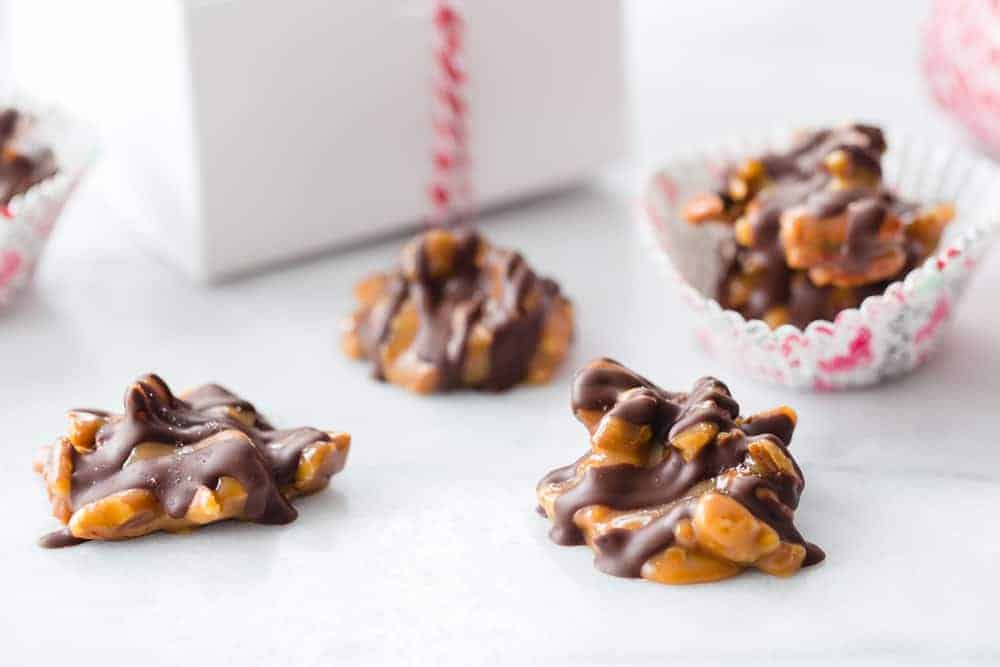 A few months ago, we stopped into a local chocolate shop so Elle could pick up Grandpa a few of the jumbo dark chocolate peanut butter cups that he loves, and since I simply can't resist anything caramel, I picked up two salted caramel pecan clusters to treat myself.
You guys, they were so good. I immediately opened the recipe idea note on my phone and added these caramel pecan clusters to the top of the must-make list.
Only I kind of lack follow-through, so they're just now happening three months later.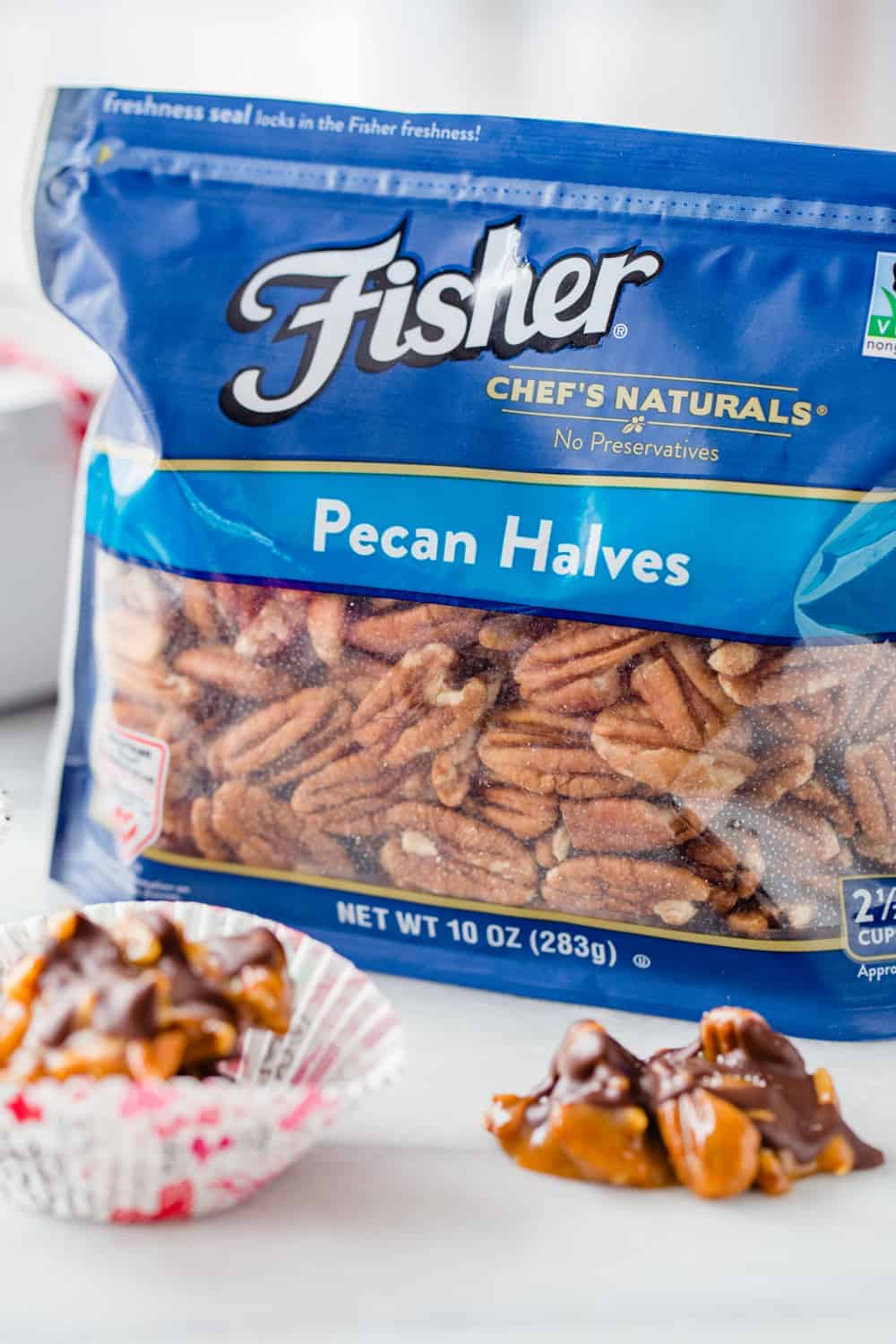 But what really matters here, is that we can now all make these at home and enjoy every single ooey-gooey bite.
When I tell you these are easy, I mean it. You really only need handful of ingredients.
Oh, and parchment paper. Because caramel is sticky.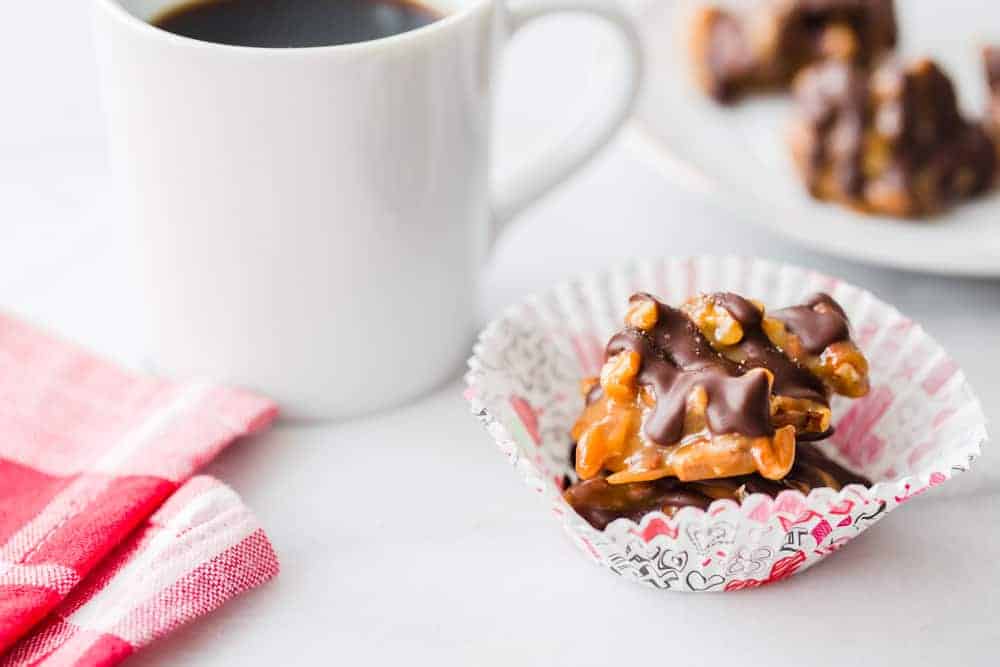 Just be sure to use quality ingredients like Fisher® Pecan Halves. I've been partnering with Fisher® for four years now, because I love the brand and their products.
Fisher® Nuts are fresh out of their shells, have no preservatives, and are non-GMO Project Verified – which is something I can always get behind.
I'm also kind of obsessed with their stand-up bag that was designed for convenience. It's resealable which means your nuts will stay fresh longer.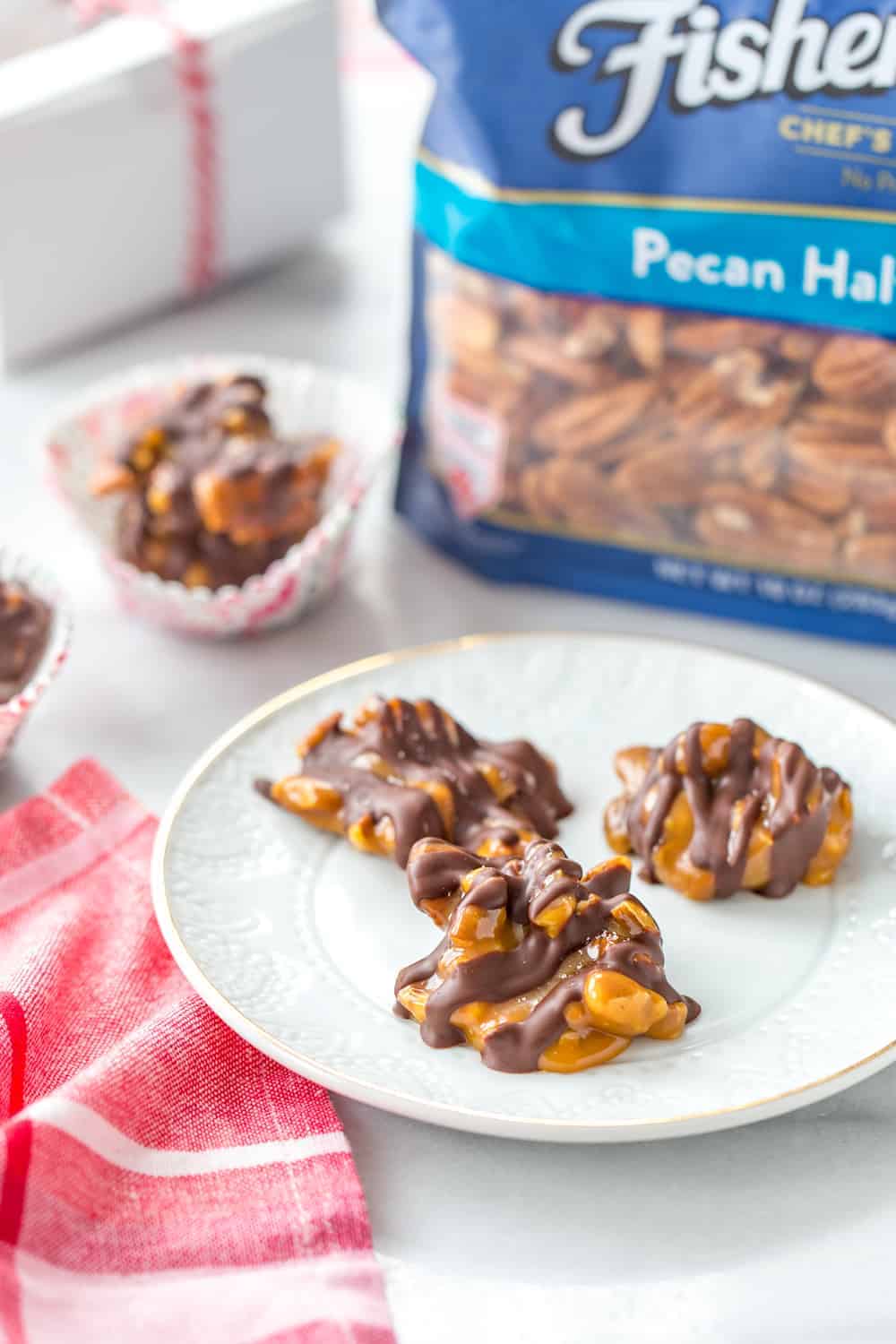 Whether you're whipping up these caramel pecan clusters because you had an amazing day, or because you need a sweet treat to eat while hiding in your pantry for a mom timeout, I hope you love every single sweet, salty, ooey-gooey bite as much as I do.
Fore more delicious recipes using Fisher® Nuts, be sure to check out this Frozen Samoa Pie and these Chai Spiced Candied Pecans!
This is a sponsored conversation written by me on behalf of Fisher. The opinions and text are all mine.