Salted Caramel Brownies are loaded with salted caramel goodness from candy bars and peanuts to create sweet and salty perfection.
It's officially summer break here at our house! This pretty much means I've been wandering around the kitchen singing a horrible rendition of Alice Cooper's School's Out for Summer while baking brownies. It's mildly ironic to be rocking out to Alice Cooper while baking salted caramel brownies in an apron, but it works – kind of. Terrible singing aside, I couldn't be more excited about the summer. Eric is also in the education field, so we both get to spend loads of time with Elle – and each other!
It also means more time for baking and blogging. Your waistlines can thank me later.
There's something pretty spectacular about not having to wake up at 5:00 AM every day. But oddly enough, now that I'm getting more than 5 hours of sleep a night – I'm way more exhausted. How is that even possible? I'm hoping everything will balance out soon enough because hanging out in pajamas until noon can't happen all summer long.
Aside from digging the whole no alarm clock thing, I've been digging all things salted caramel – from chocolate candies to Salted Caramel Blondies and cookies, – this flavor combination is totally my jam right now.
How can you possibly go wrong with decadent brownies stuffed with salted caramel chocolate and peanuts? Ya can't – it's just not possible. One bite of these beautiful brownies and I'm sure you'll be dancing around your kitchen too.
So tell me, what are your big plans for summer break?
Salted Caramel Brownies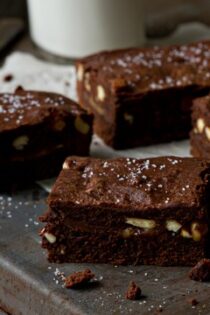 Ingredients:
4 ounces unsweetened chocolate; coarsely chopped
3/4 cup unsalted butter, cut into cubes
1 cup sugar
3 large eggs
1 teaspoon pure vanilla extract
1/2 teaspoon salt
1 cup all-purpose flour
9 Ghirardelli Dark Chocolate and Sea Salt Caramel Squares
1/2 cup Planters Salted Caramel Peanuts, chopped
Directions:
1. Preheat oven to 350 degrees. Line an 8×8 inch baking pan with foil and spray with nonstick cooking spray.
2. Microwave chocolate and butter in a large bowl microwave-safe bowl at medium (50% power) for 2-3 minutes or until butter is melted.
3. Stir until chocolate is melted. Whisk in sugar, eggs, vanilla and salt. Gradually add in flour; stir until just combined.
4. Spread 1/2 the batter into prepared pan. Add an even layer of Ghirardelli Dark Chocolate and Sea Salt Caramel Squares, sprinkle the peanuts over the batter and chocolate, and cover with remaining 1/2 of brownie batter.
5. Bake for 30-35 minutes; do not over bake.
6. Allow to cool thoroughly and cut into large squares.
Notes:
Salted Caramel Brownies are best served the day they are made; however, they will keep at room temperature in an airtight container for up to 3 days.
All images and text ©
Follow Jamie on Instagram. We love to see what you're baking from MBA! Be sure to tag @jamiemba and use the hashtag #mbarecipes!