This trick for making The Easiest Salted Caramel Brownies is one you'll return to again and again! Keep these ingredients on hand for quickly throwing together brownies that everyone will love.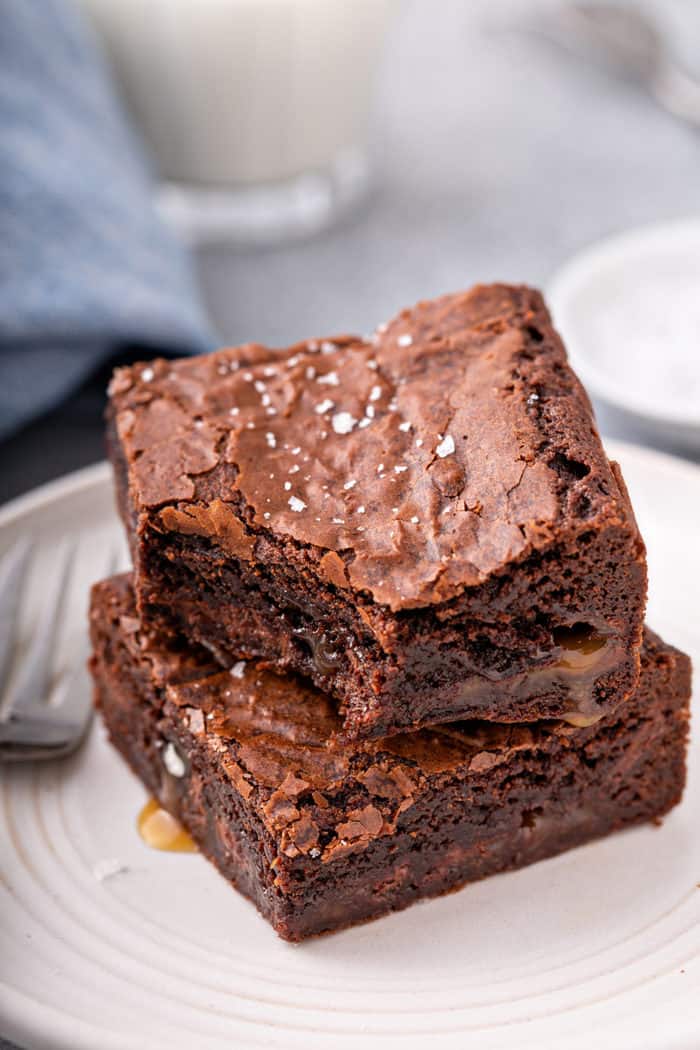 Do you have those recipes that are so simple to make it's almost embarrassing when people ask you for the recipe because it is not really an actual recipe?
These super easy Salted Caramel Brownies are probably one of the most requested recipes that I make on a regular basis.

My friend Erin calls them my "special brownies" – I'm telling you, if you make them once, you'll make them again and again!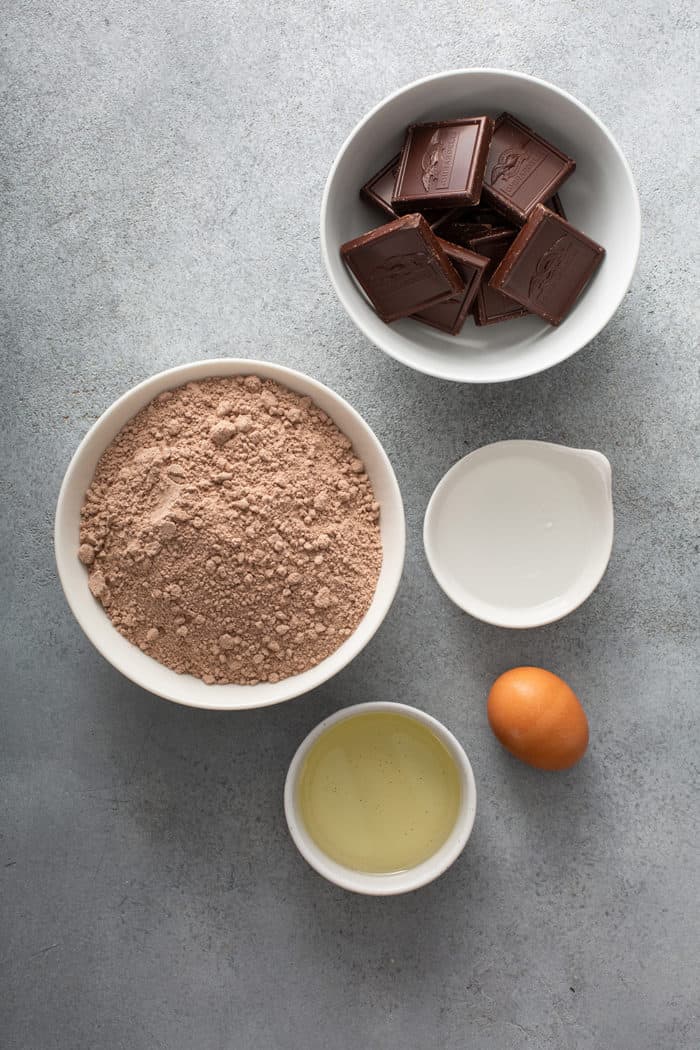 MY FAVORITE EASY BROWNIE RECIPE
I have a confession to make.
I know how great homemade brownies are. After all, I love my Pumpkin Brownies and Tiramisu Brownies. But I think my favorite brownies might actually be these incredibly easy Salted Caramel Brownies.
This recipe is so easy it hardly counts as a recipe at all.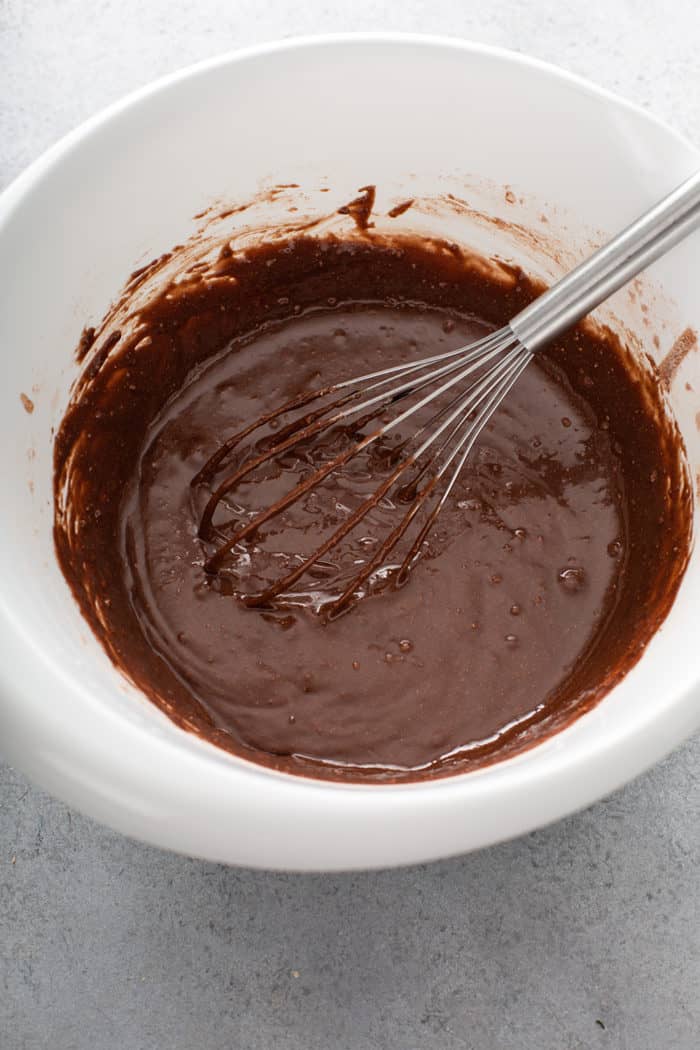 Are you ready to hear my trick? You're going to need:
A box of Ghirardelli brownie mix (plus the ingredients listed on the box: water, vegetable oil, and an egg)
A bag of Ghirardelli Dark Chocolate Sea Salt Caramel Squares
Flakey sea salt
That. Is. It.
Yes, my favorite brownies are a boxed brownie mix "fancied up" with some salted caramel chocolates.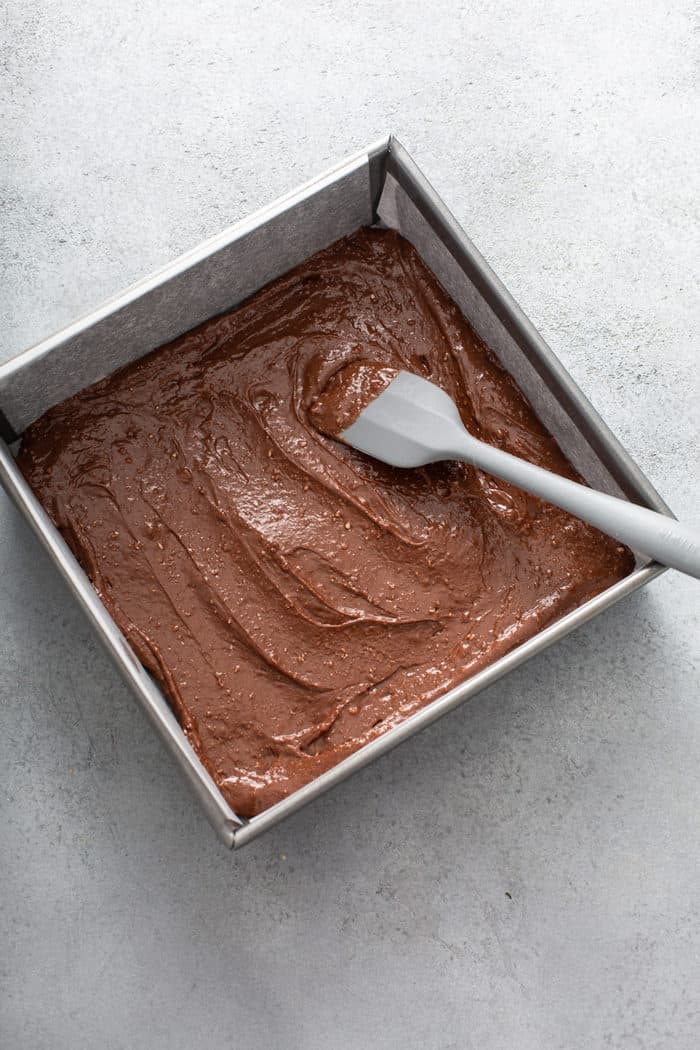 Don't knock 'em 'til you try 'em! I promise they are incredible.
I like to keep a couple boxes of the brownie mix and a couple of packages of the chocolate caramel squares on hand so I can throw these together at the last minute. They're perfect for taking over to a new neighbor, a friend who just had a baby, or for a last-minute cookout.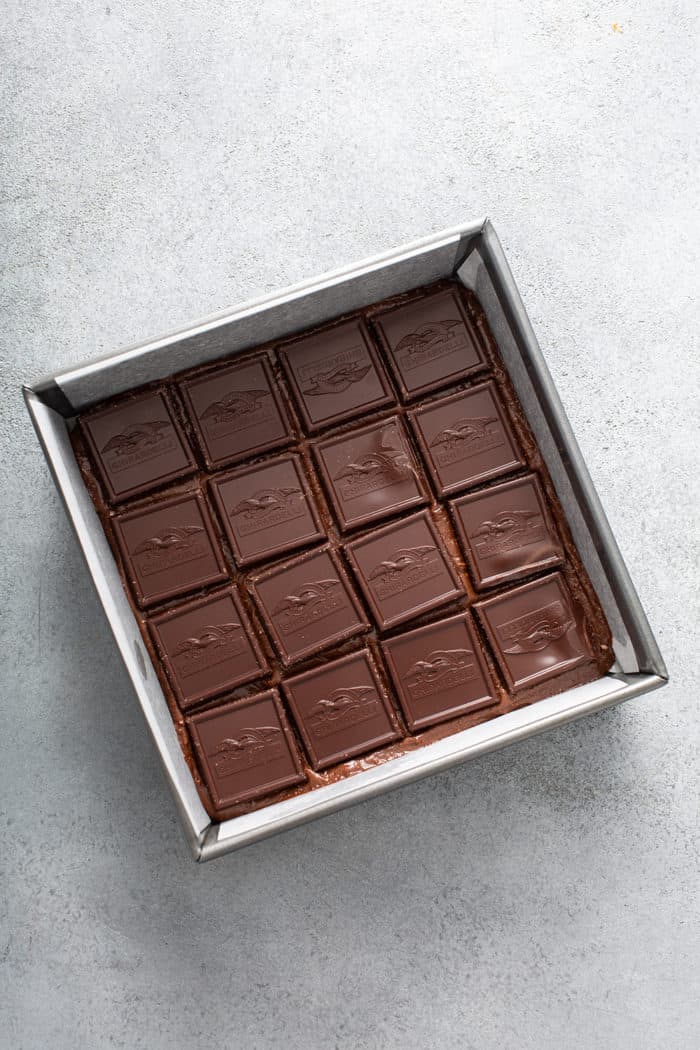 HOW TO MAKE SALTED CARAMEL BROWNIES WITH A BOX MIX
I know you're going to ask me if you have to use the Ghirardelli brownie mix.
Technically you don't, but I can't promise they'll be as good. I personally think the Ghirardelli mixes are the best brownie mixes. I like to use either the Double Chocolate or the Chocolate Supreme mix.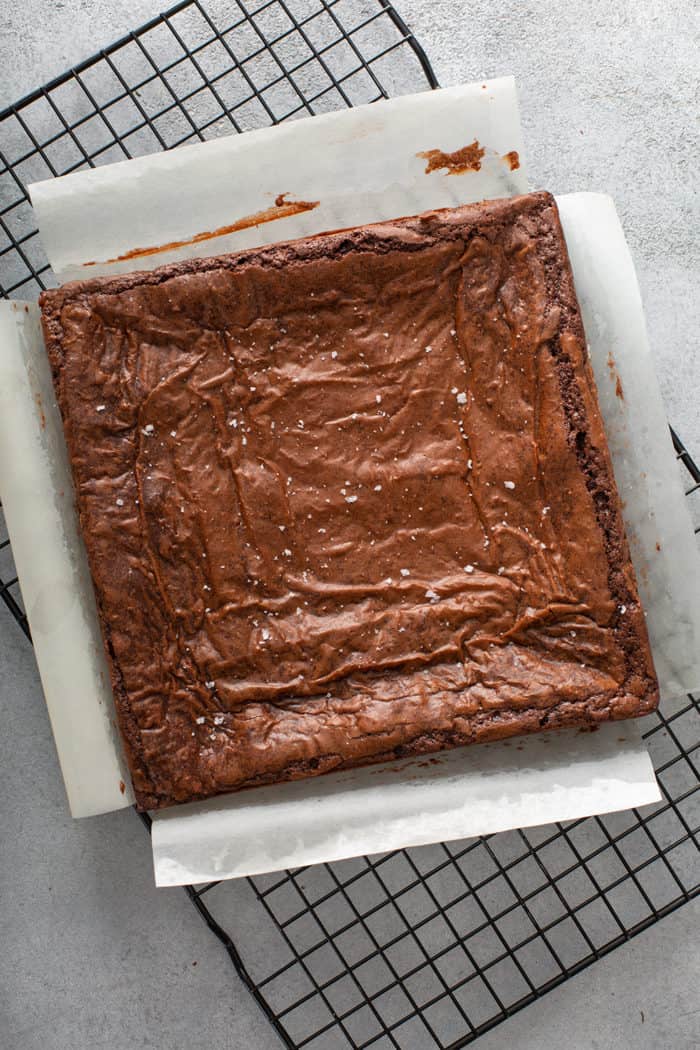 Mix up the brownie mix according to the package directions. You'll combine the mix with water, vegetable oil, and an egg until well combined.
Spread half the brownie batter into the bottom of a greased 8×8-inch baking pan. Top with a layer of the chocolate squares. Top with the rest of the batter and bake for about 40 minutes.
As soon as the brownies come out of the oven, give them a light sprinkle of flakey sea salt, then allow them to cool for at least 15-20 minutes before cutting and serving.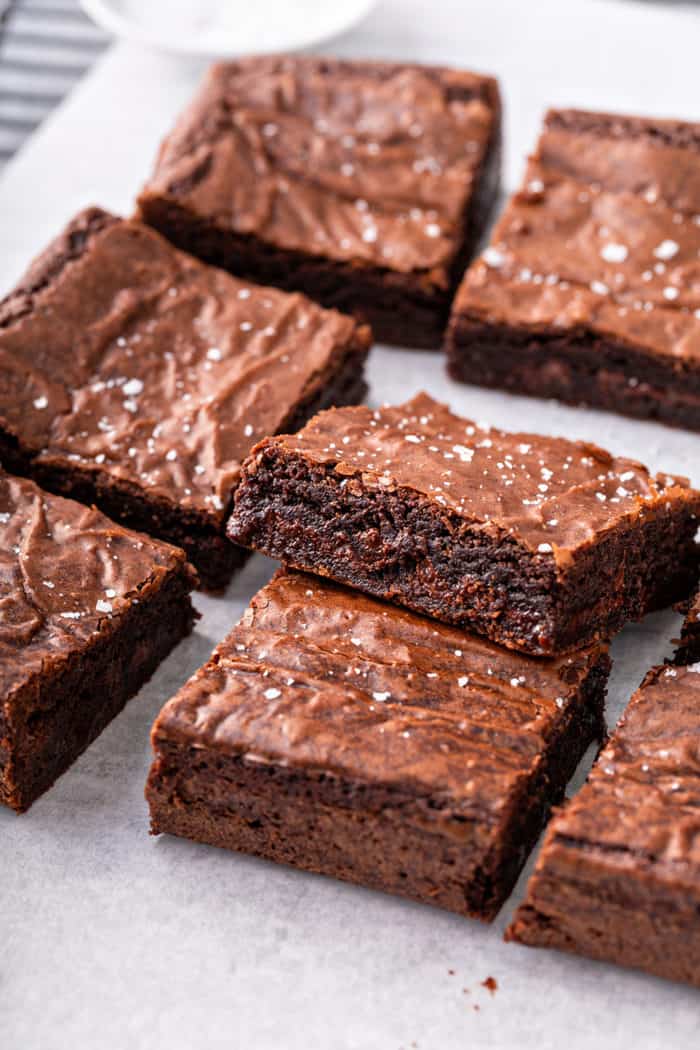 Sandwiched between the top and bottom layers of fudgy brownie goodness is a beautiful layer of gooey salted caramel. The little bit of extra salt on top not only looks fancy and decadent, it balances the richness of the brownies really well.
They are seriously so good. And I bet no one will guess they were the easiest brownies to make!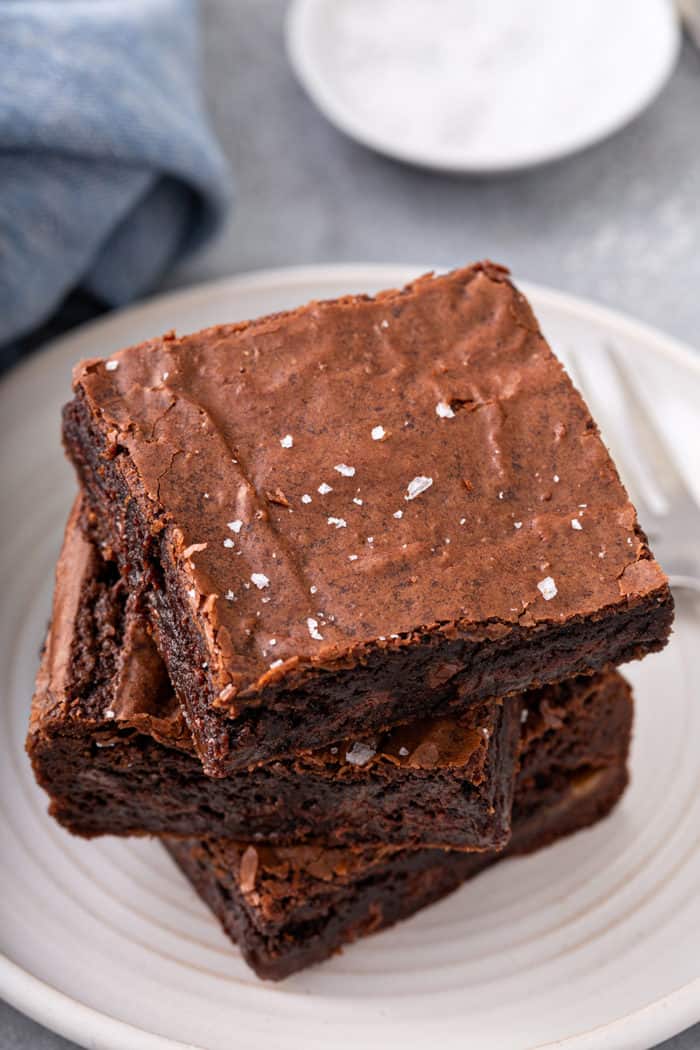 CAN YOU FREEZE SALTED CARAMEL BROWNIES?
Brownies are a super easy baked good to freeze because they don't really lose any of their great fudgy texture even after freezing.
If you made a batch of these Salted Caramel Brownies and want to freeze some of the leftovers, tightly wrap each brownie in plastic wrap or foil, then place the wrapped brownies in a tightly sealed zip-top freezer bag. Freeze for up to 3 months.
When you're ready to enjoy one of the brownies, let it thaw at room temperature. Unwrap it and reheat it in the microwave for 30-60 seconds. You could even top it with a scoop of ice cream for a decadent brownie sundae treat!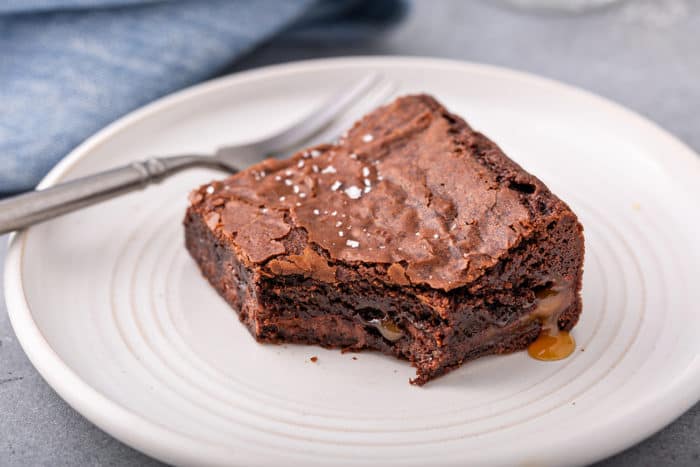 MORE SUPER EASY DESSERT RECIPES
Turning boxed mixes into easy, delicious desserts is one of my favorite tricks. Check out six more of my favorite desserts made using mixes!