These peppermint brownies are everything you could want in a holiday brownie! Just the right amount of peppermint extract and chopped Candy Cane Kisses give these chewy, fudgy brownies a festive peppermint kick.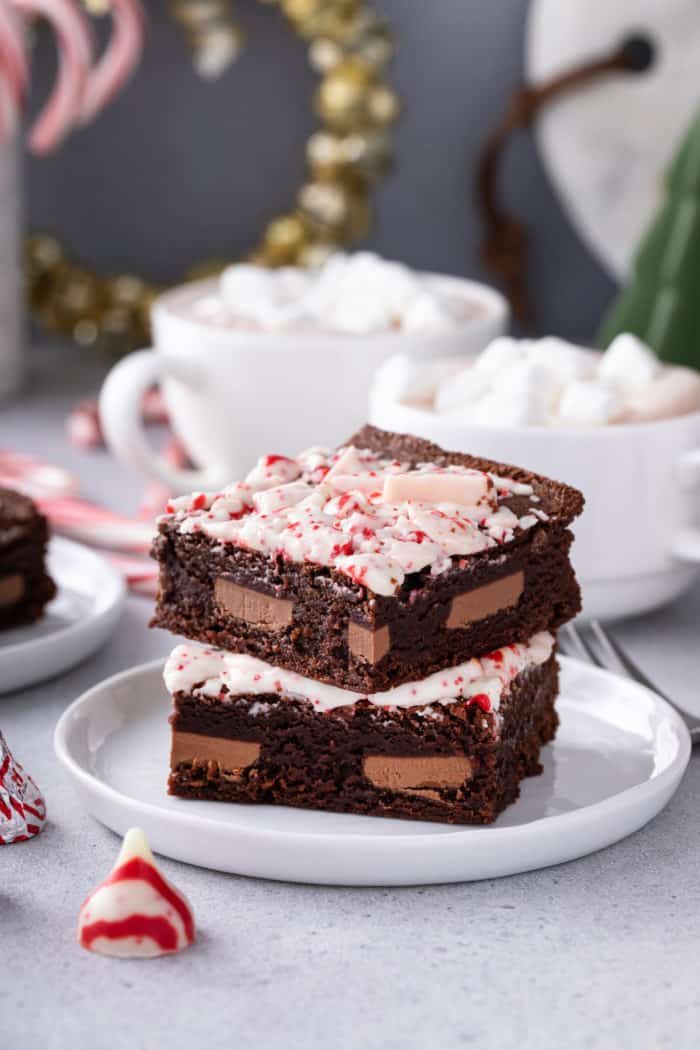 This post contains affiliate links.
We're barely a week into December and I'm already tired.
I feel like I can't be the only one, and I'm sure the other parents out there can really agree.
December is so much fun but it's also so exhausting. There are only a few short years when you can really bring the Christmas magic alive for your kids, and it's easy to put so much effort into it that you just want to sleep for the entire month of January once the new year hits.
So right now I'm all about easy holiday treats that Elle can help me make. I want to make the season magical for her but also know my limits this year.
Recipes like spritz cookies (which practically decorate themselves), peanut butter blossoms, popcorn balls, and these peppermint brownies are all simple but festive treats that she loves to help make.
We love the time together and we get some delicious sweets that we can share with family, friends, and each other.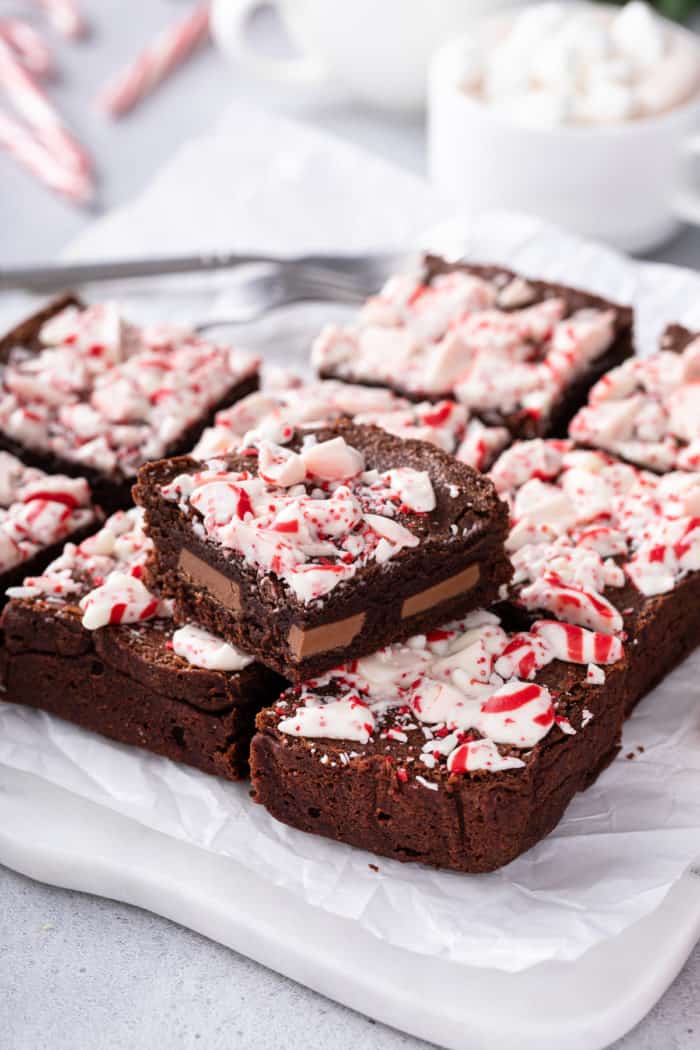 PERFECT PEPPERMINT BROWNIES
If you've been reading MBA for a while, you probably know that I love mint (or peppermint) and chocolate together.
In fact, I think it's one of the quintessential holiday flavor combinations!
Whether I'm making peppermint oreo cookie balls, peppermint mocha cookies, peppermint mocha cupcakes, or these peppermint brownies, I love the way that cool peppermint pairs with rich chocolate.
I love finding new ways to dress up classic fudgy brownies. Whether it's adding chopped candy pieces (like with snickers brownies or peanut butter cup brownies) or reaching for some peppermint extract, there are so many ways to take this classic treat to the next level.
In this case, I did three things to make these brownies extra special and festive:
Added a touch of peppermint extract to the batter,
Layered some milk chocolate bars into the middle,
And finished them with chopped Candy Cane Kisses.
The finished brownies stay nice and moist (even after cooling) thanks to the extra chocolate in the center and have the perfect kiss of peppermint to balance their richness. They are a must for this time of year!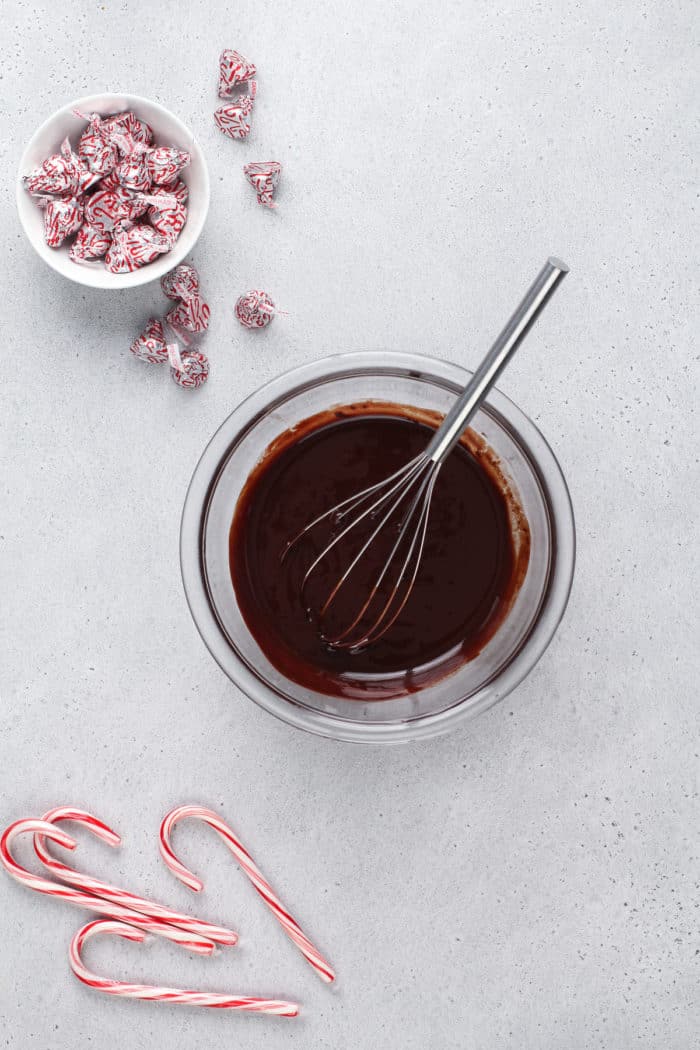 HOW TO MAKE PEPPERMINT BROWNIES
These peppermint brownies are super easy to make from scratch, so don't be intimidated if you've never made brownies from scratch before!
If you still aren't sure, skip down to "how to make these with a mix" for my tips on getting a similar result with your favorite brownie mix.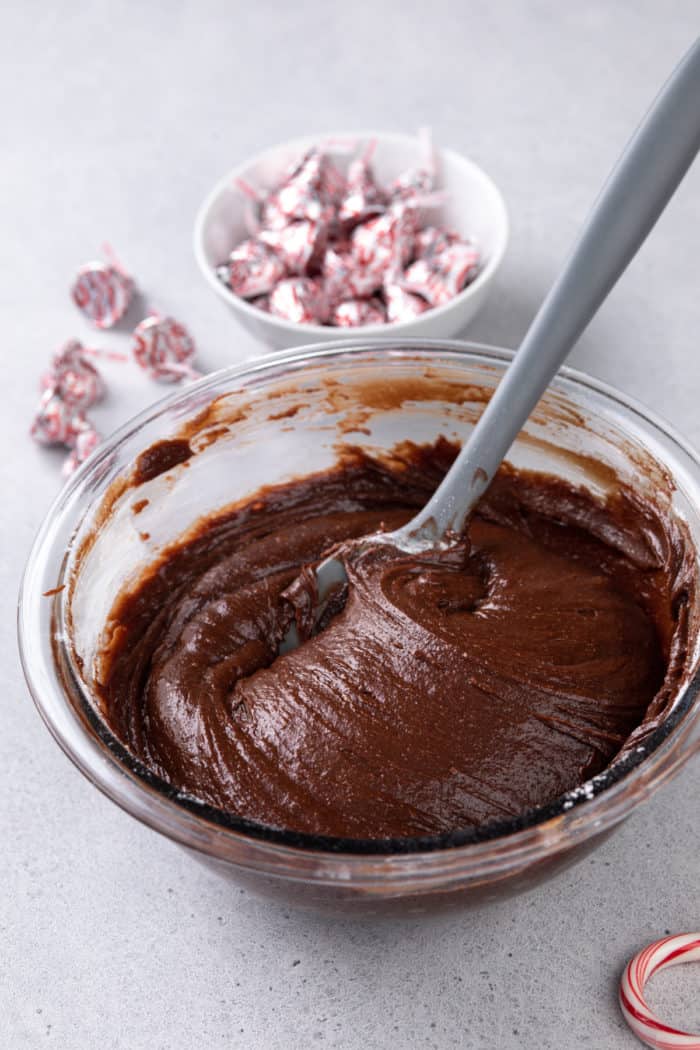 How much peppermint extract should you use in brownies?
One of the key ingredients in peppermint brownies is peppermint extract.
It's important to be aware of how much peppermint extract you're adding to your brownie batter, though. Unlike vanilla, where you can get away with adding more than the recipe says, adding too much peppermint extract can make your brownies taste like toothpaste.
I don't think anyone would really want that!
This recipe makes an 8×8-inch pan of brownies. Because we are also adding the chopped peppermint kisses (aka Candy Cane Kisses) on top of the brownies, I only add ¾ teaspoon of peppermint extract to the batter.
If you aren't going to add the chopped kisses on top, you could maybe get away with adding a full teaspoon of the extract, but try it with ¾ teaspoon first.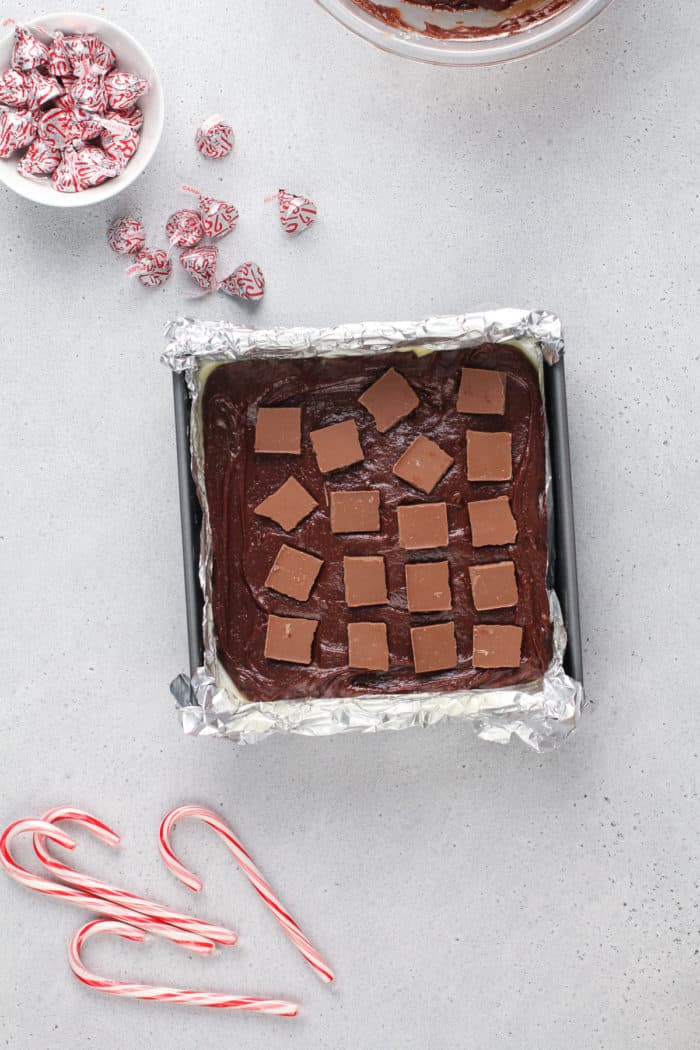 Making this recipe
Grab your favorite 8×8-inch pan and line it with foil, then spray the foil with nonstick spray. This will help you get the brownies out of the pan later.
Place the chopped unsweetened chocolate in a microwave-safe bowl with the butter and melt at medium power for 1 minute. Stir, then keep microwaving at medium power in 30-second increments just until the chocolate is melted.
Whisk until the mixture is smooth, then add in the sugar, eggs, vanilla and peppermint extracts, and the salt. Add the flour and stir until the batter is just combined.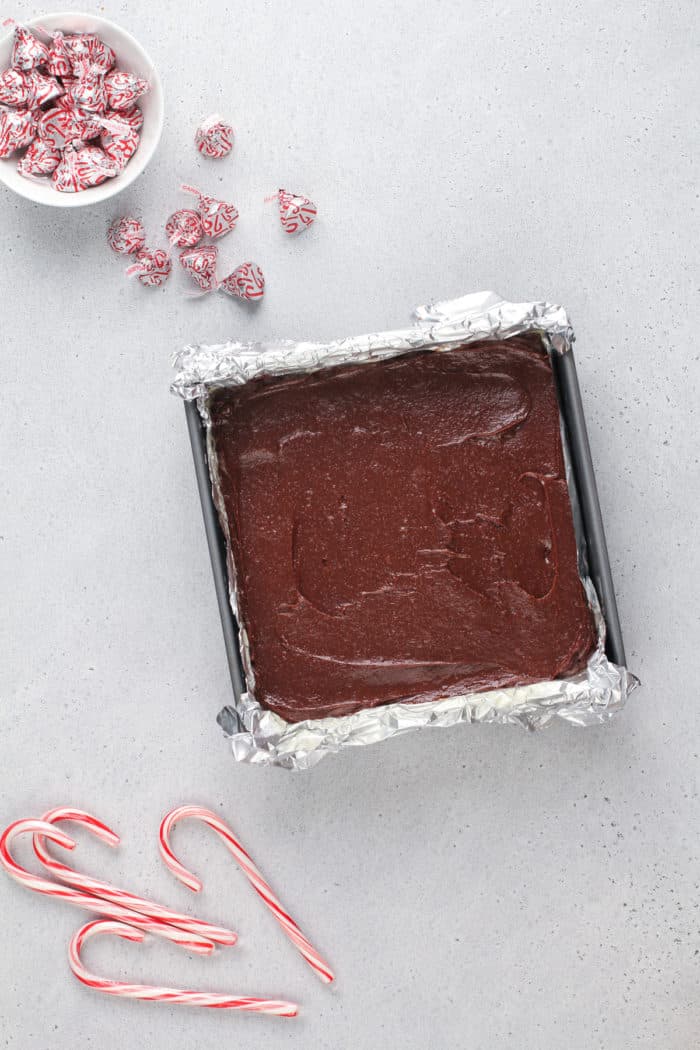 Spread half of the batter into the prepared baking pan. Add the milk chocolate bar pieces in an even layer over the batter, then cover with the remaining batter.
Bake the brownies for 30-35 minutes or until they are just set. Make sure not to overbake them; I think everyone would prefer slightly underdone brownies to overbaked brownies!
As soon as the peppermint brownies come out of the oven, sprinkle them with the chopped Candy Cane Kisses, then allow the brownies to cool completely before removing them from the pan and serving.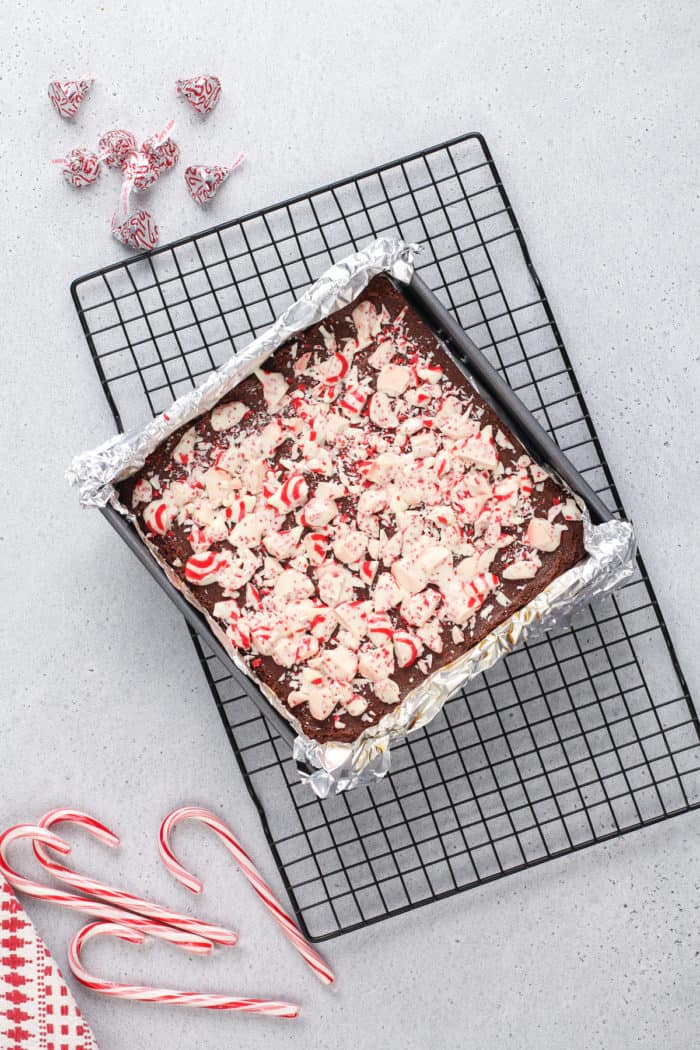 HOW TO MAKE THESE WITH A MIX
I know that some people love making brownies from scratch, while others swear by boxed mixes.
I enjoy doing both, but there is something great about being able to dress up a brownie mix. My salted caramel brownies are one of my favorite treats!
If you want to turn your favorite fudgy brownie mix into peppermint brownies, make the batter according to the package directions, but add ¾ teaspoon of peppermint extract.
Once the batter is made, follow the same directions for assembly as with the from-scratch brownies: layer 2 chopped milk chocolate bars in the middle of the batter, then top the freshly baked brownies with the chopped peppermint kisses.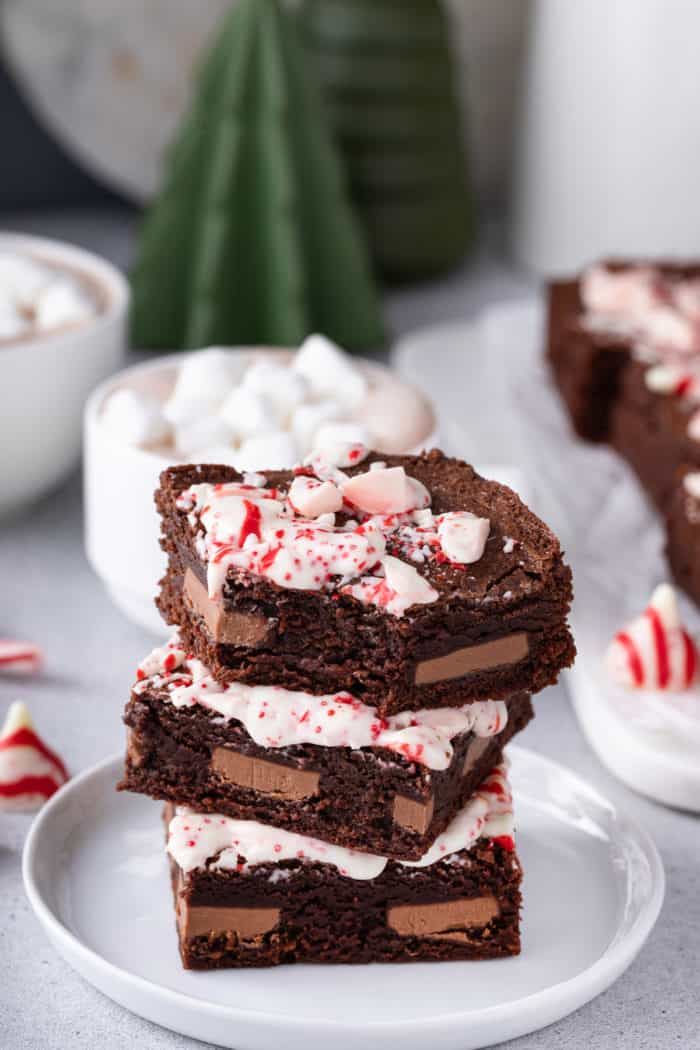 STORAGE TIPS
Store your peppermint brownies in an airtight container at room temperature for up to 3 days.
If you'd like to freeze the brownies for later, let them cool completely then wrap the whole slab of brownies in plastic wrap, then a layer of heavy duty foil.
You can also freeze the cut brownies by wrapping each one individually in plastic wrap, then foil.
Freeze the brownies for up to 3 months. Let the brownies thaw at room temperature, or microwave cut peppermint brownies for 30-60 seconds to thaw quickly.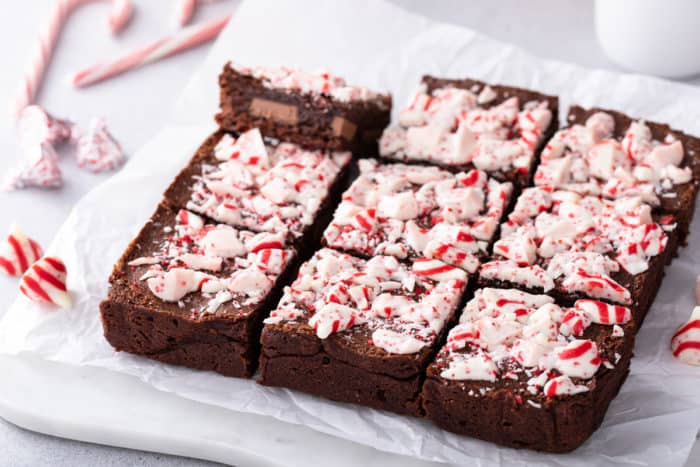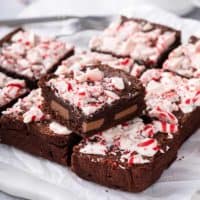 Peppermint Brownies
These peppermint brownies are everything you could want in a holiday brownie! Just the right amount of peppermint extract and chopped Candy Cane Kisses give these chewy, fudgy brownies a festive peppermint kick.
Print
Pin
Ingredients
4

ounces

unsweetened chocolate

coarsely chopped

¾

cup

butter

12 tablespoons

1 ½

cups

granulated sugar

3

eggs

1

teaspoon

pure vanilla extract

¾

teaspoon

pure peppermint extract

¼

teaspoon

kosher salt

1

cup

all-purpose flour

2

milk chocolate bars

1.55 ounces each; broken into pieces

25

Candy Cane Kisses

coarsely chopped
Instructions
Preheat oven to 350°F. Line an 8×8-inch baking pan with foil and spray with nonstick cooking spray.

Microwave chocolate and butter in a large microwave-safe bowl at medium (50% power) for 1 minute. Stir well, then continue heating in 30 second increments until chocolate is nearly melted.

Whisk until chocolate is completely melted and smooth. Stir in sugar and add in eggs, extracts and salt. Gradually add in flour and stir until just combined.

Spread 1/2 the batter into prepared pan. Add an even layer of milk chocolate pieces and cover with remaining brownie batter. Bake for 30-35 minutes; do not over bake.

Remove to cooling rack and sprinkle chopped Candy Cane Kisses evenly over the warm brownies. Allow to cool completely before cutting.
Notes
Store in an airtight container for up to 3 days or freeze for up to 3 months.
Nutrition
Serving:
1
brownie
|
Calories:
324
kcal
|
Carbohydrates:
39
g
|
Protein:
4
g
|
Fat:
19
g
|
Saturated Fat:
12
g
|
Polyunsaturated Fat:
1
g
|
Monounsaturated Fat:
5
g
|
Trans Fat:
0.5
g
|
Cholesterol:
71
mg
|
Sodium:
159
mg
|
Potassium:
123
mg
|
Fiber:
2
g
|
Sugar:
28
g
|
Vitamin A:
414
IU
|
Calcium:
22
mg
|
Iron:
2
mg
The default measuring system on My Baking Addiction is US Customary. Unit conversions are provided as a courtesy; please be aware that there may be some discrepancies.
Card may contain affiliate links. As an Amazon Associate and member of other affiliate programs, I earn from qualifying purchases.