I cannot believe today is the first of December! Holiday baking is in full swing and the first festive dessert I want to share with you is a recipe for Peppermint Brownies.
There is something about the crisp and refreshing flavor of mint that pairs perfectly with rich decadent Scharffen Berger Chocolate.
I stuffed the middle of these brownies with two bars of milk chocolate and topped them with chopped Peppermint Kisses for an added kick of mint. These brownies are just the way I like them; chocolaty and sweet with a nice chewy texture.
If you are a chocolate lover, you'll definitely want to add your recipe to this week's Holiday Recipe Exchange because Scharffen Berger is our sponsor and the prize is an amazing gift basket valued at over $100. If you have never tried Scharffen Berger Chocolate, I promise you'll be smitten with it immediately. Whether for baking or simply getting your chocolate fix, Scharffen Berger is one of the most high quality chocolates you can buy! Be sure to head over to GoodLife Eats and check out Katie's recipe for Chocolate Gingerbread Cookies…the are simply adorable!
If you are a chocolate lover and feeling inspired, check out Scharffen Berger's Chocolate Adventure Contest. Essentially you combine Scharffen Berger artisan chocolate with one or more of 14 adventure ingredients, from saffron to stout beer. Then create a winning cupcake recipe for a chance to win up to $10,000. Yes, you read that correctly, $10,000! You can read all about the contest and find out how to enter by heading over to the Chocolate Adventure Contest site.
How To Participate
For a chance to win a $100 Scharffen Berger Prize Pack:
Write and post a recipe on your blog featuring CHOCOLATE.
Include "Come join the fun at the My Baking Addiction and GoodLife Eats Holiday Recipe Swap sponsored by Scharffen Berger." in your blog post.
Add your link to the widget on either GoodLife Eats or My Baking Addiction (we have the same widget code, so only add it on one site).
Submit your post before Dec. 4, 11:59 AM. On Dec. 5, 12:00 AM the widget will switch to voting mode. Be sure to encourage your readers to vote for you and/or vote for your favorites.
Anyone can participate in the link up, but the prize will ship to US residents only.
More detailed info, including buttons for your posts are available here.
Note: Please note the following change in the rules due to suspected fraudulent voting practices: If you have already a won previous contest in the Holiday Recipe Exchange, your entry will defer to second place. We truly appreciate everyone's enthusiasm and fantastic contributions, but we want to spread the prize love around and give everyone the opportunity to win! It is quite unfortunate that our efforts to create a contest in good fun has resulted in fraudulent behavior to win prizes; however, please know that we are doing everything we can to remedy the situation. We hope you continue to participate have a great time in the process.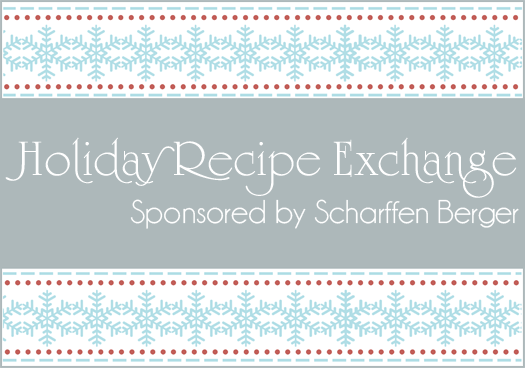 Link Up Your Recipes:
This Week's Prize:
$100 Scharffen Berger Chocolate Prize Pack (1 winner), provided by Scharffen Berger.

Recipe Theme Schedule:
We still have three weeks open for this Holiday season. If you would like to discuss scheduling a sponsored recipe exchange please contact Katie or Jamie to discuss availability and themes.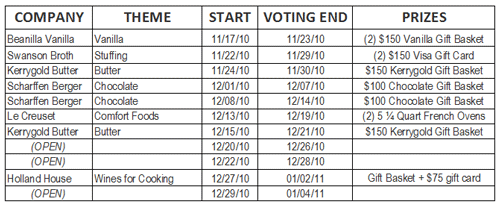 How To Promote:
Help us spread the word by letting your friends, family, and followers know about the contest. Email, Facebook, Tweet, Stumble…anything you want to do to promote this post is welcome.
Sample Tweet 1: Join @GoodLifeEats and @BakingAddiction for a Holiday Recipe Exchange. See how you can participate (and WIN) here: http://bit.ly/9YCFgA Pls RT
Sample Tweet 2: Enter CHOCOLATE recipes in @GoodLifeEats & @BakingAddiction Recipe Exchange 4 chance @ $100 @scharffenberger gift http://bit.ly/dFc1EE
Sample Tweet 3: Have a winning CHOCOLATE recipe? Share in @GoodLifeEats & @BakingAddiction Recipe Exchange 4 chance @ $100 GIFT http://bit.ly/dFc1EE
Sample Tweet 4: Vote 4 my CHOCOLATE recipe in @GoodLifeEats & @BakingAddiction Recipe Exch so I can win $100 @scharffenberger basket http://bit.ly/dFc1EE
Peppermint Brownies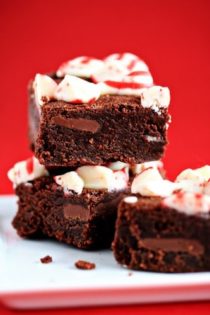 Ingredients:
4 ounces unsweetened Scharffen Berger Chocolate; coarsely chopped
3/4 cup butter
1 1/2 cups white sugar
3 eggs
1 teaspoon vanilla extract
3/4 teaspoon pure peppermint extract
1/4 teaspoon kosher salt
1 cup all-purpose flour
2 (1.55 ounce) Milk Chocolate bars; broken into squares
25 Peppermint Kisses; coarsely chopped
Directions:
1. Preheat oven to 350 degrees. Line an 8x8 inch baking pan with foil and spray with nonstick cooking spray.
2. Microwave chocolate and butter or margarine in large bowl at medium (50% power) for 3-4 minutes or until butter is melted.
3. Whisk until chocolate is melted. Stir in sugar and add in eggs, extracts and salt. Gradually add in flour and stir until just combined.
4. Spread 1/2 the batter into prepared pan. Add an even layer of milk chocolate squares and cover with remaining 1/2 of brownie batter. Bake for 30-35 minutes; do not over bake.
5. Remove to cooling rack and sprinkle chopped Peppermint Kisses evenly over the warm brownies. Allow to cool completely before cutting.
Notes:
Adapted from allrecipes
All images and text ©
Follow Jamie on Instagram. We love to see what you're baking from MBA! Be sure to tag @jamiemba and use the hashtag #mbarecipes!