Use up some of that leftover Halloween candy with these Snickers brownies! Super fudgy brownies filled with pieces of fun-sized Snickers bars make for a perfectly decadent treat.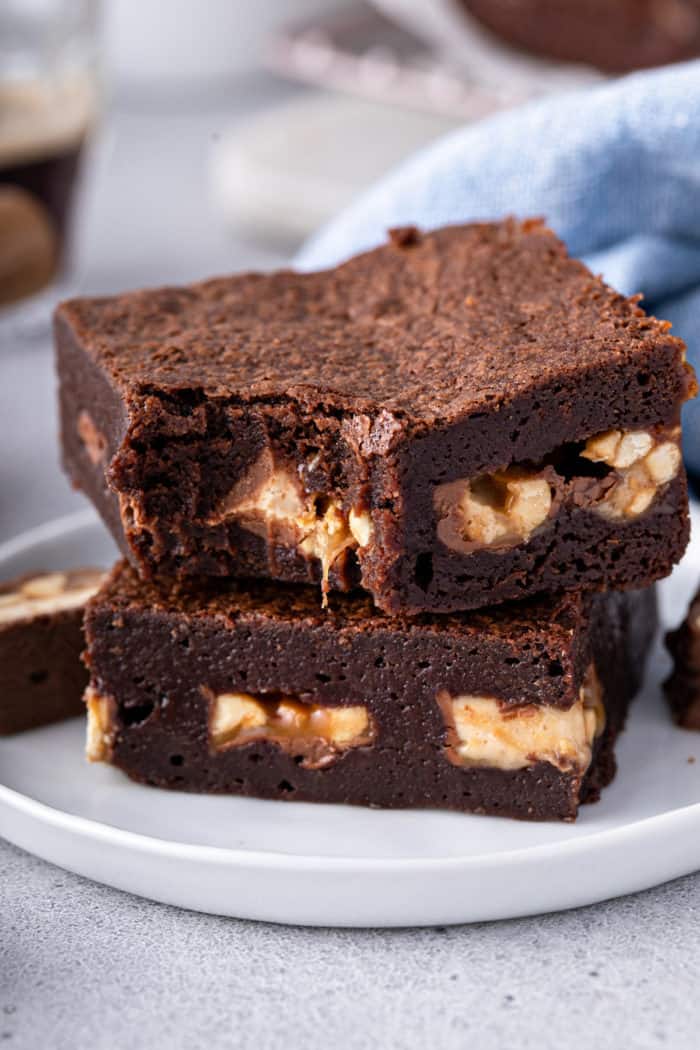 We've officially entered one of the seasons when there is always candy in the house.
With a school-aged kiddo, Halloween is one of the times of year when she comes home with candy for what feels like a week straight. And that's without trick-or-treating!
I don't mind having candy in the house, but at some point it stops feeling special and we all sort of forget about it. Which means that we still have pieces of Halloween candy left over by the time Valentine's Day rolls around and we're doing it all over again.
So I like to try to get ahead of things and line up a couple of recipes I can make that use up leftover Halloween candy. We still get to enjoy the candy, but in a way that leaves less of it sitting around for 4 months.
This year, I'm crossing my fingers for some extra Snickers bars so I can whip up a batch of these Snickers brownies!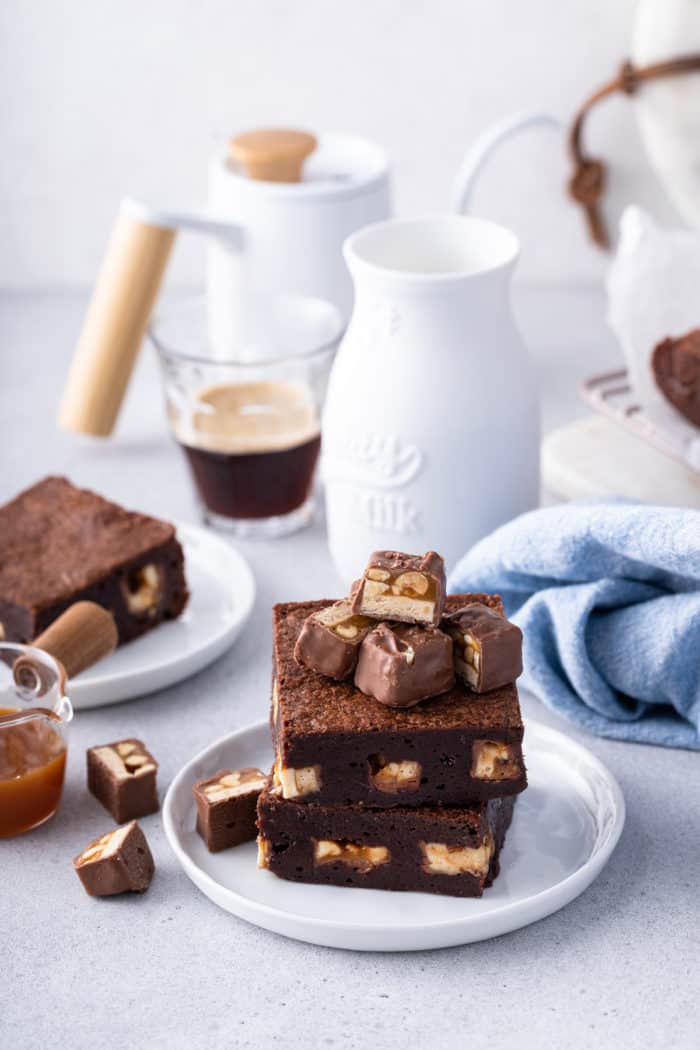 WHAT ARE SNICKERS BROWNIES?
These Snickers brownies take my favorite rich, fudgy brownies and add pieces of fun-size Snickers bars in the center.
The result is super thick, decadent brownies with bits of nougat, gooey caramel and crunchy peanuts in every single bite.
I like to use fun-size Snickers bars in these brownies. I feel like we always end up with a ton of them over the course of Halloween. And even if you don't, you are guaranteed to find them for 75% off just after the holiday.
But you can use full-size Snickers bars in this recipe if that's what you have instead! If using full-size Snickers, you'll need 3-4 bars for this recipe.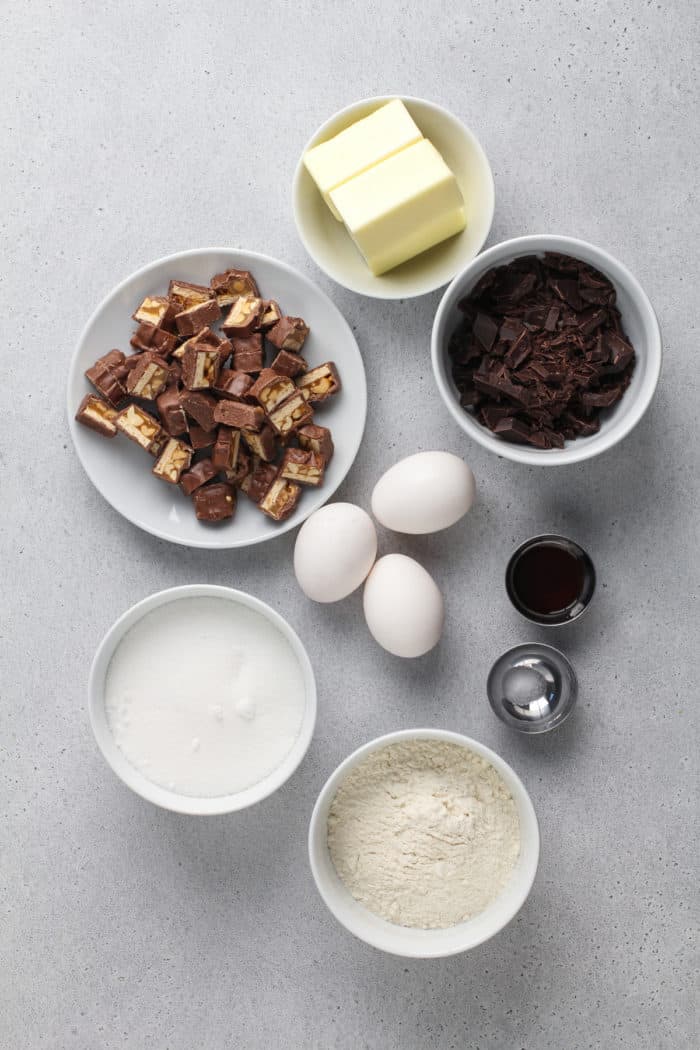 HOW TO MAKE SNICKERS BROWNIES
One thing I love about this recipe is that it is pretty quick and easy to throw together. Maybe not as quick as my salted caramel brownies, but pretty close to it!
Ingredients you'll need
To make these Snickers brownies, you will need:
4 ounces unsweetened chocolate; coarsely chopped
¾ cup butter
1 ½ cups white sugar
3 eggs; lightly beaten
1 teaspoon vanilla extract
¼ teaspoon kosher salt
1 cup all-purpose flour
12 fun-size Snickers candy bars; each cut into 4 pieces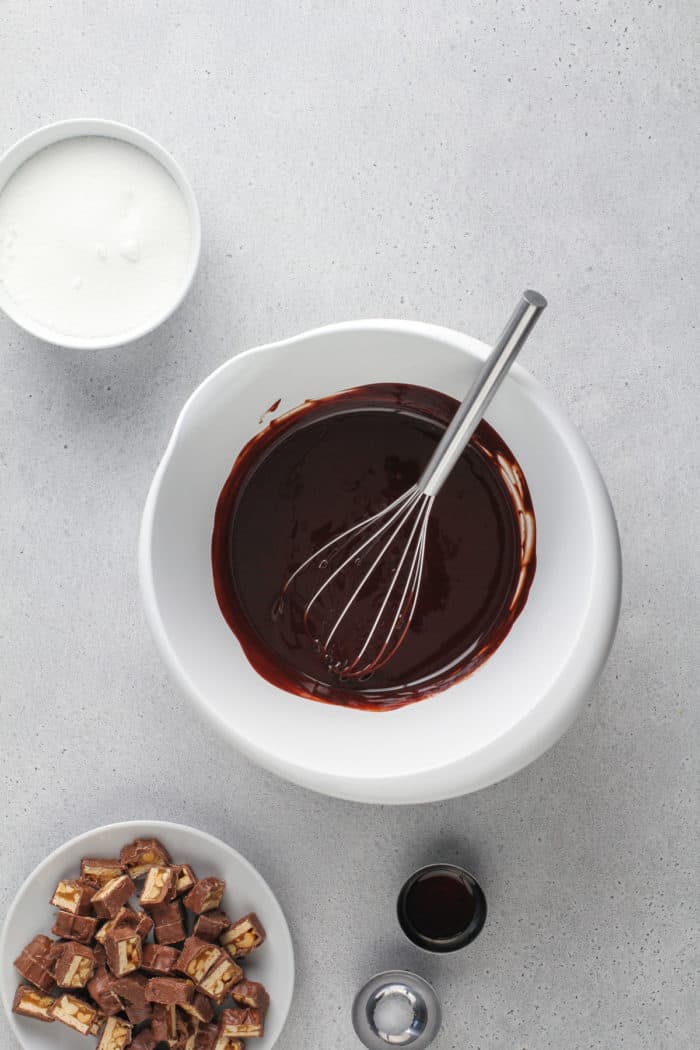 This recipe uses melted chocolate instead of cocoa powder, which helps to make the finished brownies super dense and fudgy. If you prefer a more cakey brownie, I recommend checking out my tiramisu brownies!
The recipe only uses 1 cup of flour, but it's still important that you measure it out correctly so that your brownies turn out perfect every time. Check out my post on how to measure flour for more details.
As I mentioned above, I like using 12 fun-size Snickers bars in this recipe, but you could use 3-4 full-size bars instead, or even a combo of the two. You just want to make sure you have enough candy bar pieces to get some in every single bite.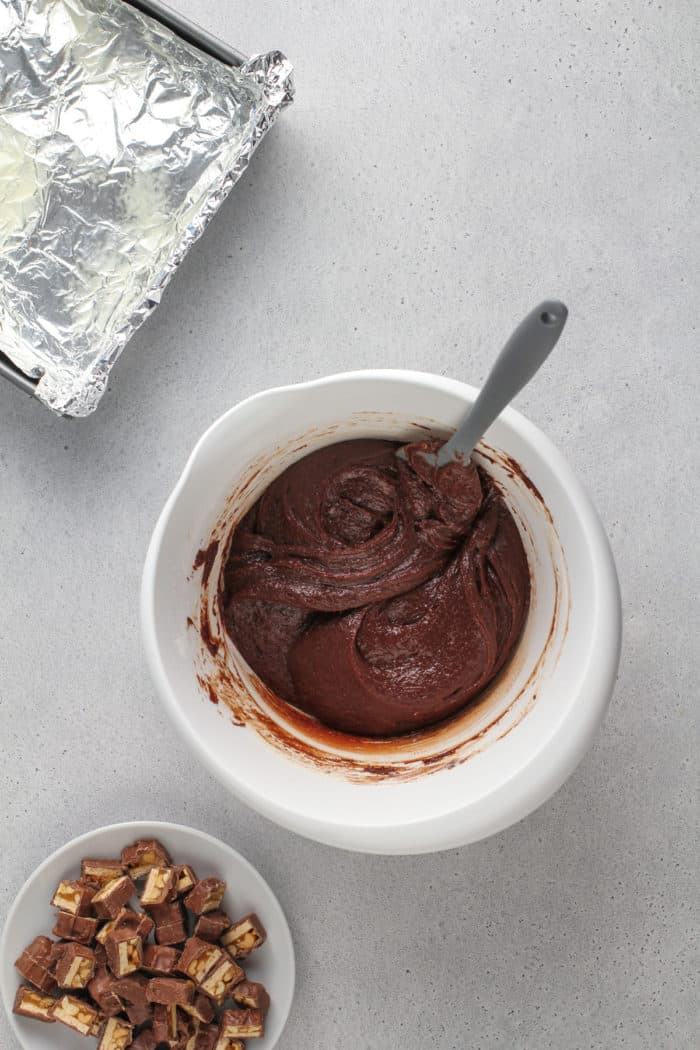 Making this recipe
Before you start making the brownie batter, line an 8×8-inch baking pan with foil and spray it with nonstick spray. I like to leave some of the foil hanging over the pan so it is easy to lift the baked brownies out later.
Add the chopped chocolate and butter to a large microwave-safe bowl. Microwave at 50% power for 3-4 minutes, or until the butter is melted.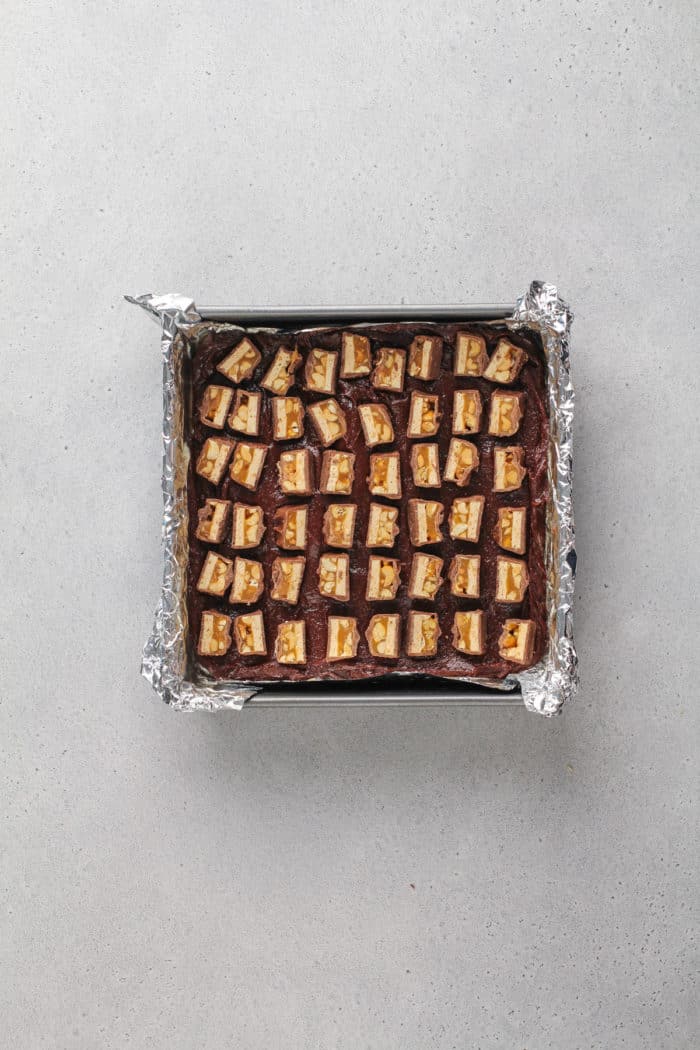 Whisk this mixture until the chocolate has melted, then stir in the sugar. Add in the eggs, vanilla, and salt. Gradually add the flour and stir just until combined.
Spread half of the batter into the prepared pan. Layer the snickers pieces evenly over the brownie batter, then spread the rest of the batter over the top.
Bake the Snickers brownies for 30-35 minutes. I recommend erring on the side of under-baking the brownies, since we want these to be super gooey and fudgy.
Let the brownies cool completely before using the foil to lift them out of the pan and cut them into bars.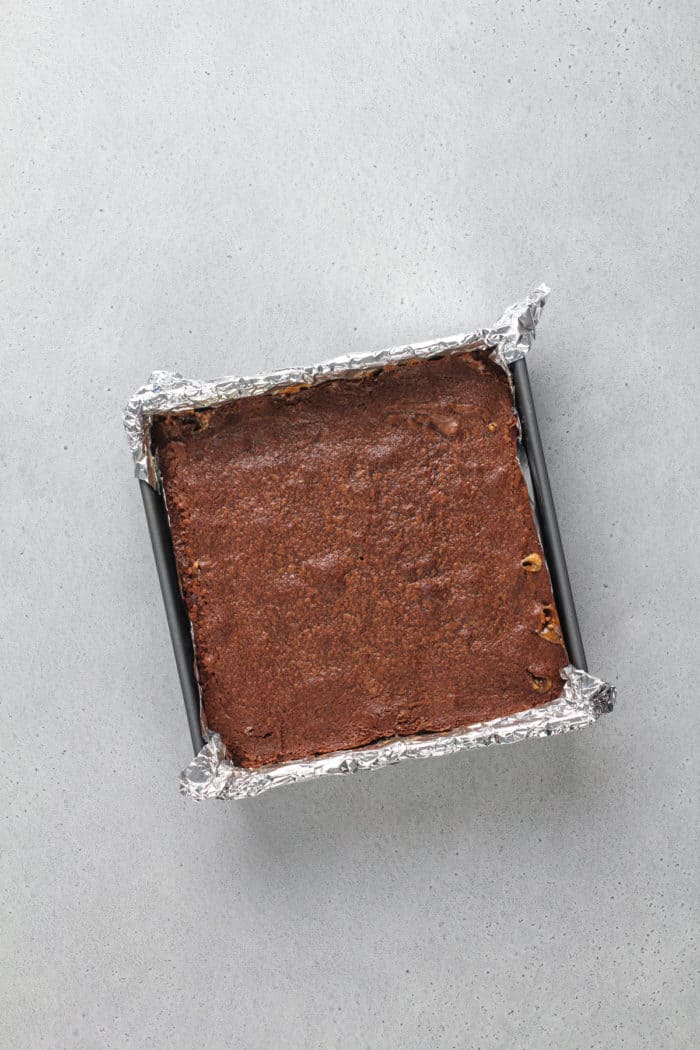 MORE WAYS TO USE LEFTOVER HALLOWEEN CANDY
Looking for more ways to use up your family's leftover Halloween candy? Or maybe even some candy you bought for 75% off the day after Halloween? I've got you covered.
Candy corn might be one of the most controversial Halloween candies, but it is perfect in Halloween popcorn balls!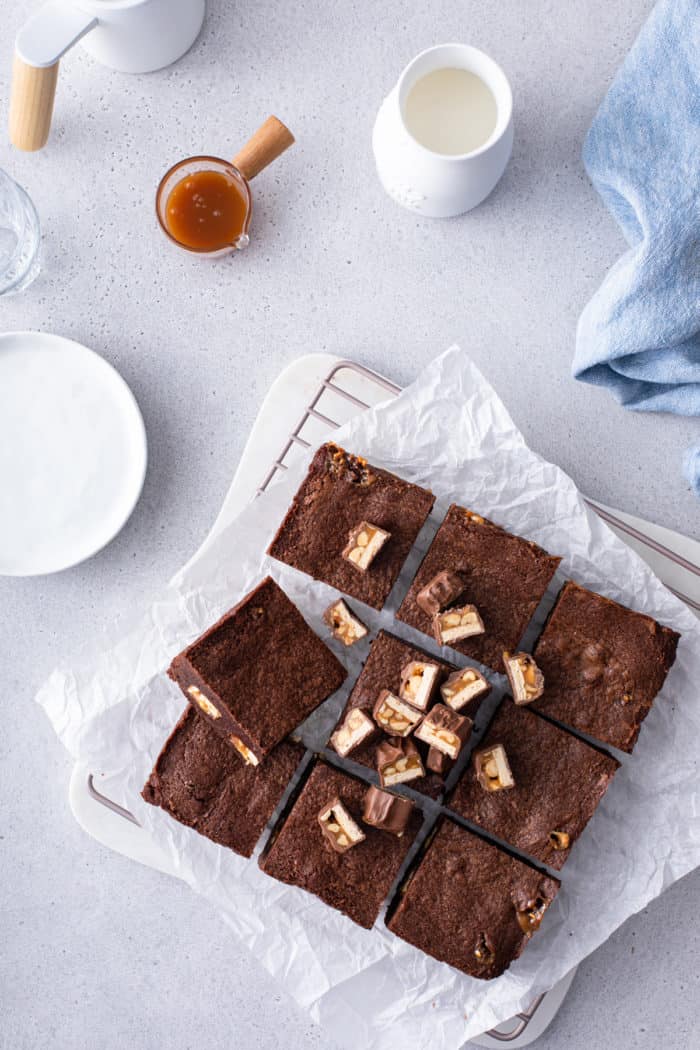 Got a lot of extra peanut butter cups? Give these peanut butter cheesecake bars a try.
Those little packets of M&M's are always a popular candy choice. Use them to make a small batch of M&M cookie bars!
Don't have a lot of any one type of candy, but a whole assortment of treats? Then you've got what you need to make monster cookie bars or kitchen sink cookies!
Whether you save these as a post-Halloween treat or make them in the middle of the summer, these gooey, decadent Snickers brownies are sure to be a hit.