Tiramisu Brownies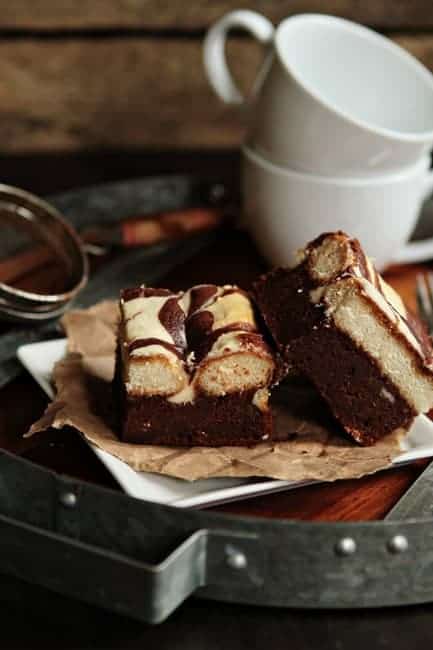 [pinit]
Although my parents divorced when I was a freshman in high school, my brother and I are incredibly fortunate in the fact that they've always been amicable. Sure they had their moments, but overall they handled themselves with a great deal of grace. My parents are pretty much two of the most amazing people on the planet and the way they handled their divorce certainly shaped who I am as a person today.
Having gone through break ups myself and having helped friends get through theirs, I've never been able to wrap my head around the animosity and often times hatred that tends to develop when two people decide to part ways.
"Sometimes good things fall apart, so better things can fall together."
The very first time I ever had Tiramisu was at a birthday celebration my parents arranged for me after their divorce. Everyone – including my dad's girlfriend (now stepmom) – sat down to a meal at Buca di Beppo. We passed family style plates of spaghetti and salad and finished our meal with a huge bowl of Tiramisu. It was literally love at first bite.
Tiramisu brownies are a fun and modern twist on a classic dessert. They still have all the familiar flavors – mascarpone cheese, dark chocolate, lady fingers and rich, Italian Roast coffee, but they're in bar form, so they're totally portable and perfect for parties and potlucks.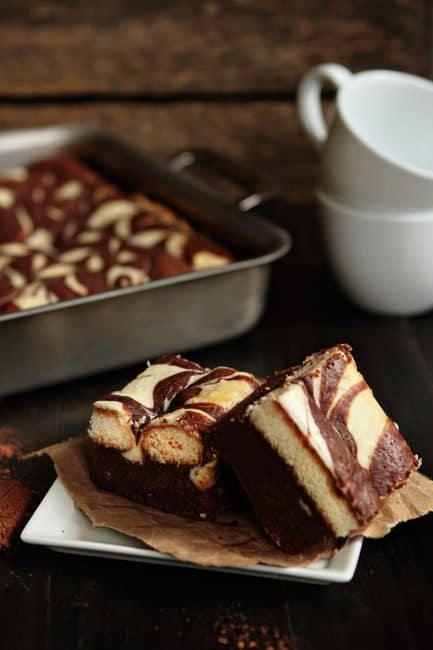 I made these brownies with Barista Prima Coffeehouse's Italian Roast blend. If you're into deep, dark, espresso-like coffees, Barista Prima is for you. I'll admit that they're a little strong for me as a daily drinking coffee, but I can't deny that they are perfection when paired with chocolate in desserts.
I was pretty happy to relive my Tiramisu love with this month's Keurig K-Cup Ambassador shipment, and I think you'll love this recipe as much as I do.
And, because Green Mountain Coffee wants to make sure you can make this recipe at home, this month's coupon code gives you 15% off storewide at GreenMountainCoffee.com, and free shipping on orders containing at least one K-Cup® pack of Barista Prima Coffeehouse®. The code is valid now through May 31st.
So tell me, how do you feel about Tiramisu? Do you have a deep, abiding love for it like I do?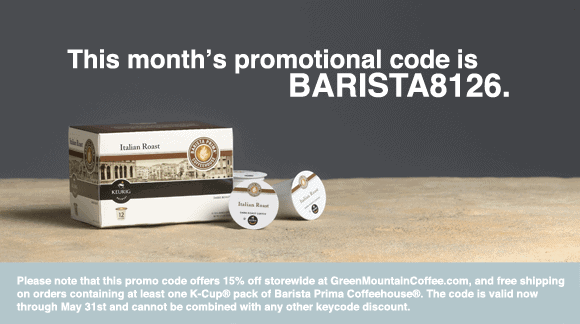 Tiramisu Brownies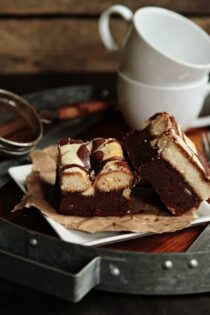 Ingredients:
For the Brownie Batter
12 oz. chocolate chips
1 cup unsalted butter, softened
1 cup sugar
4 whole eggs
4 egg whites
1 cup cake flour
For the Mascarpone Topping
8 ounces mascarpone cheese, room temperature
8 ounces cream cheese, room temperature
1/4 cup sugar
4 egg whites
2 teaspoons pure vanilla extract
1 package soft ladyfingers
1 cup Barista Prima Coffeehouse Italian Roast coffee, brewed
Directions:
1. In a large bowl, melt the chocolate. Stir until smooth and leave it to cool. Heat the oven to 350°F. Line a 13″ x 9″ baking pan with parchment paper. Add chocolate to a mixing bowl with the paddle attachment on. Beat in the butter followed by 1 cup of sugar and the 4 eggs and 4 egg whites. Add the flour and mix on low speed until just combined. Pour the batter into the prepared baking pan minus 1 cup of the brownie batter. Lay the ladyfingers upside down on top of the batter, and push down slightly. Brew 1 Barista Prima Coffeehouse Italian Roast K-Cup pack. Using a pastry brush, carefully brush the Barista Prima Coffeehouse coffee over the ladyfingers until they are saturated.
2. In another bowl, combine the mascarpone cheese, cream cheese, and 1/4 cup of sugar, 4 egg whites and vanilla extract. Spread topping over ladyfingers over ladyfingers. Place spoonful of brownie batter on top of the creamy filling and swirl it lightly with a toothpick or knife.
3. Bake for 45 to 50 minutes or until center is almost set and brownies begin to pull away from sides of pan. Cool completely in the pan before slicing it.
Recipe provided by Barista Prima
All images and text ©
Follow Jamie on Instagram. We love to see what you're baking from MBA! Be sure to tag @jamiemba and use the hashtag #mbarecipes!
This post may contain affiliate links. We are a participant in the Amazon Services LLC Associates Program, an affiliate advertising program designed to provide a means for us to earn fees by linking to Amazon.com and affiliated sites.