I'm going to be honest, guys – getting back into a groove is tough stuff.
I feel like the moment I find some semblance of balance, something comes along to shake things up again.
Although, I'd love to say that I'm finding a little solace in the kitchen – that's so not the case. Instead of eating my feelings, I'm on an organizing kick and have been sucked into Teen Mom 2 and Snookie & JWoww.
Judge away – I'm completely cool with it.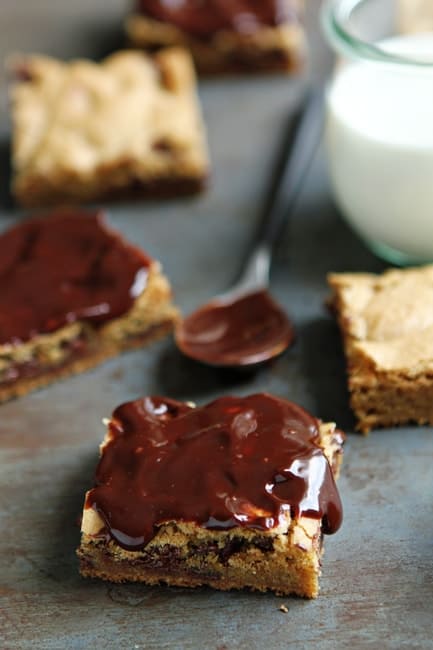 This weekend I pulled myself away from crap television and obsessive closet organizing to make you guys Chocolate Chip Blondies. What's more comforting than a buttery, chewy chocolate chip cookie in bar form? Well, I'll tell ya – it's a buttery, chewy chocolate chip cookie in bar form dripping with rich chocolate ganache.
Happiness is not a matter of intensity but of balance, order, rhythm and harmony. -Thomas Merton
Whether you're looking for an afternoon snack or you're simply in the mood to eat your feelings, these blondies are the treat for you. Nothing says love like butter and flour smothered in chocolate, I know that much.
It's good to be back, guys. Be gentle with me.
[pinit]

Chocolate Chip Blondies Recipe
Yield: 12 blondies
Prep Time: 15 minutes
Cook Time: 20-25 minutes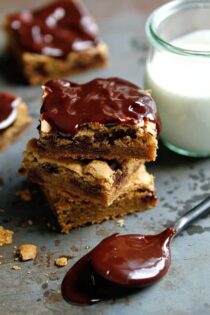 Ingredients:
1 cup Gold Medal all-purpose flour
1/2 teaspoon baking powder
1/4 teaspoon baking soda
1/2 teaspoon salt
1/3 cup unsalted butter, melted
1 cup packed light brown sugar
1 large egg
2 teaspoons pure vanilla extract
1 cup semisweet chocolate chips
For the Ganache
4 ounces semisweet chocolate, chopped
1/2 cup heavy cream
Directions:
1. Preheat oven to 350 degrees F. Line a 9x9-inch baking pan with foil and spray with non-stick cooking spray.
2. In a medium bowl, combine flour, baking powder, baking soda, and salt.
3. In the bowl of a stand mixer fitted with the paddle attachment or in a large bowl with an electric mixer, combine the brown sugar and melted butter. Add egg and vanilla, mixing until well combined. Gradually add in dry ingredients and mix until just combined. Stir in chocolate chips.
4. Spread the batter into the prepared pan. Bake in the preheated oven until a toothpick inserted in the center comes out clean, about 20 to 25 minutes. Remove pan to wire rack and cool completely.
5. To make the ganache, pour the chopped chocolate into a medium mixing bowl, set aside. Pour the heavy cream into a microwave safe measuring cup (Pyrex) and microwave on high for about 1 minute or until bubbles begin to form on the surface. Take care to not overheat because the cream will boil over. Pour the hot cream over the chocolate and allow it to sit for about 3 minutes. Use a small whisk to combine the mixture into a smooth chocolate glaze. Spoon the ganache over the brownies.
All images and text ©
for My Baking Addiction
Follow Jamie on Instagram. We love to see what you're baking from MBA! Be sure to tag @jamiemba and use the hashtag #mbarecipes!
Disclosure
This post is part of an ongoing relationship between My Baking Addiction and Gold Medal Flour. In June of 2012, My Baking Addiction attended a Farm to Table event in Kansas City to learn why Gold Medal has been America's flour of choice for 125 years. Although this is a sponsored post, the views and opinions expressed are our own and based upon our personal experiences with Gold Medal Flour.