Snickerdoodle Blondies…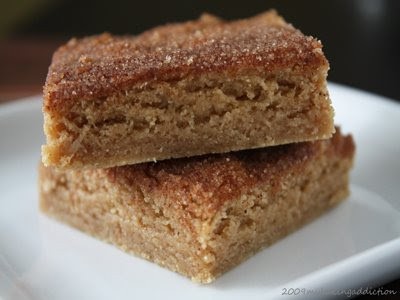 Once in awhile I come across a recipe that I feel compelled to make. It's like I become obsessed with it and the idea will not exit my brain until the recipe is baked, blogged and eaten! These Snickerdoodle Blondies are one of those recipes…I have seen these suckers popping up on various blogs such as Ingrid's, 3 B's, Sydney's Crepes of Wrath and Julia's, Dozen Flours . Being a big fan of Snickerdoodle cookies, I knew the moment I saw these I had to give them a whirl. What impressed me most about this recipe was that it was super basic, no need to run out and buy anything special, just raid your fridge and pantry and bake away! These are also SUPER easy…honestly like ten minutes and these were in the oven filling my home with the sweet inviting scents of cinnamon and brown sugar! These were just perfection and a delectable companion to a cup of piping hot chai tea! Now get obsessed with these bars and get to baking!
Snickerdoodle Blondies
adapted from Dozen Flours
posted from Crepes of Wrath
Ingredients
2 2/3 cups all-purpose flour
2 teaspoons baking powder
1 teaspoon cinnamon
1/4 teaspoon grated or ground nutmeg
1 teaspoon salt
2 cups packed brown sugar
1 cup butter, room temperature
2 eggs, at room temperature
1 tablespoon vanilla extract
2 tablespoons granulated sugar
2 teaspoons cinnamon
a pinch nutmeg

Directions
1. Preheat oven to 350 degrees F. Lightly grease and/or line a 9×13 inch pan. Combine the flour, baking powder, cinnamon, nutmeg and salt and set aside.
2. In large bowl, beat together butter and brown sugar for 3-5 minutes. Add in the eggs one at a time, then the vanilla, and beat until smooth.
3. Stir in the flour mixture until well blended. Spread evenly in prepared pan (mixture will be somewhat cookiebatter–ish, so it's best to spread it out with a greased spatula or your hands). Combine the granulated sugar, cinnamon, and nutmeg in a little bowl. Evenly sprinkle cinnamon sugar mixture over the top of the batter.
4. Bake 25-30 minutes or until surface springs back when gently pressed. Cool before cutting. Makes 20-24 bars.

This post may contain affiliate links. We are a participant in the Amazon Services LLC Associates Program, an affiliate advertising program designed to provide a means for us to earn fees by linking to Amazon.com and affiliated sites.