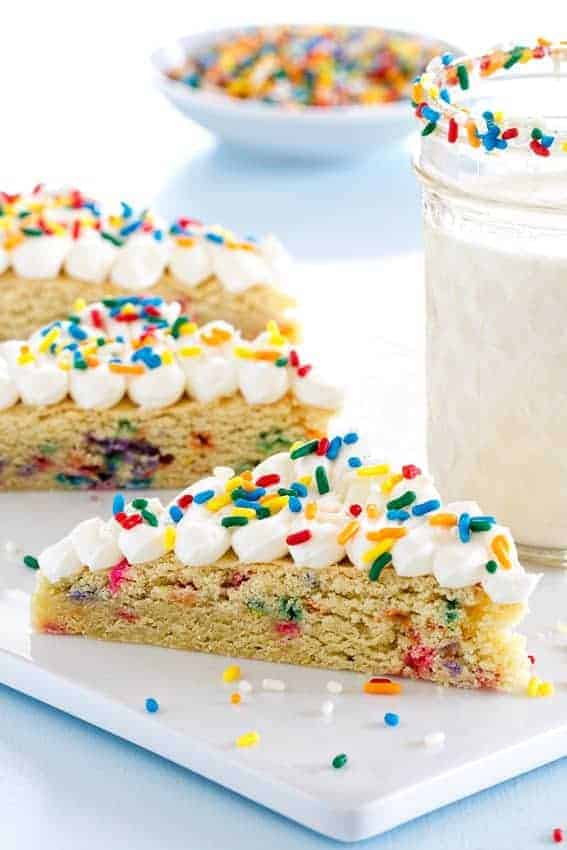 Funfetti Sugar Cookie Bars will make you happy. SO happy. You know, because sprinkles!
Funfetti Sugar Cookie Bars are one of those desserts that make their appearance over and over again in my kitchen. They're pretty darn tasty, but they also feed a crowd, which makes them a perfect dessert for parties and potlucks.
And if you haven't noticed, Funfetti is pretty awesome, especially in the form of Homemade Funfetti Cupcakes!
You can jazz Funfetti Sugar Cookie Bars up by cutting them into shapes like triangles, circles and sticks, or traditional squares.
And they are totally adaptable; just add in a little spice or citrus zest and top them with a flavored buttercream and you can create a sweet and seasonal dessert that everyone will be raving about.
Sugar Cookie Bars will always hold a special place in my heart because they were one of the first recipes on My Baking Addiction that actually had a little traffic.
I remember being super proud of the photos – although they totally make me wince a little now.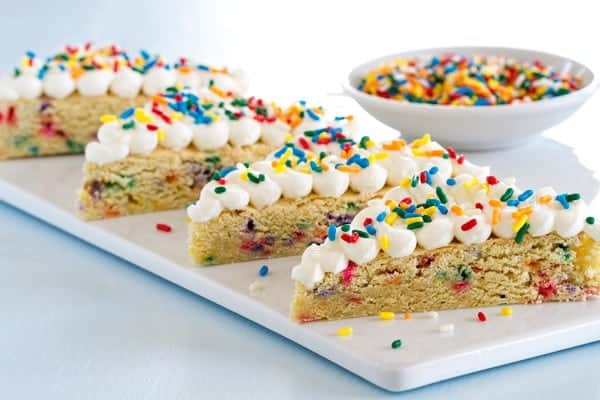 I'm pretty sure that I may have jumped up and down when they were picked up and featured by a website. The fact that people other than my dad and mom read the post was pretty awesome.
Back then, there was no Pinterest and I don't even think I had a personal Facebook page, so blog traffic was a little more difficult to attain.
Last week, Elle and I were browsing the "Dollar Spot" at Target – which if you haven't noticed really means that prices are in whole dollar form and most definitely not just one dollar – deception I tell ya.
Tubs of sprinkles immediately caught her attention. Well, sprinkles and sparklers, but those were definitely a no-go. The tub o' sprinkles had a shakability factor that kept her content while I grabbed the essentials – butter, sugar and cheese!
We came home – sprinkles still shaking away in her chubby little fist – and I decided that we'd make a batch of Funfetti Sugar Cookie Bars.
I already had a few sticks of butter softening on the counter, so we were good to go.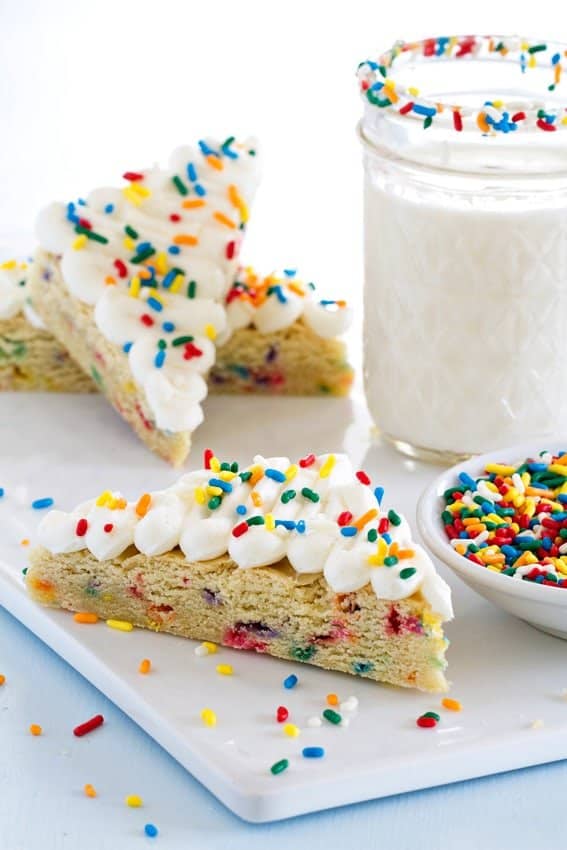 Elle is all about being in the kitchen now, which is pretty much the most adorable thing ever. Since she's still just an itty-bitty thing, we're doing a lot of our baking prep on the kitchen floor – which she totally loves!
Sugar Cookie Bars are just the right kind of recipe to start your little ones on. With simple ingredients, you'll be able to measure and mix them together.
Then you can press the dough into the baking dish together – just imagine little dimpled hands pressing it down flat.
Elle's face lit up watching our stand mixer make quick work of my favorite buttercream recipe.
Once the bars were cooled, we slathered each one with frosting, and her face lit up even more taking our first bite.
You've just GOT to make them with your littles!
If you're looking for more delicious bar desserts, you have to try these Snickerdoodle Bars and these Golden Grahams S'mores Bars!
This Funfetti Sugar Cookie Bars recipe originally appeared on Food Fanatic.