Homemade Funfetti Cupcakes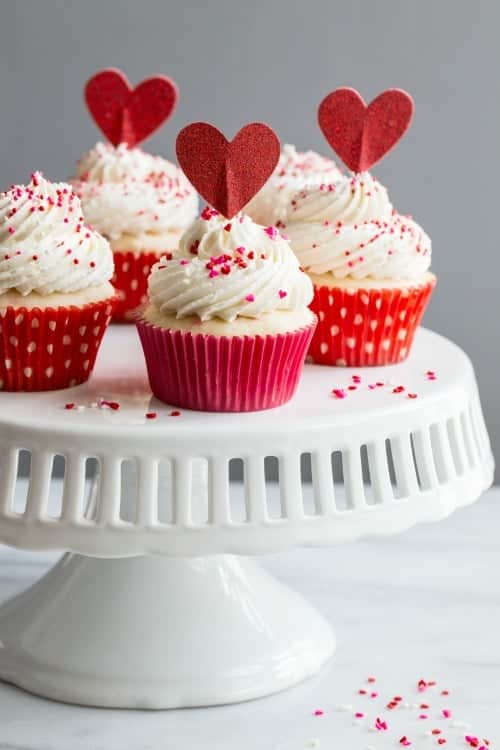 Delicious homemade funfetti cupcakes are so easy to make and perfect for just about any occasion. These cuties are dressed up for Valentine's Day, but they'd be just as cute with green sprinkles for St. Patrick's Day!
Happy Valentine's Day! Today I'm coming at ya with a delicious and easy recipe for homemade funfetti cupcakes. If you read MBA on a regular basis, you know I'm not one to diss a boxed mix, but I have to say homemade funfetti cupcakes are so much better. And they're almost as easy!
Since we're just about a week away from moving into our new home, we're keeping Valentine's Day low key this year – well, really, we keep it low key every year.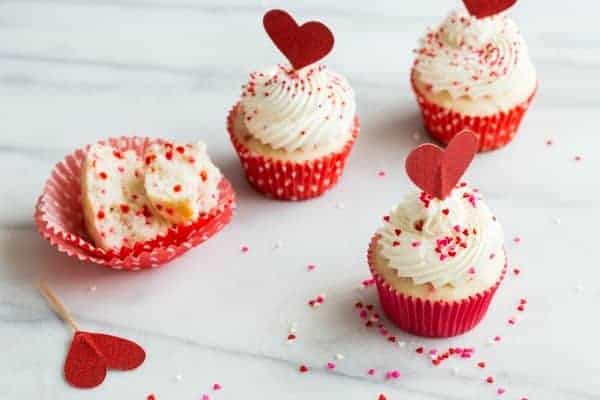 We're headed out for an early dinner with Elle, and then hitting up a few home improvement stores to browse lighting fixtures and cabinet hardware. We're fancy like that. And if I'm being honest, Elle and I don't really need a giant bouquet of roses and expensive dinner to know how much Eric loves us. I mean, he cleans the kitchen after I bake up a storm, makes me heart-shaped PB&J sandwiches on the reg, and changes the majority of Elle's diapers. That right there, that's love.
When I was thinking of a few Valentine's Day desserts to share with you, funfetti cupcakes immediately made the list. Let's be real, who can resist bright, sprinkled-flecked cake? Certainly not this girl. Add on a swirl of buttercream and I'm pretty much in cupcake heaven.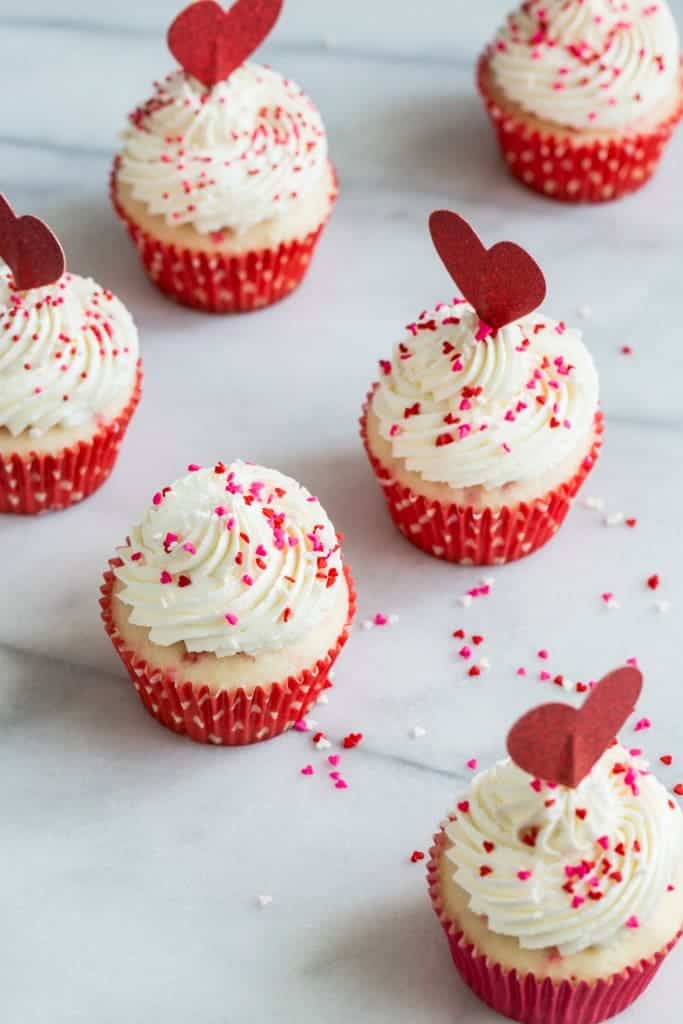 The great thing about homemade funfetti cupcakes is that you can customize them for pretty much any occasion. Just add different colored sprinkles into the batter, tint your buttercream a fun, festive color and you're good to go. Think of all the possibilities!
What are you up to for Valentine's Day?
Photo Credit: Emily Caruso of Jelly Toast


Homemade Funfetti Cupcakes
Yield: 18-20 cupcakes
Prep Time: 30 minutes
Cook Time: 18-24 minutes
Ingredients:
For the Cupcakes
2 1/4 cups cake flour (I used Swan's Down brand)
1 tablespoon baking powder
1/2 teaspoon kosher salt
1 1/4 cups whole milk, room temperature
4 large egg whites, room temperature
1 stick (8 tablespoons) unsalted butter, at room temperature
1 1/2 cups sugar
2 teaspoons pure vanilla extract
1/2 cup sprinkles
For the Buttercream
3 sticks unsalted butter, softened
1 ½ pounds (24 ounces) confectioners' sugar, sifted
2 teaspoons clear vanilla extract (this helps maintain the bright white color)
2-3 tablespoons heavy cream or milk
Directions:
For the Cupcakes
1. Center a rack in the oven to 350 degrees F. Line cupcake pan with paper liners.
2. In a large bowl, sift together the flour, baking powder and salt.
3. In a medium bowl, whisk together the milk and egg whites.
4. In the bowl of a stand mixer fitted with the paddle attachment, or with a hand mixer, beat the butter and sugar at medium speed for 3 minutes, or until the butter and sugar are very light. Add in the vanilla extract and one third of the flour mixture, still beating on medium speed. Beat in half of the milk-egg mixture, then beat in half of the remaining dry ingredients until well incorporated. Add the rest of the milk and eggs, beating until the batter fully incorporated and smooth, then add the last of the dry ingredients.
5. Once ingredients are thoroughly incorporated, give the batter a good 1-minute beating to ensure that it is thoroughly mixed and well aerated. Use a rubber spatula to fold the sprinkles into the batter. Using a large scoop (about 3 tablespoons), distribute the batter between 18 muffin wells, filling each well 2/3 full.
6. Bake for 18-24 minutes, or until a toothpick inserted into the centers come out clean. Cool on wire rack.
For the Buttercream
1. In the bowl of a stand mixer fitted with the paddle attachment, or in a large bowl with a hand mixer, beat butter at medium-high speed for about 5 minutes. With the mixer on low speed, slowly add in confectioners' sugar. Once the confectioners' sugar is fully incorporated, beat the butter and sugar on medium speed for an additional 5 minutes
2. Add in vanilla, and 1 tablespoon of heavy cream or milk. Blend on low speed until moistened.
3. Add an additional 1 to 2 tablespoons of heavy cream or milk until you reach the desired consistency. Beat at medium-high speed until frosting is smooth and fluffy.
Notes:
Craving More? How about these lovely Valentine's Day Desserts?
Peanut Butter Brownie Parfaits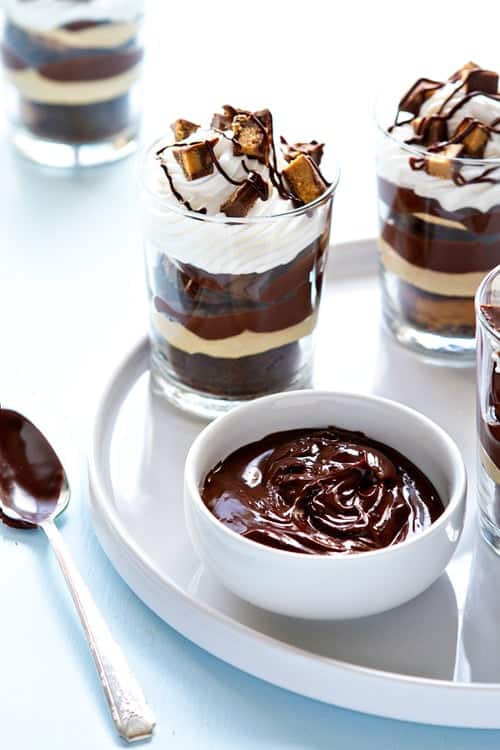 25 Responses to "Homemade Funfetti Cupcakes"