Delicious Homemade Funfetti Cupcakes are so easy to make and perfect for just about any occasion. Dress these cuties up for any holiday or celebration just by changing the color of the sprinkles!
This post contains affiliate links.
With school back in session, I find myself thinking of treats I can bring in for the teachers to enjoy.
As someone who spent years in the classroom, I know that teaching can feel like a pretty thankless job, so I like to surprise the staff with treats every so often to thank them.
Sometimes it's a batch of classic rice krispie treats, sometimes it's a pan of sugar cookie bars. And sometimes it's a batch of these homemade funfetti cupcakes.
Complete with sprinkles in their school colors, of course!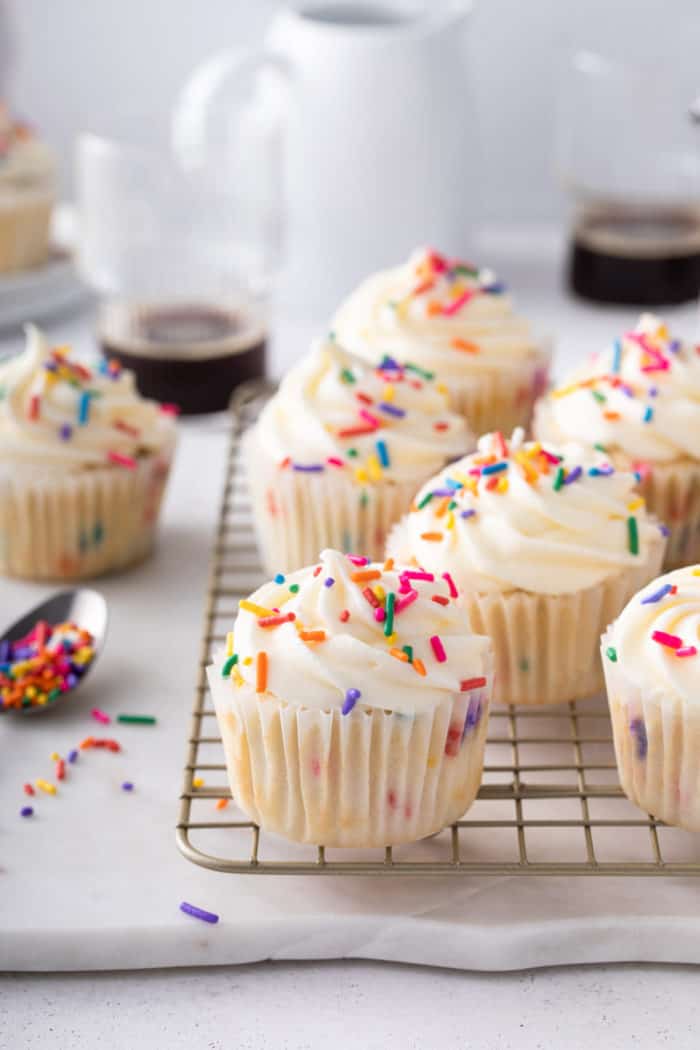 WHAT ARE FUNFETTI CUPCAKES?
If you've never had funfetti cake before, you might be wondering what exactly "funfetti" is.
"Funfetti" just refers to a white cake with multi-colored sprinkles baked in. You might have grown up calling it "confetti cake." Or some people just consider it to be birthday cake.
But "funfetti" sounds so much more…well, fun!
Unlike recipes like cherry cheesecake cupcakes that use a yellow cake base, funfetti cupcakes are made with white cake so that the colorful sprinkles really pop!
I've shared a couple of other funfetti recipes before with my funfetti cookies and funfetti sugar cookie bars. Others have even gotten in on the funfetti craze with recipes such as funfetti cheesecake and funfetti waffles.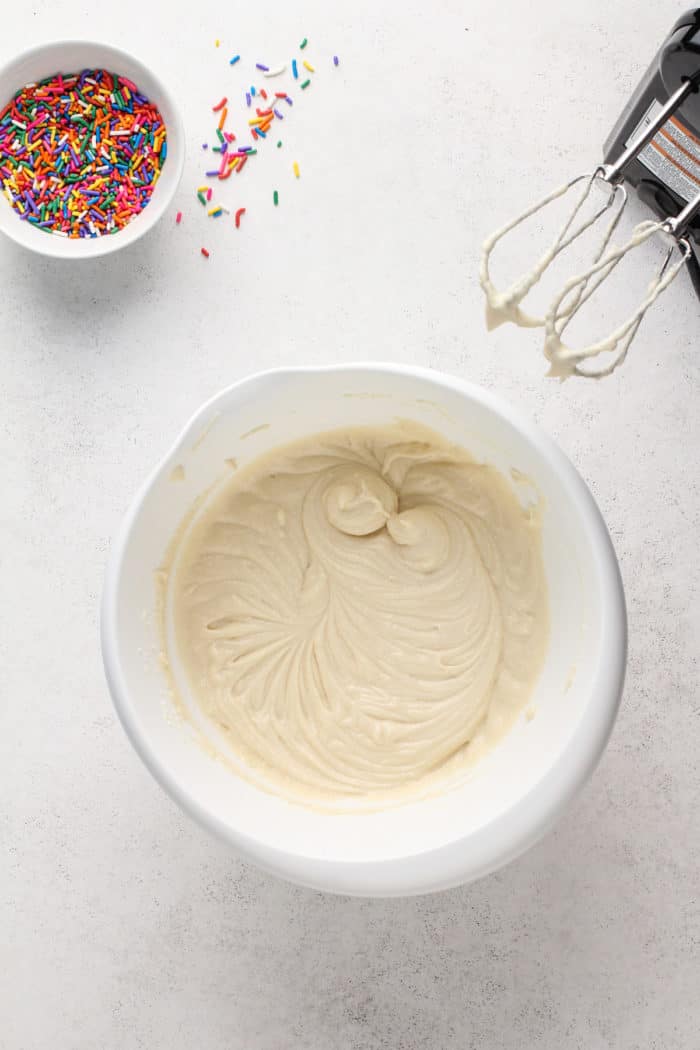 MAKING FUNFETTI CUPCAKES FROM SCRATCH
If you read MBA on a regular basis, you know I'm not one to diss a boxed mix. My Doctored Cake Mix is one of my favorite kitchen magic tricks for a reason.
But I have to say, homemade funfetti cupcakes are so much better. And they're almost as easy!
Besides, I know the sprinkles alone will make your kids want to help with these cupcakes. And what better way to start teaching basic math skills than by getting them to help you measure ingredients?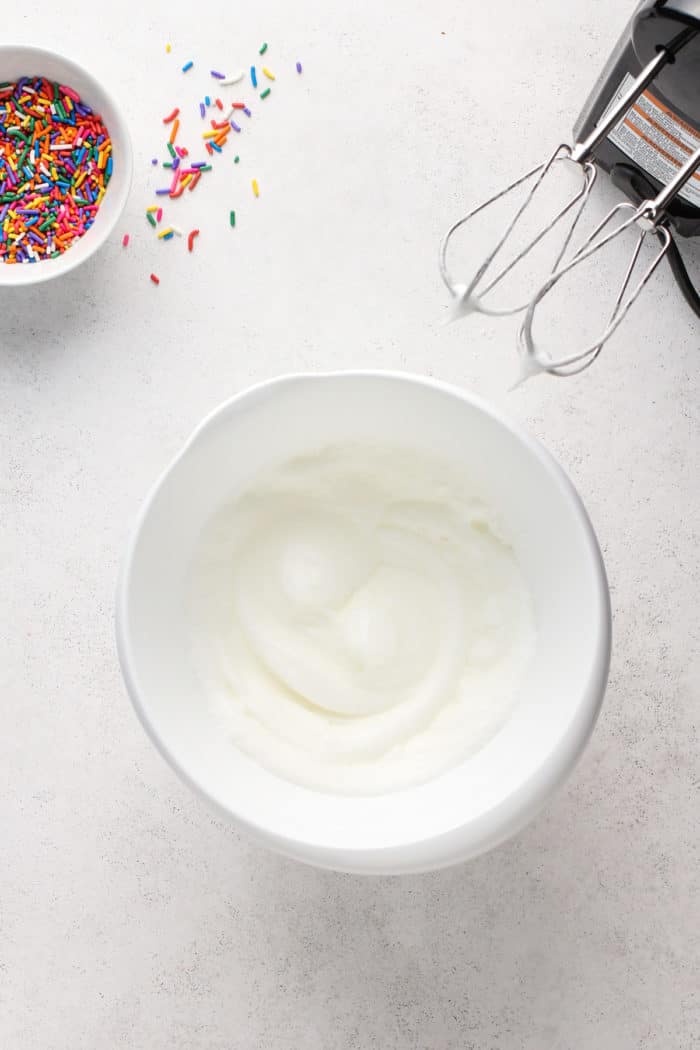 What sprinkles should you use?
There's an entire half cup of sprinkles in this recipe. That's a lot of sprinkles! But trust me, you want these cute little cupcakes to be full of color!
I find that jimmies-style sprinkles work best in this recipe.
I love using rainbow jimmies for a fun, classic "birthday cake" version of this recipe. But you can use any color sprinkles that you like!
Try red and pink for Valentine's Day, orange and black for Halloween, shades of green for St. Patrick's Day, your school colors for school spirit week…you are only limited by your imagination!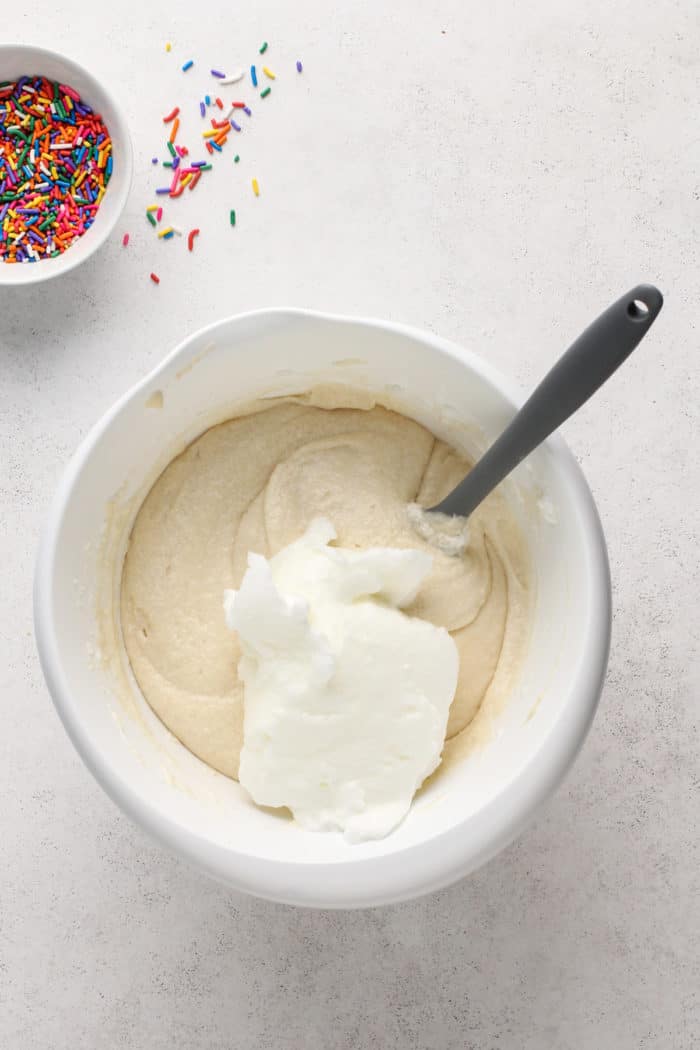 How to make these cupcakes
To get the perfect light and fluffy texture in these cupcakes and to make sure the sprinkles stay evenly distributed throughout the cake, we'll use a slightly different method than we do for banana cupcakes or guinness cupcakes.
Get your ingredients ready by sifting together the flour, baking powder, and salt in one bowl. In another bowl or measuring cup, mix together the milk and vanilla extract. Set both of these aside.
Using a stand mixer or hand mixer, cream together the butter and sugar for about 3 minutes, until light and fluffy.
Alternate adding the flour and milk mixtures, beginning and ending with the flour. To do this, add ⅓ of the flour mixture, then half of the milk, another ⅓ of the flour, the rest of the milk, and finally the rest of the flour. Make sure everything gets incorporated after each addition.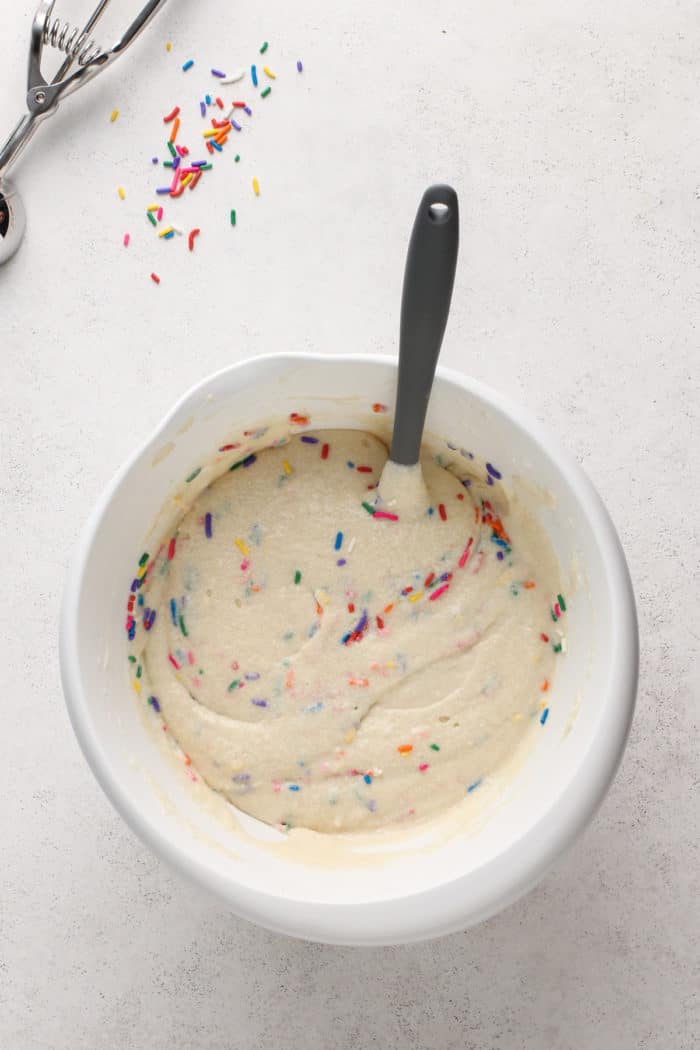 Because white cakes don't use egg yolks, only egg whites, this next step is where the recipe is different than some others you may have made.
Add the egg whites to a bowl and beat with a hand mixer on medium-high speed until stiff peaks form.
Now we'll add the whipped egg whites to the batter.
Use a spatula to gently stir ¼ of the whipped egg whites into the batter until no streaks of egg whites remain. This will help to lighten up the batter before we add the rest of the egg whites.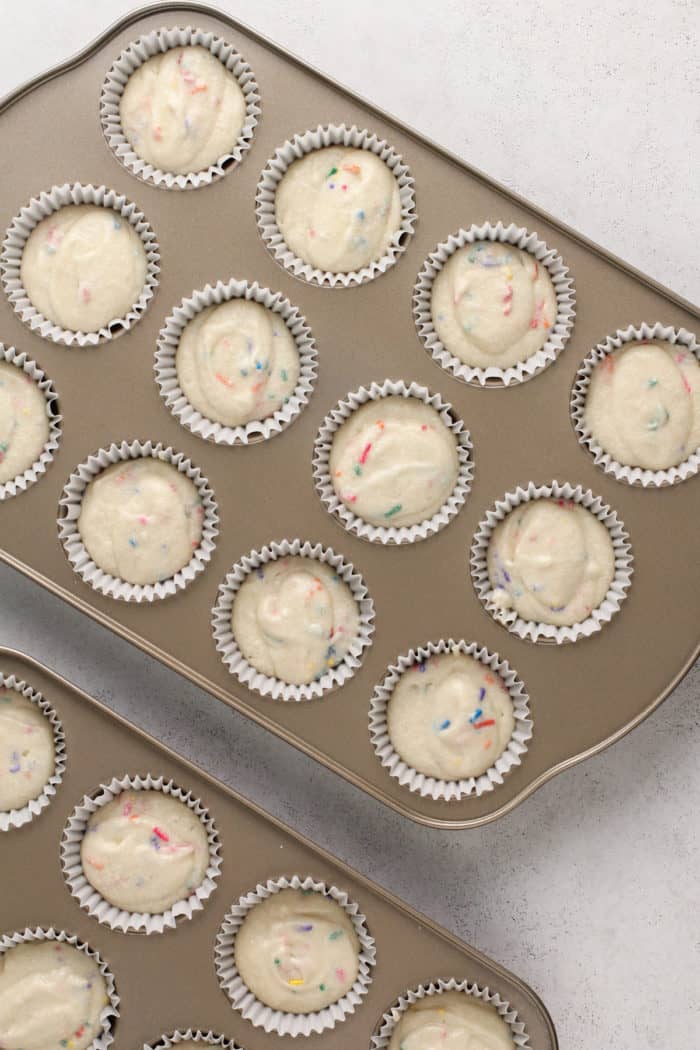 Now gently fold in the rest of the egg whites, one half at a time. Do this by cutting the spatula down the middle to the bottom of the bowl, then sweeping it around, up and over. Turn the bowl 90 degrees and repeat until no streaks of egg whites remain.
Use your spatula to gently fold in the sprinkles. Remember to do this gently so you don't deflate the nice, light batter you just made!
Use a large cookie scoop or ¼-cup measuring cup to distribute the batter between 24 lined muffin wells. Each one should be about ⅔ full. This will produce a cupcake with a nice flat top, perfect for frosting.
Bake the cupcakes for 18-24 minutes. Make sure to cool the funfetti cupcakes completely before frosting and decorating.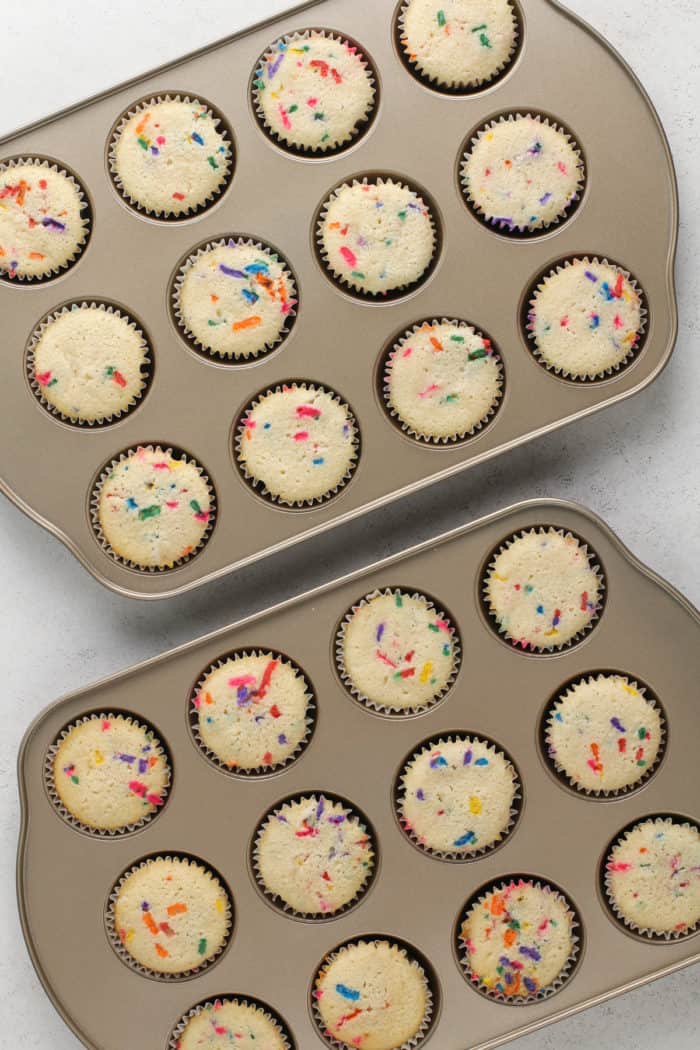 FROSTING AND DECORATING
I personally like to top my homemade funfetti cupcakes with my homemade buttercream frosting.
I think that the white frosting really highlights the colorful sprinkles! Plus, you can top the frosting with more of the colorful jimmies or decorate them with your favorite fancy sprinkle mix.
But don't feel like you have to use buttercream frosting if you are looking for something different!
Homemade chocolate frosting is a nice touch for chocolate lovers. You could even use cream cheese frosting if that's your preference!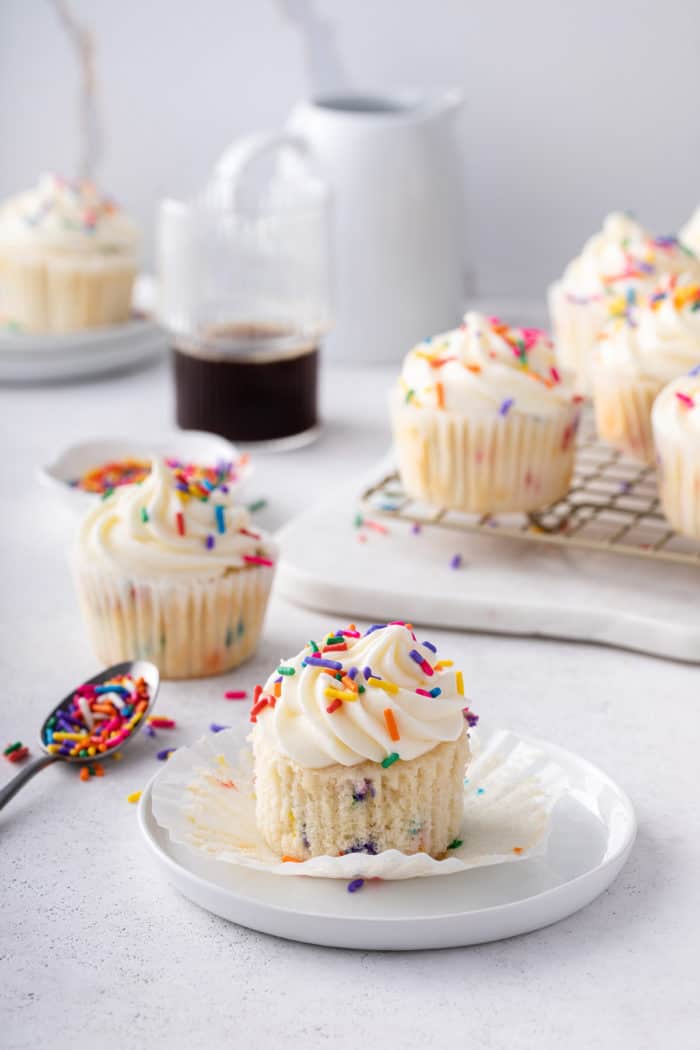 STORAGE TIPS
If you've topped the funfetti cupcakes with buttercream or chocolate frosting, you can store them at room temperature, as long as it's not too hot in your house.
If you want to be extra safe, though, you can store them in the refrigerator and bring them back to room temperature before serving.
I like to store my cupcakes in a cupcake carrier to keep them covered without ruining the frosting.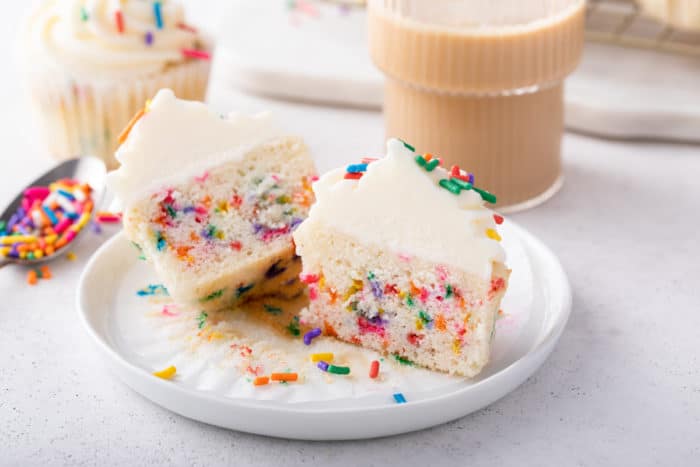 Freezing options
Since this recipe makes 24 cupcakes, you may want to freeze half of the batch if you aren't feeding a big crowd.
Place the cooled, unfrosted cupcakes in a zip-top freezer bag and freeze for up to 3 months. Thaw on the counter overnight.
You can either whip up a batch of frosting when you're ready to decorate the thawed cupcakes or freeze the frosting alongside the cupcakes.
Freeze frosting in an airtight container. Thaw in the fridge overnight; bring to room temperature and whip with an electric mixer for a minute before frosting.
Whether you're making these funfetti cupcakes for a special occasion or just to brighten your day, this is one recipe that kids and adults alike will love!