These Banana Cupcakes topped with tangy cream cheese frosting are fluffy, moist, and come together in a snap. Your family will go bananas for them!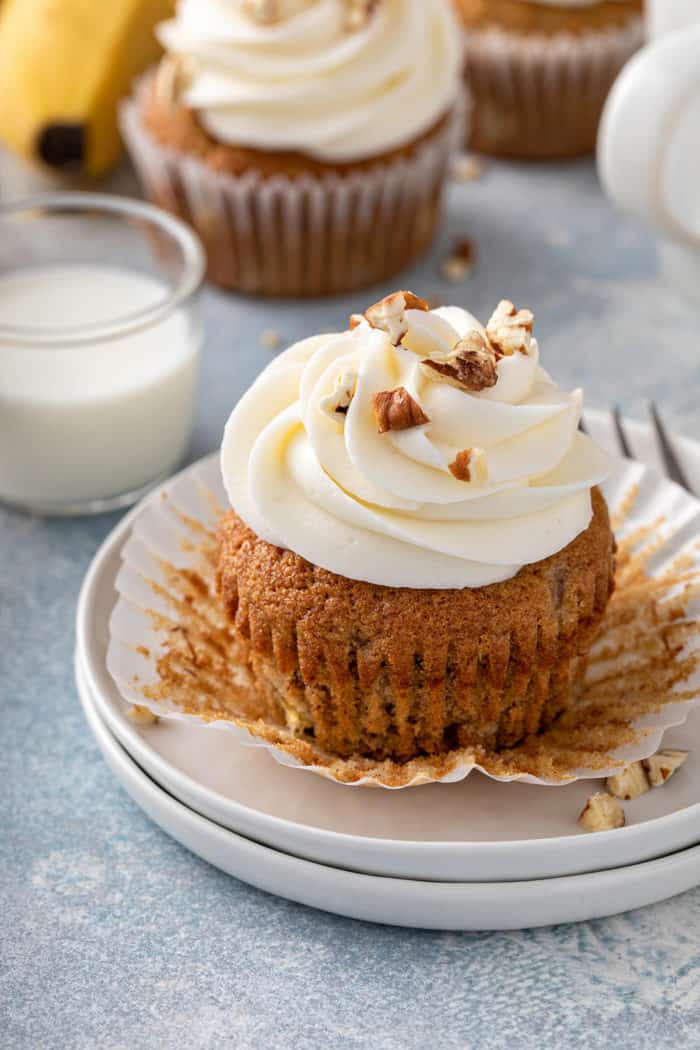 This post contains affiliate links.
There's something about fruit-filled cupcakes that just screams spring to me.
As soon as the weather starts to warm up, I want to start baking everything from blueberry cupcakes and strawberry cupcakes to these perfectly moist Banana Cupcakes.
Luckily, between Easter, Mother's Day brunches, and graduation parties, there are lots of opportunities to make and serve these delicious Banana Cupcakes.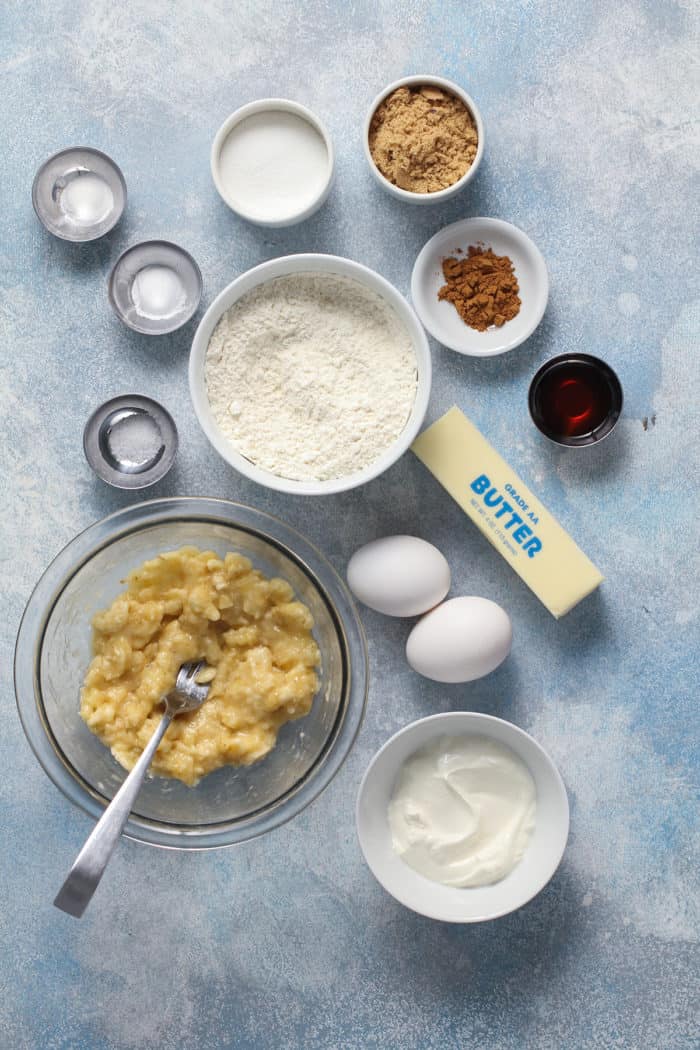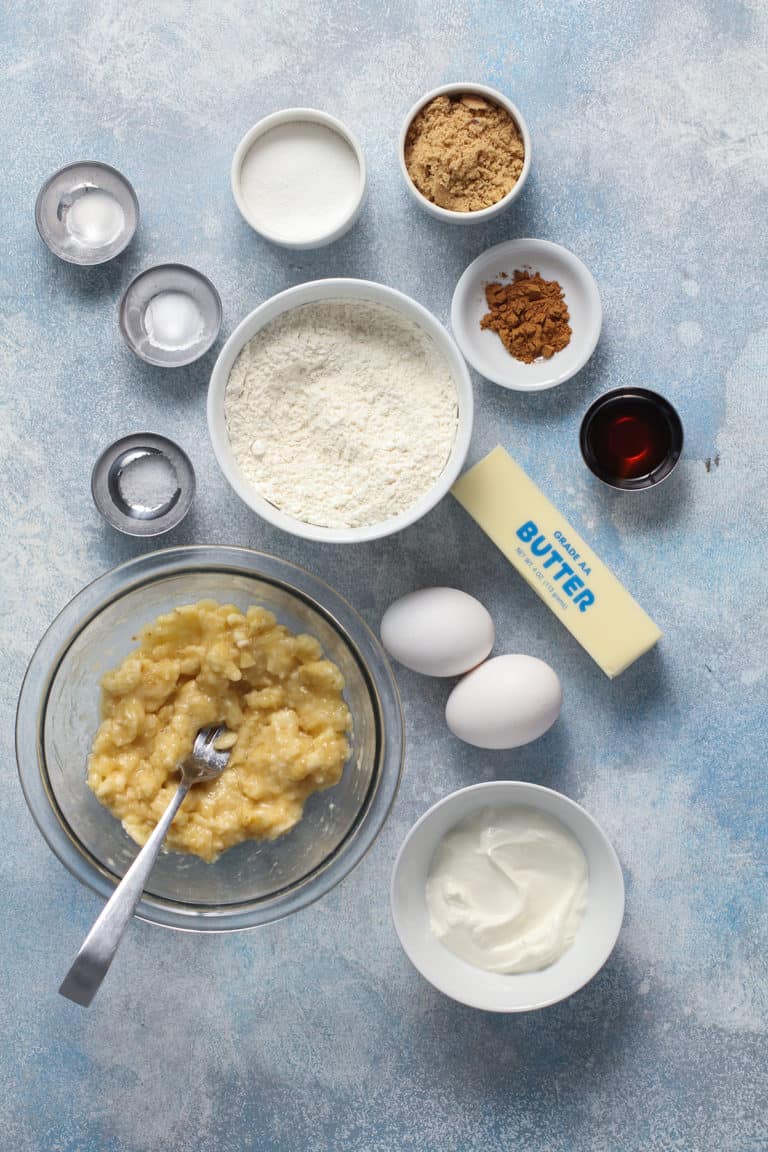 PERFECT BANANA CUPCAKE RECIPE
Truth be told, the first time I ever made these cupcakes, I had no intention of blogging them. I wanted to use up some overly ripe bananas in our fruit bowl and considered making Banana Crumb Muffins for half a second.
But there was something about Banana Cupcakes that just sounded like a better idea, and I'm glad I went with my gut.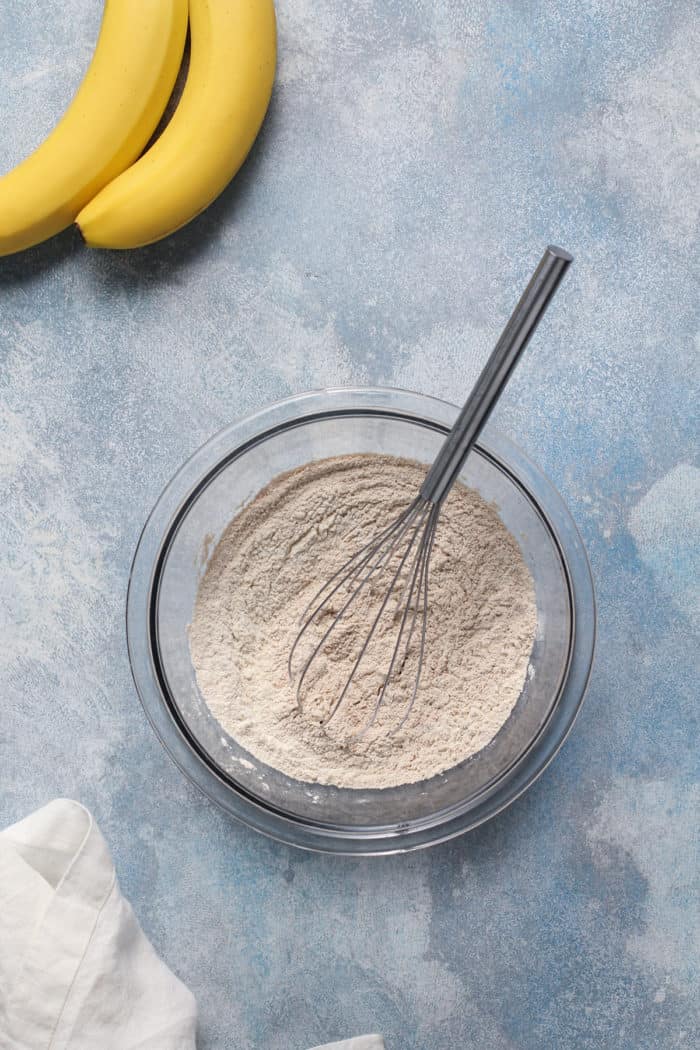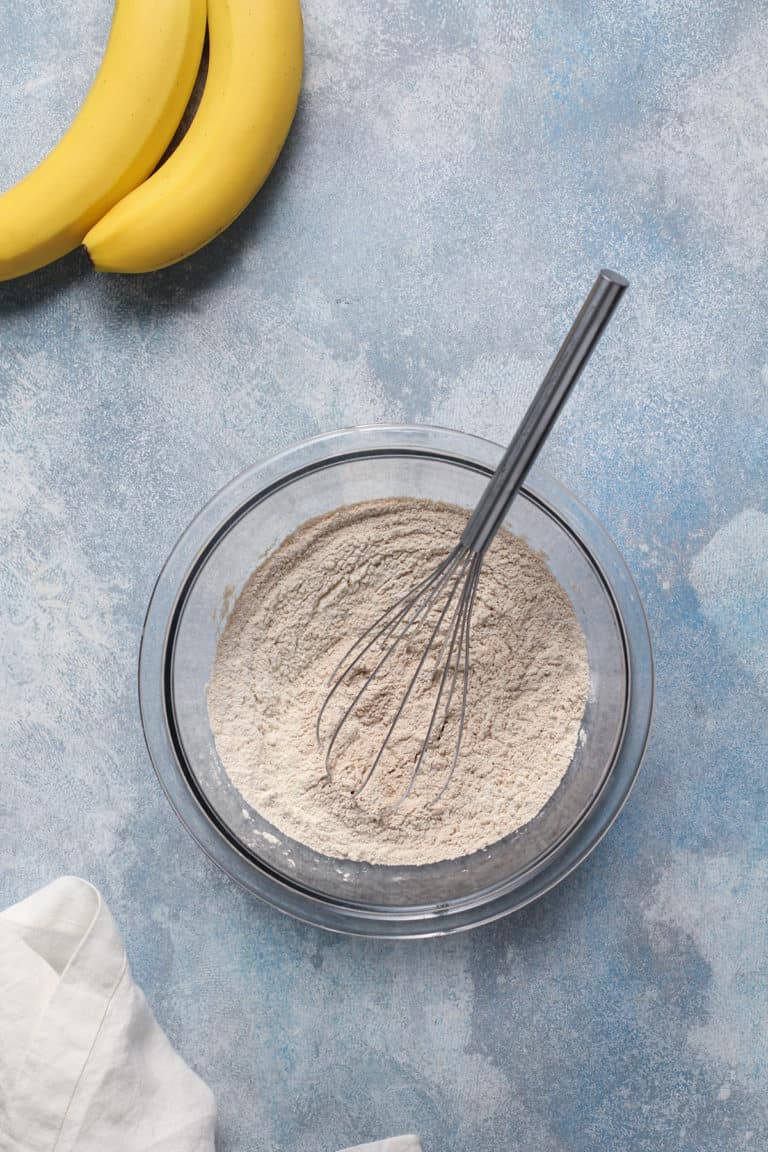 These cupcakes ended up being perfectly moist and fluffy (thanks to some cake flour instead of all-purpose, just like funfetti cupcakes) topped with tangy cream cheese frosting.
I've made this recipe many times now, and I still think it's pretty much the best banana cupcake recipe I've had. The flavor of the bananas comes through perfectly, making them a wonderful addition to any Easter, Mother's Day, or spring brunch menu.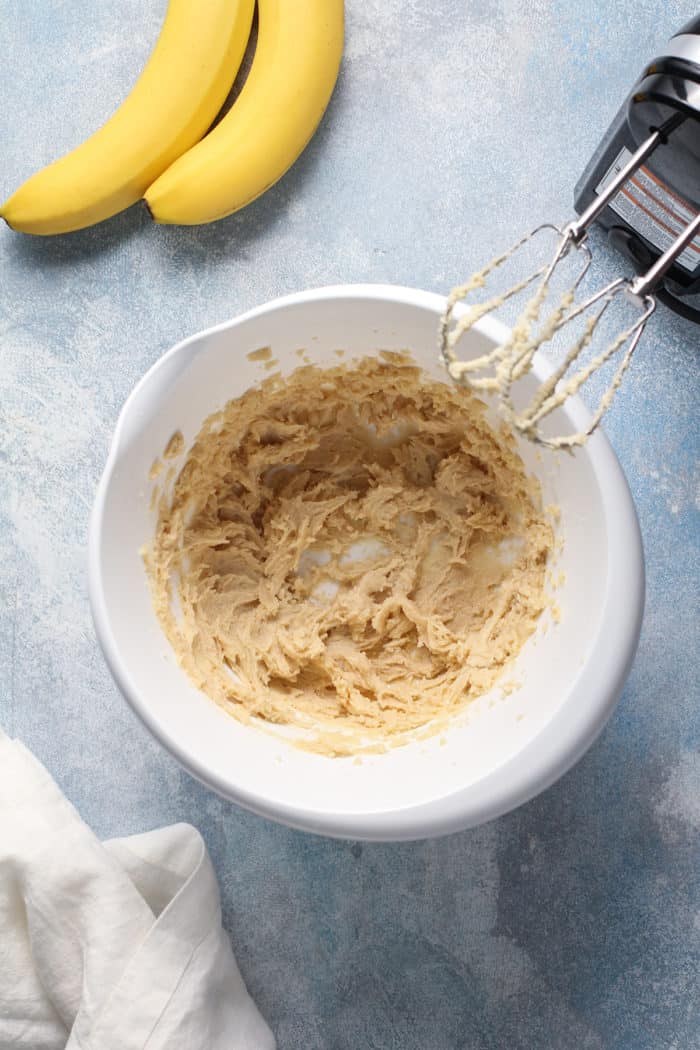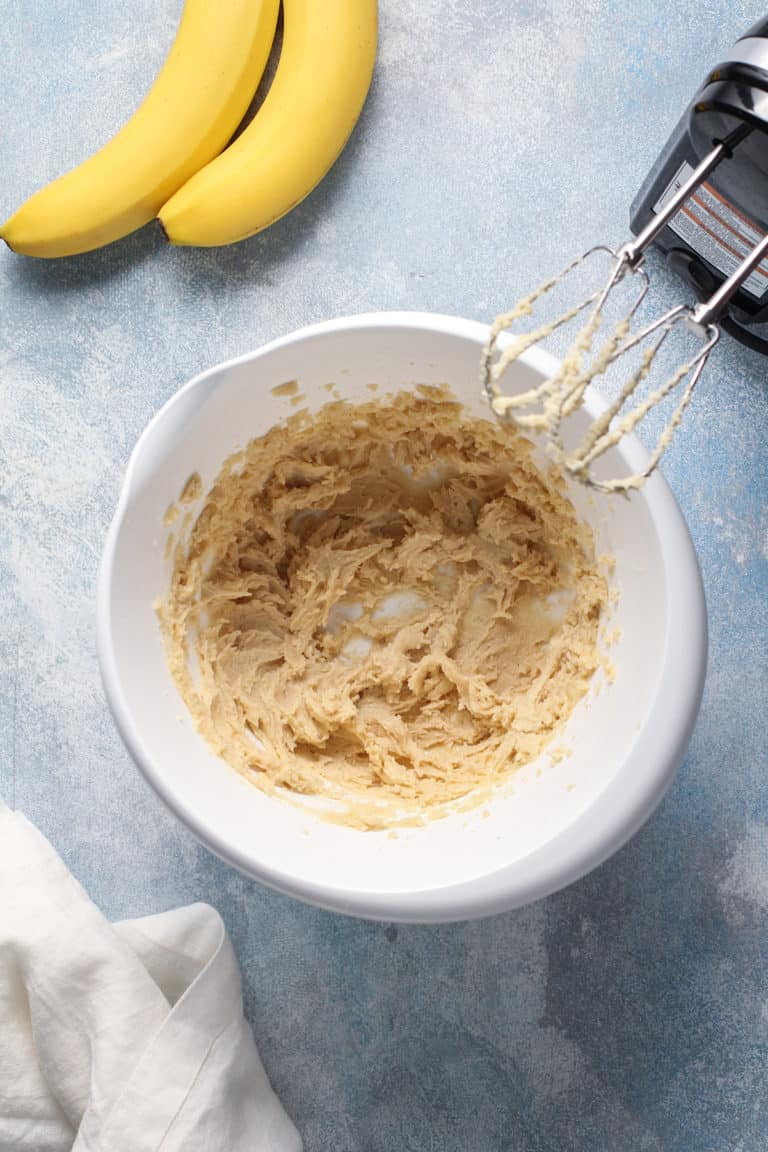 HOW TO MAKE THESE CUPCAKES
Banana Cupcakes are a cinch to make and are so flavorful, you'll want to make them over and over again.
Ingredients you'll need
The ingredient list for this recipe is similar to the ingredient list for Hummingbird Cupcakes, but with a few less things needed:
1 cup plus 2 tablespoons cake flour
1/2 teaspoon baking powder
1/2 teaspoon baking soda
1/4 teaspoon fine salt
1 teaspoon ground cinnamon
1/2 cup unsalted butter, softened
1/4 cup granulated sugar
1/4 cup light brown sugar
1/4 cup sour cream
2 teaspoons vanilla extract
2 large eggs
2 large ripe bananas, peeled, and mashed
This recipe uses cake flour instead of all-purpose flour for a super light texture. You can totally use all-purpose flour, the crumb of your cupcakes will just be a little heavier in texture.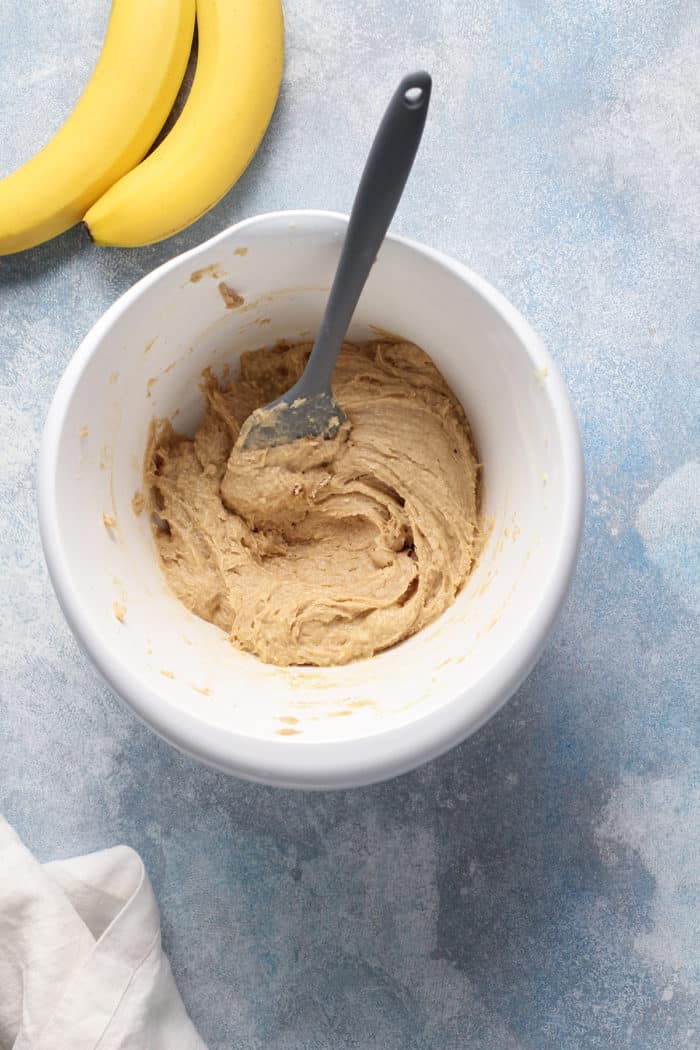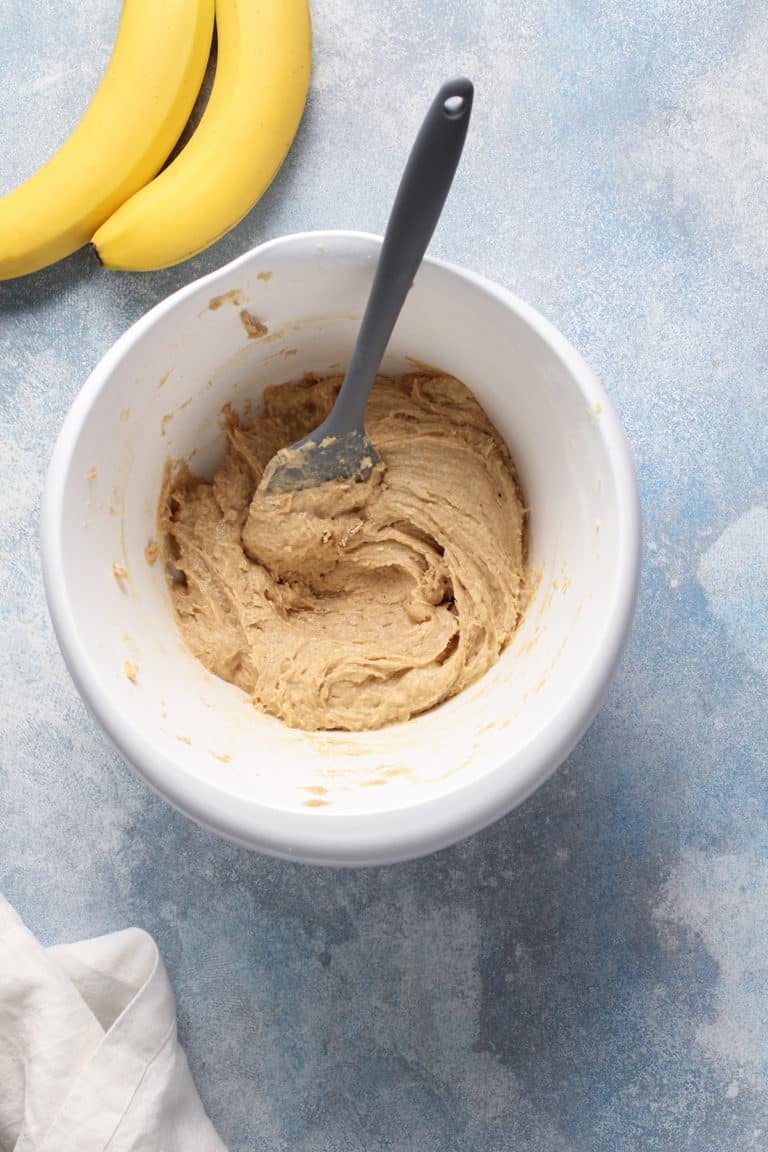 Tools you'll need
In addition to measuring cups and spoons, you'll want to grab:
Stand mixer fitted with the paddle attachment or an electric hand mixer
Large cookie scoop (optional)
I like to use a large cookie scoop (about 3 tablespoons in volume) to scoop the batter into my muffin tin, but you can use a spoon or small measuring cup as well.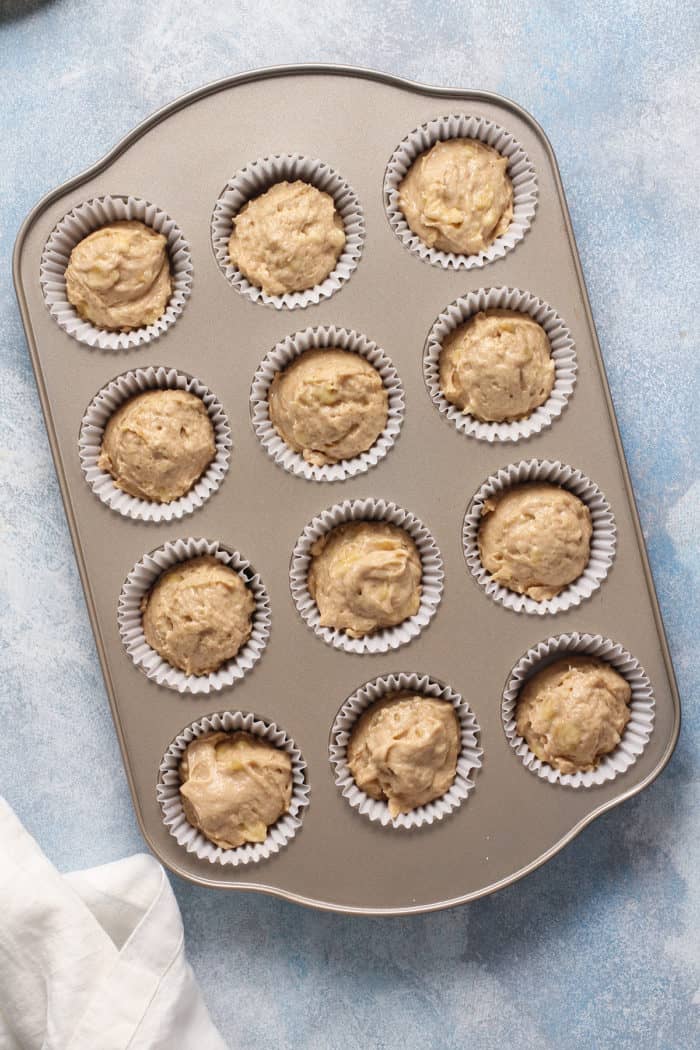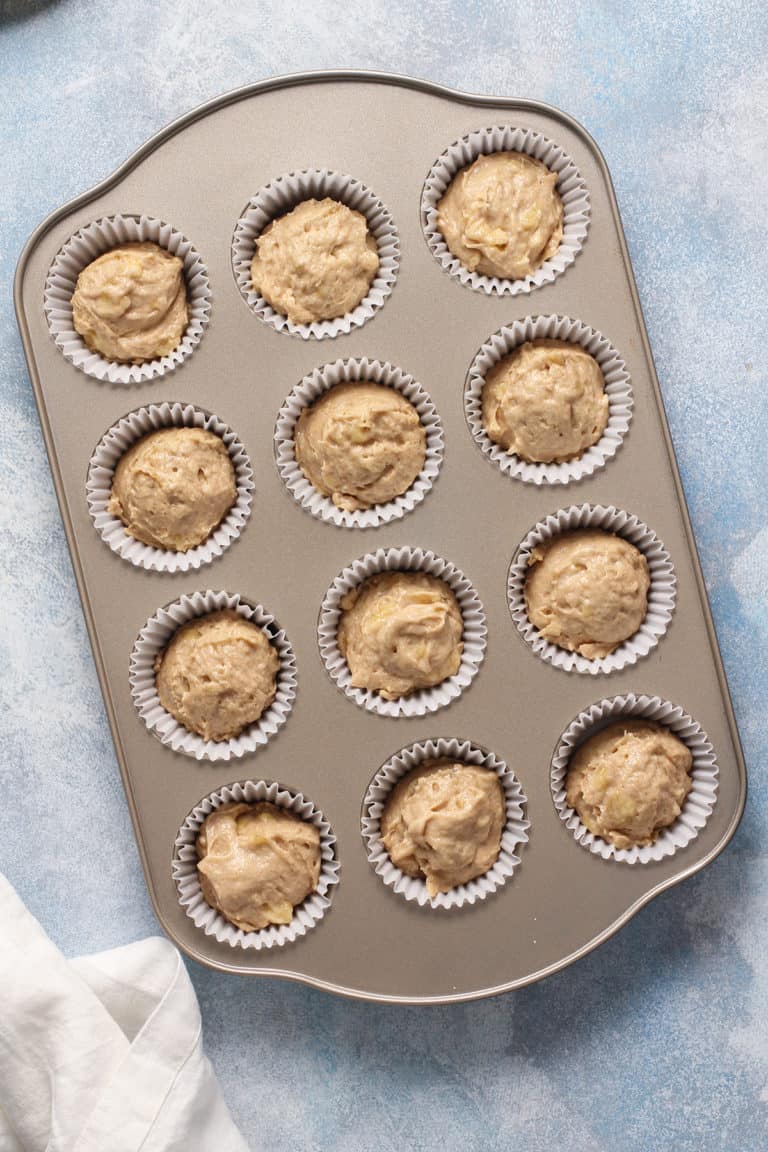 Making this recipe
Start by whisking together the dry ingredients for your cupcakes: cake flour, baking powder, baking soda, salt, and cinnamon. Set this aside.
Using your mixer, beat the softened butter together with both of the sugars until the mixture is light and fluffy. This will take about 4 minutes – don't try to rush this!
Add the sour cream, vanilla, and eggs to the butter mixture and mix until well combined.
Gradually add the dry ingredients to the wet ingredients. Mix until just combined, then fold in the mashed bananas just until they are incorporated. Make sure not to over mix!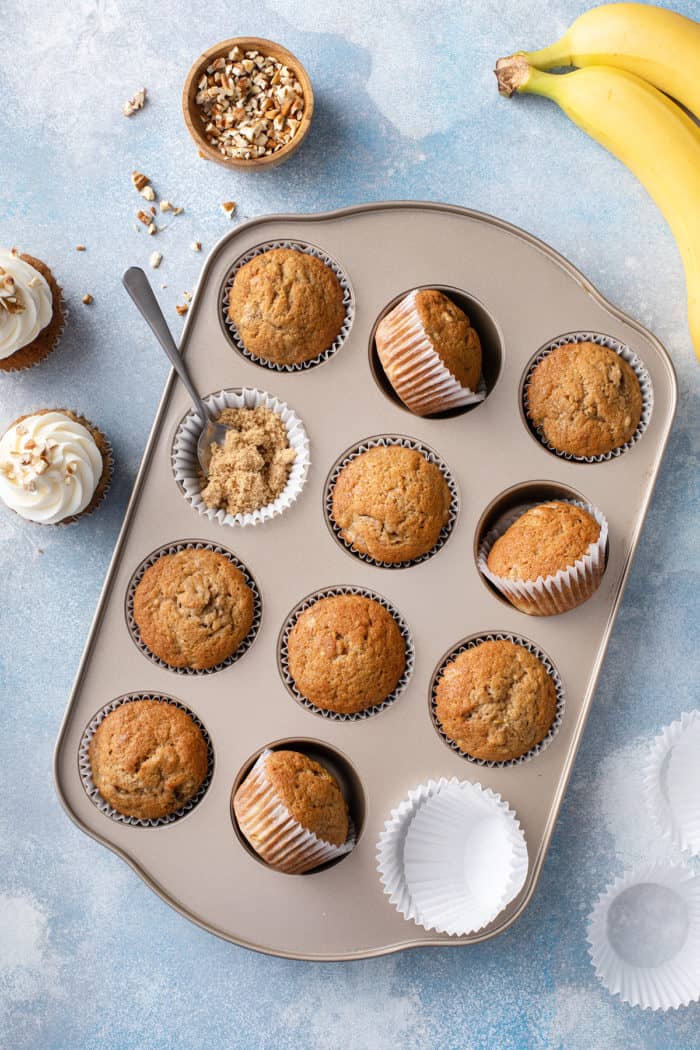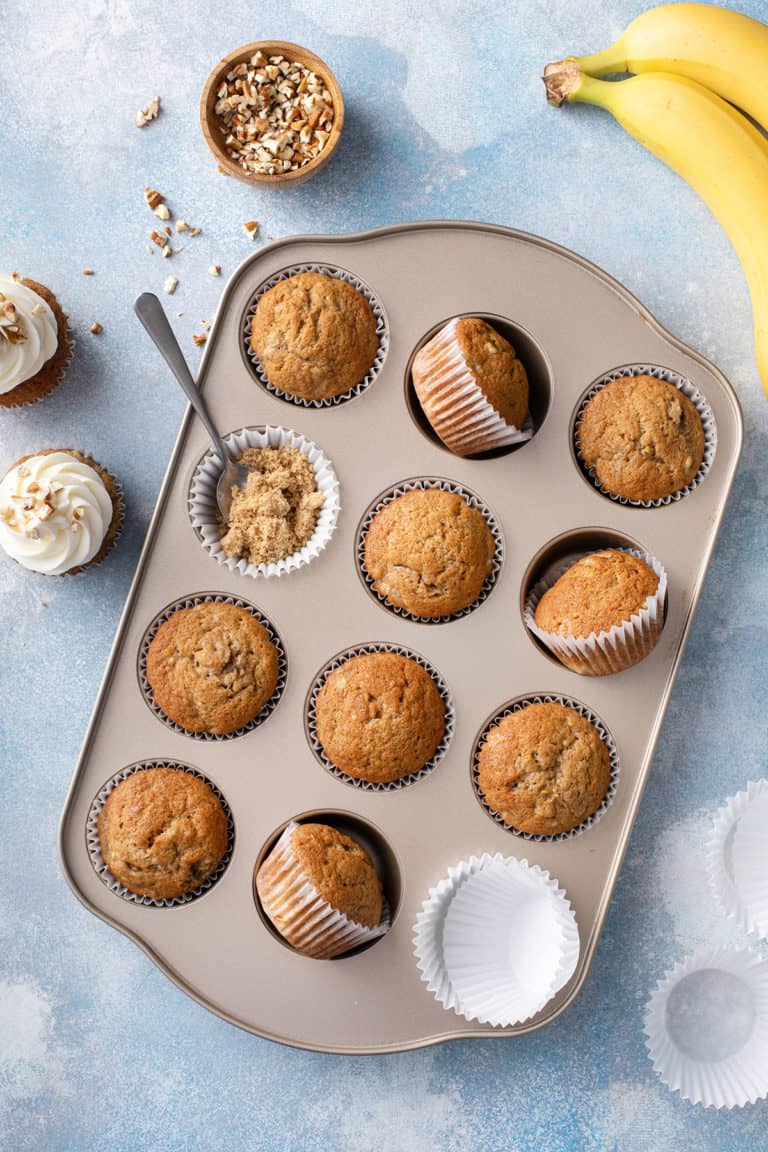 Line the cups of your muffin tin with paper liners or grease the cups well. Divide the batter evenly between the cups.
Bake the cupcakes in a preheated oven for 18-20 minutes. The cupcakes are done when the tops are golden brown and a toothpick inserted into the center of the cupcakes comes out clean.
Bake cupcakes in preheated oven for 18-20 minutes, or until the tops turn golden-brown and a toothpick, inserted in the middle of the cupcake, comes out clean.
Remove the cupcakes to a wire rack and allow them to cool completely before frosting.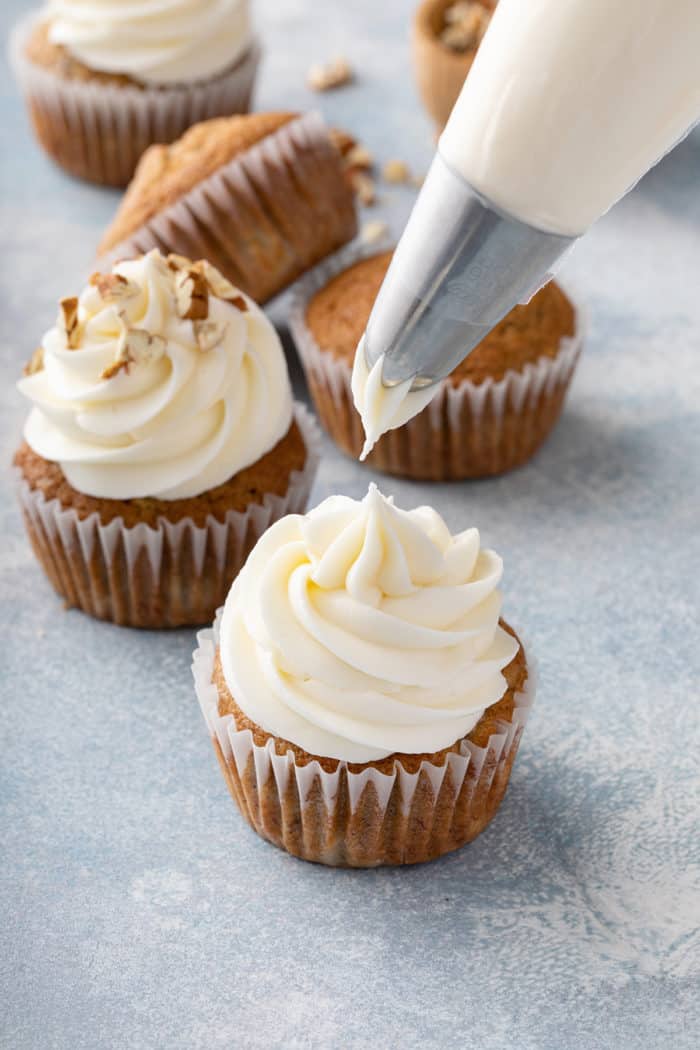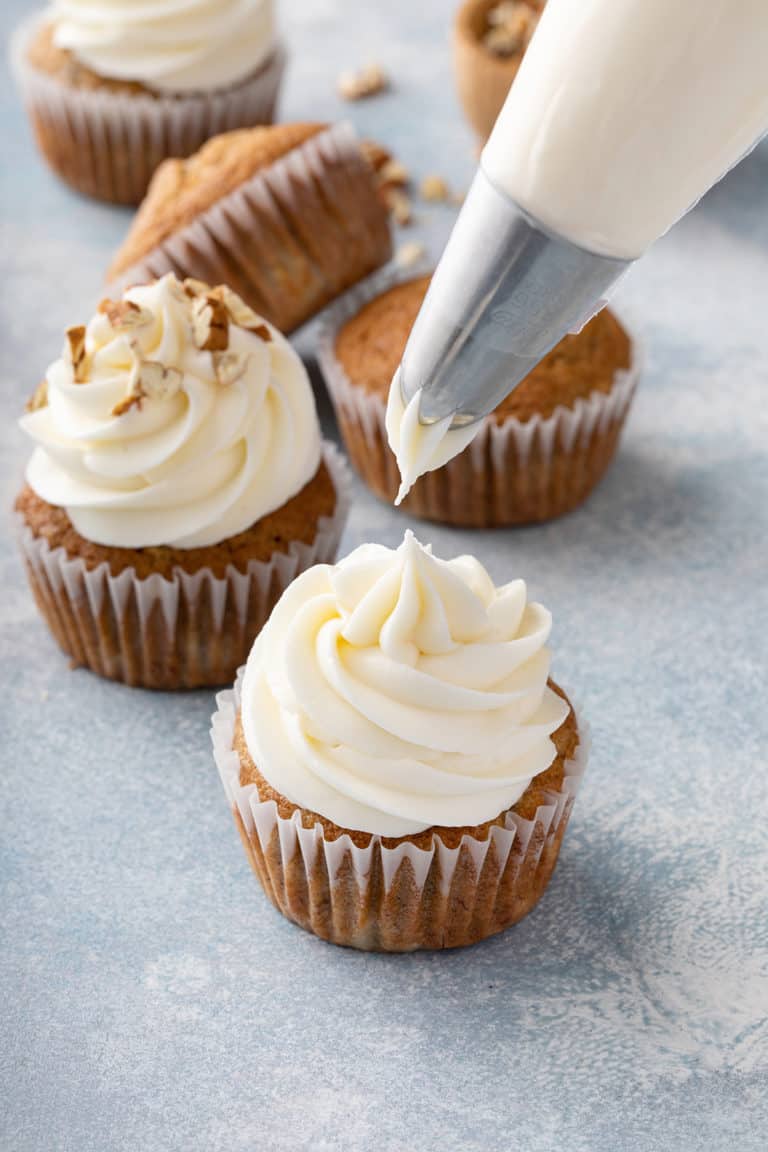 WHAT IS A GOOD FROSTING FOR BANANA CUPCAKES?
If you ask me, there is nothing better than banana cupcakes with cream cheese frosting. The tangy-sweet flavor of the frosting pairs perfectly with the banana in the cupcakes.
If you've never made your own cream cheese frosting, don't worry – I have plenty of tips and tricks that I shared in my cream cheese frosting recipe post.
If you don't love cream cheese frosting, you could use homemade buttercream frosting or even brown butter frosting.
You can easily frost your cupcakes with an offset spatula, but don't be afraid to grab some piping bags and a set of piping tips for a more finished look!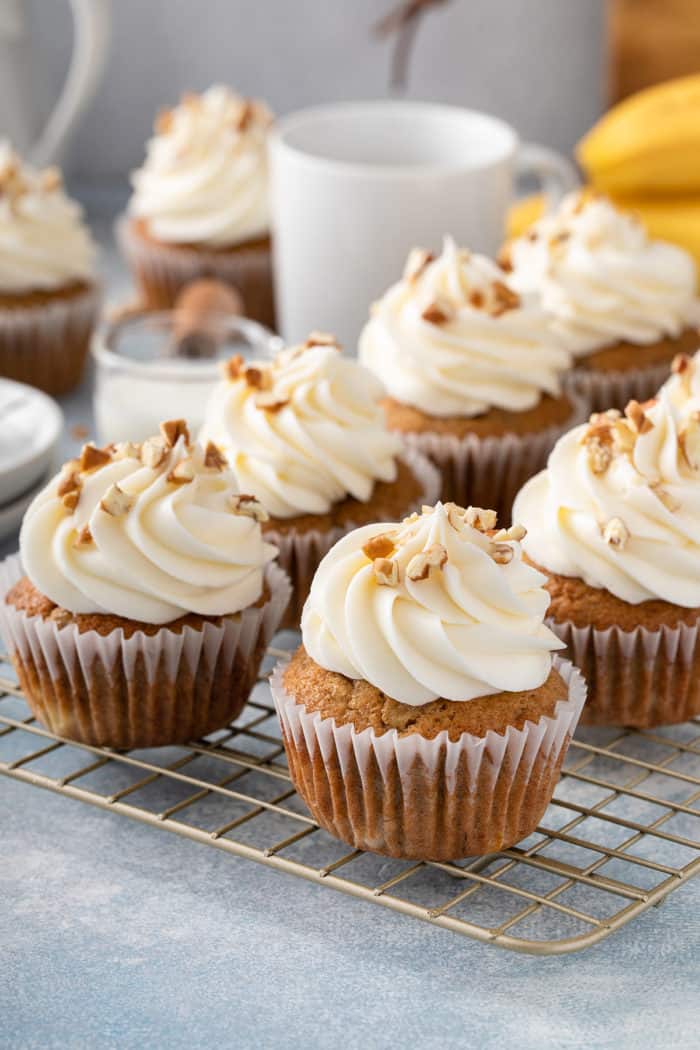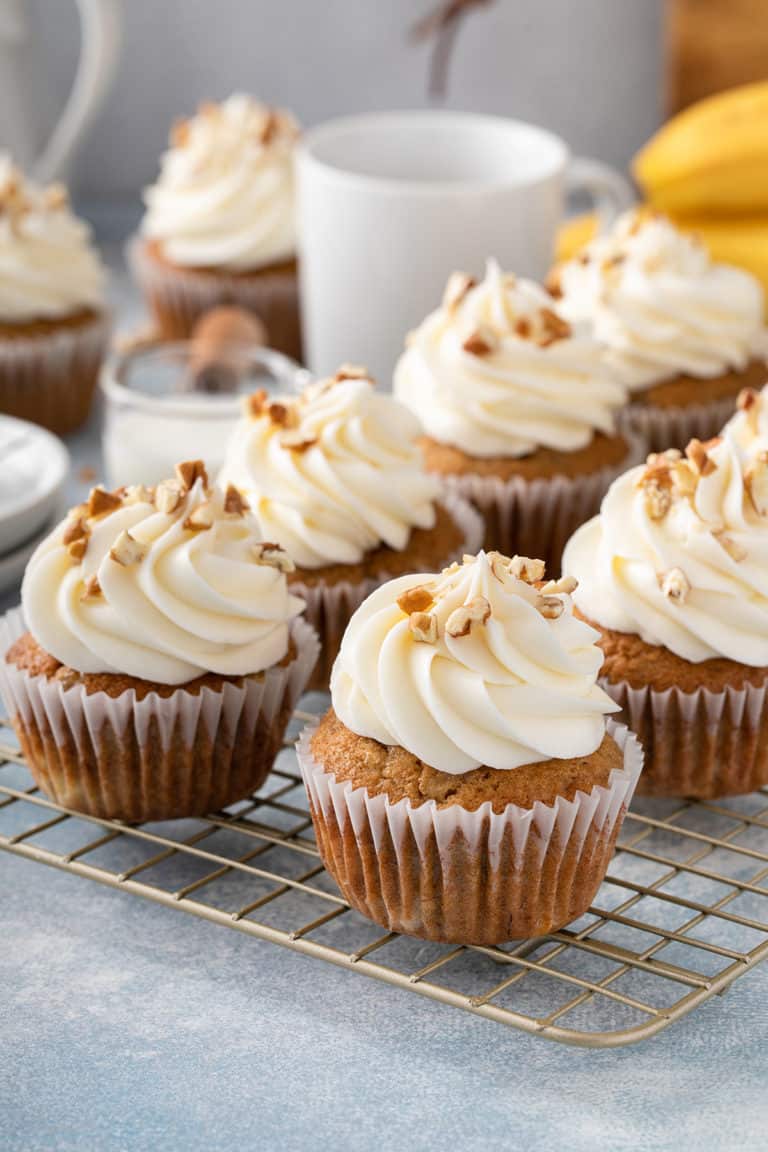 STORAGE TIPS
Because these cupcakes are so moist, you will want to store them in the refrigerator. If you top them with cream cheese frosting, keeping them in the refrigerator will be extra important.
Cover the cupcakes (I like to use a two-tiered cupcake carrier) and keep them in the refrigerator for up to 4 days.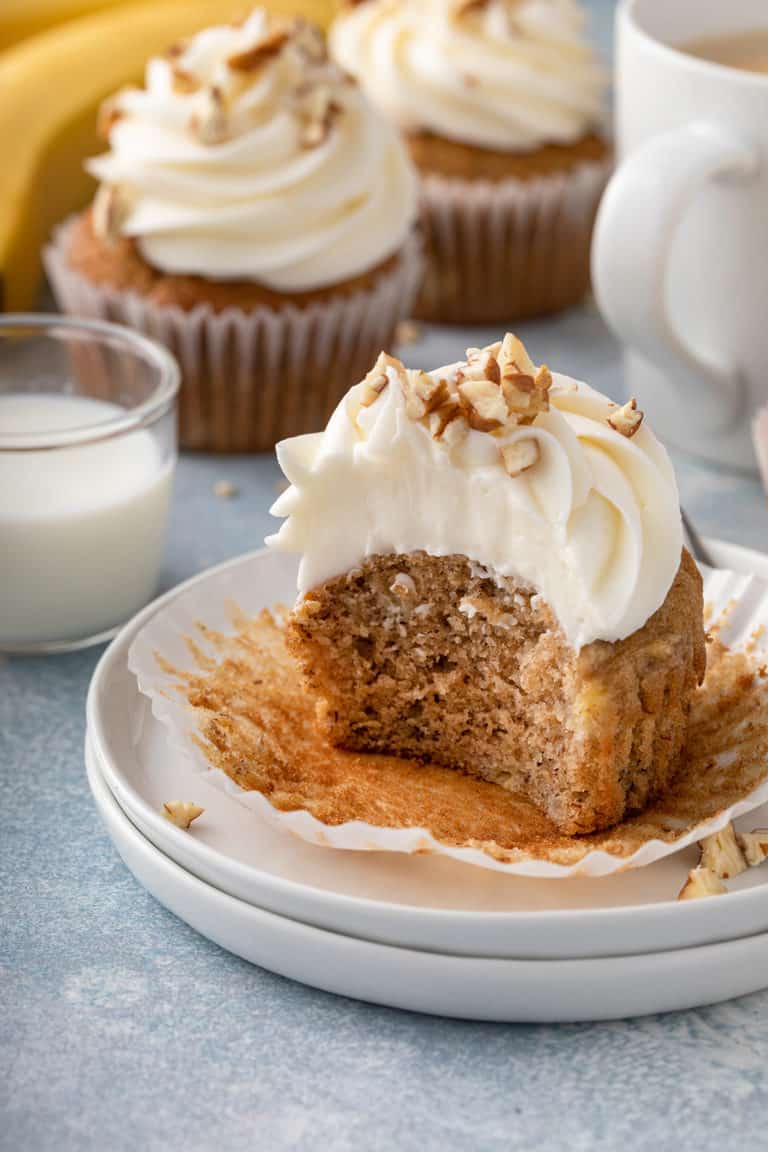 Can you freeze banana cupcakes?
You can easily freeze your Banana Cupcakes either before or after frosting them.
If you plan on freezing the entire batch of cupcakes before serving them, I recommend freezing them before you frost them.
Make sure the cupcakes are completely cooled, then place the cupcakes in a zip-top freezer bag. For added protection, you can wrap the cupcakes in plastic wrap before placing them in the bag.
Freeze for up to 3 months. To thaw, let the cupcakes come to room temperature, then unwrap and frost as desired.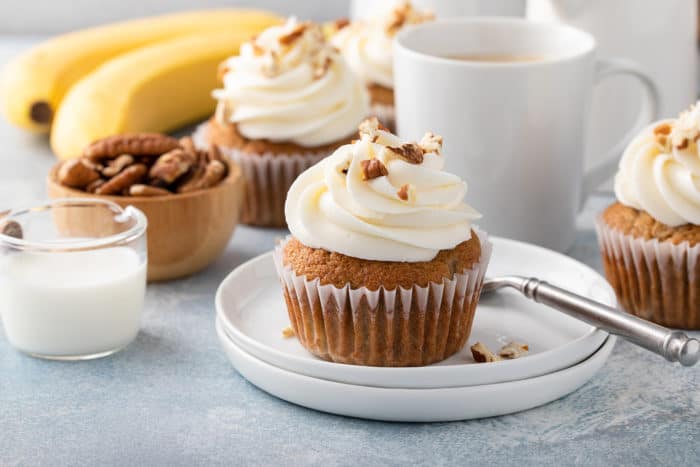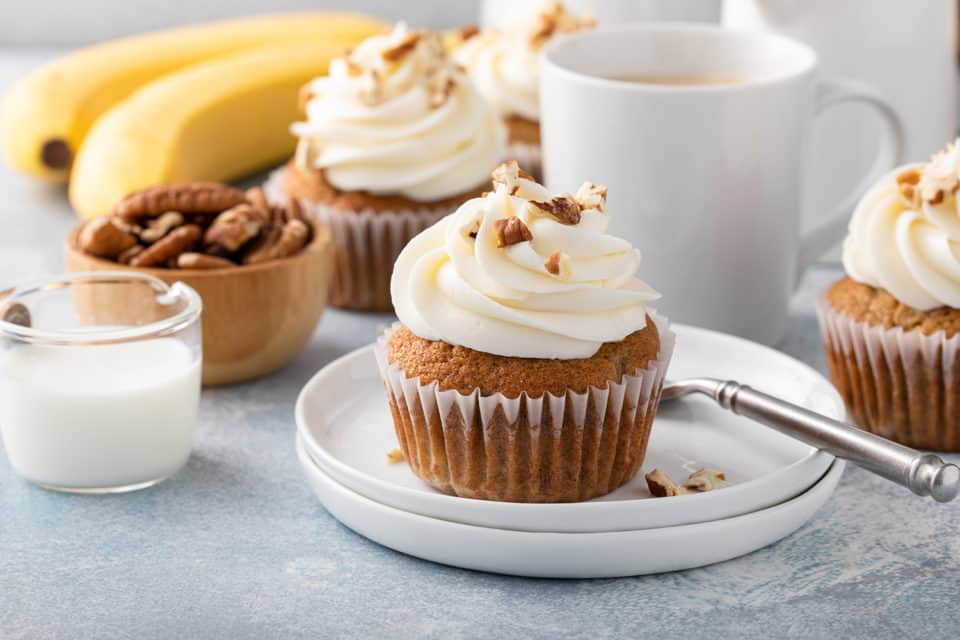 To freeze frosted cupcakes, place the cupcakes on a sheet pan or in a muffin tin within the freezer for a few hours to partially freeze the cupcakes.
Gently wrap the partially frozen cupcakes with plastic wrap, then place them in a zip-top freezer bag. Partially freezing the cupcakes first will help keep the frosting from getting as smashed.
I recommend only freezing frosted cupcakes for up to a month. To thaw, unwrap the cupcakes. If they are frosted in cream cheese frosting, let them thaw in the refrigerator overnight. If they are frosted in buttercream, they can thaw at room temperature.