These Banana Cupcakes with Cream Cheese Frosting are fluffy, moist, and come together in a snap. Your family will go bananas for them!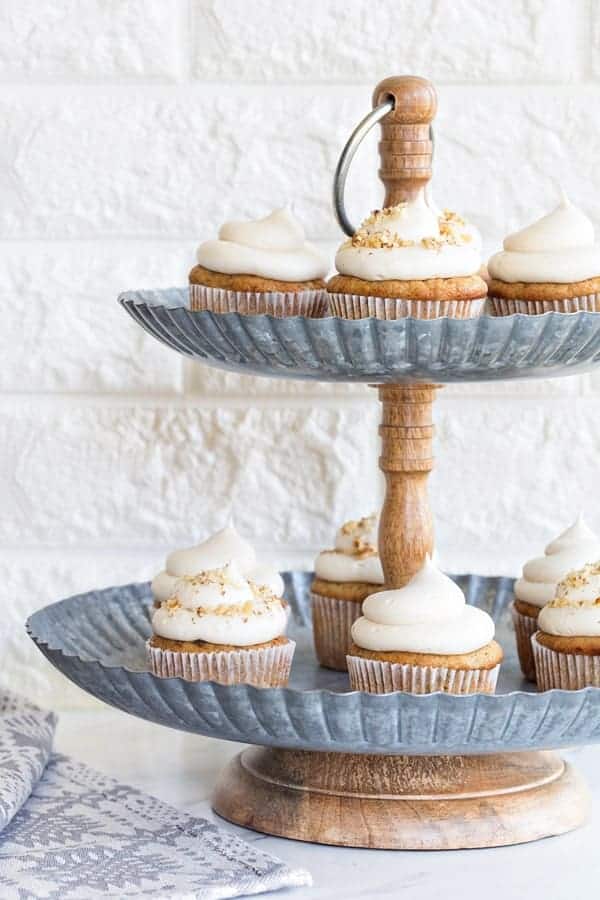 Well, hello there! If you follow along here at My Baking Addiction on a regular basis, you may have realized that I've been somewhat absent for a little while.
I've popped in here and there to fulfill contractual obligations with the lovely brands that I work with, and shared recipes like these Chocolate Cherry Sandwich Cookies and this Slow Cooker Taco Soup, but other than those, I've been pretty silent.
What started out as a little break to recover from the busy holiday season rolled into me taking some time to focus on myself (at first), and then to suffering from serious anxiety after noticing my right underarm area was swollen.
At first I blew off the swelling as an injury from working out with my personal trainer. Because the dude is no joke when it comes to making me work my butt (and arms) off. But as it became progressively more noticeable, I decided to make an appointment with my doctor.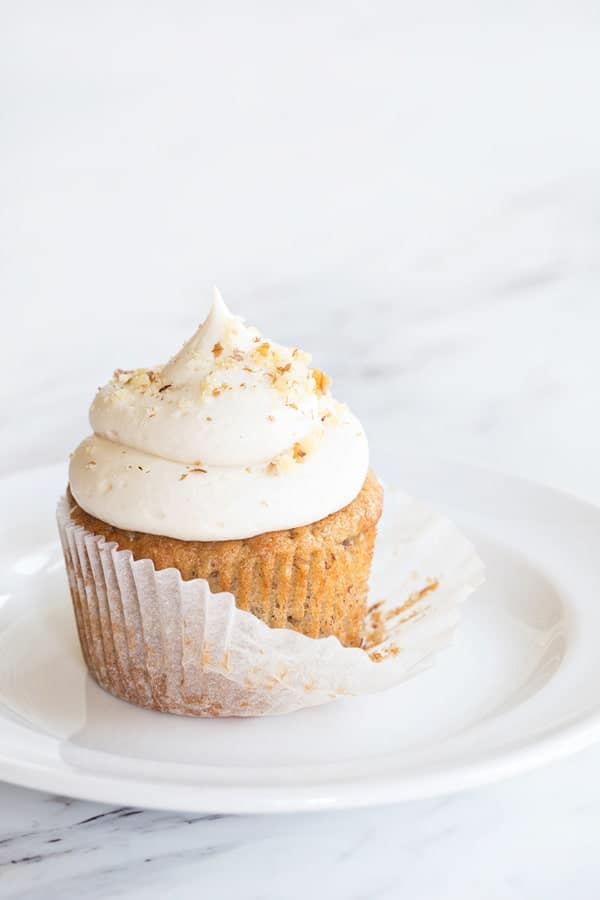 Since my doctor knew I had atypical cells removed from my breast in the past (if you're interested, you can read all about that here), they immediately ordered a diagnostic mammogram and ultrasound.
When the call came in to schedule the appointments, they wanted to schedule me a month out. ONE WHOLE MONTH.
As someone that struggles with anxiety – especially health related anxiety, there was no way I was lasting a month without answers.
My mom works in the healthcare industry and was able to call in a couple of favors to get me in sooner, but it still took weeks to get seen.
Instead of scrolling though Pinterest for awesome recipes and home decor, I found myself on Google and in breast cancer forums. Obsessing over what could possibly be wrong with my underarm.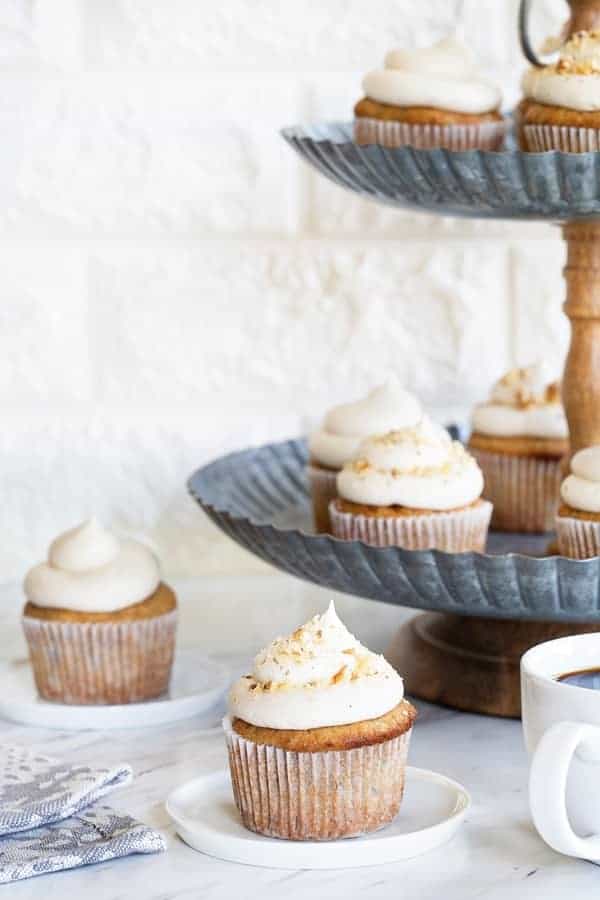 Ladies, Google is NOT your friend when it comes to illnesses. I'm pretty sure I've diagnosed myself with no less than 5 life-threatening diseases within the past month.
The thought of there being something seriously wrong consumed me, and pretty much affected every aspect of my life. Even though I went through something similar before, it's so much different now that I'm a mama to the sweetest girl on the planet.
If you suffer from anxiety too, I want you to know that I am here, and I struggle with it too, and I know it's not easy to climb out of that hole once you're in it.
My husband told me yesterday that I was the zombie version of myself for the last few weeks. Sure, I functioned – I showered every day, took care of the house, and of course, Elle.
But I really had no drive to do much more than the basic necessities, so baking wasn't happening. Instead, I binge watched Golden Girls (did you know the whole series is on Hulu now?) and makeup tutorials on YouTube to take my mind off of things.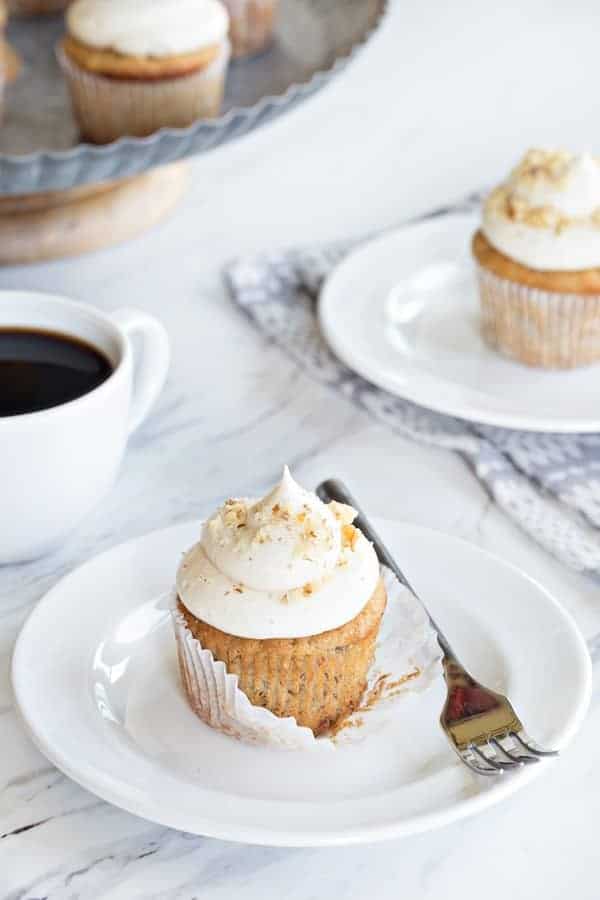 With each day that passed, my anxiety increased exponentially until I was finally able to go in for testing. My aunt drove me to my appointment and I was given the results right there – a big, wonderful negative.
They said everything looked perfect. And literally within moments, I felt like I could breathe again for the first time in weeks. It felt pretty damn amazing.
My doctor is now monitoring me for a possible pinched nerve, or maybe I just have one excessively chubby armpit.
Truth be told, I had no intention of blogging about these banana cupcakes with cream cheese frosting. I wanted to use up some overly ripe bananas in our fruit bowl, and while I considered muffins for half a second, we needed to celebrate this No-Breast-Cancer moment in our lives.
Nothing says celebration like frosting, and you know what? Nothing says Get-Your-Crap-Back-Together-Jamie like dusting off my camera and photographing some delectable cupcakes.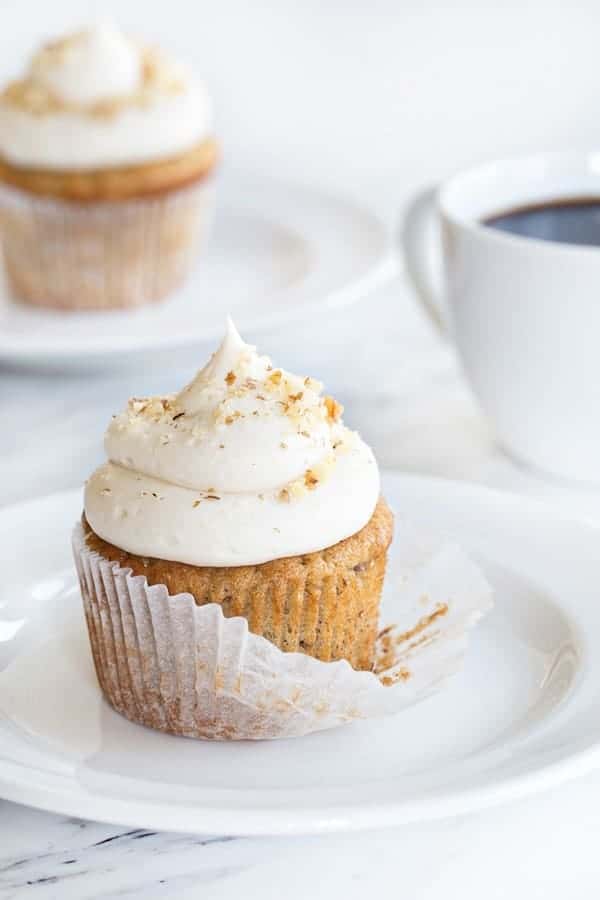 So here we are. With some super moist and fluffy Banana Cupcakes (thanks to cake flour instead of all-purpose) topped with my favorite cream cheese frosting.
You can totally use all-purpose flour, the crumb of your cupcakes will just be a little heavier in texture. And that cream cheese frosting is pretty much perfection. It's sweet, tangy and the perfect topping for delicious banana cupcakes.
The takeaway here?
Take care of yourself. If you notice something isn't right, get it checked out regardless of how busy you are, or how much anxiety you have. Oh, and stay away from Dr. Google.