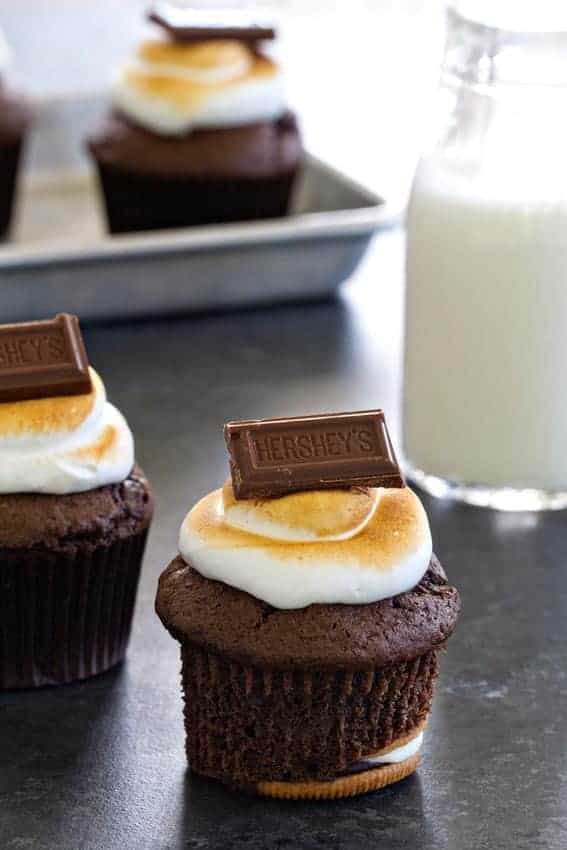 S'mores Cupcakes must be made before summer's end. They cover all the bases – chocolate, marshmallows, Oreos, and best of all, CAKE.
It's been years now, friends. Between you and me, if you've been hanging out here, you are well aware of the fact that I have a slight obsession with all things s'mores. From No-Churn S'mores Ice Cream to No Bake S'mores Cheesecake, I just can't get enough of all that melty chocolate goodness. Seriously, I'm obsessed.
Typically I don't celebrate food holidays because I swear every food has a national day. Where do you draw the line? Come on, even Hot Pastrami gets a entire day of love, which by the way is January 14th, just in case you want to get an early start on your pastrami party planning.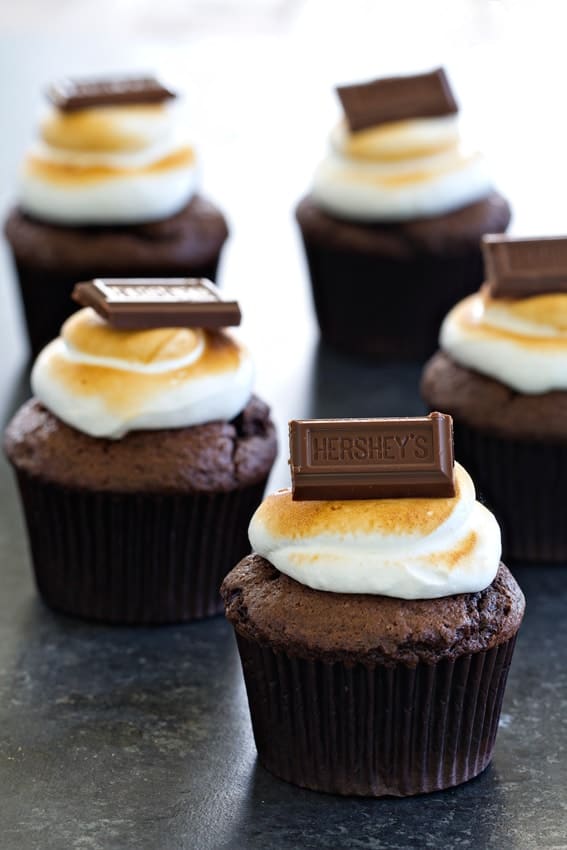 But s'mores? I'm always down with an excuse to eat s'mores. And what kind of s'mores lovin' food blogger would I be if I didn't share a recipe on National S'mores Day?
Anyone that knows me personally knows that I am pretty much the most introverted person of life. I get all anxious and awkward when I'm in new social situations which usually equates to sweaty palms and profanity at pretty much the most inappropriate moment.
So when I received an invitation to a girl's night with the neighbors, I immediately started running through random excuses in my head. But making up excuses for meeting neighbors proved to be quite difficult – I mean, they live right next door. I guess I could've left the house for the night or hid out in the basement, but I decided to suck it up and attempt to dazzle them with S'mores Cupcakes.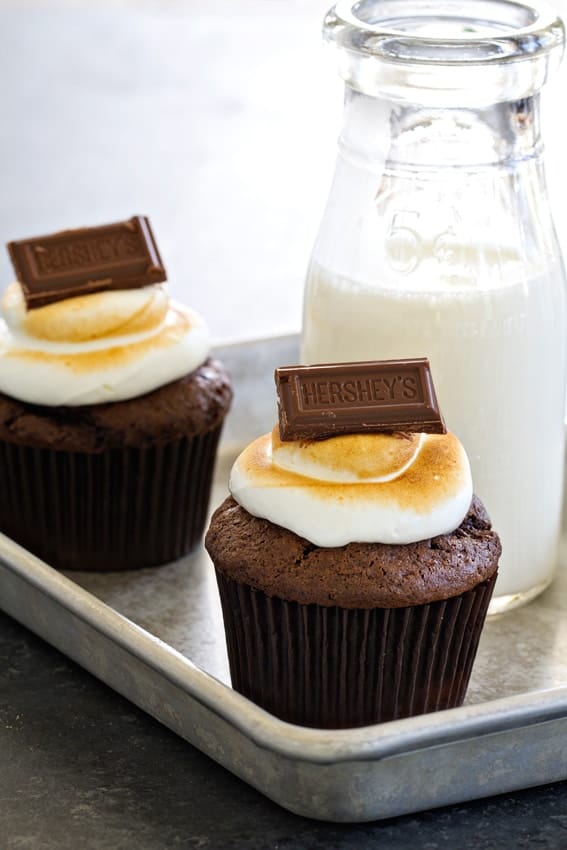 Turns out, I had a great time! And that whole profanity thing? So not a big deal. I just occupied my mouth with the best pita chips and salsa ever – which, come to find out, were made by a 10-year-old. Total future food blogger in the making. I've already started the pitch to get her on Word Press.
S'mores Cupcakes start with a S'mores Oreo crust, followed by my favorite doctored up cake mix batter and then they're topped with marshmallow frosting and a Hershey's milk chocolate square. Can it get any better?
If you're awkward like me, these are the cupcakes you take to your next gathering. No need to try and make small talk – everyone's too busy stuffing their faces with a delicious, delectable cupcake!
If you're a lover of all things s'mores, be sure to check out my Salted Caramel S'mores and S'mores Trifles!
S'mores Cupcakes
Yield: 20 cupcakes
Prep Time: 20 minutes
Cook Time: 18-22 minutes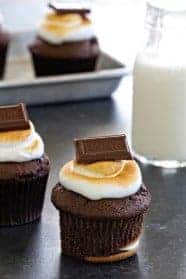 Ingredients:
20 S'mores Oreos
1 (15.25 ounce) package devil's food cake mix
1 (3.4 ounce) package instant chocolate pudding mix
3/4 cup sour cream
3/4 cup vegetable oil
3 large eggs, lightly beaten
2 teaspoons pure vanilla extract
1/2 cup warm water
For the Frosting
1 1/2 cups sugar
1 tablespoon light corn syrup
1/8 teaspoon salt
1/3 cup water
2 egg whites
2 teaspoons pure vanilla extract
For the Garnish
2 full size Hershey Bars, broken into small squares
Directions:
Preheat oven to 350°F. Line cupcake pans with paper liners and place one S'mores Oreo into the bottom of each liner.
In the bowl of a stand mixer, fitted with the paddle attachment, or with a hand mixer in a large bowl, beat together the cake and pudding mixes, sour cream, oil, eggs, vanilla and water. Beat for about two minutes on medium speed until well combined.
Using a large cookie scoop, distribute the batter between 20 cupcake wells; about 3 tablespoons of batter per well.
Bake in preheated oven for 18-22 minutes or until the tops of the cakes spring back when lightly touched.
Allow cupcakes to cool inside cupcake pans for about 10 minutes.
Remove cupcakes from cupcake pans and allow to fully cool on a wire rack. Once cupcakes are cool, prepare the marshmallow frosting.
For the Marshmallow Frosting
Place sugar, corn syrup, salt, water, and egg whites in the top of a double boiler.
Beat with a handheld electric mixer on medium speed for 1 minute. Place pan over boiling water, being sure that boiling water does not touch the bottom of the top pan.
Beat constantly on high speed with electric mixer for about 7 minutes. Beat in vanilla and mix for an additional minute.
Pipe or spread frosting onto cooled cupcakes.
If desired, use a kitchen torch to lightly brown the marshmallow frosting and top with a milk chocolate square.
Notes:
Recipe contains affiliate links.
27 Responses to "S'mores Cupcakes"