I woke up on Sunday and it was August! Are you serious? Where did the summer go and how can I possibly have to return to the real world in 3 short weeks? Those of you that are regular readers of MBA may recall that I work full time as a special education teacher. So, the days of waking up at 5:30 am are just around the corner and that my friends, makes me weep a little.
Instead of drowning in my end of summer sorrows, I thought I would embrace the time we have left with a week full of s'mores! Yes, ooey, gooey s'mores recipes will be the focus of this week. I am super excited about these recipes because they are all amazingly delicious; plus, what dessert screams summer more than a s'more?
First on the list are these huge, decadent, fabulous cookies from Jenny, of Picky Palate. The minute I saw these cookies on Jenny's site, I knew I had to make them. Not to mention, they were the perfect reason to pull my muffin pan out from storage. Yes, I have a storage area specifically designated for pans because I have an illness that requires me to spend money on any type of specialty pans that I can get my stubby fingers on!
As I said earlier, these cookies are huge and decadent were the perfect ending to an amazing meal prepared on the grill! We even got a little crazy and toasted some marshmallows to sandwich between two cookies! I hope you enjoy this perfect summer recipe as much as we did! Thanks so much to Jenny for sharing this recipe. If you haven't been to Jenny's site, Picky Palate, head over there and check it out, it's drool-worthy!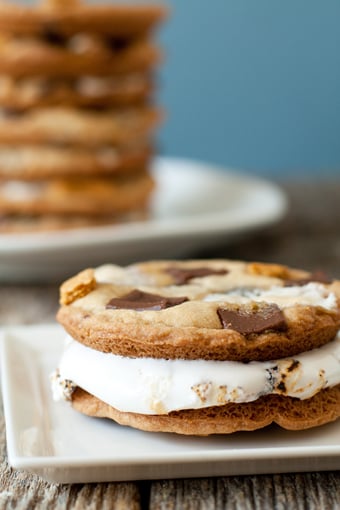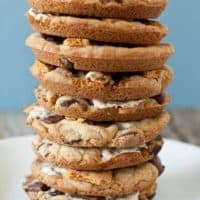 Giant S'mores Cookies
Ingredients
2 sticks softened butter
1 Cup packed light brown sugar
3/4 Cup granulated sugar
2 large eggs
1 Tablespoon pure vanilla
4 Cups all purpose flour
1 teaspoon kosher salt
1 1/2 teaspoons baking soda
1 1/2 Cups chocolate chips
3 regular size Hershey's Chocolate Bars
3 Full Graham Crackers
5-6 Large Marshmallows cut into fourths
Instructions
1. Preheat oven to 350 degrees F. Place butter and sugars into a stand or electric mixer; beat until light and fluffy. Add eggs and vanilla until well combined.
2. Place flour, salt and baking soda into a large bowl; mix then slowly add to wet ingredients along with the chocolate chips. Mix until just combined.
3. Scoop a heaping 1/4 Cup of cookie dough into muffin top pan cups. Press down then gently press chocolate bar squares, graham cracker pieces and marshmallow slices on top of cookie dough.
4. Bake for 11-13 minutes or until edges are just turning brown. Let cool for 5 minutes before removing from pan. Serve with milk and enjoy!
Notes
- This recipe can be prepared without the muffin top pan. Just flatten out your cookie dough slightly onto a parchment or silpat lined baking sheet and press your s'mores toppings over the dough.